Coveralls, bibs, and overalls are iconic pieces of American clothing. Whether you need a pair for a day on the farm, prefer not to have to wear jeans but want the durability of denim, or need something that covers your clothing due to your profession, they have you covered, literally.
With so many different uses, you know there are going to be lots of options to choose from. Thankfully, we did all the legwork for you, and below we show you some of our favorite American-made overalls and coveralls that have been tried and tested for many years. The designs of these classic products will always remain the same, but it's the attention to detail that makes a perfect pair.
List of American-Made Overalls, Coveralls, and Bibs
1. Round House Blue Classic Overalls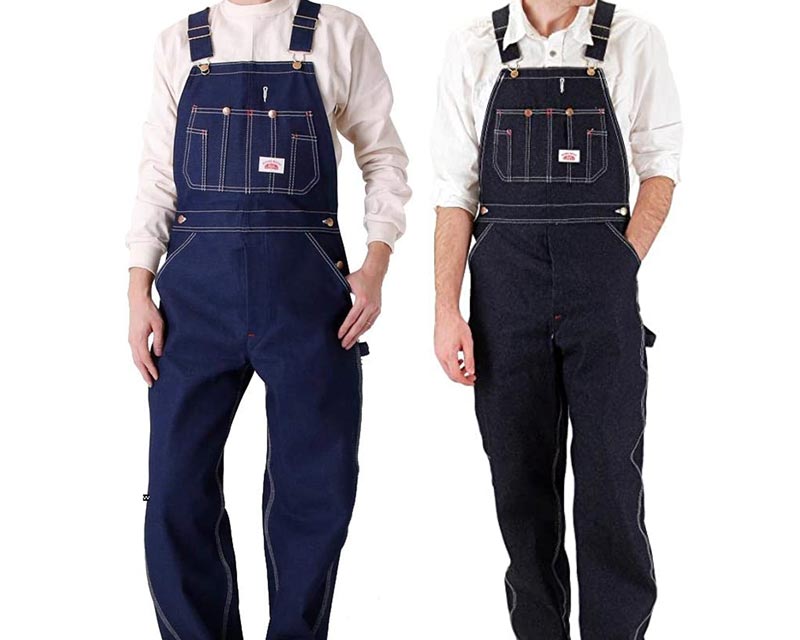 | | |
| --- | --- |
| Estimated Price | $80 |
| Sizes Available | W 27"-74"/L 30"-38" |
| Gender | Men's |
| Category | Bib Overalls |
Product Origin and Manufacturer Information:
Established in 1903 in Oklahoma, the Round House brand knows what it takes to make a quality product and has you covered in the overall category. We are going over their classic denim style, but keep in mind that they have several others depending on what you are looking for.
They are the largest manufacturer of American-made jeans and overalls, selling around 300,000 units every year. With such a wide range of sizes available, you can't go wrong with a pair of Round House Overalls.
To this day, they stand by their original motto to "Fit Best, Wear Longest" and will accept nothing less. While they might not have found the customer to fit into them yet, they also hold the Guinness World Record for constructing the largest pair of bib overalls, proving that if it can be made, it's going to be manufactured in the United States by Round House.
What We Like and Don't Like About Them:
If you're looking for a classic denim type overall, then Roud House's Classic Bibs are going to be a great option. I find their denim to be extremely high quality, and the pre-shrunk cotton they use holds up great even after heavy use.
The 5-in-1 front bib pocket has a very unique design and can hold your phone, along with any tools you need to keep on you and not worry about falling out. There is also a loop made for your hammer along with other side pockets so you will never feel like you don't have somewhere to put things.
With a button or zipper fly option available, this gives you the choice to have this overall be just how you prefer. With all of the years of experience from Round House, you know that your purchase is well-designed and field-tested.
With the wide range of measurements available, this overall can be a great fit for absolutely anybody. If you are used to wearing your jeans under your belly a little bit, then you will want to adjust what size you order by anywhere from 4-6 inches.
From my experience, these are a great value, and the quality you get with a pair of classic denim overalls from Round House is second to none. I really like that they've been making overalls for over 100 years, and it really shows in their craftsmanship. They have truly perfected their craft and continue to stand behind their American Made products by giving you the best quality for your hard-earned dollars.
2. Dan's Gear Bib Overalls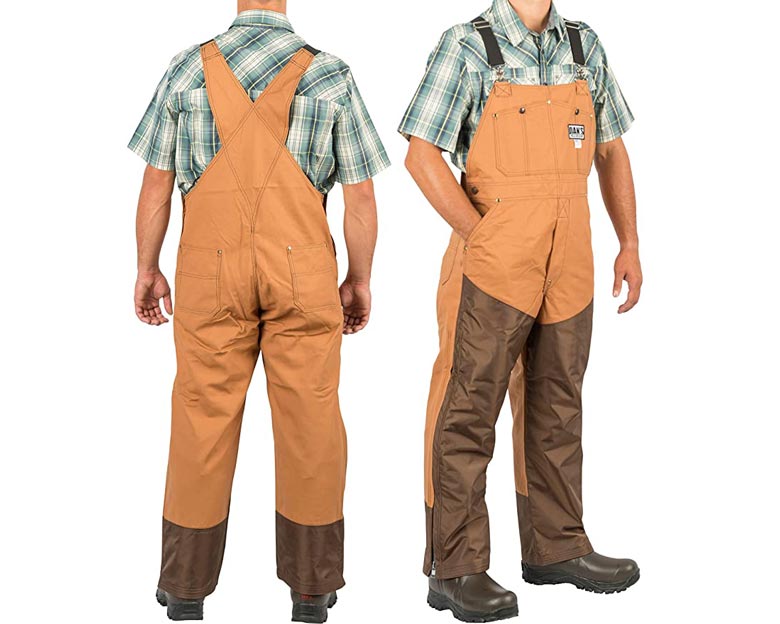 | | |
| --- | --- |
| Estimated Price | $115-$130 |
| Sizes Available | W 32"-58"/L 26"-34" |
| Gender | Male |
| Category | Bib Overalls |
Product Origin and Manufacturer Information:
I really like the story behind this brand and find their products to be very high quality. It started in a basement in Ohio and now has a manufacturing facility and warehouse that is over 8,000 square feet. Each individual piece is made from start to finish by one Amish seamstress to guarantee a quality product.
They are a family owned company and are always trying to test and improve all aspects of the products that they put out on the market. This personal touch and ability to control so much of the process has been serving the company and its customers for over two decades.
What We Like and Don't Like About Them:
These overalls work great for passing through areas that are brushy and full of obstacles such as briars or other hard-to-get-through plants. The reinforced leg coverings will keep your legs protected while also not tearing up your overalls.
They are unlined, so this is not a good option if warmth is what you're after. The elastic shoulder straps will allow you to make them fit just right, and the extra-long leg zippers make for an easy on and off no matter what type of shoes you happen to be wearing.
If you are a hunter, especially in any desert region, but these would really work great anywhere as all areas have fields and pastures that might be full of brush, this would be a great pair of overalls to have. For the American Made quality that you are getting, this price point is almost unheard of.
These are the type of overalls you can have for decades, and they'll still be just as functional as day 1. Whether you're wearing these every day or only every once in a while, these will last you for many years to come! They're perfect for walking through thick brush or farm warm work.
3. Filson Mackinaw Wool Bibs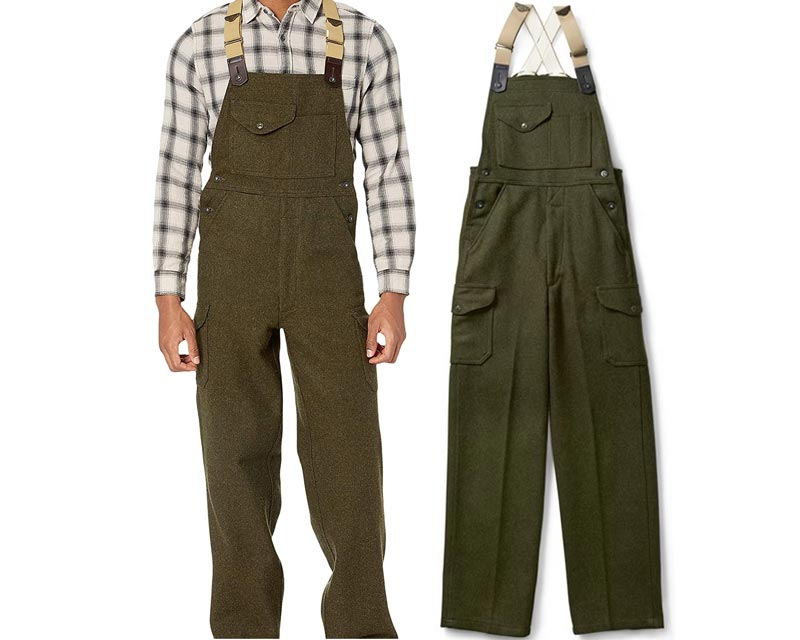 | | |
| --- | --- |
| Estimated Price | $475 |
| Sizes Available | W 30"-48"/L-Unhemmed |
| Gender | Male |
| Category | Bib Overalls |
Product Origin and Manufacturer Information:
Filson is another company I've really come to like after years of using and testing their apparel. The company was established in 1897 and is made for outdoorsman that wants to spend all of their time outside and needs to be comfortable while out there. They are based in Seattle, Washington, and use their outdoor surroundings to test and design their products.
They not only concentrate on the end design, but they make sure that they are only using the best materials without shortcuts because, with the extreme outdoorsman that will be wearing their products, their lives could literally depend on what they are wearing. With this quality will come a larger initial investment, but anyone that has worn Filson knows that it is worth it.
"Your satisfaction is the sole purpose of our transaction" has been their motto since the early stages of the company and continues to be a driving part of their vision today.
They also partner and support multiple conservation organizations to make sure that their customers always have great spaces to go and find their adventure with their Filson overalls on.
What We Like and Don't Like About Them:
The Mackinaw Wool used in this overall by Filson is in a league of its own when it comes to quality. Years of research and attention to quality have found that wool has fibers that can be bent and flexed over 20,000 times without breaking. It is made to keep you outside no matter the circumstances.
With nine different pockets to store your essentials and two different color options, these overalls can appeal to many different customers. The wool is not only strong and durable but is also designed to be naturally water-repellant, insulating, and breathable all at the same time.
If you live in an area where winter doesn't play fair or you simply enjoy trekking in the cold for an adventure, this pair of overalls from Filson is going to be a great investment for you. These will keep your mind on your goal and not on your clothes.
With proper care of these overalls, you may never have to buy a second pair, and if there are any small things that need to be repaired over the life of your overalls, Filson does have a restoration department that can help.
4. National Safety Apparel
| | |
| --- | --- |
| Estimated Price | $225 |
| Sizes Available | S-4XL |
| Gender | Men's and Women's |
| Category | Coveralls |
Product Origin and Manufacturer Information:
Started in Cleveland, Ohio, back in 1935 by Walter Grossman, National Safety Apparel has six Fire Resistant clothing brands under their group and takes their jobs very seriously to design and produce high-quality products that will protect you (and therefore your families) while you do your job in some of America's toughest industries.
They are a 4th generation, family-owned business that not only works to find the best FR materials for their designs but also wants to make sure that everybody can have access to their products by making lines to specifically fit male and female bodies.
What We Like and Don't Like About Them:
The attention to detail and knowledge of who they are building their products for truly shows in this brand and style in particular. The material is lightweight and comfortable, making these coveralls extremely comfortable to wear. It also has a sewn-in elastic waist, pockets on the front and the back, along with leg openings designed to fit over your work boots.
They also make sure that any metal parts are covered so that there is no contact with your skin to go along with the Fire Arc rating quality of the coverall. Your safety and comfort are their top priority.
These are tough coveralls made for hard work. They are durable and highly resistant to pinholes keeping them ready to work for the long haul no matter what your day may bring.
If you are needing a pair of coveralls and you work in the utility, manufacturing, steel, or welding industries, this would be a great investment to help your long days at least be completed in comfort and security. Knowing all of the research has been done and you get to simply enjoy the end product is a great feeling.
Another great part of this company is that they understand that women's and men's bodies are not built the same, and with women joining the trades industries at record numbers, it is imperative that they have a coverall that is comfortable to work in all day.
Popular Related Article: List of American Made Work Boots
5. Pinnacle Textiles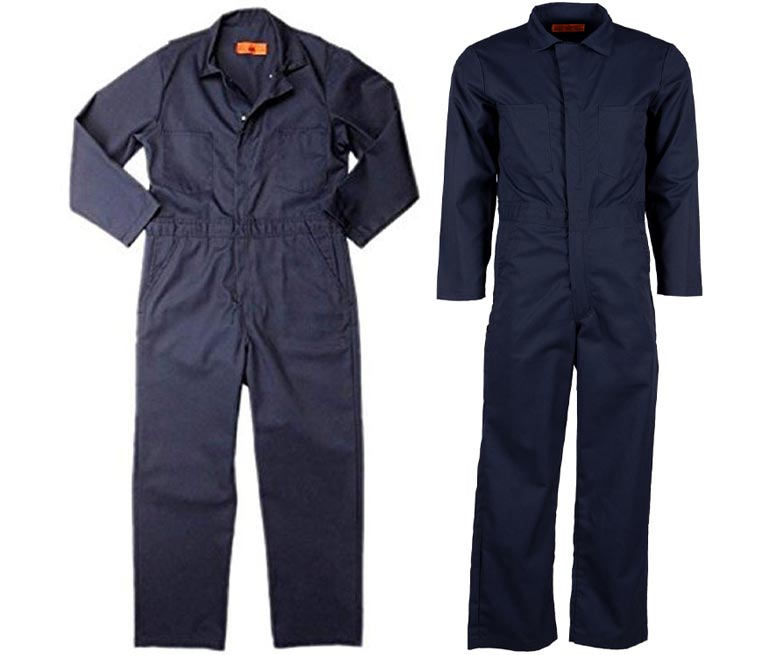 | | |
| --- | --- |
| Estimated Price | $70-$80 |
| Sizes Available | W 32"-60"/L-Regular or Long |
| Gender | Unisex |
| Category | Coveralls |
Product Origin and Manufacturer Information:
Pinnacle Textiles was formed in 2003 by three industry veterans that together had over 100 years of combined experience in the business. This gave them a lot of insight into what customers need as well as what it would take to run a business using American manufacturing.
They are headquartered in Pennslyvania, and the majority of their manufacturing happens in Edmonton, Kentucky. Their main goal is that if there is a product you can use, they want to bring it to you and make it here in the United States.
When building their products, whether it be their coveralls or anything else, they focus on using fabrics that are rated top in their category and focus on the durability of products to hold up to lots of laundering, whether that be at home or in a commercial setting.
What We Like and Don't Like About Them:
These coveralls are made to hold up to commercial industry wear. The materials used are durable, comfortable, and resilient in many different environments. The fabric is designed to be wrinkle-resistant, so it is also low maintenance for both the person wearing it and any crew that might be keeping it ready to go.
Focused on fit and quality, it has deep pockets and side-vent openings. These coveralls might have a basic design and won't be standing out when hanging in a laundry room, but at the end of a long day, you will be thankful for all of the design details that have been factored in.
These coveralls would be a great buy if you are a business owner and need to order a bulk number of coveralls for your employees. Knowing you are providing your employees with an American Made product that will hold up to the investment you are putting in.
These coveralls would also be perfect for someone in the automotive or mechanic industries as they would hold up to multiple cleanings and protect the clothing being worn underneath.
6. 1620 The Overall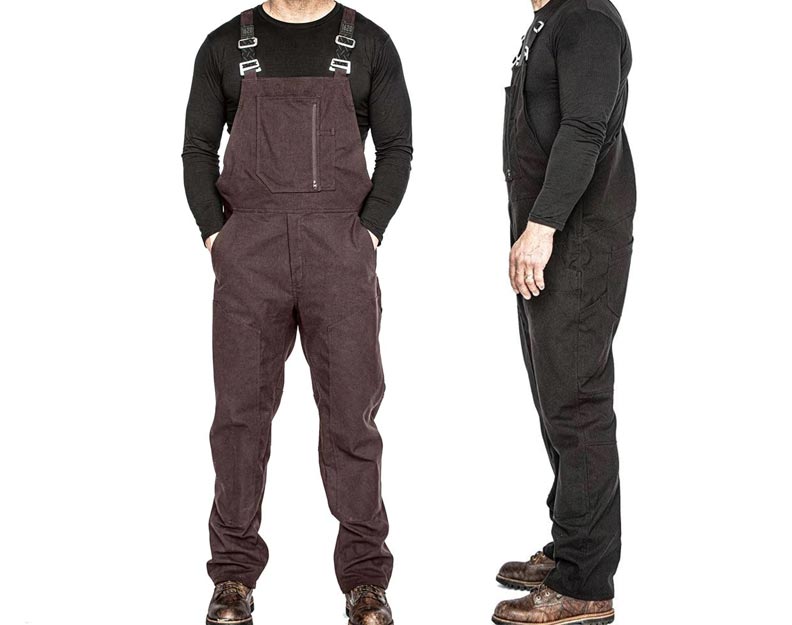 | | |
| --- | --- |
| Estimated Price | $250 |
| Sizes Available | S-2XL |
| Gender | Men's |
| Category | Bib Overalls |
Product Origin and Manufacturer Information:
1620 was co-founded by Ted DeInnocentis and Josh Walker with a vision and dream to bring high-quality American Made products to the hard-working American that needs products to hold up to anything they may want to do.
All of their products are made in the USA, and they have even gone so far as to engineer their own material that has been perfected to be 10 times more durable and abrasion-resistant than cotton. Their goal is to provide you with such a quality product that you won't need to buy multiple pairs.
They kept their overall design in testing and development for over a year before releasing it to the public because they wanted to make sure if they put a product out there that, it is ready to hit the ground running with any issues already being worked out.
What We Like and Don't Like About Them:
Made from a material that was originally being tested and designed for special forces and professional contact sports leagues, the double-weave constructed blend gives you durability that is next to none.
With three different color options to choose from, you are bound to find the perfect overall to fit your personal style. With the possible long life, these overalls will bring you, make sure you order the color you want to see for a long time.
This overall design has a classic boot-cut fit, a true stretch that will move with you throughout the day, and multiple pockets for anything you might need to take along for the day.
With the full, double-knee reinforcement along with the custom-engineered material, these overalls are one of the most durable products on the market. Top that with American Made manufacturing and a keen eye for the details, and this is one of the best overall overalls you can get. (pun intended)
In our opinion, the quality design and quality of these overalls make them worth every dollar, and they are by far some of the highest quality overalls on the market.
With a lifetime guarantee from the company for craftsmanship, you know that they aren't going to be cutting any corners. These are some of the highest quality American-made overalls out there and while they are expensive compared to many other products on market, we do feel that they are worth it.
Popular Related Article: Flannel Shirts Made in the USA
7. LC King Low-Back Overalls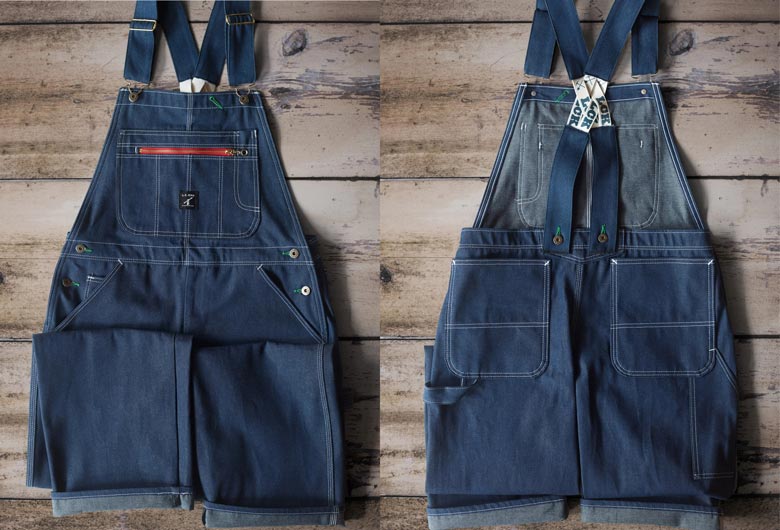 | | |
| --- | --- |
| Estimated Price | $95 |
| Sizes Available | W 28"-36"/L 29"-36" |
| Gender | Men's |
| Category | Bib Overalls |
Product Origin and Manufacturer Information:
Landon Clayton (L.C.) King founded his apparel brand and namesake in 1913 after he was inspired while on a trip with his dogs and wanted durable workwear that everyone could have access to.
The company is currently being run by the 4th generation of the King family at their headquarters in Bristol, Tennessee where today they not only have the L.C. King Apparel business but have also continued to build their local economy with several different business ventures.
What We Like and Don't Like About Them:
Built from 100% American cotton that is then cut and sewn in their factory the denim overalls by LC King are made to last. They are lightweight for easy movement throughout the day and reinforced in all necessary places for durability.
The small details such as rust-proof fasteners and buttons come from years of being in the business and knowing what customers need in a solid pair of overalls. The full-cut option that we are going over can work for anybody without any kind of discomfort.
There is a large accessory pocket on the front, including one that zips closed, to protect any valuables you need to have on you throughout the day.
LC King prides itself on building overalls that are built true-to-size so that you don't have to worry about ordering something that won't fit. Their overalls are sold in their true, raw form, and they haven't been washed, processed, or affected by any kind of chemical products.
If you are looking for a solid pair of overalls to get you through your day, this pair from LC King would be a great fit. They are high-quality, true to their roots, and built by a company that has been in the business for years and knows exactly what you need in an American Made overall. If you're looking for denim bib overalls made in the USA, these are one of my top recommendations.
Popular Related Article: Toolboxes Made in the USA
8. ExtremeGard High Bib Insulated Overalls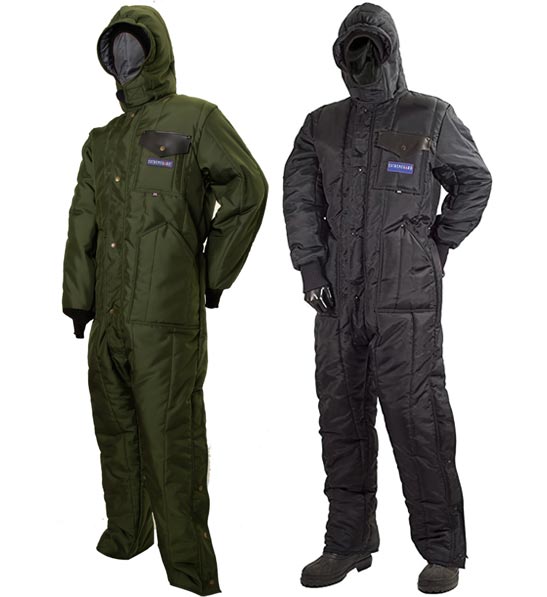 | | |
| --- | --- |
| Estimated Price | $200-$245 |
| Sizes Available | XS-4XL |
| Gender | Men's |
| Category | Coveralls |
Product Origin and Manufacturer Information:
The ExtremeGard brand is a great example of what happens when someone sees a need and focuses on bringing a great quality product to meet it. There is nothing fancy or a wide range of options, but there is a product that meets all of the necessary criteria to get you through a workday in extreme temperatures.
With its manufacturing facility in Tennessee, the brand keeps its customers in mind when they are putting together its products and strives to continue to provide them at a fair price and a fast delivery.
What We Like and Don't Like About Them:
There are certain industries that require specific workwear to get you through your day. Thankfully ExtremeGard meets these needs for anyone working in an industry where they are in extreme temperatures for the majority of their days.
The coveralls are made with a SUPPLEX fabric that is insulated yet still breathable to avoid sweating throughout your workday. They also hold their shape and dry quickly in case you get any kind of liquid on them during the day.
Another detail that has been added is leg zippers on the sides that make it easy to get them on or off at the beginning and end of each workday, as well as any situations that might come up in between.
This would obviously be a great coverall for anyone who works in a cold service industry, such as butchers or other food service jobs that require you to spend a lot of time in the freezer.
You could also find these to be a great option to have on hand if you are a farmer and need to be out in extreme temperatures to check livestock. All of the qualities that have been designed to keep industry workers warm will also be beneficial on the farm.
The coveralls have been double-stitched at all of the main seams and are rated to keep you warm down to 50 degrees below zero.
9. Benchmark FR Coveralls with Reflective Striping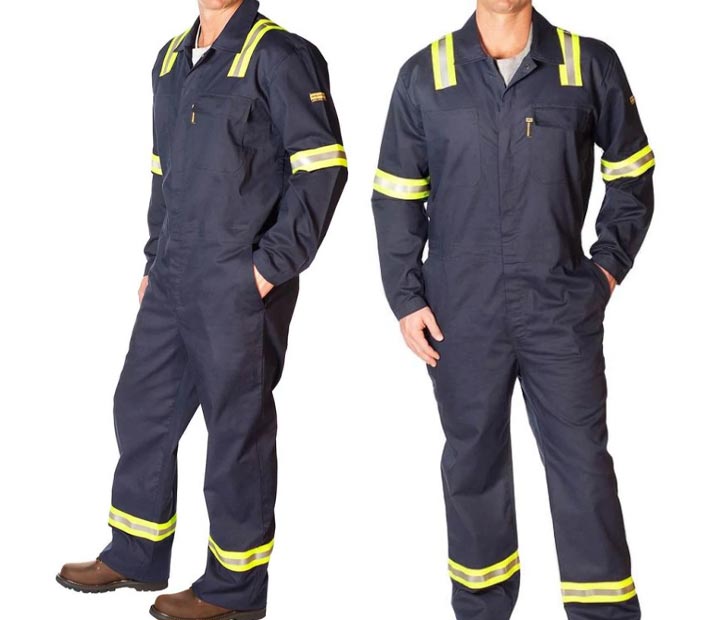 | | |
| --- | --- |
| Estimated Price | $145 |
| Sizes Available | XS-5XL |
| Gender | Men's |
| Category | Coveralls |
Product Origin and Manufacturer Information:
Certified as a Woman-Owned Business and completing 95% of its manufacturing in America, the Benchmark FR apparel line is one you can trust to keep you safe even in some of the most dangerous industries.
Founded in 2002 with the pairing of an engineer and a fashion designer, this gives you the best of both worlds when it comes to the end product. They pride themselves so much on having no recalls or product failures that each of their products is serialized and traceable.
What We Like and Don't Like About Them:
The combination of so many details makes a product that is going to be both functional and comfortable no matter how long of a day you need to wear your coveralls. The material used in these coveralls has superior moisture-wicking, and a color-fastness that fights fading along with being resistant to day-to-day abrasions.
For the price that these coveralls fall under, you are definitely getting a quality product that is going to hold up to the test of everyday wear. The FR characteristic on top of just the basic components only adds to the investment.
Electrical Lineman, Oilfield & Refinery Workers, Welders, or anyone else who is working in a field that they have daily contact with flash fires or arc flashes this would be a solid investment to let you focus more on your work and less on whether or not your clothes are up to the challenge.
They also have reinforced stress points and a non-sparking front zipper to keep you safe and comfortable throughout the workday, or beyond as many times you aren't typically working a 9-5.
Popular Related Article: List of Great Gardening Tools Made in the USA
10. PellaVet Bib Overalls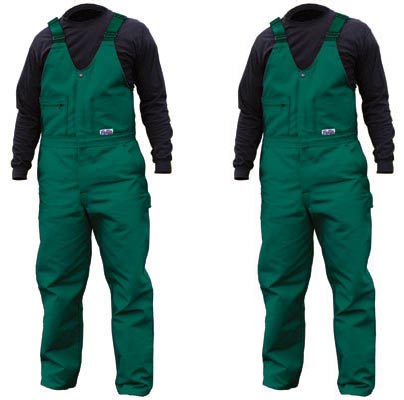 | | |
| --- | --- |
| Estimated Price | $75 |
| Sizes Available | 28S-50T |
| Gender | Men's and Women's |
| Category | Bib Overalls |
Product Origin and Manufacturer Information:
A division of Pella Products manufactured in Iowa PellaVet has been designing equipment that can be used by veterinarians across the country for over 50 years. They focus on providing the basic necessities with the best design features at a price point that is accessible to anyone who can use their products.
Not only has PellaVet focused on veterinarians and what can be useful for them in the office and out on the field but they have continued their focus on creating and manufacturing those products right here in America.
What We Like and Don't Like About Them:
This is one of the few overall options that has sizing and options in both men's and women's sizing, which I think is a huge advantage if you are a female and need a pair of bib overalls. While the overall style is similar, the types of bodies are definitely different and will be more comfortable with separate sizing.
The material is also very low-maintenance requiring no ironing, has lots of pockets to store your necessities, and I really like that it is machine washable. We are going over the bib overall option here, but they also offer a full coverall style in both men's and women's if that better fits your needs.
If you are a veterinary or veterinary tech, this would obviously be a great product for you to invest in. Not only has it been specifically designed for your line of work, but it's an American Made product that you can depend on each day.
Outside of the veterinary industry, there are several other jobs that deal with a lot of fluids and spills on a daily basis, and these bibs could also be very useful with their easy-to-maintain materials.
Backed by a company that has been producing great overalls and coveralls for as long as PellaVet gives you the assurance that your purchase is going to be durable and ready to work and possibly the easiest decision you make each day.
There are many industries in the United States that require a dependable pair of overalls or coveralls, sometimes on a daily basis. Thankfully there are several companies that live here, work here and understand exactly what the customer needs and choose to produce these overalls and coveralls here in America.
Whether you are needing a lighter-weight denim bib overall, something with more reinforcement for rough terrain, or extra insulation for extreme temperatures there is an American Made product out there for you and we hope this article will help you find the perfect pair (or pairs) to meet your needs.
Wrap Up:
That does it for this article. Let us know if you know of any great American-made bibs or coveralls that we missed! We're constantly looking to improve our lists so we really appreciate any tips from the community!
Hi, my name is Kevin and I'm from Pittsburgh, Pennsylvania. Choosing products made in America is important to me because it supports local economies, creates jobs, helps the environment, and ensures ethical labor practices. I also find that American made products are usually of higher quality so although they're a little more expensive, you save money in the long run. Before starting this website I was in the USMC infantry and nowadays I work on this website as a hobby.