Dog harnesses are essential to keeping your pet safe and healthy and can act as a passive solution to guide them in the great outdoors. Harnesses are easy to use and are perfect for hikes, camping trips, dog parks, or any time that you're outside with your furry friend.
There are many types of styles and sizes of dog harnesses so we've made sure to include a comprehensive list below. Many can be custom designed or personalized to your pet for the ultimate experience. Choosing a dog harness made in the USA instead of one made overseas typically means you're getting a well-designed harness built with quality and safe materials.
List of American Made Dog Harnesses
Blue-9 Buckle Neck Balance Harness (Great Training Harness)

| | |
| --- | --- |
| Estimated Price | $55 |
| Girth Span | Approximately 15"-60" |
| Colors Available | Black, Blue, Camo, Hot Pink, Orange, Purple, Red, Sky Blue |
Product Origin and Manufacturer Information:
Blue-9 has an interesting origin, as they came about due to K9 units inspiring them to create a harness that suited their unique training and obedience needs. The brand quickly became affiliated with veterinary specialists and dog trainers to ensure quality and efficacy of use and grew exponentially larger thanks to K9 support. Now, they are one of the largest manufacturers of dog harnesses and are loved for their wide array of training and adventure harnesses for pups. They are currently based in Iowa and have won many awards for their quality of craftsmanship, commitment to excellence, and overall quality and alignment of their products for dogs of all types and stations in the community.
What We Like and Don't Like About It:
If you're looking for a well-designed no-pull dog harness for training and obedience, this is a great option. Don't let the simplistic design fool you — it's one of the product's greatest assets. The 6 points of balance and attachment allow for an ergonomic design for your pup and can be easily contoured to your dog's unique stature. The design is also unique in its "no-choke" framework, allowing your dog to maintain its full range of motion in every phase of use. The forelimb motion is attached to and works in tandem with the neck, which could lead to issues down the line with restriction of the respiratory system. The Y-neck shape allows for maximum movement and reduces the risk exponentially.
Gone are the days when you'll have to struggle with your pup to do the "harness dance," wriggling it over their bobbing heads. The easy clip-on design is ideal for dogs who don't care for step-in or overhead harness designs and allows you to have more control over the process. This is also great for bigger pups or dogs with longer snouts who may not fit well into traditional harness headpieces.
This leash is designed for obedience training and can stand up to pulling, or strain that you would encounter on walks with distracted dogs. The no-choke design pairs well with multi-leash attachment points and is versatile enough for any size or dog.
This is a great purchase for new dog owners of rambunctious, non-trained pups, or for owners who are looking to teach their old dog new tricks. Your dog can get instant benefits thanks to the design alone of the harness and instantly feel more supported and secure.
Wolfgang Man and Beast No Pull Dog Harness (Great No-Pull Harness)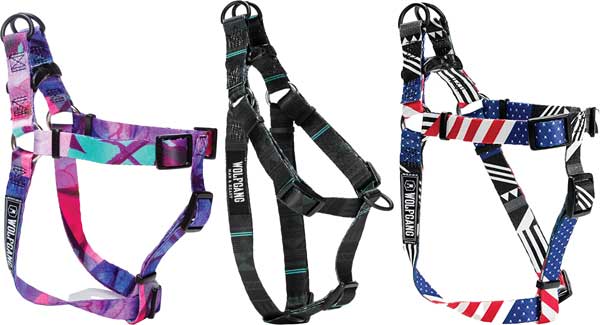 | | |
| --- | --- |
| Estimated Price | $45 |
| Girth Span | Approximately 12"-53" |
| Colors Available | Purple-Pink Blend, American Flag, Day of the Dead Print, Rainbow Stripes, Black, Red Rocks, Forest, Purple Camo, Pink Tie-Die |
Product Origin and Manufacturer Information:
Wolfgang Man & Beast was launched in the early 2010s and formed their business with the customer in mind. The team members were all experienced in product design and development and were avid dog lovers who loved to take their friends along with them on every adventure. They found that the pet market was lacking quality dog harnesses made in the USA and knew that was a niche that they could fill. Months later, Wolfgang Man and Beast brand was born and has continued to be featured on product lists such as these for their quality of craftsmanship, attention to detail, and quality that remains consistent and satisfactory.
What We Like and Don't Like About It:
If you have a pup who is a known "puller" on walks, this harness is for you. The Wolfgang Man & Beast No-Pull Harness has been tested up to 800 pounds of pull weight without any form of compromise and is crafted to your dog's unique needs while offering pullback in the right places without harming or chafing the skin. The material used in these types of harnesses is a sturdy, easy-to-wash polyester webbing. This is both fray and stain-resistant, as well as resistant to abrasions making this the perfect option for you and your adventure buddy.
This product comes with a limited lifetime warranty, and has a great reputation! Beyond their immense care and love for pups, and their stellar product lineup, this company creates patterns and partners with brands that are intending to make a true difference on a global scale. They are publicly associated with several give-back programs that support pups (and humans) in need, which makes for a great supportive boost with each purchase.
Quick leash attachment and detachment are made possible thanks to the sturdy D-steel rings on the back of the harness and can allow your pup to remain naturally at the front or side of you with each walk, completely pull-free. Overall, this harness is ideal for larger dogs that are difficult to control, or if you have multiple dogs requiring you to maintain a firm grip to reduce pull without compromising them in any way.
Mendota Pet Skid-Plate Harness (Great Skid Plate Style Dog Harness)

| | |
| --- | --- |
| Estimated Price | $50 |
| Girth Span | 20"-37" |
| Colors Available | Black, Blue, Camo, Hot Pink, Orange, Purple, Red, Sky Blue |
Product Origin and Manufacturer Information:
Mendota has been creating dog products since its launch in 1994 and has remained family-owned and American made through every step of its journey. The brand doesn't just stop at dog accessories and logistical items. In fact, they have expanded into new areas, including all-natural skincare, and other health products.
What We Like and Don't Like About It:
The unique skid-plate design is something that immediately made me stop scrolling. This is a new and innovative way to help your pup get through the morning walk with ease and offers additional health benefits to dogs in need as well. For example, if you walk in rural areas or have a pup who has undergone abdominal surgeries or radiation treatments, this is a great investment as the design offers additional, advanced protection that other harnesses may not offer.
This is also an ideal harness for dogs who spend a lot of time in the great outdoors adventuring, hunting, or just enjoying life. The bright orange of the harness' fabric makes for excellent visibility and offers additional protection for roadside walks with your pet.
When you purchase this harness, you are eligible for a lifetime warranty for the life of your pet, which is unique in the dog harness space. Often, brands only offer limited warranties or at times, but Mendota goes above and beyond in offering a lifetime duration warranty that will keep your pet safe and contained over their lifetime. For the price point, this makes this an even more affordable and attractive option for investment, whereas you may alternatively have to buy several harnesses from cheaper brands over the course of your pet's lifetime.
The material on this product is top-notch, using water-resistant Cordura nylon and quick-release buckles to give you the best possible experience for your pet's wear. This product is great for an active pet owner in your life, or for a fellow hunter, early morning runner, or anyone else who needs the extra protection and fluorescence that this skid plate-style dog harness has to offer.
Walk Your Dog With Love Original Dog Harness
| | |
| --- | --- |
| Estimated Price | $50 |
| Girth Span | Approximately 12"-55" |
| Colors Available | Black, Optional Embroidery Available |
Product Origin and Manufacturer Information:
Walk Your Dog With Love was founded by a dog owner who was tired of being pulled by his pup along the highway. Dan Merson created the company in Lanesboro, Massachusetts in a tiny town tucked into the beautiful rolling hills of the state. His goals for the creation of the company were to help dog owners walk their pets in a safe, healthy, and overall controlled way. He saw the flaws with the current trainer harnesses available, and how they could pose significant harm to your pup's respiratory system and overall health. That's where the Walk Your Dog With Love company can create an impact.
What We Like and Don't Like About It:
This harness features a simplistic design that appears to be as comfortable as possible for your dog. As soon as I saw the structure and overall elements of the harness, I was happily surprised to see that it was free of the hard metal components and restrictive stitching that many harnesses bring, especially training harnesses. The material itself is lightweight, durable, and easy to wash, made entirely of polypropylene webbing. The harness also features the added benefit of 3M reflective material being incorporated into its design, adding an additional layer of safety to the harness and overall wear experience.
Because of its unique structure and design, you can easily walk your dog from the front as you should be able to comfortably. When you walk your dog from the back, you can put an undue strain not only on the respiratory system of your pet but also on the overall spine and skeletal system as well. With this ergonomic, pet-friendly design, you can more effectively control your dog's pace and direction with no discomfort and a much more user-friendly experience. The attachment point for the harness in this design is also not in the back as you may be used to seeing. Instead, they support your dog's natural instincts and avoid triggering or excitement by placing the leash attachment point to the front of the harness. This helps them to automatically fall into a "heeling" position rather than pulling you.
The harness can be customized to suit your furry friend with the option to add embroidery. This is particularly helpful if you have a large family of pups and are sick of the spaghetti-like tangle of harnesses going on the wrong dogs!
Additionally, the company has created a wide variety of dimensions and sizes to meet the needs of any pet. The harnesses support weights between 6-120 pounds, offering a variety of customizable sizes and girths. This is ideal if you are wanting an option that can easily grow with your pup, or have a variety of breeds that you are shopping for.
The easy-on design is one of the things that most attracted me to this simple design. While other harnesses require a fair amount of wrestling in order to secure into place, this harness only requires you to slip on over the head of your dog and snap the buckle resulting in a two-step easy wear process.
Overall, this harness is ideal for new and seasoned pet owners alike. This may be especially useful if you are working on leash training your pet, or if you have a larger breed who is anxious to go start his own adventures with or without you! If you're looking for an American made, ergonomic dog harness for your small to a large dog breed, be sure to visit Walk Your Dog With Love.
Tuff Lock Full-H Adjustable Harness (Great Nylon Dog Harness)

| | |
| --- | --- |
| Estimated Price | $30 |
| Girth Span | 9"-48" |
| Colors Available | American Flag print |
Product Origin and Manufacturer Information:
The premium Tuff Lock line was produced in the late 1980s under the Reflex corporation, a brand best known for its reflector ID tag products for pets across the USA. The brand has been pet-oriented at its core and has offered unique and innovative solutions for dog parents since its inception, and Tuff Lock is no different. The brand is given a lifetime warranty and is handcrafted in its own plant in Carlsbad, CA.
What We Like and Don't Like About It:
The Tuff Lock harness is the ideal choice if your pet loves to adventure and run wild. The lightweight nylon design will keep your pet stink-free and is resistant to moisture, offering you snug, non-chafe long-term wear that will keep your pet adventuring in comfort. Webbing is also used in its construction, giving the harness a more breathable wear experience and optimizing your pet's temp — no matter where your excursion is!
The harness is ergonomic and designed to fit your pet well with the unique "H" shape design and easy buckle clip for on-off processes. The shape gives your pet needed support and also offers added feelings of safety and comfort with each use due to where it falls on the body. This can make for a more immediately calm walking experience that will leave both of you feeling satisfied. You can then easily clip any leash with the general clip attachment onto the D-ring and get back to your day.
The thing that I appreciated the most about this company is its longevity and commitment to American quality. They've been in business for pets since 1977 and have been creating unique designs and elements for their products since their formation. Now, customers can choose from over 100 harness and leash designs that are all hand-sewn in the Carlsbad, CA. manufacturing location. Talk about a unique history!
Popular Related Article: Dog Beds Made in the USA (Source List)
Ecoweave (Great Eco-Friendly Dog Harness)

| | |
| --- | --- |
| Estimated Price | $40 |
| Girth Span | 19"-47" |
| Colors Available | Stars and Stripes American Flag Print |
Product Origin and Manufacturer Information:
The founders of Cycle Dog have been handmaking dog accessories and related products since 2009 at their flagship location in Portland, OR. The group has always been committed to creating high-quality, eco-friendly products that are designed specifically for your furry pet and made to last a lifetime offering the quality craftsmanship that you can only find with Made in the USA products. Owner Lynette Fidrych began prototyping the first product, a tube-backed dog collar, in her garage. This product soon was going out to family, friends, and the local farmers market, becoming a phenomenon. The brand was created shortly after and is still serving eco-friendly dog creations as we enter 2022.
What We Like and Don't Like About It:
Cycle Dog has such a wide variety of products for pets. Whether you're looking for collars, leashes, harnesses, or other accessories, Cycle Dog will have the perfect thing — and you can rest assured that it is eco-friendly and safe for your pup. When I first saw the Ecoweave harness design, I was immediately drawn to the vibrant flag designs and the solid structure … and then I learned that the brand was making pet accessories entirely out of recycled materials.
The webbing in the harness is made exclusively of post-consumer use plastic bottles, keeping them out of landfills and repurposed into more sustainable uses. For larger sizes, the brand swaps out the normal plastic accouterments to hardened metal options, allowing for greater control and safety of use for both the owner and the dog.
The front is a "no-pull" design, which is especially important for more rambunctious and eager breeds. Often, dogs can be distracted by squirrels, cars, or other types of bark-inducing stimuli while out, which can lead to serious health and safety issues with other types and styles of harnesses. No-pull designs help to disperse the restrictive force over the entire front and chest area of the dog, avoiding the essential respiratory areas in an attempt to keep them safer. I was excited to see Cycle Dog use this type of innovative and thoughtful design, whereas other brands opted for more restrictive designs.
This harness also is constructed to have a center-back design, which also goes a long way in dispersing the weight in a more user- and dog-friendly way. It also makes for easy access for smaller dogs and offers you another option to stabilize and move them rather than using the leash, the scruff, or other parts of the harness if absolutely necessary.
Cycle Dog offers this design in a range of sizes, making this the perfect choice for your furry friend. You can choose from a variety of lengths and widths, including
Small: Suitable for dogs between 18-30 pounds
Medium: Suitable for dogs between 30-70 pounds
Large: Suitable for dogs between 70-110 pounds
The site also offers a comprehensive sizing chart to help you ensure that you walk away with the right fit every time. Overall, I was very impressed by the offerings at Cycle Dog. This specific harness is great for any new dog owner who is passionate about a more sustainable future, and also wants a quality harness system for their dog.
The Dog Outdoors Urban Trail Padded Harness (Great Hiking Dog Harness)

| | |
| --- | --- |
| Estimated Price | $65 |
| Girth Span | 18"-36" |
| Colors Available | Black, Pink, Purple, Teal, Red |
Product Origin and Manufacturer Information:
The Dog Outdoors is a company that was founded in 2007 by Scott and Jenny, husband and wife team. They soon became hit success, running the company out of their home and garage for its first few earlier years. Finally, in 2011, they were able to make it official and kick off the year with office space. As Scott and Jenny expanded their family and welcomed their new little ones into the world, their dog family and business grew too, becoming a large-scale national business that ships quality, American made dog harnesses to other dog or pet paw-rents all over the globe.
What We Like and Don't Like About It:
It is notoriously difficult to find quality, durable, and reliable dog harnesses in today's e-marketplace. What I appreciated with The Dog Outdoors is their clear labeling on both the page and the description, assuring any customer that their products are indeed made and sourced in the USA. I also appreciated their commitment to creating products in a notoriously underserved dog market subsect hiking friendly harnesses for long, forest adventures with your furry friend.
This padded hiking harness is the perfect tool for an adventure or trip of any size. Even if you tend to be more of a homebody, the harness provides the extra comfort and padding that your dog needs for common co-activities, such as running, rollerblading, skateboarding, or more. The structure and engineering of the harness are designed to immediately release the tension off of the pup's neck, evenly dispersing any pressure that's encountered between the leash and the harness.
The design automatically gives you more control in high-speed or adventurous situations, such as bike riding. Often, in those types of situations, you will be leading your dog from the front, leading to uncomfortable pulling or abrasions from the neck forward. With this style of harness, you can easily pace and redirect your pup in a pain-free, supportive way.
The buckle accouterments used are military-grade and provide the stability and durability that your dog needs in a riding harness. The overall quality of materials used is difficult to beat, as the brand avoids using abrasive materials such as webbing and other rough textures. The brand uses temperature-neutral and dog-safe Polartec fleece, which is also water-resistant and resistant to stains, smells, and just about anything else that your furry friend may pick up in the great outdoors. Even if your pup loves to roll in mud puddles or have other types of messy fun, you can rest assured that the harness is easy to clean and 100% machine safe. Simply toss in the washer and air dry.
The harness has received numerous accolades as well from top dog resources and materials, most notably being approved and recommended by veterinarians associated with Dog World Magazine.
Brilliant K9 Ergonomic Dog Harness – Lily Model (Great Wide-Bodied Harness)

| | |
| --- | --- |
| Estimated Price | $55 |
| Girth Span | 15"-19" |
| Colors Available | Black |
Product Origin and Manufacturer Information:
BrilliantK9 is a company that was created by dog enthusiasts, for dog enthusiasts. The company was founded in 2013 and seeks to bring more custom options to dog owners around the world, often catering to breeds and body styles that can wriggle out of traditional harness systems. The team at BrilliantK9 works with an extensive network of veterinarians, behaviorists, massage therapists, rehabilitation specialists, and trainers to create some of the most ergonomic and canine-friendly solutions in the business.
What We Like and Don't Like About It:
As the owner of an especially wriggly furry friend, I was ecstatic to see a company that was dedicated to making a custom fit for those breeds that are "low, long, and laughably full of wiggles." My dog is a talented escape artist, making walks difficult and a major source of stress. The unique perspective that the experts behind BrilliantK9 offer made this a hands-down wishlist item for me when I first came across the listing.
The "Lily" is built for smaller breeds and can be fitted to accommodate a variety of girths and lengths. The harness is crafted thoughtfully with users in mind and comes equipped with a prominent speed buckle. The speed buckle can be used to help keep the dog at a more controlled pace, which is ideal for older or handicapped customers, or for those who may be fitting the harness for their assistance pet.
Upon purchase, your harness is handcrafted. Many orders ship out within 10-15 days. This helps you to ensure overall quality, as well as style and fit that is designed specifically for your pet. BrilliantK9 understands how important a proper fit is, so they offer a 30-day full money-back guarantee to all users with available proof or purchase. With BrilliantK9, you can also get a 7-year manufacturer guarantee for the life and construction of the harness. Their goal is that their harness will last with the same quality that you've originally purchased it at the entire lifecycle of your furry friend! If you're for a personalized dog harness made in USA this is a great option!
BrilliantK9 Service Dog Harness "Dixie" (Great Service Dog Harness)

| | |
| --- | --- |
| Estimated Price | $105 |
| Girth Span | 21"-31" |
| Colors Available | Black |
Product Origin and Manufacturer Information:
BrilliantK9 is one of the biggest names in the business and with good reason! This company was founded in 2013 and is comprised of a team of veterinarians, dog specialists, behaviorists, and more. The overall goal of the brand was to help pet parents re-think the future of their dog's tools and wearables, such as collars and harnesses. It was time to bring new and innovative, pet-safe ideas to the market in an entirely new way, which Brilliant K9 has continued to do for nearly a decade.
What We Like and Don't Like About It:
As one of the only available American made service dog harnesses on the market, this immediately caught my attention as a utilitarian tool and major asset to those in need. When it comes to service dogs, you need quality and assurance that your harness is designed to last a lifetime, which BrilliantK9 is able to offer.
One of the main things that I loved about this product was the ease of care. Simply toss in the washing machine (no bleach) and air dry until completely dry. Beyond the original supportive structure, the harness comes equipped with two packs for easy storage of necessary medical support tools, medication bottles, test kits, and more. The ergonomic design is supported naturally by the breathable yet structured material, and the brand avoids heat-condensing foam or other types of material that can smell and break down over time.
This harness stands out due to its easy-on process. There's no need for complex loops and struggle. In this design, you can clip the harness on with a single hand, which is ideal for patients who have a limited range of motion or who are entirely nonambulatory. The brand offers a variety of sizes and girths that can help you to find the perfect fit for your furry friend, and the harnesses are designed to last the pet's lifetime with regular use.
The best part? You'll also walk away with two "SERVICE DOG – DO NOT PET" patches with clear embroidery to ensure that your pup stays safe while on duty.
Artful Canine Harness (Great Simple Design)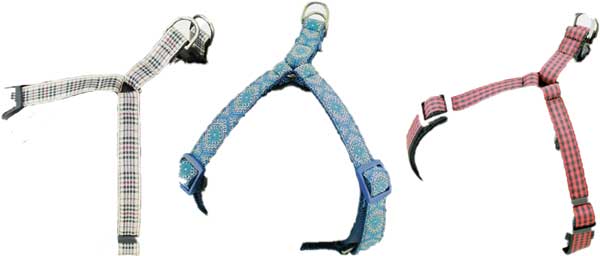 | | |
| --- | --- |
| Estimated Price | $22 |
| Girth Span | 13" – 37" |
| Colors Available | White, Black, Teal, Navy, Pastel Blue, Brown, Lime Green, Green, Lavender, Salmon Pink, Hot Pink, Purple, Raspberry, Red, Orange, Yellow, Silver, Neon Blue |
Product Origin and Manufacturer Information:
The Artful Canine proudly designs, manufactures and polishes dog accessories, ranging from dog collars and accessories to harnesses designed to keep your pet safe. The company is currently operating out of Florida and has been crafting quality harnesses and dog accessories since 2009. With over a decade of experience and hundreds of happy pet-parents in their customer base, the Artful Canine has branched out and curated a variety of fun designs and custom options so that your pet can get out and hit the streets in style. They've expanded rapidly over the past few years, and currently have multiple sellers as well as a large outlet store. What sets this business apart from hundreds of others in the space is its commitment to excellence of craft, and its avoidance of reselling. Every single product that the company is affiliated with has come from its own line designs.
What We Like and Don't Like About It:
I was happily surprised to encounter such a versatile option in the dog harness space. Often, you're forced to choose between ill-fitting harnesses and girths wide enough to slip over the ribcage and neck of your pet, nearly guaranteeing a compromised fit. With the Artful Canine, you don't have to worry about compromising the quality of fit to ease of use and comfort of your pet. The company offers a variety of lengths and girths meant for dogs of all sizes, from toy breed size to larger breeds of dogs.
The harness is a step-in style, which has been proven to be a healthier option for more active or larger breeds. While other designs can significantly limit and impact their oxygen availability and breathing patterns, this type of harness is considered gentle compared to other options. The double-D rings for greater stability and strength help to keep you in control of the leash at all times and avoid breakages.
This harness features a hand-clip system and is completely machine washable, making it perfect for outdoor or messier adventures. It's also nickel-free, lead-free, and completely rust-proof, elevating it to one of our most recommended products. The brand offers a 1-year limited durability guarantee, which is uncommon to find with other harness manufacturers.
For a handmade product, these are produced quite quickly and are normally ready for shipment within 2-4 days from purchase. The craftsmanship, coupled with the business's commitment to original work and excellence sets The Artful Canine apart from other harness creators in its class, making this easily one of the best dog harnesses made in the USA.
While there typically aren't many choices in the world of pet products to choose American made. If you've come across an awesome American pet brand that we missed, feel free to shout them out in the comments and we'll try our best to add them to the list!
Of course, getting your dog acclimated to a brand new harness can sometimes be tricky or stressful but I've always found that rewarding their cooperation and patience with a treat tends to make things a lot easier! With that said, we've compiled a list of great
dog treats made in the USA that you can find here
!
Hi, my name is Kevin and I'm from Pittsburgh, Pennsylvania. Choosing products made in America is important to me because it supports local economies, creates jobs, helps the environment, and ensures ethical labor practices. I also find that American made products are usually of higher quality so although they're a little more expensive, you save money in the long run. Before starting this website I was in the USMC infantry and nowadays I work on this website as a hobby.