You love your dogs, so the treats you buy for them should reflect that. Sure they might gobble up anything you toss their way, not knowing the crucial differences, but buying dog treats made in the USA helps to ensure that the companies you purchase from follow high standards while making their treats.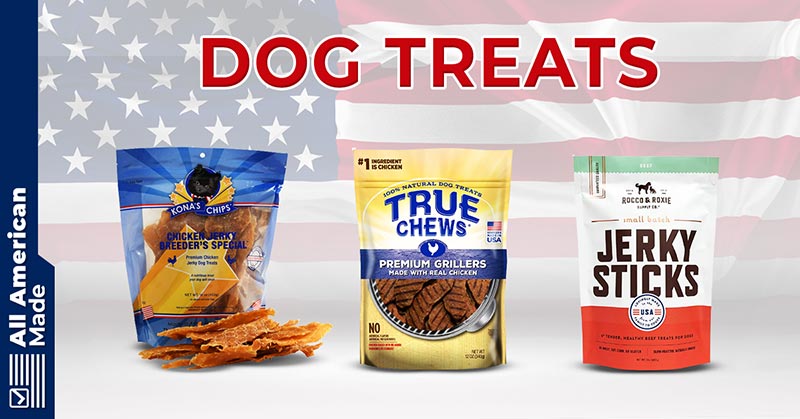 Treats made in other countries often have lower standards when it comes to pet food. Imported dog treats can contain lots of fillers, unhealthy and fattening ingredients, as well as dangerous substances.
Whether you are training a new puppy or simply spoiling your pooch, the treats on this list will surely be a hit with your pooch. They are highly rated and manufactured by companies that have your dog's wellness in mind.
List of American-Made Dog Treats
1. Rocco & Roxie Supply Co. Gourmet Jerky Sticks (Best Jerky Dog Treat)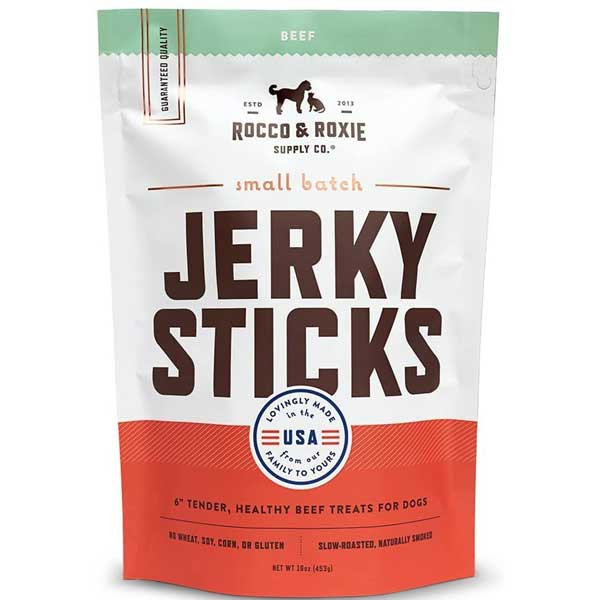 | | |
| --- | --- |
| Estimated Price | $20 |
| Quantity | 16 oz. |
| Available Flavors | Beef, chicken, and turkey |
| Origin | Provo, Utah |
Product Origin and Manufacturer Information:
Rocco & Roxie Supply Co is a family-owned and family-run company founded in 2013 by Morgan and Matson Magleby. Rocco & Roxie Supply Co gets its name from two family pets: Rocco the Labradoodle and Roxie, the rescue tabby cat. The company claims to know what works best for beloved pets because Rocco and Roxie try its products.
Since the company was founded, its enzymatic stain and odor remover has been the number one most popular product on Amazon in that category. It is now available at Target. Despite its popularity, Rocco & Roxie Supply Co is still a down-to-earth family business, now with four generations of Magelbys working together along with other employees and pet lovers in Utah.
The Gourmet Jerky Sticks are a customer favorite. They are soft and easy to break apart to make smaller snacks and treats. According to customer testimonials, dogs love the taste and feel of these jerky sticks. Additionally, Rocco & Roxie Supply Co goes above and beyond to ensure customer satisfaction. The company answers customer questions, offers customer solutions, and offers a 100 percent satisfaction guarantee.
Why Your Dog Will Love These Treats:
Rocco & Roxie's Gourmet Jerky Sticks are not only tasty, giving dogs the delicious fix they deserve, but they are also healthy and safe. These jerky sticks are made without gluten, wheat, corn, or soy. They contain no artificial flavoring. These treats do, however, contain the preservative potassium sorbate, which other natural treats do not.
The natural meat used, whether it be beef, chicken, or turkey, is raised on American farms. The jerky is slow-smoked in small batches for 10 hours. Rocco & Roxie are proud to state that these jerky sticks will not give pet parents "stink hands" since they do not leave questionable residue behind.
Who We Recommend it for:
These gourmet jerky sticks are perfect for pet parents who like to give their dogs primarily meat snacks. Since dogs in the wild are carnivorous, it makes sense to follow a meat-based diet at home, too. They offer lots of protein with few calories, so you can share them without guilt.
Even picky pups like these treats, so they are a good choice for discerning dogs. Additionally, since these jerky sticks are soft, they can be broken into small pieces for obedience training, trick learning, etc. Also, dogs with dental problems or missing teeth can chew them easily.
2. Wag Soft and Tender American Jerky Treats (Best Jerky Dog Treat Runner Up)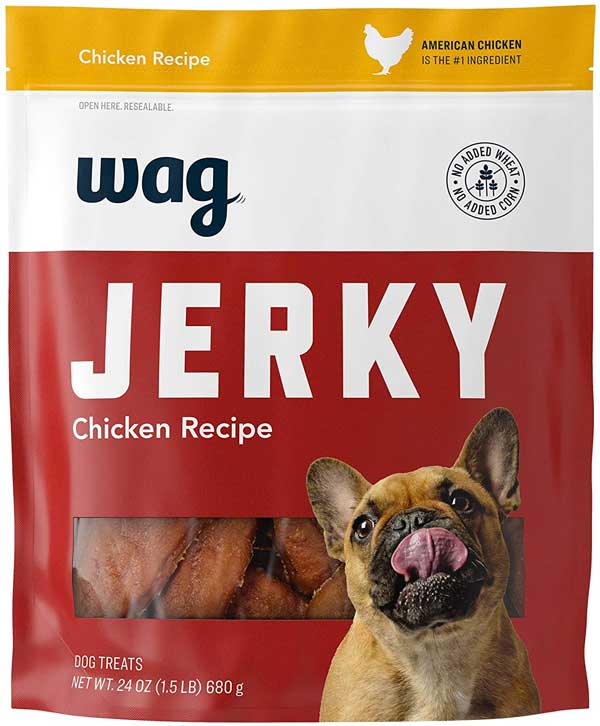 | | |
| --- | --- |
| Estimated Price | $15 |
| Quantity | 6oz, 12oz, 1lb, 1.5lb |
| Available Flavors | Beef, chicken, turkey, Duck, Turkey, and Sweet Potato |
| Origin | California |
Product Origin and Manufacturer Information:
WAG is an Amazon brand that works with local suppliers to source, manufacture, and distribute WAG products. It's important to note that, although WAG treats are in fact all made in the US, they are often made with ingredients that can be sourced from various other countries but not any from China. In many cases, this would lead us to stray away from this brand, but the primary ingredients, such as the chicken in the chicken flavored version, is all American chicken.
Why Your Dog Will Love These Treats:
These cooked, chewy jerky-like treats absolutely blew my expectations out of the water. Generally, Amazon-branded stuff is often lower quality than its legitimate competition, but in this case, these are right on par with some of the best jerky dog treats on the market today, and for a great price too. I can understand why a lot of people have issues with Amazon doing their own branded stuff, but in this case, I think there is a strong argument to be had for considering these, especially if treating your dog is a high priority, but you're on a tight budget.
With several flavors, all of which my dogs loved, to choose from, and four quantities to pick from, I think it's pretty hard to go wrong so long as your dogs are the type to enjoy jerky treats. I will say that these are slightly softer than some of the other jerky treats I've had in the past, which is especially good for older dogs or dogs with dental issues.
3. Greenies Dental Dog Treats (Best for Dental Health)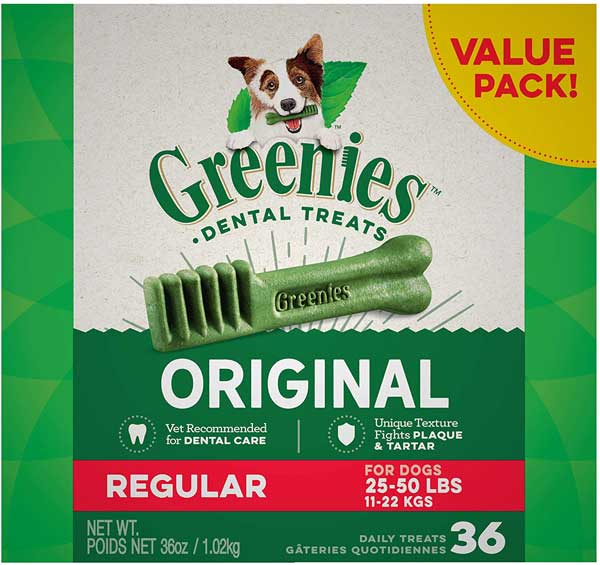 | | |
| --- | --- |
| Estimated Price | $5 to $65 |
| Quantity | 3oz, 6oz, 12oz, 18oz, 27oz, 36oz, 54oz, 72oz |
| Available Flavors | Poultry, Mint |
| Origin | California relocated to Missouri |
Product Origin and Manufacturer Information:
Oh boy, this company has some rich and interesting history. The gist of all the controversy and long story really is that the original owners had the idea of creating treats that would help with dental care, and although the treats were successful in this idea, they made some dogs ill, and they were awfully hard, making it tough for older dogs, the dogs that need this kind of stuff the most, a bit difficult to chew and use.
The original Greenies were actually discontinued, and the company was bought out by the M&M company, which moved operations from California to Kansas City, Missouri. Under new ownership, Greenies were made to be significantly softer, which made them a lot easier to digest, fixing the issue of some dogs becoming sick, but still with the same great dental cleaning results.
Why Your Dog Will Love These Treats:
These bendy little toothbrush-looking dog treats are interesting, to say the least. At first, like many others, I was a bit skeptical, but in terms of actually making dog breathe better and enhancing tooth health, these really are among the best in the business so long as your dog likes them. It seems to be a bit hit or miss with which dogs will like them and which won't, so if you have a notoriously picky eater, perhaps make sure you are buying these from somewhere you can easily send them back. If your dogs are anything like mine, they didn't even inspect the new treat and instead instantly gobbled them up and asked for more!
Who We Recommend it for:
Greenies are just super chewy treats that don't leave residue on the teeth and in the mouth, so when the dog chews them, the idea is that they help to break down plaque and clean up the mouth. It's not as good as, say, brushing your teeth or using mouthwash, but in terms of making a small difference in the dog's overall breath and health, they do the job just fine.
When shopping, Greenies has several versions of these, and the really important part aside from taste is that there are specific versions for puppies and old dogs, so make sure you're grabbing the right one as the chewiness and size of the actual treats themselves are better suited for these specific dogs. There is also a weight management version that is simply using lower caloric ingredients to help give your dog that same excitement and enjoyment of getting a treat but with a bit fewer calories to help them keep in shape or lose weight.
4. Pet Parents Gnawtlers (Best Antler Dog Treat)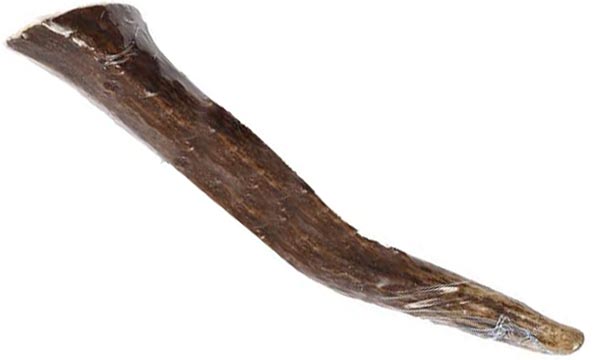 | | |
| --- | --- |
| Estimated Price | $10 |
| Quantity | Small = 4" Elk Antler Piece. Larger sizes are available. |
| Available Flavors | Elk |
| Origin | Ankey and Des Moines, Iowa |
Product Origin and Manufacturer Information:
Pet Parents was founded in 2016 when Blake Anderson created the company's first product: premium washable dog diapers. The product's inspiration came when Blake's childhood yellow lab Blondie was put down at 15 years old after she became incontinent. At the time, Blondie's veterinarian did not suggest diapers, likely because dog diapers on the market at the time were hardly useful.
Since then, Pet Parents have strived to support other pet parents by creating products that increase pets' quality of life. Pet Parents Gnawtlers are different from other antler chews on the market because they are unprocessed and do not contain dye. This means they will not stink up the house or leave messes, no matter how long your dog chews. They are also vacuum sealed, protecting your dog from contaminants.
Pet Parents donates thousands of products to shelters and organizations to reduce the number of dogs that are surrendered to shelters due to easily fixable issues. Dog diapers, for instance, might prevent families from giving up on a dog who struggles with potty training. Pet Parents has a rescue and shelter program through which it strives to use the brand "for social good."
Why Your Dog Will Love These Treats:
Gnawtlers are unlike other antlers on the market. They are naturally shed by elk and deer in the wild, so they are completely cruelty-free. Additionally, each antler is selected based on strict quality criteria, including weight, shape, density, and color. Then each one is weighed, cut to specifications, sanded down, and vacuum sealed for safety.
These antler chews are delicious for dogs and offer hours of enjoyment. Plus, antlers contain healthy marrow that provides dogs with calcium, zinc, and other nutrients. With any chewing treat, you should keep an eye on how your dog reacts. Even with natural, untreated antlers, splintering can happen that might injure your dog.
The attached Amazon link is for a small whole elk antler, but Pet Parents has options from small to extra large, as well as split elk antler and deer antler. Depending on your dog's size and age, Pet Parents have something to gnaw on.
Who We Recommend it for:
The Pet Parents Gnawtlers are great for dogs who have destructive chewing habits. These elk antlers give them something healthy to chew on. Also, teething puppies, bored dogs, or dogs with anxiety will benefit from having an antler to gnaw on for long periods of time. If your dog has sensitive teeth or trouble chewing, the split elk antler is a good, softer choice.
Each antler is expensive but can offer hours of chewing, depending on how aggressively your dog chews. If your dog has had issues with chewing antlers in the past, such as injuries from splintered bones or broken teeth, chewing antlers are not the best dog treats for your dog.
Pet Parents is a company focused on giving back to the community and helping pet rescues. If you are interested in supporting a company that actively donates to animal shelters and rescue organizations, this is a commendable business to patronize.
Popular Related Article: Dog Beds Made in the USA (All Types)
5. Old Mother Hubbard Baking Co. Classic Oven-Baked Dog Treats (Best Dog Biscuits)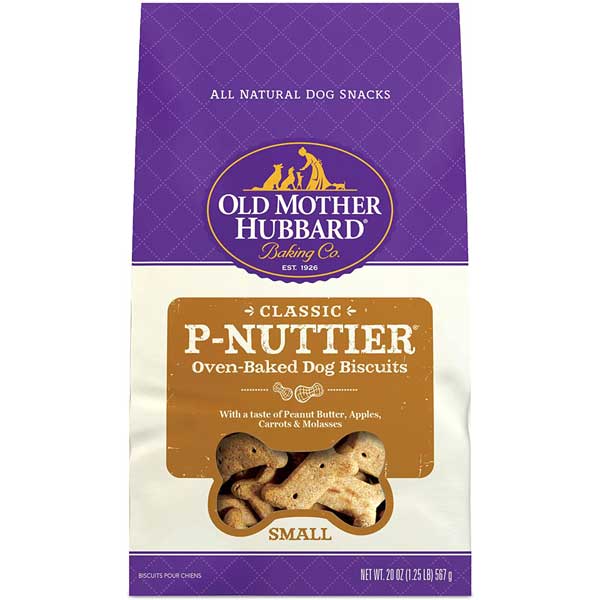 | | |
| --- | --- |
| Estimated Price | $5 |
| Quantity | Small = 20 oz. Other sizes are available. |
| Available Flavors | Peanut Butter, Chicken Pot Pie, Liver, Veggie, Bacon and Cheese, Apple Chicken, Char Tar. |
| Origin | Lowell, Massachusetts |
Product Origin and Manufacturer Information:
Old Mother Hubbard Baking Company's origins date all the way back to 1873. Today, the company works with animal nutrition experts to produce all-natural pet food ingredients that are healthy and tasty. These crunchy biscuits contain no artificial preservatives or animal meat byproducts.
The Classic line of Old Mother Hubbard biscuits is not grain-free, but the company does offer a line of grain-free biscuits for dogs with special diet needs. The company is transparent about the ingredients used in its dog treats.
Why Your Dog Will Love These Treats:
The Old Mother Hubbard Classic Oven-Baked Dog Biscuits have an impressive lineup of flavors. From the meaty chicken, liver, and bacon to the cheese and peanut butter, any dog is sure to find something to love.
The company has been at it for a long time, so it knows what it's doing when it comes to baking. There are several additional lines available alongside the Classic line and many different sizes available in each line. For example, the P-nuttier flavor comes in mini, small, and large sizes.
These treats offer plenty of wholesome ingredients to boost your dog's vitamin and fiber intake. As with some other treats on this list, Old Mother Hubbard dog biscuits contain cane molasses. While this is a better alternative to high-fructose corn syrup, it is still sugar. Be sure to feed your dog sugars and carbohydrates in moderation.
Who We Recommend it for:
We recommend these treats for those looking for dog treats made in the USA with natural ingredients. These treats are slowly oven-baked, so you know you will be getting special, high-quality biscuits in every bag.
Additionally, the Old Mother Hubbard Bakery Co website features lots of wholesome dog treat recipes that contain these particular biscuits (for example, Coconut Oatmeal Cookie Dog Treats). If you are interested in baking for your dog, we suggest taking a look at these.
6. True Chews Premium Grillers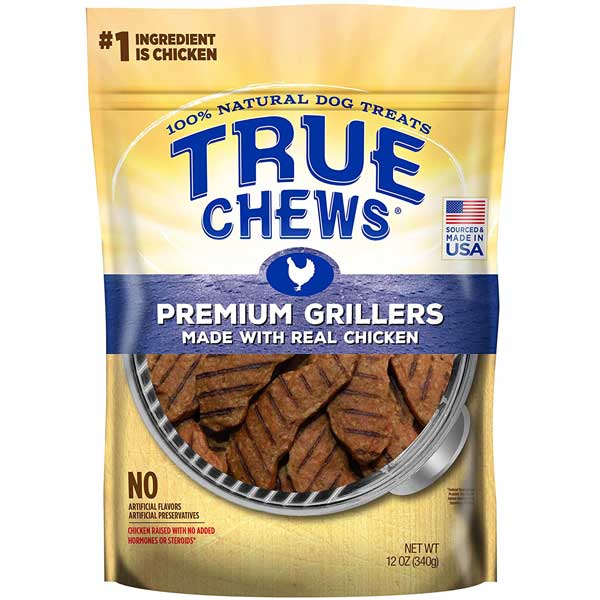 | | |
| --- | --- |
| Estimated Price | $10 |
| Quantity | 12 oz. |
| Available Flavors | Chicken and steak |
| Origin | Springdale, Arkansas |
Product Origin and Manufacturer Information:
True Chews is committed to creating pet foods and treats that are healthy and nutritious. The first ingredient in True Chews Premium Chicken Grillers is real, natural chicken. These treats do not contain wheat, soy, corn, or animal by-products. They are also free of artificial flavors and preservatives.
True Chews was originally a Tyson Foods brand before Tyson sold the brand to General Mills in June of 2021. Still, all of the company's foods and treats are manufactured and sourced in the US.
Why Your Dog Will Love These Treats:
We like treats that contain meat as the number one ingredient. True Chews Premium Grillers also have the added bonus of grill marks on each treat. According to customer reviews, dogs love how these treats taste. That is one of the most important factors when choosing a great dog treat.
With 100 percent natural ingredients, these are a healthy, wholesome choice. True Chews does tout that these treats contain chicken with no added hormones or steroids, but federal regulations prohibit adding steroids or hormones to chickens, so this is not a wildly impressive claim.
One drawback of these treats is that they can be messy. Because they are so soft, customers have noted that they can fall apart easily if they are not eaten quickly.
Who We Recommend it for:
We recommend these treats for pet owners who value meat as the first ingredient. And, since picky eaters seem to go for these treats, any dog owner with a finicky pup will likely have a good shot with these treats.
Since they are soft, the True Chews Premium Grillers are good for senior dogs or dogs who have had dental work done. Any dog who might have trouble chewing hard or crunchy textures could easily eat these treats.
7. Canidae Grain-Free Pure Heaven Biscuits (Most Environmentally Friendly)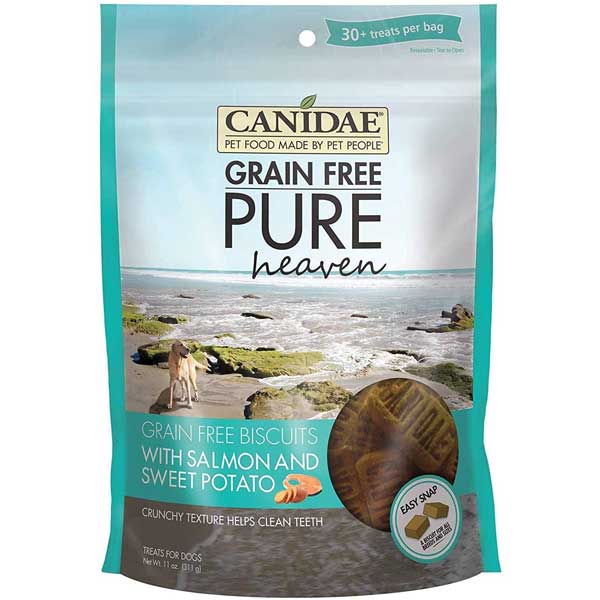 | | |
| --- | --- |
| Estimated Price | $10 |
| Quantity | 11 oz. |
| Available Flavors | Bison and Butternut Squash, Duck and Chickpeas, Salmon and Sweet Potato |
| Origin | Brownwood, Texas |
Product Origin and Manufacturer Information:
Canidae is focused on pet health, food quality, and sustainability. Out of all pet food brands, Canidae uses the most post-consumer recycled materials in its Sustain line packaging (40 percent). Additionally, Canidae supports research and development efforts into green farming in efforts to protect the soil and natural resources on earth.
Along with the above efforts, Canidae's goal is to source 80 percent or more of its ingredients from regenerative agricultural sources by 2030. The company donates millions of pounds of pet food and has a partnership with the Alliance of Therapy Dogs.
The Canidae Grain-Free Pure Heaven Dog Biscuits contain limited ingredients. They are crunchy, providing dogs with a comfortable crunch that cleans their teeth. They are also designed to break into smaller pieces since they are quite large, but some customers find them difficult to snap.
Why Your Dog Will Love These Treats:
Canidae is a very impressive company in the world of sustainability and environmental responsibility. It is clear that sustainable practices are at the top of the company's list of priorities, alongside sourcing healthy, high-quality ingredients in the USA.
In Brownwood, Texas, where Canidae is located, the company purchased its own pet nutrition plant where veterinarians and dog nutritionists can review and quality-control the food and treats being shipped to distributors and customers. These specific treats do contain preservatives, but they also contain probiotics, antioxidants, omega-3s, and omega-6 fatty acids.
As with most treats on this list, the Grain-Free Pure Heaven Dog Biscuits do not contain corn, wheat, soy, or animal byproduct meals. The Pure line is specifically formulated for dogs who cannot tolerate gluten, like those with celiac disease.
Who We Recommend it for:
We recommend these treats for pet parents who prioritize shopping responsibly. Canidae uses wild-caught Alaskan salmon and cage-free, humanely raised chicken in its recipes. The company works to contribute positively to agricultural practices that will benefit the earth and its resources rather than deplete them.
If you prefer your treats to be small right out of the package, you might be unhappy with these treats. For small and medium dogs, one whole Grain-Free Pure Heaven Dog Biscuit might be too big and will likely require you to break it in half. Some customers have no trouble with this, while others find them quite solid and difficult to break.
8. KONA'S CHIPS Chicken Jerky Treats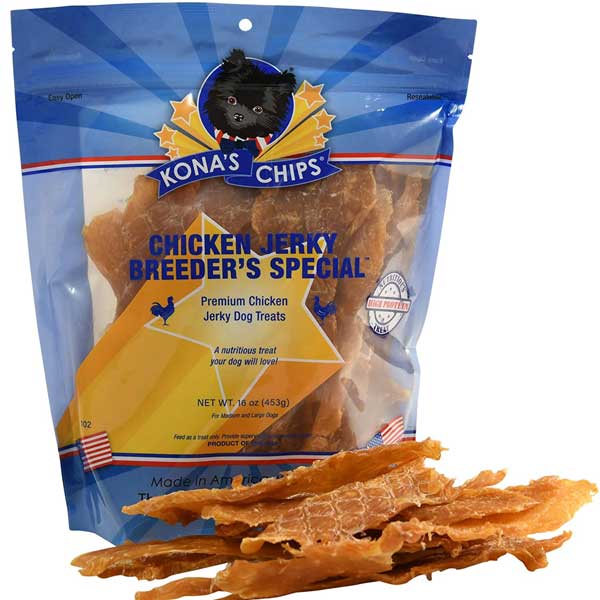 | | |
| --- | --- |
| Estimated Price | $30 |
| Quantity | 16 oz. |
| Available Flavors | Chicken |
| Origin | Oakdale, California |
Product Origin and Manufacturer Information:
Like many American-made dog treats, KONA'S CHIPS were created from a need for natural, safe, American-made pet food. KONA'S CHIPS gets its name from Kona the Pomeranian. The owners of KONA'S CHIPS want consumers to know how important it is to be vigilant when shopping for pet treats. Watch for deceptive marketing, such as "Imported and packaged in the US." versus "Made in the US."
Kona's became addicted to a Chinese-manufactured brand of dried chicken breast chips before falling seriously ill. Kona's pet parents, Cynthia and Tom Darmstandler, were not sure if Kona would survive his illness. Thankfully, they had gotten him treatment in time. However, they could not find an all-American brand of dried chicken breast strips to feed Kona, so they created their own.
KONA'S CHIPS sources most of its products from out west in California, Oregon, and Colorado. Some are sourced from Texas. KONA'S chicken jerky is made from 100 percent USDA-inspected chicken, ensuring dogs who eat it will not suffer the same illness that Kona went through when he became addicted to Chinese pet treats.
Why Your Dog Will Love These Treats:
KONA'S CHIPS Chicken Jerky offers another high-protein snack without adding unnecessary carbohydrates and contributing to weight gain. Additionally, these treats are grain-free with no added fillers or preservatives.
Since 2007, chicken jerky has been KONA'S CHIPS' top-selling product. According to human customers, these dog treats actually smell tasty. That would make sense, as they are composed of only three ingredients: chicken, vegetable glycerine, and sea salt.
These are expensive treats at $30 per pound, but shoppers will find that quality treats with USA-sourced ingredients will typically run more expensive. It is more costly to buy domestic, high-quality, all-natural ingredients. However, most consumers will find that it is worth it when their dogs fall in love.
Who We Recommend it for:
We recommend KONA'S CHIPS Chicken Jerky to pet parents who want American-made dog treats with limited ingredients. KONA'S CHIPS will likely strike a chord with any dog owner who has had negative experiences with Chinese dog foods, as well.
These particular chicken jerky treats are best for medium and large dogs 10 pounds and larger. For smaller dogs, KONA'S CHIPS has different lines of treats that are better suited.
These treats are on the pricier side, so they are good for dog owners who do not mind spending the extra dough to ensure their treats are safe and natural. KONA'S CHIPS also offers a satisfaction guarantee, so you will not be out $30 unless you are happy with your order.
9. Dog Mamma's Oven-Baked Dog Treats (Best For Athletic Dogs)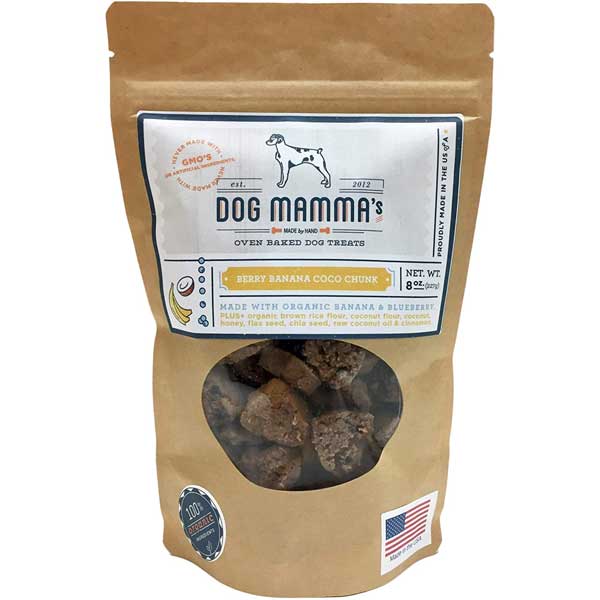 | | |
| --- | --- |
| Estimated Price | $10 |
| Quantity | 8 oz. |
| Available Flavors | Berry Banana Coco Chunk, Butternut Kale Bites, Pumpkin Snaps |
| Origin | Stuart, Florida |
Product Origins and Manufacturer Information:
Kathryn Duro founded Dog Mamma's in 2012. Her dogs were competing in athletic events, and Kathryn quickly realized that none of the dogs treats on the shelf were healthy or conducive to an athlete's diet. So, Kathryn began baking healthy, high-quality dog snacks in her own kitchen, and Dog Mamma's was born.
All of Dog Mamma's ingredients are 100 percent natural, human-grade, and certified organic by the USDA. Each treat is hand-baked in small batches in Dog Mamma's canine bakery. When you take a look at the ingredients list, you could easily confuse these treats with healthy human snacks.
Unlike other dog treats, Dog Mamma's Oven-Baked Dog Treats are not meat-based. Instead, they are made with vitamin- and antioxidant-rich superfoods like blueberries, kale, pumpkin, carrots, and bananas.
Why Your Dog Will Love These Treats:
These treats are unique compared to many others on this list. However, the ingredients are wildly healthy by human standards. Dog Mamma's treats are made with ingredients free of GMOs, chemical pesticides, and chemical fertilizers. Only sustainable farming practices are used to produce these wholesome ingredients.
Additionally, there are no added colors, chemicals, or preservatives. None of the flavors are powdered, either. They all come from the fruits, vegetables, and spices themselves. You might wonder if dogs would be interested in these kinds of treats, but it seems like they are. Customers note that dogs love how these treats taste and how crunchy they are.
We are genuinely impressed by these treats. It is difficult to find truly organic packaged foods for people, let alone for our dogs. But Dog Mamma's Oven-Baked Dog Treats fit the bill. Ingredients do not get more wholesome than this. Plus, they are completely made by hand in the USA.
Who We Recommend it for:
We recommend these treats for dog owners who want to live as organically as possible. These treats are especially great for dogs who have certain food allergies because organic ingredients are often not as triggering.
While many dog owners seek out pure meat treats, dogs can also benefit from fruits and vegetables. Superfoods contain high levels of antioxidants and vitamins that boost your dog's immune system and overall health. While we do not recommend your dog become vegan, a wholesome treat like Dog Mamma's Oven-Baked Dog Treats is a great, beneficial treat.
Popular Related Article: Trust American Made Dog Food Brands
10. IMK9 Freeze-Dried Salmon Treats (Best Salmon Dog Treats)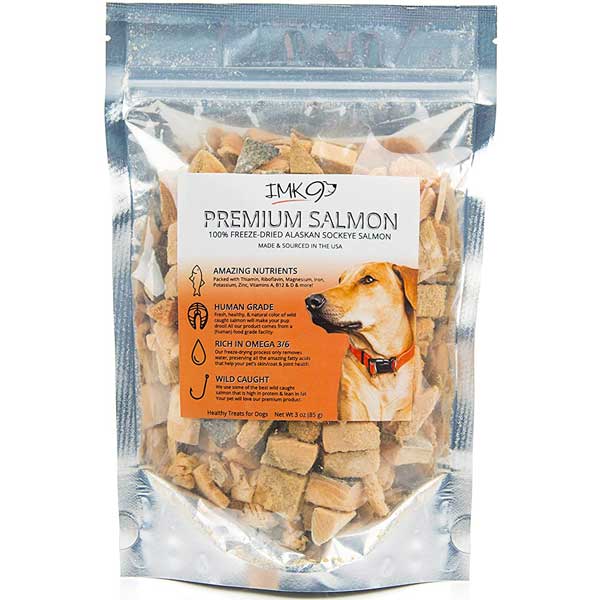 | | |
| --- | --- |
| Estimated Price | $15 |
| Quantity | 3 oz. |
| Available Flavors | Salmon |
| Origin | Pleasanton, California |
Product Origin and Manufacturer Information:
These freeze-dried salmon treats are made in the USA and contain only one ingredient: premium, human-grade, wild-caught Alaskan sockeye salmon. It is difficult to find dog treats that truly contain one ingredient only, so IMK9 is special in that regard.
IMK9 started as many small pet goods companies do, inspired by a beloved pet. In this case, the inspiration was Ginger, the owner's Rhodesian Ridgeback, and all the dogs that came before her.
IMK9's main sellers are its outdoor pet gear. Many dogs are active and love being outside, so they deserve accessories and gear that complement them. These freeze-dried salmon treats provide the necessary nutrients to boost energy for those adventures.
Why Your Dog Will Love These Treats:
There is little to gripe about when a dog treat has one ingredient. Naturally, there are not going to be any fillers, preservatives, byproducts, chemicals, or anything of that nature. These salmon treats are a healthy, no-nonsense choice.
Since the product is freeze-dried, it retains all of its nutrition and strong salmon aroma. This odor is typically enticing for dogs. In fact, these treats are great for cats, too. The company recommends soaking the treats in water to allow them to swell and soften.
One complaint amongst customers is that these treats often flake apart during transportation, which is to be expected with freeze-dried fish. IMK9 offers a no-questions-asked return policy if you are not 100 percent satisfied with your order.
Who We Recommend it for:
There is nothing like pure salmon to give your dog a boost of omega fatty acids. We recommend these treats to dog parents who prefer all-natural, no-nonsense ingredients that offer clear-cut health benefits.
Do consider that you might end up with some flaked salmon, though. Instead of letting those flakes go to waste, you could likely mix them in with your dog's regular daily food.
11. Fromm Crunchy O's Treats (Best Crunchy Dog Treats)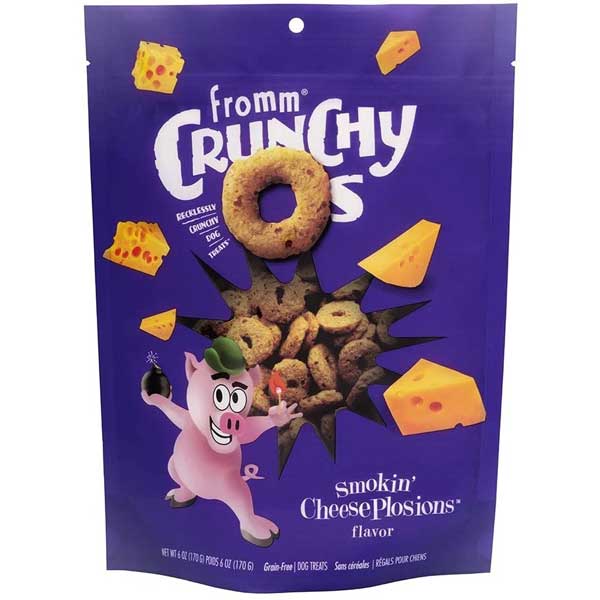 | | |
| --- | --- |
| Estimated Price | $5 |
| Quantity | 6 oz. |
| Available Flavors | Smokin' CheesePlosions, Banana Kablammas, Pot Roast Punchers |
| Origin | Germantown, Wisconsin |
Product Origin and Manufacturer Information:
Fromm Family Foods has been operating in Wisconsin since 1904. In the 1930s, the family, alongside Dr. Robert Green, developed the first-ever fox encephalitis vaccine, fox distemper vaccine, canine distemper vaccine, and feline distemper vaccine. Clearly, animal health and wellness have always been at the top of the Fromm family agenda.
Currently, the business is in its fifth generation and is still owned and operated by the family. The Crunchy O's treats are a favorite among dogs because of how crunchy they are. They look like oversized Cheerios, but they offer wholesome ingredients owners appreciate.
The company owns and operates a few manufacturing facilities and a cannery in Wisconsin, which means the company has complete control over the products produced. Safety and quality control are managed from every angle to ensure only excellent products make it to customer animals.
Why Your Dog Will Love These Treats:
Most consumers have likely not heard of Fromm. The company seems to work prolifically but quietly. Because quality control is so strict, this is a dog treat we can feel confident about. Even the post-war era marketing is charming, if not a bit overwhelming.
Each Crunchy O dog treat contains approximately two calories. Compared to other treats, this is a very low-calorie snack. You are almost certainly going to give your dog more than one of these at a time, considering the size of them, but even a few of these will not add up to many calories.
Who We Recommend it for:
We recommend these treats for pet owners of dogs who love crunchy snacks. Apparently, these are highly crunchy, and some dogs cannot get enough. Since the calorie content is so low, these would be great for dogs on restricted diets.
Fromm has implemented Hazard Analysis and Critical Control Points (HACCP) in all manufacturing plants, reaching an elevated level of food safety. Additionally, all dry food and treats are independently tested by an outside lab. We recommend these products to shoppers who value the highest quality standards. These are easily some of the best dog training treats made in the USA.
12. Raw Paws Pet Food Gourmet Biscuits for Dogs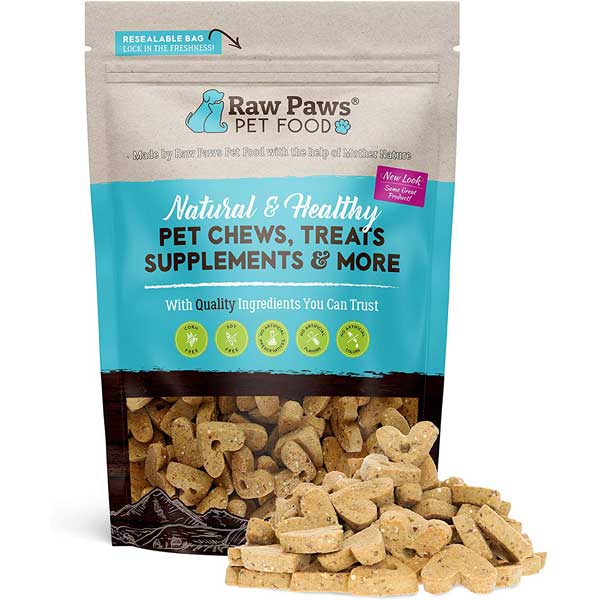 | | |
| --- | --- |
| Estimated Price | $15 |
| Quantity | 10 oz. |
| Available Flavors | Peanut Butter, Banana, Celery, Barely, Carrots, Oats |
| Origin | Indianapolis, Indiana |
Product Origins and Manufacturer Information:
Raw Paws Pet Food is a small, woman-owned family business that focuses on creating healthy pet foods and treats for affordable prices. Since nutrition is so crucial to a pet's well-being, Raw Paws uses high-quality ingredients from local sources. The company only uses farms from small, family farms rather than large factory farms with questionable practices. Raw Paws also donates to animal-related charities and nonprofits, and animal rescues.
These treats, like many others on the list, are grain-free with no fillers or additives. There is no wheat, corn, or soy. Raw Paws provides many raw pet foods and treats as well as instructions for transitioning pets to raw diets. Raw Paws has raw feeding specialists and free meal plans available for customers.
Why Your Dog Will Love These Treats:
Raw Paws is another made-in-USA pet food brand that commits itself to provide all-natural ingredients to keep dogs healthy. Since these treats do not include grains or unnecessary fillers, they do not tend to upset dogs' stomachs.
According to many customer reviews, even picky dogs of all ages love how these treats taste. And, when customers are less than satisfied, Raw Paws' customer service seeks to make it right immediately.
Who We Recommend it for:
We recommend these treats for anyone looking for all-natural treats. Raw Paws is a small business that locally sourced ingredients. Raw Paws is also committed to eco-friendly shipping practices and work environments.
So, if sustainability and environmental friendliness are selling points for you, these treats are a great choice.
13. Jiminy's Original Cricket Cookie (Best Dog Cookies)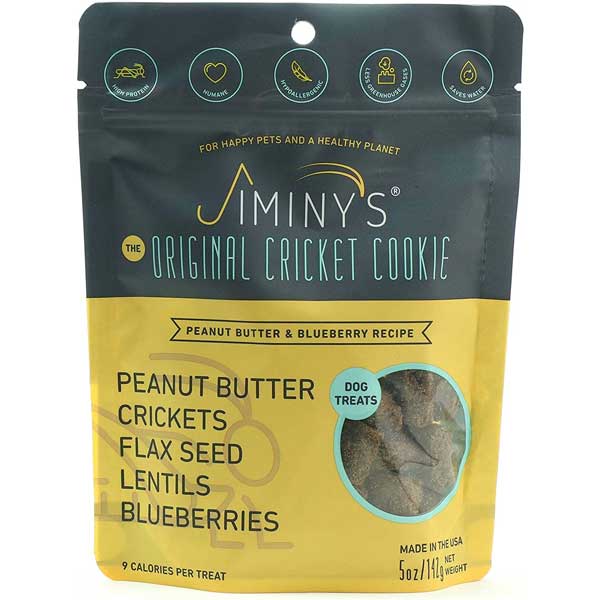 | | |
| --- | --- |
| Estimated Price | $10 |
| Quantity | 5 oz. |
| Available Flavors | Peanut Butter and Blueberry |
| Origin | Oakland, California |
Product Origin and Manufacturer Information:
Jiminy's was founded out of the need to create truly sustainable pet food. It is unique from other pet brands on this list because its main protein is crickets. While this sounds strange and downright disconcerting, crickets are actually a highly sustainable source of protein. Insect protein offers pets the nutrition that they need.
According to the company, each dog that eats insect protein instead of animal protein saves 480,000 gallons per year. Raising farm animals for food uses a great deal of land, water, and feed. Raising crickets, on the other hand, is humane and uses far less of the earth's resources.
Jiminy's Original Cricket Cookies are hypoallergenic and good for pets' gut biome. While all treats are baked and packaged in the US, some crickets are raised in both the US and Canada.
Why Your Dog Will Love These Treats:
The idea of cricket treats was interesting at first. But cricket pet food actually makes sense. With the earth's natural resources in a wavering supply, we need to find new sources of protein to sustain life. In all actuality, crickets are not a new source of protein. Insects have been eaten for millennia by animals and humans alike.
We find it impressive that Jiminy's takes such effort to raise its insects humanely in their preferred environments. It shows how committed the company is to eco-friendliness. The company also has received Amazon's Climate Pledge Friendly badge for its compact design.
According to customer reviews, dogs do like how these taste. It might not be as enticing as other treats, so it might take a few tries before your dog becomes hooked.
Who We Recommend it for:
We recommend Jiminy's dog biscuits to any pet owner who is interested in finding other protein sources for their dogs. Some dogs cannot digest certain proteins due to allergies and health problems. Insect-based protein is hypoallergenic, so it does not trigger the same allergies other protein sources do. If you're looking for high-quality dog treats made in the USA these are a great option.
14. Brewscuits Peanut Butter Dog Treats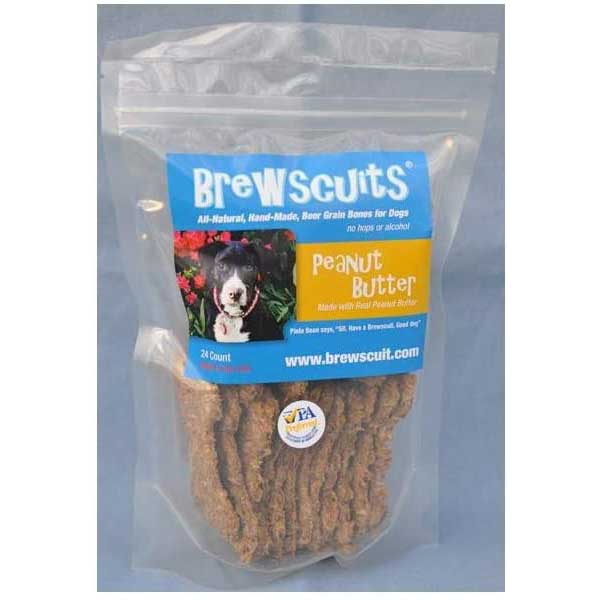 | | |
| --- | --- |
| Estimated Price | $15 |
| Quantity | 24 Biscuits |
| Available Flavors | Peanut butter |
| Origin | Telford, PA |
Product Origin and Manufacturer Information:
Brewscuits has a clear product origin: beer. Some folks were homebrewing beer at home when their rescue dogs tried eating the spent grain. Apparently, they found it irresistible. Now, Brewscuits makes their treats from the spent barley, oats, and rye of breweries all over. So, the business model is essentially built on upcycling.
Of course, the official treats are now formulated to be healthy and nutritious for dogs. They are high in fiber and protein with no chemical preservatives. These treats are all-natural and made in the USA, so proud pup parents can feel comfortable in their feeding choices.
The company donates $1 from every bag of Bewscuits sold to an animal rescue. Each month a new rescue is chosen to receive these donations. Brewscuits also works with Mission K9 Rescue, an organization that helps to rehabilitate and rehome working dogs once they hit retirement.
Why Your Dog Will Love These Treats:
Beer might not sound like the most nutritious base for dog treats, but Brewscuits are great. The peanut butter flavor is more than 19 percent protein, and the wheat provides nutritious fiber. Fortunately for your canine, these treats do not contain alcohol.
The concept behind Brewscuits is unique and creative. There was no way we could leave this company off the list.
In addition to the fun origin story, Brewscuits are nutritious and have no cornmeal or fillers that do not add value. Brewscuits dog biscuits are all made and cut by hand and have no added hops, corn, soy, salt, sugar, preservatives, or additives.
Who We Recommend it for:
We recommend Brewscuits for dog owners who want nutritious, made-in-America dog treats that have a fun edge. Brewscuits not only has a great origin story, but the company also does a ton of great work with local rescues and organizations to help canines in need.
These biscuits also include vitamins and minerals that boost dogs' immune systems. The fiber aids in digestion, and antioxidants fight off certain health issues.
15. Clear Conscience Pet Lamb Chewz (Best Lamb Dog Treats)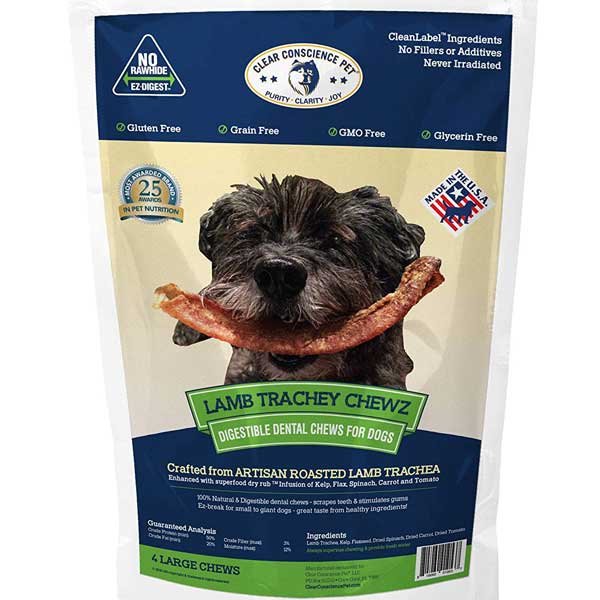 | | |
| --- | --- |
| Estimated Price | $15 |
| Quantity | 3 oz. |
| Available Flavors | Lamb |
| Origin | Wilton, Connecticut |
Product Origin and Manufacturer Information:
Clear Conscience Pet makes artisanal treats and foods for pets based on holistic formulas. Anthony Bennie, Co-Founder and Chief Nutrition Officer of Clear Conscience Pet, has won several awards in the natural pet nutrition industry. Amanda Bennie, Co-Founder of Clear Conscience Pet, is a major proponent of natural pet foods and has won awards in the industry, as well.
These two experts are trusted and renowned in the industry and pride themselves on providing holistic pet food solutions for the health and wellness of customers' pets. The trachea chews are made from the tracheas of pasture-raised lamb and enhanced with a superfood dry rub for added nutrition.
Why Your Dog Will Love These Treats:
Clear Conscience Pet was founded by highly-awarded people in the industry, and it has become the most highly-awarded brand in pet nutrition. You can bet that they know what they are talking about when it comes to natural pet nutrition.
The company is transparent about its ingredients, which include no artificial preservatives, colors, or flavors. They do not add fillers to their items, either. These trachea chews are digestible and provide natural dental health while dogs gnaw.
These chews only include a few ingredients: lamb trachea, flaxseed, dried spinach, dried tomato, and dried carrot, most of which are in the superfood rub.
Who We Recommend it for:
We recommend these chews for dogs who have sensitive teeth, anxiety, or gnawing issues. In addition, you can break these chews into smaller pieces so dogs of all sizes can gain their benefits.
If you are in search of an all-natural dog treat that your pet will love, this would be a great one to choose. Unlike many chewable bones, these are safe and are unlikely to cause gum damage or splinter apart.
16. Upstate Elevator Supply Hemp Chewy Calm Bites (Best CBD Dog Treats)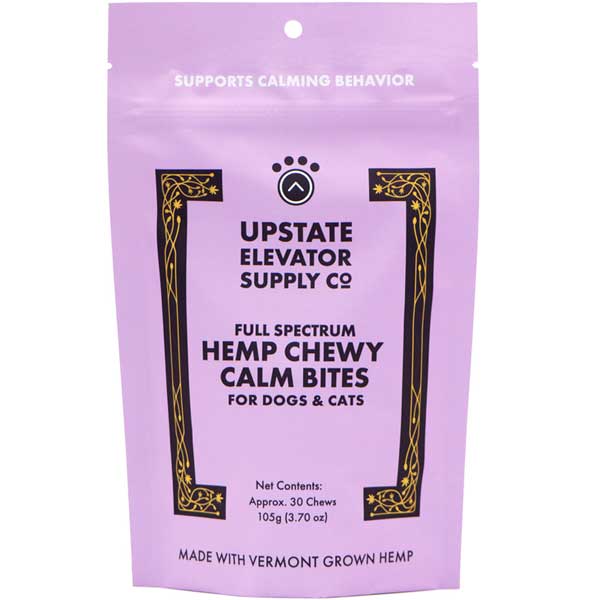 | | |
| --- | --- |
| Estimated Price | $20 |
| Quantity | 3.7 oz. |
| Available Flavors | Chicken liver |
| Origin | Burlington, Vermont |
Product Origin and Manufacturer Information:
With the rise of CBD use for a myriad of conditions, it is no surprise that CBD dog treats are also on the market. Upstate Elevator Supply's Hemp Chewy Calm Bites are formulated to give dogs (and cats!) a therapeutic dose of full-spectrum CBD to induce soothing relaxation.
All of Upstate Elevator Supply's hemp is farmed and harvested in Vermont or sustainably harvested from Colorado. None contain harmful chemical preservatives. Third-party testing ensures all products are high-quality.
Why Your Dog Will Love These Treats:
CBD has been shown to work wonders on humans and animals alike. Upstate Elevator Supply's hemp bites have helped some dogs with anxiety, behavioral issues, and even seizures. With the explosion of CBD's popularity, this company uses transparent, sustainable, wholesome practices that are hard to find.
There are some less natural ingredients in these dog chews than in others on this list, including maltodextrin, sorbic acid, and more. Be mindful of that fact if ingredients are the most important factor to you and your dog.
These are not like other treats that you can feed your dog throughout the day. These have specific dosage instructions based on your dog or cat's weight. As with the introduction of any new supplement, you should consult with your veterinarian before adding CBD to your pet's routine.
Who We Recommend it for:
We recommend these chews for any dog that suffers from anxiety, hyperactivity, or other conditions that CBD is known to help with. CBD is not a cure-all, but it has been shown to aid in reducing stress and creating a calming demeanor.
Older dogs with joint pain and arthritis might benefit as well. If your dog has a neurological disorder that causes seizures, consider talking with your vet about CBD chews.
Factors We Considered:
When choosing dog treats made in the USA for this list, we specifically looked for treats that checked certain boxes. The treats compiled for this list are all relatively natural, healthy, and popular with dogs, and they all offer something special that sets them apart from other dog treats on the market.
There are all kinds of dog treats on the market. Most of them are unhealthy and offer nothing of nutritional value to our precious pups. When choosing treats for your dog, it is typically easier to find better quality ingredients because items are sourced locally, allowing for more quality control.
If you are on a natural food journey or simply want to start purchasing healthier pet food options, consider patronizing one of the 15 companies on this list. These companies are transparent about ingredients and nutritional value. When you know where your dog's treats are coming from, it makes the experience even better for both of you.
Wrapping Things Up:
While some companies choose to focus on meat-based treats to cater to dogs' carnivorous diets, others have found ways to incorporate fruits and vegetables in ways dogs find delicious. Start with the flavors you know your dog likes. Many of these companies offer 100 percent money-back guarantees if you or your furry buddies are not totally satisfied. If your dog reacts negatively to an option, keep trying other treats as you are sure to find something you and your dog will both love! Your furry best friend deserves the best when he's a good boy, so make sure you're treating them with top-quality treats!
Hi, my name is Kevin and I'm from Pittsburgh, Pennsylvania. Choosing products made in America is important to me because it supports local economies, creates jobs, helps the environment, and ensures ethical labor practices. I also find that American made products are usually of higher quality so although they're a little more expensive, you save money in the long run. Before starting this website I was in the USMC infantry and nowadays I work on this website as a hobby.