There is just something about finding the perfect pair of dress shoes that you can pull out of the closet, put on your feet and pull together any outfit.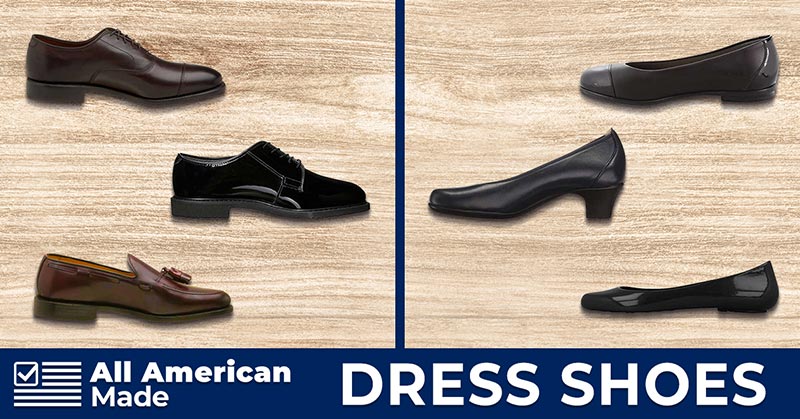 American-made dress shoes are often superior to those made overseas for several reasons. They are often made with premium materials and extremely high attention to detail. And although they are often more expensive, they typically last much longer.
We will start our list with some great staple options for the guys and then finish with some classic styles for the ladies. All made here in America. All ready to have you looking your best no matter the occasion!
List of American-Made Dress Shoes
1. Allen Edmonds Park Avenue (Best Men's Cap Toe Dress Shoe)

| | |
| --- | --- |
| Estimated Price | $400 |
| Sizes Available | 5-16 (different widths available) |
| Upper | Leather |
| Outsole | Single Oak Leather |
Allen Edmonds's Origin and Manufacturing Locations
One of the first brands that will come to any shopper's mind when considering a great American-made dress shoe will be Allen Edmonds. They were founded in 1922 by Elbert W. Allen in Belgium, Wisconsin, with the idea of using a cork insole rather than the typical steel shanks that were more well-known in the shoe industry at the time.
The company has withstood the Great Depression, World War II, and a factory fire, yet here we are today and the company is continuing to thrive and innovate its products and technologies to meet the needs of today's customers.
While they have evolved their products, they still remain true to their core values of quality materials, integrity, and honesty, understanding that these values will last through all phases and fads that pass by.
The Allen Edmonds styles are handcrafted in Port Washington, Wisconsin, and can take up to 212 steps to complete one pair. Most styles include a 360-degree Goodyear Bench Welt that not only makes the shoe more comfortable and sturdy but also prolongs the life of the style by making it recraftable and securing your investment.
What We Like and Don't Like About Allen Edmonds Park Avenue Dress Shoes
The cap toe style is a bit more classic and very understated. Its straight lines give off the impression of a timeless look and are a great addition to any man's wardrobe, whether for an important meeting in the conference room or to walk your daughter down the aisle.
This style is built like many of the Allen Edmonds styles with the cork footbed midsole that will only get more comfortable the more you wear them. The Park Avenue style has been the best-selling style for the brand for over three decades and continues to catch the eye of customers with each calendar year.
Any man would be seen as a classic gentleman with a pair of Allen Edmonds Park Avenue shoes in their closet. Whether they choose the Walnut color (my personal favorite), or any other of the great classic colors, they will be set with an American icon in their closet.
If proper care is taken care of this shoe, it could last you an entire lifetime. The availability of the different widths also makes for a comfortable fit no matter what the shape of your foot is.
Walking around with the Allen Edmonds stamp on the sole of your shoe will definitely give you an air of confidence and maybe even add a little skip to your step.
2. Allen Edmonds Grayson Tassel Loafer (Best Men's Tassel Loafer)

| | |
| --- | --- |
| Estimated Price | $400 |
| Sizes Available | 6-16 (different widths available) |
| Upper | Leather |
| Outsole | Synthetic |
What We Like and Don't Like About Allen Edmonds Grayson Tassel Loafers
The tassel is definitely a very specific type of dress shoe and may not be everybody's cup of tea, but if you are looking for a well-made, classic style in this option, this is the shoe for you.
This shoe can be dressed up or down depending on what you pair it with. It also has a bench-welt construction that is durable and gives you a sturdy foundation for a day in the boardroom. It also makes this style recraftable to protect your investment for many years to come.
The Merlot color was definitely my favorite because it can be paired with black or brown outfits, but the classic black option would also be a solid pick for a tassel loafer.
The tassel loafer would be for any guy looking to add a little bit of flair to his dress wardrobe in a very tasteful way. It may be a bit specific, but I definitely feel like it is a style that is on its way back into the mainstream shoe industry.
This shoe is known for its style, comfort, and quality, as well as for being versatile enough for day or evening looks.
3. Allen Edmonds McAllister Oxford (Best Men's Wing Tip Style)

| | |
| --- | --- |
| Estimated Price | $400 |
| Sizes Available | 5-16 (different widths available) |
| Upper | Leather |
| Outsole | Black Dainite |
What We Like and Don't Like About Allen Edmonds McAllister Oxford Shoes
The wingtip style is my favorite when it comes to the men's side of dress shoes. It just adds that little bit of flair to an old classic, and the eye is definitely in the details. The Walnut and Dark Chili were the two that caught my eye on this one, but there wasn't a single color that you could go wrong with.
The perforated brogue styling is impeccable and really shows the history and experience that the Allen Edmonds brand brings to the table. You can see the personal touch in each style and know that each pair has been put together with care and skilled craftsmanship.
This style from Allen Edmonds would be a great fit for any man needing a classic wing-tip dress shoe to have in his closet for everyday use or just on hand for a special occasion. The details in this shoe would be a great talking piece at any event.
The reviews for this style were very positive in regard to comfort, quality, workmanship, and materials used. One customer had even had their pair of Allen Edmonds Wing-Tips for over forty years and said they were still going strong. These are easily some of the best men's dress shoes made in the USA.
4. Bates Lites Black High-Gloss Oxford (Best Dress Oxford for a Uniform)

| | |
| --- | --- |
| Estimated Price | $150 |
| Sizes Available | 4.5-17 (different widths available) |
| Upper | Leather |
| Outsole | Rubber |
Bates's Origin and Manufacturing Locations
The Bates brand is one of the oldest businesses in the shoe industry. They were founded in 1885 by Andrew Jackson Bates in Webster, Massachusetts. In 1930 they manufactured over one million pairs of shoes for the government during World War II.
In 1969 the brand became a part of the Wolverine World Wide Inc family of brands, and in 2003 they came out with the Ultra-Lites line of styles that this particular oxford is a part of. They are manufactured at their facility in Big Rapids, Michigan.
What We Like and Don't Like About Bates Lites Black High-Gloss Oxford Dress Shoes
This is a style that I was able to work with when I worked at a local retail store, and although it's not anything fancy, it is a dependable, well-built shoe that is perfect for military uniforms or a nice glossy look to get a kid snazzed up for their high school prom.
This is another dress shoe option put together with the Goodyear Welt Construction that is not only comfortable and molds to your feet but can be reconstructed and last you as long as you need them to and then some.
It has a non-marking outsole and a very easy-to-clean upper. We actually rented this style out for our local prom, and you would be amazed at how durable this upper is with a good shining sponge.
This style is a perfect fit for someone in the military or law enforcement who needs a shoe to go with their dress uniform. Whether it be for a military ball or a pinning ceremony as you move up to the next rank, the Bates Lites High-Gloss Oxford will get you there in style.
Each shoe is designed to perform a duty for its owner, and they are continually dedicated to performance and integrity and give the customer 24/7 comfort. As you serve the community, these shoes will be there to serve your feet.
5. SAS Penny 40 Slip-on Loafer (Best Men's Penny Loafer Dress Shoe)

| | |
| --- | --- |
| Estimated Price | $255 |
| Sizes Available | 6-15 (different widths available) |
| Upper | Leather |
| Outsole | Leather |
SAS's Origin and Manufacturing Locations
SAS is one of very few brands that began their story in the United States and have never left. Their story began in 1976 with founders Terry Armstrong and Lew Hayden out on the east coast, and once they decided that the shoe business was their dream, they picked up and moved to Texas to start the adventure and have brought nothing but prosperity to the state ever since.
They are still a family-owned business today that focuses on quality products, comfort technologies, and bringing the best American-made product to every single customer that puts on a pair of their shoes.
Their employees become like a part of their family as many of them begin their working careers at SAS and stay until retirement. In fact, 42% of their workforce has been a part of the SAS family for over fifteen years. These experienced craftspeople construct and inspect each shoe by hand before it ever leaves their Texas factory.
What We Like and Don't Like About SAS Penny 40 Slip-on Loafers
The Penny 40 is an absolute icon in the dress shoe arena. The classic lines and simple yet elegant style will never be outdated. The best part of the SAS Penny option is that you don't have to sacrifice comfort for looks, as it has many of the SAS Comfort features to keep you walking all day smoothly.
It has a moccasin construction that wraps the leather completely around the foot and gives upper flexibility and a smooth transition from opening the shoe out of the box to your first day in the office. This style also uses the SAS Footshape, which shapes the leather upper to ensure a proper fit.
The black or cordovan color options are both subtle yet very classy and could really be worn anywhere from a day to evening setting, depending on what you're needing from them.
When you invest in a pair of penny loafer dress shoes, this is my absolute top pick for not only a great, classic dress shoe but for an American-made trophy to display in your closet. Bringing so much history between the brand and the style of shoe will be an investment that will continue to pay dividends every time you put them on.
This style will also keep your feet happy with a cushion built into the forepart of the leather sole to make sure that the pressure point at the ball of the foot is not left unattended. Everyone knows what it feels like to have foot pain, but these shoes will keep you looking and feeling good.
6. Gokey Bison Penny Loafer (Best Casual Dress Penny Loafer)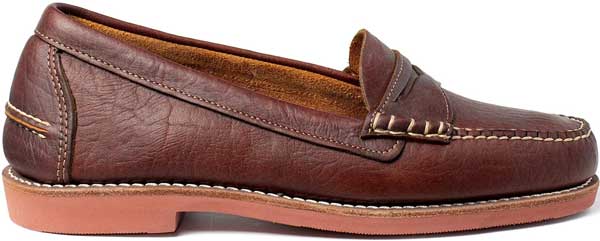 | | |
| --- | --- |
| Estimated Price | $310 |
| Sizes Available | 8-13 (Medium & Wide Widths Available) |
| Upper | Bison Leather |
| Outsole | Vibram |
Gokey's Origin and Manufacturing Locations
Beginning in 1850, the Gokey brand is known more with hunters for some of their boot styles and their partnership with some hunting accessory companies but they can also pull off some gorgeous casual dress shoes like the penny loafer we are showcasing today.
Gokey products may be made in Tipton, Missouri, but they have also made it all the way to Washington D.C. and been worn by Presidents Eisenhower and Teddy Roosevelt. They pride themselves on building shoes for comfort and a lifetime of wear, understanding that money from your pocketbook should be put to good use and not wasted on something that doesn't hold up.
They do not outsource any step in the process, and they train their craftsman for five years to learn the specific ins and outs of the shoe-building process. They want to make sure that their workers are just as invested in their products as their customers are.
In April of 2020, they showed that not only do they want to provide great products to the American people but that they also care about their well-being even during some of the hardest years. They converted part of their manufacturing facility into a protective facemask facility and donated all facemask products made to local medical facilities in Missouri and Iowa.
What We Like and Don't Like About Gokey Bison Penny Loafers
This full-grain Bison leather is absolutely gorgeous to look at online, and I can only imagine how stunning they are in person. With this leather, you also can go sans-free socks due to its natural breathability and superior odor absorption properties.
It has the classic, hand-sewn moccasin construction paired with a Vibram Gumlite sole, so you will have a soft, sock-like upper with a sturdy slip-resisting bottom and a great overall casual dress loafer to get you through the day.
This style of leather definitely will appeal more to someone who is needing a casual dress loafer for the office or maybe a day out on the town where you need something a little fancier than tennis shoes. If you care for your leather properly, this shoe could definitely be worth its weight in gold for many years to come.
The reviews for great quality were abundant with this one, and it's pretty easy to see why. This was the only style I found that uses the Bison leather, and it definitely seems to be in a class of its own when it comes to quality and style.
You can also rest assured that the stitching will stay in place for many years of wear as each stitch is not only waxed beforehand to improve durability but is also knotted firmly in place and gone over by hand to make sure it stays where it is meant to.
Popular Related Article: List of Our Favorite Shoes Made in the USA (All Types)
7. Women's SAS Scenic Ballet Flat (Best Women's Leather Flat)

| | |
| --- | --- |
| Estimated Price | $155 |
| Sizes Available | 4-12 (different widths available) |
| Upper | Leather |
| Outsole | Polyurethane |
SAS's Origin and Manufacturing Locations
You can always count on SAS to bring you great options when it comes to the dress shoes that everyone needs to have because they have been around long enough to understand exactly what you need.
What We Like and Don't Like About SAS Scenic Ballet Flats
When looking for a great flat, there are a few things to keep in mind. First, you want great leather that will form to your feet as the day goes on, not leaving any kind of blisters or uncomfortable aches. Second, you will need something that has classic lines and can be paired with a cute dress or nice pair of jeans, depending on what you feel like wearing on any given day.
Lucky for you, this option from SAS can check those boxes and then some. With a variety of styles, from smooth, premium leathers to patent and patterned options, you are sure to find just the right one for you.
If you are like me and tend to reach for your flats more than anything else, you will also find it handy that the footbed is removable and able to be washed so you won't have to worry about the inside getting dingey if you wear them more days than you don't.
I would almost go as far as to say that if you are a woman that has feet, this is a great style for you. It is made for all-day comfort with SAS technology designed just for you and even offers a flex strip construction that is unique to shoes from SAS that creates a bendable shoe that requires much less time to break in.
The reviews for this style were great for comfort and quality and many were appreciative of the options of different widths. Flats can be kind of tricky to find just the right fit, so this is definitely an added bonus for this category.
8. Women's SAS Milano Pump (Best Women's Pump Dress Shoe)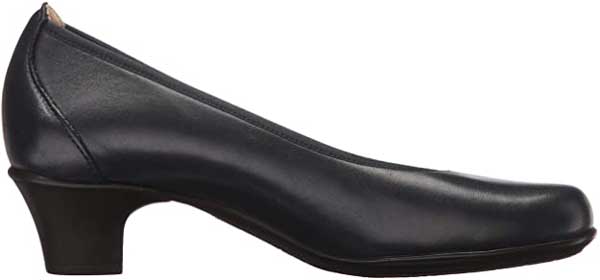 | | |
| --- | --- |
| Estimated Price | $160 |
| Sizes Available | 4-12 (different widths available) |
| Upper | Leather |
| Outsole | Polyurethane |
What We Like and Don't Like About SAS Milano Pumps
The pump is another style that most women have at least one of in their closets. The Milano pairs premium leather uppers with a small heel for the perfect dress pump for any occasion.
This style is also offered with the same heel and upper with a mary-jane strap in case you feel like you need a bit more support across the top of the foot.
The sole is designed with millions of small air bubbles that provide shock absorption as you walk. This is another bonus of getting a shoe from a company that is not only made in America but is also constantly working to improve their technologies to not only produce great-looking shoes but also comfortable shoes that can be worn all day.
We all know that the American workday often goes well past a regularly scheduled time period, and we need to make sure our dress shoes are up for the task.
This would be a perfect fit for filling that spot for a great pump in your wardrobe. With several color options to choose from and all-day comfort, this is a shoe that should not be overlooked.
Many customer reviews stated that they were grateful for just the right heel height and size. If you have walked in a pair of heels before, you can appreciate one that doesn't leave you feeling like you might tip over at any given second.
9. Women's Oka-B Taylor Ballet Flat (Best Women's Non-Leather Ballet Flat)

| | |
| --- | --- |
| Estimated Price | $40 |
| Sizes Available | 6-11 |
| Upper | Vegan Bio-Based Material |
| Outsole | Vegan Bio-Based Material |
Oka-B's Origin and Manufacturing Locations
The Oka-B and Okabashi brands are all manufactured out of Buford, Georgia, and have been since 1984, when the company first opened its doors. They now have over 200 employees and operate a 100,000-square feet manufacturing facility.
This company uses its own vegan, bio-based material that they grow here in the United States with a base of 45% soy, and they don't stop there in reducing its carbon footprint. But they also have their recycling program to take in well-loved shoes they have sold and put them back into new styles.
They are led by a female team that is continually striving to not only bring the best American-made products that they can but to do their part in making these products in the most responsible and sustainable ways. They are truly in a lane of their own when it comes to shoe manufacturing.
What We Like and Don't Like About Oka-B Taylor Ballet Flats
While this style is definitely in a different lane than the other dress shoe styles we have gone over, I wanted to add it in to give the customer an option that is still American made, but much easier on the budget and definitely a bit more friendly to the environment while still meeting that need for a dress shoe.
They pride themselves on providing great arch support as well as stability and support even though their shoes aren't built up like many shoes in their niche. Creating their own path and producing their own materials is definitely something that shouldn't be looked over.
This would be a great style if you are needing a classic dress shoe look but do not necessarily want to make a large investment to get one. They are machine washable and come in both black and other neutral color options to fit any lady's wardrobe.
They are also 100% recyclable, so when you feel like you have gotten all of the wear out of them possible, you can return them to the manufacturing facility in Burford, GA, and receive a discount on your next pair. Winning for everybody.
There are so many great options out there for the perfect dress shoe that is not only great to look at and comfortable but also handcrafted here in America.
When you need something that you can depend on at a moment's notice, I know that one of the shoes we went over today will be the perfect fit. If you're looking for high-quality American-made dress shoes that aren't too expensive, these are a great option.
10. Women's Cordani Wellesley (Best Women's Wedge Dress Shoe)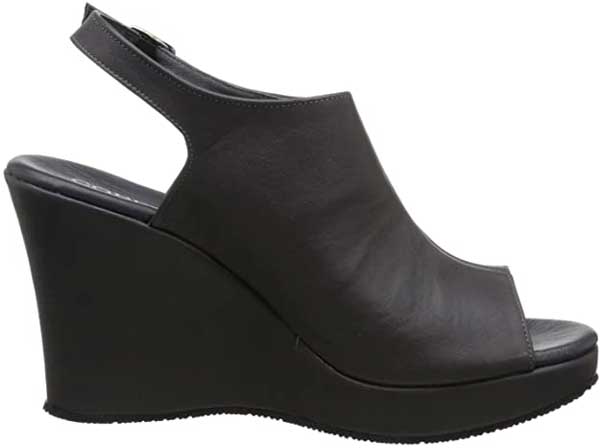 | | |
| --- | --- |
| Estimated Price | $150 |
| Sizes Available | 5-11 |
| Upper | Leather |
| Outsole | Rubber |
Cordani's Origin and Manufacturing Locations
The Cordani brand was founded by a couple of Boston, Massachusetts natives after Allyson struggled to find a dress shoe that was both stylish and comfortable. After being frustrated with great-looking shoes that left blisters on her feet after wearing them all day she and her husband went back to his family roots in Italy and decided to build a brand that embodied both style and comfort together.
They work with many family-owned factories throughout Italy, but they also work with one in California that produces the style we are going over today. This particular factory is owned by a family of Armenian descent, and they have brought their knowledge and history of shoemaking traditions to America. It shows that when we all work together, great products are the result.
What We Like and Don't Like About Cordani Wellesley Dress Shoes
A wedge dress shoe is a great option for the lady that likes the higher heel but feels a bit wobbly on a more classic heel option. This is a great style to keep you comfortable and on your feet all day without worry.
The leather-wrapped buckle and upper are going to mold to your feet as you wear them and basically feel like a sock connected to the wedge sole. You can see the quality of leather and design that went into this shoe, and how it is specifically made to keep you styling and comfortable all at the same time.
The colors available are all very subtle yet super classy and could go with anything you could think of to wear. This would make the decision of what shoe to wear the easy part of putting your outfit together.
I would recommend this wedge dress shoe to any lady that is wanting to wear a higher heel but also wants to feel secure when walking. I'm not the greatest with high heels but have learned that wedges can be a great alternative to still get the look I want without having to learn how to balance.
The Italian design of this style mixed with the handmade craftsmanship of a small American factory is a great combination when you're considering where to buy your dress shoes. This style also has an open-toe and could be used for multiple seasons.
11. Women's Munro Alfie (Best Women's Dress Boot)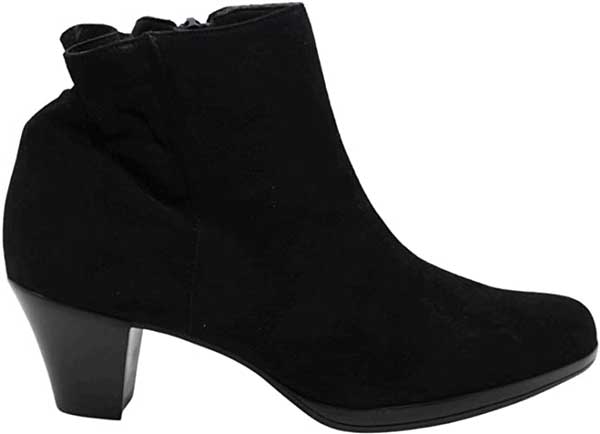 | | |
| --- | --- |
| Estimated Price | $150 |
| Sizes Available | 4-14 (different widths available) |
| Upper | Leather (Suede Option available) |
| Outsole | Latex Rubber |
Munro's Origin and Manufacturing Locations
The Munro brand has not been around quite as long as some of the companies we have gone over today, but going back to 1972, they were founded by Don Munro in Hot Springs, Arkansas, and continue to be run by his children today.
They operate two separate facilities in Arkansas, one for product development and manufacturing and the second one as a corporate office and distribution center. This puts them right in the heart and soul of America and is an advantage that many companies don't have.
All Munro styles are built on a combination last, which means the heel is more narrow than the ball of the foot, and this is imperative in the design of any dress shoe. They do also work to make sure many different widths are available, so sometimes their styles will switch fairly often as they want to move with the fashion industry as well as serve their customers new and familiar with the company.
What We Like and Don't Like About Munro Alfie Dress Boots
I think if you were to look into any woman's closet, you are going to find a low heel, black dress boot. This is a great style to fill that spot for you. The heel is high enough to look dressy but is low enough that if you needed to wear it all day, you wouldn't have a problem.
It has a very elegant look to it, and with the little scrunch on the back of the heel, it will make for a perfect fit no matter what your shoe size may be. If you choose the suede option they have also treated that for water resistance so if you get caught in a rainstorm you won't have to worry about your dress boots being ruined.
This would be a great dress boot for any woman who needs a simple, elegant, small heel boot that she can wear for multiple occasions. This could be worn to the office or even to a wedding if needed. It is not only great to look at but is built with comfort and a great fit in mind as well.
You can also be assured when you step out in this dress boot that you are supporting a family dream that still focuses on quality and craftsmanship with every pair of shoes they put out into the market. If you're looking for high-quality women's dress shoes made in the USA, these are a great option.
Wrap Up:
That does it for this article. Let us know if there are any great shoes we should add to our list in the comments below!
Hi, my name is Kevin and I'm from Pittsburgh, Pennsylvania. Choosing products made in America is important to me because it supports local economies, creates jobs, helps the environment, and ensures ethical labor practices. I also find that American made products are usually of higher quality so although they're a little more expensive, you save money in the long run. Before starting this website I was in the USMC infantry and nowadays I work on this website as a hobby.