Dresses are a fashion statement that can be customized to your unique and personal tastes, making them an excellent addition to the American wardrobe for added diversity and flavor!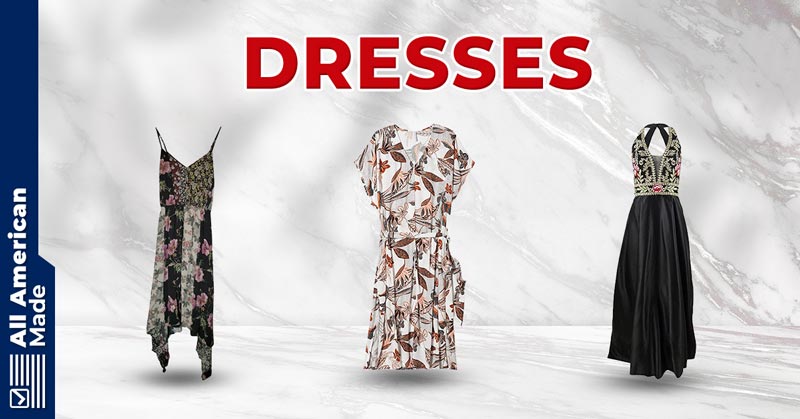 It's no secret that in America, we took a pretty big hit during globalization in terms of our textile industries, and with that, the options for dresses made in the USA have dwindled, but there are still some excellent options to consider.
We can't wait to help you find American made additions to the wardrobe and that's why we have put this guide together. Simply scroll through this list and pick out your new favorite dress!
List of American Made Dresses
Flynn Skye (Editor's Choice)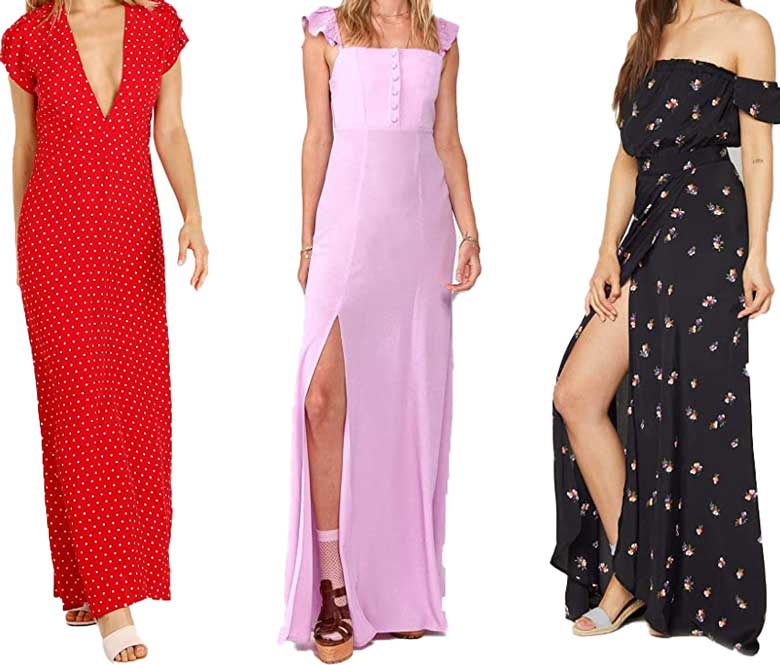 | | |
| --- | --- |
| Size Options | Small to Extra Large |
| Designs Available | Short, Sweetheart, Swing, Maxi, Multi-Piece |
| Origin | Los Angeles, CA |
Product Origin and Manufacturer Information:
Flynn Skye was created by a stylist who wanted to go beyond the confines of the fashion industry to create inclusive lines. Amber had one goal in mind: To make women feel beautiful in high-quality, tailored, and lovingly crafted American fashion. From Shay Mitchell to Olivia Jordan, her brand is loved and affordable for both celebrities and citizens alike, working with some of the latest inspiration from fashion capitals and catwalks — bringing one-of-a-kind creations to life in her local factory in Los Angeles, California. Flynn Skye continues to innovate and work in small batches, giving every product the unique quality and feel that you've come to expect from American made products.
What We Like and Don't Like:
When I ran into Flynn Skye, I was excited to see that the brand was truly American made. They have become a cult success with their repertoire of celebrity styles and looks, made even more desirable by their limited run process and commitment to unique, one-of-a-kind wears. The designs are unlike what you'll find at a big-name department store, paying homage to handmade and traditional American style and production processes. Instead, you're getting a limited edition piece at an affordable price that can keep you in style, all night long.
As their pieces are limited in number, this can significantly reduce the size availability due to fabric allocation and widespread demand. Flynn Skye actively works to be as inclusive as possible, and currently offers sizing between small to extra large. However, due to the quality of the fabric used and the body-accentuating, attractive designs, many people find the sizing to be flexible and inclusive. Just one more thing we love about this American made clothing brand!
The brand has expanded since its launch in 2012 and has created custom styles to suit nearly any style preference. Currently, they offer:
Maxi-style dresses and skirts
Midi-style and length
Sleeveless and sleeve options
Slip dresses
Mini dresses
If you're interested in buying for this brand, keep an eye out for seasonal rollouts. We promise that you won't regret it! Because the brand works in small batches nearly exclusively, you can enjoy styles that are right on the cusp of becoming popular or that just launched, keeping you well-dressed for any occasion.
Who We Recommend These Dresses For:
This brand is ideal for those who enjoy looser, comfortable styles that are inspired by the boho-chic vibes of Venice, California. While the brand offers great diversity when it comes to style and design, you can clearly see the inspiration that the beach and natural beauty of California have brought to Amber, letting an intoxicating exotic feel come through in every design. If you're looking to try something new without sacrificing the quality that American made products bring, we strongly recommend Flynn Skye.
R & M Richards (Great Formal Wear Dresses)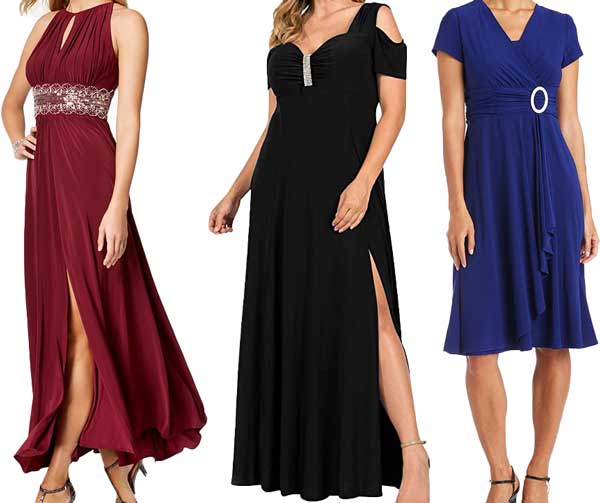 | | |
| --- | --- |
| Size Options | 16-24 Plus |
| Designs Available | Cap Sleeve, Off The Shoulder, Maxi, Fitted, Formal, Mature |
| Origin | New York, NY |
Product Origin and Manufacturer Information:
R & M Richards has been serving the formal wear field since the company launched in 1990, thanks to the ingenuity and entrepreneurial spirit of Mario Dell'Anno. It has remained family-owned and operated since its launch, which gives it a truly classy and unique, tailored feel with every purchase. This company is one of the few style houses in New York that works to make many products domestically, especially as many continue to import and export to international assembly and production houses.
What We Like and Don't Like:
Everybody needs a formal wear gown at least once in their lives, and you need the quality assurance that comes from American made products to avoid additional stress and wardrobe malfunctions on the day of your event. The brand features high-quality fabrics that are designed to elevate your confidence and give you an air of luxury, instantly.
What I enjoyed was the variety of styles available that cater to a more mature crowd, and the diversity of the styles offered. Normally in formalwear, you're limited to either cocktail-style dresses or the long, flowing skirts that you'll see on more mature members of the crowd. The brand has found its place firmly in the middle, catering both types of styles and a wide range in between, empowering customers to find their own unique fit.
For evening wear, the clothing options are relatively affordable and would make a strong investment in your personal wardrobe choice. The brand is inclusive, catering to larger sizes without compromising the quality and overall construction of your garment.
It is important to check the different descriptions for each gown, as some may not be made in America. While R & M attempts to make a good deal of products domestically, some types and styles do get outsourced to overseas assembly locations. Read the descriptions carefully, as the brand is straightforward and will advise if a garment is not made in America.
Who We Recommend These Dresses For:
We recommend R & M Richards for a more mature crowd who is looking for classy evening wear at an affordable price. The style is Americanized elegance, and is available in a wide array of varieties and styles that you can enjoy for just about any formal occasion.
Lulus (Great Bodycon & Mini Dresses)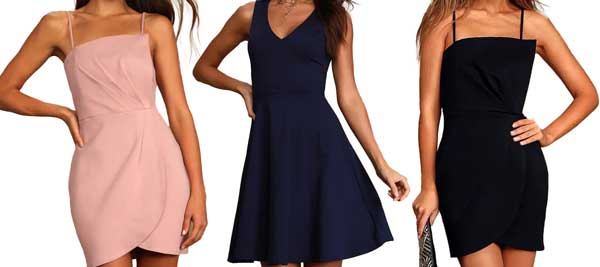 | | |
| --- | --- |
| Size Options | 16-24 Plus |
| Designs Available | Bodycon, Mini, All Purpose, A-line, Skater, Off-The-Shoulder |
| Origin | Northern California |
Product Origin and Manufacturer Information:
Lulu's began as a dream and a storefront along the Northern California coast in 1996. The brand has most recently gone public in 2021, after years of expansion and growth. Their overall goal was to provide diverse and accommodating American fashion for bodies of all types and sizes, in an attempt to make women feel beautiful for any occasion. Their quality has been unmatched and has laid the foundation for their reputation for the past few years, giving them the tools needed for success in a highly competitive industry.
What We Like and Don't Like:
I've grown up wearing Lulu's for all occasions as a Los Angeles native, whether it was for graduation dinner, Prom, or just a college night out on the town. When I saw that Lulu's carried such a large variety of American made dresses and garments, I was so excited. They have one of the largest collections yet, clocking in at just over 500 pieces.
Normally, domestically made bodycon and tighter-form dress styles are difficult to find. This is largely due to production and manufacturing processes, as well as the fabrics often used in these designs, such as spandex. To know that there's an American made option available was exciting, and got me looking at their other styles that I could use to give my wardrobe a much needed update.
Lulu's offers a variety of dress designs and styles, most notably:
Off the shoulder
Skater
A-line
Bodycon
Mini
Midi
Maxi
…and so much more, depending on the occasion. They also offer a wide variety of other clothing types, ranging from tops to bottoms, and including every category, you could think of. This includes sleepwear, loungewear, outerwear, and more, as well as different styles for other types of occasions: such as weddings and cocktail parties.
Essentially, Lulu's seems like the all-in-one, end-to-end solution for your garment needs. It's extremely convenient to have every category of dress that you could ever need in a single centralized location — but just be sure to do your reading. While many of Lulu's products are domestically produced and made in America, several pieces aren't. They are clear about this and dedicate a section of their website exclusively to the made in America selection so that you can purchase in alignment with your needs.
Who We Recommend These Dresses For:
We recommend this brand to anyone who wants to remain on the cutting edge of fashion but doesn't want to break the bank. Lulu's products are modeled after top fashion brands and trends, fulfilling the needs of both the youthful trend-seeker and the mature partygoer — while also satisfying the needs of those who just want the everyday essentials. This brand truly does do it "all," and at an affordable price as well. Overall, if you're looking for dresses made in the USA we highly recommend Lulus dresses.
My Bump (Great Maternity Dresses)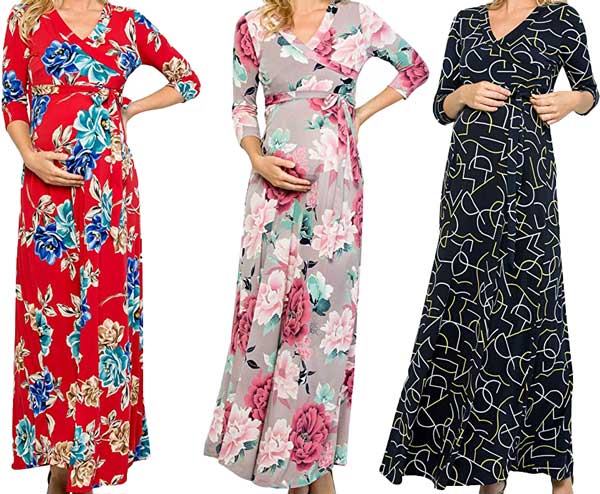 | | |
| --- | --- |
| Size Options | Small to Extra Large |
| Designs Available | Maternity (Variable) |
| Origin | Los Angeles, CA |
Product Origin and Manufacturer Information:
My Bump is currently headquartered in Los Angeles, CA. They have centered their company around catering to the needs of pregnant women, and craft high quality, beautifully sewn pieces by hand designed for comfort and frequent wear. With few exceptions, their products have been made in America since the company was created, and they continue to serve pregnant women all over the world through their native and Amazon stores.
What We Like and Don't Like:
Pregnancy is a very uncomfortable time, and it's hard to find high quality maternity products and clothing that will really deliver what you need: comfort and ease of use. I'm happy to say that My Bump does it all, and with impeccable style. Their brand manufactures a variety of maternity dress designs and styles that are designed to suit every changing body, and that can leave you with a glow and confidence that can help you to feel comfortable and confident at any time of year. The designs are artistic, sophisticated, and flexible to allow a variety of uses and situations for wear.
The brand offers a variety of cuts, including maxi, deep V necklines, and scoop necks for your personal preference and use after the baby arrives. The material is incredibly soft and crafted from cotton, rayon, and other similar fabrics, allowing the dress to bend and flex to your needs and use. The brand is also more affordable than many of its competitors who import, making this a naturally preferred choice for many.
Much of the brand's offerings are made entirely domestically, and they are clearly notated with a Made in America in their product description. This helps you to consume in confidence, and fill your closet with your next high-quality, comfortable, and American made maternity dress.
Who We Recommend These Dresses For:
We recommend this brand for pregnant women who are looking for suitable alternatives to their current maternity dresses, but that want to maintain the same style and comfort that they once had. We also recommend these dresses for those who are going through the postpartum period, and who would prefer the looser fits and styles for nursing or every day wear. The versatility that this dress has is extensive, making it ideal for any expecting, newly-delivered, or postpartum mom in your life.
All American Clothing Co (Great Maxi-Style Dresses)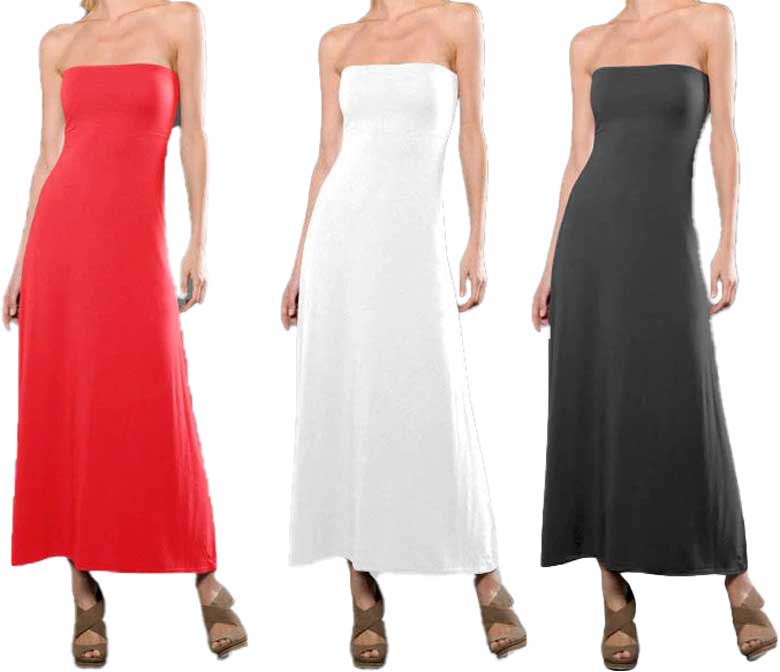 | | |
| --- | --- |
| Size Options | S to XL |
| Designs Available | Maxi |
| Origin | Arcanum, OH |
Product Origin and Manufacturer Information:
All American Clothing Co. began as a family owned company, shared by a son and father team, BJ & Lawson Nickol. The story began in 2002 when Lawson decided to walk away from his job in big-name retail upon learning that they outsourced to international manufacturers and assembly people. He wanted to bring back American made quality at affordable prices, and took it upon himself to launch a brand that would do just that. Lawson ended up passing away in 2020, handing his company off to entrepreneurs who are just as passionate about preserving American made products. While the operations and tasks have been handed off, the family is still involved with the executive and strategic decisions of All American Clothing Co.
What We Like and Don't Like:
Domestically made maxi dresses have always been difficult to find due to the materials of choice. When I came across their maxi and swimsuit cover-up options, I was so excited. It really is just what your closet needs to prepare for the summer months! All American Clothing Co. works with a deep, vibrant, and simple color palette, and their dresses are no exception. I was relieved to see something with a more classy, sophisticated print rather than the loud, cheap-looking colors that you'll see so often that are off the rack.
The quality is unmatched. Maxi dresses are well known for coming apart due to their high use of rayon. The company has mixed its rayon blend with spandex as well, allowing the dress to cover every curve with just the right amount of emphasis. The blend also helps keep the shape of the dress through multiple wears and years of washes, as well as helps it to remain pill resistant so that you can enjoy American made quality construction for years to come.
The brand is size-inclusive, as the sizes tend to run large. Between this and the choice of fabric, you're likely to walk away with a fit that you'll love, and that's perfectly suited to your needs. I'm looking forward to seeing what new launches the brand comes up with, as they're known for seasonal campaigns and launches.
Who We Recommend These Dresses For:
This selection of American made maxi dresses is great for someone who is looking for a size and style inclusive option that will suit them for the summer months. The designs are clean, sophisticated, and can truly be worn by anything. Be sure to get yours before supplies run out!
Blondie Nights (Awesome Strapless Dresses)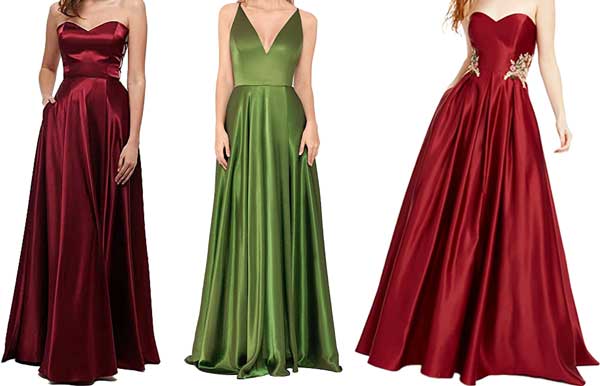 | | |
| --- | --- |
| Size Options | S to XL |
| Designs Available | Strapless, Halter, Plunging V, Juniors, Cocktail, Evening Wear |
| Origin | New York, NY |
Product Origin and Manufacturer Information:
Blondie nights was started in 1982 by a family who wanted to see and facilitate broad scale change in the formal wear industry. The brand has launched new collections every season since it began and has found major success in cocktail, evening, and formal wear categories. Founded by Marty Skylar and headquartered out of New York, the brand has remained family owned and has seen new levels of success over the years. They have maintained the title of one of the largest makers of formalwear in the U.S. for the past quarter of a century.
What We Like and Don't Like:
Blondie Nights has been an East Coast favorite that has since been found in department stores all over the U.S. The quality and care of construction are incredible, and seem almost handmade for the wearer to enjoy that truly tailored fit. This was the goal of Mr. Skylar, who famously said that if a dress wasn't selling it had to do with the construction and quality of it overall. This guiding principle has influenced the brand's design to a foundational level, elevating them as one of the most widely loved and recognized brands in the US.
Beyond strapless dresses, the brand has diversified in a wide variety of styles that are designed to suit you for any formal occasion. The styles are youthful, edgy, and modern, widely appealing to the up and coming generation due to the overall lack of "stuffy" energy found in other formal wear designs.
While this brand does have several brands and styles that are made in the USA, there are others that are made internationally. The brand is clear about this, and will include the country of origin in their product description. Keep your eyes open for the differences between headquartered in USA/United States vs. Made in the USA. These are two different distinctions, the former not implying that the garment is completely made in America. Made in the USA and made in America are currently the only two designations that can assure you that a product is made domestically.
Who We Recommend These Dresses For:
We recommend Blondie Nights USA made dresses for the youthful wearer who has a formal event coming up. You won't be able to get enough of the fashion-forward styles, and you can remain on-trend thanks to the seasonal collections released just ahead of your event date. Blondie Nights has a variety of inclusive and flattering styles for you to enjoy, perfectly suited to your needs and taste.
Popular Related Article: Bras Made in the USA (Source List)
Rachel Pally (Mid-Length Dresses)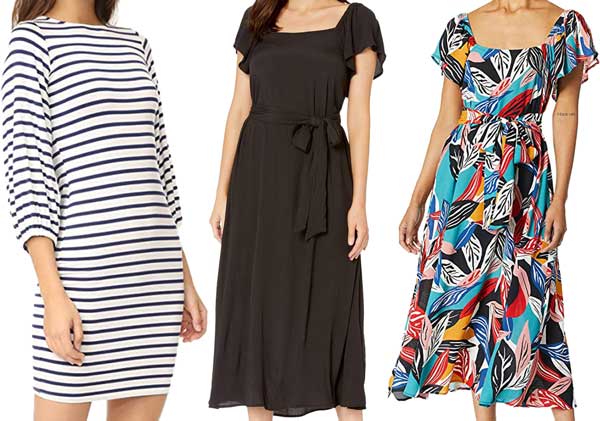 | | |
| --- | --- |
| Size Options | XS to XL |
| Designs Available | Strapless, Halter, Scoop Neckline, V Neckline, A-Line, Midi, Maxi, Wrap, Boho |
| Origin | Los Angeles, CA |
Product Origin and Manufacturer Information:
Rachel Pally began her line as a designer with $300, a passion for fashion, and a pipe dream that she would someday be able to run and manage her own shop. Rachel Pally was born and raised in Los Angeles, California, where she launched the flagship factory for her namesake brand: Rachel Pally. She believed in supporting the local economy of fellow Angelenos by employing as many of them as possible, and teaching and training them to work in the garment and textile industry. The brand became a massive success, and now runs several successful digital storefronts, leading the charge on sustainable practices and low-waste manufacturing in the local garment scene. One thing I really like about Rachel is that she knows she could make her dresses cheaper in China but really takes pride in keeping production in America.
What We Like and Don't Like:
Somehow, Rachel Pally has managed to capture the essence of California and its gorgeous, watercolor sunsets and lifestyle in every garment. When you surf her store, you'll see this through the lightweight and free-flowing designs, allowing each woman's beauty to shine through naturally without the added layers of fabric and accouterments.
The dresses come in a variety of lengths and sizes, including:
Maternity
Long / Floor length
Midi
Boho
Swing
Skater
They also offer a variety of tops, bottoms, jumpsuits, and other separates that you can enjoy, releasing new limited runs with every change of the season.
Another thing that sets this brand apart from the rest is its commitment to sustainable practices and small batches. To reduce environmental strain, Rachel incorporates dead stock into her work. This helps reduce the overall amount of fabric used in a given design or production run. She also donates trimmings to local schools and organizations for teaching purposes and other uses, giving materials as much of a life as possible before going into the landfill or becoming repurposed.
The brand has been confirmed to be American made through a variety of sources, reports, and journals. However, she does note on the website that certain materials are sourced overseas. If you have an inquiry about a specific clothing item, you can reach out to customer service to confirm that all materials for that design are sourced in the United States, leaving you with a completely American made product.
Karen Kane (Plus-Size Dresses)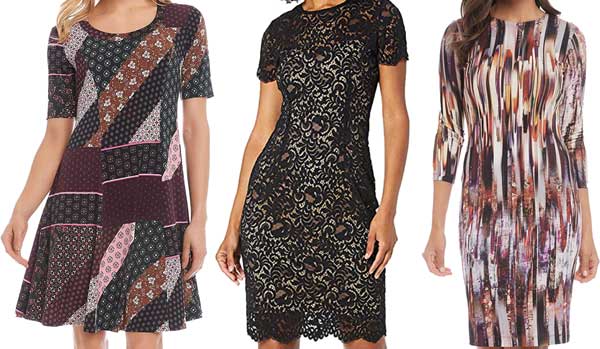 | | |
| --- | --- |
| Size Options | 0X to 4X |
| Designs Available | Midi, Wrap, Scoop, Swing, Boho |
| Origin | Santa Barbara, CA |
Product Origin and Manufacturer Information:
Karen Kane launched in the 1970s, bringing a new era of modern businesswear to the women of the United States. The brand was founded by entrepreneur and CEO, Karen Kane, as her namesake brand and initiative to create domestically sourced, sustainable clothing options for women in business. Eventually, the brand expanded to a variety of other types of wear, and continues to be a high-quality fashion brand with several successful e-locations and platforms of sale. You can enjoy spotting Karen Kane products in person as well, most notably at Nordstrom, Macy's, and more.
What We Like and Don't Like:
Karen Kane takes a different and more unique approach to plus-size fashion. While other brands work with cheaper material by the yard or keep the same loose, predictable styles, Karen Kane goes out of its way to create a unique fashion that appeals to all body types and preferences.
The brand offers chic styles that are inspired by the latest trends of the fashion houses, which is perfect for versatile office wear or classy, timeless styles for any occasion. Knit designs are a favorite of this specific brand, as well as a variety of styles, including:
A-line
T-shirt dresses
Midi
Maxi
Wrap dresses
Boho dresses
Summer dresses
Drop-cap dresses
Knit maxis
And much, much more
Something else that sets Karen Kane apart is their commitment to sustainability and transparency in business practices. They keep active reports and updates of their business practices online on their website, showing their progress toward ESG and DEI goals. Currently, the brand is comprised of about 70% of women employees, giving fuel to the women in business movement that is taking the fashion industry by storm.
Additionally, they do release information around benefits packages that their employees are eligible for in order to maintain an era of transparent, fair business practices at every level of production. The brand also leads the industry in sustainability practices, as well as manufacturing facility sustainability practices. Their main goal is to reduce environmental consumption, which they most recently did by updating their facilities with ESG-aligned fixtures and elements.
Karen Kane supports a variety of charities both inside and outside of the Los Angeles area, placing their affiliations directly on the website. Their list is extensive and includes:
The Nature Conservancy
CHLA
Cedars Sinai
City of Hope
Aviva Family & Children's Services
A Long Walk Home
Loveland Foundation
If you're interested in seeing a comprehensive list of where your money is going, you can visit their website or reach out to customer service.
Who We Recommend These Dresses For:
Karen Kane is designed to give women the confidence and power that they need to feel beautiful ⸺ no matter what design or preference they prefer for their unique body shape. We recommend this brand to any woman who is looking to update her wardrobe with classic, timeless, and comfortable pieces that can be used for multi-use wear on any occasion. The brand also offers a variety of wardrobe options, ranging from swimwear to outwear of all types. This is also a brand we recommend for those who may find themselves between sizes, but still want to find affordable, high-quality pieces that they can trust for long-term wear and comfort.
Conclusion
Although certainly not an American invention, dresses have been a staple of the American wardrobe since the inception of our country. Different styles, colors, patterns, and dress crafting techniques have been brought to the United States from all over the world, resulting in an extremely diverse and wide variety of choices. The United States certainly saw a lot of its textile industry, including brands that design and manufacture dresses move abroad for cheaper labor, but it still retains a lot of American talent that is still designing and producing finely crafted American made dresses to this day!
Dresses are great for date night as well as enjoying a nice summer stroll, but when it's time to get down and dirty, you might want to swap out the dress for some high-quality American made jeans, which we have a list for here!
I hope this list was helpful in outfitting your closet with a new American made dress. If we have missed one or there are new selections available after posting, please feel free to comment below and let us know!