Flannel shirts have become extremely fashionable and popular in recent decades. This is likely due to the fact that they're versatile, warm, comfortable, lightweight, and breathable. Nowadays, many flannels are cheaply made overseas, but thankfully, there are still some great flannel shirts made in the USA.
In the rest of this article, we'll be highlighting some great American companies that continue to make flannels in the United States. These companies hire many American workers and support local economies, so it's a great idea to show them your support, even if their products are slightly more expensive. In my experience, American-made flannel shirts last a lot longer than ones made overseas, so the additional cost is made up for overtime!
List of American-Made Flannel Shirts
Vermont Flannel Company Classic Flannel
| | |
| --- | --- |
| Estimated Price | $70 |
| Materials | 100 percent cotton |
| Sizing | XS to XXL |
| Gender | Men and Women |
Vermont Flannel Company's Origin and Manufacturing Locations
The Vermont Flannel Company was founded in 1991, and since its humble beginnings over 30 years ago, it has become one of the largest manufacturers of flannel shirts based in the USA. I own one of their flannels, and I have to say it's one of the most quality pieces of clothing I've ever owned. Their flannels are handmade, and the company has extremely high standards to ensure quality. Most of their manufacturing takes place in Johnson, Vermont. The company is owned by a husband and wife team who operates three production facilities and five retail stores across Vermont.
Along with flannel shirts, they also offer flannel blankets and flannel lounge pants. They even offer accessories for your pets! Many people who visit Vermont even consider visiting their facility, making it somewhat of a tourist stop! We really love the brand and what they stand for, and today they currently have around 50 employees.
The company really puts an emphasis on comfort and uses 100% GOTS Certified Organic Cotton. This means their materials have to meet high standards when it comes to ecological, organic fibers, and social criteria, which they check with an independent certifier. To meet the standards, they must use at least 70 percent organic fibers.
To better understand how far the CEO wants to take American-made and why you should support this brand, we would recommend checking out this article to learn more about the Vermont Flannel company. Baker said that he wants to do as much as he can for the made-in-America movement. We want to do as much as we can to support him in that endeavor.
What We Like and Don't Like About Vermont Flannel Company Flannels
Vermont Flannel Company offers men's classic flannel in eight colors. In contrast, they offer the women's flannel in nine colors, with the patterns differing slightly for each one. The men's classic flannel has two front chest pockets, while the women's only has one front chest pocket.
Anything over the 2X+ sizes, and you will add an extra $5 for the men's version. On every seam, the plaids match because the brand took extra care to ensure quality. Many people have spoken about the superior comfort and fit of the shirts.
While the materials characterize softness, they never neglect strength. The flannels of this company only have a shrinkage rate of between three to five percent. Another cool thing is that they match the stripes in an old-fashioned way, using seams that won't unravel while adding extra stitching. Overall, we just find these flannels to be very well made and stylish. You can either use them as a standalone shirt or layer them.
Who We Recommend Them For:
Due to the sharp colors and softness of the fabric, we would recommend this shirt to someone who prizes superior quality over quantity. They are also perfect for someone who wants a flannel that feels soft and warm.
You may want to order the men's classic one size down because of the extra size. They designed this shirt as slightly oversized, but not everyone wants a fit like that. The women's version, in contrast, doesn't have that problem, but if you encounter an issue with the size, you can return it to switch it out.
Big Bill Quilt-lined Flannel Work Shirt

| | |
| --- | --- |
| Estimated Price | $60 to $125 |
| Materials | 100% Ring-spun cotton |
| Sizing | Small to 5XL |
| Gender | Men and Women |
Big Bill's Origin and Manufacturing Locations
Falling under the brand name Big Bill, they first started the company in 1946 in Coaticook, Quebec. They've been in business for over 75 years, and their quality has only improved over time! This is impressive because many companies lose quality control and try to source cheaper fabrics to increase profits, but that's not the case with Big Bill.
The company continues on as a fourth-generation family-owned business. Big Bill does make some of their apparel in Canada but considering that they're a Canadian company, we consider this a fair enough policy. Check the label ahead of time if you want it American-made.
Big Bill, in particular, has become known for offering a large selection of quality workwear. You can find clothing for men and women. We find their clothing, and their flannels especially, to be extremely comfortable and well made. They feel soft to the touch and are impressively durable. Quality, long life, and working in harsh environments are what Big Bill has a reputation for. If you have any questions, the Big Bill website has a live chat feature that's very convenient!
What We Like and Don't Like About Big Bill Flannels
There are a lot of good things to say about Big Bill Flannels. First and foremost, be aware that their flannels are made in the United States with imported and domestic materials. Depending on the time of year and their supply chain, their cotton is sourced from different parts of North America. Their American-made flannels are available in two colors, red and blue-green.
The price may be a little higher than what some people want to pay, but it will feel extraordinarily comfortable when you put it on as the fabric caresses your skin.
Their flannels have high resistance threads and a double-back yoke, which means that it has an extra seam across the back to make for a cleaner and more stylish look. It requires more work to make than a one-piece yoke which explains why some people see it as superior quality.
A double-back yoke on a flannel shirt will also fit better because it provides for better evenness. I personally love both of their color options, but I decided to get the red version.
If you choose this shirt, you make want to consider choosing one size up to help with shrinking in the wash and for a comfortable fit. As you put it on, you can feel the American-made quality as the inviting fabric touches the skin. I've worn my flannel a lot and it feels warm and well built, and I've had no issues at all in terms of durability. It also works perfectly as a light jacket for those slightly cold spring and autumn days.
Overall, we definitely think Big Bill offers some of the best flannel shirts made in the USA.
Who We Recommend Them For:
This is a perfect flannel for anyone that wants American quality and is willing to pay for it. It's also perfect for someone who wants a rather durable flannel that's very warm. We really like that they have options for both men and women. The only thing we don't love is that there aren't more color options. It's also a Canadian-based company which some people may not love, but since they do manufacture in the United States and hire American workers, we feel that they are worth supporting.
Woolrich Trout Run Flannels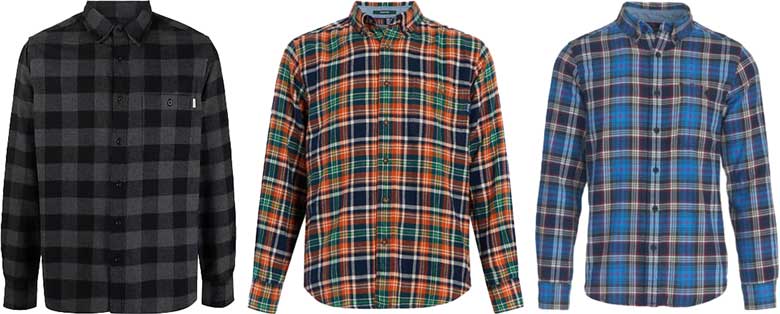 | | |
| --- | --- |
| Estimated Price | $160 |
| Materials | 60 percent wool, 35 percent polyester, 5 percent polyamide |
| Sizing | XS to XXL |
| Gender | Men and women |
Woolrich's Origin and Manufacturing Locations
A proud American company with a small-town heritage, Woolrich began in 1842 in Woolrich, Pennsylvania. We hate to say it, but the company was whittled down from over 3,500 workers and 15 sewing factories to a small skeleton crew of only 45 American workers. Unfortunately, Woolrich couldn't survive as an American-made company, and they now only keep a single Pennsylvania mill.
That doesn't make this nearly 200-year-old American company any less brilliant, however. You can still find American-made flannel shirts like the one that we mentioned above.
Production in the United States from Woolrich now accounts for about five percent of the total labor. The mill in Woolrich, Pennsylvania, has been unable to turn a profit for decades.
Woolrich is especially known for its soft heirloom blankets. Despite the many hardships that this company has experienced along the way, they have gone on to become one of the most reputable brands in outdoor clothing. Just be careful if you come across one of their products online because not all of them are made in the USA. That said, their USA-made flannels are among the best!
What We Like and Don't Like About Woolrich Flannels
You can choose from four colors that include Blackwatch, Navy Check, Royal Gray Check, and Red Blue Check. The Trout Run Flannel Shirt has modernized one of this brand's most iconic styles for flannel. Crafted using Italian wool, this fabric has a reputation for softness, comfort, and easy care.
The shirt has great-looking button-down cuffs and a single button through the chest patch pocket. We also like that they offer flannels for both men and women. One thing I have noticed about their flannels is that they're relatively lightweight and thin compared to many of the flannels on this list. That said, I think that makes these perfect for days when you just need a little extra clothing to keep warm.
Overall, Woolrich has a long heritage of crafting some of the highest quality flannel shirts made in the USA for a very long time!
Who We Recommend Them For:
I would recommend this shirt for someone who wants a higher-end flannel shirt. It has the classic flannel shirt look, but it looks even better, and the fabric feels soft on the skin.
No matter what color you choose, I like the vibrancy of the fabric on this shirt. It stands out, and for a flannel shirt, that would mark it out as a little different from the rest.
For the women's shirt, we would recommend it for your everyday casual wear since it looks good in a variety of settings. Putting on an overshirt with it will add to its elegance of it and make it a more appropriate piece of clothing in a formal setting.
Pladra Flannel Collection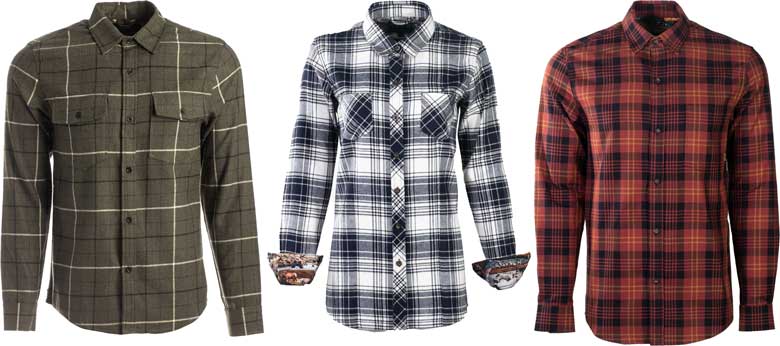 | | |
| --- | --- |
| Estimated Price | $100 to $120 |
| Materials | 100 percent cotton |
| Sizing | Small to XX-Large Tall |
| Gender | Men and Women |
Pladra's Origin and Manufacturing Locations
Pladra handmakes all of its flannel shirts in San Francisco, and as passionate outdoorsmen themselves, they set the goal to make field-ready flannel with a unique sense of style. They make their designs in a clean-cut and classic look. Still, you can see several details from Pladra that may differ from some of the other options.
This company only has between two to 10 employees, and they were founded in 2010. They do use imported Portuguese cotton.
Another thing that you get with an American-made company that you won't with Chinese-made? Pladra is highly involved and committed to supporting the local community. They work closely with multiple organizations to conserve our nation's natural resources and help raise the next generation of outdoorsmen.
What We Like and Don't Like About Pladra Flannels
Pladra gives an awesome guarantee to its customers. Each shirt was made in the USA using the highest quality fabrics, but if this flannel shirt hasn't stood up to the rigors of the outdoors, they are willing to replace or repair those items.
Pladra flannels are made from 100-percent pure Portuguese cotton, and you can feel the heavyweight quality in it. The triple-needle stitching across some of the most essential stress points ensures the reinforcement of it to keep from tears.
The soft fabric feels comfortable to wear while still having a rugged style. This shirt weighs 6.9 ounces, which makes it perfect to wear on a cold day. In terms of thickness, these flannels are about average but on the lighter side.
The shirt shown above has two pockets in the front and has become one of the staple products from Pladra. You could use this out in the wilderness or in the office of the city.
Who We Recommend Them For:
If you want a flannel shirt suitable for hunting, camping, fishing, and hiking, we would recommend this flannel shirt. The people behind Pladra are passionate outdoorsmen who had their business idea for Pladra while spending time outdoors. With this in mind, it's not surprising that their flannels are durable and hold up well in the harsh outdoors.
We would also recommend this flannel shirt for someone who wears them a lot and wants to add some quality flannels to their wardrobe. Having a couple of good flannels in different colors can fit a unique clothing style.
For the women's shirt, we would recommend it for the outdoors because it can withstand all four seasons, and they built it to stand up in the outdoors. In all honesty, you can wear it for everyday wear or on most occasions. Overall, Pladra crafts some of our absolute favorite women's flannel shirts made in the USA.
Popular Related Article: What T-shirts Are Made in the USA?
Pendleton Flannel Shirts

| | |
| --- | --- |
| Estimated Price | $130 to $180 |
| Materials | 100 percent wool |
| Sizing | Medium to 5X Tall |
| Gender | Men and Women |
Pendleton's Origin and Manufacturing Locations
Based out of Portland, Oregon, many of Pendleton's products are made in the USA. Even when their products aren't made in the USA, they often source their materials from the USA, which we don't see often. Much of their wool is sourced from the United States, and they have weaving mills in Oregon or Washington.
They first opened their doors for business in 1909 and set the standard for premium wool blankets. While most know them for their soft wool blankets, people love their clothing brand for its quality and beauty. Their fabrics are very soft and comfortable.
As mentioned, just be careful because in many cases, Pendleton uses materials from the USA and has them sewn elsewhere, commonly in Latin America.  They still create American jobs in the United States and do some manufacturing here, so we'll let you decide whether or not you want to support them.
What We Like and Don't Like About Pendleton Flannel Shirts
Available in over 28 colors, we think that the color selection of their flannel shirts is fantastic. The cost may turn some people away, but for those willing to pay a little more, it will be a fine choice. They sourced the wool from Umatilla County, Oregon, which is near their mill in Pendleton, making the manufacturing straightforward.
The shirt uses a midweight fabric, and it is odor, water, and stain resistant. Even today, this shirt remains one of Pendleton's best sellers. Provided you order the right size, this clothing fits perfectly.
For the women's version, you can buy it in three colors. You can style it as either a light jacket or a shirt. With two chest pockets, taking your extras along has never been easier. The overshirt was manufactured with 100 percent virgin wool, which means that the materials use no coatings, no dyes, and no chemicals. You receive a 100 percent natural product.
Like with the men's version of this flannel, the women's version sources the material from the United States, but they make the shirt in Latin America. Again, Pendleton commonly uses this practice, and we will let you decide for yourself if you want to support that. Many brands flip this where they source from abroad and assemble the product in the United States. Pendleton does it the other way.
You can find Pendleton flannels for women on their site here or Pendleton flannels for men here.
Who We Recommend Them For:
We would recommend the men's version of this shirt for someone who wants a stylish flannel. You may also like it for colder temperatures. Especially in a colder climate, nothing beats wool when it comes to holding in the heat. One of the main reasons that wool keeps you so warm is that it doesn't pull the heat from the body.
With the women's version, we would recommend this shirt for someone who loves the style and eye-catching colors. The uniqueness will differentiate it from the other products in the market. Women highly conscious of their fashion will appreciate the extra spice. The video below is a video that goes over the history of the Pendleton company. They've been making products in America for over 140 years!
Scotsman Co Flannel

| | |
| --- | --- |
| Estimated Price | $90 |
| Materials | 100 percent cotton |
| Sizing | S to 3XL (Tall sizes too) |
| Gender | Men |
Scotsman Co's Origin and Manufacturing Locations
Located in downtown Laurel, Mississippi, Scotsman Co are technically woodworkers, but they wanted to support American workers with great workwear. For that reason, Ben and Erin Napier decided to create their own flannels. Heading into their store, you will find it full of interesting things like vintage Coke bottles and delicious snacks, and you can watch the team construct baby cribs and a random assortment of wooden items.
They work in close coordination with the director of photography at Laurel Mercantile, and you can buy their products off of that site. We wouldn't call clothing their main line of business, but they do a great job at the clothing products that they offer. For those of you who are super tall like me, you might especially like these flannels because they have tall sizes!
What We Like and Don't Like About Scotsman Co Flannels
You can feel the softness in this 100-percent cotton flannel shirt. We like the quality, and the logo on the front chest pockets adds to the premium feel. The design uses a traditional fit, which means that they emphasize a precise cut throughout the chest and waist. Across the shoulders, the shirt has a broad cut.
Depending on the need, you can buy the shirt in tall and regular sizes.
Who We Recommend Them For:
Scotsman Co made clothing based on what they feel is ideal in terms of functionality. You can use this out on a fishing trip, for casual everyday wear, in the wood workshop, or as a work shirt in a variety of settings. They made this quality shirt for the everyday American, and even the vibrant color of it makes it an attractive flannel.
Todd Shelton Men's Flannel

| | |
| --- | --- |
| Estimated Price | $225 |
| Materials | 100 percent cotton |
| Sizing | S to 2XL |
| Gender | Men |
Todd Shelton's Origin and Manufacturing Locations
We've featured a lot of Todd Shelton products here at All American Made, and we especially like their jeans.
Todd Shelton handmakes all of its flannel shirts in East Rutherford, New Jersey. They manufacture it on an on-demand basis, and this company only manufactures clothes for men. The brand operates as a direct-to-consumer menswear brand, which means that they bypass the retailers and wholesalers that would tack on extra costs.
They specifically work with customers who care about their clothing and how it fits. As an American-made brand, they also pay special attention to its impact on the environment. We love that the brand takes environmental issues seriously.
Founded in 2002, East Rutherford operates as their headquarters as well as their factory. Incidentally, they're situated just 10 miles from Manhattan. Unlike some of the other brands, you can't buy Todd Shelton in stores. The brand prioritizes long-term customer relationships and produces consistently high-quality shirts.
What We Like and Don't Like About Todd Shelton Flannels
One of the first things that happen when I visit the online platform at Todd Shelton that I like is the heavy customizability. You start out by saying if you have ordered shirts with them before. After that, it takes you through several options for customizing the shirt like a collar, size, fit, pocket, and optional comments. You can request a rush order if you want the shirt available as soon as possible.
We would consider Todd Shelton the opposite of fast fashion in style and production. Instead, it focuses on the essentials that you would feel proud to put in your wardrobe. Todd Shelton clothing obsesses over the fit of its clothes, and they don't outsource any of the work. The factory and customer service all hire American workers. That's why we love Todd Shelton. We also really like that cut out the middle man and can deliver their extremely quality products at a lower price. The only thing we don't like is that they don't have flannels for women.
Who We Recommend Them For:
Tod Shelton flannels make sense for customers who want a higher level of customizability in their products. We also find Todd Shelton to be one of the top-tier brands that you can buy. All aspects of the company ooze quality. While they may not offer you tons of choices, they do provide you with the best choices going for quality over quantity.
You would choose this brand if you want the best of the best. They carefully scrutinize everything down to the fabric to guarantee a consistent fit. The products at Todd Shelton remain the same, and ten years down the road, you will find the same shirts. If you see one that you liked, you can find it again later.
Popular Related Article: What Jeans Are Made in the USA?
Johnson Woolen Mills Flannels

| | |
| --- | --- |
| Estimated Price | $100 |
| Materials | 100 percent cotton |
| Sizing | XS to 3XL |
| Gender | Men and Women |
Johnson Woolen Mills' Origin and Manufacturing Locations
Andrew Dow founded Johnson Woolen Mills in 1842. He produced fabric from the wool of the local sheep in northern Vermont. Word spread across the region as people discovered this company producing soft and woolen jackets, shirts, and pants. Over the course of the next century, you could find Johnson Woolen Mills shirts, jackets, and pants across the northern half of the United States.
The brand always prided itself on its handcrafted products and their origin. This brand even keeps a flannel collection, which includes shirts, scarves, boxers, hoodies, pants, aprons, and throws.
The brand's legacy ranks with several of the oldest companies in America. They were founded one year before Macy's (founded in 1843), which shows you another company with a great American legacy.
What We Like and Don't Like About Johnson Woolen Mills Flannels
The men's 8-ounce flannel shirt feels soft and comfortable to wear. It features two front pockets with a button flap. Available in 13 colors, the shirt offers you a variety of choices. The pattern, thickness, and quality of the construction stand out as a top-notch flannel. This is also double-brushed 100-percent cotton. Cotton is a softer material commonly prized in shirts due to its comfortable feeling of it.
On the other hand, Johnson Woolen Mills markets a woman's flannel as well. The difference between the shirt for men is that it only includes a single front pocket. Rear darts in the back allow for superior fitting and comfort. Due to thickness, you may choose to leave it untucked.
The sleeves designed for men and women feel perfect for the shirt. While the cost may turn some buyers away, the quality and where it's made have outweighed the negatives. Unlike the men's shirt, you can only buy the women's in 12 available colors.
Who We Recommend Them For:
For the men's shirt, we would recommend it for shoppers who want a quality cotton flannel. The breathability keeps you cool when in the great outdoors, and another positive point that we like comes from its rich selection of colors. If you like one of the shirts from Johnson Woolen Mills, you can buy a second with a new color and feel like you bought a new shirt.
For women, we would recommend this for those interested in filling out their style choices with quality shirts. You might put on the shirt with stretch pants and boots. You can buy more as your budget allows you to fill out your collection. Because of the heavier fabric, you could use this shirt as a light jacket over a second shirt.
Popular Related Article: Highest Quality Dress Shirts Made in the USA
Green Mountain Flannels

| | |
| --- | --- |
| Estimated Price | $100 |
| Materials | 100 percent cotton |
| Sizing | XS to XL |
| Gender | Men and Women |
Green Mountain's Origin and Manufacturing Locations
An interesting fact about Green Mountain Flannel is that they named the brand after the state nickname of Vermont, "The Green Mountain State." We love this company because they offer some of the softest flannel clothing in the world.
Up in Vermont, flannel is inculcated in the everyday lifestyle, and you notice it more in this region of the country due to the farmers and maple syrup harvesters—people from professions known to wear flannel.
Green Mountain Flannel is a family-owned and operated business. In fact, they spun off from the brand Johnson Woolen Mills. That brand has existed since 1842, meaning that they hold over 180 years of American heritage. Green Mountain Flannel, born of this great legacy, stands the test of time and is made from 100-percent double-brushed Portuguese cotton.
While that means that they use a global source, they still make the product here. Most people know the Portuguese textile industry for its high standards, so we wouldn't worry about the quality. It's not ideal, but it's difficult to find a company that doesn't source globally.
What We Like and Don't Like About Green Mountain Flannels
You can find Green Mountain Flannels in 17 colors. We would consider this a high-quality shirt, and it includes two front chest pockets with button flaps. As flannel shirts are made in Vermont, the fabric was double-brushed, which is probably the main reason that their flannels feel so soft!
For the women's version, you have an 8-ounce flannel shirt, which indicates high quality because anything in that range means better fabric. They tailored this shirt with rear darts to allow for unparalleled comfort and an excellent fit. You get one chest pocket up front and button cuffs. The shirt comes in 12 available colors.
You do want to keep one thing in mind, and that's size. After the first washing and drying, the items will shrink about six percent. You want to account for this while choosing the shirt size.
Who We Recommend Them For:
These flannels are perfect for anyone looking for 100-percent cotton flannels. Cotton is great in many cases because it feels softer and more breathable than most other fabrics. Especially in a hot climate, a breathable shirt is nice because it allows you to stay cool. We would recommend this to individuals who live in a warmer part of the country and wants to support American-made products.
For the women's Green Mountain flannel shirt, we would recommend it for women seeking comfortable flannel. It may cost a little more than what some would want to pay, but this flannel was also handmade, which means that they invested extra attentiveness into the craftsmanship.
The softness, warmth, and durability will make it one of your favorites. You may pay more, but it will last longer than some of the cheaper choices where the stitching tears out after only two years.
Blade and Blue Flannel Shirts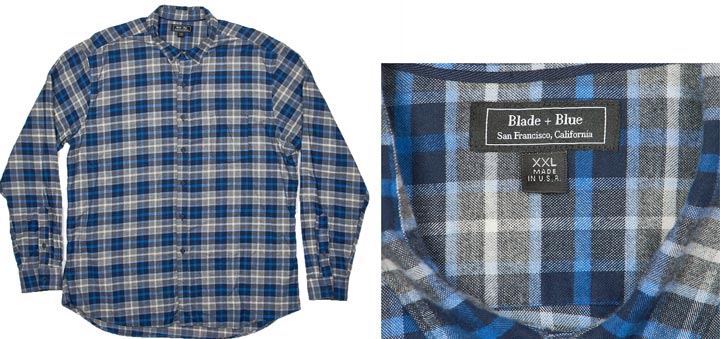 | | |
| --- | --- |
| Estimated Cost | $90 to $130 |
| Materials | 100 percent cotton |
| Sizing | S to XXL |
| Gender | Men |
Blade and Blue's Origin and Manufacturing Locations
Blade + Blue products in San Francisco, California. The brand says that it tries to manufacture its products in the United States when possible. With that in mind, just be aware that not everything from Blade and Blue will have a "Made in USA" sticker. You will want to exercise caution on certain products, but most of them were made in America.
We admire all companies that efforts to keep their operations in the United States because of the sacrifice. You can't do this without losing some profit, but they do understand the importance of doing what they can to operate in the USA.
They specialize in heritage-inspired men's clothing. Some of the products that they offer include woven shirts, neckties, boxers, jackets, and shorts. They first launched this menswear company in 2012 in the founder, Peter Papa's basement.
The brand has gone through its share of turmoil since starting but has come out the other side unscathed.
What We Like and Don't Like About Blade and Blue Flannels
They constructed this flannel from heavier cotton, making it a more quality shirt. We like it because of its versatility. You could wear it as a light jacket with an undershirt, or you could wear the flannel by itself. The multiple shades of blue blend harmoniously with the soft olive green.
The only thing we wish is that these flannels were also made with American-sourced cotton.
Who We Recommend Them For:
We would recommend this flannel to anyone who wants a flannel that will keep them warm and is made with 100 percent cotton. You can use this shirt either as a light jacket or as everyday casual wear. The blue colors create a sharp and modern effect that would become a stylish asset to anyone's wardrobe.
Conclusion:
Flannel shirts are a popular style in the great outdoors. Plaid has especially become a staple during the cooler months, but some people wear it all year round regardless of the season. We did our best to show you some of the most reputable American flannel shirt brands.
That does it for this article. Let us know if you have any comments or questions in the comment section below. Also, let us know if there are any great flannels that we missed and can add to our list!
Hi, my name is Kevin and I'm from Pittsburgh, Pennsylvania. Choosing products made in America is important to me because it supports local economies, creates jobs, helps the environment, and ensures ethical labor practices. I also find that American made products are usually of higher quality so although they're a little more expensive, you save money in the long run. Before starting this website I was in the USMC infantry and nowadays I work on this website as a hobby.