Flasks are great gift options for an alcohol and spirit enthusiast in your life. They are thoughtful gifts that provide both style and utility for your drinking experience and can allow you to transport alcohol in a safe and effective way – with no spills.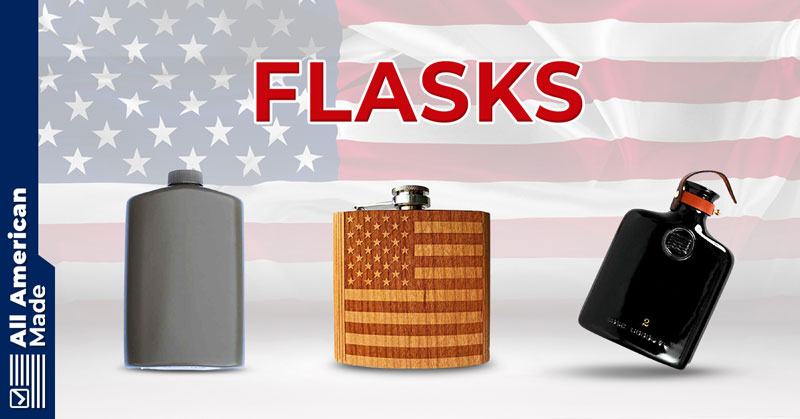 Flasks provide a stylish addition to any outfit and are enjoyed by both men and women around the globe. Because your flask comes into contact with your drink of choice, you want to be sure that you have the highest quality flask available to you – which you know you will get with a Made in America product. Below, we've listed the highest-quality and most reliable American made flasks on the market.
List of American Made Flasks
Nalgene Flask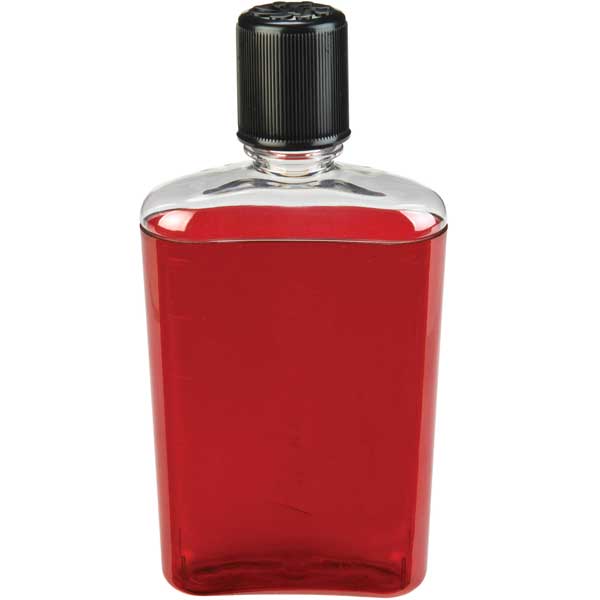 | | |
| --- | --- |
| Estimated Price | $15 |
| Capacity | 12 Fluid Ounces |
| Colors Available | Blue and Red |
Product Origin and Manufacturer Information:
Nalgene has been proudly crafting its products in the United States since its inception in the mid-1940s. Nalgene's name comes from the thing that they were first known for – crafting Nalge bottles, formulated by chemist Emanuel Goldberg. Their focus shifted from general use bottles to water bottles that were specifically made to be taken with adventurers on travels of all sorts. In order to do this efficiently, the development team focused on enhancing and refining the designs in the United States and emphasized core design elements such as lightweight designs and leak-proof elements.
What We Like About This Flask:
The Nalgene general-purpose flask is super lightweight and very versatile – one of the easiest and most robust flasks on the market that's made in the USA. Like many products from Nalgene, these are designed with outdoor use in mind, such as camping, but could be used for daily life just as easily.
If you want something cheap, robust, easy to use, and simple, these are definitely the easiest flask I can recommend to you. It's not fancy and it doesn't really have any special features, but that in itself makes it special. It's just a polycarbonate shell with a PET flask-shaped bottle inside and that's the beauty of these, nothing to go wrong or cause inconvenience. Overall, this is one of my personal favorite flasks made in the USA.
Mt Sun Gear SportFlask Fighter Pilot Flask (Multi-Purpose)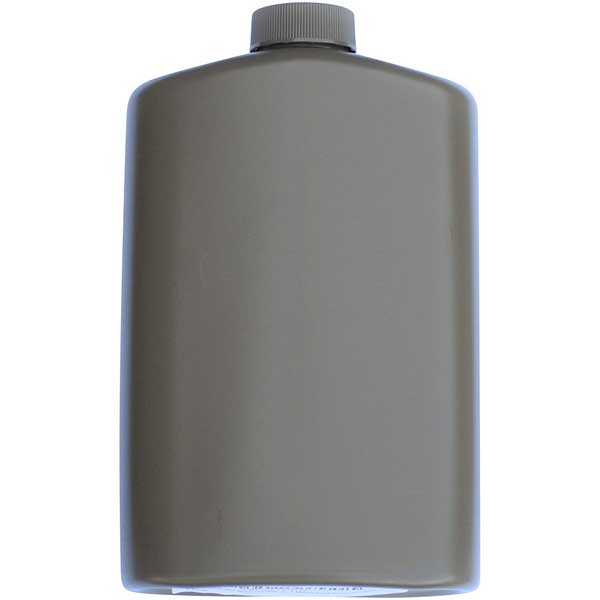 | | |
| --- | --- |
| Estimated Price | $15 |
| Capacity | 16 Fluid Ounces |
| Colors Available | Black, Green, Brown, Natural Cream, Pink |
Product Origin and Manufacturer Information:
Mt. Sun Gear is a family-owned business operating in the grassy plains of Idaho. They have a commitment to American-made products and are eager to create products that will encourage others to put the screens down and get out into the surrounding nature. Their products feature a consistent sleek design style and are built to last – focusing on utility and diversity in use.
What We Like About This Flask:
This flask was built for use in the great outdoors. If you're a fan of camping, bonfires, and all things rugged adventure, this is the flask for you. The size is larger than most flasks, and can accommodate any cold liquid that you'd like. While most travel flasks or adventure flasks hold up to 12 Fluid Ounces, this flask is designed to go above and beyond – boasting a capacity of 16 Fluid Ounces for more hydration on the go.
This flask is designed for the needs and use of military personnel, providing it with a timeless and sleek design that will allow it to fit in a G-suit pocket perfectly. Despite the ability for this flask to travel with you in just about any condition, the design remains perfectly lightweight and weighs less than 3 total ounces when empty.
The material is built to be tough and drop resistant. Unlike other thin, bendable metals, this flask is crafted with a single-cast BPA plastic material – protecting it from any sort of bends, cracks, or scuffs.
This design is constructed with utility in mind, featuring a 4" inch wide design that makes it slide right into the average jean pants pocket. You can also slip this into any purse, backpack, tote, or skirt pocket for easy access.
The curvature conforms to your body, making it the perfect adventure or festival flask. You'll be able to enjoy your drinks where you want and when you want – completely undetected!
According to the product page, these are also compatible with mini filtration systems. This makes it especially useful if you find yourself hitting the trail or in more remote areas.
This product is the perfect stocking stuffer for an adventurer in your life, or for avid lovers of camping, mudding, or road trips. The versatility this product makes this the perfect gift option for any age and can be used for any cold beverage you'd like.
Autumn Woods Flask (Fully-Customizable Flask)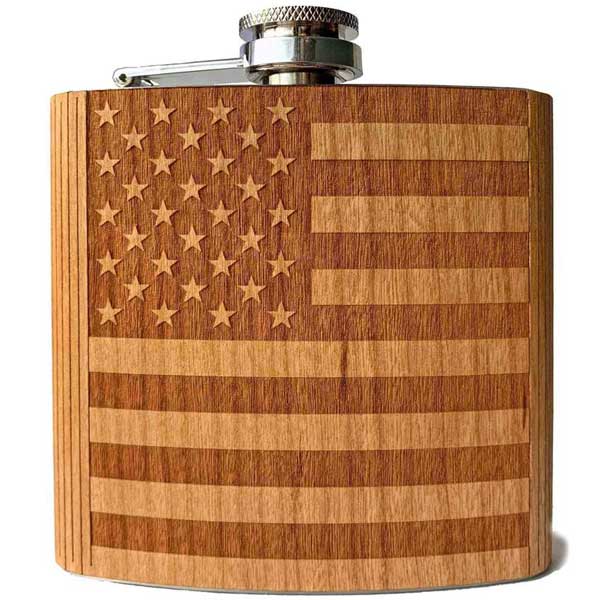 | | |
| --- | --- |
| Estimated Price | $45 |
| Capacity | 6 ounces |
| Colors Available | Wood (Custom) |
Product Origin and Manufacturer Information:
Autumn Woods is an American-made company that emphasizes responsible sourcing, sustainability, and beautiful handmade craftsmanship. Their shop specializes in custom-made gifts and products and takes a unique approach to selling. They do not have a physical shop, as they wanted to keep costs down and stay as accessible as possible to their clientele – launching an online-only marketplace for beautiful custom woodwork items.
What We Like About This Flask:
The Autumn Woods customizable American flag flask is the perfect gift for a patriot in your life. The design is a solid piece of cherry wood with a beautifully hand-engraved rendition of the American flag. The wood is then wrapped around a stainless steel bodied flask that has the capacity to hold 6 Fluid Ounces.
While this flask isn't designed to withstand rough-and-tough adventures, it adds a classic touch to any ensemble when you go out on the town, to your family party, or even just for a quiet night at home. The cherry provides a timeless finish to a classic design, and the quality is simply unbeatable for the price point.
It is important to note that if you choose to purchase this item, it is a handwash-only item. This attribute speaks even more to the quality of the product, as you may potentially warp or damage the raw wood with the aggressive wash pattern that the dishwasher can use.
The steel adds to the resiliency of the product, making this suitable for daily use. The steel is certified 301 industrial-grade steel core, making this one of the most strong and break-resistant daily use product materials on the market.
Autumn Woods offers any customization that you could want for this flask, which allows you to personalize this item into the perfect gift option for any member of your family or friend group (or even for yourself – we won't tell anyone!) You can choose any logo design you'd like, or choose a multi or single-line design customization option.
This statement piece is a beautiful gift for graduation, holidays, birthdays, or just about any day that you want to celebrate a loved one.
Black Ceramic Flask (Ceramic-Style Flask)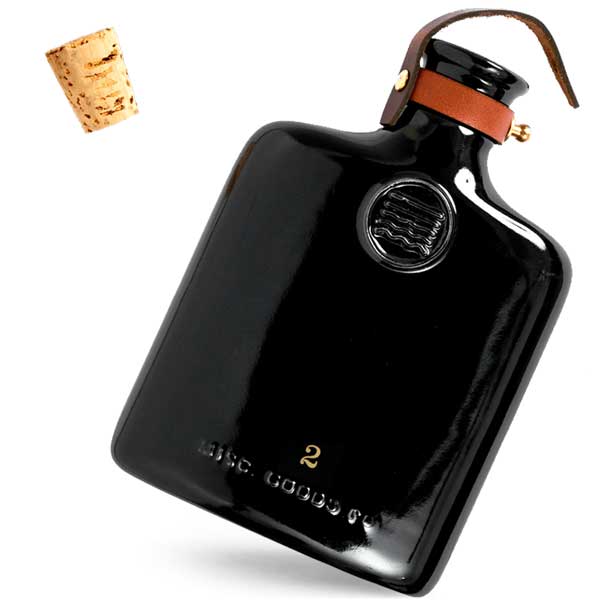 | | |
| --- | --- |
| Estimated Price | $118 |
| Size: (Dimensions Length x Width x Height) | 11 Fluid Ounces |
| Colors Available | Black |
Product Origin and Manufacturer Information:
Miscellaneous Goods Co. (Also known as Misc. Goods Co.) was borne out of a difficult time period for our nation – right in the heart of 2012, following a debilitating recession. The company was focused on creating goods that were high-quality, unique, and proudly Made in America in a time where many were choosing to outsource their manufacturing elsewhere. Founder Tyler Deeb had fallen on some hard times and launched the business out of a Kickstarter campaign and desperation – struggling to make ends meet.
That entrepreneurial drive led to a flourishing American-made business that was able to cater to those who wanted a higher caliber of consumer products than what was currently available.
What We Like About This Flask:
This flask was designed to be a statement piece and is the perfect gift for a lover of fine spirits and whiskey, sporting a beautifully versatile design that caters to unisex appeal. Your drinks will be kept safe and to temperature with the quarter-inch walled design.
You'll be able to use this flask for just about any need you have, whether you're traveling, enjoying a sip at home, or partying with your friends and loved ones. This design is larger than most and can hold up to 11 ounces of liquid.
This product was committed to focusing on attention to detail. You can see this in the smallest handcrafted touches, such as the authentic leather strapping, brass accouterments, and cork top that adds an artisanal touch.
This ceramic flask is glazed completely and refined – which prevents the common issue of color or taste compromise for your spirits. Ceramic is one of the most recommended materials to use when crafting alcohol or beverage storage, due to its versatility and ability to preserve the true taste and aesthetic appeal of each beverage.
The refinement process it goes through ensures that you receive only the highest quality product for your use. With each sip, you'll enjoy the rich experience and historical nod to traditional distillery and manufacturing – savoring the smooth and pronounced embossing.
This flask is at a higher price point than most, largely due to its unbeatable quality and level of artisanship. This is the perfect gift for a boss, coworker, family member, or anyone in your life who appreciates the historical significance behind the sip. Overall, if you're looking for a high-quality American made flask this is a great option.
Nalgene Quader Bottle, Polycarbonate (Shot-Style Sipping Flask)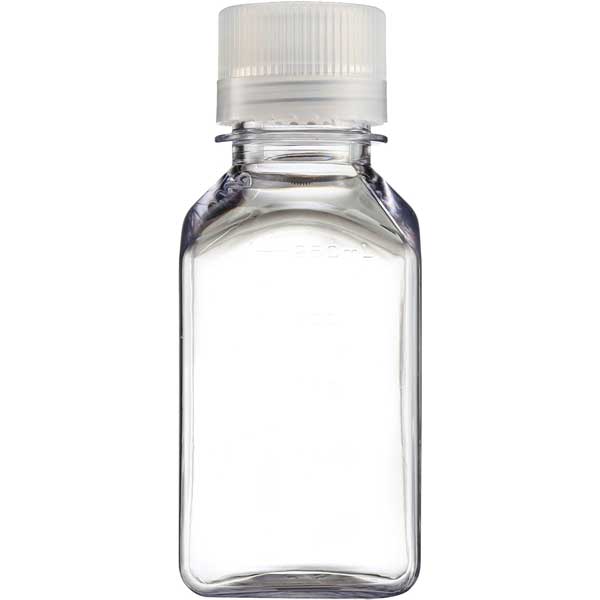 | | |
| --- | --- |
| Estimated Price | $15 |
| Capacity | 4 Fluid Ounces – 32 Fluid Ounces |
| Colors Available | Clear |
What We Like About This Flask:
This product doesn't meet the traditional design elements or standards of your average flask – instead of bringing with it a variety of new uses and benefits with each use. This quader bottle is the perfect size and shapes for transporting any small-portioned beverage of your topping of choice.
Common favorites among the quader bottle crowd include Irish cream, vodka, tequila, dressings, whipped cream, or any sort of accent that you want to take with you. Whether you're going to a festival, camping in a tent, or adventuring across the nation in an RV, this can be the perfect vessel for your small-use needs.
The bottle's construction is sturdy and break-resistant, made from polyethylene material for the maximum possible versatility in use and design. The screw-on cap makes it the perfect design for storing a variety of different delicacies.
Nalgene knows that you require versatility in product design and use for it to fit seamlessly into your daily living – which is why this handy bottle comes in a variety of sizes, ranging from 4 Fluid Ounces to 32 Fluid Ounces.
Thanks to the clear design, we were inspired to tap into our artistic side… Did we mention that you can customize and decorate the bottle to truly make this your own?
This makes the perfect gift for your local college student, chef, adventurer, or just about anyone who wants to take their favorite spirit or topping with them on the go. The aesthetic appeal of the glass and the low price point make this the perfect gift for any occasion!
Hi, my name is Kevin and I'm from Pittsburgh, Pennsylvania. Choosing products made in America is important to me because it supports local economies, creates jobs, helps the environment, and ensures ethical labor practices. I also find that American made products are usually of higher quality so although they're a little more expensive, you save money in the long run. Before starting this website I was in the USMC infantry and nowadays I work on this website as a hobby.