Life can be stressful, and it's often hard to find time to relax and wind down. Having a good place to relax is important, and nothing is more relaxing than swinging in the breeze suspended in a hammock made in the USA.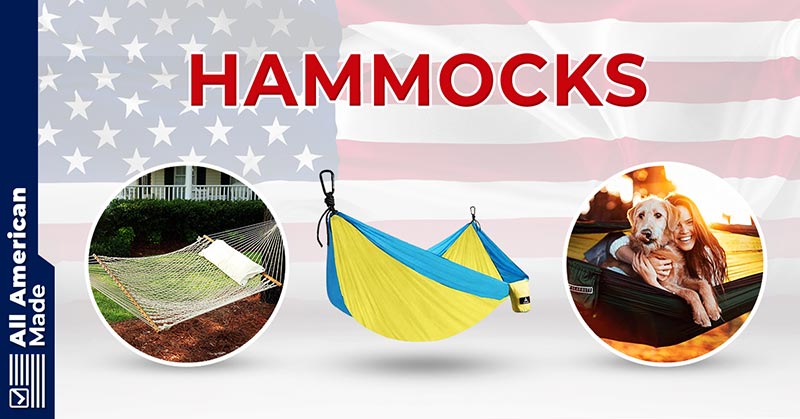 There are thousands of hammocks out there, but surprisingly, very few are made in America. No worries, though; we've searched far and wide to compile an epic list of American-made hammocks! There are many different styles of hammocks on this list, so simply scroll through and find a style that is most suitable for you!
List of American-Made Hammocks
Original Pawleys Island Deluxe Rope Hammock (Editor's Choice)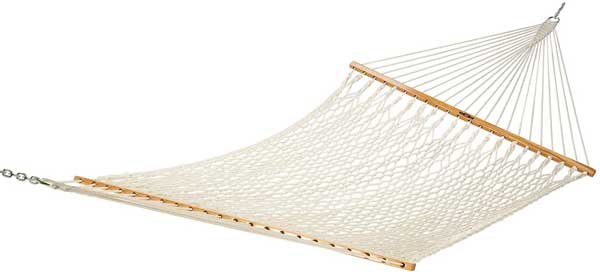 | | |
| --- | --- |
| Estimated Price | $250 |
| Material | 3-Ply Cotton Rope |
| Dimensions | 13' x 60" |
| Weight Capacity | 450 Pounds |
| State of Manufacture | South Carolina |
Pawleys Island in the Carolinas goes back to 1889 when a riverboat captain, Cap'n Joshua John Ward, crafted the first cotton-rope hammock. Cap'n Josh designed that hammock for comfort and security, and his original concept is still offered today. The company's craftsmanship is evidenced in Pawleys Island's premium materials and the artistry of its products.
Visitors are welcome in their workshop to watch the hypnotic process of a master weaver's hands and rope…rope handmade by Pawleys Island crafters in their very own rope shop. It's made from miles of yarn that's machine-wound, then precision-twisted and balanced to US military standards.
The Original Single Polyester Rope Hammock is made with the durability and softness of 100 percent cotton rope. The rope itself is weather-proof and resistant to mold, mildew, rot, and insect infestation. The ropes come together to form a lattice design, eliminating the need for uncomfortable knots in the rope bed.
The oak spreader bar is also rot-resistant and dipped in a marine-grade varnish to extend its look and outdoor life. The hardware is plated with zinc to ensure longevity. Pawley's Island is proud to assemble and manufacture this hammock with industry-leading techniques and the finest parts.
Pawleys Island is set apart by its Right Connection weld, spring pins, offset hooks, and Cape Shield Powder Coat on the stands. Consumer reviews say they appreciate the company's pride and old-fashioned honesty, their hammock durability, and their exemplary customer service.
Hatteras Hammocks Deluxe DuraCord Rope Hammock
| | |
| --- | --- |
| Estimated Price | $280 |
| Material | DuraCord |
| Dimensions | 13' x 60" |
| Weight Capacity | 450 Pounds |
| State of Manufacture | North Carolina |
Hatteras Hammocks was founded back in 1971 in Greenville, North Carolina, and started as a hobby that soon turned into a business. Hatteras Hammocks is known for its humble beginnings, a truly innovative blending of handcrafting and manufacturing, and first-rate customer service. By 1987, the company had become the world's top hammock manufacturer, a prestigious title! Over the years, their quest has been to continue making a better hammock that's durable, stylish, and luxurious.
The Deluxe DuraCord Rope Hammock fits this description perfectly. It's designed with an all-weather rope that offers increased support and less stretch. The ropes lattice design means lumpy knots are avoided. Brazilian hardwood makes up the spreader bars and frames, naturally aged to a beautiful finish. Zinc-plated hardware provides a longer outdoor life for their hammocks.
The company also crafts swings, stands, furniture, pillows, curtains, and accessories. Their materials are top-notch and used in a state-of-the-art manufacturing procedure. By buying a Hatteras Hammock, you're getting streamlined beauty and advanced durability from an established and trusted business.
Bear Butt Double Hammock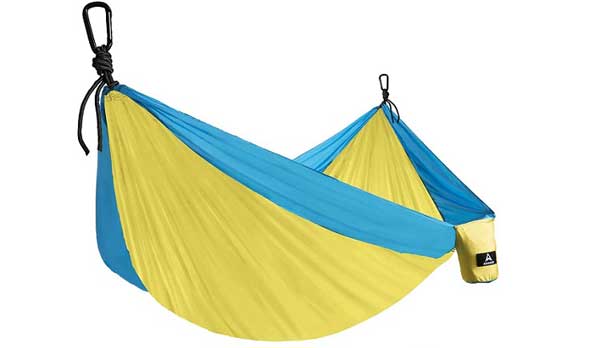 | | |
| --- | --- |
| Estimated Price | $30 |
| Material | 75D Nylon Taffeta with 210 Thread Count |
| Dimensions | 10.35' x 6.85' |
| Weight Capacity | 500 Pounds |
| State of Manufacture | Utah |
Bear Butt Hammocks operates out of Provo, Utah, and prides itself on quality, innovative gear so that adventurers like you can go live their dreams. The company is headed by outdoor enthusiasts and avid campers who create high-quality, perfectly-sized, trustworthy hammocks with an emphasis on being tough and robust.
The Bear Butt Double Hammock holds two adults comfortably and offers the ultimate in fabric breathability. The hammock is anchored to hang by rope suspensions, which are reinforced with polyester end straps and D-shaped steel carabiners. This double hammock measures 10' long x 6' wide and has panels with reinforced triple stitching.
The attached stuff sack, which encloses the hammock when collapsed, handily stores your phone, water bottles, books, shoes, or other necessities. It's also easily portable! This hammock is tested for the most convenient and safest hammock experience. Additionally, the company provides many color options to suit just about anyone's style and preference.
Bear Butt is so confident you'll love their hammocks that they offer a Lifetime Warranty; just be sure to sign up for it! As a company, its mission focuses on top quality and innovative gear for outdoor enthusiasts to truly live out their extraordinary adventures. Additionally, Bear Butt strives to offer the perfect price point, and they're proud to offer a 15% discount to military service members.
Yukon Outfitters Vista Hammock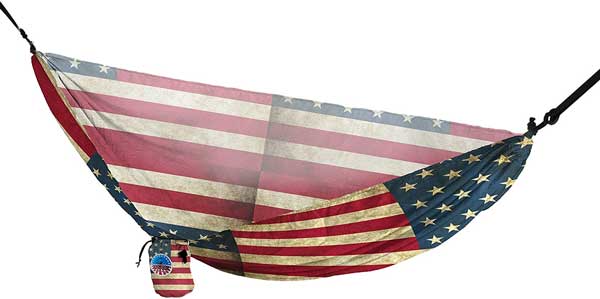 | | |
| --- | --- |
| Estimated Price | $60 |
| Material | Ripstop Polyester |
| Dimensions | 10' x 5' |
| Weight Capacity | 400 Pounds |
| State of Manufacture | Tennessee |
Yukon Outfitters out of Alamo, Tennessee, was founded during the 2009 recession. A fly fishing trip during this time led to the creation of a now wildly successful outdoor company. Their goal is to create quality products that are affordable and lasting. Their line of hammocks, tarps, sleeping bags, two straps, ATV bags, and fire pits are meant to be enjoyed by all outdoors people and are guaranteed to hold up to your active lifestyle.
The Vista hammock is available in over 200 different prints, and it's perfect for your backyard or on a camping trip. The Vista hammock includes an attached stuff sack and a cinch buckle suspension system. Additionally, Yukon Outfitters' proprietary ripstop material is quite strong yet soft. A rainfly tarp is available for purchase separately.
Beyond hammocks and gear, Yukon Outfitters has a popular line of drinkware and coolers. Its goal is to provide quality products and superb customer service. Consumer testimonials indicate outstanding construction, affordable pricing, and incredible value.
Grand Trunk USA Hammock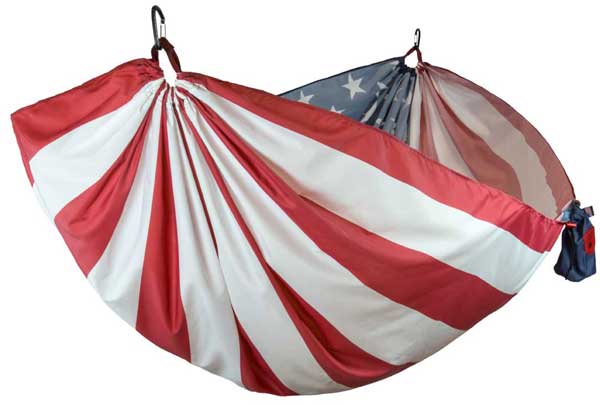 | | |
| --- | --- |
| Estimated Price | $80 |
| Material | Parachute Nylon |
| Dimensions | 10'6 x 5 |
| Weight Capacity | 400 Pounds |
| State of Manufacture | Utah |
Since its inception in 2001, Grand Trunk has been based out of Salt Lake City, Utah. The company shares its travel passion with its clientele by creating outdoor gear that goes perfectly with adventure. Additionally, their core values focus on spontaneity, independence, presence, and gratitude.
While most of Grand Trunk's items are admittedly manufactured in Vietnam and China, their USA flag hammock is made in the good ol' US of A. Manufactured with 100% ripstop nylon and aluminum wire gate carabiners, it's ultra-lightweight. The hammock also includes an attached stuff sack for keeping important items nearby.
GrandTrunk is proud to offer a 100% lifetime guarantee and does so with full confidence that their gear is sturdy and well-designed. The company also supports military members who are on active duty, reservists, National Guard, Retirees, and Veterans with a 30% off discount, site-wide, for life. GrandTrunk also supports underprivileged youth and our National Forests.
Deckhand Manufacturing The Kayaker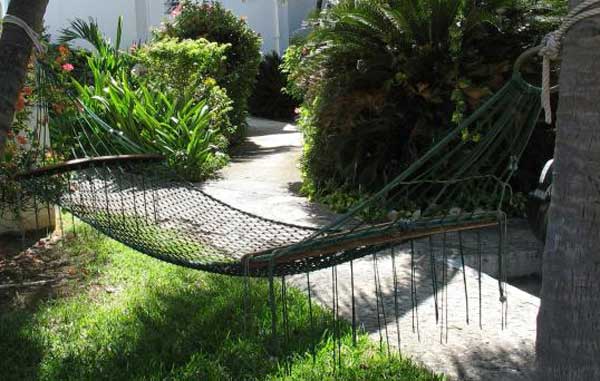 | | |
| --- | --- |
| Estimated Price | $250 |
| Material | Reused Materials |
| Dimensions | 11.5' x 27.5" |
| State of Manufacture | Washington |
Since 1999, Deckhand Manufacturing in Bellingham, Washington, has been making hammocks using industrial gleaning, the term for using existing USA manufactured surplus and avoiding waste. The company buys green, spends money wisely, and stays environmentally conscious. The owner began his career as a hammock mechanic when he realized few authentic and traditional American-made web furniture options existed. Thus he created his top-tier life support systems in his handmade hammocks.
The Kayaker is designed for overnight sleeping, and its cocoon design ensures the occupant won't roll out. This is a proper boat/utility hammock, but you can use it anywhere for a little rest and relaxation because it breaks down quickly and simply. It measures 11.5' x 27.5" and comes in brown, blue, green, black, and red. If used at night, a thermal pad is recommended to provide a barrier against heat loss.
The company's mission is to create the highest-quality web furniture using industrial gleaning. Additionally, the traditional marlinspike techniques (which refers to a pointed metal tool used by sailors to separate strands of rope) and high-level construction ethics ensure a reliable, life-long product. The company also supports sustainable farming efforts through hazelnut growing; they proudly plant two trees for each hammock sold. Deckhand Manufacturing finds great satisfaction in being part of the solution to improve our planet.
Hammock Hut Calm Hammock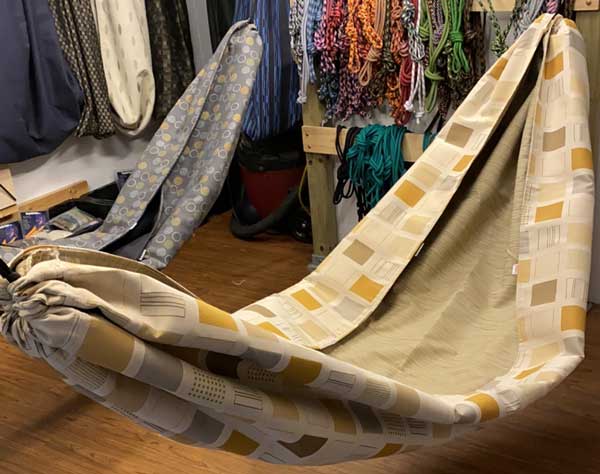 | | |
| --- | --- |
| Estimated Price | $175 |
| Material | Upholstery Fabric |
| Dimensions | 9' x 5.5' finished size |
| Weight Capacity | 240 Pounds |
| State of Manufacture | Wisconsin |
For more than 15 years, the Hammock Hut has handcrafted hammocks in Saint Germain, Wisconsin. They proudly choose only the highest-quality materials, including weather-resistant thread and rope. The company promises a hammock-like no other, a superior product individually crafted by USA-based manufacturers. Hammock Hut designs its hammocks to last a lifetime and offers just about any pattern or design of fabric that you could imagine.
The Calm Hammock is a finished size of 9' x 5.5' feet, easily fitting in spaces from 8 to 12 feet. It's ideal for use inside or outside, offering multiple anchor points for adjustability and reach.
The Hammock Hut's local showroom displays a wide range of fabric selections that ensure superior style. The company's sign proclaims that they open "at the crack of noon" seven days a week, inviting customers to experience hammock making from beginning to end. The next time you're in their corner of Wisconsin, stop by!
Outer Banks Hammocks Alberca (Quick Dry Hammock)

| | |
| --- | --- |
| Estimated Price | $230-350 |
| Material | Quick Dry Textilene Fabric |
| Dimensions | 13.5' finished length |
| Weight Capacity | 450 Pounds |
| State of Manufacture | North Carolina |
Since 1972, Outer Banks Hammocks has been handcrafting hammocks in their Wrightsville Beach, North Carolina shop. It all started when two young ladies decided to make hammocks as gifts for friends. They dismantled an old rope hammock to understand how it was made. Soon, a hammock shop was born and eventually became Outer Banks Hammocks. All wood and rope products are handmade right in their shop, where they strive to offer their hallmark values of tradition, innovation, and quality.
The Alberca Quick-Dry Hammock, which derives its name from a Spanish word meaning "pool," comes in blue and white stripes, multi-colored stripes, or a jacquard earth tone. This hammock is perfect for poolside, beachfront, or dockside because it dries quickly when a swimmer needs a break. The spreaders are hardwood ash and dipped in a satin marine spar varnish, and the sturdy hardware is zinc stainless rings with s-hooks.
In addition to rope, quilted, travel, and kid's hammocks, the company also makes porch swings, chairs, teak outdoor furniture, stands, pillows, and other accessories. Outer Banks Hammocks is proud to carry on the dying tradition of handmade hammocks on the Carolinas' coast.
Phat Tommy Rope Hammock and Stand Set with Pad and Pillow (Best Hammock With Stand)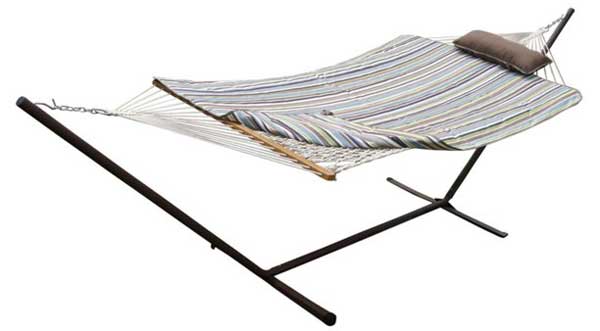 | | |
| --- | --- |
| Estimated Price | $140 |
| Material | 100% Cotton |
| Dimensions | 145" x 52" x 41". Hammock: 75" x 52" |
| Weight Capacity | 275 Pounds |
| State of Manufacture | Minnesota |
Phat Tommy Outdoors offers USA-made hammocks from the town of Savage, Minnesota. The company also creates an extensive patio furniture line, including Adirondack chairs, ottomans, side tables, balcony chairs, dining and pub tables, dining chairs and outdoor heaters, umbrellas, and bases.
The Phat Tommy Rope Hammock and Stand Set have an angular foundation made up of powder-coated steel. It's stable, rust-resistant, and includes all the needed hardware. The hammock utilizes 100% cotton and features a comfy pad and fluffy pillow, both crafted from polyester. The hammock is stylish, long-lasting, easily assembled, and low maintenance. The company also offers a one-year manufacturer warranty. If you're looking for a hammock made in the USA with a stand combo, this is a great option.
Twin Oaks Hammocks Sunbrella Sling

| | |
| --- | --- |
| Estimated Price | $200 |
| Material | Coated Polyester |
| Dimensions | 13' finished length |
| Weight Capacity | 450 Pounds |
| State of Manufacture | Virginia |
Twin Oaks Hammocks has been operating in a community in rural Virginia since 1967. Residents live and work there, ensuring their commitment to your satisfaction and guaranteeing pride in their work. They live by principles of cooperation, sharing, equality, nonviolence, and ecology. They are self-supporting and income-sharing, and their entire livelihood is linked to their handcrafted hammocks.
The Sunbrella Sling offers a comfortable mesh that breathes well and drains quickly. This top-quality outdoor fabric is ideal for any waterside location. Customers can purchase matching stands and pillows separately. Additionally, the spreader bars are white oak with a linseed oil finish, and the color rope harnesses match. Beyond hammocks, Twin Oaks residents make hammock pillows, stands, hanging stands, and hardware kits.
DutchWare Gear: Clark (Best Camping Hammock)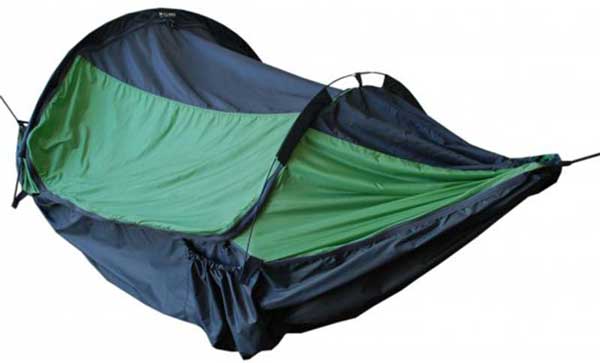 | | |
| --- | --- |
| Estimated Price | $449 |
| Material | WeatherShield |
| Weight Capacity | 700 Pounds |
| State of Manufacture | Utah |
Based out of Lancaster, Pennsylvania, since 2003, DutchWare values a minimalist approach to its hammock designs and production. The founder of DutchWare, nicknamed Dutch, began making his own gear as an experiment and, through trial and error, stripped away anything unnecessary. As a company, DutchWare strives to limit its impact on the environment by using recycled materials and packaging. Additionally, they offer a "Make Your Gear" section where shoppers can create their own camping or backpacking gear, including hammocks.
The Clark Double Camping Hammock offers outstanding suspension, useful storage, and stability without ratcheting. This 3-season hammock includes two separate beds, giving each camper their own space. There's also an ample center storage compartment for backpacks or other needed gear—a small child will also fit here for cozy sleeping.
The Clark keeps occupants warm, dry, and bug-free. And on cold nights, there's an attached Z-Liner under quilt that can be purchased separately to keep campers warm. It uses a three-support system and comes in black, camo, green, and gray. Additionally, customers can buy a tarp separately if desired.
DutchWare is committed to offering durable, reliable, and high-quality hardware so that its gear stands up to tests of nature. They're so confident in customer satisfaction that they provide a guarantee against all manufacturing defects. For another unique offering, shoppers can also use a "free look" period to try out DutchWare's products before purchasing. All in all, this is my favorite camping hammock made in the USA.
Crysalis Hammocks (Best Rope Hammock Chair)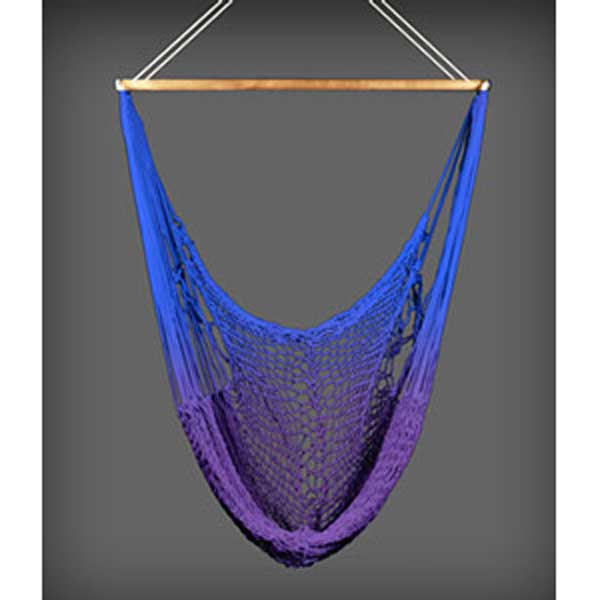 | | |
| --- | --- |
| Estimated Price | $145 |
| Material | 100% Cotton |
| Dimensions | Stretch to 8' |
| Weight Capacity | Two average adults |
| State of Manufacture | Texas |
Crysalis Hammocks has been in business for more than three decades, providing enduring and comfortable hammocks. They are proud of their USA-made hammock and personally weave and dye each one by hand. In fact, one unique benefit of Crysalis Hammocks is the variety of vivid colors (more than 25!) that shoppers can choose from. And if the color fades over time, the company cheerfully will re-dye it.
The Original Hammock Chair comes in two options: regular or deluxe. The regular hammock stretches over 8', has an adjustable back and 36" crossbar, and allows you to sit, lounge, or lie down. The deluxe version has a longer crossbar at 40", ensuring a roomier hammock overall. For colors, consumers can choose custom orders of two-tone or tri-color options. Finally, they can pick upgrades like an extra hardware package or swivel supports as needed.
The company is incredibly proud to use the best materials they can find, which includes a higher-quality string providing exceptional comfort. The hammocks also have a robust woven knot connected to a metal ring to adjust in the back, enabling the occupant to recline. Customers remark that they've had their Crysalis Hammock for 10, 20, and even 30 years, demonstrating the company's commitment to quality and longevity.
Nags Head Hammocks: Cumaru Hanging Hammock Chair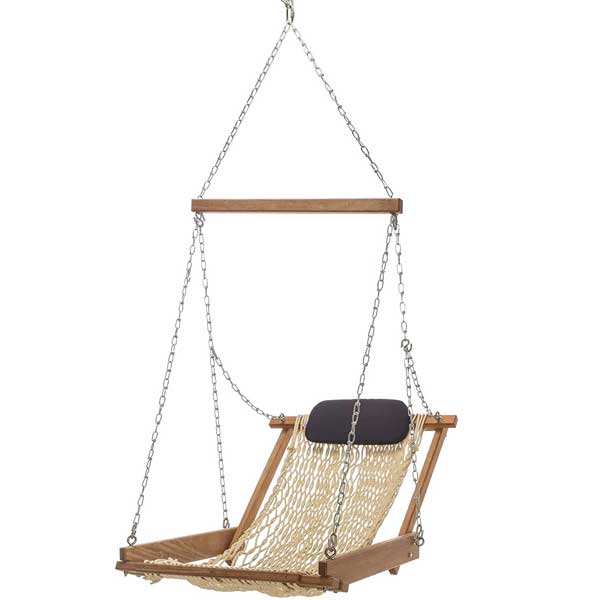 | | |
| --- | --- |
| Estimated Price | $350 |
| Material | Polyester, DuraCord |
| Dimensions | 40" x 27" x 20" |
| Weight Capacity | 250 Pounds |
| State of Manufacture | North Carolina |
Since 1974, Nags Head Hammocks has been operating out of Greenville, North Carolina. The company never takes shortcuts with materials or craftsmanship, and its devotion to doing so has earned its life-long loyal clientele. Nags Head Hammocks' ultimate focus is to provide superb comfort in their hammocks, and while they're happy to innovate when needed, their formula is working pretty well and has for more than four decades.
The Cumaru Hanging Hammock Chair is handcrafted from soft-spun, synthetic polyester, and DuraCord ropes, which are highly resistant to mold, mildew, rot, and fading. The swing features a Brazilian Teak frame and rust-resistant stainless steel hardware. This chair has been a shopper favorite for years and is simply perfect for your front porch, back patio, or screened-in porch.
Nags Head Hammocks also sells hammock stands, Durawood rope furniture, and other accessories. Due to its location, the company is more than familiar with coastal weather and building products that can withstand most of that abuse.
Nags Head Hammocks welcomes customers into their store during business hours to watch their master hammock weavers at their fascinating, age-old craft. This is definitely one of the best hammock chairs made in the USA you can find on the market today.
Cobble Mountain Hammock Co. Original Style Hammock Chair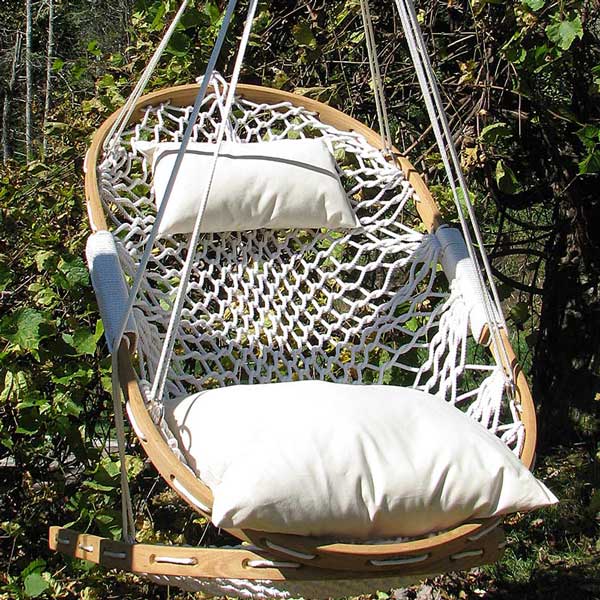 | | |
| --- | --- |
| Estimated Price | $295 |
| Material | Cotton/Polyester Blend, Oak |
| Weight Capacity | 240 Pounds |
| State of Manufacture | Vermont |
Since 1982, Cobble Mountain Hammock Company in East Corinth, Vermont, has been proud to offer hammocks made the "old-fashioned" way—by hand. Their guiding principles focus on customer satisfaction and product quality, and their craftsmanship is evident in the artisan's autographed card attached to every chair built. The company's exquisitely crafted, unquestionably comfortable chairs take relaxation and shopper satisfaction to a new level.
If you're looking for a hammock chair, this may be just the thing. The Original Hammock Chair is ideal for an average-sized person. For comfort, customers will find a soft cushion and a handy head pillow. A cotton-polyester blend rope makes up the chair's support, providing maximum durability and comfort. Shoppers can choose a chair with or without a foothold, and they also can opt for a double hammock chair if they prefer.
As a company, Cobble Mountain is so sure patrons will be satisfied that they offer a warranty guaranteeing no defects in materials or workmanship in the first year after purchase. Customer reviews say there isn't another hammock chair in the world like this one—it's space-saving, comfortable, and an ideal spot for a cozy nap. Perhaps a hammock chair is exactly what you've been looking for!
Get to Lounging!
Hopefully, this list helped you narrow down your search, and you've found a suitable hammock. Whether you're looking to wind down in a hammock with a good novel or get adventurous through hammock camping, the list above should have plenty of great options for you.
We encourage you to share this information and our site with others to increase All American Made support! The next time you're chilling in a hammock, be satisfied and proud of your decision to keep your money in the states. Every dollar you spend here makes a difference. Choosing a made-in-the-USA hammock will bring you satisfaction and joy, knowing you bought a product that supports American businesses and our economy.
Let us know if you have any questions or comments about the hammocks on this list in the comments section below! See you next time!
Hi, my name is Kevin and I'm from Pittsburgh, Pennsylvania. Choosing products made in America is important to me because it supports local economies, creates jobs, helps the environment, and ensures ethical labor practices. I also find that American made products are usually of higher quality so although they're a little more expensive, you save money in the long run. Before starting this website I was in the USMC infantry and nowadays I work on this website as a hobby.