If you're anything like me, you probably find air quality and moisture very important, especially during dry winter months. Humidifiers are the most practical way to bring the humidity level in your home to optimal levels. They're commonly used to alleviate several conditions associated with dry air, including dry skin, irritated sinuses, and dry eyes, among many others. The problem is almost all humidifiers are cheaply made overseas and don't last long, but thankfully there are still some humidifiers made in the USA. It's essential to support the companies still making them in America, especially because there are so few left.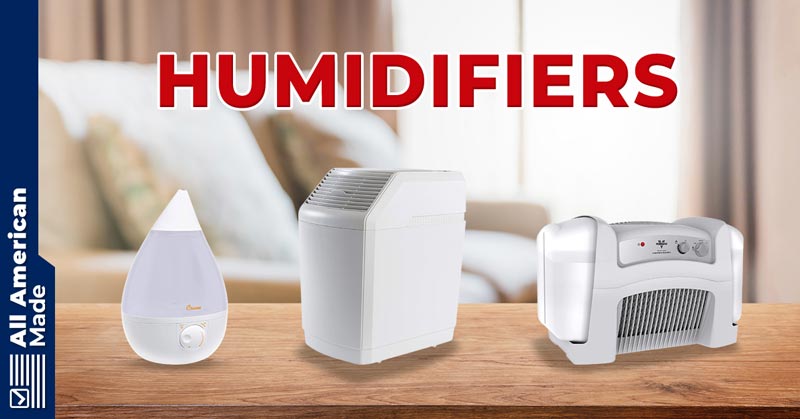 In the rest of this article, we'll be sharing the most reputable USA-made humidifiers on the market. Simply scroll through and find one that suits your needs! And as always, let us know if there are any great products that we missed in the comments section so we can add them to our list for everyone else to see!
List of American-Made Humidifiers
Vornado Evap40 Evaporative Humidifier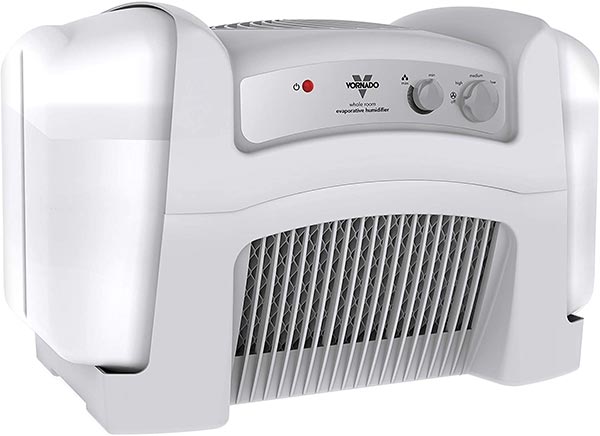 | | |
| --- | --- |
| Estimated Price | $150 |
| Capacity | 4 Gallons |
| Colors Available | White |
| Origin | Andover, Kansas, USA |
Product Origin and Manufacturing Information:
Founded in 1989 and based in Andover, Kansas, Vornado makes some of the most iconic American-made fans and humidifiers, among several other appliances, and they mostly focus on gadgets that move air throughout your home efficiently and effectively. You may be surprised to learn that the original Vornado brand actually originated in the 1930s and was focused on designing airplanes.
The purpose of Vornado humidifiers is to provide constant comfort, despite the trend toward oscillation and practical design. Today, that still holds with products that increase efficiency and keep everyone comfortable all year round. Its headquarters are in Andover, Kansas, where the company maintains its reputation for innovative products and outstanding customer service. Vornado makes a lot of products, not all of which are made in the USA, so always double-check when purchasing their products. You can see the Made in the USA section of their website here, it has a complete list of all their products made in America.
What We Like and Don't Like About This Air Purifier:
Among our favorite American-made humidifiers on the list, the Vornado unit utilizes specialized deep pitch blades to efficiently capture and move large volumes of air. This air, typically dry as most people would implement this device when they are suffering from dry conditions, is navigated through two humidifying filters and then circulated throughout the room using Vornado's patented Vortex Action, a specific air moving pattern, to produce complete and uniform moisture in areas up to 1,000 square feet.
The unit utilizes an onboard humidistat that allows the Vornado Evap40 to control humidity automatically, and Easy-to-use controls will enable you to select the humidity level and fan speed you desire. When continuously operated on high, it can supply up to 4 gallons of water, allowing it to perform for a more extended period and require fewer refills.
This humidifier has three fan speeds, which is always a welcome luxury, primarily because of each intensity level's various decibel levels. We cannot hear the fan on low when it is placed 5 feet from our bed on the lowest fan setting. We keep it at medium speed to sleep, so we can hear it a little when we are awake, but we don't let it keep us up. It is audible at high speed, where it humidifies a room the fastest, and we cannot sleep with it running at this speed, but it sure does get the job done when coming back to a home full of harsh and dry air!
Who We Recommend This Air Purifier For:
This is a good one for a master bedroom or even a living space. If you're looking for a reliable and quiet humidifier, this is a good one for a smaller space. You can easily use and clean this humidifier. Compared to our last humidifier, this one is far quieter.
It has two large containers that are easy to remove and fill. The containers are easy to place back in and don't spill. However, sometimes they glug. This is not an issue for us. We don't hear the fan. It is hard to hear on the first level. The fan is noticeably louder when on the third level but not so loud as to disturb TV viewing or conversations. A replacement wick (filter) isn't expensive either. This is easily one of our top recommendations, and we find it to be a great product!
AIRCARE EP9800 Pedestal-Style Evaporative Humidifier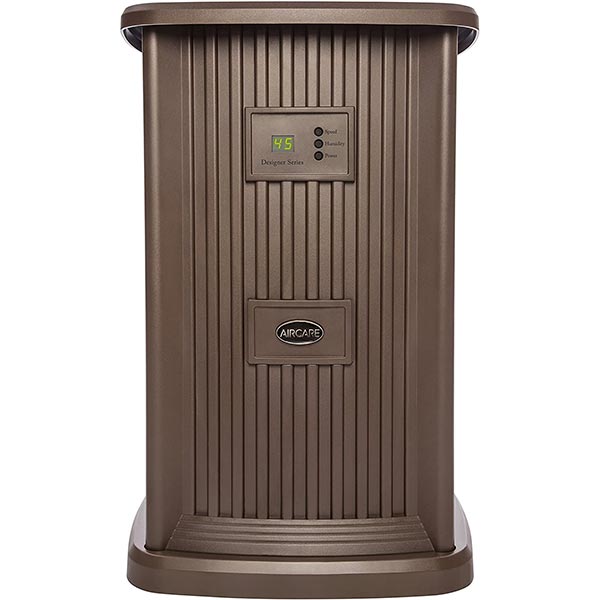 | | |
| --- | --- |
| Estimated Price | $160 to $180 |
| Capacity | 3.50 Gallons |
| Colors Available | Espresso, Nutmeg |
| Origin | Little Rock, Arkansas |
Product Origin and Manufacturing Information:
With more than 70 years of experience in the game of humidifiers, AIRCARE has become a well-represented name among consumers in the market looking to increase their home's air quality. They can be found in Little Rock, Arkansas, and they do most of the work on-site. In addition to constantly testing their humidifiers, their engineering team is looking for ways to improve them and is always employing American talent to get the job done as they are the largest humidifier manufacturer in the USA!
Their manufacturing team builds the majority of their humidifiers and humidifier filters in-house, giving them the best humidifiers and humidifier filters. According to their website, AIRCARE is the largest manufacturer of humidifiers in the USA. With that in mind, it's no surprise that you'll find several humidifiers made by AIRCARE on this list.
What We Like and Don't Like About This Air Purifier:
You can choose from two models—Espresso and Nutmeg. Espresso will humidify 2,400 square feet, and the Nutmeg will humidify up to 2,000 square feet. You can automatically maintain your humidity levels in the home without much issue.
This evaporative humidifier functions much like a table. You have all the necessary features to maintain the humidity levels in the home, and once it reaches the desired humidity level, it will turn off automatically. This humidifier does precisely what you need it for and at a competitive price.
Some people may not like this humidifier due to the noise, which appears to be a common problem.
The engineering of this humidifier looks simple and effectively humidifies the whole home. A humidifier like this helps you to endure a cold winter in comfort so that your skin doesn't dry out. This humidifier is compact, and it looks attractive wherever you place it.
Who We Recommend This Air Purifier For:
We would recommend the Espresso for humidifying a home up to 2,400 square feet, and if you choose the Nutmeg, you would want it for a smaller home since it only humidifies up to 2,000 square feet.
In all honesty, the slight price difference between the two models makes the Espresso a better deal. Outside of that, the operation of both share more similarities than differences, so you don't have a considerable difference between the two, except the Espresso is a higher-end model.
We would also recommend this humidifier for someone extraordinarily conscious of the design in their home since this is one of the more attractive that we have seen. While they made this humidifier with plastic, it is heavy-duty plastic, and it maintains a great look for the home. It blends well with dark furniture and flooring, and the compact design ensures that it doesn't take up too much space.
AirCare 831000 Space Saver Humidifier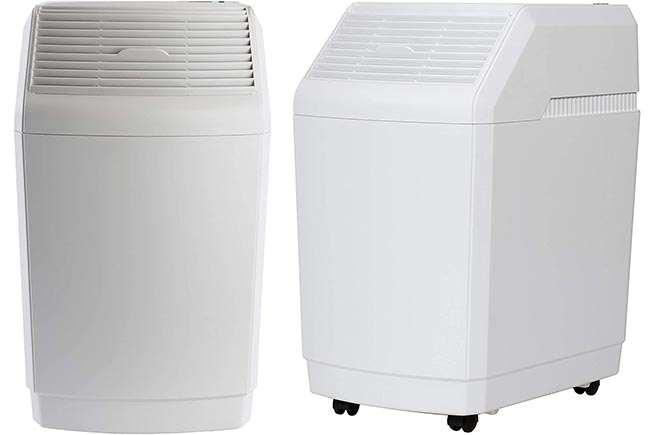 | | |
| --- | --- |
| Estimated Price | $140 |
| Capacity | 6 Gallons |
| Colors Available | White |
| Origin | Little Rock, Arkansas, USA |
What We Like and Don't Like About This Air Purifier:
As the largest humidifier manufacturer in the US, AirCare encompasses over 70 years of experience utilizing some of America's best air quality engineers. AirCare is located in Little Rock, Arkansas.
Who We Recommend This Air Purifier For:
If you're looking for a bigger unit without spending a fortune on a humidifier that connects to your water supply, this could be a more economical solution. It has all the benefits of any humidifier, with a large tank that will run for up to 70 hours without intervention.
One of my favorite features of this unit is its large reservoir and extended runtime. Compared to many humidifiers, I find it needs to be refilled far less often. Once filled, it can be easily moved on casters as for some, it'll be a bit heavy. A humidistat, refill indicator, and filter check indicator are all standard equipment on the AirCare 831000, and it has three variable fan speeds. I live in Arizona, so having a reliable humidifier I don't need to be refilling constantly is very nice.
The video below talks a little about the humidifier. The uploader wrote the script but used a computer program to read it, which is a little annoying, but it provides some insight into the humidifier.
AIRCARE Digital Whole-House Console-Style Evaporative Humidifier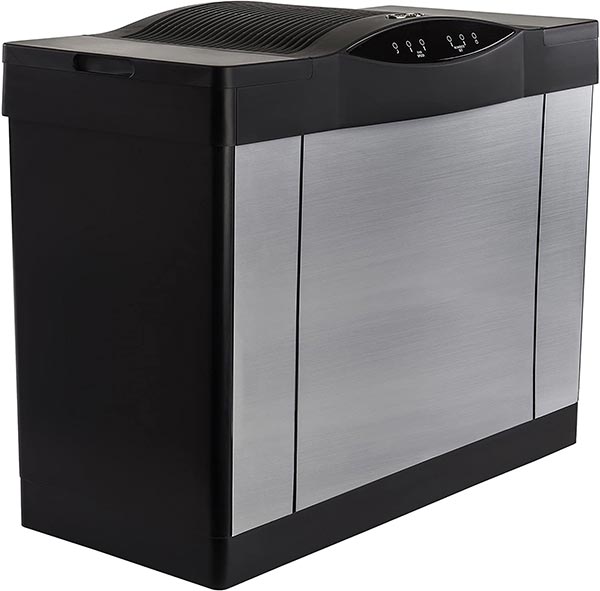 | | |
| --- | --- |
| Estimated Price | $190 |
| Capacity | 5.7 Gallons |
| Colors Available | Silver |
| Origin | Little Rock, Arkansas |
What We Like and Don't Like About This Air Purifier:
Humidifying the whole home can be a daunting task, even for a rather decent humidifier. Lucky for us, Air Care has had seventy years to figure it out, and they've come up with this attractive system that gets the job done while not imprinting itself on the design elements inside your home. The super-simple dual bottle design makes it a breeze to switch out and refill. During the winter months, as the air dries out, the humidifier efficiently moves the air through a saturated wick filter which puts moisture in and then cycles it through the house.
Modern and intuitive touch screen controls equipped with this easy-to-navigate product have made it an even more attractive purchase, and in terms of price, we would put it right in the average category where it costs about the same as most of the other whole-house humidifiers. You can run this system for about two days before you need to refill it.
On each side, the unit holds 2.75-gallon jugs, and you don't have many moisture-wicking humidifiers. You can put more water into the air faster than with the other products.
Who We Recommend This Air Purifier For:
For someone concerned about the appearance of a humidifier in the home, we would recommend this one. It won't take away from the appearance, and in fact, it may even add to it. With any whole-house humidifier, you should put it in the most central location of the home. This humidifies the air throughout. We would recommend this system to anyone who wants a whole-house humidifier at a reasonable price.
Keep in mind that this humidifier will run for two days on the lowest setting, but if you put it on the highest setting, you will need to refill it in eight hours. We would consider the two-day mark an impressive number overall.
AirCare Credenza Whole House Humidifier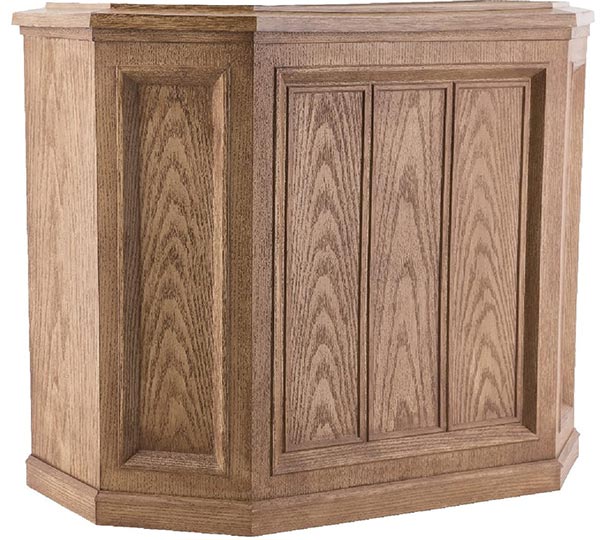 | | |
| --- | --- |
| Estimated Price | $220 |
| Capacity | 5.6 Gallons |
| Colors Available | Light Oak |
| Origin | Little Rock, Arkansas |
What We Like and Don't Like About This Air Purifier:
Another excellent home-friendly humidifier, the Air Care Credenze, is incredibly efficient at introducing evaporative moisture into the home. For many, this humidifier is plenty powerful as it can cover up to 3,600 square feet. It's really easy to set up; just program the humidity levels to a comfortable level for you and assign the fan speed to meet your needs. Using the digital display readout, you can check to see that the room has the correct level of moisture in the air. You will need to refill the water jugs every 24 to 36 hours.
Running on the lowest setting, the fan doesn't make a lot of noise but put on the higher settings, people sensitive to noise may not like this humidifier as much as some of the other choices on this list. If you can deal with the noise, it does have its share of advantages.
Especially during the winter months, when the central heating dries out home air, you will see how well the AirCare Credenza performs. It comes with a two-year limited warranty if you have any trouble with it. The nine fan speeds on the AirCare Credenza mean that you receive fantastic output, and you can put this humidifier on any setting that you want.
Who We Recommend This Air Purifier For:
We would recommend the AirCare Credenza to people who utilize a wooden theme throughout the house, as the Credenze will fit right in with the decor and/or furniture. With the AirCare Credenza, you can keep the humidity levels between 45 to 55 percent relative humidity, which is great for most normal home applications and for use in a man cave or recording studio where you might have instruments or other moisture-sensitive equipment.
Someone who wants to humidify their entire house will also see the value in a product like this since it has the full capabilities of some of AirCare's most powerful units. Not only will this humidifier maintain the comfort of your family, but it will extend the lifespan of the furnishings in your home. It can remove odors, smoke, pollution, and stale air as an evaporative humidifier.
AirCare Digital Whole House Console Style Humidifier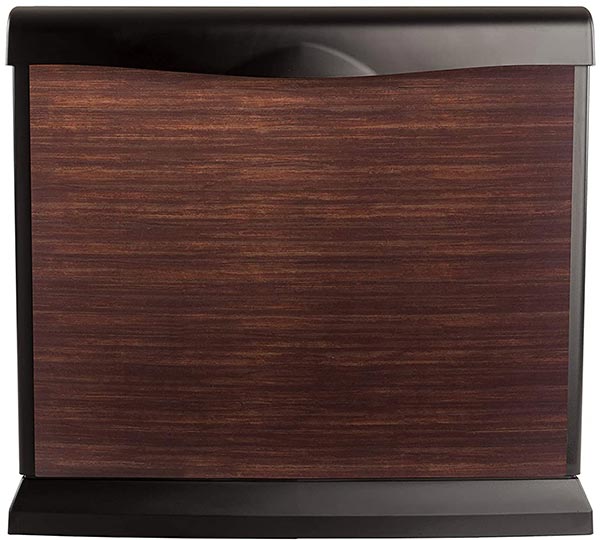 | | |
| --- | --- |
| Estimated Price | $180 to $190 |
| Capacity | 5.4 Gallons |
| Colors Available | Copper Night |
| Origin | Little Rock, Arkansas |
What We Like and Don't Like About This Air Purifier:
When the air is dry, the heat doesn't stick around as easily, and this will raise the cost of your heating bill. It's a common misconception that humidifiers are expensive to run, and when considering the aforementioned fact, it may very well be an efficient use of your energy bill allocation to run a humidifier.
You need to refill the humidifier once a day if you run on the two speeds. While you don't need to use distilled water, the filters will last longer. This is due to the distilled water being purer and lasting longer. Understandably, not everyone is willing to go that far. When you need to refill the tanks, the hose attaches easily, and you can detach it equally as easily.
Set the desired humidity and monitor the progress. You receive a two-year limited warranty with this humidifier. Many people expect it will outlive them because past models under the brand did so well, and AirCare just has an overall exemplary reputation when it comes to designing home humidifiers that are reliable and durable.
The noise level on the AirCare Digital Whole House Console Style is not high, and you can move it easily. For someone like an elderly person, that matters. That would also matter for anyone dealing with chronic illnesses that makes lifting heavier items difficult. This whole house humidifier can humidify up o 4,000 square feet of the home.
You can use digital controls to adjust the airflow easily. Particular areas of the country require this more than others, like the Midwest or the upper East Coast. Anywhere that suffers cold winters where temperatures drop below 40 degrees Fahrenheit could benefit.
Who We Recommend This Air Purifier For:
We would advise that you choose this humidifier if you struggle with moving a heavy humidifier to refill it. It will also come in handy for anything under a 4,000-square-foot home. Someone who doesn't want to deal with a loud humidifier will see the value in going with the AirCare Digital Whole House Console Style.
Someone not technical-minded may also want to choose this humidifier because of how you can set it up easily. The only thing that you need to do to set it up is put on the casters, make sure the float and filters were positioned right, and fill the water up. Clear instructions ensure that you don't encounter problems during the assembly. To put into perspective how fast this unit works, you can bring the humidity levels from 23 percent up to 37 percent in about an hour.
Even at lower speeds, you can maintain a fair and consistent humidity level. Keep in mind that the higher speeds do make slightly more noise.
AirCare Companion Evaporative Humidifier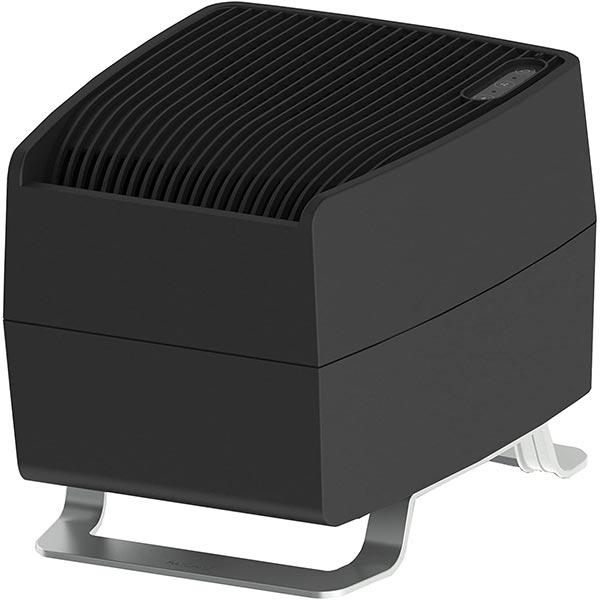 | | |
| --- | --- |
| Estimated Price | $80 |
| Capacity | 1.6 Gallons |
| Colors Available | Black, white |
| Origin | Little Rock, Arkansas |
What We Like and Don't Like About This Air Purifier:
Sitting on the lower end of the price scale, you can buy this AirCare Companion in two colors: black and white. They cost the same, so it doesn't matter which one you choose. Everything with the AirCare Companion looks simple, and the large digital controls make it easy to adjust according to need. You receive three fan speeds and a humidistat.
Having a water level indicator shows you exactly when you need to refill. It may not give you the fanciest of technology, but it does the trick. For the price, you can't ask for too much. We would call this humidifier a tabletop unit, which means that it would work well for those sitting at a desk, machine, or table.
Who We Recommend This Air Purifier For:
You receive about 1,000 square feet of humidifying capabilities with it, which is lower than some of the other AirCare humidifiers on the list but great for those with a studio apartment or utilizing this humidifier in a single room, trailer, or RV. We would recommend this one for individuals on a budget who have a small apartment or work at a desk and want to feel comfortable throughout their day.
The overall weight, even when full, makes it easy to reposition and refill, and we'd recommend this one for an elderly person or someone who struggles to move a larger humidifier.
If you don't want to have to remove the tank, this humidifier makes sense for you. You can refill it by pouring water into it, making things simpler. The water will last about 24 hours. Overall, this humidifier is one of the most popular for good reason, and it's one we certainly recommend.
AIRCARE MA Whole-House Console-Style and Mini Console Evaporative Humidifier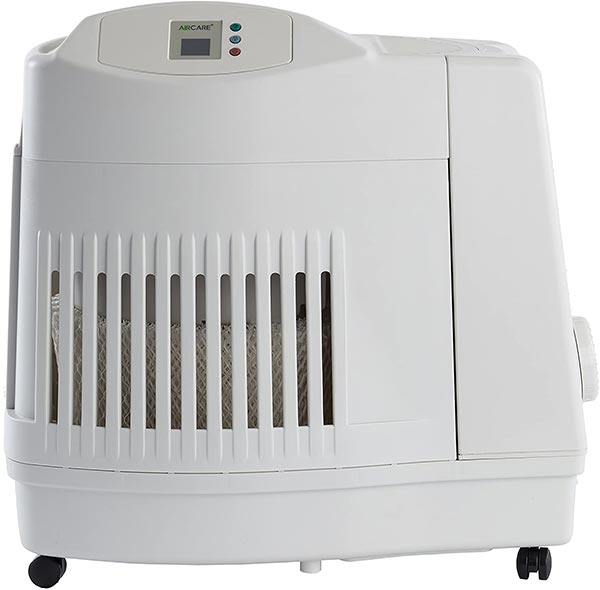 | | |
| --- | --- |
| Estimated Price | $120 to $160 |
| Capacity | 3.6 Gallons |
| Colors Available | White |
| Origin | Little Rock, Arkansas |
What We Like and Don't Like About This Air Purifier:
The Console unit can humidify up to 3,600 square feet of the home. You can refill the tank in the sink easily with either unit. Using the digital control settings, you can figure out where to go. Choose from four fan speeds with an auto mode.
In contrast, the Mini-console humidifies 2,600 square feet, and it has 36 hours of run time. The refill indicator lets you know when it needs refilling. You can turn on three fan modes and maintain between 40 percent and 60 percent humidity. It's also easy to clean.
Someone who doesn't want to replace the filters too often may not find this to be an appropriate humidifier. You can, however, wash the filters in warm water and with a cup of white vinegar. Soak it for an hour, and it will come out clean. Having a 3.6-gallon water capacity on a mobile unit is also fairly impressive since that isn't common. The setup doesn't require a real lot to get started.
On the third fan speed level, it does make more noise, but it isn't bad on the whole. Mobile humidifiers produce less noise than whole-house humidifiers. You may need to refill the humidifier every 24 hours, but it isn't impossible to refill.
Who We Recommend This Air Purifier For:
We would especially recommend this unit for someone older age who doesn't have the physical capacity to move a larger humidifier around the home. This will make things easier for you. Anyone who doesn't want to go through a lot of heavy lifting to refill it every day will also appreciate it.
The other attractive point comes from the low cost of the humidifier. In comparison to a whole house humidifier, it costs less. If you don't need a bigger one because you live in a smaller home, then this would perform effectively.
Skuttle High-Capacity Drum Humidifier (Most Water-Conserving Whole-House Humidifier)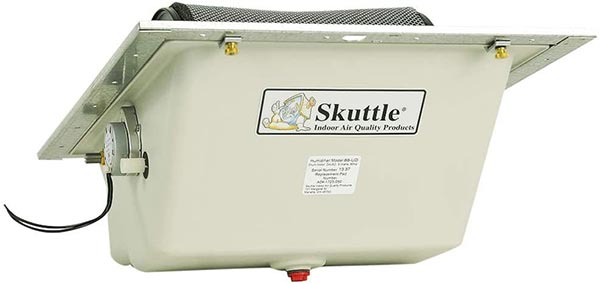 | | |
| --- | --- |
| Estimated Price | $220 |
| Capacity | 17 Gallons |
| Colors Available | White |
| Origin | Marietta, Ohio, USA |
Product Origin and Manufacturing Information:
Skuttle is located in Marietta, Ohio, and has over a hundred years of experience in the indoor air quality market. They focus on humidifiers that are of a more permanent nature than what the majority of this list contains, so these are really only recommended for those who own their property and have a constant need for a high-grade humidifier.
What We Like and Don't Like About This Air Purifier:
The most water-conserving whole-house humidifier, The Skuttle High-Capacity Drum Humidifier, is easy to install and maintain. The output of this Drum Humidifier is controlled by a thermostat that monitors the home's relative humidity and controls the unit accordingly.
The Skuttle humidifier uses a rotating evaporator pad (or drum) to pump water from a water pan into an air stream, which is then heated and circulated by the furnace blower.
With Skuttle Drum Humidifiers, forced air is used to keep the air moist, so they work well with warm-air heating systems, such as gas, gas high-efficiency, electric, heat pump, geothermal, solar, and oil forced air systems.
It worked great and was easy to install. Other humidifiers of this form factor require the installation of a condensate pump or running a drain line, but the humidifier came with everything I needed.
It currently maintains humidity of 38-40% when the temperature drops. It was not difficult to install, and I am far from being a handy person. The longest part of the installation was cutting the ductwork openings.
My 2800 square foot home is maintained at 40% humidity. It doesn't take much effort to maintain this size of home. The Eco Bee 4 Thermostat controls it, allowing me to track when and how my equipment is running. The humidifier does not run every time the furnace calls for heat, so I know it maintains the set humidity.
After researching a lot of humidifiers, I decided to buy a drum-style humidifier that runs continuously down a drain when activated since I pay for city water and sewer. It is nice to not have the noisy portable humidifier that has to be filled daily. Other items needed are 18-2 thermostat wire, 3/8 ID tubing for overflow drain, 1/4″ copper tubing for water supply, and foil tape to seal the joints.
Who We Recommend This Air Purifier For:
As a great option for a whole-house humidifier made in the USA, the Skuttle is the perfect choice for homes that need to conserve water. Using energy-efficient technology, water and electricity are used to the minimum. The unique mounting frame allows for easy removal for cleaning and maintenance.
Condar Aluminum Humidifier (Best for Wood Stoves)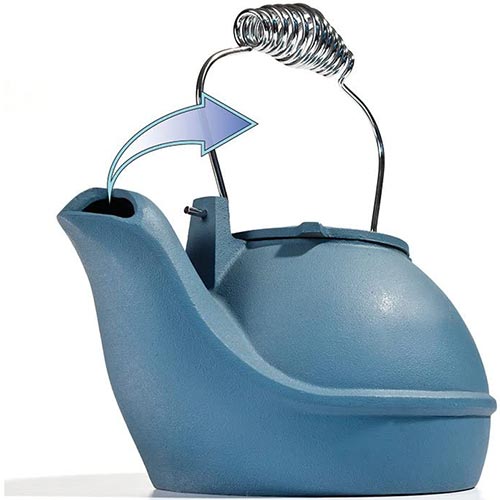 | | |
| --- | --- |
| Estimated Price | $125 |
| Capacity | 2 Quarts |
| Colors Available | Blue, silver, black |
| Origin | Columbus, North Carolina, USA |
Product Origin and Manufacturing Information:
The health industry has viewed Condar as a leader for many years. Condar began 38 years ago with one simple goal: to develop the first practical thermometer that could be mounted on the hot surface of a wood stove flue pipe and still record accurate temperatures. They succeeded. A US Patent was awarded to Condar's innovative thermometer design.
With millions of homeowners around the world using Condar thermometers for woodstoves, Condar is today the leading manufacturer of woodstove thermometers. By browsing their website, you will see that Condar provides a wide range of quality products for the home and hearth.
Furthermore, Condar is dedicated to sustainable environmental practices. Condar contributed greatly to the EPA's research and development efforts in the early 1990s to control woodstove air pollution. As the leading manufacturer of catalytic combustors with virtually no particulates, Condar has been a leader since the adoption of national standards in 1995.
You can be sure of receiving high-quality engineering, innovative designs, and unsurpassed durability when you order Condar's award-winning products. Condar is an independently owned and operated company. Condar manufactures quality American products in the Blue Ridge Mountains of western North Carolina. As an experienced exporter, Condar ships products all around the world with efficient, professional customer service, trusted value, and prompt delivery.
What We Like and Don't Like About This Air Purifier:
What's the point of a half-kettle humidifier?
A conventional round kettle will fall off, but the half kettle nestles perfectly! A couple of years ago, Condar developed and designed the lightweight aluminum half kettle to fit perfectly on the narrow ledge of woodstove inserts.
Due to the reduction in the size of freestanding woodstove surfaces, the half kettle aluminum humidifier makes a lot of sense – it takes up less room on the stovetop without sacrificing capacity.
This aluminum humidifier is large enough to hold 2 quarts (2 liters) of water, and it's made out of hand-cast recycled aluminum, which is rust and crack-resistant. It is specifically designed to direct the expulsion of the steam outward, and it features a unique swivel-open lid. The materials used and the design itself make this humidifier highly durable and easy to clean. It's available in three colors: Glacier Blue, Matte Black, and Moonlight Silver.
Who We Recommend This Air Purifier For:
My new woodstove fits this kettle perfectly! I like the matte finish of the blue better than the glossy finish, which is nice. Also, it is lightweight, which is nice. The water lasts for hours and has definitely improved air quality. I am so glad I found this half kettle. I highly recommend it.
Humidifirst DT Series (Honorable Mention for Commerical Applications)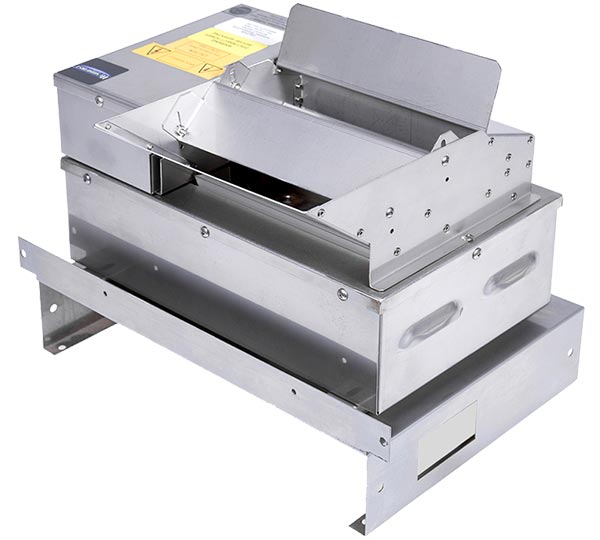 | | |
| --- | --- |
| Estimated Price | Varies depending on the size of the unit |
| Capacity | 10-80 Gallons per hour |
| Colors Available | white |
| Origin | Boynton Beach, Florida, USA |
Product Origin and Manufacturing Information:
The products of Humidifirst are 100% made in the United States. Many of their competitors build their ultrasonic humidifiers overseas and then distribute them in the United States. This not only adds another cost layer to their products, but it also means changes, improvements, and modifications must come from a separate company from the seller.
Their turn-around time for design changes is a fraction of the time required by foreign companies, so they can effectively implement improvements to their products. From the humidifier modules to the control panels, everything is made at their factory in Boynton Beach, Florida.
This ultrasonic humidifier boasts easy maintenance, as there are no infrared bulbs to change or steam canisters to replace.
The ultrasonic humidifier uses 7% less energy than steam humidifiers. Because the mist droplets are steam-sized, they evaporate quickly. Wiring, electrical distribution boards, standby generation, and even the main input transformer of the building are significantly reduced.
A fine mist is produced using ultrasonic transducers and deionized water. Customers enjoy the comfort of moist air without scaling or dust production caused by dissolved solids.
What We Like and Don't Like About This Air Purifier:
Air handling units and ventilation ductwork are suitable for the installation of Humidifirst DT Series ultrasonic humidifiers. Due to their reversible discharge nozzles, they can be used on either the left or right side of existing ductwork.
Compared to steam, ultrasonic humidifiers require less maintenance since the water is purified before entry.
The mist can be turned on/off instantly with ultrasonics. An ultrasonic humidifier automatically turns on as soon as the air deviates from the humidity set point. Flushing steam canisters can shut down humidifiers for up to 15 minutes. Humidity is created by reboiling water inside those systems.
Who We Recommend This Air Purifier For:
While these are great for homes, especially if you are a cigar or wine enthusiast, they also have commercial applications in cigar stores, wineries, data centers, libraries, medical/pharmaceutical/mechanical factories, ripening rooms, and cold food storage, or anywhere where you need tight RH (relative humidity) control.
Conclusion
If you're anything like me, you hate having dry skin and just dealing with dry air in general. Thankfully, we have some great humidifiers to easily solve these problems. That does it for this article. We are continuously searching for new products to add to this list so let us know in the comments below if there are any new products that have recently been released that we can add to our list. Also, be away that companies change their manufacturing practices from time to time, so always refer to the seller for the most up-to-date information. Thanks for visiting our website and be sure to check out some other pages on our website before you go!
Hi, my name is Kevin and I'm from Pittsburgh, Pennsylvania. Choosing products made in America is important to me because it supports local economies, creates jobs, helps the environment, and ensures ethical labor practices. I also find that American made products are usually of higher quality so although they're a little more expensive, you save money in the long run. Before starting this website I was in the USMC infantry and nowadays I work on this website as a hobby.