Finding quality sleeping bags made in the USA nowadays is no easy task because many companies have shifted to manufacturing their products overseas to cut costs. The good news is after doing a ton of research, our team found there are still some great American companies that make sleeping bags right here in America.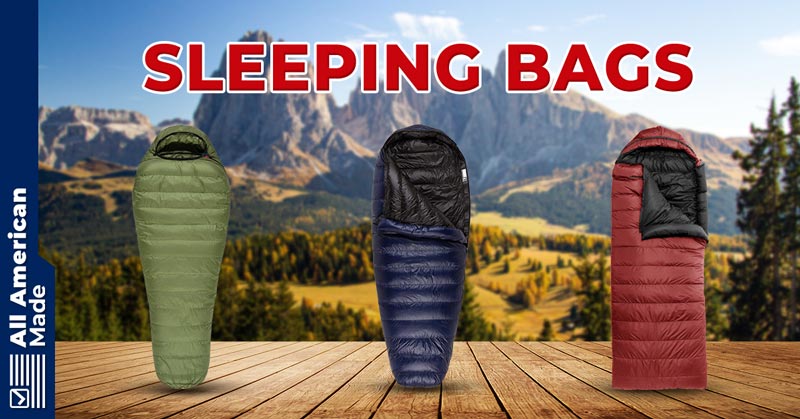 There are a lot of styles, technologies, and other options to choose from. Just because a sleeping bag is listed towards the top of this list doesn't necessarily mean it's better. Each sleeping bag shines in a different area, so the real key is choosing the perfect sleeping bag for your future adventures.
List of American-Made Sleeping Bags
Western Mountaineering Badger LZ Gore Windstopper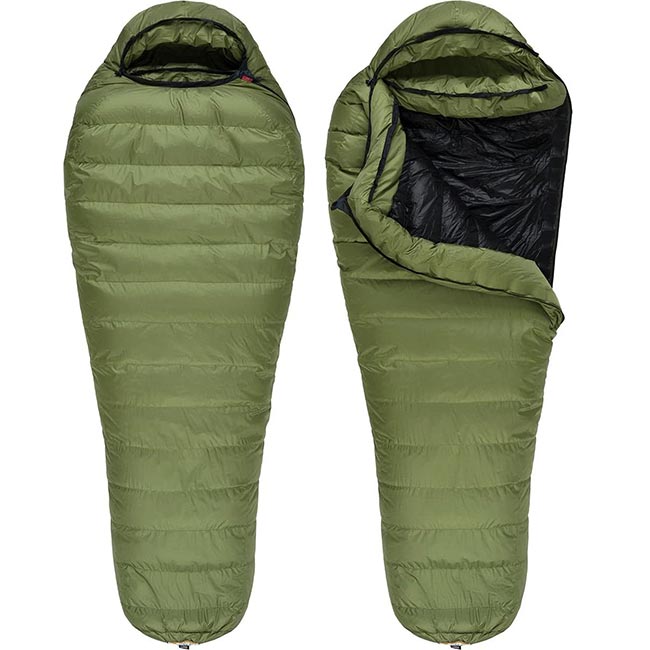 | | |
| --- | --- |
| Estimated Price | $820 |
| Temperature Rating | 15℉ |
| Best Use | Mountain Camping |
| Shape | Mummy |
| Max User Height / Age Recommendation | 7' |
Western Mountaineering's Origin and Manufacturing Locations
Founded in 1970 by a pair of California guys, Western Mountaineering is still leading the way in knowledge and innovation while also sticking true to the root of what makes its products top-notch. Co-Founder Gary Schaezlein still walks through his factory daily, surveying the products and interacting with his employees.
In 1993 they renovated a 12,000 square-foot old Coke factory in San Jose, California, and today they make over 30 different models of sleeping bags there. They have a very low turnover rate for their employees, including some that have been with the company for over two decades.
They do their own testing to give bag temperature ratings and rely on direct feedback from customers when designing their products. With all of their manufacturing in one place, it is much easier to make any adjustments.
Depending on the complexity of the bag style, one sleeping bag can take between 2-8 hours from start to finish. While they don't change the styles of their bags very often in grandiose ways, they are always searching for the best materials, styles, and overall products for their loyal customers. If you want to learn more about the company, you can check out the about us page on the Western Mountaineering website here.
What We Like and Don't Like About the Badger LZ Gore Windstopper Sleeping Bag
The Badger LZ Gore Windstopper is definitely on the more expensive end of styles but that investment gets you a sleeping bag that is made to withstand 1,000-1,500 sleeps and is built to keep you warm and comfortable so that you're ready to take on the next day's adventure.
This style, in particular, can be ordered in 3 different height variants as well as the circumference to make sure you get the perfect fit for your body.
The goose-down that is used in all Western Mountaineering bags comes from a farm in Eastern Europe that the owner of the company has visited on multiple occasions to make sure everything is ethically-sourced. The down is collected from their nesting area while the geese are flying around the farm living their best lives.
Between the detailing on the continuous baffle collar that keeps all heat inside to the Dacron stiffener that keeps the zipper from getting jammed, the designs of these bags reflect the knowledge and expertise that can only come from a company that is hands-on and has been in the business for a long time.
If you are an avid camper that spends a lot of time out on the trails during the cold weather season, you will want to look into investing in either this sleeping bag or another style from Western Mountaineering.
This particular model is heavier and designed for very harsh conditions. If you're looking for a sleeping bag that is lighter and can be compressed into a smaller size, check out the two other sleeping bags they offer that we'll talk about next on this list.
Western Mountaineering Versalite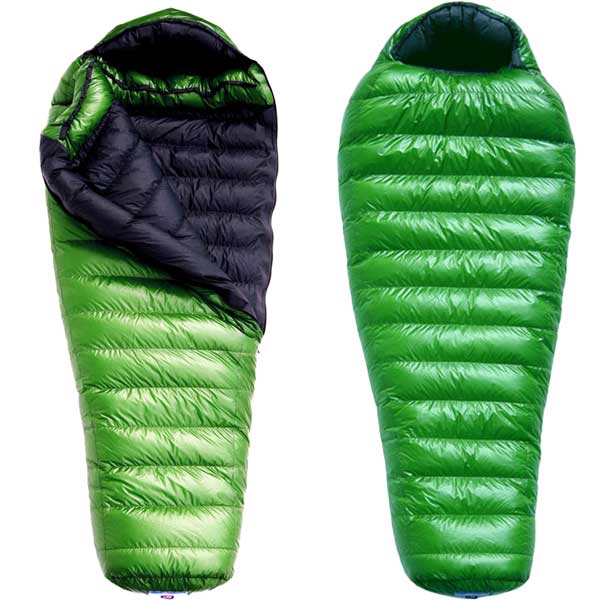 | | |
| --- | --- |
| Estimated Price | $640 |
| Temperature Rating | 10℉ |
| Best Use | Backpacking/Camping |
| Shape | Semi Rectangular |
| Max User Height / Age Recommendation | 6'6'' |
What We Like and Don't Like About Versalite Sleeping Bags
The Western Mountaineering Versalite is not unlike the Terralite (discussed next on this list) in most of its characteristics but where they differ primarily is really just in the weight and amount of material they contain, making the Versalite a bit heavier but also a bit warmer than the Terralite. They're both the same size and excellently crafted form. The Versalite is known to be the warmest in Western Mountaineering Extreme Lite Series and is a sleeping bag designed with maximal warmth in the lightest possible package possible. That said, with additional material does come additional weight, so the Versalite is slightly heavier than the Terralite.
Tucked inside the Versalite is 20 Ounces of quality high lofting Goose down 850+. When holding them, it's almost difficult to tell the difference between the Versalite and the Terralite, but in practice, it's very obvious that the Versalite is a far warmer bag capable of enduring much harsher conditions. If you can spare the extra cash and a few ounces, the Versalite will surely keep you a bit warmer.
It's pretty easy to choose between two of our favorite bags at Western Mountaineering. If you're using your bag primarily for summer and late spring or early fall months in areas that never get even close to freezing in this time period, then the Terralite will save you almost a hundred bucks and will be marginally lighter to pack out with. If you think temperatures are going to dip down during your trips closer to the freezing point but not exceeding it, then the Versalite is probably a solid insurance policy to ensure you stay warm and comfortable and is very likely to be worth the extra cash to boot.
Western Mountaineering Terralite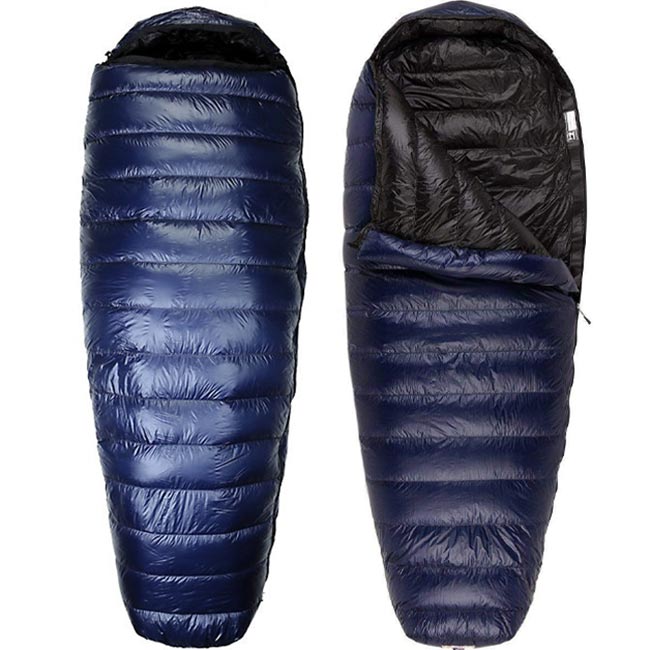 | | |
| --- | --- |
| Estimated Price | $560 |
| Temperature Rating | 25℉ |
| Best Use | Backpacking/Camping |
| Shape | Semi Rectangular |
| Max User Height / Age Recommendation | 6'6'' |
What We Like and Don't Like About Western Mountaineering Terralite Sleeping Bags
The Terralite Series is a great option if you are going to be hiking in weather that isn't super extreme and you need to travel light. It has a 12-denier ripstop nylon outer shell, so it is tough and ready to hold up to your next challenge, but it weighs in at right around one pound, so it isn't going to make your trek harder.
Another fun option on this bag is the way the zippers are designed, it can be paired with a Mummy Bag style from Western Mountaineering, or it can be completely unzipped and will just about cover a queen-sized bed as a comforter.
One of the recommendations for this bag stated that it was ideal for side sleepers, so if that's you, go ahead and use that as your sign to look into ordering this sleeping bag. They use the same quality goose-down in all of their styles, so no matter which one you pick, it is going to be warm and comfy at the end of a long day.
This style does come in at a slightly lower price point than the heavier-duty one that we reviewed earlier. This one could work through possibly three seasons, but you might want something just a little bit heavier if you are going to be out in extremely cold temperatures.
Tennier Industries US Military Sleeping Bags (Part of Modular System)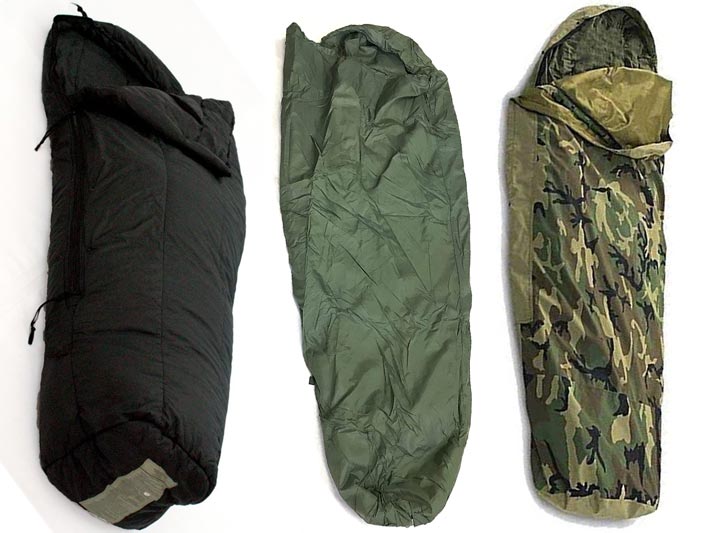 | | |
| --- | --- |
| Estimated Price | $130 to $150 (system parts separate) |
| Temperature Rating | 30℉ |
| Best Use | All Outdoor Activities |
| Shape | Mummy |
| Max User Height / Age Recommendation | 6'5'' |
Tennier Industries' Origin and Manufacturing Locations
Tennier Industries Inc is most well-known for its relationship with the United States Department of Defense and has been one of their top suppliers for many years but they also offer their products to the average American citizen to enjoy as well.
They keep their products simple and streamlined while putting the majority of their focus on quality at a great price. They have very extensive quality-control inspections to make sure that when a product leaves their facility that it is ready to stand up to anything you can put it through.
Many manufacturers look to Tennier Industries as a great model to follow when building businesses of their own. They don't do a lot of marketing or advertising but the ones who are familiar with their products serve as a great resource to keep the company going strong. You can learn more about Tennier Industries company here.
What We Like and Don't Like About Tennier Industries Sleeping Bags
Tennier makes a number of sleep systems which you can see through the links above. The product we'll be discussing in this review is the Cool Weather Component for the modular system. It is a good starting point as you can use it for spring, summer, and into early fall before needing to build up the rest of the system in your collection.
It is made of a durable, ripstop outer layer that will work well on the trail. It is still recommended (as with most sleeping bag styles) to lay a protective layer on the ground to lengthen the life of the bag overall. There are also some American-made sleeping pads you can get to add some comfort to your sleeping quarters.
This style also has an anti-snag zipper to hold your mind at ease. Another interesting fact I saw on the label for this sleeping bag was that it has an "Emergency Exit" description in case you need to get out of your bag fast. Coming from a company with a military background, I thought this was a neat feature.
If you are an avid hiker that is looking for a quality sleeping bag and you also want a style with a rich American heritage, this would be a great fit to check all of those boxes. It could be used for regular camping outings or military missions.
With the ability to build onto the core part of the system, this would make a great overall investment if you spend a lot of time outdoors throughout the year. Altogether the system weighs about 7 pounds, so that is something to keep in mind depending on what gear you need to carry with you.
Helko Werk Bedroll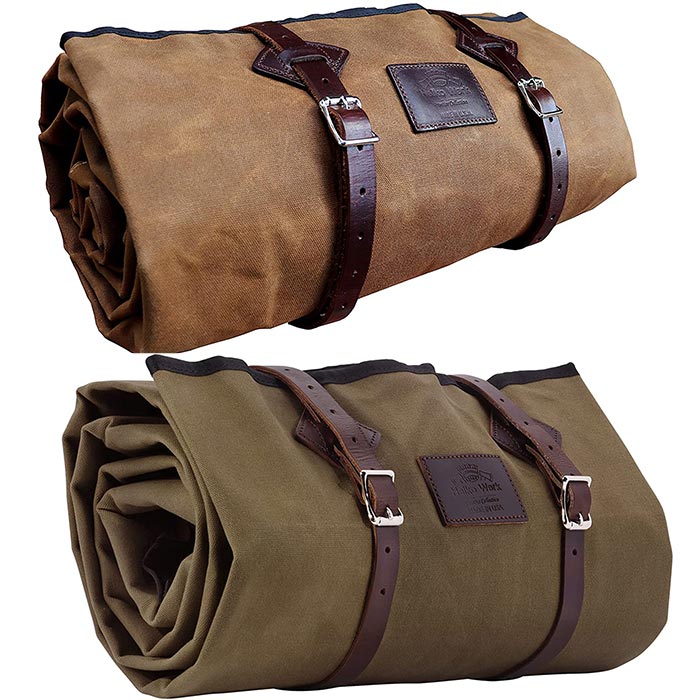 | | |
| --- | --- |
| Estimated Price | $350 to $360 |
| Temperature Rating | 40℉ |
| Best Use | Fair Weather Camping |
| Shape | Rectangle |
| Max User Height / Age Recommendation | 7' |
Helko Werk's Origin and Manufacturing Locations
The Helko brand actually has German roots that go all the way back to 1844. They quickly ran into success and brand recognition, and although their quality in Germany was good, they needed more capacity and space to address their need to expand their manufacturing process, and in came Helko North America LLC.
Based in Southern California, this branch of Helko is the exclusive distribution center to all of the United States, Canada, and Mexico. All leather goods that come from the company are sourced from America, and they do not skimp on the quality of the materials.
Using only full-grain leather that has been vegetable-tanned and never shaven or split down when you buy a product that includes their signature leather, you are buying a product that can last a lifetime with the proper care.
What We Like and Don't Like About Helko Werk Sleeping Bag
This style is definitely a reflection of primitive camping and not something you should try to use in subzero temperatures. However, if you are looking for a rustic, simple pack to carry around and lay out under the stars, this is the bag for you.
This can be paired with your favorite blanket if you are wanting more warmth or if you are a warm sleeper and just need something to wrap around you that is also an option. The built-in leather bed roll strap is there for you if you need it. It also features a zip pocket for you to store a small pillow.
The canvas has been waterproofed with beeswax, but they also recommend laying something down underneath it to protect the outer layer from extra wear and tear. This is the ultimate cowboy sleeping bag.
This style would be great for a fair-weather camping excursion or even to take along with you on your bike on the way to Sturgis. It is simple, rugged, and gets the job done as far as needing something to sleep on.
It is easy to care for as it just needs to be wiped down with a damp rag, or you can brush it off with some soapy water and let it sit out to dry. This is a unique option for camping trips and will definitely give you a rugged outdoor experience.
Feathered Friends Hummingbird UL 20/30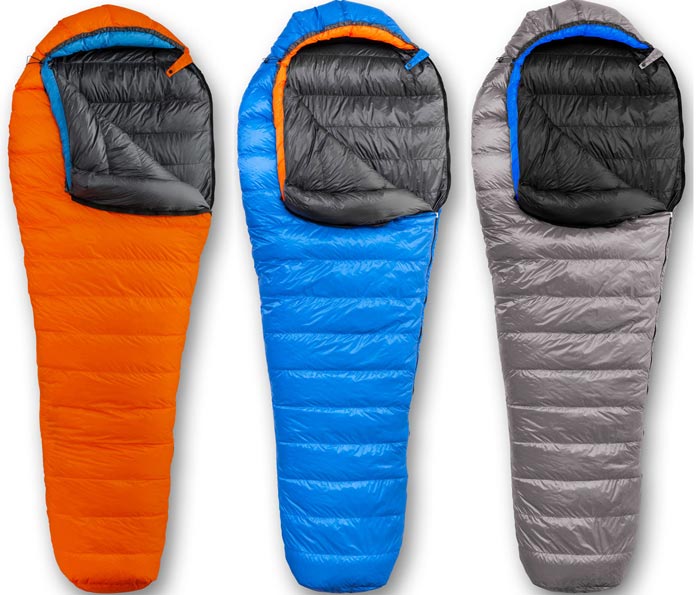 | | |
| --- | --- |
| Estimated Price | $540 |
| Temperature Rating | Comes in 20℉ or 30℉ options |
| Best Use | 3 Season Camping |
| Shape | Mummy |
| Max User Height / Age Recommendation | 6' |
Feathered Friends' Origin and Manufacturing Locations
Feathered Friends started in 1972 and was founded by a husband and wife team, Peter and Carol Hickner. The Feathered Friends brand is still going strong in Seattle, Washington. Now being run by the second generation of the family, they still focus on providing excellent American-made products and do not worry about what the next trend might be.
The brand has come a long way since starting in a basement, now operating a manufacturing headquarters and retail store in Seattle. They pour their hearts and souls into designing products that will keep adventurers warm and comfortable in even the harshest environments.
What We Like and Don't Like About the Hummingbird UL 20/30 Sleeping Bag
The Hummingbird option by Feathered Friends is a great 3-season sleeping bag. This style also provides an option for a lower temperature rating if that's what you will need it for. I also really liked the color options available as they stood out from many of their competitors.
You don't have to just take my word for it, though. In 2019 this style took the Outdoor Gear Lab's Editor's Top Pick Award for its quality and versatility. This bag can go from a mummy-sleeping bag on the coldest nights to a sprawled-out quilt for two on cooler nights, and you can even unzip the bottom and wear it while warming up by the fire first thing in the morning with your cup of coffee.
This style is made for lightweight camping and does fit a bit snugger than some of the other styles we have gone over. This makes it a great option for hiking as you won't be weighed down when carrying it around for the day.
If you are a smaller-framed person with a need for a sleeping bag that can get you through most camping seasons, this would be a great bag to start with. They are made to last as the company stated they have some bags that have been out exploring for 30-40 years still being sent in for some minor repairs to get back out into the wilderness.
It is made with draft tubing that keeps air out and the heat in so you can rest warm and comfortable for the entire night. There was one reviewer that stated he tended to sleep warm and that Feathered Friends do their temperature ratings based on comfort versus the typical model, so he felt that he didn't need it quite as warm-rated as he did when ordering from other companies.
Feathered Friends Condor YF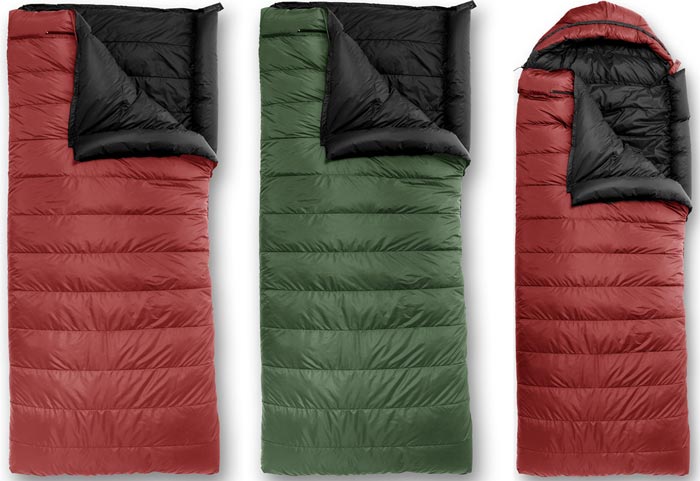 | | |
| --- | --- |
| Estimated Price | $530 |
| Temperature Rating | 10℉/20℉/30℉ Options Available |
| Best Use | Camping |
| Shape | Large Rectangle |
| Max User Height / Age Recommendation | Regular 6'/Long 6'6'' |
The Condor is another option by Feathered Friends that we went over in the style above. A couple more things to add to their story are that they have been a brand that is 100% Responsible Down Certified since 2015 and that they are constantly testing out new fabrics based on their weight savings, weather protection, and longevity.
This is not a company that focuses on bringing you styles that will go out in a year or two. Instead, they want your investment to be around for the long haul.
What We Like and Don't Like About Feathered Friends Condor YF Sleeping Bags
With the larger size, this bag still only comes in weighing between 2-3.5 pounds, depending on which level of temperature rating you go with. For someone who likes to be able to really stretch out when sleeping (or bring along a friend), this option would be a great choice.
You can also make this sleeping bag into a whole system if you want to. There are additional items you can buy, such as a hood and groundsheet that are both made specifically to fit this style. This makes the bag even more versatile with the hood and increases the longevity of the bag by using the groundsheet.
I originally picked this bag as a great option for two people because there aren't a lot of American-made styles out there for this purpose. I do feel like it would be a great fit for that so that you don't have to pack multiple sleeping bags for one trip.
This is also a great sleeping bag for someone who has a larger build or just really likes to have more space when sleeping. With buying the entire set-up, many customers stated it was like packing around a bed with you wherever you went.
Whether you need it for two or just want more room to yourself, this option by Feathered Friends is a solid pick. The goose-down will keep you warm and cozy, and the extra space will give you the freedom not found in many other sleeping bag styles.
Enlightened Equipment Convert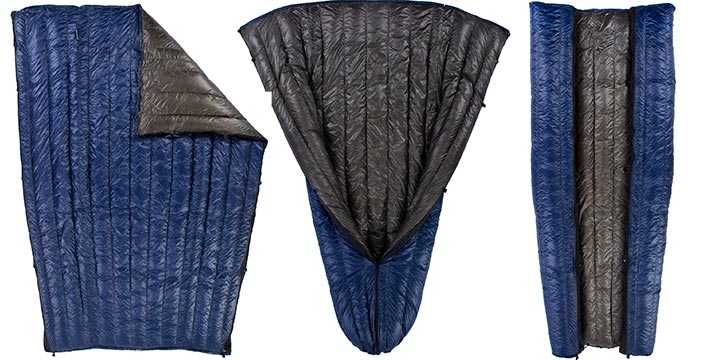 | | |
| --- | --- |
| Estimated Price | $330 |
| Temperature Rating | 10℉-50℉ Options Available |
| Best Use | Camping/Hiking |
| Shape | Mummy |
| Max User Height / Age Recommendation | Comes in 4 Different Length Options |
Enlightened Equipment's Origin and Manufacturing Locations
In a town of around 27,000 that sits along the Mississippi River separating Wisconsin and Minnesota is where you will find our next American Made Sleeping Bag Company. Winona, Minnesota, is the home to Tim Marshall, who started tinkering with making quilts in his basement and in 2007 founded Enlightened Equipment. He now has a manufacturing plant of over 50,000 square feet and over 50 employees.
Tim wanted to make great products that were just what an outdoor adventurer needed without unnecessary extras. He believed that using products that could be sustainable and long-lasting would be better than trying to compete with the next big thing.
This theory has obviously worked well for him as his products continue to get awards from several different camping gear companies.
What We Like and Don't Like About Enlightened Equipment Convert Sleeping Bags
The Convert style is a great option for someone who wants a sleeping bag with some versatility. It can be used zipped up as a mummy bag. It can be spread out and used as a quilt, or it can even be zipped together with another Convert bag to create a double sleeping bag.
With 10 denier fabrics used on the outside, you can rest assured that this product is ready to hold up to any adventure you need to take it on. They also use both horizontal and vertical baffles, which keep the down evenly spread out and make it great for side and stomach sleepers to not get cold patches throughout the bag.
With several different options as far as temperature ratings and lengths, you can almost make this into a custom sleeping bag made just for you.
Whether you want to use it as a sleeping bag or a quilt, this style can meet you where you are. If you are looking at taking advantage of its quilt option, it includes two elastic straps that can be used to fasten it to a mattress pad to make sure no drafts come in while you're sleeping.
If you are looking for a high-quality sleeping bag, a mid-range price point, and a style that has been tested, studied, and refined, this is a great option for you.
Enlightened Equipment Conundrum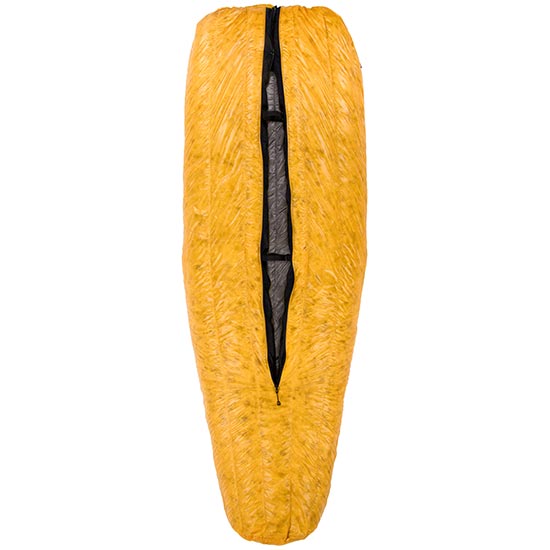 | | |
| --- | --- |
| Estimated Price | $420 |
| Temperature Rating | -10℉ to 30℉ Options Available |
| Best Use | Cold Weather Camping |
| Shape | Mummy |
| Max User Height / Age Recommendation | Comes in 4 Different Length Options |
Another great option from Enlightened Equipment is that we went over with the above style. It's always nice when a brand manufactures 100% of its products in the United States, and you don't have to spend time researching what styles are made where.
What We Like and Don't Like About Enlightened Equipment Conundrum Sleeping Bags
One of the main pros of this style is that if you are a cold-natured person (as I am), they state this is the bag for you. It has a nice cozy footbox made to keep those cold toes nice and warm and can be bought with a temperature rating of -10℉.
This bag will keep you nice and warm all night and ready to take on the next day. It also has snap and drawcord closures to help you keep the drafts out.
Another highlight of this brand is that this style can also be ordered in multiple lengths and they give you a great, detailed chart to help you pick just the right size.
The Conundrum would be a great sleeping bag for campers who spend more of their time outdoors in temperatures that can get cold fast. It is warm while still remaining lightweight. These features can only come from a brand that has done the research to make sure you can have the best of both worlds and who understands the needs of campers.
One reviewer stated this bag was not only awesome on a bitterly cold night of camping when he could wrap up in it, but on a different night during the same trip that ended up being unseasonably warm, he was able to unzip it and attach it to his sleeping bag pad and still be comfortable while staring out over the stars.
No matter which style you pick, you will definitely get a great product with this American Made brand.
Kelty Tactical 0-Degree Field Bag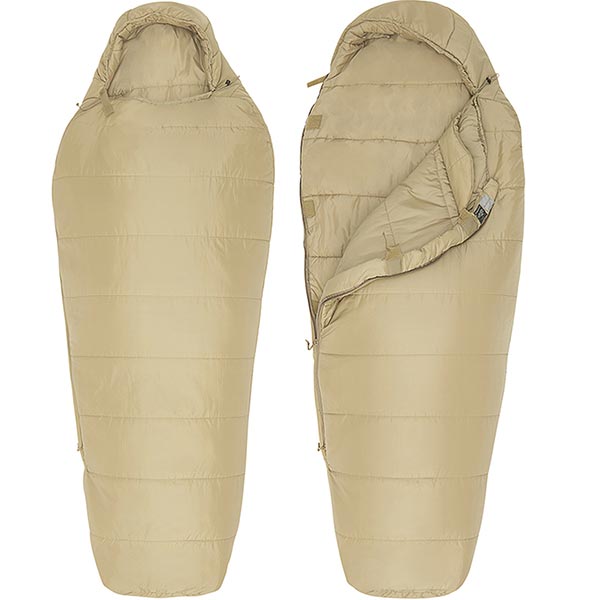 | | |
| --- | --- |
| Estimated Price | $320 |
| Temperature Rating | 0℉ |
| Best Use | Military/Camping |
| Shape | Mummy |
| Max User Height / Age Recommendation | 7' |
Kelty Tactical's Origin and Manufacturing Locations
The Kelty Tactical line is in the line of businesses owned by one of the brands we first went over, Exxel Outdoors. All products in this line are manufactured in the United States and meet United States Military specifications and are Berry Compliant. That means they are not only manufactured in the United States but also the materials used to put the product together are from here.
Kelty Tactical has been building products that will last not only our military personnel but also avid outdoorsman since 1952.
They were also one of the four founding members of the Conservation Alliance that formed in 1989 and, since that time, have contributed over $23 million back into conservation programs throughout North America.
What We Like and Don't Like About Kelty Tactical 0-Degree Field Bags
At first glance, you might think you need to be in the military in order to use this bag, and although it would definitely be a great fit for that, it can also be used for someone who just wants to be outside when it gets really cold.
One of the best features of this particular bag is that it is designed to get in and out quickly and even has a large toebox where you can sleep with your "boots on." Sometimes when you are on a mission or out camping, you need to be able to react quickly.
It also features a ripstop nylon outer that can hold up to any trip you need to take it. It includes several features, including a Climashield Combat, differential-cut construction, and a full-length insulated draft tube to make it one of the warmest sleeping bags on the market.
This bag is a perfect fit for anyone who is currently in the military and needs a bag that can hold up to all missions. I've even heard stories of former military leaders using these bags and, after being so impressed by their quality, purchasing them for their entire team.
If you are not in the military and just need a sleeping bag that can hold up to extremely cold temperatures, this would be a great fit for you as well. The price point is quite a bit lower than many of the other sleeping bags we went over as it uses a synthetic material for warmth instead of the goose-down. This does make this style weigh in a little heavier than others as well, which is something to keep in mind depending on how much you will need to be packing. Overall, if you're looking for a made-in-USA sleeping bag, this is a great option. Even compared to many products made overseas it's sold at a competitive price point and is far superior to many of those products.
Exxel Kids Sleeping Bag (Honorable Mention for Kids)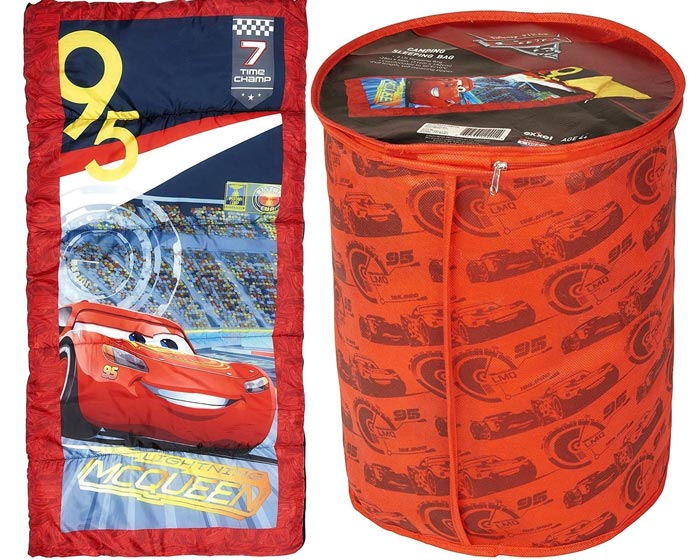 | | |
| --- | --- |
| Estimated Price | $25 to $40 |
| Temperature Rating | 45℉ |
| Best Use | Kids Play |
| Shape | Rectangular |
| Max User Height / Age Recommendation | Ages 4 and Up |
Exxel Kids' Origin and Manufacturing Locations
The worldwide Exxel Outdoor company has come a long way since its beginning when co-founders Harry Kazazian and Armen Kouleyan put their business ideas into action back in 1997 after their original dream of being in a rockstar band didn't take off.
They had started small and were beginning to gain some traction when a sleeping bag factory in Haleyville, Alabama, was getting ready to go under, so in 2001, they took the leap, bought the factory, and kept the workers and building producing American-made sleeping bags.
After building up more ideas and with business going well, they had a chance to move part of their work back to their home in California and opened another facility in the City of Industry, CA.
Their business continued to thrive, and they acquired the American Rec umbrella of brands and their headquarters in California could no longer hold all of the great things that were happening.
In 2020 they moved to their new headquarters in Broomfield, CO which spans over 39,000 square feet and is surrounded by trails and outdoor activities to test out their up-and-coming products.
What We Like and Don't Like About Exxel Kids Sleeping Bags
These bags might not be anything fancy (unless you have a small child who loves Disney), but they check all of the boxes for a great sleeping bag for nap time or a camping adventure. Exxel and Disney began their licensing deal in 2005 and have helped the brand grow into a leader in the kid's camping gear industry.
There are still details that show the quality of these sleeping bags and the history that goes with a brand that knows what they're doing. It has a full-length zipper that is self-repairing (which will definitely come in handy with young kids).
It also includes Triloft II performance bag insulation, and the majority of the fill they use is made up of 80% recycled materials.
If you are looking for a great gift for a young child in your life and also want it to be a gift they can use for years to come, this is a great option. They have a Disney character that will fit any kid in your life, and you get to rest assured that you are buying a quality, American-made product.
These would also be a great investment for any daycare providers that need sleeping bags for their kids for naptimes. They are durable and ready to take on the challenge and will help up well even after being washed.
Wrap Up:
As you can see there is literally a sleeping bag out there for anyone and there are some great options that are made right here in America. Whether you are a fair-weather camper and go for the canvas bedroll or need something that will keep you warm in sub-zero temperatures we know you can find a great product to keep you outdoors.
I hope the research and article were helpful to you in picking your sleeping bag and that you are able to enjoy the outdoors by yourself or with your family. America is a beautiful country and we are so thankful for the companies who not only continue to build their products here but that are continually striving to make their companies more sustainable so that we can continue to enjoy it for years to come.
Hi, my name is Kevin and I'm from Pittsburgh, Pennsylvania. Choosing products made in America is important to me because it supports local economies, creates jobs, helps the environment, and ensures ethical labor practices. I also find that American made products are usually of higher quality so although they're a little more expensive, you save money in the long run. Before starting this website I was in the USMC infantry and nowadays I work on this website as a hobby.