Sweatpants are a staple of every American's wardrobe. With many jobs utilizing work-from-home opportunities, they have become even more prevalent. Finding the perfect pair to be in all day is a breeze with so many great American-made sweatpants readily available.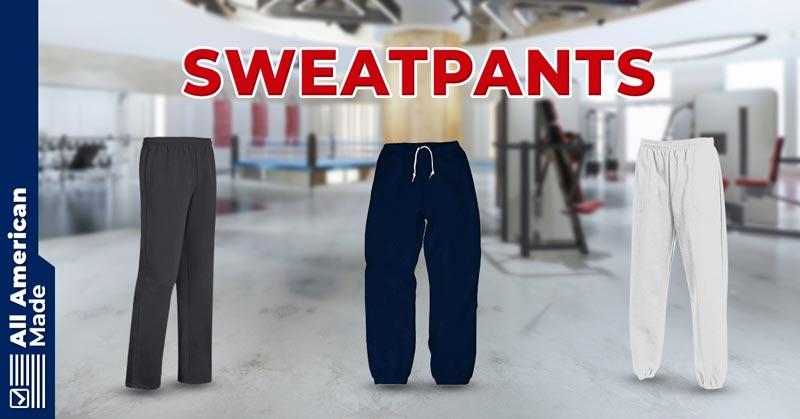 Whether you prefer a more fitted jogger style or a classic baggier option, there are sweatpants out there for you. They also have different varieties of material for warmth during the chilly months of winter as well as lighter options to get you through every day in between. We also have a lot of options for both men and women, so simply scroll through this list and find your new favorite pair of sweatpants.
List of American-Made Sweatpants (Men's and Women's)
All American Clothing Company Men's Sweatpants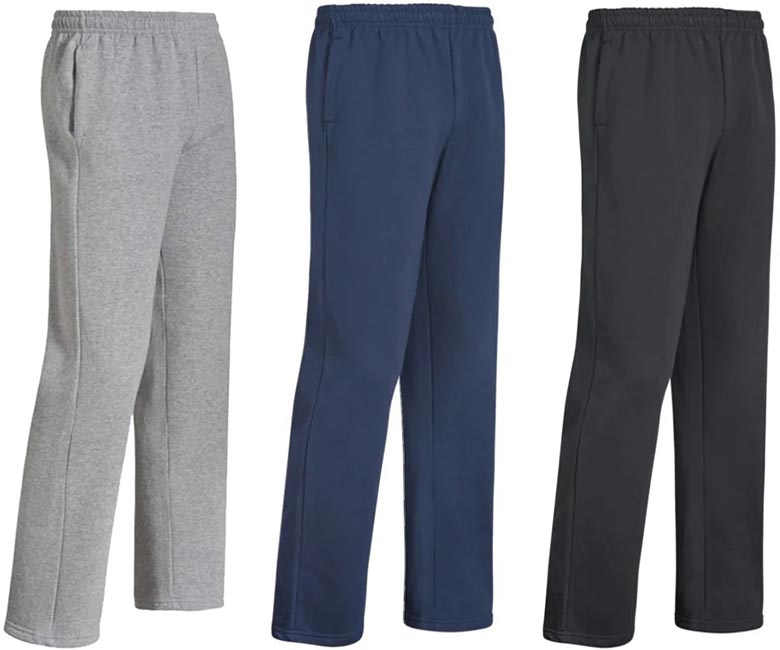 | | |
| --- | --- |
| Year Founded | 2002 |
| Sizes Available | M-4XL |
| Gender | Men's |
| Materials | Cotton/Poly Blend |
All American Clothing Co's Origin and Manufacturing Locations
All American Clothing Company has grown at an incredible rate since its start in 2002. The founders, Lawson Nickol and his son BJ set out to change the industry after Lawson had worked for a jean company that switched its production from the United States to overseas. This really disappointed him, so he decided to trust his American spirit and innovate. They started with their own line of blue jeans, and although Lawson has since passed away, BJ continues to grow the brand in a way that would make his father very proud.
They are headquartered in Arcanum, Ohio, and continue to bring the family-owned small-town feel to the company.
Their company slogan of "Make Something Happen Today" continues to inspire them to build the best possible products right here in the United States.
Not only do they want to provide great products at an affordable price point, but they also want to support American families by offering quality jobs and doing their part to keep the economy thriving.
What We Like and Don't Like About All American Clothing Co Sweatpants
We really like the simple but sharp-looking sweatpants offered by All American Clothing Company. Not only are they soft and comfortable, but they are made with high-quality materials. These are some of the most durable sweatpants I've ever owned, and I've had them for years without showing any serious signs of wear.
There are a few color options to choose from, but nothing super fancy. When it comes to sweatpants, can definitely be a good thing, though.
If you are not wanting to spend a lot of money but still want a great quality product, these are some great American-made sweatpants for the money. There are only men's sizes currently available, but if you're a woman interested in trying a pair, you could definitely adjust the size when you are ordering to meet your needs.
These sweatpants are some of the most versatile on this list due to their classic design and strong build.
Majamas Women's Sweatpants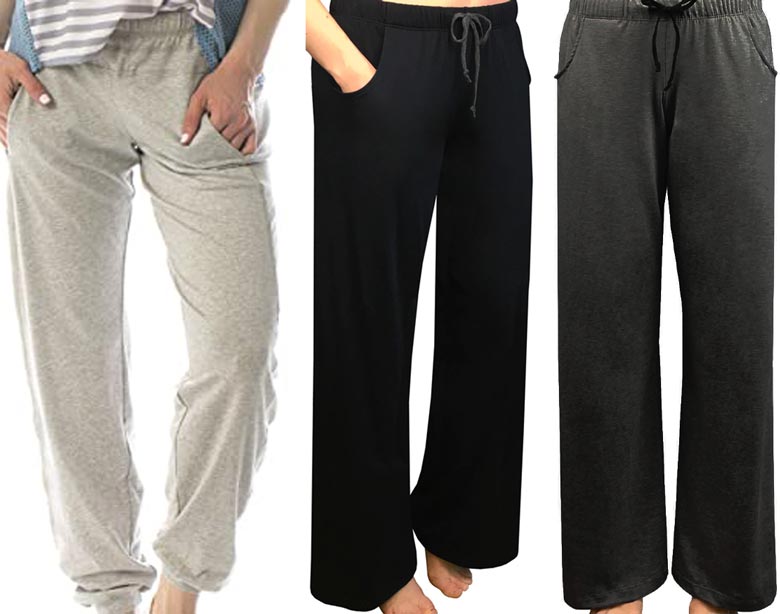 | | |
| --- | --- |
| Year Founded | 1999 |
| Sizes Available | S-2XL |
| Gender | Men's and Women's |
| Materials | Organic Cotton / Recycled Polyester / Modal |
Majamas' Origin and Manufacturing Locations
Company Owner, Designer, and Founder Germaine Caprio worked hard to use not only materials that are from the USA but that are also recycled or remade materials. There are no chemicals used in the manufacturing process.
They consider themselves a tiny company with big dreams and continue to bring those dreams to fruition. To me, it's impressive that they've managed to keep 100% of their manufacturing here in the United States, and their materials are sourced here as well. Their fabrics are sourced from textile mills in California.
You can do a quick search with the hashtags #majamas and #carewhatyouwear and see that not only are their sweatpant styles comfortable, but they also design them in a way that if you want to dress them up to wear on Casual Friday, you can do that too.
What We Like and Don't Like About Majamas Sweatpants
The solid foundations and sustainable features make all styles from this brand a great American-made choice for sweatpants. Knowing where your product came from and that there is so much focus on not only giving you a solid product but also on protecting the environment is a win-win situation for everyone.
There are more styles currently available for women, but they offer a great classic jogger for the guys. With the company continuing to grow, I'm sure this selection will continue to expand.
My favorite part about this brand is how they style them to be able to dress up or down. Knowing you can be lounging around the house, get up, run a quick errand in town, and never need to change would be a great bonus.
The Majamas brand is a great deal for the quality and style that you get at this price point. They would be ideal for traveling as you could be both comfortable and mobile at any given time.
Some of their styles also offer a waistband that you can adjust to wearing as you like. This is a feature I didn't see in a lot of other brands or styles.
You will also find in some of their pockets printed material, many of which come from reclaimed materials that were once bound for a landfill.
If you want an American-made product that cares about the materials they use in their products and how they affect the environment, this would be a great brand for you to order your next pair of sweatpants from.
Goodwear Unisex Sweatpants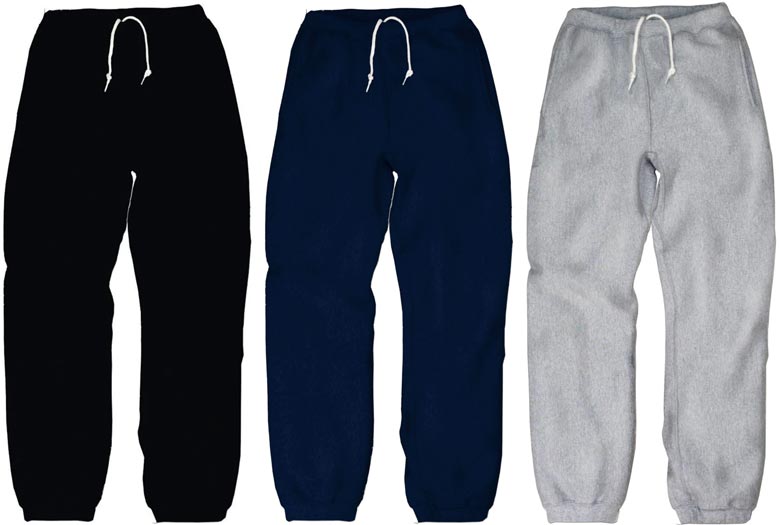 | | |
| --- | --- |
| Year Founded | The 1980s |
| Sizes Available | S-XL |
| Gender | Unisex |
| Materials | Cotton / Polyester Fleece |
Goodwear's Origin and Manufacturing Locations
Starting in the 1980s and continuing their American-made tradition, Goodwear clothing works hard to create products that are of premium quality and friendly to the planet. They start with American-grown cotton and work with their supply chain throughout the United States every step of the way.
They are most well-known for their heavy-weight fabric, which is a great addition to the list as many of the styles we have gone over are made more for multiple seasons. Knowing there is an option out there to get you through the tough parts of winter is a great way to wind things up.
What We Like and Don't Like About Goodwear Sweatpants
There may only be one sweatpant option from Goodwear, but it gives you everything you need and then some. It is classic, comfortable, and soft, and gives the relaxed fit that many people are looking for in their favorite part of sweats.
With a crotch gusset designed to keep movement easy, you can lounge and stretch out on the couch or put them on to go get the ingredients for chili at the store. Either way, this sweatpant is going to be one that you reach for on those cold days.
With unisex sizing, this pair of heavyweight sweatpants can be enjoyed by everyone. There is a size chart and some reviews to help you decide which size would work best for you.
They come in black, navy, and gray, so they can be a staple of your wardrobe and paired with any kind of hoodie or T-shirt.
The Goodwear brand has been perfecting this sweatpant for many years, and you get to reap the rewards. Knowing that you are getting a quality American-made product at a great price point is simply icing on the cake. As far as made-in-USA sweatpants go, these are easily some of the highest quality out there.
Popular Related Article: List of Great American Made Jeans
Karen Kane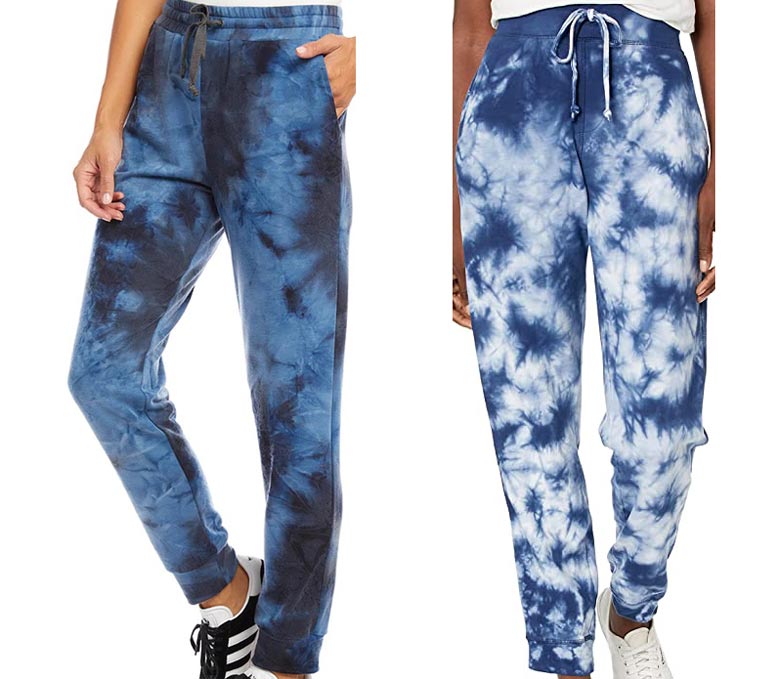 | | |
| --- | --- |
| Year Founded | 1979 |
| Sizes Available | XS-3X |
| Gender | Women's |
| Materials | Modal / Cotton / Spandex |
Karen Kane's Origin and Manufacturing Locations
Karen Kane was founded by Karen and her husband and now also includes her two sons and a management team that is made up of 70% of women. They not only believe in making great American-made products, but they believe in empowering their employees by offering ongoing education in nutrition, mental health, exercise, and stress reduction.
What started as putting together a few pieces in their garage in 1979 has now turned into a company that sells millions of dollars worth of products each year and has kept around 90% of its manufacturing here in the United States.
With the company's growth, they have continued its original focus to help women feel beautiful and comfortable at all times.
What We Like and Don't Like About Karen Kane Sweatpants
This brand brings a bit more fashion influence into their styles, but like most things that are designed by women and for women, they keep functionality as a top priority. With options of drawstring or elastic tops as well as solid or printed colors, there are endless possibilities for every woman to find her perfect pair of sweatpants.
The ultra-plush fleece knit will make for a very comfortable option on a cool fall or spring evening or to cozy up and read a book during a winter storm. The pockets can stow away your phone or keys on a quick errand, and the great fit will keep you comfortable all day long.
After you find your perfect pair of Karen Kane sweatpants, they can suggest a great hoodie or top from their brand that goes with it. Sport your American-made outfit around knowing that you are not only comfortable but that you are also supporting American workers.
Karen Kane sweatpants have a great fit, are made with quality materials, and are some of the most comfortable sweatpants on the market. They have a loyal following, which is a sign of a company that cares about creating a good product and taking care of its customers. They have proven that manufacturing in America is a sustainable way to run a successful business that gives products worth the investment.
Stateline Women's Sweatpants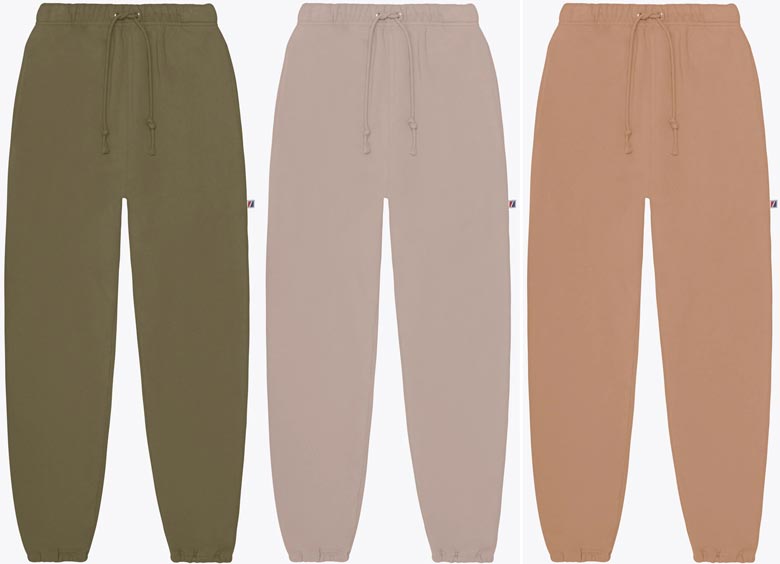 | | |
| --- | --- |
| Year Founded | 2017 |
| Sizes Available | XS-2XL |
| Gender | Unisex |
| Materials | Cotton Blends |
Stateline's Origin and Manufacturing Locations
One of the new brands to the market and still mainly run by only three people, Stateline has been producing great American Made products since 2017 and continues to grow and improve in its niche.
Taking inspiration from their headquarters in New York City, they see so many different types of people and clothing and work on making products that can fit any lifestyle. They also keep a very strong focus on quality and simplicity in all of their designs.
Manufactured in North Carolina, they work to make products that will fit the modern lifestyle of today, but that will also be relevant and useful in the days to come. All of their materials are sourced from the United States down to the drawcords and packaging.
What We Like and Don't Like About Stateline Sweatpants
I was really impressed with the variety of styles and colors to choose from with being a brand that is still learning the processes. They have anywhere from a classic sweatpant fit to one with cargo shorts or slimmer jogger styles all in one place.
They also offered a lot of unique colors that were fun yet sophisticated and could be worn with multiple different outfit pairings.
The loop on the side of the pants proudly displaying the United States Flag lets everyone you meet know that your sweatpants are American Made and gives you a bit more pep in your step.
All of the sweatpants are unisex based on men's sizing, so I would definitely recommend checking out the sizing on their website to determine which size is right for you.
The Stateline styles are a great overall option to add to your sweatpant collection. You get quality, classic style, and a variety of options to choose from.
This would also be a great brand to look into if you are looking to purchase sweatpants for a team or group, as they offer wholesale options as well.
Bandier Women's Sweatpants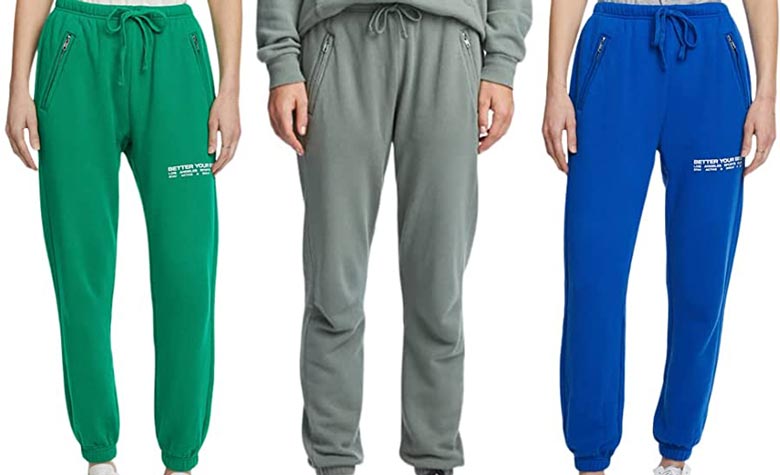 | | |
| --- | --- |
| Year Founded | 2014 |
| Sizes Available | XXS-XL |
| Gender | Women's |
| Materials | Rayon / Polyester / Spandex / Fleece |
Bandier's Origin and Manufacturing Locations
The store of the Bandier company is a rather interesting one, especially because we love a good American start-up story! Jennifer Bandier had a broken foot and was barely getting around her New York area home when she noticed that there weren't any real stores that she could easily get to for quality athleisure brands.
At the time, she did not have any textile or fashion knowledge outside of her own personal shopping wants and needs. She was, however, great at managing, as she was a music manager for some big-named groups, including TLC, at one point in her career.
In 2014 she set out to change that, and against all advice from those closest to her, she continues to experience great success today. She knew what she wanted in the brand and continuously works to offer great products both online and in-store. Today, her company is flourishing, and it continues to create great apparel in the USA.
What We Like and Don't Like About Bandier Sweatpants
First and foremost, not all of Bandier's products are made in the United States, but there is a large selection available and easy to find by typing "Made in the USA" on their website's search box. This is a great option for those who like a little more style and flair in their sweatpants.
The specific styles of Bandier Sweatpants that are manufactured in the United States are Donni, Les Tien, John Elliott, Le Set, Kondi, NSF, Danzy, and Nili Lotan styles. All of these styles provide different options of sweatpants that range from a light henley material to a heavier fleece. This is a great option for those who like a little more style and flair in their sweatpants.
The styles from Bandier can reach a bit on the higher end of what most might want to spend on a pair of sweatpants, but their style and attention to detail are not matched with very many other brands. Designed by a woman who understands the wants and needs of her clientele is worth the extra investment.
With a variety of styles, colors, and fits to choose from, this is a great brand to look into when you're on the search for a great pair of sweatpants with some fashion influence.
The shopper with a want for style and flair will find this brand a perfect fit for them to find an American-made product. The brand has even been connected to celebrities like the Kardashians and other Victoria's Secret Models.
This is a great example of where high style joins with high performance to make a solid product for the everyday consumer. If you are willing to pay a bit higher of a price tag you can own a solid fashion piece that is still comfortable and dependable.
LA Speedy Men's Sweatpants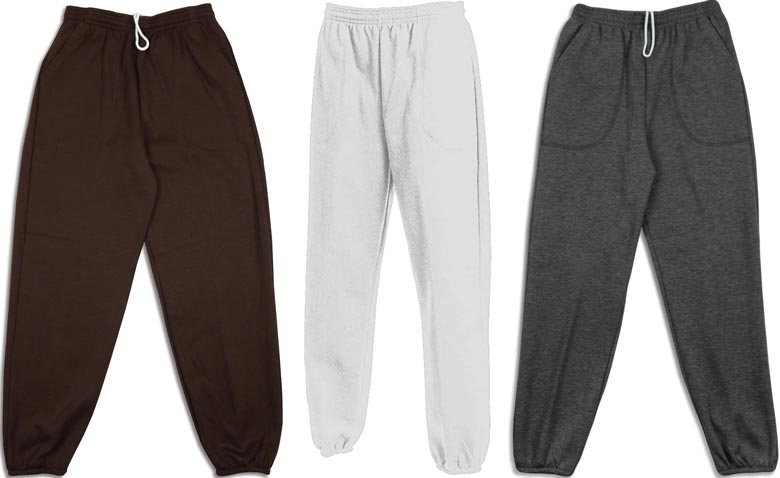 | | |
| --- | --- |
| Year Founded | Unspecified |
| Sizes Available | S-5XL |
| Gender | Men's and Women's |
| Materials | Polyester / Cotton |
LA Speedy's Origin and Manufacturing Locations
Not only is LA Speedy a great American Made brand, but they have been proving that it is a great way to run a business for over 20 years. As the name states, they manufacture all of their products in Los Angeles, CA, and love the freedom and adaptability that it brings.
They feel that having all of their products made here gives them more control over the quality of their products, being able to produce newer styles more quickly, and verifying that all of their products are made in fair and ethical ways.
What We Like and Don't Like About LA Speedy Sweatpants
LA Speedy offers a great classic sweatpant option for both men and women with a great variety of color options to choose from. This style has two side pockets as well as a back pocket which makes carrying your keys and necessities an easy task if you need to leave the house for some quick errands.
The price point from this brand is almost unheard of for American-made sweatpants, yet you can still rest assured that the product you are getting is of high quality. They may only have one style to choose from; however, it has been a part of their line-up since they opened in 1997, so it has been crafted to perfection, and they continue to make sure it fits the needs of today's customers.
The brushed fleece lining and elastic at the top and bottom make this a great sweatpant option for going out on the track for a run in cooler temps or just lounging on the couch for the weekend.
After I got my first pair of LA Speedy sweatpants I went back and bought another color. The fact that these sweatpants are such a bargain makes picking up more of these sweatpants an easy decision to make.
They also stated that for the most part, they run true to size, but to keep in mind if you are on the taller end, they might not reach all of the ways down to your ankles.
Origin Maine Sweatpants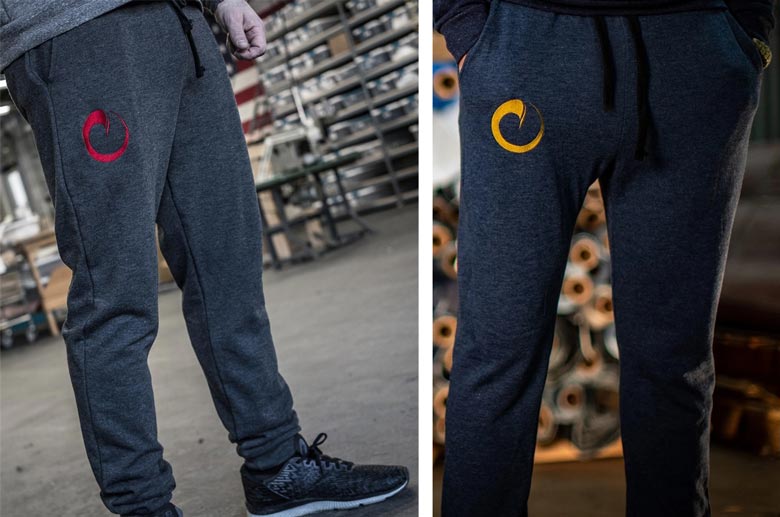 | | |
| --- | --- |
| Year Founded | 2011 |
| Sizes Available | XS-2XL |
| Gender | Men's |
| Materials | Tri-Blend |
Origin Maine's Story and Manufacturing Locations
Founder Pete Roberts and his team at Origin Maine are a great example of American ingenuity at its finest. They started by producing Brazilian Jiu-Jitsu gear because they couldn't find it anywhere except in China or Pakistan.
They have since grown not only their product line but also a podcast and YouTube series documenting how they find solutions to manufacturing everything they make in Maine.
Walking the customer through each step and phase of the process helps not only grow a customer base to buy their products but also builds relationships with people truly knowing where their stuff is coming from.
They started their clothing textile business with what they named "The Dragon" loom that had been left to die in an old manufacturing plant, but they rescued it and brought it back to life where it continues to thrive and be a staple in their business today.
What We Like and Don't Like About Origin Maine Sweatpants
The jogger sweatpant offered by Origin Maine has a great fit and can be worn around town to run errands, to get in a good workout on a cold day, or just sit around on the couch and binge-watch your favorite show.
My favorite was the classic black-on-black style where the logo really kind of blends with the material, but if you like a pop of color, you could choose either of the gray options with a crimson or gold Origin logo that provides a nice contrast.
It is a classic style with pockets on each side and an extremely soft terry material inside. The one thing you can always count on from Origin is that their products will not only look good but are made to last.
If you prefer a sweatpant that is a little more fitted and that is going to keep you warm but not be too heavy or bulky, this is going to be a great style for you. These are really great all-around sweatpants that can be worn for multiple seasons throughout the year.
The quality of the products shines through not only in the overall look but in the details of the stitching. Origin Maine does not cut corners when it comes to making their products, and no matter which color option you go with, you are buying a solid product.
If you prefer a baggier fit, then we recommended going a size up from what you normally buy in a classic sweatpant style.
American Giant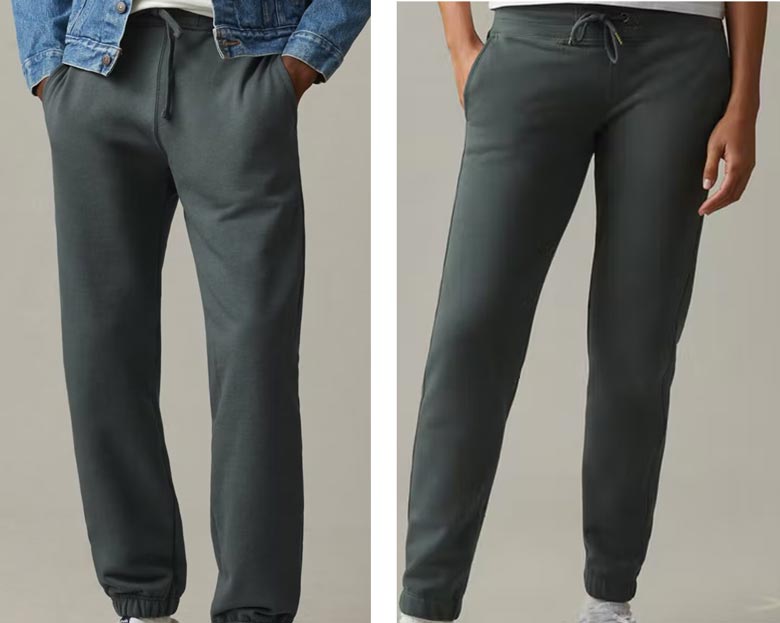 | | |
| --- | --- |
| Year Founded | 2012 |
| Sizes Available | XS-2XL |
| Gender | Men's and Women's |
| Materials | Cotton |
American Giant's Origin and Manufacturing Locations
Founded in 2012 and still run today by Bayard Winthrop, the American Giant Brand continues to build American-made products that give you comfort, durability, and style all in one. With the company headquarters in San Francisco, California, and manufacturing facilities throughout the United States, they understand the wants and needs of many demographics of customers.
Their company quote is to "make things better and make better things," and their customer base definitely feels that they hold up their end of the bargain on this. When you click on a product on their website, they will tell you exactly where that style is manufactured, taking out all of the guesswork.
American Giant not only focuses on making great products, but they are constantly working on making their end products and manufacturing processes more sustainable. They work to make products that will last longer, stay out of landfills and protect the beautiful nation that they live and work in.
What We Like and Don't Like About American Giant Sweatpants
With several different fits of sweatpants, from a classic style to joggers and track options, American Giant had one of the best selections of the companies that I have reviewed. They keep their colors classy and timeless and create pieces that you will want to wear every day.
In each of their styles, you will notice that they use a high-strength thread that is designed to keep them out of landfills and in your dresser. This also builds into the sustainability that was mentioned earlier.
I really liked how they kept their styles simple but not cheap. From the thread to the cotton, all materials are high-quality and comfortable. With sweatpants becoming a staple in many people's daily wardrobes, it's nice to have your favorite pair always ready for when you need them.
One of the highest compliments a brand can get from its customers is repeat customers. According to multiple reviews for American Giant, they had several that had bought either more than one pair of the same style or different styles to fit different needs.
The most common praises were for comfort, quality, and durability. All great characteristics to have in your sweatpants.
It's also a great reminder to know that when you purchase a pair of American Giant sweatpants, you are not only getting a great product for yourself, but you are also supporting all of the communities that were utilized to get it from field to packaging at your doorstep.
Popular Related Article: List of Great American Made Sweatshirts
Velvet by Graham and Spencer Sweatpants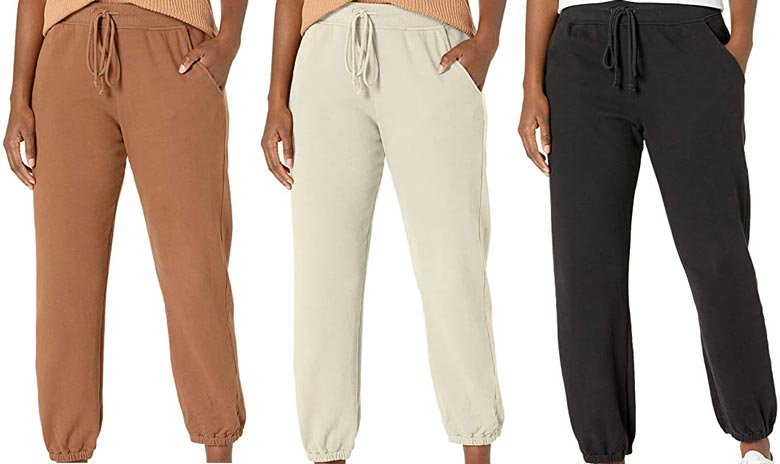 | | |
| --- | --- |
| Year Founded | 1997 |
| Sizes Available | XS-2XL |
| Gender | Men's and Women's |
| Materials | Cotton |
Velvet's Origin and Manufacturing Locations
Velvet by Graham and Spencer is a higher-end brand for your leisure clothing, but you can see the quality in the details of each style. All styles are inspired by the laid-back culture of Los Angeles in Southern California as they try and bottle up that feeling for anyone to be able to enjoy.
It was founded in 1997 and has grown into a global brand with a very solid following. Not all of their styles are manufactured in the United States, but they make it easy to find which ones are on their website, and I found that several of their sweatpants styles are a part of that collection.
You can find their products through Amazon and their website, or you can also find them in small boutiques that keep the country's small-town economies thriving as well as some larger department stores.
They focus on giving all of their styles clean, classic lines that will never go out of style and that their customer can keep as a staple in their wardrobe for the long haul.
What We Like and Don't Like About Velvet Sweatpants
When you pay more upfront for a purchase, you really want to know that you are getting what you pay for, and with this brand, you will see it in each and every style. The attention to detail, from the seams to the overall look, moves the sweatpant up to be styled in many different ways.
Having options from heavier fleece sweatpants to lighter-weight material joggers with fits across the range of sizes, they truly offer something for everyone. There are also several color options to suit anyone's taste.
Classic, comfortable, and stylish are what many people look for in sweatpants, and there are many to choose from with Velvet by Graham and Spencer. They have taken an American staple and perfected it for anyone wanting to up their sweatpant game.
While most of their colors are solid, subtle, and able to go with anything, they do offer a few more fun choices in tye-dye and camouflage if you are wanting to add a little bit of flair to your collection.
Rawganique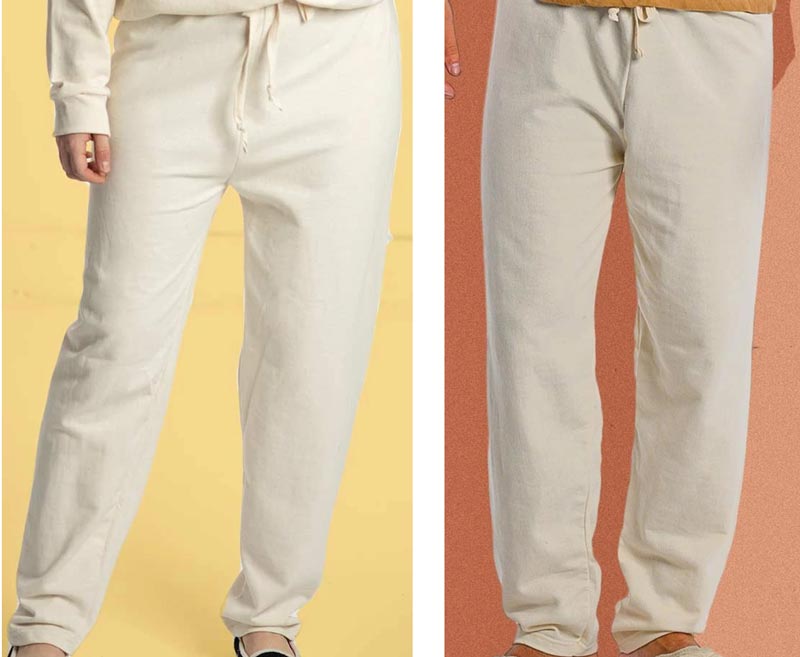 | | |
| --- | --- |
| Year Founded | 1997 |
| Sizes Available | S-XL |
| Gender | Men's and Women's |
| Materials | Organic Cotton |
Rawganique's Origin and Manufacturing Locations
Founded by a couple of off-grid homesteaders back in 1997, Rawganique continues to match its products to their original dreams. They want to make products that are not only comfortable and sustainable but that come from raw materials without chemicals and dyes.
They have manufacturing plants in the United States, Canada, and Europe, and a quick search on their website will tell you exactly which country your product is coming from.
No matter which country they come out of, all of their products have the same base: the materials are grown, weaved, knitted, and sewn by Rawganique and meet their standards of making products with the environment at the top of their minds.
They don't care about trends or fashion statements, only that their products are pure and will be something that the customer can use for a long time.
What We Like and Don't Like About Rawganique Sweatpants
I'm not sure there is a more natural line of sweatpants out on the market. They are untreated, unbleached, and undyed so that you get the true feeling of the organic cotton material these sweatpants are made from.
The only downside I see is that they don't have pockets, but that's something you could probably adjust to if you really want to support the natural process that this company stands for.
These are light sweatpants, and while they will keep you warm during average winter temperatures, they are not made for harsh, frigid weather. To me, this makes them a smarter investment as you could wear them at many different times throughout the year.
Any customers that have issues with being allergic to dyes or chemicals used in many of today's clothing offerings would find these styles to be a great option. They are hypoallergenic, biodegradable, and eco-friendly.
They keep their product line simple with natural products and work to be a small business that you can count on. This is a nice change, as a lot of big-box companies have taken over the clothing niche.
Popular Related Article: List of Quality Socks Made in the USA
Popana Women's Sweatpants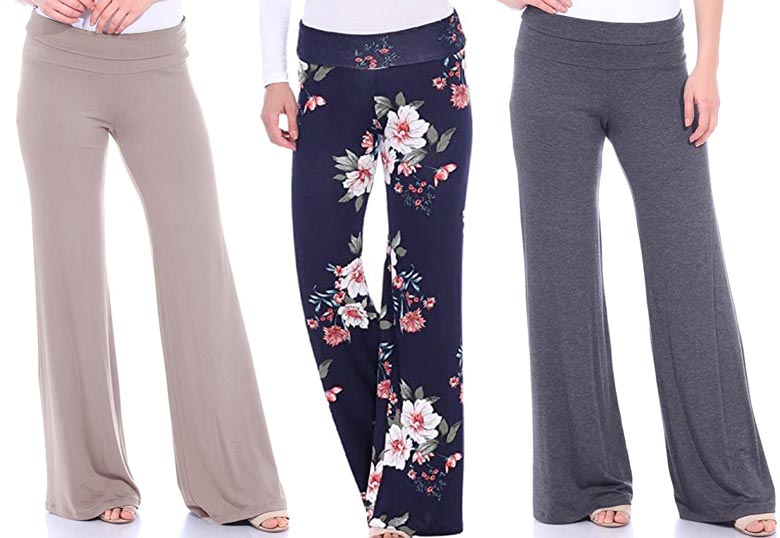 | | |
| --- | --- |
| Year Founded | Unspecified |
| Sizes Available | S-3X |
| Gender | Women's |
| Materials | Rayon / Spandex |
Popana's Origin and Manufacturing Locations
With a company focus being elevated, chic, and effortless, you know there is a great product waiting for you. With Popana they design and manufacture all of their products in the United States and offer a variety outside of the subtle colors usually found in loungewear.
They make bold pieces using prints and colors that will stand out from the crowd yet are designed in a way that they will be comfortable and able to be worn for many different uses.
Giving customers more options in style and prints helps them to appeal to that person who has a unique taste but also wants clothing that is functional on a day-to-day basis.
What We Like and Don't Like About Popana Sweatpants
With options available in a wide, palazzo style as well as a more fitted jogger option, you are bound to find the perfect pair of loungewear (or casual dress) pants to fit the bill. The palazzo pants come in some beautiful prints that, paired with a plain shirt, could be a great fit for business-casual office attire or also ideal for traveling.
All of the styles come with a waistband that can be rolled over. This is a great addition so that you can have the pants be just the right length by rolling them up or down. It is also nice in case you are traveling and maybe eat too many snacks and need your pants to work with you instead of against you.
The mix of rayon and spandex materials could also be a great go-to for your yoga class as they will stay in place while you work on your flexibility.
The biggest selling point of these sweatpants is their comfort. Their stretch and the ability to use and style them in many different ways. It is always nice to have a pair of comfortable pants you can dress up or down.
At this price, you won't even have to struggle to invest in just one pair. You can try out several of the colors and prints and have a pair for every day of the week.
Follow the care instructions as written in order to keep the prints at their best. If not, there can be early fading.
Style and sweatpants or loungewear are not typically words that you see combined, but either style from Popana fits all of these criteria.
North of West Sweatpants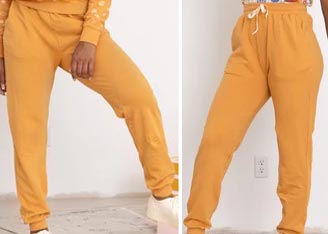 | | |
| --- | --- |
| Year Founded | 2014 |
| Sizes Available | 0-3 months up to Adult XL |
| Gender | Women's and Children's |
| Materials | Organic Cotton |
North of West's Origin and Manufacturing Locations
Sisters Krista Stovel and Leah Bloom founded North of West out of their hometown in Portland, Oregon, in 2014. They wanted to find a balance between making clothing that was comfortable, fun, made from organic materials, and manufactured in the United States.
They are a small, family-owned business that continues to make its products in small batches and offers colors and patterns not found anywhere else. They design all of the styles in Portland, and then they are cut, sewn, and dyed in Los Angeles, CA.
This is one of the few American-made brands that offer sweatpants in baby and toddler sizes which is a huge bonus as that is something that many families use every day.
What We Like and Don't Like About North of West Sweatpants
My favorite part about this brand is the colors and punchy styles. They offer vibrant colors that are not seen in a lot of the sweatpant market. When you are a stay-at-home mom, and you want to be comfortable but also have some fun with your wardrobe, this would be a great brand to buy from.
These also come in the higher-waisted option, which is absolutely perfect for all of the time you spend picking up toys and babies off the floor. You won't have to worry about your sweatpants sliding down. This is an exact reflection of knowing your product is designed for women and kids by women who have kids.
Not only does this brand offer great styles, but the quality of materials that they use in all of their products is hand-picked and tested to hold up to everyday wear. Again, the designers completely understand what women are looking for in products for themselves and their children.
Comfort and quality are two of the main factors when you are searching for a great pair of sweatpants, and you get both of those with any style that you pick from the North of West line.
The material is also pre-shrunk, so you know when you first open them up that the fit will be perfect. With the proper care, you can use these sweatpants for a long time.
The 100% organic french terry is milled in their LA factory, so no matter how many times you order a pair, you know you are getting the best quality each and every time. If you are wanting to support the environment and your own comfort, this would be a great sweatpant to try.
Physique Bodyware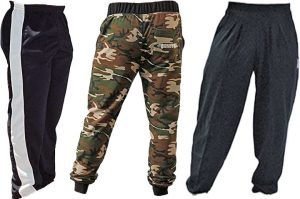 | | |
| --- | --- |
| Year Founded | 1990 |
| Sizes Available | S-2XL |
| Gender | Men's and Women's |
| Materials | Cotton/Poly Blends |
Physique Bodyware's Origin and Manufacturing Locations
Founded in 1990 and headquartered in Poughkeepsie, NY, Physique Bodyware is probably best known in the bodybuilding community for its designs but would be a great option for anyone who is looking for a great product made in the USA.
Its mission is to make every athlete look their best through the pursuit of creation, dedication, and self-expression, and its main customer base of bodybuilding athletes spans 150 different countries.
All of their products are made right here in the United States, and they continue to make that one of the top priorities in their business.
What We Like and Don't Like About Physique Bodyware Sweatpants
Those in the bodybuilding community will find this brand to be a great asset when looking for great-fitting, American-made sweatpants. Their bodies are typically very unique, and it takes someone who understands that to make the perfect products for them to buy.
They are designed to fit a built body in all the right places. They offer multiple color options, as well as one style in women's sizes. All seams are reinforced with safety stitching to add support and durability in case you choose to wear them through a grueling workout.
If you are someone who has spent a lot of time putting in the work to make your muscles grow and need a specific sweatpant to accommodate your body and make you feel great, this would be a perfect option for you.
They are made to hold up in the gym for your workouts as well as wearing on the weekend to your kid's soccer matches. It's nice to know that there is a company looking out for just what you need here in the United States.
Wrap Up:
No matter where you live, you are bound to need a solid pair of sweatpants, either light or heavyweight, to have on hand for the days when you just want to be comfortable. Thankfully there are several great American-made brands that give you countless options to choose from.
That does it for this article; let us know if you have any questions or comments below. Also, let us know if you know of any great sweatpants that we should add to our list. We are constantly looking to improve our lists.
Hi, my name is Kevin and I'm from Pittsburgh, Pennsylvania. Choosing products made in America is important to me because it supports local economies, creates jobs, helps the environment, and ensures ethical labor practices. I also find that American made products are usually of higher quality so although they're a little more expensive, you save money in the long run. Before starting this website I was in the USMC infantry and nowadays I work on this website as a hobby.