Pajamas might seem like an area to skimp when it comes to clothing, but getting a night of quality sleep is imperative to prime mental health and vital to your physical health. One of the easiest ways to set yourself up for a great night of sleep is by investing in a comfortable pair of pajamas made in the USA.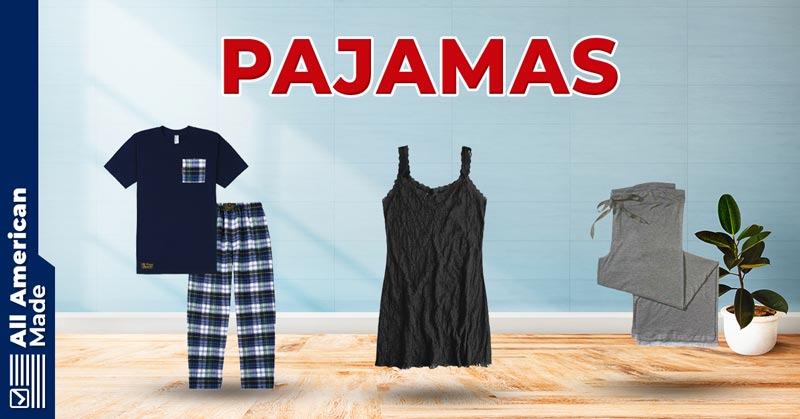 Whether you are a warm sleeper and need a lightweight material or if you're more like me and are always cold and need something that will keep you nice and cozy, there are options for everyone on this list. Simply scroll through it and pick out your new favorite pajamas!
List of American Made Pajamas
1. Vermont Flannel Company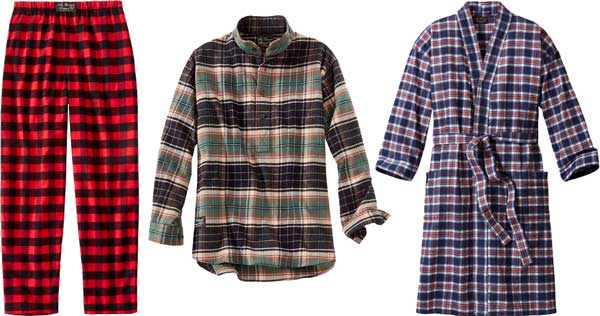 | | |
| --- | --- |
| Origin | Vermont |
| Sizes Available | XS to 2X (Unisex Sizing) |
| Materials | Flannel |
| Gender | Men's, Women's, Youth |
Vermont Flannel Company History and Interesting Facts
With 5 Vermont retail locations, the Vermont Flannel Company works to stay true to its name. They keep their focus small and strive to offer an excellent product along with top-notch customer service.
With all of their flannel being rated 100%, GOTS Certified Organic Cotton, you can rest assured that whether you order something today or two years, the quality will always be the same each and every time.
Since they have been in the pajama-making business since 1991 with their family-owned operation I would say that they are definitely doing something right.
Pajama Selection and Offerings
While some might think of flannel as being boring or stereotypical for only people who live in the woods, the Vermont Flannel Company continues to break the mold by offering several different patterns that you will not find anywhere else.
The material is also woven very tightly so that it abides by its 3% shrinkage rate. Another customer option they give is that you can choose whether or not your pants have elastic in the bottoms or not, which was not something I saw with any other pajama brand.
With an assortment of options to choose from including pants, shorts, tees, and button-ups you can have as many or few pieces as you need. These are also a very versatile pajama product as there are a lot of places you could wear your flannel pajama bottoms and nobody would bat an eye.
If you are looking for an absolute American Classic it doesn't get much more traditional than with a pair of flannel pajamas from Vermont Flannel Company. Whether you prefer one of the classic prints or want to branch out and grab one of their custom styles you really can't go wrong either way.
With the ability to mix and match different pieces these would be great pajamas to have on hand no matter what the season. All of the styles and pieces they offer are going to be comfortable, and warm, and give you the ability to enjoy a high-quality American Made product all year round.
2. Goodwear USA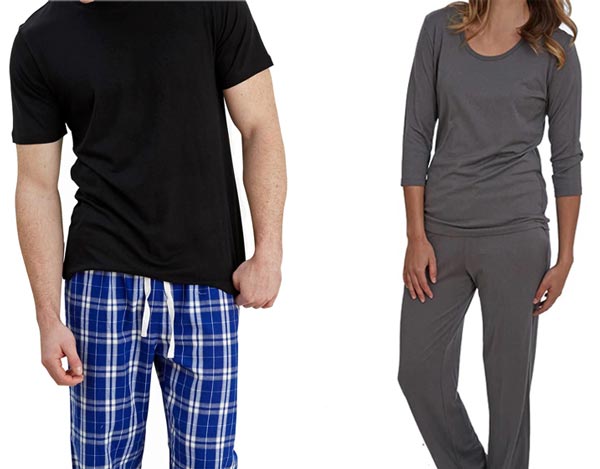 | | |
| --- | --- |
| Origin | Massachusetts |
| Sizes Available | S to 3XL |
| Materials | Bamboo / USA Grown Cotton |
| Gender | Women's |
Goodwear USA History and Interesting Facts
Goodwear USA is one of the oldest companies and most reputable brands on this list. They have been manufacturing products in the USA since 1983 and were founded by Stephen Liquori. What started with a line of t-shirts has really grown and expanded into a highly-respected American Made Company with a long list of products available.
This brand is also set apart in that not only are its products manufactured in the United States but they are put together with domestic materials from across the country. Based in Massachusetts they are a company you can count on for high-quality American Made products from start to finish.
They are proud members of the Fair Labor Association and continuously strive to employ Americans that aren't just looking for a job but that will be passionate about creating great American Made products. Building these pieces is truly a craft of love.
Pajama Selection and Offerings
This brand threw in a nightgown option on top of offering pants and tops to really cater to all women's pajama needs. They are also one of the few brands that went up to 3XL making them more of an inclusive brand for all women.
All of the pieces are made with a relaxed fit and the shirts even offer what they call a "tubular knit" which means there are no side seams on the tops. This was a unique option that I didn't see listed for any other brand and as a very active sleeper could see how this would make a huge difference in getting a good night's sleep.
While the materials they use are fairly lightweight that doesn't mean that you won't stay warm and cozy. They give you the best of both worlds by sourcing only high-quality materials from within the United States.
Whether you are shopping for yourself or looking for a gift that will last for many years to come a pair of GoodwearUSA pajamas is a great choice. Maybe if you're looking for a gift you could go ahead and buy yourself some too, you know, just to make sure it's something they would like.
They are made to stand up to many wears and washes and with their simple designs and styles will be a timeless piece to add to anyone's pajama wardrobe collection. For a brand that started in the t-shirt business, you know that they have simplicity and comfort in mind with all of their products. If you're looking for bamboo pajamas made in the USA this is one of the only companies that incorporates bamboo.
3. Goodnighties (Coolest Technology)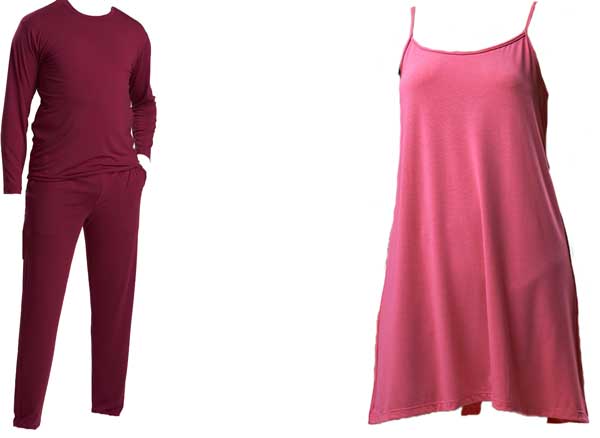 | | |
| --- | --- |
| Origin | NYC, USA |
| Sizes Available | XS to 3XL |
| Materials | Polyester blend |
| Gender | Men and Women |
Goodnighties History and Interesting Facts
A husband and wife team founded Goodnighties in 2008 and today it's a massively successful manufacturer of women's and men's sleepwear and pajamas.
Where this company really stands out is its unique fabric that they claim helps your body cool down if it gets too hot. I was never good at chemistry so I won't bother explaining how it works, but I'll link a video below for you or you can read about it and how it works on their website here. While I've never owned a pair of their pajamas they do have raving customers and being that they're reputable American made pajamas I wanted to be sure to include them on this list for you.
As of 2019, Goodnighties was acquired by another American company, A Rifkin Co. Their products are still the same quality and made in the USA.
Pajama Selection and Offerings
Goodnighties offers a nice selection of pajamas and because they make all of the pajamas in the United States, the company also says they the can accommodate mix and match tops, bottoms, sizes, colors, etc.
If you're someone who's willing to try something different and is interested in pajamas that can potentially help you feel cooler and more comfortable while lounging or sleeping, then we definitely think Goodnighties and brand work supporting!
4. The Cat's Pajamas (For the Whole Family)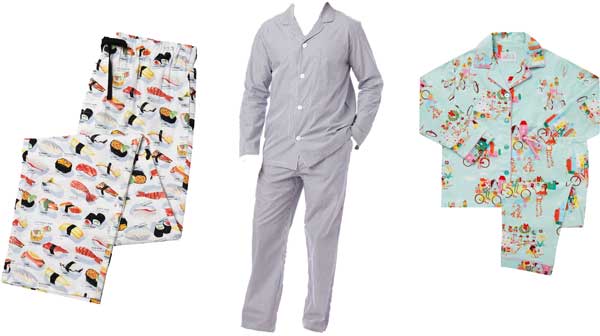 | | |
| --- | --- |
| Origin | Berkeley, California |
| Sizes Available | S to XL |
| Materials | Pima knit cotton |
| Gender | Men, Women, Children, and Plus |
The Cat's Pajamas History and Interesting Facts
The Berkeley-based company provides stylish, fun, consciously crafted sleepwear that is deliciously indulgent since 1998. Coupled with dedicated employees, the Cats family is run by a husband and wife team.
Located in Venice, California, they offer new patterns, stylish cuts, and fabrics like their 100% cotton Luxe Pima and their 100% cotton Pima Knit, a blend of Pima Cotton, Modal, and Elastane.
One thing to note is while the company continues to make pajamas in California, it has expanded to Peru as well. You can read about this decision on their website here. Their choice of Peru was based on the beautiful Pima cotton that is handpicked in the Andes Mountains. Its vibrancy and strength make it different from other long-threaded fibers. Everything is clearly marked on their website as far as where it is made so just make sure you're choosing pajamas made in the USA.
Pajama Selection and Offerings
The Cat's Pajamas offers a wide selection of pajamas and fabrics. Along with their well-known cotton and cotton blend fabrics, they also offer awesome flannel pajamas!
In addition, the garments are grown, woven, and stitched in Peru, minimizing their environmental impact, and the workers are treated fairly and operate in attractive conditions in Lima.
This company is different from many of the others on this list because they also offer a wide range of pajamas for men, women, and kids. Where they really stand out is their unique patterns and fun designs. If you're looking for something a little different and fun this is definitely a company we recommend! The only thing I don't like is that they don't make all of their pajamas in the USA anymore and much of their fabric is imported, but I still feel like they are a good company to support.
Popular Related Article: What Slippers Are Made in the USA?
5. Elizabeth Cotton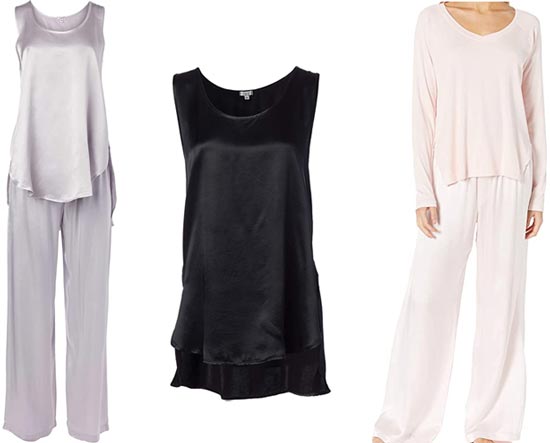 | | |
| --- | --- |
| Origin | New York, NY |
| Sizes Available | XS to XL |
| Materials | Oeko-Tex Certified / Organic Cotton |
| Gender | Women's |
Elizabeth Cotton History and Interesting Facts
We are going to start out with one of the more expensive price-points but want to make sure you truly see why this is an investment worth considering. Sometimes the price of luxury is worth it when you are talking about something that could truly affect your life every single day.
Elizabeth Cotton was established in 2005 by its namesake founder after she worked in the fashion and textile industry at Macy's and saw first-hand how manufacturing overseas was not only bad for the American economy but also produced many issues throughout the supply chain or when issues of defective products arrived and you were just stuck with them.
On a mission to build high-quality products here in the United States, Elizabeth now runs 2 family-owned factories that manufacture everything here in America. She also sells all of her products exclusively online to try and keep any extra retail mark-up out of the equation. She understands that higher-quality products are already a large investment for many Americans and wants to do her best to cut out anything unnecessary in getting these products into their hands and onto their bodies.
Pajama Selection and Offerings
Pieced together in the Historic Garment District of New York City there is no shortage of inspiration for her styles in her backyard. With the ability to oversee all aspects of the process Elizabeth Cotton is a great brand of pajamas if you want a high level of style and quality to help you get a great night's sleep.
With several classic pajama silhouettes to choose from including button-up long-sleeve shirts and long pants with extra attention to detail in the collars and cuff piping, these are pajamas that you will not only feel like a high-rise influencer at home but would be great to take traveling as well. (think of staying over at your mother-in-law's for the first time)
There are several prints as well as solid colors to choose from so that each woman can get a pair that matches her personality and taste. Along with the lighter-weight Egyptian Cotton material options, there are also heavier flannel styles to get you through even the coldest months of winter.
With the owner having experience in the industry she knows how to pick only the best fabrics and never misses the little details that you wouldn't know about without knowledge and first-hand experience. This is another reason to consider this investment.
If you are working on living that minimal lifestyle and want to invest in a few pieces that will last you forever this is a great pajama set to start with. You will not need an entire drawer full of pajamas when you have a high-quality set like this.
Designed by women for women it hits all of the boxes for comfort, quality, and style that will help you rest easy. Knowing all of the hard work has already been completed you get to simply enjoy the fruits of their labor.
If you are looking to splurge on a gift for a special lady in your life this pajama brand would not only support an American Made business but would make any woman's day.
6. PJ Harlow Pajamas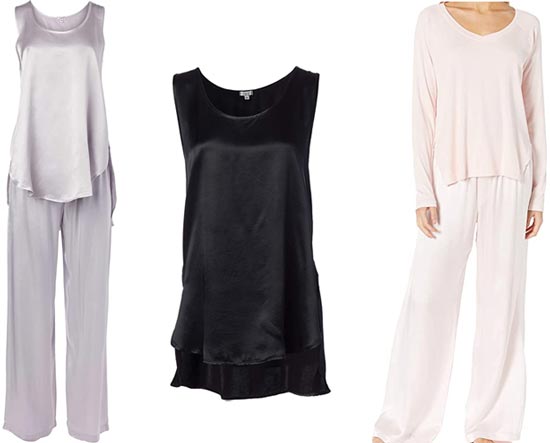 | | |
| --- | --- |
| Origin | California |
| Sizes Available | XS to XL |
| Materials | Soft Knits / Sation |
| Gender | Women's |
PJ Harlow History and Interesting Facts
PJ Harlow is one of the main brands in the American Made Pajama sector. The designer/owner Tina McMillen actually started with an original idea of building up a small retirement business and it began to grow quickly, even being named one of Oprah's Favorite Things within its first 6 months in business.
While some people may have let this success get to their heads and continue to expand and lose sight of their original dream of building high-quality products in America, Tina continues to work to keep the brand intimate with no plans of growing too big or being owned by someone else.
All of the designs are inspired and brought to life by their close-knit team and then pieced together in California. Their goal continues today that each time you put on a piece of PJ Harlow pajamas you are able to take a minute for yourself, relax and feel absolutely fabulous.
Pajama Selection and Offerings
Just looking at these styles will make you feel relaxed. Each piece can be added to or taken away from depending on the season or how you're feeling at the moment. There are sleeveless tops, long-sleeves, cardigans, and t's that can all be paired with shorts or pants for the perfect pajama combination you might need.
The color options are all subtle, yet still, give off a very luxurious vibe. After a long day at the office or working from home, putting on a pair of PJ Harlow pajamas is bound to make the stresses of the day melt away.
The silky material styles will move with your body creating a perfect environment for you to get a good night's rest and be ready to take on the next day. They offer you a little piece of heaven in even the most chaotic settings.
If you prefer the feeling of high-quality fabrics and want to invest in some pajamas that will make you feel like you are slipping away to the spa each night, this is the brand for you. With so many different ways to pair the pieces it really gives a custom-made feel without the custom-made price tag.
This would also be a great gift idea for college students, bridal parties, or any other individual or group of ladies in your life that could use some extra luxury in their pajama wardrobes. Keeping things simple is the name of the game for this American Made brand which is a nice reprieve from the big box stores that we typically see.
It's easy for moms to get lost in the hustle and bustle of wearing pajamas that don't make them feel special or good in their skin, but PJ Harlow is working one luxurious piece at a time to give everyone something that makes them feel important at the end of a long day.
7. Hat and Beyond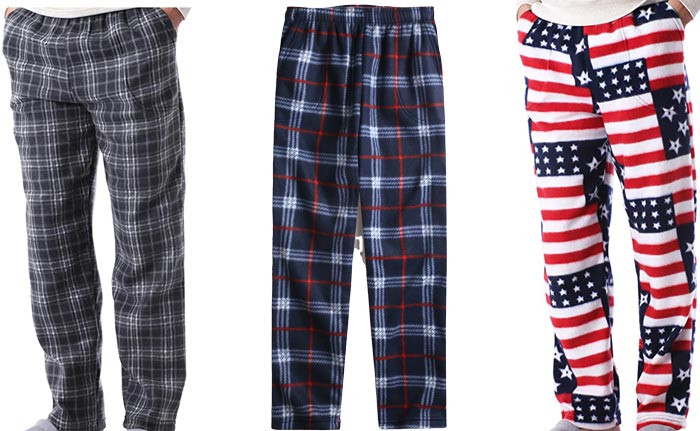 | | |
| --- | --- |
| Origin | Los Angeles, California |
| Sizes Available | S to 2XL |
| Materials | Polyester |
| Gender | Men's |
Hat and Beyond History and Interesting Facts
With the company slogan of "Basic But Never Boring" Hat and Beyond must be onto something because they have sold over 4 million pieces of clothing across the United States and continue to be the stop for anyone looking for American Made Pajamas at a bargain price.
Formed in 2014 by husband and wife team Louis and Raina the company continues to keep its focus on giving great products to its customers at affordable prices while keeping its brand and company family-oriented.
With their products being manufactured in Los Angeles, California they can stay on top of new colors and trends and continue to hone in on the laidback lifestyle that got them started. With many people switching to a more minimal lifestyle to find peace a pair of Hat and Beyond Pajamas is a perfect addition.
This is the ultimate brand for the guy who likes the basics of durability, some style, and all-around comfort in his pajamas. The options for the guys aren't as many, but with a company like this, you will still be set.
Pajama Selection and Offerings
First of all I think it's important to note that these pants have pockets. I don't care if their pajama pants everyone likes to have pockets because you never know when you will be jolted out of bed and onto an errand and need a pocket.
The colors and prints really give these pajamas some flair. From USA flags to Animals and more there is bound to be a style that will work for you. Go ahead and show off your personality a bit with your next pair of PJ Harlow pajama pants.
After you get past deciding what print you like you can rest easy (literally) because they have been designed to keep you comfortable and non-binding so you can stretch out however you like.
Pair these pajama pants with a Hat and Beyond t-shirt or tank and you are ready for a solid night's rest. Each piece is made with comfort and simplicity in mind.
Whether you are looking for a comfy pair of pants to lounge around the house or something that can get you through Saturday morning errands these pajama pants will do the trick.
They are made with high-quality materials, strong stitching, and key in on other details that you miss when your products aren't American Made. With all of the great attributes including being classic, affordable and simple these pajamas are some of the best on the market.
8. Hass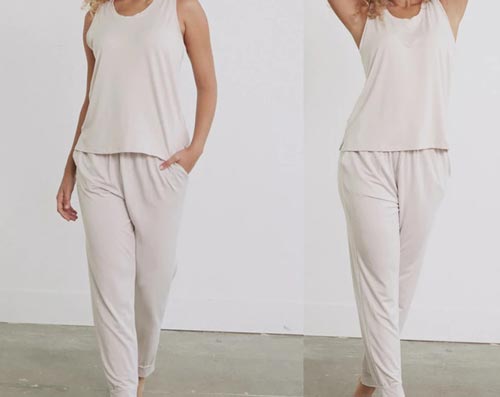 | | |
| --- | --- |
| Origin | Los Angeles, California (certain collections manufactured in Peru) |
| Sizes Available | XS to XL |
| Materials | Modal |
| Gender | Women's |
Hass History and Interesting Facts
After the Avacado Green Brands found success in the mattress and bedding industries they decided to branch into the apparel industry with the Hass brand. Bringing their knowledge of creating products that are not only comfortable for the customer but also sustainable to the environment.
They are one of the few companies that donate 1% of their annual company revenue to environmental causes that will continue to research and find more efficient ways to blend people and nature. They believe you never reach the finish line in finding better ways to create products efficiently.
They do have some specific collection pieces that are made in Peru, but the majority of their product line is manufactured in Los Angeles, California.
Pajama Selection and Offerings
One of the highlighted materials used by Hass is the Austrian Lenzing-Certified Modal. This material is actually pulled from wood pulp and is not only biodegradable but is more durable and softer than many of its competitors on the market.
With classic color palettes and relaxed fits in all styles, all of the Hass pieces are going to get you ready for a peaceful night's sleep. They also offer different pieces so you can mix and match exactly what you need.
If the environment and how your products are made are a high priority in making your decision of what pajama products to buy this brand would be a great option for you. They put a lot of focus on their impact on the environment and strive to always make their practices more sustainable.
This would also be a great brand for anyone who has any issues with allergies to some of the more well-known materials as they make sure that there are no harsh chemicals or synthetic fibers in their products.
They are MadeSafe Certified and work to give you staple wardrobe pieces that will help to create less waste and higher-quality pieces that will last. One of their goals is to keep products out of landfills by creating fewer items that are simply made to last.
9. Made With Love and Kisses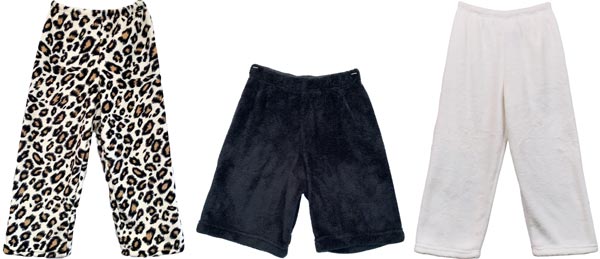 | | |
| --- | --- |
| Origin | Plainview, New York |
| Sizes Available | 2/3T through Juniors M/L |
| Materials | Polyester / Microfiber |
| Gender | Kids and Juniors |
Made With Love and Kisses History and Interesting Facts
This brand is for the kids in your life!
If you have ever gone to a summer camp away from your family for the first time you will understand how this brand got its start. The owner's daughter was getting ready to head out on her own to her first ever summer camp and mom (doing what moms do) pieced together a soft blanket that would give her little girl a piece of home while also allowing her to branch out and have a great time at camp.
Little did she know that all of her daughter's friends would fall in love with that blanket and want one of their own, and that would start a company that continues to grow and add products, including some of the most popular pajama pieces in the kid's pajama market.
Known for their soft, fuzzy qualities that leave you feeling comforted and cozy no matter where your life adventures may take you, Made With Love and Kisses has become a staple in the kid's pajama business.
They are headquartered in Plainview, New York, and actually host their own summer camp for all of their customers to enjoy. Offering custom-made pieces for you to bring to camp is a win-win situation for all involved.
Pajama Selection and Offerings
This is the epitome of what one visualizes when you think of pajama pieces. The soft, no-pill fabric is like taking a fuzzy blanket with you everywhere you go. They are easy to maintain with normal wash/dry steps and are made to last through many wears and cleanings.
They also offer a custom-made campus section so you can support your favorite sports team while staying comfortable. This would be a great option for those late-night games for your child's travel team or your favorite sports team that happens to get the late-night broadcast.
With pants, shorts, and sweatshirts available in lots of vibrant prints and styles the options truly feel endless.
With a great price point for this quality, American Made product you could use this brand to supply your child's next sleepover group with party favors or get that group of cousins together with matching pajamas for the holidays.
A quick visit over to the company's Instagram profile @madewithloveandkissesusa will give you endless inspiration on how you can piece together some of these pajamas for the littles in your life.
10. Love and Grace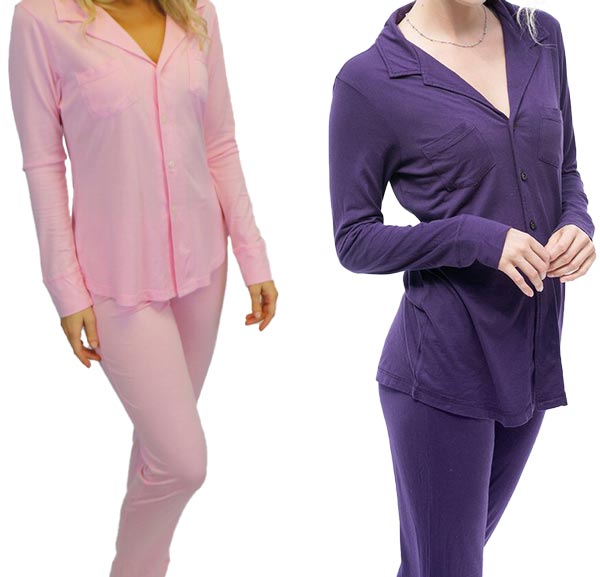 | | |
| --- | --- |
| Origin | Los Angeles, CA |
| Sizes Available | XS-XL |
| Materials | Modal / Supima Cotton / Flannel |
| Gender | Women's |
Love and Grace History and Interesting Facts
Another great company that builds their products in Los Angeles, California, Love + Grace is built on the laid back California lifestyle and although not all of their products are made in the USA their website clearly has it marked on each style when you click on it where it is pieced together.
They keep their focus small and simple. Creating small batches each season so as to not create waste and to keep people on the hook for what they might come up with next. This is a great marketing and sustainability practice where everyone wins.
Founded in 2013 they strive to create a brand and product that is minimal, yet comfortable and always ready to enjoy while soaking in a beach breeze. I picture these to be a great fit for someone who enjoys sitting out on the deck in the mornings enjoying a warm cup of coffee.
Pajama Selection and Offerings
One thing I have come across with several of these brands is that they have outstanding customer service. Part of this is when you are working for an American Made business they are typically smaller and more personal, but I also know that great customer service is usually found behind outstanding products. It's easy to love what you do and what you represent when there is quality to back you up.
With a variety of materials offered as well as different pieces such as short-sleeves, long-sleeves, shorts and pants there are abundant options to choose from with this brand of pajamas.
They also offer several styles and patterns that I did not find in any other brands that I researched. Each piece is soft, and comfortable, and could be a great fit for any season.
If you don't mind putting out a bit higher investment in high-quality products that will last longer than 10 other pieces at a lower price point, this would be a great brand for you to try. Each of the pieces is truly timeless and will still be there waiting for you in the years to come.
With all of the different materials, the one thing they have in common is that they will make you feel like you are a millionaire each time you are getting ready for bed. The luxurious feel of each one really puts them in a class of their own.
If you have a special woman in your life and you are having trouble deciding what she might like for a gift or occasion coming up, this would be a perfect place to look to make her feel truly special.
Related Article: Sweatpants Made in the USA (Source List)
11. Only Hearts Women's Pajamas and Intimates (Unique Designs)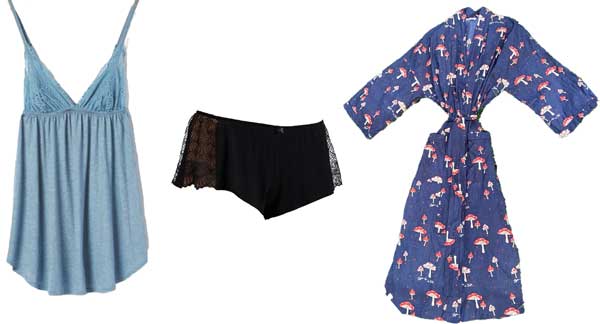 | | |
| --- | --- |
| Origin | NYC, USA |
| Sizes Available | S to L |
| Materials | 100% Cotton |
| Gender | Women's |
Only Hearts Women's History and Interesting Facts
Only Hearts has been making quality and ethically produced clothing and pajamas since 1971. Some of the most notable things about this company are their wide range of styles and I love the fact that they use 100% organic Pima cotton that's soft and comfortable. The company is now in its second generation as a mother-daughter team.
Pajama Selection and Offerings
Only Hearts has a nice selection of sleep and lounge apparel, but that's not what's most impressive to me. Where I feel they really shine is the materials they use to craft their clothing. The company truly cares about delivering outstanding products to its customers, and they don't want to only deliver a product that looks great. When you choose Only Hearts you're also getting organic fabric that doesn't include any harsh chemicals or dyes.
Their selection of products includes everything from organic cotton gowns to feather-weight thermal pants to 2 piece pajama sets.
Their pajamas aren't cheap compared to your average pair of pajamas made overseas, but they're also much higher quality, and by supporting this company you're also supporting American workers.
12. Between the Sheets Women's Pajamas and Intimates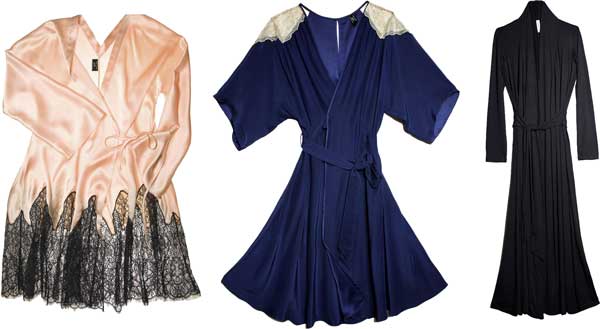 | | |
| --- | --- |
| Origin | NYC, USA |
| Sizes Available | S to L |
| Materials | Cotton, Silk |
| Gender | Women's |
Between the Sheets History and Interesting Facts
If you're looking for fancy pajamas for a special night, and don't require inclusive sizing, Between the Sheets has you covered. Since their first collection was introduced in 2010, Between the Sheets has supported skilled craftspeople in New York City's Garment District. The company is dedicated to supporting the local economy and providing jobs, all while providing products that are high-end, durable, and comfortable.
Pajama Selection and Offerings
Between the Sheets really seems to be going toward the high and luxury market in my opinion. The materials they use are top notch and while their pajamas and sleepwear aren't cheap, these aren't just your ordinary pajamas.
With 100% organic cotton silk sleepwear between the sheets has an incredible selection to choose from. They also offer a wide range of luxury nightwear lingerie. If you're looking to stay comfortable and look great at the same time this is a great brand to choose and they really offer everything from sweats to robes to t-shirts.
The company cares about America and the sustainability of our planet as a whole, and they donate 1% of the money they make to support nonprofits that plant trees and project the environment.
13. Hanky Panky Women's Pajamas and Intimates (Size Inclusivity)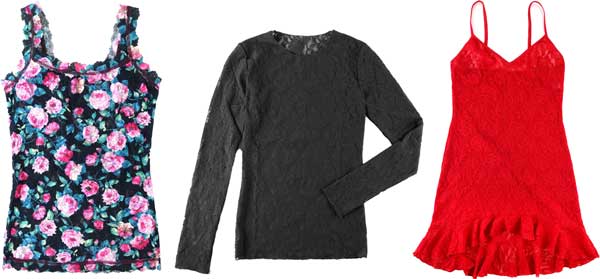 | | |
| --- | --- |
| Origin | NYC, USA |
| Sizes Available | XXS to 3XL |
| Materials | Supima cotton |
| Gender | Women's |
Hanky Panky History and Interesting Facts
Hanky Panky is another company out of New York that's best known for their underwear and lingerie, but they also make great pajamas and loungewear. The company was founded in 1977 and nowadays targets a more high-end customer that's willing to pay for quality products that are made with ethically sourced materials. They source all of their CottonLEAD-certified fibers from the Southwest USA and have a smaller environmental impact than many imports. Using low-impact fiber reactive dyes, all their cotton knit fabrics are knitted, dyed and finished on the East Coast.
Pajama Selection and Offerings
Whether you're looking for a nightshirt that's just the right amount of cozy or two-piece sleep set, Hanky Panky has you covered. As mentioned the company is best known for their underwear and thongs, but they do offer a nice selection of sleepwear as well. Some of their more casual sleepwear include their CO Rx Long Sleeve Top and ECO Rx Jogger which is versatile enough to wear out to run errands, but comfortable enough to be used for lounging around the house and trying to stay comfortable.
Being such a well-known company that does manufacture their products in the USA so I wanted to include them on this list.
14. Brian the Pekingnese (Great for Kids)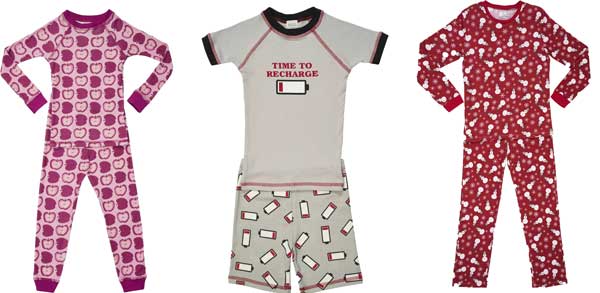 | | |
| --- | --- |
| Origin | NYC, USA |
| Sizes Available | S to L |
| Materials | GOTS Certified Organic Cotton |
| Gender | Men's, Women's, Kids, Newborn |
Brian the Pekingnese History and Interesting Facts
Brian the Pekingese was designed to create soft, comfortable, high-quality apparel for children, made in the USA.
Their pajamas are made with GOTS certified organic cotton fabric. GOTS, which stands for Global Organic Textile Standard, is the worldwide standard for certified organic cotton, which is important because it's grown free of pesticides. Organic cotton is not only better for the environment, but it's also safer for us.
The Brian the Pekingese brand was inspired by their family dog, a Pekingese named Brian, who loved all kids. Initially, they started with pajamas for children featuring Brian in the prints. Brian the Pekingese Signature prints are still a staple in our collection.
Pajama Selection and Offerings
All of these pajamas are available in long sleeve/long pants pajamas, in short sleeve/short pants summer pajamas, and infant onesies.
In addition to a full family range of pajamas, Brian the Pekingnese also offers a plush toy of Brian and a storybook about Brian and his spider-friend Amanda learning to share and make new friends. This company stole our hearts with this incredible vision for keeping families safe while they sleep.
These organic children's pajamas are made from organic cotton, pre-washed for a soft feel, and are made in the USA without hazardous flame-retardant chemicals. Sizing runs from 18M to 10Y. These pajamas are absolutely adorable. Can you say family Christmas card?
15. Majamas Earth (Fashionable Sustainability)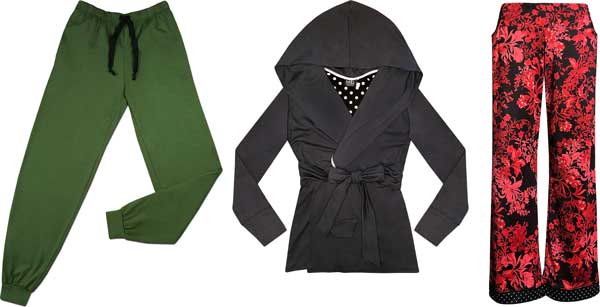 | | |
| --- | --- |
| Origin | Chicago, Illinois, USA |
| Sizes Available | XS to XXL |
| Materials | Eco-friendly reclaimed fabrics |
| Gender | Women's |
Majamas Earth History and Interesting Facts
As you might have guessed by the name Mahajamas Earth is a clothing company with a mission to create great-looking eco-friendly clothing that does not destroy our beautiful planet. Their goal is to improve the wasteful fashion industry by creating appealing, functional, and environmentally friendly fashion.
They do their best to use recycled and reclaimed materials and manufacture 100% of their clothes in the United States. By doing so, they can ensure their clothes will never be sprayed with chemicals, wastewater will not end up in our oceans and the people sewing them will be treated fairly and ethically.
Pajama Selection and Offerings
Majamas has a nice selection of pajamas and sleepwear. Along with pajamas the company also offers other types of apparel including sportwear, casual wear, dresses, and more. Where this company really stands out is its eco friendly manufacturing processes. Compared to a lot of other USA made pajamas they're also very affordable.
If you're someone who likes the idea of eco friendly reclaimed fabrics and the great ethos of this company, we recommend supporting them!
Related Article: What Jeans Are Made in the USA?
Wrap Up
There are definitely more pajama options out there for the girls than for the guys, but if I know most guys they aren't looking for quite as many styles and colors anyway. Simplicity is the name of the game and any of the American Made options available would be a great addition to your pajama routine.
No matter what your pajama tastes are there are several great American Made brands to choose from when you're ready to make your next purchase. Whether you prefer warm and fuzzy or lightweight and silky, there are so many great products made here in the United States that will help you get your best night of sleep ever.
We hope that you found this article helpful when getting ready to buy your next pair of pajamas for yourself or a friend. We encourage you to keep supporting American Made businesses and we will continue to research and find the best ones out there.
Hi my name is Kevin and I'm from Pittsburgh, Pennsylvania. Purchasing products made in America is important to me because it supports local economies, helps the environment, and I know the companies follow high labor standards. I also find that American made products are usually of higher quality so although they're a little more expensive, you save money in the long run.