Finding the perfect quilt is a matter of personal preference, and there sure are a lot of great options out there. No single quilt style or quilt maker suits everyone's needs and wants, so we'll be presenting many fabulous quilts made in the USA and sharing our thoughts on each.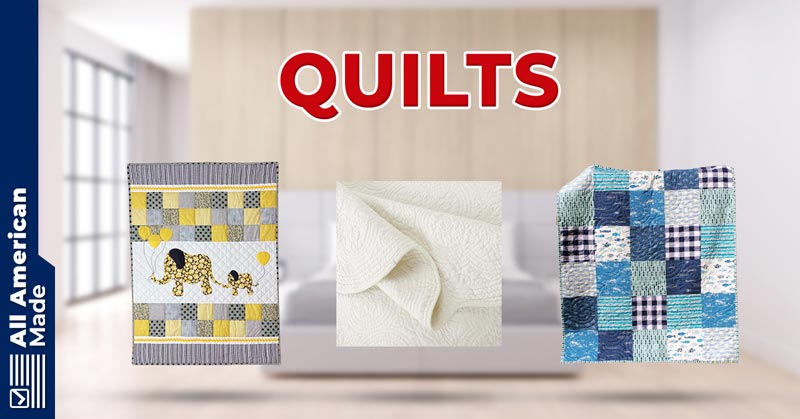 Whether you're looking for a traditional quilt, baby quilt, or custom quilt, there's something for everyone on this list! The companies presented in this list take a lot of pride in keeping their manufacturing in America and creating American jobs.
List of American-Made Quilts
Kristin Blandford Designs Quilts (Lots of Patterns)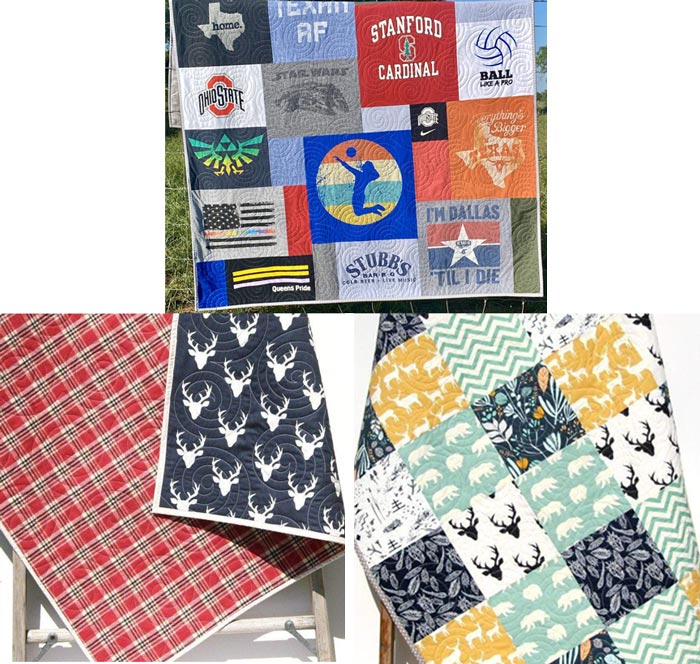 | | |
| --- | --- |
| Estimated Price | $170 |
| Materials Used | 100% Cotton |
| Sizes Available | baby (35″x42″) and toddler (35″x54″), Throw size (54″ x 63″) |
| Colors Available | Myriad of patterns and designs |
| Origin | Sunnyside, Texas, USA |
Kristin Blandford Designs' Origin and Manufacturing Locations
Kristin Blandford is the owner and designer of Kristin Blandford Designs which produces high-quality quilts in a smoke-free environment in Sunnyside, Texas, USA. Virtually all commerce for this business is online, where she sells handmade quilts, patterns, and quilt kits that are finely crafted on a well-tuned long-arm quilting machine. The selection is unmatched, and the quality is impeccable, offering gorgeous infant, toddler, and custom T-shirt quilts.
In Sunnyside, Texas, Kristin makes all of her handmade quilts and quilt kits in her loft upstairs with the help of an incredible group of talented women from the local area that is well trained and well experienced.
What We Like and Don't Like About Kristin Blandford Designs Quilts
Various designer prints were used to create these modern quilt designs and patterns. White, navy blue, teal, and mint form a nice and modern color scheme. There are three primary sizes available: baby (35″x42″) and toddler (35″x54″), and throw size at (54″ x 63″).
These quilts from Kristan Blandford would be a lovely gift for anyone with a little one or looking to add some beautiful color to a cozy room! Modern quilt designs feature fish, paddles, plaid, scales, and other prints from outdoor adventures. Soft navy Minky serves as the backing of the quilts.
Three layers of batting are stitched together to form this quilt. The stitches are even, tight and dense on every quilt. Using a traditional double-fold coordinating binding around the edges makes this quilt durable and long-lasting!
Pre-washed for the perfect puckered look of a quilt, it is ready for snuggling and super soft. We recommend washing on delicate and tumble dry on low heat.
Who We Recommend These Quilts For:
Kristan Blandford Designs makes a wide range of quilts, and I have really come to find their quality to be impressive! These quilts are built to last, and overall they're just beautiful. Since they have such a wide range of quilts ranging from custom quilts to baby quilts, they really offer something for everyone.
Red Land Cotton Classic Quilt (Most Traditional)

| | |
| --- | --- |
| Estimated Price | $180 to $220 |
| Materials Used | 100% Cotton |
| Sizes Available | Twin, Full/Queen, King/California King |
| Colors Available | Natural (varies year to year) |
| Origin | Waco, Texas, USA |
Red Land Cotton's Origin and Manufacturing Locations
Red Land Cotton is no stranger to creating some of the best quilts in the South. All of the cottons they use is straight out of Texas and is handpicked to be the absolute highest quality materials for use in their 140 thread count quilts.
What We Like and Don't Like About Red Land Cotton Quilts
Red Land Cotton is one of those brands where you can expect to pay a premium and certainly more than foreign imported goods, but you can also expect to get exceptional quality. It's easy to make a quilt, but it's extremely tough to make one of the quality and care that you would get from Red Land Cotton. As soon as you get one of these in hand, it's quite apparent that they use only the best cotton.
It's hard to put a satisfactory quilt experience into words, especially when touch and feel are the primary indicators of status and quality. This quality is evident throughout their entire product lineup, extending far past just the quilts.
As far as designs go, there are many options for the exquisite and colorful, but this isn't one of them. From what I've seen from them, they specialize in making very modern and sleek designed products across the board, which is something that I absolutely love and fits in well with my style and home design. I think a primary reason they keep the color schemes and designs rather simple and elegant is that they don't like to use inorganic materials like industrial dyes or treatments.
Who We Recommend These Quilts For:
Red Land Cotton uses nothing but all-natural cotton, and due to this, the natural fabric found in their products does not ever contain any bleach or dyes, which makes Red Land Cotton quilts ideal for customers with sensitive skin. This is a huge issue for me as many of the cheaper-end fabrics are treated with all sorts of who-knows-what can cause me some annoying skin conditions. Those with sensitive skin or chronic skin conditions should choose natural fibers for bedding, clothing, and even towels, most of which you can find and purchase alongside a Red Land Cotton quilt on their website.
Plant-based fibers (cotton, bamboo, linen) or animal-based fibers (wool, silk) are the most common natural fibers, while synthetic fibers tend to be less durable, breathable, and environmentally friendly than natural fibers. Natural fiber can also be more absorbent or wick moisture from the skin, depending on the type and weave. If you're looking for 100 percent cotton quilts made in the USA, Red Land Cotton quilts are a great option. Over the years, I've owned and tested many of their products, and I feel very confident recommending them! I've included a cool video below that goes over the company's history.
The Best Seamstress Handmade Patchwork Throw Quilt (Great Designs)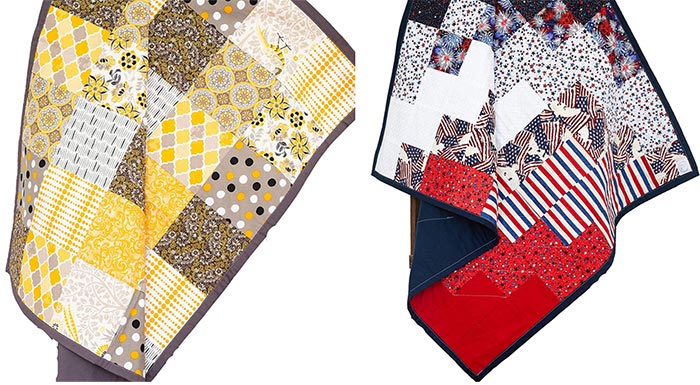 | | |
| --- | --- |
| Estimated Price | $230 |
| Materials Used | 100% Cotton |
| Sizes Available | 50" x 60" |
| Colors Available | Various |
| Origin | North Ridgeville, Ohio, USA |
The Best Seamstress' Origin and Manufacturing Locations
Sandy Woodson is a talented quilter out of North Ridgeville, Ohio. She sells her designs on Amazon and does not have her own website. Her designs are among the prettiest we have come across, and if you're into the patriotic type of decor, there are options here for you!
What We Like and Don't Like About The Best Seamstress Quilts
These patchwork quilts are made entirely of cotton fabrics and a middle layer which is a cuddly down alternative. The Best Seamstress offers so many different designs and styles, ranging from super exotic and vibrant colors to sleek and simple modern designs.
In most of the marketing material, these quilts are talked about as being excellent lap blankets or even used as wheelchair blankets, and you know what? That makes perfect sense, especially considering the most popular sizing option, which is 37 Inches by 45 Inches. These quilts are great to go out with, too, especially as a wheelchair user, because they're thick and clearly made to be exceptionally durable, and if they get a little dirty, they can withstand being put through the dryer.
The extra-large quilt measures 50 Inches by 60 Inches. These quilts are fan favorites in the reading crowd as they make for excellent snuggle partners when it comes to curling up and reading a book or enjoying some late-night Netflix. Each quilt is handmade with love, and the quality is obvious from the moment you get your quilt in hand!
Who We Recommend These Quilts For:
I really recommend these quilts for those of you looking for a quilt that is expertly crafted but absent the mass production feeling. These are all handmade by someone with many years of experience, and each quilt is as unique and special as your personality and can even be crafted to represent your personality, too!
Although I personally don't need to use a wheelchair, these quilts are very popular with those who do, and I can see why, as they are a perfect size, weight, and durability. When I see these quilts, I imagine my grandma sitting happily on the porch in her favorite rocking chair, kept warm and protected from the cold breeze by one of these works of comfortable art.
Black Mountain Quilts Quiltology Quilt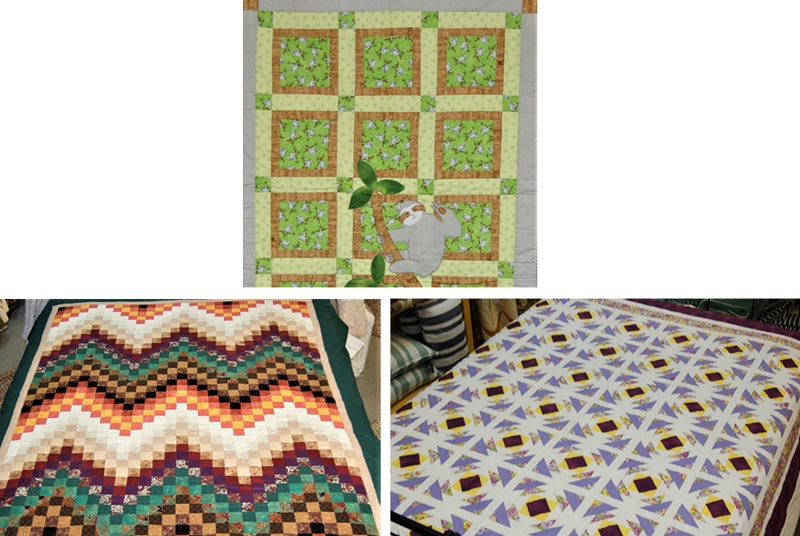 | | |
| --- | --- |
| Estimated Price | $600 |
| Materials Used | 100% Cotton |
| Sizes Available | 72" x 80" |
| Colors Available | White, yellow, red, and blue |
| Origin | Black Mountain, North Carolina, USA |
Black Mountain Quilts' Origin and Manufacturing Locations
Black Mountain Quilts has been operating since 2006. The shop is in the heart of Black Mountain, North Carolina, a nice little cozy and friendly town with roots in American textiles. A few minutes from the popular Blue Ridge Parkway and the historic Biltmore Estate, their retail store is located just 15 miles east of Asheville, off Interstate 40 at exit 64.
Black Mountain Quilts offers luxury quilts with a myriad of premium characteristics, including quilted shams, quilted throws, valances, quilted pillows, and matching bed skirts, all with distinctive quilt pattern designs that are carefully designed, intentionally chosen, and rigorously checked for quality and defects.
What We Like and Don't Like About Black Mountain Quilts
Black Mountain Quilts are another American brand deeply rooted in the icon that used to be the great American textile industry. Although many brands have left, Black Mountain Quilts is here to stay and offers high-quality American quilts constructed by some of the most experienced American craftsmen.
The quilts are great, but I do want to address the gorilla in the room, which is the strict no-return policy. This is not something we as consumers have come to know as a mainstay with many brands today, and I was skeptical too when I first read those words on their website. Further down from this, the site says they don't offer returns because each of their handcrafted products is unique and specifically hand-examined at every stage of the process.
Upon asking around, it has occurred to me that no one that I can find has needed to ask for a return, and they've been perfectly happy with what they've gotten, as have I. The truth is, the no-return policy may not be for the faint of heart, but if you really know what you want and you know you'll be getting a quality, unique piece that no one else in the world has, then it shouldn't be an issue.
Who We Recommend These Quilts For:
On the Black Mountain Quilts website, you will find beautiful quilts with intricate patterns that will complement your home's aesthetics. Due to its classic design, we selected the Quiltology quilt by Suzanne McMahon of North Carolina. This quilt is machine pieced and machine quilted. This handmade piece has a white background with a gorgeous multicolored hexagon shape, in yellows, reds, and blues that complement each other in this vibrant pattern.
From black Mountain Quilts, you can get regular-sized throw quilts, baby-sized quilts, and even decorative quilts to hang nicely on the wall, as well as a few other goodies, like knitted throws, baskets, and other American handmade goods.
As mentioned before, just do your research and don't expect to have any kind of trial run. Once you pay, that quilt is yours, and there's no going back!
Project Repat T-Shirt Quilt (Great for Gifts)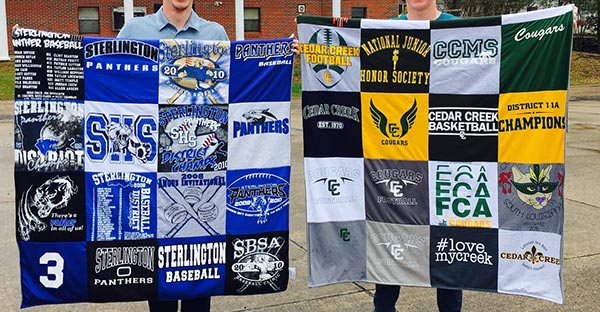 | | |
| --- | --- |
| Estimated Price | $75 to $190 |
| Materials Used | Your T-shirts (custom order) |
| Sizes Available | Lap, Twin, Full, Queen |
| Colors Available | Depends on what you send in! |
| Origin | Morgantown, North Carolina, and Austin, Texas, USA |
Project Repat's Origin and Manufacturing Locations
Project Repat is a brand well known for being very committed to the environment and their local communities, and through this love for their surroundings, they've found a creative way to create sentimental gifts while conducting their business. Everyone knows that even the most efficient textile businesses have significant waste in the textile industry, and this brand looks to take on such a challenge as reducing the amount of waste that ends up in landfills from these processes. Furthermore, the brand is hyper-focused on revitalizing American textiles and bringing back home the jobs we need and miss.
Project Repat takes old T-shirts and uses extremely well-trained and motivated American talent to turn what otherwise would be garbage in the landfill into a beautifully made quilt. It is great to keep textile products out of landfills by repurposing old clothing into Project Repat T-Shirt Quilts.
So, where do they get the materials used in their quilts? Well, they get it from your wardrobe! That's right, to get a quilt in return from Project Repat, you must first send them your old and used-up clothing, which they will save from being discarded, and use it in your new cozy quilt! T-shirt quilts aren't just made from T-shirts. Almost any soft fabric can be used to make a quilt, such as baby clothes, sweatshirts, or jersey shirts. Getting a T-shirt quilt from Project Repat is super easy, and you don't really have to do anything to prepare the materials as the talent at this business takes care of it all.
Choose your quilt size, panel size, and fleece backing cover. Upon placing an order, you will receive an email with instructions on how to prepare and ship the clothing items. Afterward, Project Repat receives the items and makes a quilt out of them. That's it!
What We Like and Don't Like About Project Repat Quilts
T-shirt quilts from Project Repat are cut and sewn in America, then backed with soft and comfy fleece. You'll receive detailed instructions for preparing and shipping your t-shirt quilt when you order, and after shipping off what you thought was as good as trash, you'll get a beautifully crafted quilt in return. It's a simple process and a lovely way to treasure the memory of a loved one forever or to simply retire your old clothes after you venture off on a new shopping spree!
Who We Recommend These Quilts For:
We'll admit that we fell in love with this one, and I personally love the brand and the mission. To remember a loved one or just celebrate someone you love is wonderful, and actually, my Aunt, when I was little, used to make quilts out of the family's old clothes too, so this brand really hits home for me and brings back a lot of great memories.
There are potential joke gifts, too. Imagine giving your favorite Aunt a quilt full of her celebrity crushes or your dad a quilt covered with all the funny and awkward facial expressions you've been catching on your phone's camera! The possibilities are endless, and we love the environmental impact of making things out of recycled materials, as it's something I am personally always looking to do. Okay, sometimes it gets a little hoarder-like, but hey, I am a tinkerer after all! This company is a true gem, and their t-shirt quilts are incredibly affordable!
Amish Country Lanes Irish Chain Baby Quilts

| | |
| --- | --- |
| Estimated Price | $320 |
| Sizes Available | 43" x 57" |
| Colors Available | Soft Pastels and White |
| Origin | Lancaster County, Pennsylvania, USA |
Amish Country Lanes' Origin and Manufacturing Locations
Amish Country Quilts was founded by Arlene and John Volk in 2000 and has been one of the most trustworthy and reliable places for individuals in search of quality Amish-made goods living outside of Amish Country, Pennsylvania, to purchase handmade, quality quilts directly from Amish Country. Having shipped quilts all over the country and abroad, Amish Country Quilts has developed relationships with the best quiltmakers in the country, and no, they've never thought of shipping their jobs overseas!
Since its establishment in January 1974, Amish Country Quilts has grown from a small, home-based business to a worldwide marketplace where talented American quiltmakers directly offer their quilts for sale. John and Arlene Volk ran the marketplace successfully for quite some time, and after it got its roots put into the community, they reduced their role in the day-to-day business operations in January 2014, allowing the talented Amish quiltmakers the ability to run their own businesses and to be empowered by the marketplace that had since riled up a worldwide recognizable reputation as quality workmanship at a fair price.
In May of 2017, Doug and Shiree Stuart purchased Amish Country Quilts with the goal of not only wanting to sustain the current infrastructure but growing the presence of a quality online quilt business, which dawned a website, a first for the old-school Amish marketplace but very much so helpful in spreading the news of the excellent quality and craftsmanship going on there. By purchasing a quilt from their website, you are actually buying it directly from the quilt maker who listed the quilt which ensures a unique handmade product each and every time!
What We Like and Don't Like About Amish Country Lanes Quilts
A classic quilt like the Irish Chain will always be my favorite. My favorite aspect of this quilt is its pastel fabrics. I love the little white dots on the white fabric on the front. A pink and white dot fabric covers the quilt's back. It complements the quilt well. Artist Connie Lapp pieced the top of the quilt, and her mother beautifully quilted it by hand. If made into a baby quilt, it would make a special gift that will be treasured forever!
Overall, I am extremely satisfied with the quality of the quilts coming out of this marketplace. Your results may vary because, of course, there are many different quiltmakers you can choose to buy from, and I couldn't possibly afford to buy one from everyone, but I do know that the marketplace prides itself on great customer satisfaction, and I don't think they'd allow for subpar performance to drag down their longstanding reputation.
Who We Recommend These Quilts For:
There are many artists who list their quilts on this website, so it's not uncommon for people with entirely different tastes to come across something they may enjoy. We loved the variety in materials and colors, and patterns that are available. It's nice to see such a website put together as most artists do not get such exposure for their arts or crafts. These quilts are affordable, beautiful, and made right here in the USA.
Laundry Basket Pre-Cut Fabric Quilt Kit (Great DIY Quilt Kits)

| | |
| --- | --- |
| Estimated Price | $250 |
| Materials Used | 100% Cotton |
| Sizes Available | 72½" x 72½" (finished) |
| Colors Available | White with green and blue |
| Origin | Oxnard, California, USA |
Laundry Basket's Origin and Manufacturing Locations
Edyta Sitar got started in textiles at an extremely young age, an age I doubt I'd trust myself using any kind of tools or sharp objects when she crafted her first little creative project out of her mother's drapes. I know if I did that, I'd be in deep trouble, but I think Edyta Sitar was born into a family that could recognize talent, and thus, a talented quiltmaker was in the midst.
Edyta's designs come in many flavors, and she describes her brainstorming sessions as her avenue to release her passion, becoming a conduit to express herself about the items or occasions of her environment through her quilting!
The Laundry Basket Quilt Company, led by Edyta Sitar, is honored to continue on with a family tradition that has seamlessly woven fabrics and threads together throughout multiple generations. Through her elegant pieces of work, books, tutorials, workshops, classes, and formal presentations, Edyta demonstrates her exemplary knowledge and candid artistry to those curious.
What We Like and Don't Like About Laundry Basket Quilts
It's made abundantly clear when dealing with this brand that it was started by someone with a deep passion and love for the industry from a young age. Her craft has been honed throughout the years and every single piece delivered is just simply an art piece. Sure, you can find a myriad of beautiful quilts with passionate designs all over the market, but to find quilts as finely crafted and well-thought-out as what you get here from an American talent, well, that's something special and very uncommon.
Furthermore, if you're feeling artsy and crafty, you can buy a bundle kit from them and use her tutorials to learn how to craft your own quilt! Perhaps when I take a hiatus from blogging, I think I'll give this a go as I always love learning new skills and techniques.
Who We Recommend These Quilts For:
If you're looking to get into quilting, this may be the perfect first step for you! These quilting kits are perfect for a beginner. If you're not into DIY and crafting, Edyta occasionally has quilts for sale on her website or can be contacted to commission a piece for your home or for a gift. These quilts are for those who truly love the artsy aspect of quiltmaking!
Forever Amish Made Quilts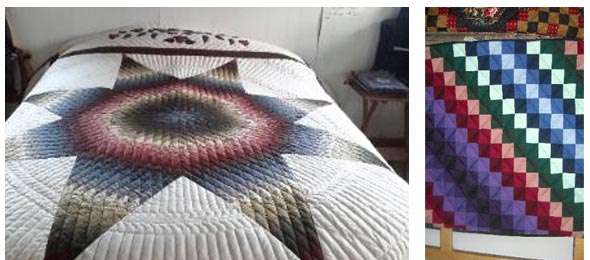 | | |
| --- | --- |
| Estimated Price | $70 |
| Materials Used | 100% Cotton |
| Sizes Available | The quilt is 40" x 60" and folds into a pillow that is 12" x 12" |
| Colors Available | Black and White |
| Origin | Lancaster County, Pennsylvania, USA |
Forever Amish Made's Origin and Manufacturing Locations
Have you heard of a Quillow?
A quillow is a quilt that tucks into itself and ends up looking like a pillow, it's a lot like the transformer of the quilt world! I had one in high school that my grandmother made and had completely forgotten about until I stumbled upon this handmade gem!
Since 2012, Forever Amish Made has been finely handcrafting beautifully made and very much so loved quilts that have gotten quite the reputation over the years. With Forever Amish Made, there is a wonderful selection of quilts, quilts, baskets, baby blankets, storybooks, and dolls that are authentic Amish products from Lancaster, Pennsylvania. Each product found here is sourced directly at Lancaster's Amish Country farms and small businesses to procure these handmade treasures.
What We Like and Don't Like About Forever Amish Made Quilts
Handmade in Lancaster Country, PA, an area I am personally familiar with, this Quillow is stunning and makes for a very fun gift to a curious child or an inquisitive best friend. When in its folded and compact mode, the pillow is 12×12 inches, and when opened up into cozy quilt mode, this lap blanket-sized piece of art measures 40×60 inches. This is an authentic hand quilted by an Amish lady that Forever Amish More knows personally, so you know you're getting a beautiful handmade product. These quillows are fluffy and not flat, which is usually a sacrifice needed to make them work the way they do, but not with this one, as it has a perfect balance of thickness for its various use cases.
Who We Recommend These Quilts For:
These are perfect for a dorm room, beach house, camping, or a small cottage as they serve dual purposes. Of course, they are great for the home as well, but I actually really like the idea of these being a travel companion of mine! They make for a lovely gift, especially if you get them in a set of two! As a teenager, I loved mine for my bed because it could be used as a pillow for sitting up and studying or as a lap blanket while reading.
Wrap Up:
That does it for this article, we hope you enjoyed it. Let us know if you know of any great quilts that we missed in the comments below, and we will consider adding them!
Hi, my name is Kevin and I'm from Pittsburgh, Pennsylvania. Choosing products made in America is important to me because it supports local economies, creates jobs, helps the environment, and ensures ethical labor practices. I also find that American made products are usually of higher quality so although they're a little more expensive, you save money in the long run. Before starting this website I was in the USMC infantry and nowadays I work on this website as a hobby.