Toothpaste is a crucial part of our daily lives, fitting seamlessly into our morning and evening hygiene routines ensuring we keep our pearly whites nice and healthy. While it isn't designed to be ingested, toothpaste is designed to leave a protective residue on your teeth acting as a protective barrier for your enamel and against cavities while breaking down stains and plaque.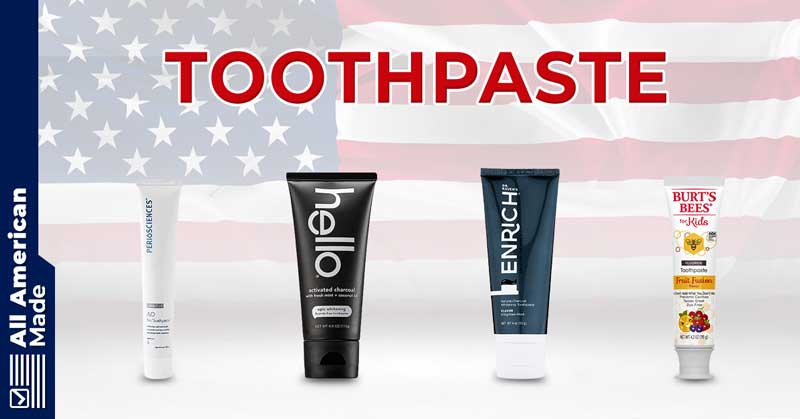 Because of the possibility of ingestion and the frequency of which you use it, it's absolutely vital to choose a toothpaste that you can trust the ingredients and manufacturing processes, which leads us into recommending American made toothpaste brands due to their strict adherence to regulations as well as outstanding reputation.
In this article, we'll be covering the highest quality toothpaste available on the market today. As always, these products are proudly made in America, bringing you the peace of mind and trust you need for long-term daily use. So without further ado let's take a look at some of the best toothpaste made in the USA.
List of American Made Toothpastes
Tom's of Maine Whole Care Natural Toothpaste

| | |
| --- | --- |
| Estimated Price | $20 |
| Flavors | Wintermint, Cinnamon, Peppermint, and Spearmint |
| Type | All Natural, Fluoride Finish |
Product Origin and Manufacturer Information
Tom's of Maine is proudly created and manufactured in Sanford, Maine. The company was founded by Tom and Cate Chappell, who were passionate about bringing all-natural products into the global consumer market. The company launched in 1970 and was one of the first personal care products to explain the use behind every product chosen through the manufacturing process. The company was acquired by Colgate in 2006 but has preserved the ethical and responsible focuses that it has always upheld.
What We Like About This Toothpaste
Tom's of Maine has been a favorite in my household – always. Growing up, my family was very careful about what we were exposed to in our diet and personal care products. Tom's was one of the most trusted on the market at the time and has maintained its American manufacturing processes throughout the years.
Tom's uses all-natural ingredients to help flavor their toothpaste. Because of this, the finish always feels clean and crisp – especially with the Wintermint flavor! When you buy this toothpaste, you won't have to worry about the bitter aftertaste of fake flavors and sweeteners that you may experience with other products. Instead, you'll be left with a smooth and clean finish that will keep you fresh – all day long.
This product comes in a pack of three to keep you covered for longer and save you time from taking trips to the store. The convenience of Tom's offering their products on Amazon is one of the main perks of the product, letting you purchase either single or bundled products.
Tom's of Maine oral care products help your body to lean into what it does best naturally, promoting the remineralization of your teeth after each use. This will help keep your teeth healthy and strong for even longer.
The product is not tested on animals, as Tom's is committed to ethical sourcing and clean product creation – from conception to execution. The toothpaste is natural and completely free of preservatives, fillers, and artificial flavors. If you're looking for a clean toothpaste option for you and your family, look no further than Tom's of Maine Wintermint Toothpaste!
Hello Oral Care (Charcoal Toothpaste)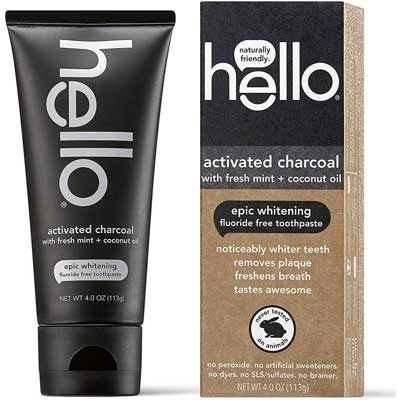 | | |
| --- | --- |
| Estimated Price | $10 |
| Flavors | Coconut Oil Mint |
| Type | All Natural, Charcoal Based |
Product Origin and Manufacturer Information
Hello was launched by Craig Dubitsky, the creative mind behind the prevalence and success of Eos – another personal care brand specializing in shave butters, lotions, and lip balm. After his time at eos, Craig was convinced that there was a better way to consider global oral health. He sought out to create the best oral products on the market – and that's how Hello was born!
From its inception in 2013 to present, all Hello products are created and produced in the United States. Hello was such a hit that it went from the first production batch to national store shelves in the span of 6 months from its formation and creation.
What We Like About This Toothpaste
One of the factors that initially stood out to me about this product was the affordable price point. Often, specialty toothpaste or charcoal formulations can be more expensive than their simply formulated counterparts – but not with Hello!
The company is modern and forward-thinking. They have created a unique environment for their employees that focuses on responsible sourcing, a commitment to naturally sourced ingredients and quality, and that leads to amazing product creation. From their Chief Greeting Officer (hint, it's their pup, Harbor) and their quirky, engaging branding, Hello is perfect for users of all ages.
Hello is a vegan product, and has a focus on the reduction of animal cruelty. It has garnered both PETA and Leaping Bunny recognition and is one of the purest oral care products currently available on the market.
Something unique about Hello is that on the back of each product, you will see a lot of parenthetical statements next to each ingredient listed. This caught my attention, as with other brands I am often met with multi-syllable words and chemicals that I am not familiar with. Hello wants to be as transparent as possible with consumers, and uses those parenthetical statements to indicate the purpose of each ingredient used in the product formulation. That way, you can buy in complete confidence.
For those consumers who are concerned about the use of fluoride in product formulation, Hello doesn't use fluoride in this product at all. It is noted publicly to be fluoride-free, relying on the natural cleaning and whitening properties of charcoal to give you the best possible result. Charcoal has also been known to freshen your breath and work against common mouth bacteria, even after you do your final rinse.
The formulation is gentle throughout the cleansing process and is noted to be SLS-free. SLS stands for sodium lauryl sulfate, which can create inflammation and irritation to the gumline. Many products choose to incorporate SLS-based agents into their products, but Hello wanted to be as accessible as possible – keeping you comfortable as you maintain your oral health.
This product is considered to be one of the most accessible and easy to use on the market, no matter what limitations or goals you face with your oral health. If you are looking for a clean alternative to regular market brands, consider trying out Hello products!
Cali White Activated Charcoal Whitening Toothpaste (Vegan Choice)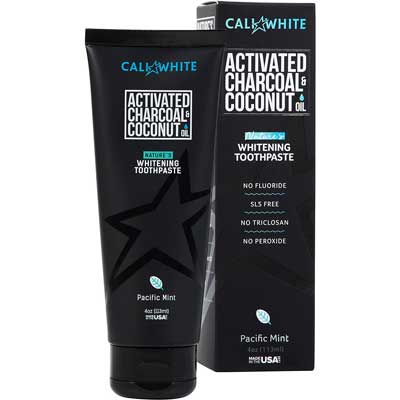 | | |
| --- | --- |
| Estimated Price | $14 |
| Flavors | Coconut Oil Mint |
| Type | All Natural, Charcoal Based |
Product Origin and Manufacturer Information
Cali White was developed by Jackie and Casey – a married couple who had been in the market for a safe and all-natural toothpaste option that just hadn't been created yet. Casey watched his wife, Jackie, battle an autoimmune illness. This greatly limited what she was able to safely use and ingest. Jackie was a dental hygienist and was wanting a different alternative that fit her unique oral care needs. Casey was on the case and developed the Cali White oral care line.
The product grew in popularity and was featured on large-scale purchasing networks such as QVC. They have crafted a very loyal brand following and uphold their commitment to natural product lines, American sourcing and manufacturing, and total transparency.
What We Like About This Toothpaste
If you're looking for a clean toothpaste alternative, Cali White is formulated just for you! I was pleasantly surprised to see the amount of care that Cali White puts into their product line. Each product is chosen with intentionality and a dedication to clean oral health. This toothpaste is a naturally powerful tooth cleanser and free of fillers and chemicals. This brand is proudly SLS-free, to be friendly to irritated gums and sensitive teeth.
In every bottle, you receive the whitening power of charcoal without the added irritant of peroxide. In many whitening kinds of toothpaste, you'll find peroxide to enhance the process and deliver quick results with each use. The downsides of peroxide outweigh the benefits – as it has been known to cause tooth sensitivity. Cali White has formulated the charcoal mix in order to deliver real results that you can see in as little as a few weeks of consistent use.
If you suffer from severe gluten allergies, this toothpaste is certified gluten-free, as well as kid-friendly, vegan, and cruelty-free. That is a significant benefit, as many toothpaste brands are not safe for children to use as well – leading to unnecessary spending on multiple tubes of different kinds of toothpaste.
You won't experience the bitter taste so often found in natural alternatives. Cali White uses natural cleansers that have a neutral (or delicious!) taste – such as Diatomaceous earth, Peppermint oil, and Tea Tree oil. You'll be left feeling fresh for hours, and no mess to clean up in your sink from loose powders or blends.
Cali White was formulated with dental health in mind and went so far as to get an RDA score. RDA is a Relative Dentin Abrasiveness score formulated by hygienists and other dental professionals. The score was low on the scale, a reported 114 – showing as safe for lifetime use. With this assurance and its kid-friendly formulation, Cali White is a great alternative toothpaste option for your family.
The product has rave reviews on Amazon, with over 40,000 proven purchases. Many customers chose to post pictures demonstrating the power of Cali White toothpaste in removing even the toughest stains from coffee and food.
If you're looking for a family-friendly option for all-natural, chemical-free whitening toothpaste, look no further than Cali White!
Dr. Raven's Enrich Nano Hydroxyapatite Toothpaste (Remineralization Choice)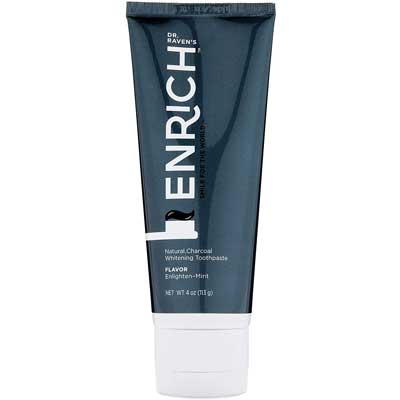 | | |
| --- | --- |
| Estimated Price | $20 |
| Flavors | Mint |
| Type | All Natural, Charcoal Based |
Product Origin and Manufacturer Information
Dr. Raven started his brand right in the heart of Utah – on a mission to bring his children responsible and effective oral care products. Dr. Raven wasn't satisfied with the other kids choices on the market – full of chemicals, fluoride, and other less-than-savory ingredients. The oral care products from the Dr. Raven brand are his labor of love as he creates oral care products for children around the globe. The product line has found great success not just in the United States, but abroad as well, as it transitioned from being a local artisan product to a global brand.
What We Like About This Toothpaste
Dr. Raven's products are not only focused on prevention and protection for you and your child's oral care health, but they also have a heavy emphasis on rebuilding what may have been lost from poor oral habits and years of sugar consumption. This specific product has remineralization properties and is infused with hydroxyapatite to help strengthen the teeth.
You may be asking yourself – why hydroxyapatite? Hydroxyapatite is a safer and less agitating alternative to fluoride. If you have sensitive teeth, this is the perfect solution for you – with the potential of lessening the sensitivity over time with consistent use.
Bad breath comes from an overgrowth of bad bacteria in your mouth and gums. This product is formulated to stop bacterial growth before it begins, utilizing key vitamins and minerals to strengthen your oral health and fight cavities before they begin. You'll also enjoy the fresh taste of other natural ingredients, such as freshening Tea Tree oil and bright Peppermint infusion.
I was excited to see that Dr. Raven's products give back to local communities. On their product pages on Amazon, they state that they donate 3% back from all product profits into the global oral care community, serving those in underserved areas. That was the first time that I saw any philanthropic effort from an oral care brand, and it was nice to see!
The toothpaste has built a loyal following, with customers reporting a reduction in craze lines (those pesky lines that can build up with the loss of enamel in your teeth) and whitening in just a few short uses. If you want a fast-acting whitening toothpaste that is all-natural, quick, and professionally formulated, consider trying out Dr. Raven's products.
Perioscience Sensitive Toothpaste (Sensitive Care Option)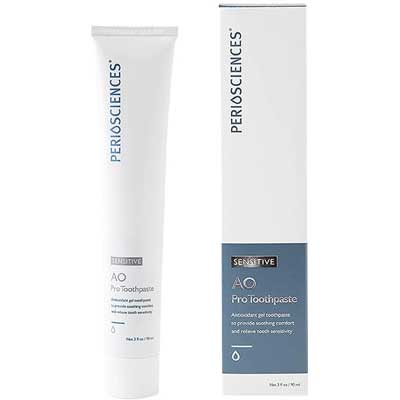 | | |
| --- | --- |
| Estimated Price | $25 |
| Flavors | Cool Mint |
| Type | All Natural, Formulated for Sensitivity |
Product Origin and Manufacturer Information
Perioscience was founded in 2012 with the goal of providing completely natural and safe products that would cater to the oral health and conditions of a variety of purchasers. There was limited toothpaste on the market that would be specifically for those with oral health problems, such as dry mouth. The current offerings were far from natural and pumped full of chemicals and other problematic agents. Perioscience took the opportunity to formulate and market all-natural and effective alternatives, helping others to take back control of their oral health – one brush at a time.
What We Like About This Toothpaste
When I first encountered this product on Amazon, I was pleasantly surprised – it is the first toothpaste on the market that is designed to work with your body's natural processes to address common oral health problems, such as bad breath or dry mouth. Perioscience has poured time and resources into researching what oral compounds are present in individuals with those conditions and has crafted synergistically oriented oral health products that work in a complementary way with your body's natural processes.
This product utilizes hydroxyapatite in conjunction with fluoride to build back enamel on your teeth – and inhibit sensitivity by strengthening your teeth from the inside out. If you are struggling with oral sensitivity, these two powerful compounds can be an excellent place to start when it comes to caring for your oral health.
Perioscience toothpaste products are fortified with naturally occurring antioxidants, which act as catalysts for other chemical compounds in the toothpaste and that occur in your mouth. This helps each ingredient to carry maximum impact as you use the toothpaste regularly. They are also completely natural and harmless to your teeth.
If you are concerned about fluoride, the product also incorporates renowned soothing elements such as allantoin. This helps counteract any inflammation that can come from sensitive or swollen gums and assists your body in supporting its natural anti-inflammatory processes.
Thanks to the incorporation of hydroxyapatite, you will experience the benefits of whitening and overall strengthening of your tooth – without the bitter taste or mess that charcoal can leave behind. This is a taste-friendly and very efficient way to whiten your teeth and smash your oral health goals.
While the price point is higher than what you would normally find on the market, it is completely natural, formulated to work with you, and designed to better your oral health over time. This is a significant investment in your oral care routine, but could result in fewer trips to the dentist – and more time actually living!
Boka Ela Mint Natural Toothpaste (Flouride Free Option)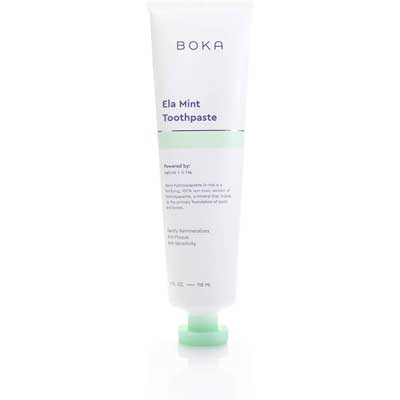 | | |
| --- | --- |
| Estimated Price | $17 |
| Flavors | Mint |
| Type | All Natural, Cavity-Reversing |
Product Origin and Manufacturer Information
Boka Ela was founded in 2016 by founder and CEO James Hagan. Hagan was committed to creating products that encouraged transparency in ingredients and responsible sourcing. Hagan had suffered from autoimmune diseases in his lifetime and was looking for solutions in all of his daily use products that would help him to reduce or eliminate inflammation from his life. Boka was launched as he discovered the implication of the human oral microbiome as it relates to long-term health and chronic health conditions. Something as simple as compromised oral health could cause a lifetime of worsened symptoms – and with that, Boka was created with the mission of better overall health for everyone.
What We Like About This Toothpaste
Boka Ela incorporates unique elements and chemical compounds that are designed to help your teeth naturally regenerate lost enamel and strength. The brand's claim to fame lies in the incorporation of nano-hydroxyapatite, a compound that was formulated and used by NASA in the 1960s-1970s. This specific chemical assists in remineralization processes, and can also help to fight cavities and reduce tooth craze lines.
Boka even claims that their products are designed to reverse microcavities with their revolutionary formula. If you or a loved one suffers from frequent cavities despite good oral hygiene practice, it's likely that you need a more powerful cleanser packed with the power of remineralization – and Boka is the ideal product for you.
The product is completely non-toxic, which is more than many other kinds of toothpaste can claim. It is designed to be biodynamic and adapt to your unique oral biome, making it prebiotic friendly and filled with antioxidants to enhance your cleansing process. Prebiotics can get washed away with normal cleansing practices, which is why this claim is so important. Keeping a balanced oral biome can keep cavities at bay, reduce inflammation in the gums, and promote overall strong oral health.
This product is entirely vegan friendly and also cruelty-free, avoiding animal testing and showing the brand's commitment to ethical production. The flavor isn't too strong, as is the risk with other brands. Instead, it is a lightly springy mint flavor, with natural earthy undertones of cardamom and antioxidant-packed green tea.
Hello Antiplaque and Whitening Toothpaste (Gluten Free Option)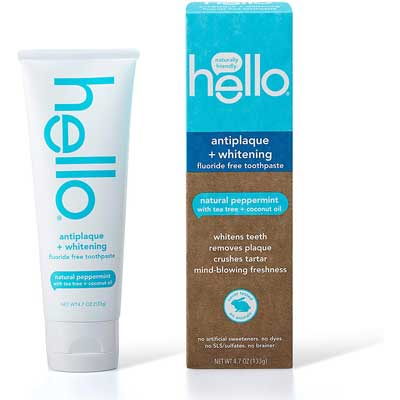 | | |
| --- | --- |
| Estimated Price | $20 |
| Flavors | Peppermint |
| Type | All Natural, Anti-plaque |
Product Origin and Manufacturer Information
Hello was founded by Craig Dubitsky, the same creative mind behind the eos brand success. Craig wanted to take another step into personal care product lines and launch an ethically-minded and all-natural alternative to the current oral care products on the market. His drive for transparent formulation and business practices took Hello to national shelves in just a mere six months after its inception. Hello has been made in the USA since the company was founded in 2013 – and continues to produce one of the highest quality oral care solutions on the market.
What We Like About This Toothpaste
Many toothpaste formulations aren't specifically formulated to help those who struggle with excessive plaque buildup – so I was pleasantly surprised to see this addition in the Amazon marketplace! Hello prides itself on its accessible price point, and this was no exception – a pack of four can be found for between $15 and $20.
Despite the lower price point, Hello doesn't compromise on the quality of the ingredients used in its formulation. It is free from all of the common offenders and causes of increased oral inflammation, such as parabens, dyes, flavors, gluten, and even microbeads. Hello just provides the power of natural products behind each use – relying on Tea Tree oil, Coconut oil, and naturally sourced Peppermint oil to give this product that all-day fresh feeling.
As with the other types of Hello products, this product is leaping bunny certified and completely cruelty-free. You can feel good about your purchase when you choose to purchase with Hello! With over 5,000 ratings and countless before and after case studies, Hello wants to make sure that you feel fully confident with each purchase. Their commitment to product use transparency shines through with explanatory product lists, farm-to-tube promises, and a remarkable lack of chemicals in every formulation.
If you're looking for something to revitalize your oral care routine, give Hello antiplaque products a try. They are safe for daily use and leave you feeling completely rejuvenated – every time.
Burt's Bees Kids Toothpaste (Kid's Choice)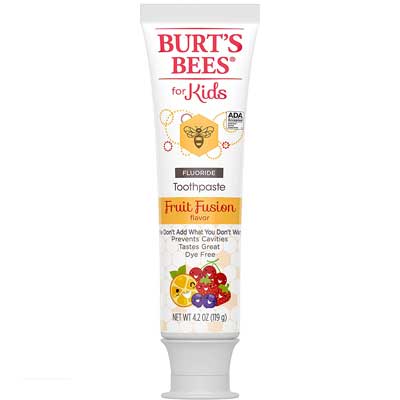 | | |
| --- | --- |
| Estimated Price | $16 |
| Flavors | Fusion Fruit |
| Type | All Natural, Cavity Prevention Formulation |
Product Origin and Manufacturer Information
Burts Bees launched in 1984 in the sunny hills of Durham, North Carolina. Since its launch, Burts Bees has formulated all products naturally and responsibly – proudly made in America – and has launched into an internationally recognized brand in the natural personal care space. Their main focuses since they launch are simple – just like their branding. Burts Bees is committed to providing recyclable, ethical, responsible, and sustainable products that are completely natural and safe for all bodies.
What We Like About This Toothpaste
I've been a longtime fan of Burts Bees for other personal care products and was excited to see them enter into the world of oral care. The formulation is meant for child's use and is completely free of microbeads, dyes, and artificial flavors. Burts Bees has maintained its commitment to clean products where it counts most – for the kids!
The line comes in a fruity and sweet fruit punch flavor that is tasty for the pickiest of palates and will make your kid excited to brush their teeth once again. The toothpaste is fluoride-free, which will help your kids have an easy brushing experience. Fluoride can cause irritation, which is why many brands have chosen not to include it.
The formulation is also made without sodium lauryl sulfate, which is an extra benefit as it will keep gum irritation and tooth sensitivity at bay.
My children love the taste of these personally and I won't buy any other brand. Burts Bees has been a trusted natural name for decades – and has made top-of-the-line oral care products for our most important group of users – our children.
Arm & Hammer Advance White (Great Whitening Toothpaste)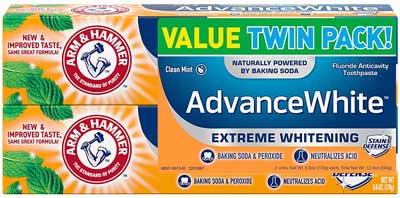 | | |
| --- | --- |
| Estimated Price | $11 |
| Flavors | Mint or Unflavored |
| Type | Extreme whitening |
Product Origin and Manufacturer Information
Arm and Hammar is one of the oldest USA-based manufacturers that is still fully operational and has expanded to a large internationally recognized brand. Arm and Hammer was founded two centuries ago in 1846, marketing the newly-popular sodium bicarbonate compound. In that time, people used baking soda primarily for baking – but brothers Austin Church and John Dwight saw a brighter future.
Going forward into the 1960s, Americans began to popularize alternative uses for sodium bicarbonate, such as deodorization and more. Arm and Hammer have proudly formulated and manufactured their products in the United States and continue to do so through the present day. The York, PA manufacturing facility is the largest of which their toothpaste are made!
What We Like About This Toothpaste
Arm and Hammar products are known for their power, across the cleaning realm, and into personal care. Arm and Hammer has created a variety of personal care products, including deodorant, soap, and toothpaste. This toothpaste caught my attention thanks to the familiar product packaging and the assurance on the pack – Extreme Whitening.
Often, consumers want a product that works well into their personal care routine – seamlessly inserting itself, and often serving multiple functions. This toothpaste has the versatility and efficiency that you need, working overtime to keep your breath fresh, micro bacterial growth at bay, and whiten your teeth as you go about your day.
An added benefit of this product is that it comes in a "no flavor" option, which can be very helpful to consumers with taste preferences and sensitivities, as well as those with sensory issues. Tastes in toothpaste can often be overwhelming, and Arm and Hammer came up with a creative solution to a prevalent problem.
The AdvancedWhite formula from Arm and Hammer helps to protect your natural enamel by neutralizing harmful acids and stains that can lead to cavities and sensitivities. This option is boosted with fluoride and peroxide to get in the harder-to-reach places in the gumline and actively fight cavities and tooth decay – even after you're done brushing!
With over 34,000 five-star ratings, this is a solid choice to consider if you're looking for a tough-on-stains and quality teeth whitening system in the convenience of your morning and evening toothpaste.
Arm & Hammer Peroxicare Toothpaste (Great Bang for Your Buck)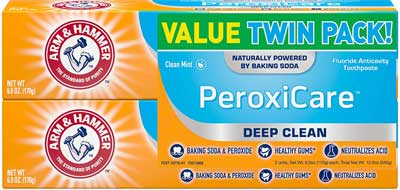 | | |
| --- | --- |
| Estimated Price | $10 |
| Flavors | Mint or Unflavored |
| Type | Peroxide Care Formula |
Product Origin and Manufacturer Information
From the 1800s to the present day, Arm and Hammer has created unique and high-quality care options for your hygiene needs. They are one of the major market sellers of sodium bicarbonate and have been leading the field in showing the population all of the different benefits that baking soda can bring. Their current focus is creating accessible and effective solutions for commonly found issues for every consumer – and you have the quality guarantee of their made in America promise.
What We Like About This Toothpaste
When I encountered this product on the Amazon store, I was most excited to see the affordable price. For a twin pack, you can buy the set for $5.99-10.99. This is more affordable than other brands, but it doesn't skimp when it comes to quality and ease of use. For many who can't afford complex whitening systems or don't have the time to extend their morning and evening care routines, this type of product can be a great alternative.
Arm and Hammer have poured money into research to deliver clinical promises to their consumers. This product has been shown to enhance your gum health, even if you struggle with oral complications such as gingivitis and inflammation.
With the power of Flouride and baking soda, you can rest assured that even the most stubborn stains will be removed with ease and frequent brushing – helping to whiten and protect your teeth from invasive bacteria and cavities.
Peroxicare is a great choice for sufferers of halitosis, using the natural ability of peroxide to freshen breath all day long. Peroxide works even after brushing your teeth, killing harmful bacteria and adding to the whitening process.
This is a great choice if you're looking to feel fresh all day long, and want to take your oral routine to the next level.
Wrap Up
We've been asked over and over, what toothpaste is made in America? This question initially struck us as a very interesting query because we usually receive requests for items where the build quality and durability matters most, but it's interesting to note the health guidelines and manufacturing quality of goods we consume and rely on for our health as well. Using toothpaste made in the USA is definitely a worthwhile endeavor as the American toothpaste brands seem to adhere to some of the most strict guidelines, ensuring your pearly whites stay healthy and strong.
If we've missed a great brand or you've had a positive experience with any of the US made toothpaste options on the list, feel free to let us know in the comments below!
Hi, my name is Kevin and I'm from Pittsburgh, Pennsylvania. Choosing products made in America is important to me because it supports local economies, creates jobs, helps the environment, and ensures ethical labor practices. I also find that American made products are usually of higher quality so although they're a little more expensive, you save money in the long run. Before starting this website I was in the USMC infantry and nowadays I work on this website as a hobby.