Culinary art is something we Americans take very seriously, and there's nothing that can muck up your favorite fried recipes quicker than low-quality pans. When it comes to equipping an American kitchen for our myriad of favorite fried concoctions, it's no secret that American-made frying pans are a staple of trust and reliability.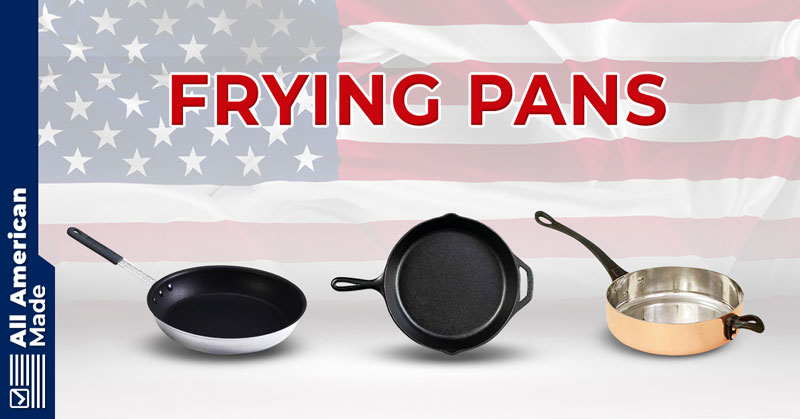 In this article, we'll be covering the highest quality USA-made frying pans at each price point. There are also many different types of frying pans, so we will be sharing our favorites in each category.
List of American-Made Frying Pans (All Types)
Heritage Steel Frying Pan (Most Popular)

| | |
| --- | --- |
| Estimated Price | $85 |
| Size | 8.5, 10.5, or 12 inches |
| Colors Available | Stainless Steel |
Company Origin and Manufacturing Locations:
Heritage Steel is a company that's truly committed to the elegance of design, preservation of utility, and providing you with the quality, you expect from American-made goods. Their proprietary manufacturing practices ensure that you get the highest quality of flavor and the most elevated cooking experience possible. They are proud to be American-made and consider it to be an opportunity to work alongside fellow neighboring vendors and artists to deliver the quality that you deserve.
John Martelli has run the Tennessee-based plant for over 40 years, leading the company to one of the top spaces in the market for quality American-crafted kitchen equipment and cookware. Heritage Steel has evaluated the needs of the market over the past few decades and prides itself on rising to the occasion every time. We've really been impressed by the evolution of their products and find them to be extremely high quality.
What We Like About This Frying Pan:
When I first saw this pan, I was blown away by the elegance of design that you see at first glance. I decided to look into it further and was immediately struck by the care that Heritage Steel pours into each product. For their stainless steel sautee pans, Heritage has created an entire line of differing sizes. That means that you can choose from a variety of sizes from 8" inches to 12" inches. Each one of these pans provides added utility to your kitchen and would be good for different types of dishes.
This pan comes with a five-layer metalwork design, incorporating three separate layers of aluminum for the best and most efficient heat preservation and distribution patterns across the food. The titanium-reinforced steel is used on the outside of the pan and will help to retain the pan's beautiful shine throughout frequent, even daily use. The use of titanium and the utility of design also make this pan the perfect choice for any dish, whether you plan to cook it on a gas stove, electric stove, or induction stove. You can even use this as an oven-safe frying pan option to finish off your meats with a beautiful broil.
The handle is designed to ergonomically support your grip and is reinforced so that you don't ever have to worry about any dysfunction with hot foods. The lightweight design of the pan doesn't detract from its overall ability to deliver the quality results that you need in the kitchen – every time.
The titanium inclusion and reinforcement on the pain provide additional benefits beyond versatility. The material is corrosion-resistant and safe for daily consumption. It also offers additional non-stick capabilities that will make cooking a breeze. There are no added chemicals or other additions, which help to preserve the true taste of your food and make for a much easier cleaning experience.
The beauty of this frying pan is courtesy of a true master of the craft, John Martelli, and his team. They have worked in the business for over 40 years and confidently offer a lifetime warranty on each and every product. This is because they know the quality that American products deliver and want to ensure that you buy in confidence. Overall, this is easily one of the best USA-made frying pans out there right now.
Here is a video explaining how Heritage Steel frying pans and other types of cookware are made if you're interested. The video also gives you an inside look at their manufacturing facility.
Made In Stainless Steel Frying Pans (Great Quality)

| | |
| --- | --- |
| Estimated Price | $80.00 |
| Size | 8, 10, or inches |
| Colors Available | Stainless Steel |
Company Origin and Manufacturing Locations:
Made In comes from a rich family history immersed in creating quality cookware solutions that are sure to enhance your kitchen experience. Their commitment to excellence and relentless drive to create quality American-made products has led to the company's massive success, including contracts with Michelin-starred chefs and restaurants and rave reviews from over 20,000 home cooks across the country.
The owners, Chip and Jake, have released several diverse lines and committed themselves to maintain their standalone model. This ensures that the capital they make with each purchase is poured back into creating quality cookware that works for you – without giving cash flow to retailers and keeping costs high. If you're looking for quality and affordable cookware options, look no further than Made In.
What We Like About This Frying Pan:
When I saw that Made In had released several of its products on Amazon, I was excited to review them. The company is a popular choice for cookware among some of the most prominent names in cooking in the world, and they have made the products accessible enough for the home chef to enjoy.
The 8" inch aluminum pan has much to offer the average home cook, crafted from five layers of quality American metals. The flawless stainless steel exterior matches well with the aluminum core, offering you an aesthetically pleasing and effective cooking surface without compromising the pan's ability to hold and release heat. Beyond the added benefits of even distribution, the melding of the materials allows for you to cook however you want – whether you are broiling in the oven or pan-frying your favorite cut of meat.
While cheaply-made pans can transition the heat to other unwanted areas (such as the lid area and the handle of the pan) – you won't have to worry about that with Made In products. This pan specifically has a Cool Touch handle that is firmly affixed to the side via American-made stainless steel rivets. This keeps your hands from being burned while giving you a pan grip option that you can trust to stay cool…even when it's getting hot in the kitchen!
Certain stainless steel frying pan options do not allow you to cook efficiently on induction cooktops. Often, the heat's flashpoint is too hot for the pan to handle, which can result in melting, molding, or contamination of your food with harmful chemicals from the materials used. Made In products such as the stainless steel frying pan are crafted with 430-rated stainless steel, making this a safe option to use on your induction cooking surfaces.
If you're a home cook who enjoys finishing off your perfect dish in the oven for that unbeatable taste and crispiness, you're in luck. This pan is safe for use up to 800 degrees Fahrenheit, far beyond what normal home ovens can reach. You'll never have to worry about your pan being compromised by extreme heat thanks to the durability and quality craftsmanship of Made In's products.
The weight of this pan is minimal, making this an easy-to-use, ergonomic option for chefs of any age. The pan's tare weight rings in at a mere 3 pounds, making this an attractive and lightweight alternative without compromising on durability or conduction ability. The stainless steel construction is treated through proprietary technology and processes that allow it to be rust and corrosion-resistant. There is also a nonstick coating sourced from American-made products that are applied to stainless-clad products that are PFOA-free with your health in mind. These pans help home cooks to enjoy all of the benefits without an ounce of compromise, as it should be.
Nordic Ware 21221 Induction Fry Pan (Great Value)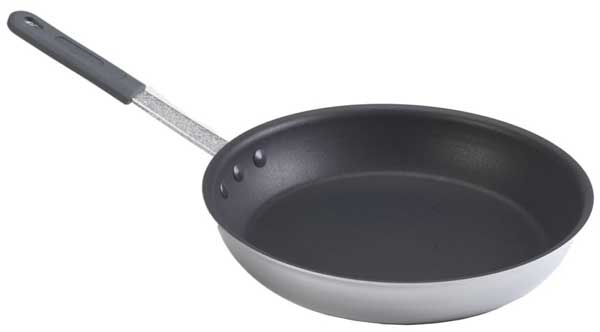 | | |
| --- | --- |
| Estimated Price | $45.00 |
| Size | 12" inches |
| Colors Available | Silver |
Company Origin and Manufacturing Locations:
Nordic Ware has served the community proudly since 1946 and has been an industry leader for a variety of cookware products over the decades. Currently, Nordic Ware has created several lines designed to streamline the process of home cooks across the world and has recently released several American-made holiday lines as well. Nordic Ware continues to provide a variety of quality cookware solutions.
What We Like About This Frying Pan:
This pan immediately caught my eye as an inexpensive and aesthetically pleasing option to add to my kitchen. The lithe construction and design don't compromise the overall product, which is crafted from aluminum with a carbon steel core. This allows the heat to disperse more evenly than competing brands and gets you a more even cook no matter what you're making.
This pan is energy-saver-safe and is safe for use across a variety of cook methods, including induction stove systems, electric stoves, and gas-based models. This makes for an easy option to grab for your next dinner or breakfast and gives you the assurance you need to cook confidently without fear of compromising the pan's integrity.
The material is heat-safe up to 400 degrees Fahrenheit, making this a perfect stovetop accompaniment to your other pans and pots. This is not safe for use in the oven if you plan to exceed the temperature limit, as this can damage your pan or compromise your meal.
The interior of the pan is treated to be non-stick, making this a strong option for both beginning cooks and seasoned veterans. This added benefit, along with the silicone handle, makes for the perfect daily use option to add to your kitchen.
Overall, this is one of the highest quality pans I've owned, and compared to other pans I owned in the past that were made overseas, it's much higher quality.
Popular Related Article: Our Favorite Cookware Made in the USA
Lodge Seasoned Cast Iron Skillet (Great Cast Iron Frying Pan Option)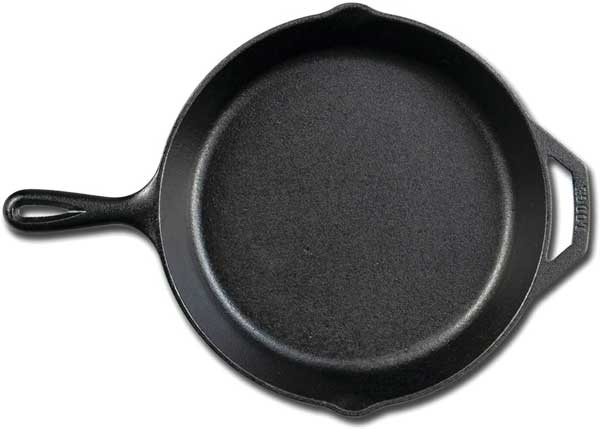 Check Price on Amazon
| | |
| --- | --- |
| Estimated Price | $40.00 |
| Size | 10.25" inches |
| Colors Available | Cast Iron (no additional color options) |
Company Origin and Manufacturing Locations:
Lodge has been well-known for producing quality kitchen cookware and accessories for over a century. Lodge operates out of Tennessee, where they own two family-owned foundries that have operated for the past 120 years. Their commitment to quality and American craftsmanship results in some of the best quality cookware and cast-iron products available on the market today. Their cookware has been known to last over multiple generations, unlike other brands, and maintains the same level of quality and reliability that you can expect from it as you would on the date of purchase.
What We Like About This Frying Pan:
It's uncommon to find a quality American-made cast iron option that offers you the benefits and versatility that Lodge does. The 10.25" inch option that they offer provides you with ample room for just about any cooking application – from shallow pan-frying and sauteeing to boiling and searing. This pan can do it all and pack the additionally added iron and sear benefits that you won't find with other pans.
The glass is also built with equal durability as the cast iron and has been tempered to be heat-resistant and shock-resistant for ultimate heat tolerance and utility around the kitchen – for any application.
While other cast-iron options are seasoned with chemicals and other substances that can potentially be harmful to ingest, your pan is seasoned with care and your health in mind. The seasoning choice that Lodge uses for all of their cast iron products over the years is 100% pure vegetable oil. This gives you an authentic safety coating on your pan that you won't have to worry about cooking on.
The seasoning choice is part of what helps Lodge pans withstand the test of time over generations of use. When you choose pans that are seasoned with 100% vegetable oil, it is designed to protect the pan and add additional seasoning benefits over time, unlike easily-wearing chemicals and fake coatings. You also will get the mouth-watering taste of pure char on any delicious meat option you decide to fry up and won't experience the burnt plastic taste that is all-too-common with cheaper pans.
The skillet is also made to be rust-resistant, which is done through an all-natural proprietary heating process, free of chemicals and additives. Unlike other cast-iron options which can be unhygienic or compromised by cleaning, the experts at Lodge have designed the seasoning ratio and system to work well with handwashing, using only gentle soap and water to get the clean you need for your next delicious recipe. Washing this way will not disrupt the seasoning, and it will leave the pan ready for the next use.
Lodge Carbon Steel Skillet Best Carbon Steel Fry Pan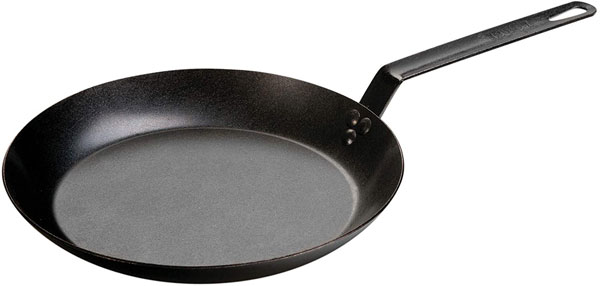 Check Price on Amazon
| | |
| --- | --- |
| Estimated Price | $55.00 |
| Size | 12" inches |
| Colors Available | Carbon Steel |
Company Origin and Manufacturing Locations:
For over a century, Lodge Cast Iron has been creating quality, American-made kitchenware that you can trust. Founded in 1896, the company has remained family-owned and operated for five generations. The original foundry still stands in Tennessee and remains fully operational one hundred years later. Lodge has been one of the top choices for kitchenware manufacturers and is proud to create cookware that can be passed down through multiple generations.
What We Like About This Frying Pan:
Carbon steel is one of the most popular materials to craft quality kitchenware from. When I came across this listing, I was excited to review it and finally see quality American-made carbon steel products on the market. The pan comes in a variety of sizes, including 8", 10", 12", and 15". This gives you the perfect amount of versatility that you need when working in the kitchen.
This pan is safe for use on a variety of kitchen surfaces where other pans may fail, including gas, induction, and electric stovetops. You may also choose to make delicious skillet recipes over open fire grills or outdoor grill surfaces. Many pans don't have the durability and features to be placed directly over an open flame without risking dangerous compounds leaching into the food. This is just another customer-centric feature that Lodge has taken the time to perfect.
You won't have to worry about chemical agents compromising your food. The pan is naturally seasoned with cooking oil that is completely safe to consume and will not compromise the features of the pan. The natural seasoning allows the pan to have the easy-release surface that chefs and home cooks adore without the sticky, dangerous nonstick coatings that can cause bodily harm.
Save time with the easy-care features of this unique product! Care is simple: all you have to do is hand wash with warm water, dry, and re-season using your favorite cooking oil. We really like that there are no harsh chemicals or rigorous cleaning procedures needed.
The craftsmanship is immaculate. The pan is crafted from 14 Gauge Carbon Steel and features an elongated handle with a proprietary shape that allows the heat transfer to be effective without risking harmful hand burns. You can enjoy the durability of the pan without the additional weight thanks to the innovative and feather-weight design elements.
If you're looking for the perfect affordable holiday gift, add this to your list. You won't regret this long-lasting quality pan for anyone on your gift list!
360 Stainless Steel Frying Pan

| | |
| --- | --- |
| Estimated Price | $85.00 |
| Size | 7" inches – 11.5" inches |
| Colors Available | Stainless Steel |
Company Origin and Manufacturing Locations:
360 Cookware is perhaps one of the most famous manufacturers on our list. This company has equipped over 60,000 kitchens with quality products that they can trust. The brand has also been featured on Martha Stewart, several news networks, and The Early Show on CBS for its innovation and utility with every design. The company is based locally in Wisconsin and seeks to create some of the finest American-made cookware options on the market.
What We Like About This Frying Pan:
This frying pan caught my attention thanks to the thorough nature of its design. It features a multi-core construction model and is made from surgical grade and dishwasher-safe alternative that is both safer to use and more environmentally responsible – a first from what I had seen in my frying pan research. Plus, I was excited to see that, unlike other pans, I could save time on cleaning by simply putting it in the dishwasher rather than spending time handwashing it.
The pan is ready for use in any kitchen situation, as it is created to be safe on induction stoves, gas, or electric stoves. It is also rated to be safe up to 500 degrees. This pan is designed to be the last pan that you will ever purchase. Each pan comes with a lifetime warranty to ensure that your satisfaction is guaranteed every time.
The company has a strong commitment to environmental wellness and has been recognized by the EPA for its efforts and initiatives in creating responsibly sourced and sustainable cookware options. The manufacturing process uses no chemicals and only uses a dry-sanding process to ensure that the surface is flawlessly smooth and ready for cooking. If you're looking for an affordable gift option for your friends and family, look no further than the 360 Stainless Steel Frying Pan.
All-Clad D3 Stainless Cookware, 12-Inch Fry Pan with Lid (Great Lidded Option)

| | |
| --- | --- |
| Estimated Price | $135.00 |
| Size | 12" inches |
| Colors Available | Stainless Steel |
Company Origin and Manufacturing Locations:
The company was started in Pennsylvania 50 years ago with one goal in mind – to create the highest quality pans possible. All-Clad helped to bring the fully-bonded design style to the current mass market and has continued to do so without compromise for half of a century.
Founder John Ulam was a metallurgist with over 70 patents to his name, making him a renowned name in the field. From this depth of experience, he wanted to experiment with cookware product creation. This simple idea soon grew into a large-scale company, completely created and distributed in the United States. The American-made factory still operates out of its Pennsylvania manufacturing plant.
What We Like About This Frying Pan:
The ease of use of this item for the quality and type of pan that this is is simply unmatched by others in the industry. The flat base makes for the perfect sautee-friendly surface, coupled with the evenly flared sides for the perfect pour of any delicious sauce or puree.
Versatility is something that All-Clad has distilled into an art form. The pan is crafted to be compatible with every type of cooktop, including gas, electric, or induction. The pan is also designed to be used in an oven and can withstand temperatures up to 600 degrees Fahrenheit.
Despite its size, you can be assured of even heat distribution thanks to its tri-ply construction that features a reactive aluminum core – making this the perfect vessel for your favorite dish. The pan is bonded entirely by two layers of flawless stainless steel that complete the heat distribution system and act as the perfect mechanism in tandem with the other design elements.
The surface is finished with what is known as a starburst finish, enabling the pan to be stick resistant without the added risk of heat-sensitive chemical agents to keep it that way. The finish is designed to leave food completely unaffected, ensuring that you get the best eating and cooking experience possible.
This pan is the perfect gift for any occasion: The holidays, birthdays, celebrations, weddings…your friends and family will love the American-made quality that All-Clad brings with every single use.
USA Pan Cookware 5-Ply Stainless Steel 8-Inch Sauté Skillet (Great Sautee Skillet)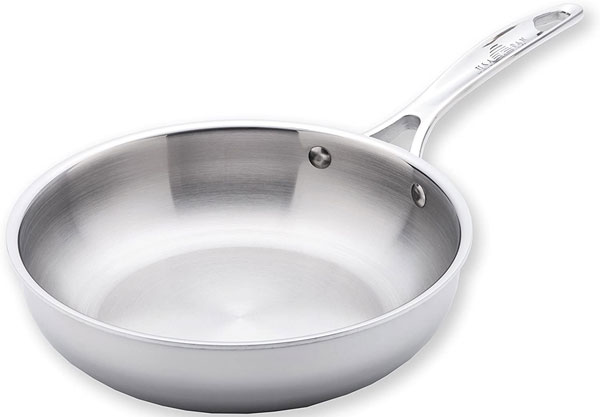 | | |
| --- | --- |
| Estimated Price | $65.00 |
| Size | 8" inches, 10" inches, 13" inches |
| Colors Available | Stainless Steel |
Company Origin and Manufacturing Locations:
USA Pan was founded by the Bundy brothers 60 years ago and is now one of the largest industrial bakeware production centers in the world. The two brothers, John and Russell, used their entrepreneurial spirit to launch what is now a multi-generational family business, proudly made in the United States.
After their massive success, the family wanted to migrate from bakeware solutions to home use to ensure that bakers would have the same quality for use in the home. The USA Pan line was launched in 2009 and has served thousands of happy clients since its launch.
What We Like About This Frying Pan:
I was so excited to see a stainless steel option that allowed users to cook in a waterless and greaseless way. I have always been very cognizant of the health effects that I encountered in a ton of my favorite recipes, and this pan has allowed me to cook without compromise.
This pan is capable of diverse uses across a variety of settings, including gas, electric, and induction stoves. This is a massive added benefit, as other similar pans are not compatible across all cooking surfaces. The craftsmanship of the pan is highlighted through its ease of use and low maintenance care.
The pan is completely dishwasher safe and is also oven safe, allowing you to experience a versatility of use that is ideal for any kitchen situation.
The cover features a vapor-seal design, which can lead to more accurate cook times and a better overall cooking experience. When cooking, you can lose valuable steam and flavor vapor from ill-fitting pan lids. With this style of lids, this problem has become a thing of the past.
The capacity of this pan is larger than others and can hold a total food or liquid capacity of 1.9 quarts.
If you're looking for a quality and versatile saucepan for your cooking needs that can work in nearly any cooking environment, this is definitely the pan for you.
American Kitchen 12-Inch Premium Nonstick Frying Pan (Great Nonstick Frying Pan)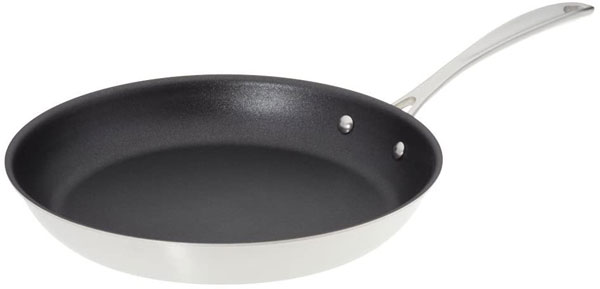 | | |
| --- | --- |
| Estimated Price | $125.00 |
| Size | 8" inches, 10" inches, 12" inches |
| Colors Available | Stainless Steel |
Company Origin and Manufacturing Locations:
American Kitchen Cookware offers a rarity in construction that isn't commonly found in daily-use products. Each batch of quality kitchenware is small-batch crafted in their manufacturing plant, located in West Bend, Wisconsin. This American-made manufacturer is backed by over a century of experience crafting products that are tailor-made to your kitchen. They have always been Wisconsin-owned and operated and are proud to have risen to the status of one of the top providers in the industry.
What We Like About This Frying Pan:
This pan caught my eye thanks to a unique feature that you won't commonly see in domestically crafted pans of any type – a magnetic stainless exterior that is suitable for any cooking surface that you could imagine. This list includes induction tops, and gas and electric stoves.
This pan's versatility doesn't stop there. The pan is oven-safe for up to 400 degrees Fahrenheit and is completely dishwasher safe, creating an exceptionally easy cooking experience for home chefs. The nonstick surface features a unique quick-release design that allows it to be perfect for more delicate food options, such as crepes and omelets.
The nonstick coating is created to be exceptionally durable and doesn't require the specialized cookware that other pans demand. You can use a variety of utensils with this pan, including metal utensils, without scratching or compromising the surface.
The pan utilizes seamless design elements that allow for a completely even cooking surface and even heat distribution all the way around the pan. While other pans may warp with prolonged use, this pan features a tri-ply construction that makes it one of the strongest options on the market. The handles are ergonomically crafted and entirely heat resistant to enhance your safety while in the kitchen.
American Kitchen Cookware is so confident that you'll love the product that they offer a limited lifetime warranty to use if needed to ensure your complete satisfaction. This pan is the perfect gift for a friend or family member who loves to experiment in the kitchen.
Related Article: American Made Measuring Cups and Spoons
Brooklyn Copper Sauté (Great Copperware Frying Pan Option)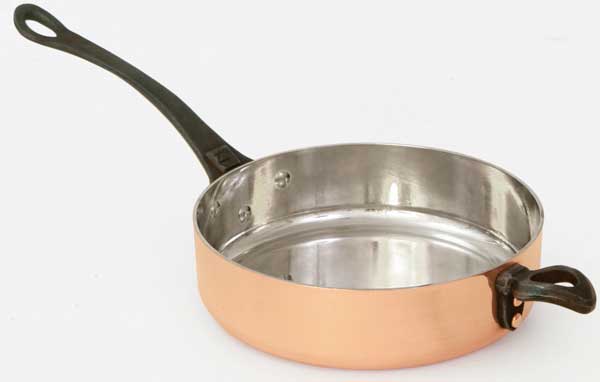 | | |
| --- | --- |
| Estimated Price | $485.00 |
| Size | 9.5" inches |
| Colors Available | Copper |
Company Origin and Manufacturing Locations:
Brooklyn Copper Cookware was formed in 2011. The company sought to create a locally-made and American-made option for chefs that would stand out from the crowd and began in the heart of culture – New York. The founders saw a home for their business in Brooklyn, New York, and wanted to bring back the art of coppersmithing to mainstream consumer goods. The modern design and quality craftsmanship made Brooklyn Copper Cookware a hit with the masses and a gift of quality for friends and family around the world.
What We Like About This Frying Pan:
Many frying pans are on the market, but few come from such a rich history and offer the same quality that copperware can. Frying pans normally have limitations to what you can do with them, as many are tolerant to heat only to a certain point. With copper cookware from the Brooklyn Copper Cookware company, you're able to use your frying pan for any kitchen application that you can think of – from braising, to frying, to sauteeing to flambeeing.
The pan comes in a 9.5-inch diameter, making it the perfect vessel for cooking your favorite cuts to perfection. The cooking surface area is spacious but not too large and is efficiently molded for ideal heat transfer and circulation around the inside of the pan. You'll also enjoy the naturally nonstick-styled surface, making your next meal a joy to cook.
The handle is riveted to the side with three elegant copper rivets and comes with a balanced design element known as a "helper" on the other side of the pan. This can be great for instances of draining and straining your meals or moving your pan from the stovetop to the oven for final braising.
This frying pan is deeper than other traditional frying pans, offering you enhanced versatility and utility for just about any cooking application. The pan's depth can hold up to 3 quarts of liquid or food and still cooks very effectively. The bottom is suitable for gas, electric, or induction appliances, making this investment ideal for any modern kitchen or avid home chef.
The company adds the additional benefit of free shipping to residences in the United States, saving you significant costs on top of the initial investment of purchasing the pan. The copper provides a timeless element to a modern and minimalistic kitchen and makes this pan a perfect gift option for an avid home chef, friend, or family member.
Popular Related Article: List of Great USA Made Cutting Boards
Wrap Up
That does it for this article, but we're always constantly looking to improve our product lists for our readers, so if you know of any great frying pans we missed, let us know in the comments below!
Hi, my name is Kevin and I'm from Pittsburgh, Pennsylvania. Choosing products made in America is important to me because it supports local economies, creates jobs, helps the environment, and ensures ethical labor practices. I also find that American made products are usually of higher quality so although they're a little more expensive, you save money in the long run. Before starting this website I was in the USMC infantry and nowadays I work on this website as a hobby.