Jeans are one of the most worn and versatile types of clothing, and a quality pair can last many years. We always recommend choosing American-made jeans because for around the same price as a pair made overseas, you get a far superior product that will last longer and support local economies.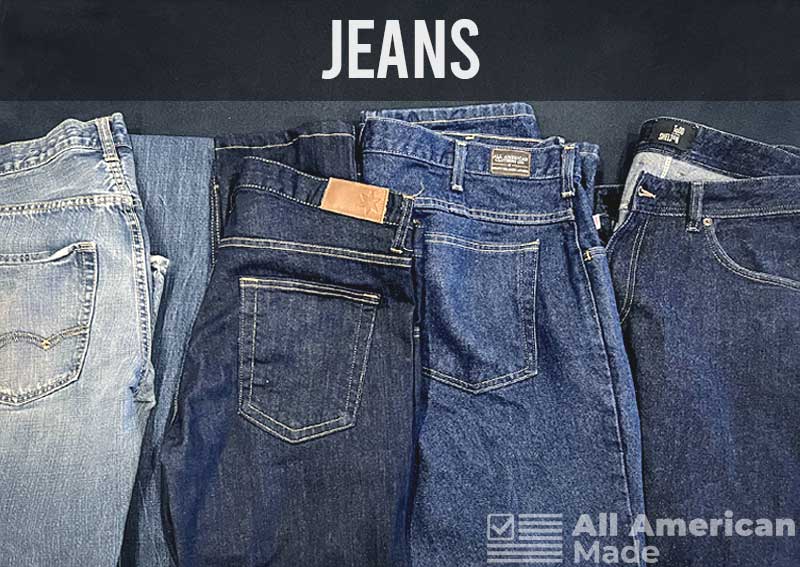 So if you're in the market for a new pair of jeans, simply scroll through this list and find a pair of jeans made in the USA that fits your style. This list has lots of great options for both men and women.
List of American-Made Jeans
Dearborn Denim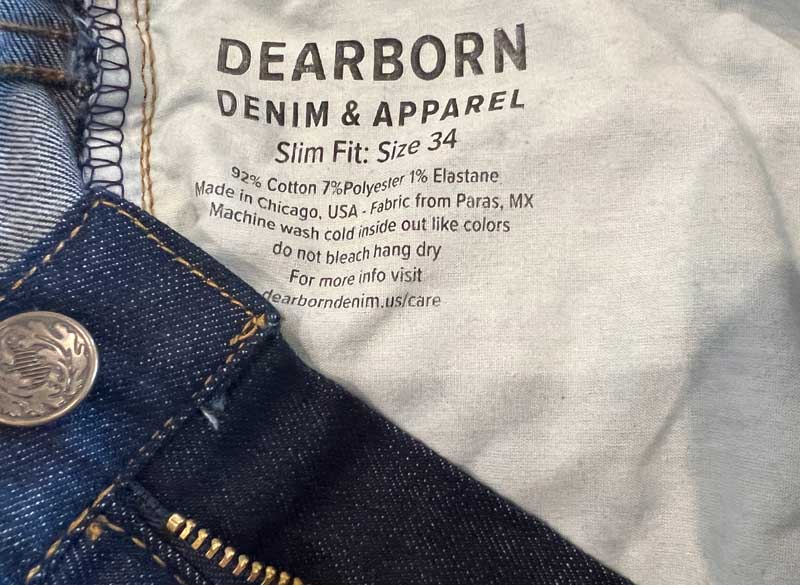 | | |
| --- | --- |
| Company Founded | 2016 |
| Origin | Chicago |
| Wash | Light, dark, medium, grey, vintage |
| Cut/Fit | Straight, Skinny, Bootcut, Tapered, Tailored, Relaxed, Slim |
| Gender | Men's and Women's |
Dearborn Denim's Origin and Manufacturing Locations
Every aspect of the manufacturing process at Dearborn Denim is focused on ethical and responsible production. The company was founded on the belief that it could produce quality clothing without exploiting workers or delivering substandard products to its customers.
These values remain at the heart of the company and are a major reason why they keep manufacturing in-house at their factory in Chicago. Another thing we like about Dearborn Denim is that they're family-owned and operated. They also source their materials through a local supply chain. It's nice to find companies that both source their materials and make the products in America.
What We Like and Don't Like About Dearborn Denim Jeans
These are some of the most budget-friendly jeans made in America on our list, and being that they're made in the USA with locally sourced materials, we think that's pretty impressive. These are great options if you want to try a new pair of jeans without spending hundreds of dollars. The cuts tend more toward basic styles. But these can be considered classics for a reason, they fit a lot of people and look great. I was also very surprised by the quality of the denim. I've owned many pairs of Dearborn Denim jeans, and even after years of use, they still look great.
I also really like that they have a lot of options in terms of washes and cuts. After owning several different styles of their jeans, I can confidently say that they are extremely high quality and durable.
For budget-conscious consumers who want to support American clothing manufacturing, you'll love the options from Dearborn Denim. Compared to jeans made overseas, the quality is far higher, and the price is competitive and, in some cases, even less. Wearing these jeans, you'll feel even better knowing that you are supporting American jobs and a company that holds itself to a higher standard.
All American Clothing Co Jeans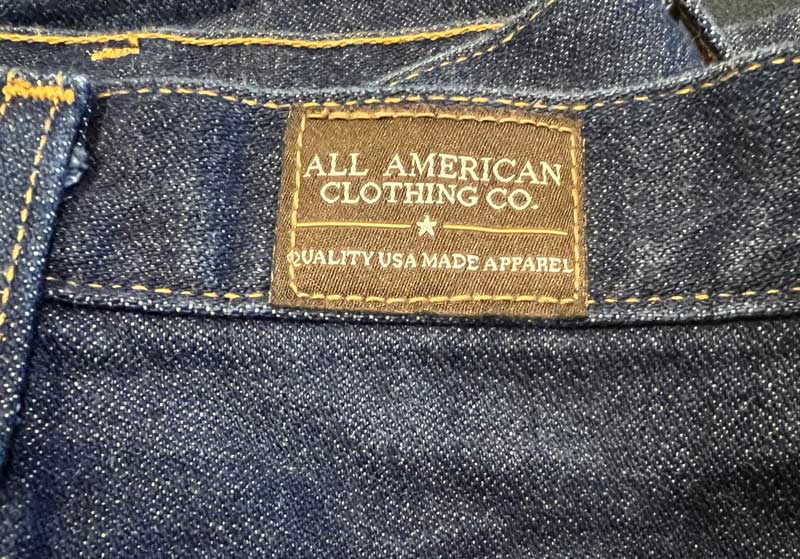 | | |
| --- | --- |
| Company Founded | 2002 |
| Origin | Regular Line – Kentucky |
| Wash | Dark Stonewash, Medium Stonewash, Stonewash, Black |
| Cut/Fit | Multiple Options |
| Gender | Men's & Women's |
All American Clothing Co's Origin and Manufacturing Locations
All American Clothing Company has been making American-made jeans for some time now and is utilizing one of the last major denim manufacturing facilities in Kentucky for most of their offerings.
The story of how this company came to be is a very interesting and brash one. From what I understand, the founder Lawson Nickol was working for another jeans manufacturer, and in 2002, that company decided to move a portion of its manufacturing outside of the US. This upset Lawson to the point where he left the company, recruited his son BJ and set out to begin his own venture – the All American Clothing Co.
Unfortunately, the founder of the company passed away in 2019, but a group of American denim-loving businessmen, currently located in Arcanum, Ohio, own the company and share the same passion that Lawson held, keeping the production of their jeans in the United States.
What We Like and Don't Like About All American Clothing Co Jeans
Finding jeans made in America is a tough challenge as it is on its own, but then adding "affordable" and "quality" to the mix makes the pursuit almost impossible. Yet, upon stumbling into the All American Clothing Companies website, you are immediately greeted with simple and high-quality designs across a wide variety of styles that are affordable and, of course, made with American talent.
Most of the jean brands on this list are going to be from specially designed companies where each pair is going to cost you an arm and a leg, but that isn't the case here, and that's why this brand is at the top of the list. These jeans are the same old fashion, high-quality garments the US was known for making. These are made for working men and women like us, jeans that we can trust, get dirty with, play in the yard, go camping with, and ultimately, afford replacements once they wear down over years of usage.
Men, you're in luck. The All American Clothing Co has many different styles, washes, and designs and even has jeans made for carpentry work. If you like simple, dependable, and truly affordable jeans, then they have something for you.
Ladies, they recently released some jeans for you too that are just as quality as the ones they offer for men.
All American Clothing Company truly supports and honors both military and first responders, and with that, they have a discount program that you can take a look at here. Overall I really like this company, and these are easily some of the best jeans made in the USA.
Todd Shelton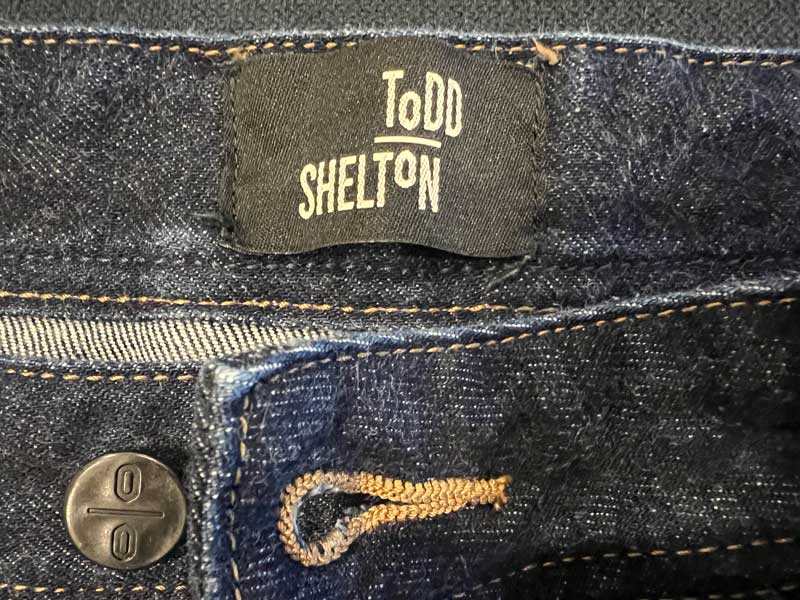 | | |
| --- | --- |
| Company Founded | 2002 |
| Origin | East Rutherford, NJ |
| Wash | Light, Mid, Dark, Black, Grey, Raw Denim, Tan |
| Cut/Fit | Straight |
| Gender | Men's |
Todd Shelton's Origin and Manufacturing Locations
Todd Shelton founded his clothing company to address the need for quality clothing that provides the perfect fit. For the first few years, the company outsourced manufacturing overseas but when Todd realized that keeping production close to home allowed him greater control over the fit and quality of his clothes, he built a factory in New Jersey. The company continues to manufacture and sell all clothing (including jeans) from this factory.
What We Like and Don't Like About Todd Shelton Jeans
There are a lot of cuts and washes available from Todd Shelton, but this is a men's-only clothing line. So if you're looking for ladies' clothing, you won't find any options here. The Pro Original jeans come in six different washes. If you find the right size for your body, you can just keep buying these popular jeans in any color or wash that you'd like.
Men who struggle to find just the right size or fit will love the in-between-size options from Todd Shelton. The customized fit consultation is great but may require some back and forth with the company. All of this is included; just be ready to spend some time trying on jeans (in the comfort of your own home) in order to find just the right one.
Raleigh Denim Workshop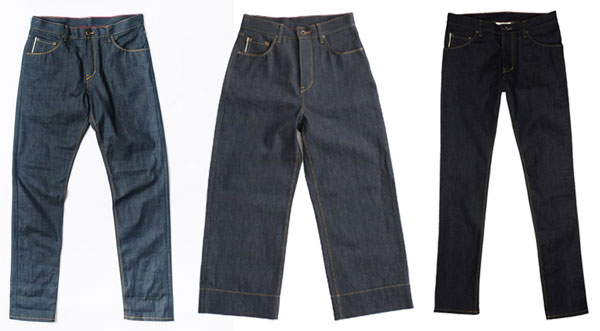 | | |
| --- | --- |
| Company Founded | 2007 |
| Origin | Raleigh, NC |
| Wash | Raw denim, Mid, Dark, Green, Navy, Black |
| Cut/Fit | Mid-rise, High-rise, skinny, taper, straight, wide, thin, slim, relaxed taper |
| Gender | Men's and Women's |
Raleigh Denim Workshop's Origin and Manufacturing Locations
As their name suggests, Raleigh Denim Workshop jeans are created in an actual workshop in Raleigh, North Carolina. The company began focusing on making the best pair of jeans it could. Each pair of jeans is signed on the inside of the pocket with a black marker by the jean smith that created them. It doesn't get more locally-made than that!
What We Like and Don't Like About Raleigh Denim Workshop Jeans
Raleigh Denim Workshop has a lot of on-trend jeans as well as some all-time classic pairs. Most of their washes fall in the dark wash category, although they also offer a few colors or black jeans. They have a particularly great collection of raw denim wash jeans for both men and women.
The workshop itself is worth a visit. Known as The Curatory, they stock Raleigh Denim Workshop jeans as well as other clothing and products that they think are interesting. You can see the tailors at work making jeans and get a real feel for the artistry that goes into every pair.
These jeans are pricey but well worth the investment. They'll last for years and only get better with time. If you want something a bit edgier, there are some really great pieces or you can commission a one-of-a-kind style statement made personally by founders Victor and Sarah.
Round House Jeans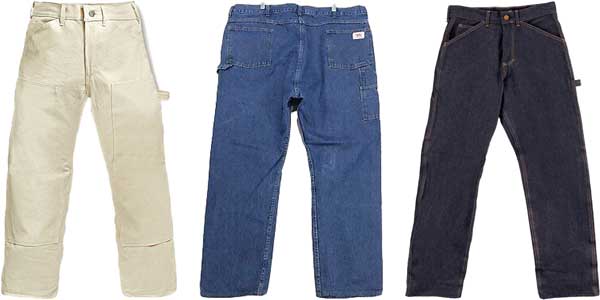 | | |
| --- | --- |
| Company Founded | 1910 |
| Origin | Shawnee, Oklahoma |
| Wash | Stonewash, dark, brown duck, vintage hickory stripe |
| Cut/Fit | Overalls, carpenter, relaxed, slim |
| Gender | Men's |
Round House's Origin and Manufacturing Locations
Round House was founded in 1903 in Shawnee, Oklahoma, to make overalls for the working men of that time. They still use the same factory and design, as well as new products that appeal to modern-day workers. The cotton used to make their jeans comes from Georgia and South Carolina.
What We Like and Don't Like About Round House Jeans
I love Round House's story and passion as much as its actual products. The company has been around for over 110 years, and if you've ever seen an old picture of a railway worker in a pair of striped overalls, chances are they were from Round House.
Their jeans are also of great quality and are available and all the most popular cuts and washes.
If you want a pair of jeans that are made in America for and by American workers, then Round House's jeans are a great option. The company has been making jeans for about 115 years and has about 30 million happy customers, so I think it's safe to say they have a pretty good idea of what they're doing! I think you'll also be happy with the price and quality of denim from Round House.
Railcar Fine Goods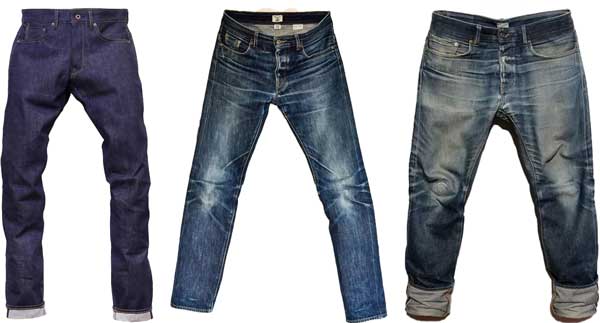 | | |
| --- | --- |
| Company Founded | 2010 |
| Origin | El Monte, CA |
| Wash | Indigo, black, plum |
| Cut/Fit | Mid-rise, high-rise, skinny, straight, slim, taper |
| Gender | Men's and Women's |
Railcar Fine Goods' Origin and Manufacturing Locations
The Railcar Fine Goods company has an amazing story that really represents the American spirit. The founder of the company worked on building his vision for over eight years as a side hustle while he continued his main job working at a metro.  Every item is made in the El Monte factory to ensure the most control over quality and design. They truly pour a ton of passion and care into their products and utilize small teams of highly trained leather workers and sewers to meet the needs of their rapidly growing customer base.
What We Like and Don't Like About Railcar Fine Goods Jeans
Jeans from Railcar definitely have an edgy California look. They were first designed with tough, working-class Americans in mind and have kept to that aesthetic. If you put on a pair of Railcar jeans, don't be surprised if you find yourself coming back for more.
You can also get your jeans (any brand) altered or repaired at Railcar by their expert team. As if that's not enough, you can get shoes repaired or resoled at the Shoe Shop and even a haircut at the Railcar Barbershop just for being one of their customers.
If you want jeans that will work as hard as you do (or just want jeans that will look the part), you'll love just about anything from Railcar. Buying jeans here is as much an experience as it is an actual shopping trip. If you're local to the El Monte area, it's definitely worth a trip to see the factory in action (and get a haircut while you're at it).
LC King Manufacturing Co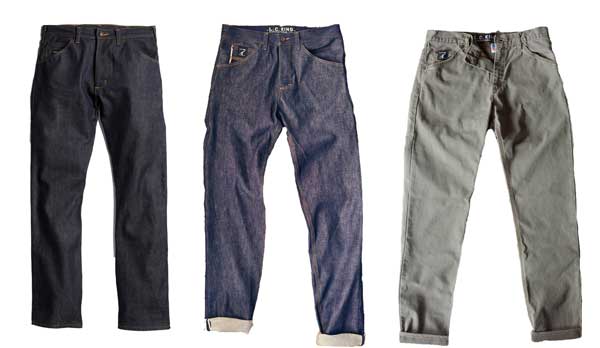 | | |
| --- | --- |
| Company Founded | 1913 |
| Origin | Bristol, TN |
| Wash | Brown, olive, dark, black, hickory stripe |
| Cut/Fit | Overalls, carpenter, straight |
| Gender | Men's |
LC King's Origin and Manufacturing Locations
LC King is another American jeans manufacturer that has a history and legacy of tough, rugged clothing for the outdoors. Founded by Landon Clayton King in 1913, the company is now under the leadership of his great-grandson Jack King. With a long history of jeans made for working men (and now women), L.C. King is a well-known brand of overalls and tough denim.
What We Like and Don't Like About LC King Jeans
The options for women are limited, but there are plenty of men's cuts and jackets and outerwear that will work for anyone. They have a lot of washes available in overalls and jackets but few cuts and styles in regular trouser-style jeans. They separate their products into workwear and western wear, making it easy for customers to find the right thing for their needs.
If you want a well-made pair of overalls or jeans designed for practical use, L.C. King will have just what you need. I especially like their line of jackets and outerwear, many of which are a cross between a heavy-weight shirt and a true jacket. They're perfect to pair with your jeans or overalls to keep you warm in the cool mornings.
Detroit Denim Co Jeans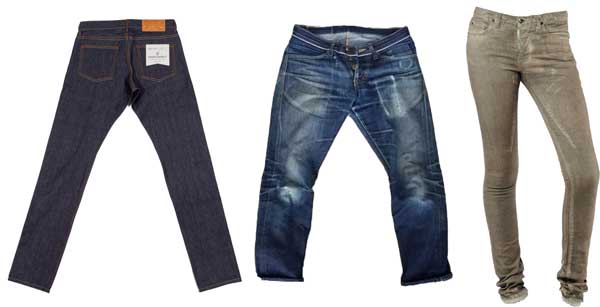 | | |
| --- | --- |
| Company Founded | 2010 |
| Origin | Detroit, MI |
| Wash | Selvedge, Stretch |
| Cut/Fit | Slim, Athletic, Curvy, Classic, Skinny, Taper, Straight, Bootcut, Wide |
| Gender | Men's |
Detroit Denim's Origin and Manufacturing Locations
Made in Detroit, Michigan, jeans from Detroit Denim take sustainability to a whole new level. The company first began in a garage and soon moved to a space full of makers and other artisans in Detroit. They toured international factories producing jeans on a large scale and decided that they wanted to do business differently, even if it meant keeping things smaller. Detroit Denim continues to operate in Detroit and makes to-order jeans for its customers.
What We Like and Don't Like About Detroit Denim Jeans
Detroit Denim makes custom jeans for each customer. Whether you are particular about your jeans or just want the absolute best fit for your body, you'll find what you are looking for at Detroit Denim. These are expensive jeans, but they are so well-made and custom-fitted that they may be the only pair that you want to wear going forward.
One of my favorite aspects of the jeans' design process is being able to match the waist/hip ratio that works best for your body type with the type of cut and a leg design that you want. They will even sew your name and a quote or message of your choice onto the tag when they custom-make your pair of jeans.
For those who want the very best cotton in their jeans, Detroit Denim is a top choice. They also have multiple closure options, cuts, and fits, as well as washes. Using their "Build Your Jeans" tool truly allows you to design exactly what you want. Their experts can also help with a virtual fitting if you need some guidance.
If you're nervous about buying a pair of jeans without being able to try them on, Detroit Denim is also a great option since they offer a 30-day money-back guarantee if you don't love your jeans.
Flint and Tinder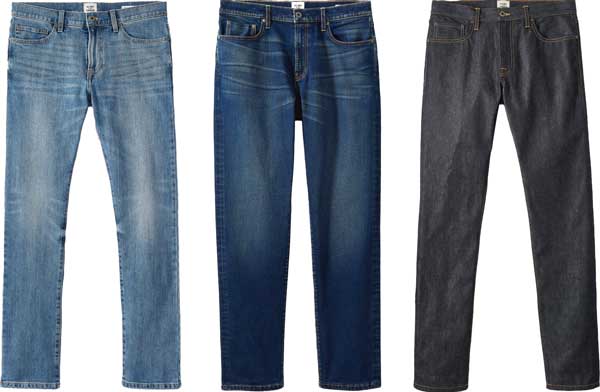 | | |
| --- | --- |
| Company Founded | 2012 |
| Origin | Los Angeles |
| Wash | Light, Medium, Dark, Grey |
| Cut/Fit | Slim, Straight, Tapered |
| Gender | Men's |
Flint and Tinder's Origin and Manufacturing Locations
Flint and Tinder jeans are cut and sewn in Los Angeles. They are manufactured and sold by retailer Huckberry, an American company selling men's clothing and products. Most of their items appeal to outdoor enthusiasts who still want to maintain modern style. They have a wide variety of jeans available, although all are men's styles.
What We Like and Don't Like About Flint and Tinder Jeans
The Flint and Tinder line of jeans from American clothing manufacturer Huckberry comes with some stretch. Many small-batch jeans don't include this aspect, so these should be on the top of your list if you want jeans that allow a bit more movement.
I especially like the wide variety of washes and cuts available. They have more light-wash jeans than many other retailers.
Flint and Tinder jeans are great for men who want American-made clothing they can wear on the trail without sacrificing style. If this sounds like you, the rest of the products from Huckberry would also appeal to your style and needs. It's a good day when you can find a single retailer to provide outdoor gear, clothing, and adventure inspiration!
Here is a video showing some of their jeans being made.
Williamsburg Garment Company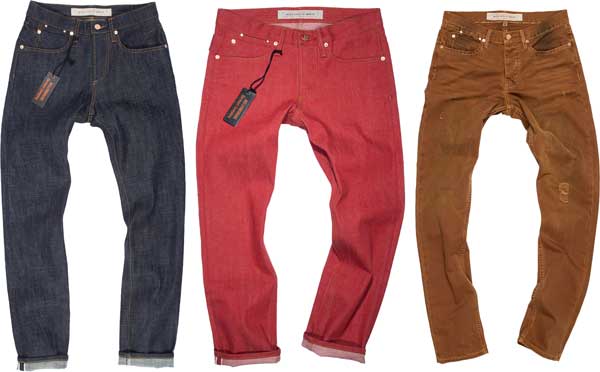 | | |
| --- | --- |
| Company Founded | 2011 |
| Origin | Brooklyn, New York |
| Wash | Raw, Selvedge |
| Cut/Fit | Skinny, Slim, Straight, Boyfriend, High-waisted |
| Gender | Men's and Women's |
Williamsburg Garment's Origin and Manufacturing Locations
These jeans are made in the Williamsburg area of Brooklyn. They have that Brooklyn spirit and proudly sport an American flag on the inside of the pocket so that you never forget your jeans' roots. Each style is named after a Brooklyn street as well. Some of the denim used is from Japan, but the company works hard to source American denim when possible. Some of their older pairs are made from denim produced in the iconic Cone Mill (before it closed in 2017).
What We Like and Don't Like About Williamsburg Garment Jeans
I love the look and feel of raw denim, so just about every pair of jeans from Williamsburg Garment Company seems amazing to me. These types of jeans are not washed before manufacturing, so the color that you get will change as you wear and wash them over time. I equate raw denim jeans to a quality cast iron pan. The more you use them, the better they become.
If you struggle to find the right size, look through what's offered by Williamsburg Garment Company. They carry men's sizes 28-50, available in two different lengths. They also have women's sizes 24-32.
Williamsburg Garment Company specializes in raw denim, so make sure that you know how to care for and launder these types of jeans. They do have selvedge options as well. Don't worry if you aren't an expert. The helpful guide to all things denim on their website can answer any questions that you may have.
Loup Jeans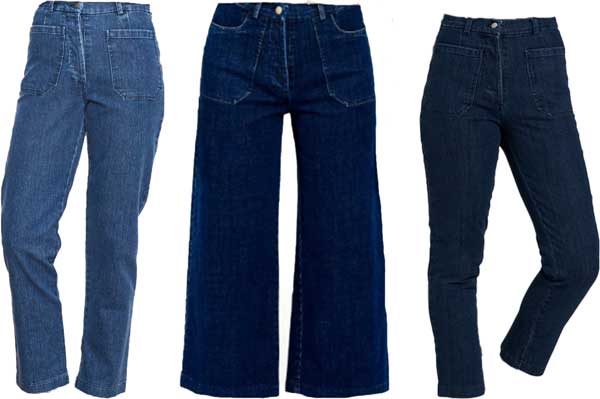 | | |
| --- | --- |
| Company Founded | 2009 |
| Origin | New York |
| Wash | Dark indigo, washed indigo |
| Cut/Fit | Wide leg, shorts |
| Gender | Women's |
Loup Jeans' Origin and Manufacturing Locations
Based in New York City, Loup takes a small, personal approach to both design and manufacturing. The company leadership personally knows every person involved in creating the clothing. Everything is cut and sewn in New York City, although many of the fabrics hail from elsewhere.
What We Like and Don't Like About Loup Jeans Jeans
Loup describes themselves as a combination of 1960s Paris with modern ease. If this sounds like your style (and who wouldn't want this style?), you will love just about everything from Loup. They don't have a ton of denim options since their clothing is broader in scope, but the few that they offer are well-made and on-trend while still maintaining the classic, sophisticated style they are known for.
If you want jeans that will make a fashion statement rather than be used strictly for work and durability, Loup has plenty of options to choose from. I particularly like the many colors (17!) available in their wide-leg Simone pants. If you're looking for high-quality jeans made in the USA, Loup jeans are a great option.
Stovall & Young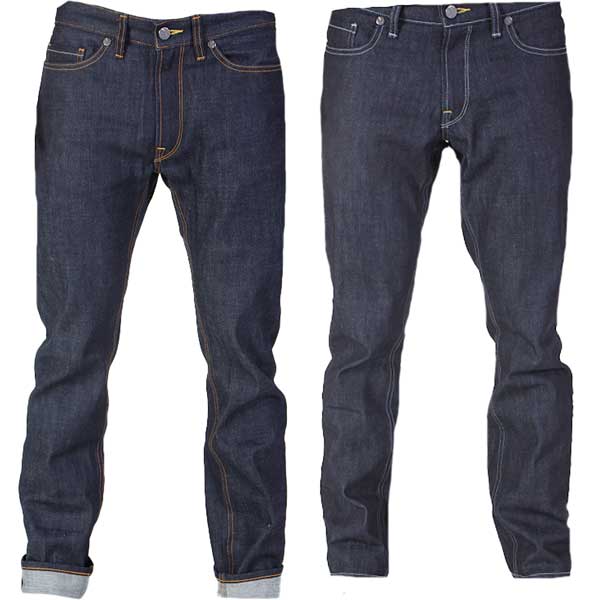 | | |
| --- | --- |
| Company Founded | Unspecified |
| Origin | San Francisco |
| Wash | Raw, Selvedge |
| Cut/Fit | Slim, Tailored, Shorts |
| Gender | Men's |
Stovall & Young's Origin and Manufacturing Locations
Stovall & Young jeans are put together in San Francisco, but the materials come from all over the United States. The denim in each pair of jeans comes from White Oak Cone Denim, a fabric manufacturer in Greensboro, North Carolina, that has been producing American denim since 1891. The leather labels on the back of each pair are made in Portland, Oregon.
What We Like and Don't Like About Stovall & Young Jeans
Another raw and selvedge denim company, Stovall & Young, crafts quality jeans for men. They don't have a ton of options, but they are well-made and well-priced. One of my favorite things about Stovall & Young is that they source all of their materials within the United States, something that not all American-made jeans can claim.
If you really want to support American makers and craftsmen through the entire supply chain that goes into your pair of jeans, Stovall & Young offers the most transparency and intentionality when it comes to materials. They don't have a lot of choices, however, so make sure that you're happy with the modern, hipster vibe.
Taylor Stitch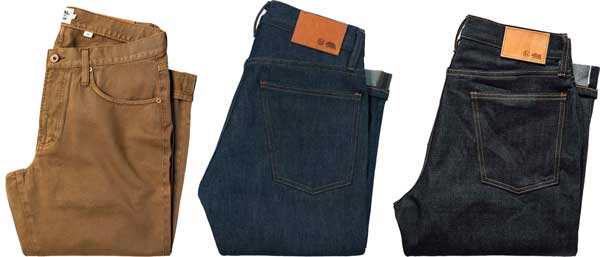 | | |
| --- | --- |
| Company Founded | 2007 |
| Origin | San Francisco |
| Wash | Organic selvaged |
| Cut/Fit | Slim, Tailored |
| Gender | Men's |
Taylor Stitch's Origin and Manufacturing Locations
Only some of the Taylor Stitch products are made in America. Of their denim options, the Western Shirt is the only one that is produced in the USA. Other jeans are made overseas. Taylor Stitch does maintain high ethical standards when it comes to its employees, however.
Taylor Stitch works a bit differently from other designers and manufacturers to get products to customers. They design a new piece, and it is crowdfunded to get made. This means that in order to get a pair of jeans (or a shirt or a jacket), you will need to decide that you want to buy it before it is complete. Some people love this limited-run exclusivity, while others are a little wary.
What We Like and Don't Like About Taylor Stitch Jeans
Taylor Stitch only has two pairs of USA-made jeans, and both are tailored for men. But it's worth including in your choices because they use organic fabric. They are expensive but far from the priciest on our list. They also have a line of denim shirts and a jacket that may be a good option if you want to flaunt your denim love in another way or are bold enough to go head-to-toe denim.
If you are set on organic fabric, Taylor Stitch is one of the few American companies offering organic denim jeans. Their Western Shirt is the only denim item that is truly made in America but is a great work shirt that is heavy enough to be sturdy and stylish enough to wear in non-work situations.
Bullet Blues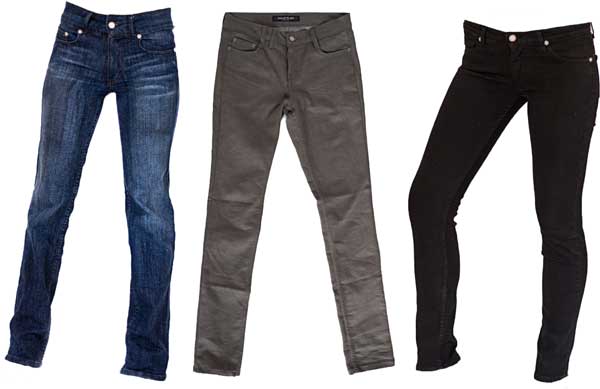 | | |
| --- | --- |
| Company Founded | Unspecified |
| Origin | Los Angeles |
| Wash | Indigo, Medium Wash, Dark Wash, Black |
| Cut/Fit | Bootcut, Relaxed, Tapered, Skinny, Straight |
| Gender | Men's and Women's |
Bullet Blues' Origin and Manufacturing Locations
Bullet Blues was originally created when the founder was inspired by a trip to the beaches in Normandy, France. After hearing stories of brave soldiers going to war and brave families remaining strong at home, she wanted to create a clothing line that brought manufacturing to America and provided jobs for today's hard-working Americans. Bullet Blues jeans are made in Los Angeles from denim sourced in North Carolina.
What We Like and Don't Like About Bullet Blues Jeans
Bullet Blues has a lot of styles to choose from, especially if you like more classic silhouettes like tailored, straight, or bootcut. I like that they have an entire line of clothing that is made in the USA, not just jeans. You can really do all of your shopping in one place while supporting American manufacturing.
If you want to go for a head-to-toe American-made look, you can find exactly that with Bullet Blues. They don't offer a customizing fit guide or virtual fittings, but they do produce some great, classically styled, all-American jeans.
Imogene + Willie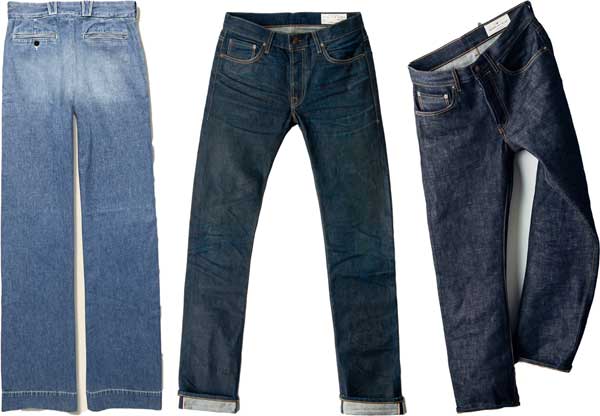 | | |
| --- | --- |
| Company Founded | 2009 |
| Origin | Nashville, TN |
| Wash | Raw, Selvedge, White |
| Cut/Fit | High-rise, Trouser, Tapered, Straight, Slim, Stretch, Pintuck, Cropped |
| Gender | Men's and Women's |
Imogene + Willie's Origin and Manufacturing Locations
Imogene + Willie takes its name from the very first pairs of jeans that the company's founders, Matt and Carrie Eddmenson, created in 2009. Now they call a converted gas service station in Nashville home. They produced all of the first pairs at that same little shop but have since moved to a larger manufacturing facility. They do not name its location specifically but did confirm that it is in the US. They do say where the denim fabric is made on each pair, with the majority coming from Cone Mill in North Carolina or Vidalia Mills in Louisiana.
What We Like and Don't Like About Imogene + Willie Jeans
I like Imogen + Willie jeans for their quality and fit. I love Imogen + Willie as a company for its commitment to American manufacturing, job creation, and community involvement. They have a lot of pairs of jeans, almost more than any other company. All of their jeans are right on the line between trendy and timeless, something that I personally love in a great pair of jeans. Their washes tend to be darker and earthier, with raw and selvaged denim taking the lead.
If you want a great experience buying jeans (as well as a quality pair of jeans), Imogen + Willie should be the top name on your list. They host a free music and music event monthly during the warmer months in Nashville. You can also stop by their awesome shop to get fitted, try on pairs of jeans, get your pair custom tailored, or check out other cool products.
Billiam Jeans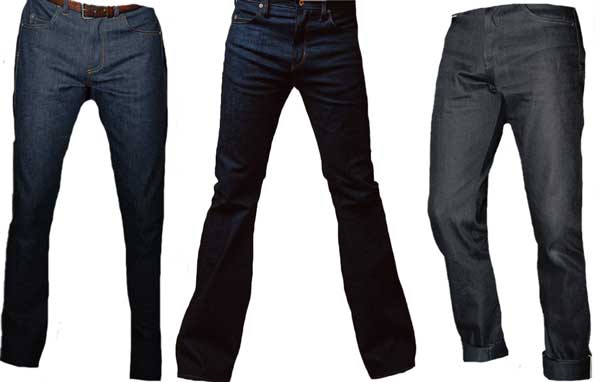 | | |
| --- | --- |
| Company Founded | 2009 |
| Origin | Greenville, SC |
| Wash | Custom |
| Cut/Fit | Custom, Bell Bottoms, Straight |
| Gender | Men's and Women's |
Billiam Jeans' Origin and Manufacturing Locations
Billiam clothing is all designed, produced, and sold in Greenville, South Carolina. Billiam has called many places home, including the back of a rock climbing gym, a rented space in the Greenville arts district, and now The Commons, a collection of retailers, restaurants, and makers, all with a Greenville connection. Most of their jeans are custom-made on-site for each individual customer.
What We Like and Don't Like About Billiam Jeans
I had to include a truly custom pair of jeans on the list. Billiam offers a $350 pair of jeans, custom tailored and fitted after an in-person consultation. To get your custom pair of jeans, go into the Billiam store and get measured by their tailors. They will then craft your jeans to your specifications and measurements out of the fabric that you choose. It doesn't get more one-of-a-kind than that!
If you want a pair of jeans that fits you (and only you) like a glove and are willing to pay top dollar for it, Billiam is exactly what you need. They do have a few pairs available off the rack, but they are known for their custom tailoring experience more than anything else.
Ginew Jeans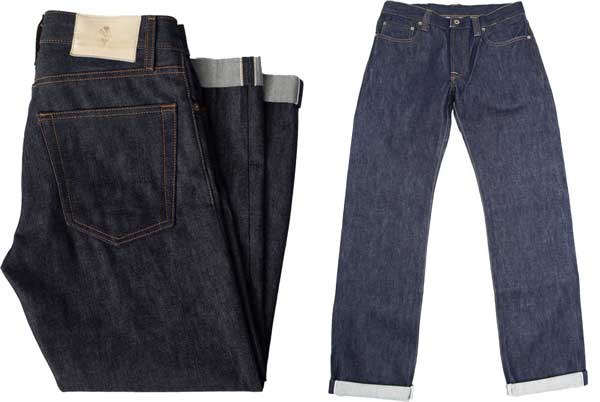 | | |
| --- | --- |
| Company Founded | 2011 |
| Origin | Portland, OR |
| Wash | Blue, black |
| Cut/Fit | Relaxed |
| Gender | Men's and Women's |
Ginew's Origin and Manufacturing Locations
Every product from Ginew has a story. As the only Native American-owned clothing company, they incorporate many cultural traditions from their own family. From their leather goods that are made with heirloom techniques and tools to the raw denim that goes into their jeans, founders Erik and Amanda operate the company with intentionality.
What We Like and Don't Like About Ginew Jeans
There are so many cool products at Ginew that it's hard to stay focused on their jeans. They don't have a ton of options, but if you like a relaxed fit, you'll be really happy with the few they do make. Ginew bandanas and jewelry are particularly great representations of their style.
If you want to support an Indigenous American brand, Ginew is the way to go. Not only are their jeans great quality, but they also come with a special message for the wearer. "For best results: Live in your new favorite jeans. Stay positive. Embrace serendipity. Believe in occasional magic. Carry on the values & ways of your ancestors." It doesn't get more local than that. The only thing we don't li
Factors We Considered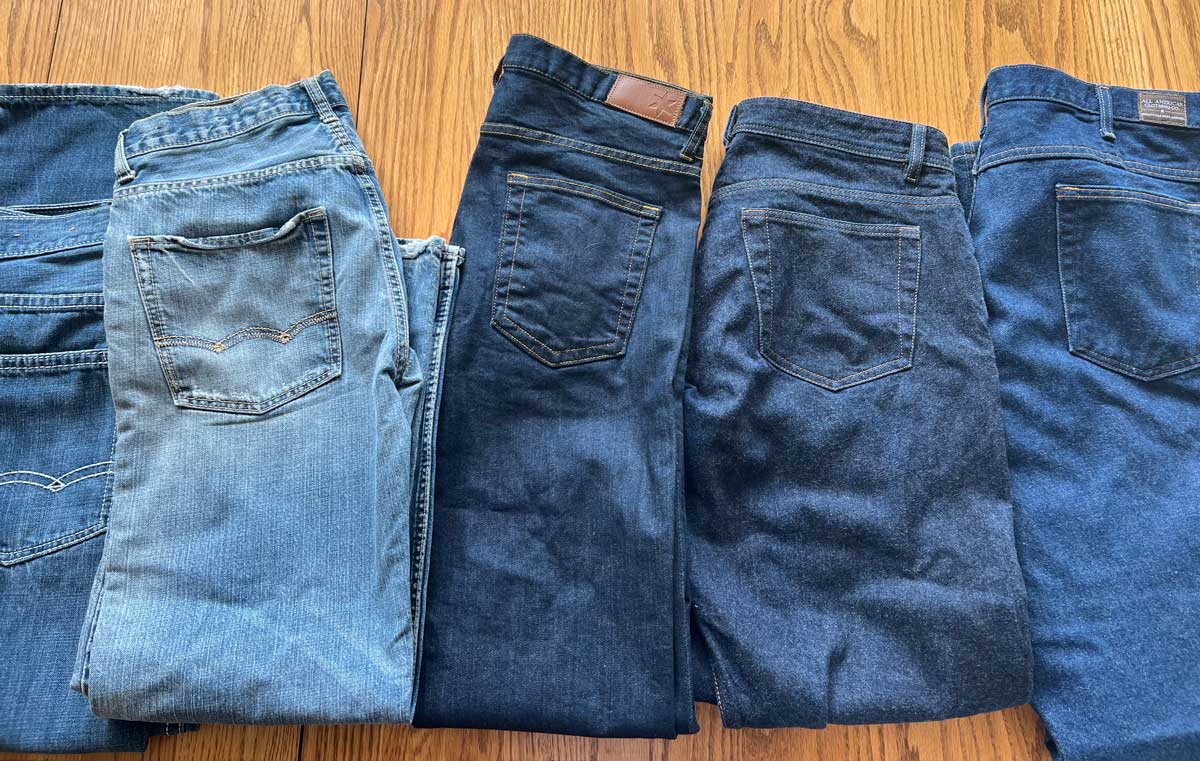 When looking at a new pair of jeans, here are some things to consider before you even try anything on.
Why buy American Made Jeans?
America has a long history of garment manufacturing, especially blue jeans. What began as the perfect workwear solution for men who farmed, worked on the railroad, or in construction gained popularity as everyday wear and eventually high fashion style. Now, jeans are almost synonymous with American style.
Good American-made jeans embody this same spirit. Whether it's from a manufacturer that has been around for over 100 years or a newer design that is bringing its own cutting-edge style to denim, you can find something for everyone right here in the United States.
Buying jeans made in America also helps ensure fair labor practices and wages for the craftspeople that make your jeans. Many jeans manufacturers are true artists who excel at their craft. Companies that are committed to producing their jeans in America recognize this and make sure that their workers are treated and paid for their skills.
Types of Jeans:
There are almost as many styles of jeans as there are companies making jeans, with each bringing its own flair to the product. Here are a few of the common terms used to describe particular types and styles.
Skinny Jeans:
These jeans are fitted through the hip and all the way down to the ankle. They can be made with or without stretch, although you will often find some element of stretch in skinny jeans to help them keep their form-fitting shape over time. Skinny jeans have become popular in the last 10-15 years, although some fashion-forward generations are losing interest in the skinny jeans silhouette.
Straight Leg Jeans:
Straight-leg jeans have a straight line from the hip to the knee and down to the ankle. Because most bodies have more to fill out the jeans in the upper portion of the leg, the greatest amount of give can be found from the knee down to the ankle. These jeans are designed to provide a straight silhouette. They are flattering on a variety of body shapes and types and can be one of the most comfortable options out there. Straight-leg jeans also have one of the most timeless appeals, making them a favorite of many.
Wide Leg Jeans:
Wide-leg jeans are having a moment in 2021, and I love it. These jeans have a wider leg throughout and can have a trouser-like fit. Modern wide-leg jeans usually stop just above the shoe, making them a great improvement over the wide-leg jeans of the early 2000s that tended to drag on the floor.
Bootcut Jeans:
These jeans have a wider base that was originally designed to fit around a boot. They are fitted through most of the leg and are flattering on just about everyone. They fell out of fashion around the same time that skinny jeans were taking over but are still a great option, especially if you lean more toward a rustic look. You can wear bootcut jeans with just about any shoe since they drape well.
Tailored Jeans:
You will see this term applied to men's jeans more than women's jeans. This means that the jeans have a slender cut that follows the form of the leg. Don't confuse them with a slim fit, which refers more to a narrow cut in the hips and rear than the overall leg. Tailored jeans are a great option for dress-up jeans.
Relaxed Jeans:
Another mens' jeans name, relaxed jeans are usually a looser cut with more fabric in the legs and rear of the jeans. They can still be fitted in the hips (so they don't fall down) but don't hug anywhere else. Relaxed jeans present a more casual look in most cases.
Carpenter Jeans
If you envision a carpenter with all of their tools, you'll have a good idea of what sets carpenter jeans apart from other pairs. They have more pockets and loops; they are easily recognized by the signature loop below the right pocket. This was originally meant to hold a hammer, but today's carpenter jeans wearers can use it for just about anything.
Joggers:
You don't see a lot of denim joggers on the market, so if you find a pair you like, make sure to try them out. Joggers are fitted around the ankle and are very practical. They are designed to be comfortable as you move, something that most of us jeans-wearers like to do.
Special Features:
There are a few things that can make a particular pair of jeans stand out from the pack.
Organic or Raw Material:
Since you will most likely be wearing your jeans often, you may want to look for something (and potentially pay a bit more) for jeans made of the absolute best material. Not every manufacturer makes jeans out of organic cotton, but those that do get rave reviews. Denim jeans made of raw material also have a very distinctive look. If you like something a little bit more rugged, consider raw denim.
Stretch:
The tighter the cut and style, the more helpful stretch will be at making your jeans comfortable and long-lasting. Some jeans purists don't like the stretch element, but it can be especially helpful with skinny jeans.
Type of Wash:
One of the biggest ways that jeans can change your look is to get them in different washes. Each company has its own spin on even commonly found washes, like dark wash jeans or black jeans. Some tend to be earthier with more variation, while others are deeply saturated with color. Commonly found washes include light, medium, and dark wash, as well as stone washed and black jeans.
No matter what wash you choose, make sure that you launder your jeans inside out to preserve their color longer. Great jeans will naturally fade over time, creating that timeless, lived-in look and feel.
Type of Buttons/Zippers:
Some jeans have extra special buttons, zippers, or other closures. A lot of manufacturers like to put their own logo or name on snaps and buttons, adding to that signature style. If you like these special details, look for extra touches to express your own style and attention to detail.
Distressing:
Ripped and torn jeans are in fashion now, but that wasn't always the case. When denim first made an appearance, the best pairs were tough and ready to handle anything without showing signs of early wear and tear. You can decide if you want to embrace the distressing trend or keep to a more classic jeans look.
Wrap Up:
Choosing American-made jeans is a great way to celebrate this all-American style while supporting local designers, manufacturers, and artisans. Whether you are looking to embody classic style, need something tough to serve as reliable workwear, or just want a pair of well-made, fashionable jeans, there is an option on our list meant just for you.
Have you rocked any of these jeans and loved them? Let me know about your experience in the comments!
Hi, my name is Kevin and I'm from Pittsburgh, Pennsylvania. Choosing products made in America is important to me because it supports local economies, creates jobs, helps the environment, and ensures ethical labor practices. I also find that American made products are usually of higher quality so although they're a little more expensive, you save money in the long run. Before starting this website I was in the USMC infantry and nowadays I work on this website as a hobby.