The mastermind and CEO behind the My Pillow label, Mike Lindell, took his company from its humble beginnings to turn it into a $280 million per year pillow-fueled empire. Admittedly, he struggled at the beginning of his ambitious endeavors, but his famous late-night infomercials eventually took root in the minds of a captive audience.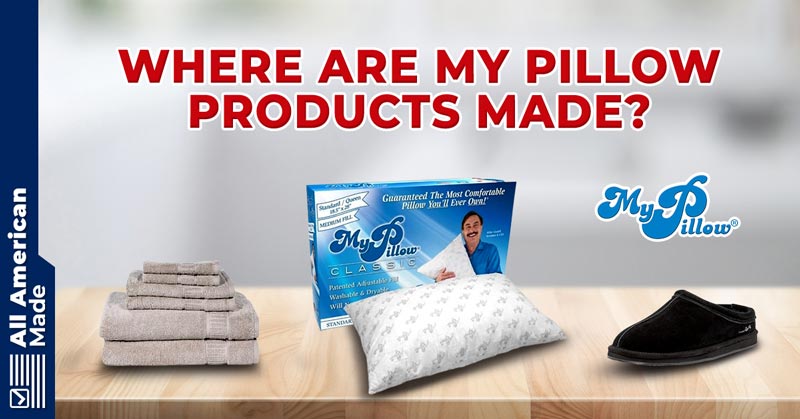 Being a distinctly American company, you may wonder where the My Pillow makes its products. Let's take an in-depth look and explore it.
Over 90 percent of My Pillow products are made in the USA. Their pillows, pillowcases, toppers, and mattresses are made in Shakopee, Minnesota. Not everything that My Pillow makes has a US origin. Their towels, for example, come from Pakistan, and their slippers are made in Cambodia.
Here is an example of what the label on a My pillow looks like.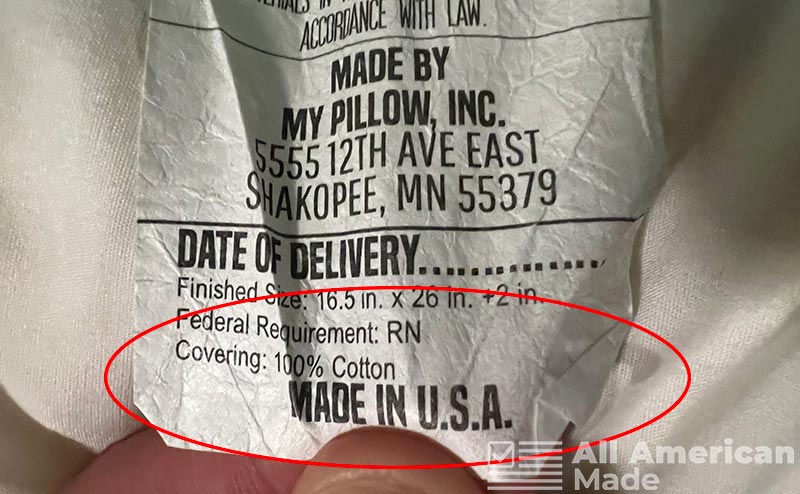 Which My Pillow Products are American Made?

We like My Pillow because of its straightforward manufacturing origins. The pillows, pillowcases, toppers, mattresses, and dog beds were all produced in the United States. Not everything was made there, but they do have a clear manufacturing process for their categories, which makes their products easy to find. Let's look at the most popular My Pillow products that they make in the USA:
My Pillow Classic Pillow Series
My Pillow Premium Pillow Series
My Pillow Giza Pillowcase Set
My Pillow 2-inch Mattress Bed Topper
The Complete Mattress Sleep System
My Pillow Dog Bed
Some people complain about the pillows as overpriced, but many people don't realize that they were proudly made in the United States. If we want to keep our manufacturing in the United States, we must make sacrifices from time to time to support the companies producing here.
While they do produce in other countries, over 95 percent of the sales from the company come from the pillows made in the USA.
Now that we have taken a look at the American-made products from My Pillow, let's explore the manufacturing of My Pillow and its history.
Where is My Pillow Made in Minnesota?
Mike Lindell was born in 1961 in Mankato, Minnesota. Growing up in Chaska and Carver, Minnesota, no one would express surprise that Lindell designated his headquarters in Chaska and his original manufacturing plant in Carver.
In fact, if you want to talk about a company keeping the jobs in the USA, Lindell has kept the manufacturing, the call center, and the customer service in Chaska at its headquarters. That matters as much as the manufacturing because think of the times when you dealt with an overseas call center. It also keeps jobs in the United States.
Remember us talking about that original manufacturing plant in Carver? We said original for a reason. On March 8, 2018, Mike Lindell told the Chaska Herald that they would transfer 200 jobs from Carver to a 171,000-square-foot facility in Shakopee. The plant there produces around 35,000 pillows per day.
The decision to move the main production line out of Carver followed at the heels of a problematic conditional use permit that gave Lindell several months to comply. Lindell complained that it would cost him $500,000 alone to follow compliance and chose to migrate the jobs over to Shakopee instead of filing for bankruptcy. One of those regulations was that Lindell stops the overnight shift—according to complaints from the neighbors, his pillow factory was keeping them up all night. How ironic for a pillow and mattress factory—making something meant to give everyone a good night's rest appeared to have the opposite effect, at least in the neighborhood.
However, it goes to show how overregulating businesses without consideration for their welfare can cost American livelihoods. At the time, My Pillow was the largest employer in Carver. Look at it today and you don't even see them in the top five.
The Shakopee plant opened in 2016 and had around 500 employees. The transfer of jobs from Carver to Shakopee wasn't without turbulence. In May 2019, My Pillow laid off 150 workers or nine percent of its workforce in Shakopee, citing how it wanted to free up the capital to create several new products. Lindell said that he helped those laid off to find new jobs but declined to comment further. It wasn't an easy decision because many of the workers were good at their jobs.
Along with creating new products, Lindell planned to move equipment and renovate the facility.
Where Are My Pillow Towels Made?

My Pillow makes its towels in Pakistan with cotton from the USA, but they also do produce "some" of their towels in the USA. By and large, we believe that most of their towels come from Pakistan, however, so you may want to request American-made towels specifically.
As we have seen time and time again, Lindell tries to keep things American in one way or another, which is incredibly admirable considering the success of his company. Their towels feel soft without this feeling of touching lotion.
We do find the cost of these towels, considering that many of them were made elsewhere, to be higher than acceptable. We will let people decide for themselves if they want to support that, but we would recommend that you request the American-made towels specifically if you buy towels from this brand. Don't leave it to chance.
We like that he chose American-sourced cotton at least since this marks out one of the most important industries in the United States with the cotton industry being a $21 billion per year industry and employing more than 125,000 workers.
On the whole, we would say that Pakistan shows you one of the biggest countries that My Pillow does business with, making up around 61.5 percent of its shipments. You can check that out here to learn more about My Pillow's supplier countries. We notice that it didn't mention Cambodia, which My Pillow is known for manufacturing the slippers, so we will say to take this information with a grain of salt and that it may not be complete information.
One of the suppliers of towels in Pakistan is called Feroze 1888 Mills Limited, located in Karachi, the largest city in Pakistan, with 14.91 million people. You can see some great alternatives in our article on towels made in the USA here.
Where Are My Pillow Slippers Made?

They produce the My Pillow Slippers in Cambodia, and they source them from US cowhides to make them. Considering how they don't drop the price down on these slippers, it's a lot to pay for imported goods. While we like My Pillow's US manufacturing, they do have a couple of areas where they could improve, such as this.
A few people also talked about the high cost and the lower quality of the slippers. One individual said that they fall apart easily. You can check out the full video here.
One of the other things that the reviewer pointed out that was interesting was how being made of genuine leather doesn't always mean that they made it from good leather. You have four grades of leather from best to worst which are full-grain leather, top-grain leather, genuine leather, and bonded leather. Genuine leather sits only one rank above the worst, and when you pay this kind of price for slippers, you would expect the quality to be a little better as well as the origin.
We did see some people talk about some of the slippers as being made in the USA, but we couldn't find much to confirm that information. Most of the information suggested that they produced most, if not all, of the slippers in Cambodia. If you're looking for a great American-made alternative, check out our article on American-made slippers here.
Coming Back from Hardship to Create Many Local Jobs
You would be mistaken to think of Mike Lindell as a man without his struggles and even political controversies, which we won't get into much. Suffice it to say, some people want to write him off as a loony ex-drug addict with crazy ideas because of those controversies, but we would invite a more compassionate approach to drug addiction as a whole and think of Lindell as someone who overcame the odds. This, despite whether you love him or hate him.
We can't write off his achievements in overcoming drug addiction, inventing a new product, creating a multi-million dollar company, and going on to provide hundreds of jobs for American workers. That isn't an easy task given the high cost of labor in America, and we respect his sacrifice. Many companies take the easy road and send jobs to China. As far as we know, Mike Lindell doesn't give many jobs to China for manufacturing. We have found some other countries where My Pillow manufactures products, which we will talk about soon.
In total, My Pillow hires 1,600 workers, with at least 500 of the employees working in manufacturing. This has made an incredible contribution to our society by offering Americans more job opportunities.
Where Are My Pillow Mattress Toppers Made?
The My Pillow Mattress Toppers are made at the factory in Shakopee, Minnesota. This is one of the products where you don't have to worry that they made it overseas since all of them come from the United States. They include a 10-year warranty, and they have been made from foam or down filling. One of the great things about the mattress toppers from My Pillow is that they designed them so that they never feel too hot or too cold. In fact, that top layer foam is another one of Mike Lindell's patented inventions known as My Pillow Foam.
This top layer feels softer than the second layer. It curves around the body to feel more supportive. Overall, My Pillow mattress toppers are well made. if you're interested, we also have a resource on mattresses made in the USA here, we recommend checking out if you're in the market for a mattress.
Where Are My Pillow Giza Sheets Made?
My Pillow Giza Sheets are made in India or Pakistan. Based on the bill of lading, India makes up their second-largest supplier. Their products are advertised as using the famous Egyptian cotton, which is known for being the softest and finest cotton in the world—one individual complained how they were not Egyptian; despite the advertising, they were made in India, but as far as we can tell, we do believe they still sourced the cotton from Egypt. We think this was confusion on the reviewer's part.
We also think the source of the confusion may come from the fact that they labeled sheets as Giza sheets. That's the second-largest city in Egypt. It may lead people to believe that the sheets themselves were made in Egypt, but they were, in fact, made in either Pakistan or India. My Pillow says that they sourced the cotton from Egypt, but they made them in India or Pakistan. It's kind of like being made in Pakistan with US-sourced cotton.
We could not find any of their Giza sheets made in the United States, so we couldn't recommend this product on the basis of it being American-made. Beware of this as well since one person complained about seeing the sheets listed as made in the USA and finding out later that they made it in India. As far as we know, none of the sheets were produced in the United States. If you're looking for bed sheets made in the USA, check out this source list.
Made in Bangladesh?
The My Pillow bathrobes were made of Supima cotton, a US cotton offering the softest and best durability around. It represents less than one percent of all the cotton grown around the world. At the same time, only the United States can grow this cotton species. An estimated 93 percent of Supima cotton comes from California, three percent comes from Arizona, two percent comes from New Mexico, and two percent comes from Texas.
While it's curiously not mentioned as a sales point for the bathrobes, we believe that the bathrobes use cotton sourced from the United States since that's the only place where this cotton grows. The bathrobes themselves were made in Bangladesh. The eighth-most populous country in the world, Bangladesh has around 4,000 garment factories that employ around four million workers—most of them are women from the rural parts of the country.
Unfortunately, factory conditions in Bangladesh can be poor, with some workers going for up to three months without payment. We're not saying that it happens at the My Pillow factory, but it is something to be aware of in this country.
Is My Pillow Made in China?
While My Pillow produces in several other countries besides the United States, they do not have a significant manufacturing presence in China. If you see a tag that says, "Made in China," it most likely means that you have a counterfeit unless they change manufacturing operations in the future. The real pillows will feel soft and have a soft texture from the fabrics. To avoid the counterfeits, like with many other products, it is best to only deal with authorized and respected dealers of My Pillow.
Where is My Pillow Foam Made?
Naturally, with all of its pillows and toppers being made in the United States, it's a matter of convenience to have the My Pillow Foam made in the United States. Having it come from elsewhere would slow down the production of the pillows and other products that use the foam. Mike Lindell has also said that they make everything here from start to finish, which would include the foam.
The production happens in Shakopee, Minnesota, where most of the My Pillow production takes place. They have a 171,000-square-foot facility here with five total facilities in the Shakopee region. If you were to evaluate the entire square footage of manufacturing and warehousing, Shakopee's My Pillow plants take up 415,000 square feet. Their production process, which allows them to make such a large amount of American-made pillows, is truly impressive.
What is My Pillow Made of / What's Inside of a My Pillow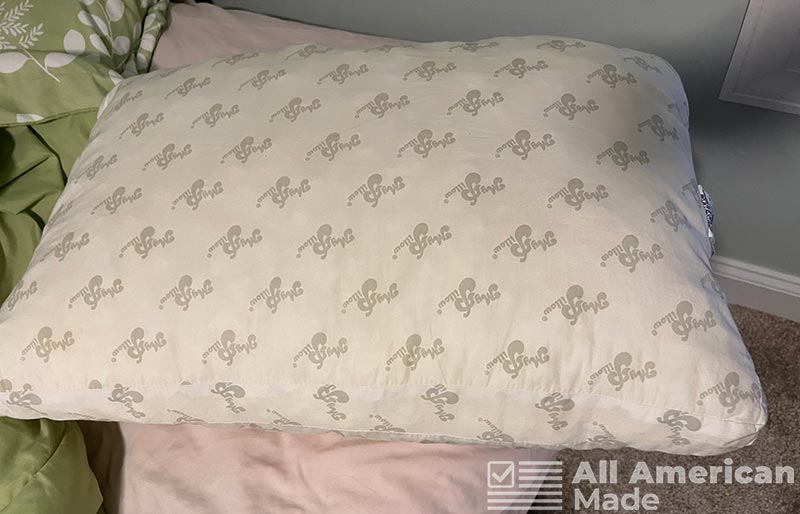 The inside of a My Pillow consists of 100 percent polyurethane foam. This material is what makes the pillow easy to shape. For those who don't know what polyurethane is, it's a plastic material that has elastic memory. If you were to cut open a My Pillow, you would see what looks like shredded-up memory foam.
For a little background knowledge, polyurethane foam has seen widespread use in mattresses due to support and comfort. The biggest advantages of its use in a pillow would include heat transfer and good ventilation. In terms of heat transfer, as the pillow is heated up through body heat, the polyurethane softens up and comforts the head even more. It's also an environmentally friendly material in comparison to other plastics. It doesn't have the chemicals that will interfere with the hormone or endocrine systems.
On the other hand, one of the disadvantages of polyurethane comes from how it has a relatively short lifespan. Still, My Pillow offers a 10-year warranty, which makes them last longer than most pillows on the market.
In case you'd like to see a visual representation of what's inside of a My Pillow, check out the video below as the woman in the video cuts it open. We can explain it, but a demonstration will show it even better:
Understanding the Scale of Production in the USA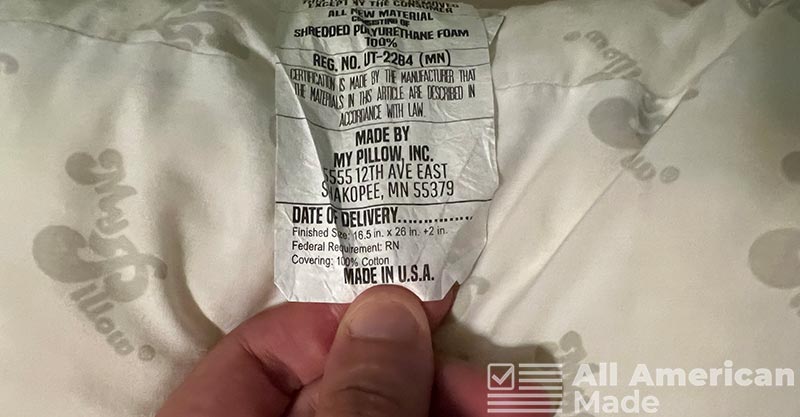 Depending on the demand, the production of pillows here ranges anywhere from 35,000 per day to 70,000 with all of the facilities in operation. At the peak of demand, they can even produce up to 120,000 pillows in a day. Looking at this from an average of 35,000 pillows per day, it would add up to 12,775,000 pillows annually.
In case you'd like to see what the inside of the My Pillow factory looks like, check it out here:
Much of the production happens in-house nowadays, but when we look at the production in the United States, the My Pillow factories only account for one part of it. Lindell has said that they work with partners in the United States as well, which adds more jobs. Most of its partners are in Minnesota since this appears to be a highly Minnesota-focused company. For example, Lindell has said that they have a partner up in Forest Lakes that they send their cutting and sewing.
Story of Mike Lindell (The Founder of My Pillow)
We have given some brief glimpses of the life of Mike Lindell, but since this conservative activist can be found everywhere on the radio and TV, he spends around $100 million per year on advertisements—let's have a look at the life of Mike Lindell. There's no denying that he has created a great American-made company.
Upon looking at him on the TV, no one can deny that the man has charisma. He smiles big, and his lively voice grabs your attention—in some ways, he reminds me of Billy Mays from Oxiclean. Lindell was born in 1961 in Mankato, Minnesota, and he attended the University of Minnesota but dropped out after a few months.
In 2009, Lindell said that he freed himself of his addiction through the power of prayer. He's an Evangelical Christian, and while he was one before 2009, he became even stronger in his faith after that time period.
Today, Mike Lindell has an estimated net worth of around $174 million. One of the things that he's less known for is his philanthropic efforts. He used to donate to the Salvation Army and Union Gospel Mission before he started his own foundation.
Lindell went on to form his own non-profit organization known as the Lindell Foundation. Originally, because of Mike's history, he set out to assist addicts and help them to stay clean. Eventually, the Lindell Foundation expanded its scope to assist veterans and cancer victims. In 2019, Mike launched the Lindell Recovery Network. This faith-based organization was meant to help addicts on the path to recovery.
Anyone interested further in the life of Mike Lindell may want to check out his highly rated book, "What are the Odds? From Addict to CEO." While it gives you a firsthand account of his business life and how he grew as a person, this book includes a host of interesting events like drug deals gone sour in Mexico and being a professional gambler who devastated his personal fortunes in a single night.
Final Thoughts
That does it for this article. If you have any further questions regarding the question of where My Pillow is made, let us know in the comments below. My Pillow is a great American-made company started by a man who had to overcome many hardships in his life to reach the level of success that he enjoys today.
We don't see reasons not to support this brand if you like American-made. While some people have complained about the higher cost of the pillows, that's the price of American-made. They're great pillows that offer unparalleled comfort from the firmness. On top of that, they should last up to 10 years and are backed by a warranty. Think of regular pillows, and you often pay that price from having to replace them every one to two years.
Hi, my name is Kevin and I'm from Pittsburgh, Pennsylvania. Choosing products made in America is important to me because it supports local economies, creates jobs, helps the environment, and ensures ethical labor practices. I also find that American made products are usually of higher quality so although they're a little more expensive, you save money in the long run. Before starting this website I was in the USMC infantry and nowadays I work on this website as a hobby.