No other symbol in the world stands for freedom, liberty, and the sacrifices people have made for those values like the American flag. So when you are looking for a quality American flag to proudly display your heritage and belief in this great country, make sure you are looking specifically for American flags made in the USA.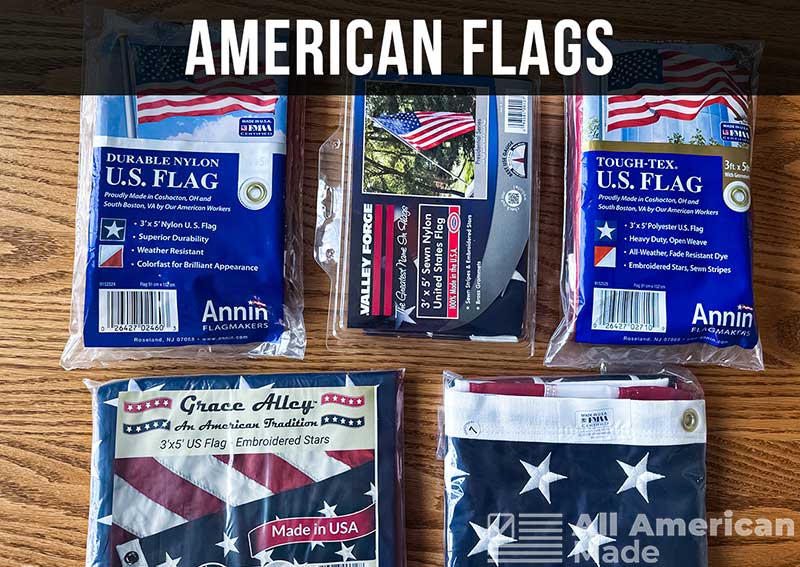 Unfortunately, many of our flags are made in other countries that may not truly appreciate what this symbol of freedom represents to us. All American flags are required to carry tags stating where they are made. When you purchase an American-made flag, you are helping to support our country by supporting American workers, suppliers, and everyone in between.
These products are also made from higher quality materials and held to higher manufacturing standards, so you can be assured you have a long-lasting, durable product made with pride right here in America.
List of American Flags Made in the USA
1. Annin Flagmakers Flags (Most Iconic Brand)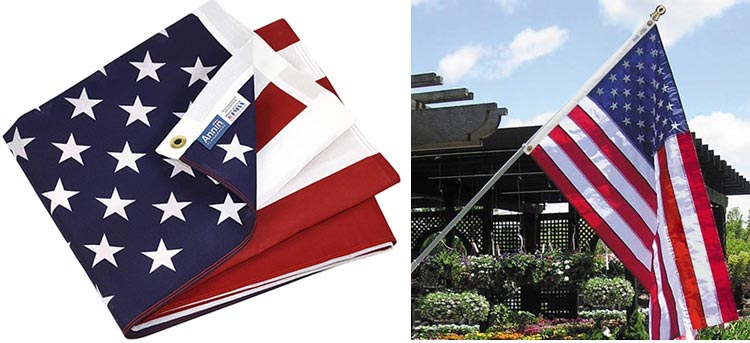 | | |
| --- | --- |
| Origin | Roseland, NJ |
| Year founded | 1847 |
| Sizes offered | 3×5, 4×6, and many more sizes |
| Materials | Premium Nylon, Tough-Tex Polyester, Polyester / Cotton Blend, All Cotton |
Annin's Origin and Manufacturing Locations
Annin flags have been the flag of choice to be displayed during some of America's most important moments. From the flag displayed on the Apollo 11 moon mission to presidential inaugurations from Zachary Taylor all the way to George W Bush, Annin flags have been selected due to their high-quality standards and rich colors. An Annin flag was also draped over President Abraham Lincoln's coffin. Annin Flagmakers has been making quality American flags since 1847, and two this day, they still offer a wide range of American flags that vary in size and material.
If you are looking for a true blue American flag company, you can't go wrong with Annin; they are one of the oldest flag-making companies and the largest manufacturers of all American-made flags. They are certified by FMAA, so you know every American flag you purchase from them is made by American workers right here in the USA. If you want to learn more about the company, you can visit the Annin website here. They have a great reputation and now employ over 500 American workers at their manufacturing facilities in Virginia and Ohio.
Annin's Flag Selection and Offerings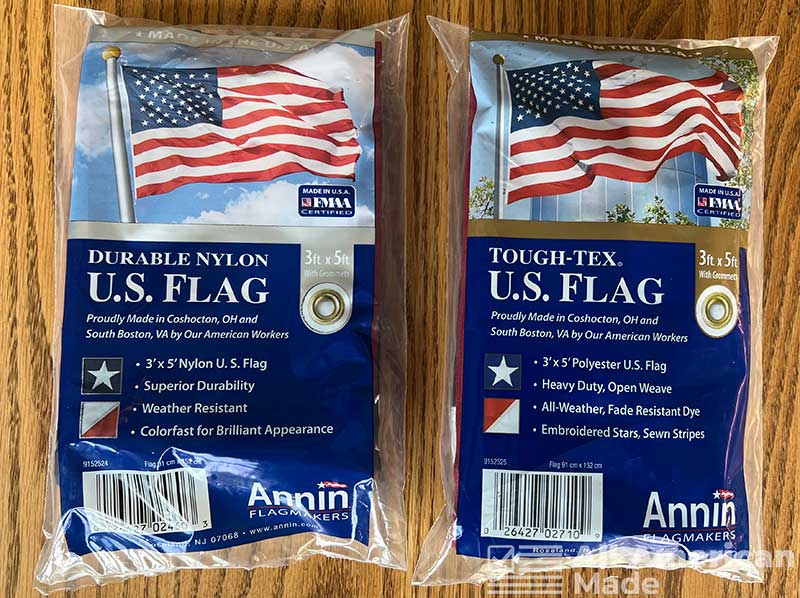 Annins' Tough-Tex polyester flags are vibrantly colored flags made with SolarGuard dyes that delay the inevitable sun bleaching of flags. Their stars are heavy-duty embroidered, and the stripes are sewn with a locking stitch that further resists fraying in the wind. The flag is made with a 2-ply polyester to make this flag a very durable flag that will hold up well in harsh environments. It also has an open weave that helps to let damaging winds flow right through, reducing stress and damage to the flag. If you're looking for a super sturdy, outdoor flag to fly from a flagpole that will last a long time and look great, you can't go wrong with Annin's Tough-Tex flags.
Annin also offers Nyl-Glo flags which are made of surprisingly durable nylon. If you don't already know, nylon flags are known for their bright, vibrant colors. Nylon flags are also lighter, meaning even a light breeze will make your flag fly beautifully. The main downside of nylon flags is that, in general, they do not hold up to heavy winds and harsh conditions as well as polyester flags. That said, Annin nylon flags do hold up well compared to many cheaply made flags and feature a tough canvas header, brass grommets, and multiple layers of stitching that do make the flag rather durable.
If you live in an area with light winds where your flag won't take a lot of abuse, I'd recommend going with the Nylon Flag. If you live in an area with unpredictable weather and occasional high winds, I'd recommend the polyester flag. I personally own one of their polyester flags, but both options are great! If you want to learn more, there is a great article on nylon vs polyester flags here that you can check out. There is also a good video you can check out here that explains the differences. Overall, Annin flags are tried and true, and I'm very confident you'll love their flags. The only thing I can possibly think of that isn't good about Annin flags is that they're a large company, and I know some people like to support smaller companies. That said if you want a tried and true flag that looks great and will hold up well, look no further!
2. Grace Alley Flags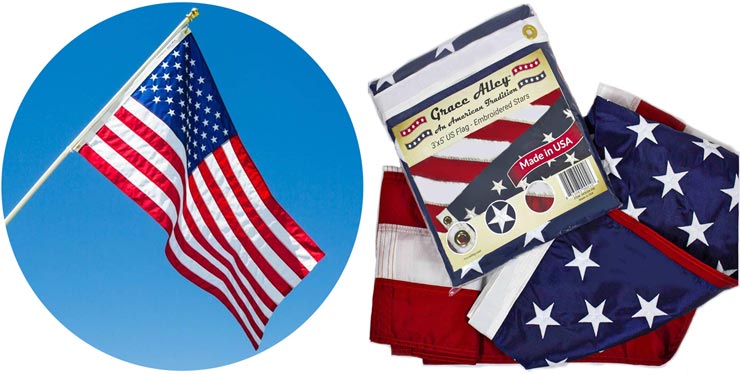 | | |
| --- | --- |
| Origin | Rockledge, FL |
| Year founded | 2016 |
| Sizes offered | 2×3, 3×5, 4×6, 5×6, 6×10 |
| Materials | Durawavez Nylon, Polyester / Cotton Blend |
Grace Alley's  Origin and Manufacturing Locations
Grace Alley started in 2016, and in a few short years, they have grown into a behemoth of an American flag manufacturing company. Grace Alley is a Veteran owned, family-run, and fully American company based out of Rockledge, Florida.
They believe that Old Glory should always be made at home by honest, hard-working Americans, and they stand by that edict. I really like that they are certified by FMAA because it ensures you're getting a high-quality American-sourced and manufactured flag. Their flags are handmade, and the amount of care they put into each flag, I believe, is the reason the company has expanded so quickly.
Grace Alley's Selection and Offerings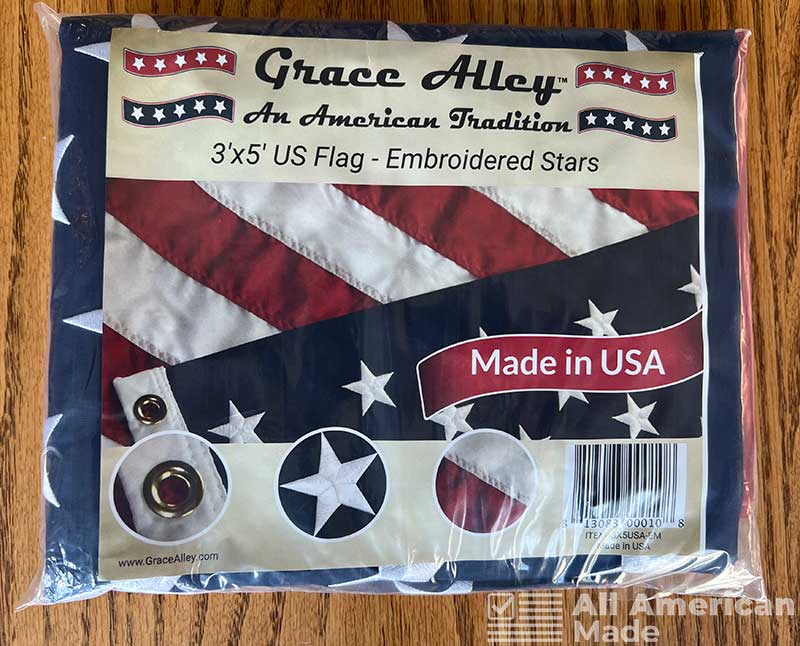 Grace Alley offers two different types of American flags in various sizes. Their first offering is a nylon flag made from Durawavez Nylon that is meant to help withstand the rough outdoor environment. These flags come with fully embroidered stars, stitched, not printed stripes, and heavy-duty polyester header material for added strength in outdoor environments. They also have strong brass grommets to last longer and four rows of stitching on the outer hem. This assures a long-lasting flag will be flying proudly on your property.
Grace Alley has a non-embroidered polyester and cotton blend flag for those on a tight budget. It still comes with the polyester header, brass grommets, and four rows of stitching on the hem for added strength. The polyester and cotton blend helps to withstand sun fading, wind, and rain while retaining crisp colors. An excellent choice for displaying the love of our country on a budget.
Grace Alley also has plenty of accessories to display your flag as well. They have flag and flagpole kits for simpler shopping, mounting brackets, and individual flagpoles. Their flagpole clips are free spinning clips, meaning your flag won't wrap around the pole when the wind blows. You'll have to spend less time going out to untangle your flag with these spinning clips. Overall, I love Grave Valley and the overall ethos of the company.
Popular Related Article: The Best American-Made Flagpoles on the Market Right Now
3. Valley Forge Flags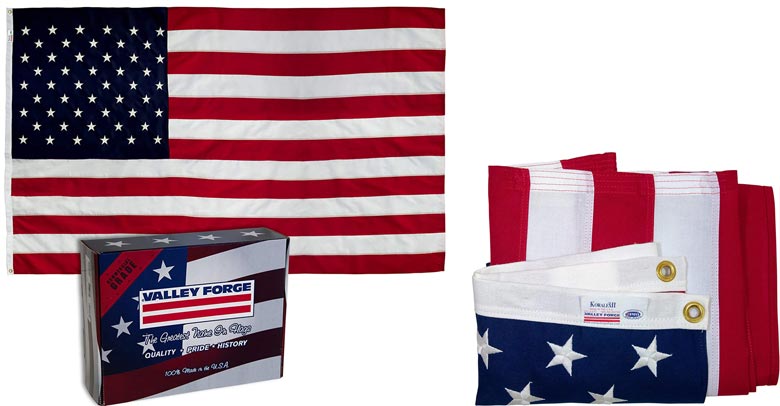 | | |
| --- | --- |
| Origin | Wyomissing, PA |
| Year founded | 1882 |
| Sizes offered | Assorted sizes from 2×3 up to 30×50 |
| Materials | Duratex II Polyester, Koralex II Spun Polyester, Perma-Nyl Nylon, Cotton, Poly / Cotton Blend |
Valley Forge's Origin and Manufacturing Locations
Back in 1882, in the little town of Wyomissing, Pennsylvania, Valley Forge Flag company was started. Instead of flags, they started out making burlap bags, but during WWI, they started what they still do today, American flags.
With the help of military and government contracts, they had so many orders for American flags that Valley Forge had to open up a sewing factory in Spring City, Pennsylvania. They are still a family-run business that employs over 300 American workers.
The Valley Forge Flag company is a founding member of FMAA, so you know you're getting 100% American made flags.
Valley Forge's Selection and Offerings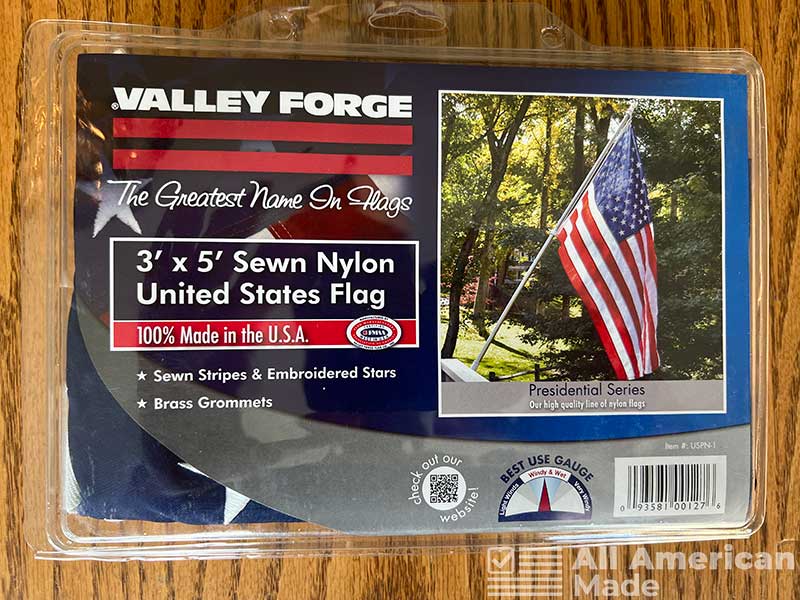 When shopping for a Valley Forge Flag, you have different options of materials. If you want something that is beautiful and durable, great for indoors or outdoors, and easy to clean, you can't go wrong with their Perma-Nyl, nylon flags. These stunning flags feature strongly stitched stripes and embroidered stars, along with rust-proof brass grommets for extra strength.
If you're looking for something more traditional, Valley Forge also carries full cotton flags. These flags don't belong outdoors because cotton, being a natural material, will deteriorate quickly outdoors. Cotton flags are made for indoor presentations for that authentic look and feel.
You also have the option between a cotton polyester blend or a full two-ply spun polyester termed Koralex II. This material has the feel of cotton but has the strength of nylon and the durability of polyester when flown outdoors. Koralex II flags will last a long time outdoors, in the harshest of conditions, even if you fly your flag 24-7. You can also see all of their offerings on the Valley Forge Flag website here. Overall, I find Valley Forge flags to be absolutely stunning. Compared to flags made overseas, they're a similar price and far more quality.
4. Rushmore Rose (Rising Star)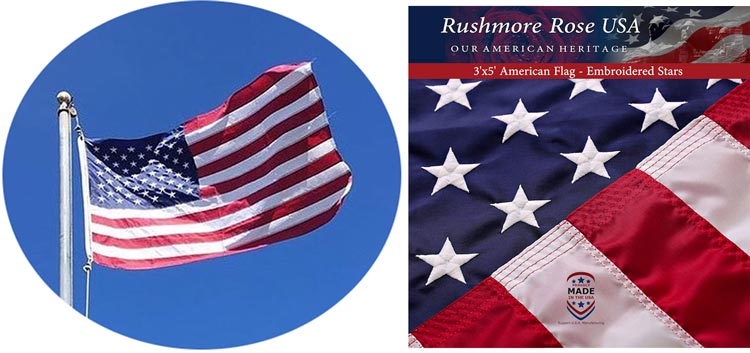 | | |
| --- | --- |
| Origin | Wyomissing, PA |
| Year founded | 2016 |
| Sizes offered | 3×5, 4×6, 5×8 |
| Materials | Nylon, Polyester / Cotton Blend |
Rushmore Rose's Origin and Manufacturing Locations
Charles Miller, the founder of Rushmore Rose started his flag business in 2016 when he had a startling revelation; many American flags were made by overseas companies, and a large quantity of those was made in China. Vowing to change that sobering fact, he started his own American-made flag company. He quickly started investing in US manufacturers and producers and, in a few years, has made a name for his company by providing outstanding American flags paired with all-star customer service.
Rushmore Rose flags stick to what they know best, and their quality shows in the products they sell. They make American flags and flagpoles and nothing else.
In 2021 the company only had 5 American workers, but that didn't stop them from being one of the highest-rated names in American flags and being a proud member of FMAA. The company is also rapidly expanding and, most importantly, hiring American workers! You know you are getting a gorgeous, American-made product when you purchase a Rushmore Rose flag or flagpole. They are located in Wyomissing, Pennsylvania, and their growth has been truly remarkable.
Rushmore Rose's Flag Selection and Offerings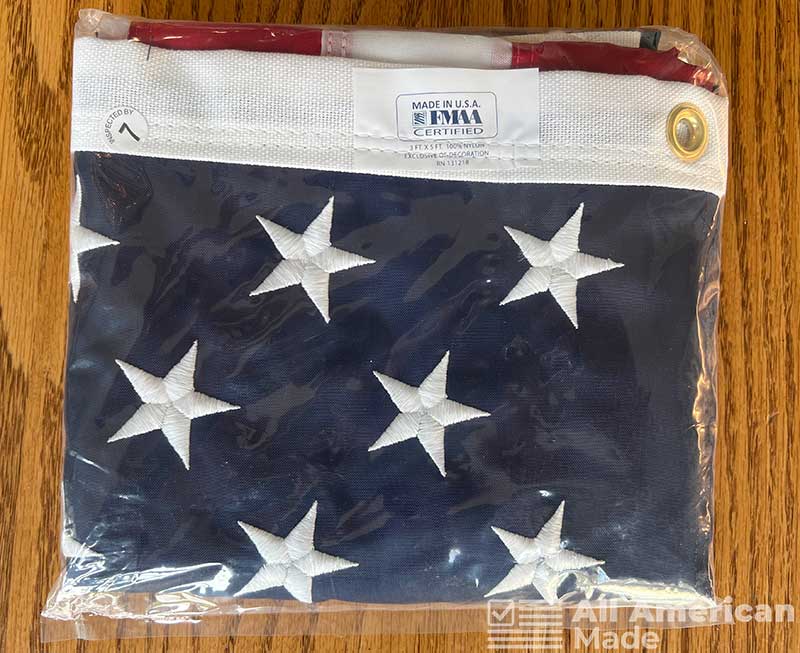 Rushmore Rose specializes in American flags and poles instead of creating a mass of mediocre products to choose from. With that specialization, you know you're getting a tough, American flag. Their nylon flags shine with vibrant colors, have embroidered stars—not glued on—and double-stitched red and white stripes. They also have heavy-duty brass grommets, an all-weather-resistant polyester header, and a quadruple-stitched fly hem.
Rushmore Roses' nylon flags fly well in the slightest breeze but are also very strong to withstand the elements. Water evaporates quickly off these flags instead of soaking in and hanging around.
Rushmore Rose also has a cotton, polyester blend flag for those who want something less expensive but still want to display the stars and bars. These flags are also American sourced and made with quality materials like polyester headers and rust-proof brass grommets.
Their flagpoles are made from thick, anodized aluminum, so you will have years of lasting quality while displaying your American pride. They also have spinning flag clips to prevent your flag from unsightly wrapping around the pole. One of the best inventions for flags, in my opinion.
5. Made in USA Flags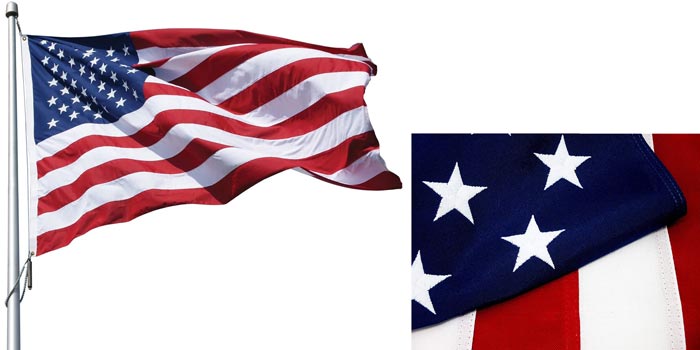 | | |
| --- | --- |
| Origin | Dubuque, IA |
| Year founded | 1977 |
| Sizes offered | 3×5, 4×6, 5×8, 6×10 |
| Materials | Polyester, All Weather Nylon |
Made in USA Flags' Origin and Manufacturing Locations
Made in USA Flags is a small-time family outfit based out of Dubuque, Iowa, that has been in the flag-making business since 1977. They started out as a mail-order business, then moved on to eCommerce, and now strictly sell their American-made flags on Amazon. You still get FMAA-certified completely American-made flags but with the assurance and quality customer service backed by Amazon.
Made in USA Flags' Selection and Offerings
Made In USA Flags are made with either polyester or nylon. Their nylon flags have four rows of lock stitching on the fly hem, they are dyed with aniline dye that makes the colors on these flags simply pop! There are blazing blues, robust reds, and wispy whites that strike your eyes, especially on a blue sky backdrop.
The PolyMax polyester flag has the same embroidered stars, locking stitching, brass grommets, and aniline dye the nylon flags do, but with the durable two-ply polyester on these flags, they are perfect for high wind conditions or for displaying Old Glory 24-7 outdoors. Both their polyester and nylon flags make great outdoor American flags, and they are very well constructed.
6. Allegiance Flag Company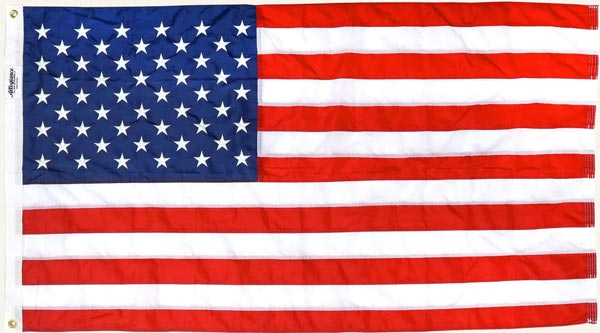 | | |
| --- | --- |
| Origin | Charleston, SC |
| Year founded | 2018 |
| Sizes offered | 16"x24", 3×5, 4×6, 5×8 |
| Materials | Nylon |
Allegiance Flag Company's Origin and Manufacturing Locations
When three friends became frustrated with finding so many cheaply made, foreign-manufactured American flags, they decided to open their own company. In 2018, in Charleston, South Carolina, they started Allegiance Flag company. They wanted to focus on obsessive quality while keeping everything related to their company home in the USA. Allegiance makes handmade American flags and high-quality, strong accessories for displaying your flag.
Even though their customer service section is American, you won't get someone from another country trying to answer your questions when you call.
Allegiance Flag company stands for heavy-duty, American-made, long-lasting quality.
Allegiance Flag Company's Selection and Offerings
Allegiance flags are definitely not cheap flags, but they make up for their price in absolute quality. Their flags are all handmade by third generation seamstresses that do not cut any corners.
They also have flag mounting kits made of super sturdy materials from cast iron mounting brackets, hardwood flagpoles, anodized aluminum, and free-spinning flag mount casters. While most flag mounts are plastic, these are made of longer-lasting aluminum. These heavy-duty accessories will be around for years.
7. Veterans Flag Depot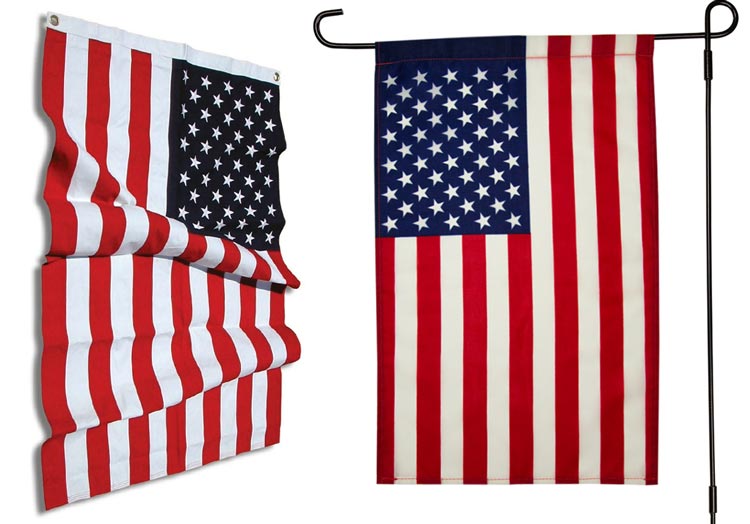 | | |
| --- | --- |
| Origin | Aubrey, TX |
| Year founded | 2004 |
| Sizes offered | 3×5, 4×6, 5×8, 8×12 |
| Materials | Nylon, Polyester, Cotton, Polyester / Cotton Blend |
Veterans Flag Depot's Origin and Manufacturing Locations
Veterans Flag Depot got its start in 2004 in Aubrey, Texas, to honor his father and all the veterans who have served in the military service for this great country. The owner dedicated this company to his father, a military veteran who served for 37 years and survived action in both WWII and the Korean War.
Veterans Flag Depot is a 100% online flag store where you can get anything flag related you need. Rest assured that all their products are sourced and made in America by American workers.
Veterans Flag Depot's Flag Selection and Offerings
Veterans Flag Depot offers American-made flags made from nylon, cotton, or polyester for all your flag flying or displaying needs.
Their nylon flags are heavy-duty, fade-resistant, durable quality flags with four rows of stitching at the fly hem for added fray resistance. They also have heavy-duty fabric sewn on the header with brass grommets. These nylon flags have the beauty and strength to fly outdoors in commercial or residential settings.
Their polyester flags have the same high-quality build as their nylon flags. Their embroidered stars, sewn stripes, and two-ply polyester material make these flags—which are a bit heavier than the nylon option—perfect for areas that regularly get high winds.
If you need flagpoles, Veterans Flag Depot has you covered with aluminum, telescoping flagpoles. These flagpoles are stronger than steel, will never rust, and are lighter, making them easier to mount and take apart.
8. Flag Source

| | |
| --- | --- |
| Origin | Chicago, IL |
| Year founded | 1920 |
| Sizes offered | Multiple sizes |
| Materials | Nylon, Polyester, Polyester / Cotton Blend, Cotton |
Flag Source's Origin and Manufacturing Locations
Our next American-made flag company started out in Chicago by a husband and wife team. In 1920 they started selling fraternal regalia to Chicago clubs and fraternities such as the Lion's club, Kiwanis club, and many others. It didn't take them long to realize that there was money to be made in American flags, as American pride and the need to display that symbol of freedom started sweeping the nation, and now they just sell flags. Their growth and need for a larger space for manufacturing caused Flag Source to pack up and move from the rented space in Chicago and settle down in Batavia, Illinois, where they are still located today.
Flag Source started as a family-owned company over one hundred years ago, and they are still a family-owned company that produces quality American-made and manufactured flags.
Flag Source's Selection and Offerings
Flag Source utilizes heavy-duty materials that focus on durability and strength for long-lasting beauty and quality. Both their nylon and polyester flags feature color-matched T-60 thread that can withstand up to 60lbs of pull. Some of the strongest threads on the market today. They also utilize lock stitching and extra "x-box" stitching at the top and bottom of the fly hem for an added layer of fray and tatter resistance. The "x-box" stitching is an extra step to strengthen the corners of the flag that flap the most, and it's a sewn square with an X inside to keep the flag's ends together longer. Their embroidered stars are some of the tightest, best-looking stars on the market. The header is the strongest in the industry; it is made of 9oz. poly-sateen fabric. Flag Source products are meant to last.
Their 2-ply PolyExtra polyester flag selections are crafted on specialty looms and dyed specifically to stand up to the rigors of demanding weather and intense ultraviolet light from the sun. These extra steps mean longer-lasting, bright, and crisp colors for your flag.
9. Eder Flag Company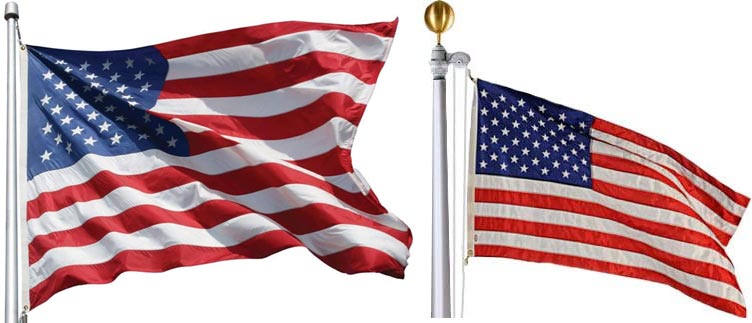 | | |
| --- | --- |
| Origin | Oak Creek, WI |
| Year founded | 1887 |
| Sizes offered | Multiple sizes |
| Materials | Endura Nylon, Poly-Max Polyester |
Eder Flag Company's Origin and Manufacturing Locations
The Eder Flag Company was started in 1887, in Wisconsin, by seven Eder brothers. They got their start by producing pillows, pennants, hunting jackets, and even dolls. It wasn't until 1903 that they began producing American-made flags. The company flourished, and in 2016 they turned the company over to the employees, making the nation's largest manufacturer of flags and flagpoles a fully employee-owned company. As a member of FMAA, you can rest assured Eder Flags are 100% made in America, with domestic resources and American labor.
During one of America's darkest hours, when the World Trade Centers collapsed, an Eder flag was hoisted by three Firefighters to let everyone know that Americans might have been dealt a terrible blow, but we would not be defeated. That historic flag was then donated to the 9/11 museum and is still on display today.
Eder Flag Company's Selection and Offerings
Eder flags are made using heavy-duty but light materials. For their nylon selections, they use Endura-Nylon, which is tough, resistant to tattering and fraying, but light enough to display the stars and stripes during moments of light breezes. They use aniline dyes which produce deeper, richer, brighter colors and are treated to resist fading from the sun.
Nylon flags are a great choice for outdoor flying. They are strong enough to stand up to harsh outdoor conditions, high winds, rain, and sun, and dry fast after getting wet. Nylon also has a bright shimmer that can't be beaten by any other flag material.
Polyester Flags manufactured by Eder Flag Company are crafted using 2-ply, 100% polyester bunting. This means each thread is twisted together with two pieces of polyester yarn, making the weave twice as strong. They are also weaved together with a more open weave that reduces wind resistance, letting more air flow through the flag, thus increasing the life expectancy of the flag. These flags are extremely durable, making them the ideal choice for commercial applications where there is a lot of wind.
Flagpoles
Eder Flags have both residential and commercial flag poles. These, too, are all American-made using American materials. For your residential needs, Eder has 20' and 25' sectional aluminum flagpoles. They come with everything you need, do not require any special tools, and can be installed by do-it-yourselfers. There's no need to hire an installer to place these majestic flagpoles in your yard.
These aluminum flagpoles come in different finishes; you can choose between satin or clear finish, bronze, or black. You can also get just the flagpole by itself or purchase a pole complete with a 3' by 5' flag for added convenience.
10. Gettysburg Flag Works

| | |
| --- | --- |
| Origin | East Greenbush, NY |
| Year founded | 1993 |
| Sizes offered | Multiple sizes |
| Materials | Nylon, Polyester, Cotton, Battle-Tough Nylon, Steadfast Winter Grade Polyester |
Gettysburg Flag Works' Origin and Manufacturing Locations
The year was 1993; in Upstate New York, US Army veteran Mike Cronin, founder of Gettysburg Flag Works, started selling American-made flags out of the trunk of his car. He chose the name Gettysburg because of his love of history and President Abraham Lincoln and to embody the image of everything Americana. Now the company has a permanent location in East Greenbush, New York. Though they are now mostly an online retailer, Gettysburg Flag Works encourages patrons to stop by their brick-and-mortar store if they are around the area.
Gettysburg Flag Works is a member of FMAA that is regularly involved in their community and often donates products to veteran groups and several other civil service communities. They love to educate about the American flag, and it shows on their website because there are blogs and articles all about flag etiquette, half-staff alerts, and anything flag-related.
Gettysburg Flag Works' Selection and Offerings
Gettysburg offers numerous selections of American-made flags and flagpoles for whatever purpose you need. Even if you need something for a tight budget, Gettysburg has you covered. You don't have to sacrifice quality when you go with a smaller price. They have indoor and outdoor flags for everyday use, as well as high-end, long-lasting Battle-Tough and Steadfast flags for the harshest of outdoor conditions.
If you need indoor flags for decorating your office or formal area, Gettysburg has you covered. If you need flags for classrooms or to hang inside your living room, they have whatever you may want. From fringed flags and mahogany poles for that extra "pop" of quality to simple but elegant cotton flags for your covered porch, Gettysburg has it all.
Their outdoor flags include budget-friendly flags to long-lasting Battle-Tough nylon flags that are some of the longest-lasting American-made flags on the market. Materials for the Battle-Tough flags are light but extremely strong for long-lasting durability and quality. Extra stitching and "X" patterns on the corners provide long-lasting support for outdoor conditions.
If you live in extreme conditions such as the plains where winds can destroy flags in a short amount of time, or areas such as the coast where salt spray and coastal winds wreak havoc on your flags, you could use a Steadfast polyester flag. These are the toughest flags Gettysburg has to offer and can even stand up to brutal winter weather, so you can show your American pride all year long and still have a beautiful, crisp flag waving proudly every day.
Gettysburg Flag Works also offers flagpole installation if you live in their local area. Something most other flag companies are not able to offer. Overall, I'd say Gettysburg Flag Works easily makes some of the best American flags made in the USA. The company has a long history and a strong reputation.
11. Flags USA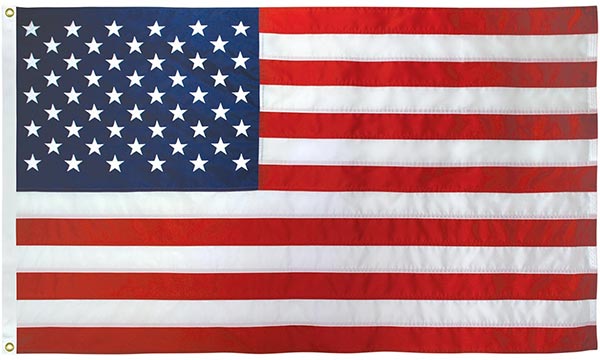 | | |
| --- | --- |
| Origin | Bartlett, IL |
| Year founded | 1987 |
| Sizes offered | Multiple sizes |
| Materials | Nylon, Cotton, Polyester, Nyl-Glo Nylon, Tough-Tex Polyester, Recycled Polyester |
Flags USA's Origin and Manufacturing Locations
Flags USA is a family-run and operated business that started in Bartlett, Illinois, in 1987. It is also an all-women-owned American company. The company president, Judi Sklarz, started out after leaving another flag business and was strictly a mail-order business when she began. They have been in business for over 30 years and are still a family-oriented, American business. The leaders at Flags USA believe American flags should be made in America by American hands.
This small company is FMAA certified, and they have direct numbers to the president of the company, the general manager, the operations manager, and the account sales representative if you have questions or concerns.
Flags USA's Selection and Offerings
Flags USA has plenty of options for indoor and outdoor flags, as well as telescoping outdoor flagpoles, sectional aluminum flagpoles, and all the accessories you could think of for your flag flying and display needs.
For nylon flags, Flags USA offers three selections. Nyl-Glo flags are the longest-lasting, brightest of the three selections with a color-fast guarantee. All are made with heavy-duty stitching, quadruple-stitched fly hems, brass grommets, and tough headers. For flags 6' x 12' and smaller, the stars are embroidered, and stripes are all individually sewn on.
Their polyester selections offer varying degrees of toughness, the strongest of these is their Tough-Tex polyester. This also comes with a colorfast guarantee. Polyester flags make great outdoor American flags because they are made for windy conditions because they hold up longer than nylon flags in high, sustained winds.
If you are in the market for environmentally friendly flags, Flags USA has you covered with their RePATRIOT recycled polyester flags. These polyester flags are made from post-consumer, recycled plastic bottles. When you purchase a RePATRIOT flag, you are getting a strong, outdoor flag made from at least 15 recycled plastic bottles, and this flag's colors last longer than traditional nylon flags. What could be more American than purchasing a flag made from recycled materials? You're helping the environment while showing off the love of our beautiful country.
12. Flags Forever Wooden American Flags

Flags Forever's Origin and Manufacturing Locations
Since this article is mostly about traditional-style American flags, I just wanted to include one section on wooden American flags and then show you some of my favorite companies that make them. I won't go into too much detail about each company, but I'll point you in the right direction, and then you can decide which is right for you!
Flags Forever's Selection and Offerings
I personally find wooden flags to be absolutely stunning. If you're looking for a great piece of home decor for your home or camp, wooden flags are great. I personally like to find handmade wooden flags, and if they're made by veterans, that's always a plus as well. One of my favorite options when it comes to wooden flags is the Flags Forever company. They have a ton of different options. Some other wooden flags I love are those made by Etherton Hardwoods and Flags of Valor. That said, I've been very surprised by the number of companies making beautiful handmade wooden flags. These flags are made by veterans, and all of the materials are sourced from the USA.
13. Flagpole Farm (Best Telescoping)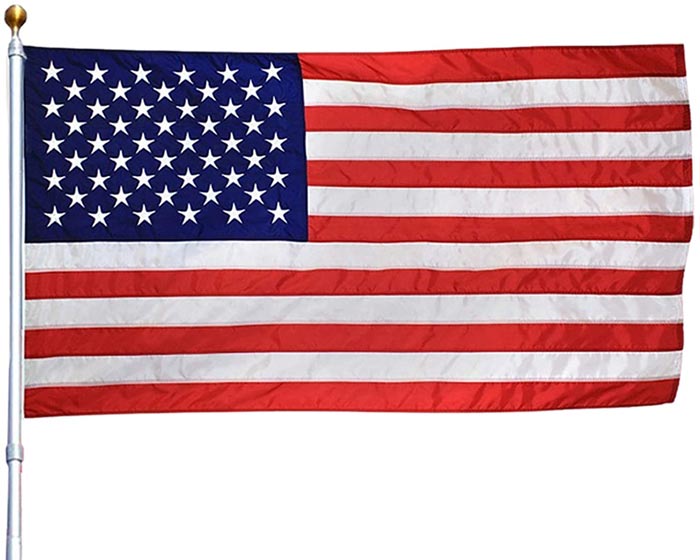 | | |
| --- | --- |
| Origin | Meridian, ID |
| Year founded | 2017 |
| Sizes offered | 6', 15', 20', 25' and Larger |
| Materials | Oak (indoor), Aluminum |
Flagpole Farm's Origin and Manufacturing Locations
Located in the heartland of Meridian, Idaho, is Flagpole Farm. They don't grow vegetables or raise livestock, but since 2017 Flagpole Farm has been making and selling American-made flagpoles. They're a small American family-owned company that specializes in making and shipping commercial and residential flagpoles all around the USA. Their signature products include Titan Telescoping Flagpoles and Titan Solar lights.
Flagpole Farm's Selection and Offerings
There is simply something majestic and striking about a large flag flowing from a ground-mounted flagpole on your property. But let's face it, they can be difficult to mount and a pain to maintain. Well, those days are in the past because Flagpole Farm offers their Titan Telescoping Flagpoles. With a telescoping flagpole, you can take them down when a heavy storm rolls through, unlike permanent, long, solid steel poles that can bend or break in high winds. Even if you leave your telescoping pole up year-round, they offer more flexibility and give than traditional poles, making them a safer and more reliable choice for displaying your American heritage.
A telescoping pole is made of different locking sections of metal tubing that slide into each other. With Flagpole Farm's telescoping flagpole, you won't have to worry about the flag wrapping around the pole nearly as much compared to a traditional flagpole either. The Titan flagpole comes with 360° swivel clips that allow the flag to change direction with the wind without getting tangled.
If you fly your flag all day and night, you should keep a light on your flag during the dark hours. Flagpole Farm has solar-powered flagpole lights to make this an easy task. These flagpole toppers come with batteries and have six bright LED lights that will illuminate the American flag like it's supposed to. They also have an automatic switch that will shut off when the sun comes out, so you don't have to switch it on and off every day.
Factors to Consider When Choosing an American Flag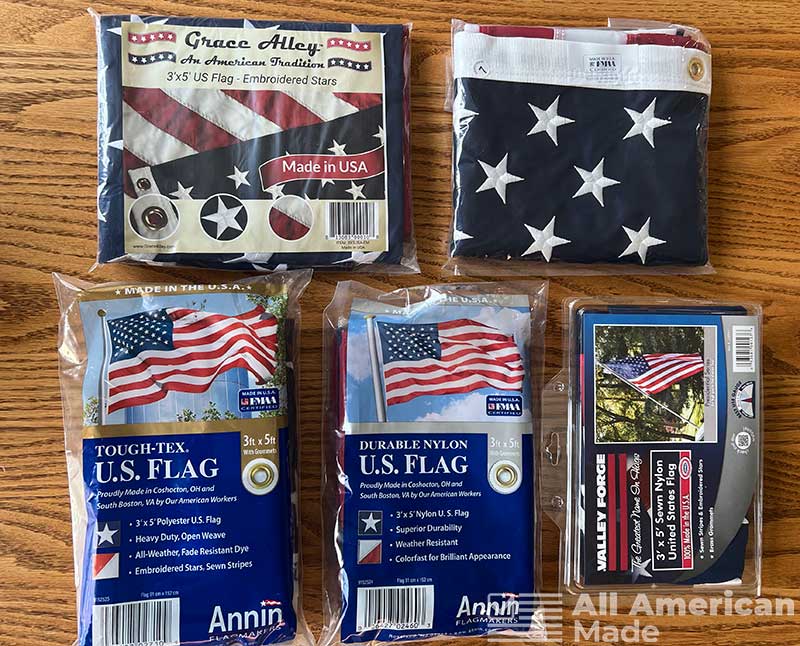 Typically, nylon and polyester flags are better choices for flags flown outdoors as these materials are stronger than natural materials and are more resistant to fading, fraying, and damage by high winds. Also, these fabrics are easier to clean and dry faster than cotton. Cotton used to be the material of choice for all flags, but since the invention of synthetic fibers, cotton flags are now best used for indoor applications, whether for stands or displaying inside your house. Most websites will also offer a free consultation to help you choose the right flag for your needs.
What Material?
Nylon: Nylon is a synthetic material that is great for outdoor flag applications. It is typically lighter than polyester or cotton, which also allows it to fly easily with small breezes, and is good for residential areas, neighborhoods, and areas that have a kind of buffer from heavy winds. Nylon, being a synthetic material, dries much faster than cotton and is easier to clean. Flags made from nylon typically have a brighter sheen to them than other materials. If looks are important, and you are looking for a light, brightly colored flag for average outdoor conditions, nylon is a good choice for you. Nylon flags tend not to be quite as durable as polyester, but a well-made nylon flag can still last a long time. Another cool thing about nylon flags is when light passes through them, they almost glow and look beautiful.
Polyester: This is another synthetic material meant for outdoor use, but this material is a bit more rugged than nylon and works well in areas that have steady, high winds and harsher conditions. Polyester is a heavier material, especially if it is two-ply, so it needs a stronger wind to make the stars and bars fly. Another aspect of polyester flags is they tend to look and feel more like traditional, historic flags. If you live along the coast, where there is usually a strong wind and salty air, polyester flags will last longer in your area. Polyester flags are recommended in other areas that normally have high gusts and sustained winds or if you plan on displaying your flag outdoors 24-7. They will typically last longer than nylon and cotton flags. For those looking for an outdoor American flag both nylon and polyester are very popular choices.
Cotton: For history buffs, displaying your flag indoors, or if you simply want to go with all-natural material, cotton flags are for you. Flags from the early days of America's history were made using cotton. These flags don't last very long outdoors. The sun, wind, rain, and other weather events will degrade a cotton flag very quickly compared to synthetic materials. Cotton flags are great for flag stands inside, small desk flags, or if you just want to have a symbol of freedom and liberty hanging on your wall.
If you still have questions about what size flag, what material, what all the stitching terms mean, or if you just want general information, most companies encourage you to email or even call them. They love answering your questions about the American flag.
Life of the Flag
There are many considerations that factor into the life of a flag. From material to weather to how often and how long it's displayed, you will have to replace your flag from time to time, especially if you display it outdoors. The US government expects a flag to last approximately 90 days if it is flown every day from sunup to sundown. If you fly your flag every day, all day, you can expect to replace your flag more often than if you take it down at night or during inclement weather. Usually, an outdoor flag will last from a few months to about a year.
Some companies offer longer-lasting flags and replacement guarantees, but you will have to contact those particular companies to get all the specifics.
Considerations for Indoor vs Outdoor Flags
Outdoor and indoor flags should not be interchanged. An indoor flag is not made to withstand the harsh outdoor weather conditions that outdoor flags are created for. Besides the material, indoor flags tend to have a fringe that is not meant for outdoor flight.
All outdoor flags will have to be replaced over time. Wear and tear from sun, wind, and adverse weather conditions will eventually start to tatter or fray your flag. Once your flag starts to show signs of wear and tear, it needs to be taken down to be repaired, if possible, or retired. Some flag companies offer repairs to existing flags and can point you in the right direction when it comes to retiring your flag.
Embroidered vs Printed vs Applique
Embroidered, printed, applique? What does it all mean? Basically, these three terms describe how the flag is made, especially concerning the stars on the blue field of the American flag. Each one is a different technique and has different reasons for that technique. There is also a great article here that covers things you should know about flags before choosing one. That said, we'll give you the abbreviated version below.
Embroidered: Stars that are embroidered use thread stitched in tight patterns to create a shape. If you have seen the raised lettering, and stitching on ball caps, that's embroidery. For flags, a sign of quality is usually an embroidered star, up to a certain size of flag. Most flags smaller than 8' x 12' will have embroidered stars. My opinion is that these embroidered stars just look better.
Printed: Most smaller flags such as desk flags, stick flags, or grave marker flags will have printed stars and oftentimes printed stripes. These are typically cheaper flags that won't last very long. You can get larger, printed flags if you really want to save money, but most high-quality display pieces will have embroidered stars.
Applique: Applique is a technique for star placement on larger, mostly commercial flags. The white material is cut out for the stars and then affixed to the blue field either by glue or stitching.
What Size Flag Do I Need
The most popular size flag for residential display is 3' x 5', which is a good average flag size for your typical ground-mounted flagpole. If you are going with a house-mounted pole, a 2.5' x 4' flag is ideal.
A good rule of thumb is your flag length should be about one-quarter of the height of the flagpole. For example, a 20' flagpole will need a flag about 5' in length. There is a good resource here about flag sizing you can check out.
| | |
| --- | --- |
| 5' House mount pole | 2.5'x4' Flag |
| 8' House mount pole | 3'x5' Flag |
| 20' Ground mount pole | 3'x5' Flag |
| 25' Ground mount pole | 4'x6' Flag |
| 30' Ground mount pole | 5'x8' Flag |
Wrap Up
That does it for this article; let us know if you have any comments or questions in the comments section below. If you've ever bought and flown a great American flag and feel we should add it to this list, let us know in the comments below. We're constantly looking for new products that our readers might find useful.
Hi, my name is Kevin and I'm from Pittsburgh, Pennsylvania. Choosing products made in America is important to me because it supports local economies, creates jobs, helps the environment, and ensures ethical labor practices. I also find that American made products are usually of higher quality so although they're a little more expensive, you save money in the long run. Before starting this website I was in the USMC infantry and nowadays I work on this website as a hobby.