There are tons of options when it comes to belts, but just like most things, a lot of our daily accessories have had their manufacturing shipped overseas, typically accompanying a lack of quality. Luckily for us, there are still excellent belts made in the USA.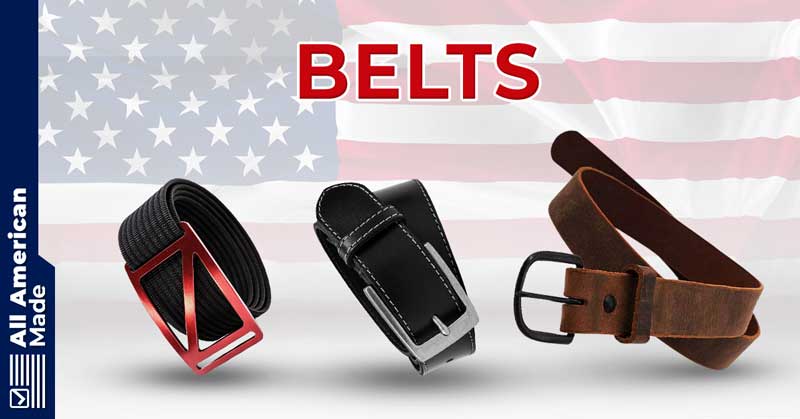 In the rest of this article, you'll find all types of belts ranging in size and material. We've even included some excellent genuine leather belts on our list.
List of American-Made Belts
Relentless Tactical Steel Core Belt (Most Popular)
| | |
| --- | --- |
| Estimated price | $70 |
| Size | 32-52" |
| Material | 100% Leather |
What We Like and Don't Like About This Belt:
I've owned this particular belt for years, and it's by far the highest quality belt I've ever owned. If you are looking for something classic but still fashionable enough to wear during everyday life, then The Ultimate Steel Core Belt made by Relentless Tactical is the perfect option! One unique feature of this belt is its steel core, which allows you to attach and carry weight on your belt without having to worry about it stretching or sagging.
The fact is, when it comes to belts, leather is typically a sign of quality, but; It's important to have the right blend of comfort and durability to hold up through even the toughest day at work or play. I rate this as one of the ultimate steel core belts with tough construction that will never sag, stretch, or bend, compensating for sudden weight distribution changes.
The Semi-flexible rubber core and spring steel insert give it unique rigidity and allow it to take on anything you throw at.
It's strong, durable, and stylish. Don't be fooled by thin wear-and-tear nylon belts that won't save you when your life's on the line. You need something tough – you need The Ultimate! Designed specifically to carry gear, two slabs of American leather are reinforced with a steel core to give this belt amazing strength and look great for everyday use.
It comes with a Lifetime warranty and is 3X Stronger compared to most competitors' products made in Indonesia or China. The straps of this thick brown leather belt rest easily on your hips, snug and secure. When you buckle up, be assured that it will take many hits to break apart the heavy-duty buckles for this rugged tactical belt.
This belt is stronger than any department store waistband. With an interlocking stitch design and protective buckle, not even getting into water will affect this product's structural integrity.
The two colors it does come in (brown and black) both look great. The only thing I personally don't love about it is the metal sleeve on the buckle, but that's just a personal preference.
Who We Recommend This Belt For:
Overall, this is a very well-made belt that's made from high-quality USA-made leather that doesn't fade or go limp in humid weather. This is a versatile belt that's great for everyday use.
Journeyman Leather Belt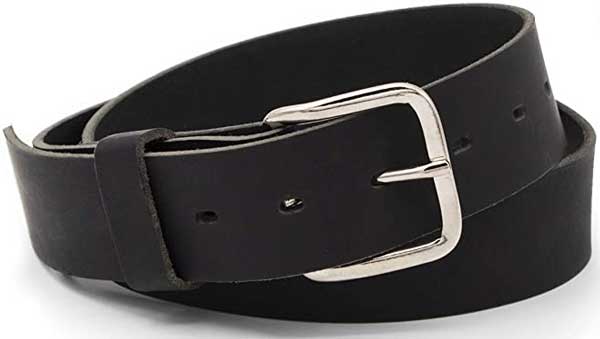 | | |
| --- | --- |
| Estimated Price | $20 |
| Size | 32"-53" |
| Material | 100% Leather |
What I Like and Don't Like About This Belt:
If you're in the market for a belt that will last, look no further than Main Street Forge Journeyman Belt. This handmade grain leather belt is comfortable and durable.
When I got my hands on this belt, I could truly tell the quality difference compared to most department store belts. Main Street Forge belts are made from the highest quality vegetable-tanned leather and crafted using techniques passed down from master to apprentice for generations.
There are available in three sizes: Medium (fits 30-38″), Large (fits 38-46″), and Extra Wide belts that accommodate up to an XXL size 48″.
You can easily dress up or dress down with this durable leather belt. Welcome to the world of form and function, aesthetically pleasing and streamlined design. With this product, you can look your best for any occasion.
Who We Recommend This Belt For:
If you're looking for a handcrafted belt that's 100% Genuine Leather belt, this is a great option. Whether you intend to use it for EDC, work, or occasional purposes, this belt can do it all!
With this, you can enjoy everyday life with extra comfort that you won't want to take off! The best part? This belt is seriously tough as nails, just like I've found all Main Street Forge belts to be. I'm not the only one that believes in these belts, Main Street Forge has so much confidence in their belts that they back them with a lifetime warranty. There aren't many other belts that you can say that about!
Colonial Belt Company Men's Casual Leather Jean Belt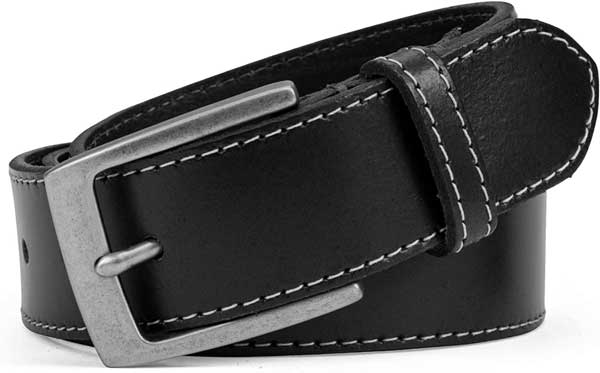 | | |
| --- | --- |
| Estimated Price | $25 |
| Size | 32"-42" |
| Material | 100% Leather |
What We Like and Don't Like About This Belt:
The fact is we're Surrounded by a nation tired of big, fat belt buckles with an ever-increasing waistline. The good news is that there are many belts available with a more modern design. One company making such belts is the Colonial Leather Company. It's an American company that manufactures 100% leather belts from quality, USA-made materials.
They created a product staple for any collection of clothes. This is a product made from American leather, in America, by Americans! Handcrafted with love and experience- what else could be better?
It's a perfect touch for jeans and work pants alike. This can be doubled up as a choker or put on its true size buckle hole setting with a custom sturdy buckle that guarantees secure hold for years of wear without strap slippage or stretch out.
This can handle any expansion of waist size after those Thanksgiving dinners (or summer pool parties). The Colonial Belt Company knows that all men deserve to wear a high-quality, handcrafted product made by American hands. To this end, they created a soft leather that saves your pants from being scuffed by the buckle.
Compared to belts made overseas, I find them to be much higher quality, and surprisingly, it's far less expensive than most!
Who We Recommend This Belt For:
Colonial Belt Company belts stand out as a perfect accessory for any man's wardrobe. They're durable enough for everyday use and fashionable enough to be dressed up on special occasions, whether you're headed into the office or doing some after-work errands.
This belt will outwear any other style of the standard waistband. Perfect for wearing jeans or slacks, expertly crafted from 100% American hides, and features a variety of on-trend buckles. It is traditionally stitched to ensure durability with no plastic parts.
Main Street Forge Bootlegger Leather Belt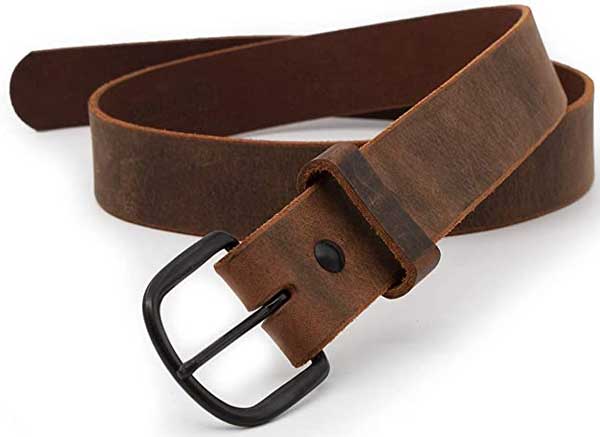 | | |
| --- | --- |
| Estimated Price | $40 |
| Size | 32"-52" |
| Material | Grain leather |
What I Like and Don't Like About This Belt:
If you're looking for an American-made belt that will last longer than just about any department store belt, then look no further! Main Street Forge's Bootlegger premium leather belt is crafted with a patented steel roller buckle, which provides optimal strength and secure hold.
This is yet another top-notch product made in the US, with sturdy materials that will last a lifetime! The heavy-duty full-grain leather is designed with durability in mind, it's not tough enough to handle any job in the field but also looks good doing it. Add this one-piece durable men's casual belt to your cart today, or risk letting another day go by!
Overall, I really like the aesthetics of this belt and the color of the leather.  The belts are handcrafted to be sturdy without sacrificing style. The best part? They're made in the USA, so you know they'll last much longer than your average belt! Fasten this American-made belt around your waist today, see what good quality feels like, and never go back again!
Once you take the time to make this belt yours, it becomes the only product you'll ever need! Plus, you can get that bootcut or skinny jeans to look better with this Casual Leather Jean Belt.
Who We Recommend This Belt For:
Every man deserves to have a high-quality belt. Made with genuine leather, The Bootlegger Belt can take on any activity you may have in mind, whether it just works at the office or an outing in your fishing boat.
This belt will last you well into many more years of hard use, so why not declare life's adventures worthy enough for this great product? Pair it with some casual jeans, and head out today to feel the durability of the Main Street Forge Bootlegger Belt!
No matter what your situation, this product will keep up with all your needs! Main Street Forge knows how important it is that people have quality products they turn to repeatedly – instead of ones that wear out or go out of style after just a few months.
The Huntsman Full Grain Leather Black Belt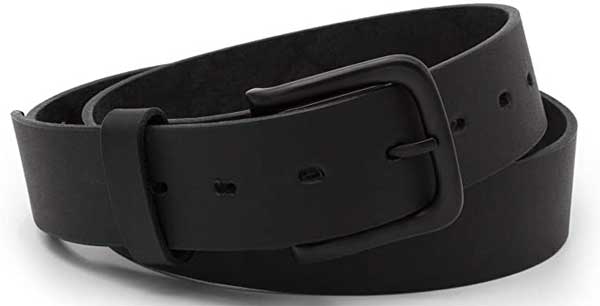 | | |
| --- | --- |
| Estimated price | $32 |
| Size | 32-52" |
| Material | 100% Leather |
What We Like and Don't Like About This Belt:
This is another great belt offered by Main Street forge that's extremely versatile and can be worn for just about any occasion. It is made from a single piece of beautiful black full-grain leather that won't patina with time; this belt stands strong with versatility for any pant pairings you throw its way. So many belts these days are made overseas using low-quality materials, but not this premium homemade product.
This top-rated brand is known to create top-notch products and still make them like they used to be; tough and rugged no matter the setting, so buckle up and have fun.
You can wear this stylish black belt, handmade in the USA from durable full-grain leather, supple yet comfortable enough to wear every day; your new Huntsman Belt will stay tight and never stretch or sag. With a lifetime warranty included at no additional cost, you're sure to get one of the most popular belts for years to come; that's a guarantee!
This product is a perfect combination of style and function. You can wear it at work, at home, or out for any social occasion, and always know the size will fit just right. It'll stand up to any task – from working on the roadside to watching sports with friends. And yet, you look like you spent more time picking your outfit. From class to work to weekends out on the town, it is versatile enough for any occasion!
Who We Recommend This Belt For:
I recommend this belt for anyone who wants a lifetime purchase; if this style resonates with you, this is the only belt you'll ever need. Forget about spending money on a new belt every other month. The Huntsman Belt is made of the highest quality and will last for years with proper care. Overall, it's easily one of the best belts made in the USA.
Thomas Bates Hiker Belt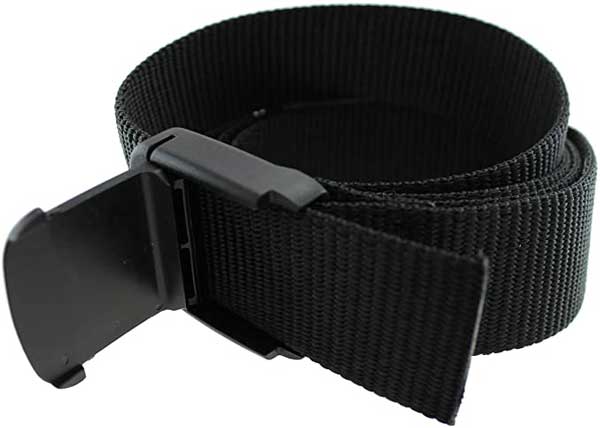 | | |
| --- | --- |
| Estimated Price | $20 |
| Size | 42" |
| Material | Canvas |
What I Like and Don't Like About This Belt:
Hikers and outdoor athletes know that a good belt can make or break their experience, whether they intend to use it for comfort or safety, so why take the risk with poor quality materials when you could have the right fit every time? The Thomas Bates Hiker Belt is available in black, brown, and camel-colored leather to suit any explorer's style.
With its cut-to-size design and strong Nylon webbing construction, this belt is ready for rugged adventures without ever having to worry about breaking out of the seams under pressure!
The heavy-duty polycarbonate buckle measures 32mm wide at adult size (and fits up to Waist Size 42). The best part? You can easily customize your belt by trimming off just enough material from each end until the desired length is achieved.
This product is one of the best friends of the naturalistic adventurer; the canvas is crafted from non-irritated materials and with a nickel-free polycarbonate cam buckle. This is designed with functionality in mind; Thomas Bates crafts a neckline to keep your gear in place while you stomp through a hike or make a dry landing off a surfboard.
Since the belt has no harsh chemicals or metal, so it's travel-friendly too. And with high satin lining, it not only looks good but feels good for long days at work or play. The cut-to-size design ensures that every time is a perfect fit without any adjustment needed!
Who We Recommend This Belt For:
Thomas Bates Hiker Belts are a no-brainer for anyone who wants to stay safe and protected while exploring nature with friends. With a nylon web belt and polycarbonate buckle, you're sure to be snug as a bug all day long, no matter what type of activity you choose!
Let's be real; that belt buckle is a bit different from most conventional styles. Who wears a chain? Not you, then this is a perfect match! It is a go-to for hikers who want to breeze through security with a non-metal belt. The belt is nickel-free and non-allergenic, so it smells better too. This canvas web strap will fit the size of the ladies in every type of pants.
GRIP6 Canvas Unisex Belt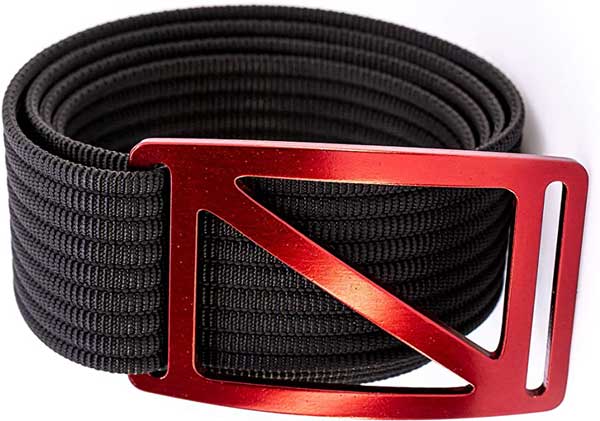 | | |
| --- | --- |
| Estimated Price | $40 |
| Size | 28"-50" |
| Material | Nylon |
What I Like and Don't Like About This Belt:
You deserve nothing but the best for every penny spent, and this product stands for nothing less! If you're like me, your belt is more than just a garment accessory. Maybe you use yours to lug around the essentials of everyday life; perhaps you depend on it for support at work or out in the field. Irrespective of the occasion, this product will suit your needs.
Grip6 is made locally in Salt Lake City, UT, from materials sourced here in the USA. It's made with carbon fiber and slightly bent to accommodate your natural waist curvature, help prevent chafing and discomfort day after day, and give you a minimalist belt experience.
Are you traveling to the Super Bowl with your favorite team? Show them how much you care by replacing their lost belt with one that will last forever. You can support the winning team by grabbing this perfect giftable accessory for your next tailgate party or game day ceremony.
Who We Recommend This Belt For:
This simple upgrade is sure to give anyone who needs a touch of style, comfort, and reliability. At just $40, I can assure you that GRIP6 is worth 10x more than any other option within this price range on the market!
This belt won't weigh you down on backpacking trips or keep you from dressing sharply in professional settings either. I recommend this for anyone looking for versatility or who wants to go for the best budget-friendly product with exceptional durability and style!
Double Down Leather Belt
| | |
| --- | --- |
| Estimated price | $45 |
| Size | 32-52" |
| Material | Full Grain Leather |
What We Like and Don't Like About This Belt:
The Double Down belt, made from premium leather by a local manufacturer in the USA, will serve you for a lifetime. Simply pull it tight and enjoy the comfort! It moves with you all day long-comfortably resisting over-tightening while maintaining sturdy side straps. Most importantly, It comes with enough room on either end to accommodate waist sizes up to 49″!
This is yet another breathtaking and life-lasting leather belt with screw closure and is so comfortable it will become your "everyday" belt! It also makes for the perfect work or casual belt! You deserve to feel comfortable while you are working hard.
The brown leather belt for men by Main Street Forge is the best quality you will ever own. This brown, 1 1/2 inch wide belt made in America will never wear out or get old and tired like other belts before. Own this workman's best friend with confidence and enjoy the peace of mind knowing you own a product made in the United States that comes at a service price others cannot beat.
The Double Down Leather Belt: Two Prong Buckles Provides you with a Functional and Stylish Belt! The Retro Styling will look great with your jeans as well as your work pants. Your belt will break into you, just like your favorite pair of Jeans. Scratches, scuffs, and other minor imperfections add to the character and rustic casual style of your belt, but the single-layer construction makes sure it will last year after year.
It holds up to anything you throw at it. You can tell that this belt is handcrafted with detail and care because every buckle hole has been neatly punched out. It comes in three colors, two-toned black leather for a sophisticated but rugged look, brown to go great with jeans or khaki pants, and vintage brown if you need something more subtle.
Who We Recommend This Belt For:
Sometimes you want something classy but not too expensive. The Double Down Belt will be perfect for your neatly pressed khakis or pressed chinos when you are out on the town with the guys looking to get fancy. If things start getting crazy, take off your belt at dinner and slip it into your pocket with ease! This leather belt is built tough – just like a real man should be.
Show off how masculine and sophisticated you can look without spending hundreds of dollars on a status symbol belt that only pretends to impress. Step up to this full-grain leather that costs less than $45 and see what I mean by "quality does not need an expensive price tag!"
BullhideBelt Steel Core Belt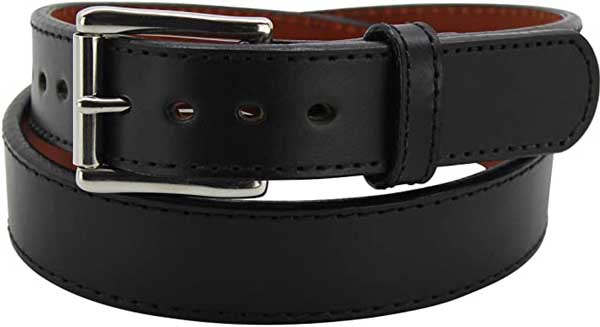 | | |
| --- | --- |
| Estimated Price | $70 |
| Size | 32"-52" |
| Material | 100% Leather |
What I Like and Don't Like About This Belt:
This Bullhide Belt Steel Core Belt stands out as a lifetime purchase. It comes with an extended length, sturdy leather straps, and a steel core that holds it together; this homemade product is built to last. It is made from genuine leather with a wide design that fits all sizes. So, no need for size guessing!
This creatively designed belt is packed in an elegant gift box, ready to be given as a thoughtful present or self-purchase. I love how easy it is to use this belt due to the easy sizing and adjustments.
Bullhide Belt narrows it all down to a belt, a tool of precision and utility. It features a simple buckle finish with one row of heavy stitching on either side, providing dependable durability at the waist, just what any man needs!
The new design provides an easier experience as there is no need to remove the buckle – just cut where you want it shorter, and voila' your exact fit personalized belt is now yours.
You can't go wrong with one of these belts if you know how important it is to have everything in all the right places on you when you're about to get into some serious business. Stay safe and secure up top, especially since life is full of excitement at every turn, and you never know what might be coming for you!
Who We Recommend This Belt For:
This product is simply perfect for every man. This thin, sleek style pairs well with dress pants or jeans for those al fresco occasions that call for dressing up light or just fitting in with urbanites.
This bomb-proof belt is the toughest holster you'll ever wear. Rest assured, it will hold tight to your waist with its stainless steel core and durable leather construction. It doesn't hurt that it looks fantastic and allows you to effortlessly switch from an everyday casual look to a badass fashion statement for those nights on the town!
The Executive Leather Belt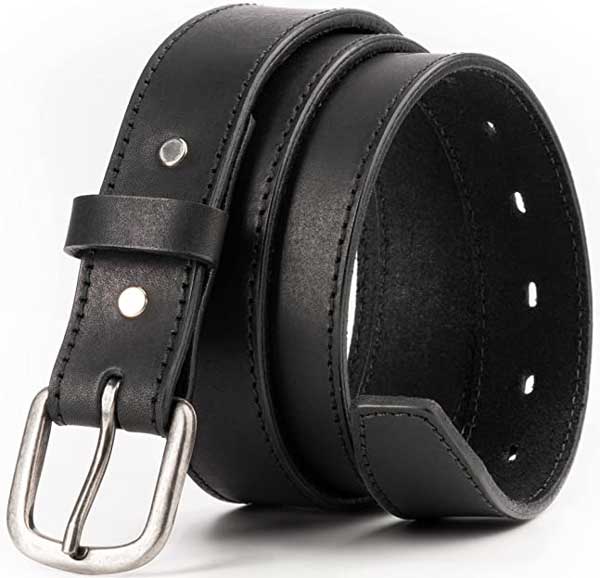 | | |
| --- | --- |
| Estimated price | $50 |
| Size | 30-50" |
| Material | Leather |
What We Like and Don't Like About This Belt:
This Executive Leather Belt is polished and stylish but not stuffy. Made in the USA with high-quality leather, we guarantee it will stand up to everything you throw at it, from business casual suits to well-worn jeans and khakis. It's also available in either Brown or Black, so it's perfect for everyday wear no matter what your style!
You'll need to trade up your khaki pants and belt loops for your new role in the office. Your new dream job means that you will be dressing more like an executive, which calls for a leather dress belt with that fabulous dressy sheen.
This handmade black or brown Executive Belt is perfect for challenging the tyrant of the corner office. So get ready, "new guy," because you will show them who's boss!
It is stylish enough to work every day yet tough enough for any outfit; this timeless classic was designed specifically to fit all-size belt loops, so your slacks never have gaps. Style-wise it doesn't get much better!
It is handcrafted from natural, vegetable-tanned leather and comes with a lifetime warranty. So why settle for an inferior belt when you can have the quality of Main Street Forge?
This 1 1/4 inch genuine leather belt will hold up through any activity, dress, or casual setting you want to take it on without losing its rich color and classy finish. The lifetime guarantee is just an extra perk that goes along with this great USA-made item.
Who We Recommend This Belt For:
It is the perfect gift for any man or woman who wants to be proud of what they're wearing every day! With a lifetime warranty and made in the USA, this belt is rugged and dependable while sleek and stylish. Show your support for American Made products - buy one today before it's too late!
Daltech Force Bull Hide Leather Belt

| | |
| --- | --- |
| Estimated price | $47 |
| Size | 32 -50" |
| Material | 100% Leather |
What We Like and Don't Like About This Belt:
Daltech Force Belts are one-size-fits-all, full-grain leather belts for concealed carry. It can work on any standard holster without stretching or rolling over and will keep up with age. The belt is built from 14 oz of 100% Full Grain Vegetable Tanned Bull Hide Leather to give a strong, durable, and resilient accessory that anyone can depend on when hunting out in the field.
There is no sag, stretch, or rollover; these features make this product the perfect carry option for your firearm! Each Daltech Force belt comes in different colors: black, brown, and chestnut, with gold hardware options to choose from! You can wear these conceal carry belts confidently, knowing it is almost guaranteed not to sag or roll over!
It is versatile, stylish, and comes with a removable buckle that screws easily. Choose the size according to your pants size. The hole spacing is nine at 3/4″ wide enough for two inches longer trouser length, with a Lifetime warranty to ensure all belt faults are patched up or replaced!
The Daltech Force Ultimate Thickness Belt offers functional strength, durability, and concealability, all in an affordable package. This belt is made from handcrafted leather from one of America's oldest tanneries dating back to 1834 in Cincinnati, making this a quintessentially American product that will be around long after other products have been discontinued or jumped to offshore production.
Who We Recommend This Belt For:
If you're looking for a belt that's not just strong but also durable enough for everyday concealed carry needs or duty weapon carrying requirements, this is it! I recommend this for fellows who want products that look good and are comfortable to wear all day long, at work, or out with friends!
It is available in 4 different styles and is mostly used by these three types of people: Combatants (armed personnel), Carriers (those that ferry ammunition around battle zones), Load Lifters (those that routinely wear their merits proudly), and most civilian counterparts.
Nocona Belt Company Nocona Austin (Texan Made)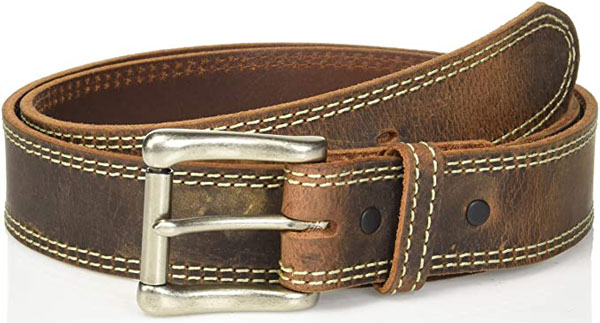 | | |
| --- | --- |
| Estimated price | $50 |
| Size | 32″-46″ |
| Material | 100% Leather |
What We Like and Don't Like About This Belt:
Nocona is a top-tier brand in the USA that still hand makes and double stitches each and every single belt they send out. Their replaceable silver roller belt buckles are extremely durable and well made, sure to last longer than any pair of jeans you buy today. You can find these American-made belts in both brown and black, both with contrasting double stitching and top-quality American leather.
Who We Recommend This Belt For:
For those of you that are hard on your stuff and expect top-level durability and reliability, with a little extra cash to spend, products from Nocona are a great place to look. Nocona hasn't ever been known to be cheap or low-cost, but they do encompass a long-lasting reputation for creating American-made leather goods.
Col Littleton Men's American Bison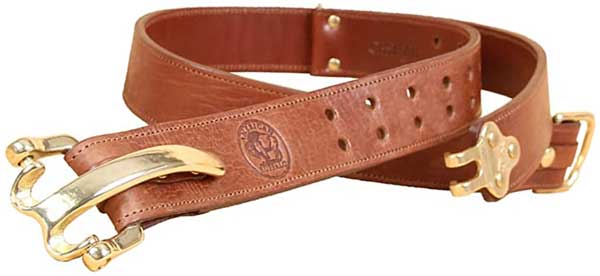 | | |
| --- | --- |
| Estimated Price | $160 |
| Size | Between 26" – 50" |
| Material | 100% leather |
What I Like and Don't Like About This Belt:
The Col.Littleton Genuine American Bison Belt has been picky about its materials and craftsmanship since 2017. If you're looking for high quality and uncompromising attention to detail and durability, then this item should be right up your alley.
This product will never let you down; with its solid brass buckle lever, not only does it provide the perfect fit but also gives off an air of ruggedness that you can't find anywhere else. It is tough enough for the cavalry or Teddy Roosevelt, with exceptional durability that will last for more than a decade!
It is fashioned from genuine bison leather and stands out as one of the most versatile accessories you can use on most outfits. With adjustable buckles to accommodate your ever-changing waist size, this all-natural buffalo hide will make sure you never have any belt slippage issues again!
Quality clothing sourced straight from America's heartland has never been easier! Suppose high quality and style aren't enough to convince you; In that case, the Col. Littleton team stands by each of their straps with a lifetime warranty against defects.
Who We Recommend This Belt For:
This is a popular selection among gentlemen. Straight from the heart of America, this genuine American Bison Adjustable Belt will keep you stuffin' for life! It is crafted from the finest natural materials to give you exceptional confidence.
It is made from plated brass and genuine leather for a lifetime of use. The product comes in black or brown leather, so you feel lucky each time both buckle up securely to hook your belt loops, making sure everything else will stay put no matter what life throws at you!
Thomas Bates Fish Pattern Metal Free Hiker Web Belt (Best for Fisherman)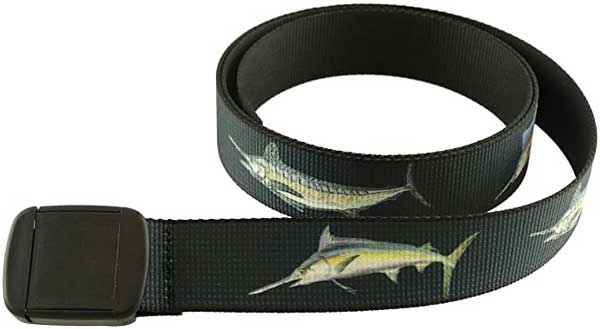 | | |
| --- | --- |
| Estimated Price | $20 |
| Size | 30"- 60" |
| Material | Nylon |
What I Like and Don't Like About This Belt:
This product has different fish-inspired patterns; they're built to last and feel soft against the skin. The cut-to-size feature makes this product a perfect fit for gentlemen who want an ideal upgrade for an old ratty belt with metal clasps loved by airport security and hard on sensitive skin.
No need to get tangled up in your belt with these non-metal-free flexible buckles. You can make a selection from the two fish-inspired designs and get back to fishing, hiking, camping, or water sports better than ever!
The durable polycarbonate buckle won't let you down no matter the situation, and the fabric material offers quick-drying properties, which are important during water-dependent activities!
Who We Recommend This Belt For:
I recommend this for outdoorsmen and women. It is a perfect product for anglers with a sense of style. With many different fish patterns available, you will surely stand out in the crowd when it comes to your fishing wardrobe.
Factors We Considered:
I understand that purchasing is not always an impulse decision; this is why I provided detailed information about potential purchases to help you make an informed decision down the line! Most of the belts we discussed on this list we personally own or have won and can vouch for their quality.
Style:
When it comes to belts, you have a choice of style and materials. The traditional leather belt can be embellished with intricate stitching or colorful threading for extra flair; there are also canvas-like fabrics in various patterns that may appeal more aesthetically depending on what matches your outfit at any given time. Other options include plastic inspired by motorcycle chaps, clearly not designed as fashion accessories but rather as a functional frontline!
Fit:
Finding the perfect belt can be challenging. You want your jeans to fit well, but you also need something that will hold on tight and not irritate or scratch any skin when carried around all day long! The best way I've found for myself is just two sizes up from what fits me in my waist-length (32″), so if I wear pants with a 34″ waistline, then I aim for belts upwards of 38″.
Leather Quality:
Quality leather belts are a thing of beauty. A well-made belt will last for years with proper care, and the full-grain variety looks better over time because it's made from one continuous strip built to last, unlike synthetic material like "genuine" ornaments found in most stores today, which nature knew would eventually break down due to their artificial construction.
Wrapping Things Up:
I hope this article was helpful for you and you found a belt that you love, but if it wasn't, please tell me what type of brands or styles would be best to help others out. In the end, my choice of a belt may differ from yours since there are tons of belts made in different brands all around America, and new ones keep coming to the market every day!
If I were to buy just one of the belts we discussed here, I would probably choose the Grip6 canvas belt or Thomas Bates Hiker Belt. These products have great versatility and design and are almost indestructible.
However, the fact is, you deserve the best for your buck; that's why I eliminated several manufacturers where quality just wasn't there after all.
Let us know if there are any great belts that we missed in the comments below, and we will consider adding them to our list!
Hi, my name is Kevin and I'm from Pittsburgh, Pennsylvania. Choosing products made in America is important to me because it supports local economies, creates jobs, helps the environment, and ensures ethical labor practices. I also find that American made products are usually of higher quality so although they're a little more expensive, you save money in the long run. Before starting this website I was in the USMC infantry and nowadays I work on this website as a hobby.