Choosing a new pair of sunglasses can be fun and functional. Not only do you have the chance to express your own personal style, but you can also protect your eyes from the sun and enjoy greater comfort in the great outdoors.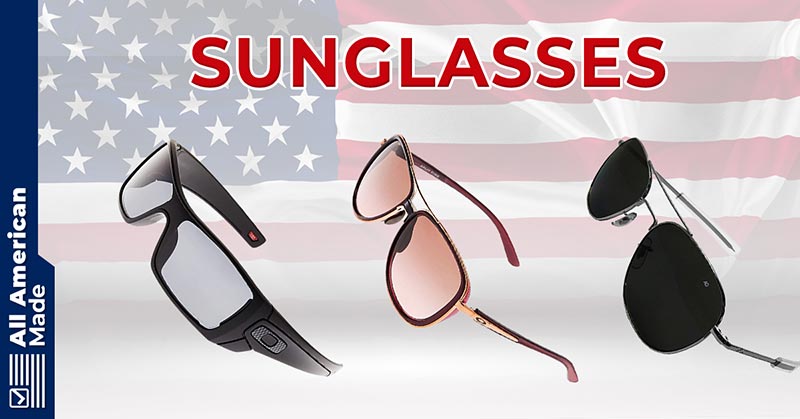 Supporting a business that makes its sunglasses right here in America is great for the economy, the environment, and your wallet. Not only will you enjoy lower shipping costs, but your purchase will also support American jobs and often result in less environmental pollution. Plus, you'll look great in your new pair of shades. In the rest of this article, we'll discuss our favorite sunglasses made in the USA across different styles and price points.
List of American-Made Sunglasses
1. Oakley (Some Models)
| | |
| --- | --- |
| Polarized | Some models |
| UV Rating | 100% UVA/UVB |
| Material | Patented nylon composite, other |
Oakley's Origin and Manufacturing Locations
We all love a good American garage startup story, and that's exactly the roots of Oakley. The story of Oakley goes all the way back to 1975 when its founder, James Jannard, had only about $300, a dream, and a dusty garage hidden away in the suburbs of Lake Forest, California. You might be wondering how someone made sunglasses in their garage, and the truth is, he didn't. James started Oakley with a motocross product, "The Oakley Grip," which was a handle grip using materials and designs that were unlike anything else on the market and were extremely helpful for increasing both the overall grip and comfort for riders of motorcycles and dirt bikes.
He found immense success, and thus James started to branch out, using unknown at the time materials to craft a bunch of different heavy-duty products such as gloves, apparel, protective gear, backpacks, goggles, and of course, the coveted Oakley Sunglasses, which debuted roughly ten years later from the start of Oakley. The first Oakley sunglasses were the "Factory Pilot Eyeshades," which were a rough and tough outdoor activity-based set of sun shades that, at the time, were among very few other options for those exposing their sunglasses to extreme sports and regular physical stress. Of course, these were a huge success and were followed by a myriad of models that resulted in a net investment of over $230 million dollars in 1995, and thus, the Oakley sunglasses that we know and love today was born.
In 2007, the major eyewear conglomerate Luxottica purchased Oakley on November 15th for $2.1 billion dollars. While James is no longer with the company and had since started a digital camera business, Red Digital Cinema, Oakley, under Luxottica ownership, went on to continue making a large portion of its product lineup in the United States and even created the Oakley M-Frame protective glasses for the US military. The only thing we don't like about Oakley sunglasses is that not all of their sunglasses are made in the USA, so be sure to look out for the select models that are if you do choose to support them.
What We Like and Don't Like About Oakley Sunglasses
As an Oakley user myself, perhaps I'm biased, but Oakley sunglasses, aside from their stereotypes, continue to provide high-quality sunglasses that both protect you from the sun's harmful rays and, if you choose something ANSI Z87 rated, can protect you from a whole lot more.
Sure, Oakleys can be pretty expensive, especially if you go for the top trendy models, but all-in-all, Oakleys are some of the best American-made sunglasses out there and should last significantly longer and endure far more physical and environmental abuse than your regular run of the mill sunglasses, making them a long term investment in sunglasses that are trustworthy and reliable. If you're willing to fit the bill for a well-known and established brand that operates under the largest eyewear manufacturer in the world, Luxottica, I'm sure you'll be happy as I always have been.
Oakley has a very wide range of sunglasses and protective eyewear. Whether you're infantry in the military, a sportsman, a traveler, a trendy athleisure enthusiast, an athlete, or really anyone exposed to the sun, Oakley likely has something for you. Just be prepared to pay a bit of a premium for the Oakley name and brand. I've owned and worn Oakley sunglasses for years, including my time in the military, and have nothing but good things to say about them. They come with a hefty price tag, but Oakley products really fall under the category "buy once cry once." Take good care of them, and they'll last a lifetime.
2. Randolph Engineering Sunglasses (Great High-Style Aviators)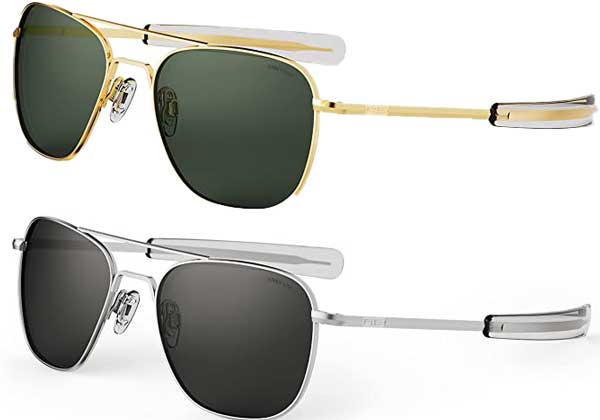 | | |
| --- | --- |
| Polarized | Some models |
| UV Rating | 100% UVA/UVB |
| Material | Metal |
Randolph Engineering's Origin and Manufacturing Locations
Randolph was founded in 1973 by two men who immigrated to the United States. Founder Jan Waszkiewicz had experience as a Royal Air Force navigator, which influenced the design and feel of the sunglasses. They started manufacturing Randolph sunglasses just outside Boston, where their factory and base of operations remain today.
One of the coolest aspects of Randolph sunglasses manufacturing is that the original machines used to make the shades were actually built by the founders themselves. They used these machines to create tough, durable sunglasses for the US military. Now they manufacture using the same machines and techniques to create aviator-style sunglasses for everyone.
What We Like and Don't Like About Randolph Engineering Sunglasses
These are well-made sunglasses that are truly American-crafted. The design is iconic and synonymous with aviator style. Even the machines that the sunglasses are made on were built by hand in the United States. It takes six weeks and 200 steps to create just one pair of Randolph aviators.
These are not cheap sunglasses, so make sure that you're looking to invest in a pair that will last a lifetime. Fortunately, they offer a lifetime warranty for any of the soldering in the glasses. You can also send your Randolphs in for repair, such as replacing a broken lens or changing to prescription lenses.
If you are a pilot (professionally or recreationally), it's hard to beat a pair of Randolphs for performance and style. Even if you don't have your wings, you can still rock classic aviator style. These are high-quality sunglasses that will last and remain just as iconic as ever.
Randolphs come in a variety of colors and finishes, although most of their frames are aviator or military-inspired. There are a few that lean more towards fashion sunglasses, but still stay true to the Randolph heritage. If you're looking for something sleek and sporty, this probably isn't the right choice for you. They have great sunglasses for women and men. They're easily some of the best American-made sunglasses out there.
3. Gatorz Eyewear (Great Tactical Sunglasses)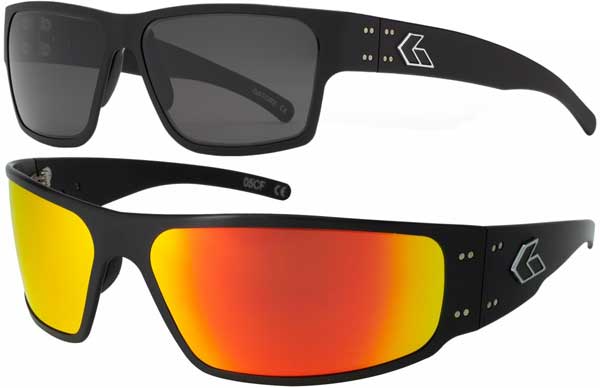 | | |
| --- | --- |
| Polarized | Some models |
| UV Rating | 100% UVA/UVB |
| Material | Metal, plastic, and more |
Gatorz's Origin and Manufacturing Locations
Gatorz was founded in Southern California in response to the need for durable eyewear for recreational skydiving, motorcycle riding, and other extreme sports. The sunglasses were soon cemented as the top choice of military special forces to use in training and combat. Gatorz sunglasses are still made in the United States, although they are now available for purchase at international retailers as well as US-based tactical stores, sunglass stores, and military exchange stores.
Gatorz also offers a discount for military and first responders, two groups that rave about their sunglasses. As a company, they really stand behind providing the very best sunglasses and service for Americans who protect and serve. Their philosophy is to support "Mission Driven People" as the main customer base.
What We Like and Don't Like About Gatorz Sunglasses
These sunglasses will make you feel like you're ready to take on the world, or at least finally cross skydiving off your bucket list. They are high-performance sunglasses that combine durable materials and a tactical look. They do have a variety of styles, but the wraparound classics remain the most popular.
One of my favorite aspects of the Gatorz sunglasses is their adjustability. You can make adjustments to the frames, temple fit, or nosepiece to get a custom fit that will protect your eyes without moving around. At around $200, these are expensive sunglasses. But I've spent more on pairs that didn't fit or weren't comfortable. I would happily pay this much for the quality and fit that Gatorz provides.
These sunglasses look more tactical than many other pairs. If you want something sleek and ready for business, try on a pair of Gatorz and get ready to go. If you plan to engage in extreme sports or tactical situations, Gatorz will make it easier to see and concentrate on your tasks at hand.
Even if you aren't getting ready for combat, a good pair of wraparound sunglasses that are custom fit for your face is still a great thing to have available. You don't need to be extreme to rock the extreme style that Gatorz provides.
4. AO Eyewear (Great Classic Aviators)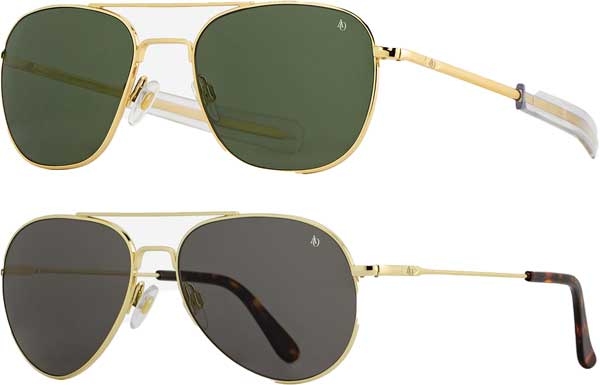 | | |
| --- | --- |
| Polarized | Some models |
| UV Rating | 100% UVA/UVB |
| Material | Metal, other |
AO Eyewear's Origin and Manufacturing Locations
No list of American-made sunglasses would be complete without American Optical, aka AO Eyewear. They have been making sunglasses in the United States since 1833, with their signature look being an aviator-style frame. President John F. Kennedy and the astronauts of Apollo 11 even sported pairs of AOs.
AO originally kept manufacturing and production in Massachusetts but moved to Chicago, Illinois in 2019. Each pair is handcrafted by an "American craftsman" rather than a machine. While they do use machines in production, an actual person makes adjustments to each pair to ensure that it is top quality. You can even sign up for a factory tour to see just how your pair of sunglasses is made.
What We Like and Don't Like About AO Eyewear Sunglasses
These sunglasses are comparable to the previously mentioned Randolphs if you are looking for a quality set of aviators. They do have a few more styles available, such as the classic Saratoga or the 1950's-style Times.
AO is a little bit cheaper than Randolph, although not by much. They are still an investment and are made to last. They do have more options outside of the aviator style. If you want high-quality sunglasses that are part of American history, AO is the way to go.
AO is great for those who are okay investing in a quality pair of sunglasses but still want some style and versatility. They're not cheap but will have you looking like an American icon from the moment you put them on. Plus, with their quality lenses and high UV protection, they can keep your eyes safe from the sun as well.
5. Arc-Iris (Hand-crafted Wooden Sunglasses)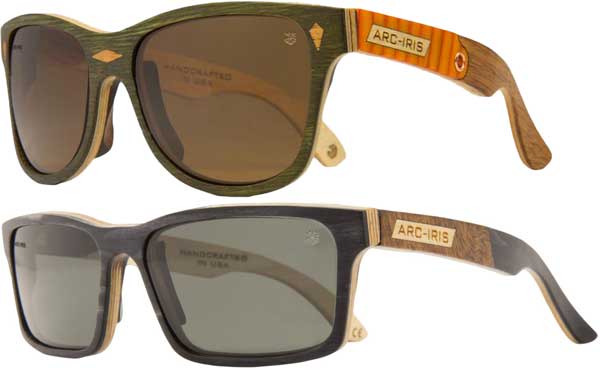 | | |
| --- | --- |
| Polarized | Some models |
| UV Rating | N/A |
| Material | Wood |
Arc-Iris's Origin and Manufacturing Locations
Arc-Iris combines woodworking with accessories. Their products include wallets, watches, sunglasses, and logo goods. Their sunglasses are made in Idaho by a combination of machines and craftsmen. They layer wood to allow for flex and bend without sacrificing strength.
The lenses are made by Carl Zeiss Sun Vision, a German company. While not made in the United States, they are some of the best lenses on the market and are made by a reputable, high-quality company.
What We Like and Don't Like About Arc-Iris Sunglasses
One of the downfalls of wooden frames, in general, is that they tend to be less durable than metal or plastics. They can also be susceptible to changes in climate, such as humidity or temperatures. This is less the case with Arc-Iris, due to their manufacturing process. Rather than being made of solid wood, each pair is made of 11 layers of wood that are bonded together.
The look of Arc-Iris sunglasses is pretty specific, with only slight stylistic differences in each of the frames. They are very stylish and certainly make a statement for those desiring the wood frame look.
If you're looking for a pair of wooden frame sunglasses, these are some of the highest quality on the market. They tend to be in high demand and low supply, especially given how labor-intensive each pair is to make. Don't be surprised if the pair that you like is back-ordered for a while, although many buyers say that they are worth the wait.
6. Smith Optics (Select Models with Elite Line)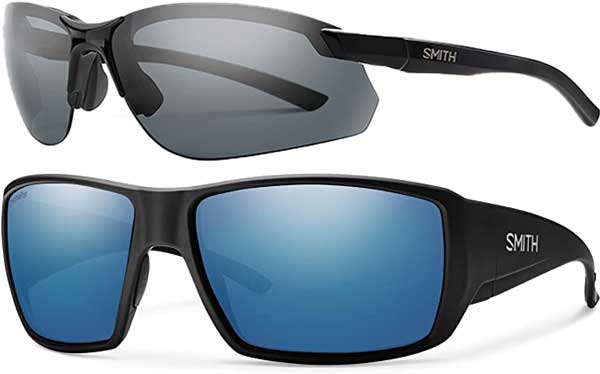 | | |
| --- | --- |
| Polarized | Some models |
| UV Rating | 100% UVA/UVB |
| Material | Thermoplastic |
Smith's Origin and Manufacturing Locations
Smith Optics began in 1965 as a line of ski goggles, designed and made by an orthodontist with an affinity for the slopes. He wanted to make goggles that would perform well and ended up selling them to other enthusiasts in Utah and Colorado. Today, Smith Manufacturing operates out of Clearfield, Utah, and the company is headquartered in Ketchum, Idaho.
While Smith Optics sunglasses are great, and some are made in the USA, you still need to use caution before purchasing their sunglasses because many are imported. That said, many of the sunglasses within their Elite Line are made in the USA and of top-notch quality.
What We Like and Don't Like About Smith Optics Sunglasses
The company still makes great ski goggles but has branched out into other aspects of outdoor eye and face protection as well. Smith Optics offers a large inventory of sunglasses, categorized into Lifestyle, Sport, and Elite styles. They offer a photochromic lens that enhances colors and makes the world more vivid.
With 176 different sunglass options, you're sure to find a pair of Smith sunglasses that works for your needs, style, and budget.
If you want to sport classic ski style and high-tech performance on the slopes, Smith Optics is a great choice for you. Even if you aren't a ski bum, you'll still love a pair of Smiths. The lifestyle options are all on-trend and come in a variety of shapes, colors, and styles. For the extreme winter athletes, check out their elite eyeshields, goggles, and helmets.
7. Leupold Performance Eyewear (Great Lenses)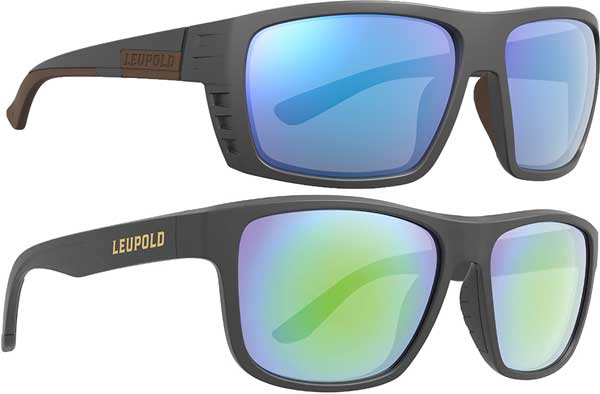 | | |
| --- | --- |
| Polarized | Some models |
| UV Rating | 100% UVA/UVB |
| Material | Plastic, other |
Leupold's Origin and Manufacturing Locations
Leupold began as an optics company known for riflescopes, binoculars, and other similar products. They decided to bring that expertise to a line of performance sunglasses. The sunglasses are made in Beaverton, Oregon.
You can even take a virtual tour of their factory on the Leupold website. Another aspect of the company worth mentioning is that when you call tech support, you reach an actual person who has experience using Leupold products and who can help you resolve any issues.
What We Like and Don't Like About Leupold Sunglasses
What sets Leupold apart is the high-performance lenses that they are known for and that they have tested so rigorously. They do all optics tests in-house, both in a lab and in real-world conditions. Their lenses really are great, and naturally, they shed dirt and water to remain clear, can be rated for ballistic protection (some models), and have a scratch-resistant coating. They also protect your eyes from UV rays in a variety of conditions.
Leupold is newer to the sunglass market, so they only have a few styles available. They are sportier looking, with the popular Tracer model being the most recommended for those who plan to use them while shooting.
If you want or need high-performance sunglasses that will be fog-free and ballistic-rated, Leupold is the absolute best that you can get. They are very well-priced for the quality. These don't make a bold fashion statement but are some of the clearest lenses that are made in the United States.
8. Shwood Eyewear (Great American Wood)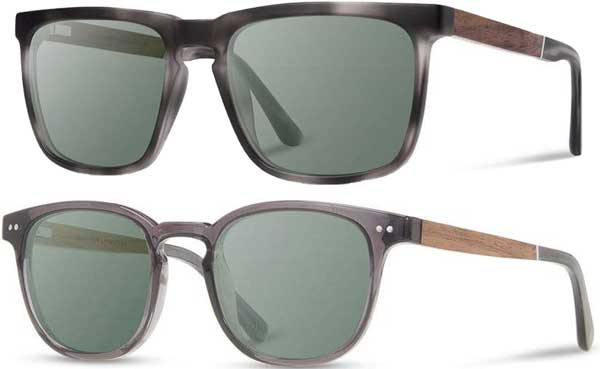 | | |
| --- | --- |
| Polarized | Some models |
| UV Rating | 100% UVA/UVB |
| Material | Wood, acetate |
Shwood's Origin and Manufacturing Locations
It should come as no surprise that ultra-hip sunglasses company Shwood designs and manufacture its wood frames in Portland, Oregon. They craft each pair by hand, with over 20 artisans being involved in the creation of each pair of Shwood sunglasses. The main factory and assembly all take place in Oregon, where the company is headquartered.
The company began with wood frames but has since expanded to include acetate in multiple frame shapes, styles, and colors. Their manufacturing remains in Portland but they do source some materials that go into their frames from international companies. This includes acetate from Castiglione Olona, Italy; hinges from Ispringen, Germany; lenses from Danyang, China; acetate from Dongguan, China; and packaging from Shijiazhuang, China.
What We Like and Don't Like About Shwood Eyewear Sunglasses
Shwood is another great option for those who like classic all-American styles made by American hands. They take great pride in their quality and craftsmanship, always innovating and trying out new things. They have some of the most affordable wood frames on the market, with most pairs costing between $100 and $200. They also have frequent sales, which I recommend watching for to get the best savings.
Many of the materials that go into their sunglasses are sourced from outside of the United States. But they are also very transparent about their supply chain and process, so you always know exactly where your frames began, were crafted, and how they got into your hands.
Shwood sunglasses are high quality and style, but the wood frames really stand out from their lineup and are particularly great. They source wood from the Pacific Northwest, where they also craft their frames. If you want a true American gem crafted from American wood by American craftsmen in an iconic American silhouette, the Wood Originals from Shwood are a top recommendation. One of my favorite features of these sunglasses really is the American-sourced wood. I find it to be very quality, and it's just cool knowing it's American.
9. Shuron Sunglasses (Retro Style)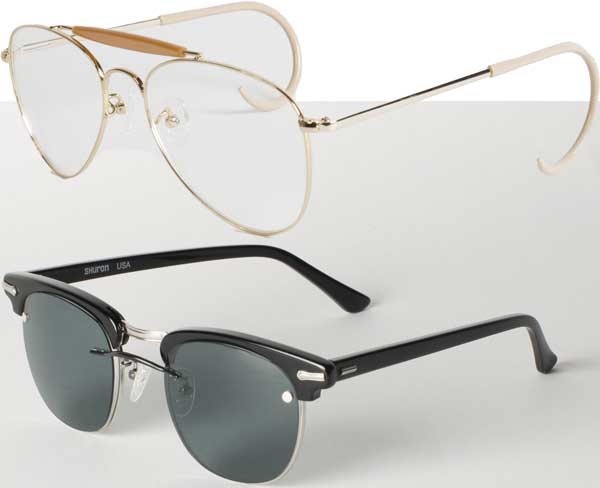 | | |
| --- | --- |
| Polarized | Some models |
| UV Rating | 100% UVA/UVB |
| Material | Metal, other |
Shuron's Origin and Manufacturing Locations
Ready to channel your inner Mad Men? Shuron sunglasses are made in the 1950's style in Miami and Sunrise, Florida. The company is based out of South Carolina but sold in major eyeglass retailers around the United States and directly from the company.
What We Like and Don't Like About Shuron Sunglasses
Shuron sunglasses mostly come as clip-on attachments for their metal frame glasses. If you wear prescription glasses, this can be a great way to add sunglasses to the frames that you have, as long as they are also made by Shuron. They do have one pair, the Escapades, which is the popular Ronsir frame with a sunglasses lens.
These sunglasses represent a distinct style and are best categorized as fashion glasses rather than sporty or all-weather. Their most popular style is the Ronsir, which has a metal frame with a classic acetate top bar. They present a retro look, which they have been bringing to consumers since its design in 1947.
If you like vintage style, you will love Shuron glasses and sunglasses. All you need to complete the look is a pair of slacks, a short-sleeve button-down, and your cocktail of choice. These aren't gimmicky glasses, though, and are still made with high-quality materials and craftsmanship that will last for a lifetime with the right care.
Because each pair is custom-made once you order them, it can result in a longer wait to actually get your pair from Shuron. You can go through one of their retailers to try pairs on, but may not have as many fit customization options available as going through the manufacturer directly. These are easily some of the best sunglasses made in the USA. I really like the retro style.
10. State Optical Co (Chicago Style)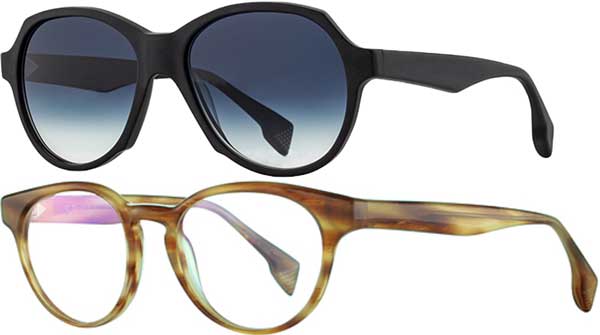 | | |
| --- | --- |
| Polarized | Some models |
| UV Rating | 100% UVA/UVB |
| Material | Acetate, other |
State Optical Co's Origin and Manufacturing Locations
State sunglasses are made in Chicago, Illinois. The company takes great pride in its home state, with the 21 dot logo representing Illinois' status as the 21st state of the United States. Each pair of sunglasses is manufactured in Chicago by one of their craftsmen. You can even meet them on State's website.
The colorful acetate that State uses in its sunglasses is made in Italy by the famous acetate manufacturing company Mazzucchelli. Their hinges are German-made by OBE.
What We Like and Don't Like About State Optical Co Sunglasses
Shades from State are modern and made of high-quality materials. Even though they aren't sourced from within the United States, the craft behind the sunglasses is definitely American. Each pair is part of the story of Chicago, with names taken from the city's most iconic and picturesque streets.
They are sold almost exclusively in the Chicago area unless you want to purchase from the website. Be ready for a road trip to the Windy city in order to try on a pair. They aren't cheap, so I recommend making a fun vacation out of the journey and coming away with a pair of State sunglasses to commemorate your time in Chicago.
These sunglasses are for those who want to wear high fashion while still supporting American businesses and craftsmen. Their colors are a little bit bolder without being over the top, and the silhouettes are distinct and sophisticated. Just like the city where they are made and named, each pair is both functional and fashionable, delicately balancing the two aspects of what makes them great. You can watch a video about their company here.
11. Lowercase NYC (Luxury)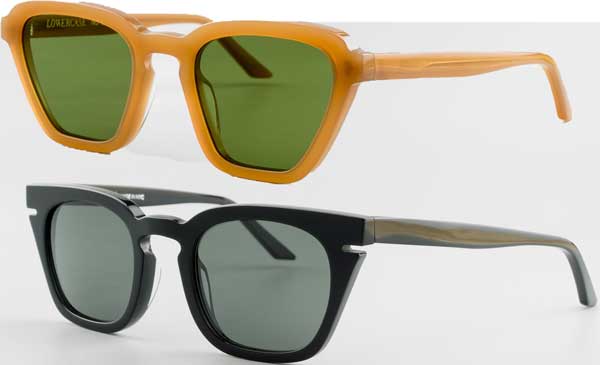 | | |
| --- | --- |
| Polarized | Some models |
| UV Rating | 100% UVA/UVB |
| Material | Acetate |
Lowercase NYC's Origin and Manufacturing Locations
On the East Coast, the Brooklyn-based Lowercase brand has its own style and trend. Another high fashion-esque look, these sunglasses are a bit more formal looking but just as detailed. They use machines in their Brooklyn manufacturing facility but still give each set of sunglasses a uniquely human touch.
Describing their products as "small batch," Lowercase brings the craftsmanship of their products to American craftsmen. They do source a lot of their materials from elsewhere, including Italian acetate and German lenses and hinges. Their priority is creating the highest quality pair of sunglasses in Brooklyn rather than sourcing anything but the absolute best materials.
What We Like and Don't Like About Lowercase NYC Sunglasses
These are some fancy sunglasses, with each pair taking two full weeks to make. Lowercase describes their manufacturers as artisans and this attention to detail and craft can be seen in the frames themselves. A lot of the actual molding and shaping is done by machines, but each pair finishes with polish and final touches from a human hand.
Their sunglasses are all in a similar neutral palette. You can find just about any of their frames in one of five or six staple colors, with a few outliers. The shapes tend toward classic and timeless rather than trendy or sporty.
Lowercase sunglasses are ideal for those who appreciate the craftsmanship that goes into the design and execution of a precision item. If you like luxury watches, you'll probably be happy with a pair of Lowercase sunglasses. They are some of the more expensive options on our list. But they are a truly timeless piece, so you'll be able to get plenty of wear and use from them for years. Overall, Lowercase NYC makes some of the best sunglasses made in the USA. I highly recommend these sunglasses.
12. Dom Vetro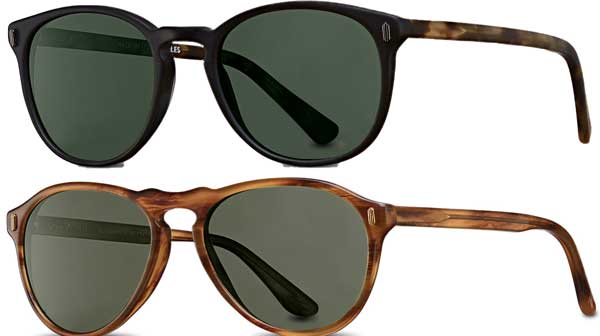 | | |
| --- | --- |
| Polarized | Some models |
| UV Rating | 100% UVA/UVB |
| Material | Acetate |
Dom Vetro's Origin and Manufacturing Locations
Although its name sounds exotic to the American ear, Dom Vetro sunglasses are made in Los Angeles. This West Coast boutique sunglass brand hails from Culver City, where its manufacturing facility is located. If you are curious and want to see their process in person, Dom Vetro offers 45-minute factory tours, as well as style consultations and visits with an on-site optometrist.
What We Like and Don't Like About Dom Vetro Sunglasses
Dom Vetro frames are larger and rounder than many of the other sunglasses on this list. They do have some with a shape reminiscent of a pair of aviators but still with their signature acetate frame. The electric blue frames are particularly striking. All of the lenses are available in mineral glass or polarized mineral glass, although all boast the same smoke color.
The company does offer a temple monogram feature on any of its sunglasses. Simply add it on when you order, and you can get your pair personalized for added style (and identification, if needed). You can also choose from one of three sizes to ensure the best fit for your face.
If you want to emulate West Coast laid-back vintage style, Dom Vetro is a solid choice. They don't have as many color and shape options as some other companies, but the ones they do offer are flattering and well-made. One of the best aspects of looking into Dom Vetro is the full-service visit available at their Culver City factory. In one single space, you can get a custom style recommendation, including any corrective lenses that may be needed, and see exactly where and how your sunglasses will be made.
13. Liquid Eyewear (Good for Active Sports)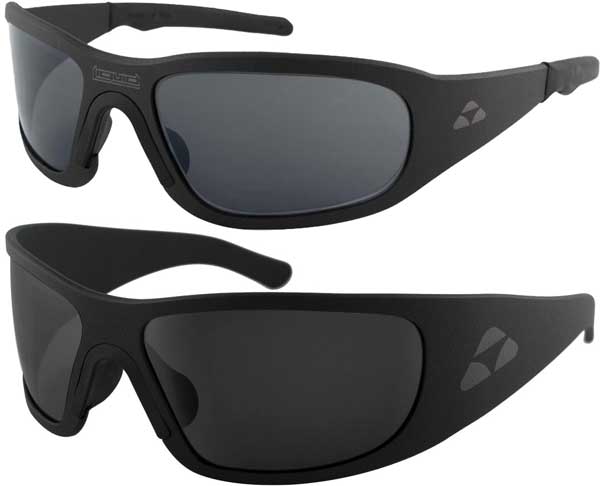 | | |
| --- | --- |
| Polarized | Some models |
| UV Rating | 100% UV |
| Material | Aluminum, other |
Liquid Eyewear's Origin and Manufacturing Locations
Liquid began as a small company in San Diego, California. Now, Liquid sunglasses are made in their Yuma, Arizona facility. They begin with aircraft aluminum, then cut out the frames. Each pair goes through grinding, sanding, tumbling, curvature, an aluminum oxide treatment, bead blasting, and numerous inspections. This is all without leaving the Yuma factory.
What We Like and Don't Like About Liquid Eyewear Sunglasses
These are great sporty sunglasses. They don't have any hinges, which eliminates one possible point of wear and tear. Instead, customers can mold the sunglasses to their ideal fit. They also have a nose piece, which provides additional comfort. They are a wraparound style and offer great protection from the sun and elements.
If you are planning to snowboard, ski, or ride a motorcycle, Liquid offers a foam insert that works with your sunglasses to turn them into goggles. Rather than invest in a new pair of gear (that likely doesn't have a custom fit), you can use your Liquid sunglasses instead. Keep in mind that these sunglasses aren't polarized, so you won't be very protected from glare when using them around a lot of snow.
Liquid sunglasses are best for those who want a pair that can keep up with their active lifestyle and conform to a great fit. All pairs have a similar silhouette, although there are a few differences in both fit and size. If you want a pair that feels custom designed without starting up your own sunglasses manufacturing facility, Liquid is just what you're looking for. They make a lot of great sunglasses for men.
14. Solar Bat Sunglasses (Eye Doctor Approved)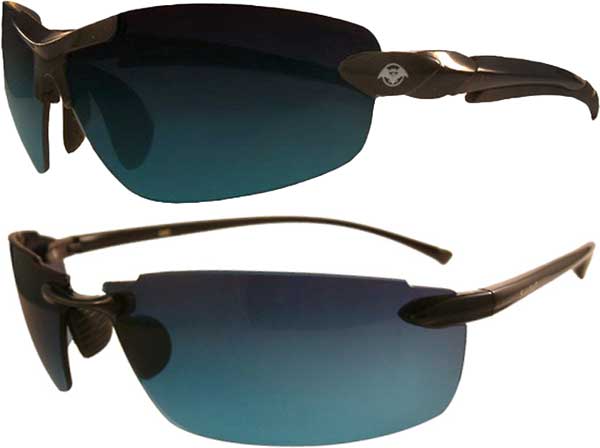 | | |
| --- | --- |
| Polarized | Some models |
| UV Rating | 100% UV |
| Material | Metal, Plastic |
Solar Bat's Origin and Manufacturing Locations
This family-owned sunglasses company was founded by an eye doctor, Dr. Gary Nesty, and his daughter, who wanted to provide quality eye care. They are made and manufactured in Indiana. One of the really interesting things about Solar Bat is the unique knowledge that optometrist Gary Nesty brings to the manufacturing process. Two of the components of the sunglasses are actually proprietary materials that help them function even better.
What We Like and Don't Like About Solar Bat Sunglasses
Solar Bat sunglasses are a great budget-friendly option. Their styles lean more toward sporty and performance, with most being a wraparound style. They do have sunglasses with lenses for gamers to protect against eye strain when looking at a monitor for long periods of time. They also have sunglasses for driving that are appropriately named after iconic American cars and trucks.
If you need a pair of prescription sunglasses, there are plenty of options to choose from. But they are $330 and up, compared to their other models, which almost all come in at less than $100.
If you like a sporty look or need performance sunglasses that wrap around, Solar Bat sunglasses have all of the features that consumers like at a fraction of the cost of some of the more well-known (and pricey) brands. Their website doesn't have a lot of the bells and whistles that some other companies use for marketing, but don't let that fool you. Their products are well-designed with materials recommended or developed by an optometrist.
15. Maui Woody's (Aloha Style)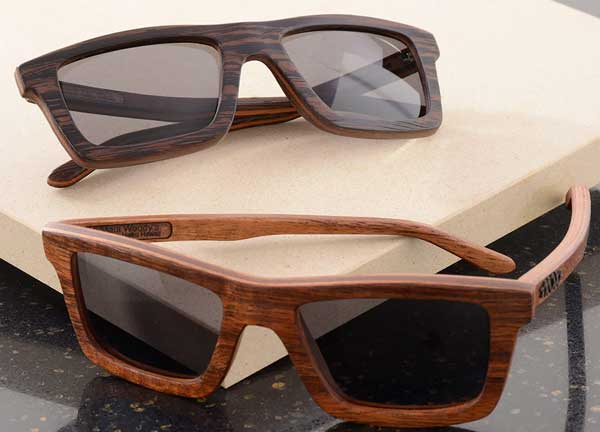 | | |
| --- | --- |
| Polarized | Some models |
| UV Rating | Not Available |
| Material | Wood |
Maui Woody's Origin and Manufacturing Locations
If you have ever lived in or visited the Hawaiian Islands, you will remember the remarkable koa, eucalyptus, and mango trees. Now imagine having a pair of sunglasses made from these woods. Maui Woody's are made with locally sourced woods and materials on the Island of Maui.
What We Like and Don't Like About Maui Woody's Sunglasses
Maui Woody describes their sunglasses as pieces of art. When you look at a pair, it's hard to disagree. They are available in mango wood, koa, eucalyptus, redwood, elm, zebrawood, monkeypod, and others. If you want to stay super local, choose one of the native Hawaiian woods. These also happen to be some of the most beautiful, in my opinion.
These sunglasses are expensive but given the type of woods used and the lengthy process that it takes to manufacture them, that's not surprising. They do hold up for years, but only if you take care of them well.
If you want to bring home a souvenir that will do more than gather dust on the shelf, a pair of Maui Woody sunglasses is a great choice. They are made with Aloha on the North Shore of Maui. You can visit the store and see exactly where your pair of sunglasses were made.
These aren't for sports use or performance, although they are very durable. These sunglasses make more of a fashion statement about your time in Hawaii than perform in extreme situations.
Factors We Considered
Choosing a new pair of sunglasses doesn't have to be complicated, but there are a few considerations that make certain pairs stand out from the crowd. Here are the factors that we considered when determining the best American-made sunglasses.
Polarization
Polarized sunglasses have special lenses that block certain angles of light from entering your eyes. This helps reduce glare from light bouncing off surfaces like roads or water. It can also impact the angle at which you can view electronics.
These types of sunglasses are great for situations where you expect to encounter a lot of glare, such as water or snow sports. Not only will they reduce eye strain, but they will help you see better.
UV rating
Many sunglasses are made to block out harmful rays from the sun. This is typically expressed either as a UV Rating number or a percentage. UV rays can be harmful to your eyes and result in damage such as cataracts, eye sunburn, or even skin cancer.
Make sure that your sunglasses block both types of radiation from the sun: UVA and UVB. Sunglasses that block 99-110% of UVA and UVB rays are considered the best. This goes for both children and adult sunglasses.
Material
Lenses are typically made from glass or plastic and may have a special coating to help them perform better or provide a tint. Glass lenses are usually heavier, while plastic lenses are lighter.
Frames can be made of metal, plastic, or other materials such as wood. Most sunglasses retailers will focus on the frame material since it provides more of a fashion statement and is important to the overall durability of the pair.
Special features
A great pair of sunglasses not only look fantastic, but they will also protect your eyes from the sun's rays. Look for these special features when selecting your next pair of sunglasses.
Types of Sunglasses
Style and function can vary widely. Here is an overview of a few of the most common sunglasses on the market.
Sport
Sunglasses for sports enthusiasts and active wearers often prioritize function over high fashion. But don't be fooled into thinking that they'll always look bulky or awkward. Some of the best sports sunglasses are also sleek and modern, giving the wearer a noticeable pep in their step as they take on extreme situations.
Sports sunglasses can be tailored for specific situations. The most notable of these are aviator-style sunglasses, which are generally larger, have good UV protection, and have a durable metal frame. Wraparound sports sunglasses can also be great for those who expect to be jostled or moving a lot.
Fashion
These sunglasses are made for those who want to express their own style. They tend to be a bit bolder than other types of sunglasses, with extra details like embellishments, colors, or gradient lenses. They can still be highly functional with things like polarization and great UV protection to protect your eyes.
Specialty
Even prescription glasses wearers can enjoy a great pair of sunglasses. If you wear contact lenses, you can sport any regular pair of sunglasses. If not, look for a pair of sunglasses that can be customized to fit your prescription. You can also talk to your local eye doctor to see if they can change out the lenses on an existing pair of sunglasses. These tend to be more expensive but well worth the cost for great vision.
Novelty
Some sunglasses are just made to be fun. These can be themed sunglasses, pairs made of unique materials like wood, or ones in wacky colors. Novelty sunglasses may not always come with the same eye protection features, such as polarization or a high UV rating, but tend to be more affordable. Novelty sunglasses can be available in a range of styles and price points.
Why Choose American-Made Sunglasses?
There are plenty of cheap sunglasses available everywhere, from your local supermarket to the gas station on the corner. But sticking with these products often means that your purchasing power goes to a company that relies on cheap labor available in areas that do not have good environmental or worker protection standards.
Buying American-made sunglasses may be more expensive (although not always), but supports local businesses and local workers. Keeping your dollars in the American economy ensures that the demand for jobs remains high. It can also cut down on the environmental impact of your purchase since the glasses themselves do not need to travel as far to get to you, the consumer.
Considerations When Choosing a New Pair of Sunglasses
Here are some useful questions to ask yourself before heading to the store or while trying on sunglasses.
Where will you wear your sunglasses?
This is one of the most important things to consider when choosing a new pair of sunglasses. You will need to think about where you plan to wear them and what you plan to do. Sports sunglasses are made for very different situations than novelty sunglasses, for example. Make sure that you have the right pair for your lifestyle and activities.
Do you have special vision considerations?
If you need a pair of prescription lenses, look for a company that can work with your vision considerations. If you have eyes that are sensitive to bright lights or glare, a pair that is polarized may make things much more comfortable for you.
What style do you like?
Even with all of the other considerations, you still want to like how your sunglasses look. If you prefer a sportier look, stick with a company that specializes in these types of sunglasses. Other companies have more options for fashion or novelty sunglasses. Color is one of the best ways to express your own style. Many sunglasses are available in multiple frame colors, and some even have lens color options as well.
What is your budget?
Sunglasses can be found for as cheap as $5 and as expensive as $500 (or more). Name brand can be a big factor in the overall price, as well as materials used, craftsmanship, and special features. If you want a pair that will hold up over time, you should expect to spend a little bit more for a higher-quality set of shades.
Wrap Up
Choosing a new pair of sunglasses can be a blast. You get to express your own style while still protecting your eyes and getting ready to participate in your favorite activities. Buying sunglasses made in the USA ensures that this fun purchase is good for the economy and environment, as well as your own personal expression.
Have you purchased any of these sunglasses? What did you think? Let me know about your new shades in the comments!
Hi, my name is Kevin and I'm from Pittsburgh, Pennsylvania. Choosing products made in America is important to me because it supports local economies, creates jobs, helps the environment, and ensures ethical labor practices. I also find that American made products are usually of higher quality so although they're a little more expensive, you save money in the long run. Before starting this website I was in the USMC infantry and nowadays I work on this website as a hobby.