The majority of manufacturing in the clothing industry has moved overseas, so finding bras made in the USA nowadays is no easy task. Thankfully, they are still some great American brands that are dedicated to supporting American workers and in the rest of this article, we'll be highlighting products made by some of these companies.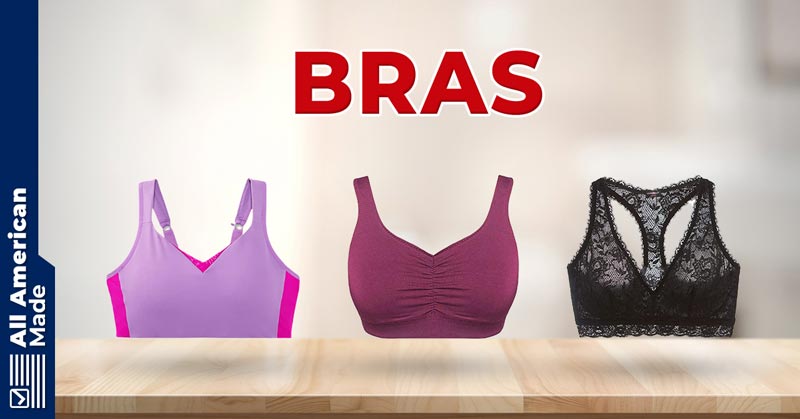 Let's hop into our list of the remaining American bra brands and see if we can't help you find something that fits amazingly, matches up to your budget, and adores your style! Simply scroll through this list and pick out a bra that fits your needs.
List of American-Made Bras
Majamas Earth (Very Earth-Friendly)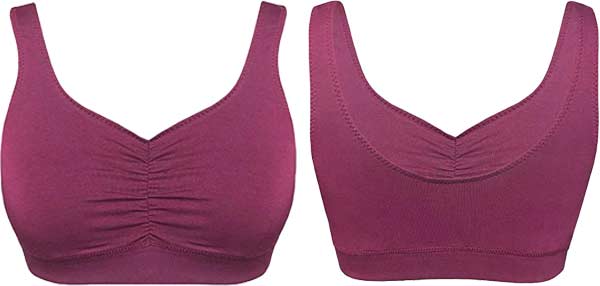 | | |
| --- | --- |
| Estimated Price | $40 |
| Materials Used | Eco-friendly reclaimed fabrics |
| Colors Available | Black. Pink, white, dark purple |
| Origin | Chicago, Illinois, USA |
Product Origin and Manufacturer Information:
Majamas Earth is a company that I've really come to love over the years. They started with a vision to create eco-friendly clothing that does not harm the environment. By manufacturing comfortable, appealing, and eco-friendly collections, Majamas Earth aims to set an example in order to improve the way the fashion industry is currently being conducted.
Their clothing is manufactured in the United States, and in true hero fashion, every single fiber of material they use in their pieces comes from reclaimed and recycled materials. Thus, the process by which they make their clothes will never result in more harsh chemicals sprayed over crops and consequently our soils, the toxic wastewater won't end up in our waterways and oceans, and just as importantly, those who sew and put together the garments will be treated fairly and ethically.
It sure feels and looks so good to wear zero-waste fashion!
What We Like and Don't Like About These Bras:
Majamas Earth bras offer a good amount of coverage with a very delicate-looking front cut, so this isn't a bra that will have your breasts spilling out. Upon a first look, it's easy to think that this isn't a bra that will provide enough support due to its lack of underwires, clasps, etc. But the thick, sturdy straps do an amazing job at offering you a moderate amount of support. I don't think this is enough for people needing real support because the straps are rather long, and for someone considered petite or with a short torso, it would affect the way the bra provides support.
The bra's design is ideal to accessorize and layer with different types of clothes. Pairing this up with a cute sweater and leggings will give you a super comfy athleisure look to lounge or run a couple of errands downtown. They offer different solid colors and patterns to best fit your style. I personally stick to the solid colors more often than not, but I'd make an exception for Majamas if I knew I'd be wearing this as my main top for an outfit.
Who We Recommend Them For:
We'd recommend Majamas to anyone looking for a cute bra option for everyday use and low-impact workouts or even as a sleeping bra. The fabric is so soft you'll barely feel like you're wearing it to bed! There's definitely a wide range of soft, stylish solids to choose from, and if you're anything like me, you'll find yourself getting it in different colors to best mix and match with your wardrobe.
Despite being modest enough to provide ample coverage, this is not a bra that will make you feel like you've been encased in a mold. Majamas organic cotton fabric does a great job at molding itself to your every curve while keeping you comfortable and providing ample breathability.
In the following video, you can learn more about Majamas Earth's mission to become a hero to our planet:
Blue Canoe Organic Cotton Bras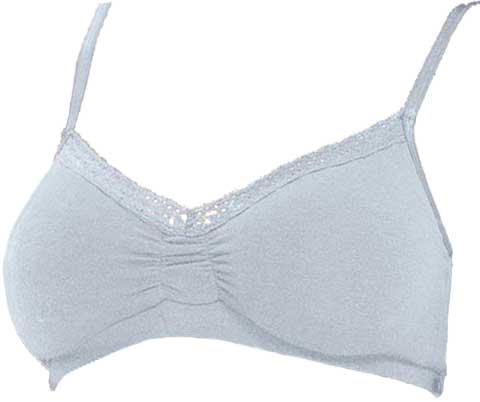 | | |
| --- | --- |
| Estimated Price | $60 |
| Materials Used | Organic cotton |
| Colors Available | Black, white, blue, beige |
| Origin | San Francisco, USA |
Product Origin and Manufacturer Information:
The bras made by Blue Canoe are part of the legacy the brand is trying to impart since 1994. Their designs focus on keeping your breasts as healthy and as comfortable as they can be. Your health and comfort come in first at the top of their priorities, as they should. When we talk about Blue Canoe, we're talking about products made out of 100 percent natural fiber, organic bamboo, and cotton. With Blue Canoe, you'll get none of the petroleum-derived fabrics near your skin, the kind that ends up being a nightmare in the long run.
Blue Canoe is one of the few American brands that are partaking in an active role in diminishing the ecological footprint of their products. Buying from them means you'll be purchasing a product sourced and made 100 percent in the United States, thus reducing trading deficits.
The materials used and sourced for the manufacturing of Blue Canoe's garments are specially selected from certified organic sources and held to the highest environmental standards. The reason behind the decision to only utilize fully organic fabrics in the making of their products is because Blue Canoe is aware that the conventional way of farming cotton is one of the best and fastest ways to waste potable water, and organic cotton farming can cut the water waste by as much as 91 percent.
What We Like and Don't Like About These Bras:
Looking at some of Blue Canoe's original bra styles and a lot of their newer collections, they tend to design them to be the kind of bra that you need to pull over your head. This specific design choice for Blue Canoe means that they get more freedom to add wide shoulder straps to avoid them digging onto your skin and large comfort bands to help you feel secure in their bras.
There are plenty of us that would prefer their Adjustable bra because of its narrow adjustable straps. I really liked that this particular bra comes with a removable soft cup because I can comfortably stick to what feels better on a certain day by removing it or by using it. Don't forget to take the cups out whenever you're going to wash this Blue Canoe bra because if you keep them in, it's more likely that you'll get wrinkles on them.
I read about people saying this bra is machine-washable on a delicate cycle and in a delicate bag, but the fabric is so soft I would just stick to what Blue Canoe suggests and hand-wash it to ensure I get every bit of the lifecycle of my bra.
Who We Recommend Them For:
You'll love this brand if you're sick and tired of your binding, molded, and under-wired bras. Blue Canoe's products are a perfect alternative for someone looking to break free from the mainstream form of the bra as we all have come to know it. Keep in mind that for the best of experiences, you'll have to take proper care of a garment like this. Cotton has a tendency to shrink sometimes if the proper care is not given. The best way to prevent your Blue Canoe bra from shrinking is to wash it by hand and in cold water to better preserve the elastics. If they're machine-washable, make sure you check the temperature to cold and put your lingerie in a delicates bag. Overall, compared to other bras made overseas, they are more expensive, but personally, I love them and feel they are well worth the investment.
If you want to learn why 100 percent cotton underwear is so important, check out this video by Blue Canoe:
Hanky Panky Mesh Lips Bralette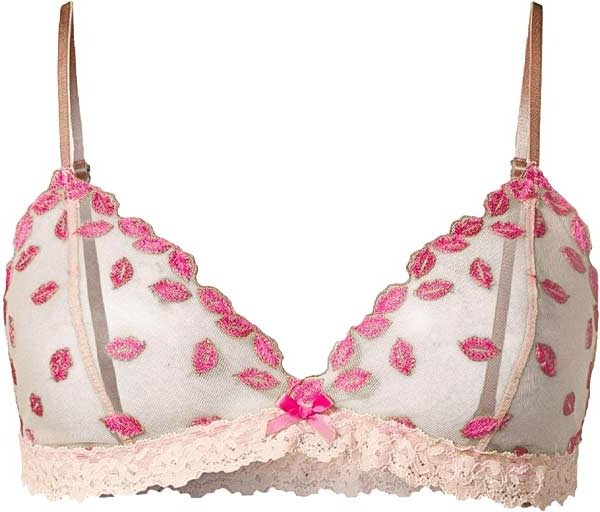 | | |
| --- | --- |
| Estimated Price | $30-$60 |
| Materials Used | 83% Nylon 17% Spandex |
| Colors Available | 4 adorable patterns |
| Origin | New York, USA |
Product Origin and Manufacturer Information:
Hanky Panky is responsible for inventing the famously comfortable thong that has since revolutionized the way we dress, and they have been in business since 1977. Becoming a worldwide sensation, the American company with the super catchy and fun name, Hanky Panky, proceeded to expand its business to over 70 countries outside of the USA. Millions of people know Hanky Panky and rely on them for their inventive and eye-catching pieces.
Despite being one of the most recognized lingerie manufacturers worldwide for almost half a century, with the arrival of new fashionable styles, designs, and fabric technology, Hanky Panky knows to keep a couple of very important details the same. They sustain the level of quality Hanly Panky is known for by making sure their lace is carefully crafted, each detail meticulously calculated, no matter how small, and most important of all, they keep their stitch count as high as ever.
What We Like and Don't Like About These Bras:
I can't help but swipe my card every time I find a bralette that happens to be both cute and comfortable, and Hanky Panky has delivered on both accounts. With a medium-sized bust, I'm lucky enough to be able to enjoy all the comfortable perks that bralettes have to offer without having to worry too much about what they bring to the table support-wise. That said, I'd probably go with a different option if you're looking for any sort of serious support because although they do have tons of styles, they usually fit best someone with an A to B cup size.
Although it features adjustable straps, this model has no back closure, so you'd have to get it over your head to put it on. If this proves difficult for you, at any rate, you might need something with a design that borders the more conventional bra with back or front clasps or hooks. You can always browse the selection they have and see if anything meets your needs!
Who We Recommend Them For:
We can totally recommend this brand if you're looking for spicy options to sprinkle your lingerie wardrobe. Hanky Panky bras don't offer a lot of support, so they are meant for show and are definitely for smaller-chested people.
Velvet and butter-soft, these bras come in many colors and are cute, flirty, and feel wonderful. They offer different designs that may provide slightly more comfort than the one shown above, but as we've mentioned, it will most likely still be on the light side.
If you have a couple of minutes, check out this video that shows you the Hanky Panky atelier in New York City:
Only Hearts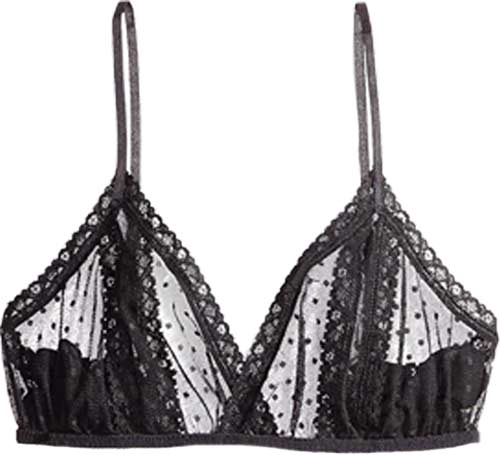 | | |
| --- | --- |
| Estimated Price | $50 – $80 |
| Materials Used | Nylon |
| Colors Available | White, pink, black |
| Origin | New York, USA |
Product Origin and Manufacturer Information:
You can be sure that Only Hearts garments are manufactured ethically in New York City. They strive to reduce the negative environmental impact of the textile industry by setting an example themselves; that's why every single piece of lingerie Only Hearts releases is made out of green textiles. Helena Stuart started Only Hearts back in 1978, and nowadays, Stuart is working alongside her daughter Kaya with the same aim to keep Only Hearts on the green path with their ecologically conscious lifestyle lingerie collections.
Only Hearts isn't here to be boring, they drizzle their designs with a sense of playfulness and a touch of naughtiness. Their designs can make the simplest of their bralettes make you feel incredibly sexy while their super-soft fabrics pamper your skin to keep you comfortable.
You might be interested in knowing that big celebrities like Cardi B, Slick Woods, Bella Hadid, Kendall Jenner, Charlize Theron, Hailey Beiber, Jennifer Aniston, Kate Moss, and Scarlett Johansson, to name a few, have loved and added pieces by Only Hearts as part of their own lingerie collections.
What We Like and Don't Like About These Bras:
For the amount of celebrity press Only Heart has gotten in the past, I find that this brand has extremely affordable pieces among its variety of collections. Who wouldn't want to know what it feels like wearing something Cardi B or Kendal Jenner has in their closet? One downside, though, is that most of their bras only come in small, medium, or large, so there's not much sizing availability, and in all truth, I'd love to see Only Hearts offer a wider range of sizes. They'd be an incredible resource for plus-size people who so often struggle to find variety in the options the fashion industry provides.
This is a brand that exudes a fun and young vibe throughout all of its garments. Only Hearts is the perfect place to turn to when you're looking for a variety of designs and quality intimates. You might want to buy every single set they have or just a couple for special occasions, either way, they're showy, comfortable, and an absolute dream to wear. Only Hearts bras make for excellent nightwear, they don't feel at all constricting, and the fabrics they utilize make you feel super cozy no matter what kind of style you go for.
It doesn't hurt that they're using ecologically conscious alternatives in their textile selection. You can feel good and do good wearing Only Hearts.
Who We Recommend Them For:
We recommend Only Hearts to anyone looking for affordable, spicy, and fun options to the regular bralettes with an environmentally conscious background. Only Hearts offers a wide selection of sustainable lingerie that will surely fit any mood you're going for. It is important to keep in mind that most of their pieces do focus on form over function, meaning that if you're someone who's looking for serious support or an everyday bra, Only Hearts might have limited options for you.
Rago (Most Structured)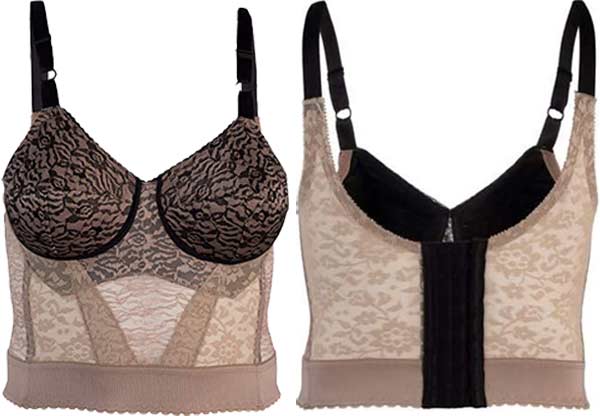 | | |
| --- | --- |
| Estimated Price | $80 |
| Materials Used | 70% Nylon, 30% Spandex |
| Colors Available | White, black, mocha, dark mocha |
| Origin | New York, USA |
Product Origin and Manufacturer Information:
This design from Rago is a long-line bar shapewear piece. The company uses a Lacette jacquard knit fabric that is comprised of 30% Invista Lycra and 70% nylon. The way Rago has set up the sewing of their products and the elastics is an extremely effective solution to the problem of how garments tend to fall apart after being thrown in the washing machine. They provide you with the peace of mind that your shapewear will not be harmed by a simple spin cycle thanks to their secure woven elastics and flat-sewing technique.
Rago has become a well-known name in the shapewear industry because of its innovative ways of striving for the support and comfort of its clients since 1945. Their special and forward-thinking manufacturing techniques, such as circle bonds, have been recognized worldwide, placing Rago among the best specialists in garment construction.
What We Like and Don't Like About These Bras:
Bear in mind that this is considered shapewear, so this bra will be a tight fit that holds everything nicely tucked in place. The fact that there's no underwire is an absolute plus to me, no one needs an accidental poke by metal wire while bending down to pick up something, and this bra will make sure that doesn't happen. That said, this bra isn't the easiest to get into, but it shouldn't be a deal-breaker. The easiest way to put it on is to clasp the hooks from the front without getting your arms in the straps, and then twist it around and work your arms through the straps.
In this particular piece by Rago, you're going to get a beautifully streamlined silhouette with the best support available that you can get without underwires. The shape of the cups slightly resembles a retro-style bra because they look a little pointy; it's fair to note that the shape isn't a perfect match to the older pointy cup designs, so you'd not be going full-retro with this one.
Rago would do well to offer different lengths for this style because if you've got a long torso, or if you're on the taller side, maybe 5'6" and up, you'll end up readjusting it throughout the day since it might ride up to uncomfortable places. You can try to pair it with a pair of bottoms from Rago shapewear. That way, if they do reach past your waist, you'd get a more comfortable and stable fit.
Who We Recommend Them For:
We recommend this to anyone looking for a tight fight and decent support without having to turn to a sports bra. This model does not have an underwire, but it does provide the best kind of support you can get without one. This piece is designed with an expandable cup, which means that this bra can accommodate any fluctuation your breasts go through monthly or if you're someone with a slightly uneven bust.
This is a great bra if you want to benefit from the structure's back support, and it's a great way to mind your posture. Ideally, you're someone who either doesn't mind the slightly retro design of the cups or is specifically looking for something that has that old-fashioned feeling without fully committing to it.
Brooks Drive Convertible Sports Bra (Good for Runners)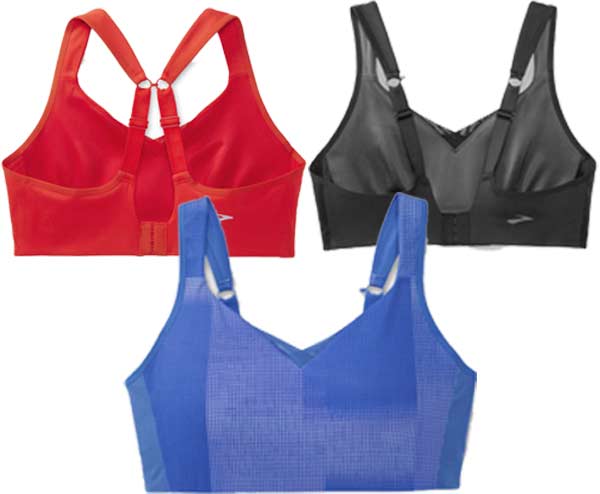 | | |
| --- | --- |
| Estimated Price | $60 |
| Materials Used | DriLayer HorsePower fabric |
| Colors Available | Black, grey, purple, white, navy |
| Origin | Seattle, Washington, USA |
Product Origin and Manufacturer Information:
Brooks Running was founded as a shoe manufacturing company back in 1914 by John Brooks Goldenberg in Philadelphia. They're, however, currently owned by Berkshire Hathaway, an American multinational conglomerate. Despite having roots that go back over a century in Philadelphia, Brooks Running is currently Headquartered in Seattle, Washington.
Brooks has made it their main focus since joining hands with Moving Comfort in 2004 to design the best possible bra for runners right after making the decision to move all of their bra production under Brooks. Both leading design experts under the Brooks brand base the design decisions on data they actively collect from personal interviews with runners and the research conducted by their biomechanical lab. We know to appreciate the level of dedication and attention to detail given to a very specific market within the sportswear industry.
This Brooks running bra uses Sweat-wicking DriLayer HorsePower fabric, and that means sweat sticks less to your bra because of the highly breathable capabilities of the fabric. Brooks utilizes this specific fabric to reduce any amount of chaffing happening as much as they can. Who hasn't gone running only to realize halfway through that your underarms are getting sensitive to chafing due to harsh materials in the area?
Disclaimer: Brooks states that their bras are both manufactured in the United States and imported. We've reached out to them to confirm what percentage of their production line for bras is sent abroad and exactly how much is currently being made in the US. From the information they gave us, we can tell you that the mix of products made at each facility can vary based on manufacturing needs. In short. some of their products, and in this case bras specifically, are made in the US and correctly labeled as such.
Our advice is to check for the "Made in USA" tag whenever you can.
What We Like and Don't Like About These Bras:
Upon wearing this bra, you can immediately feel how their fabric is nothing but lightweight smoothness. Some sports bras can end up feeling chunky and thick as they are supportive, but Brooks has managed to make their bras feel as light as a feather without compromising support. Brooks Drive bra has full coverage and even though it doesn't seem to have a ton of support on the interior, they've made sure that when you're running, their technology minimizes movement for your comfort, so it is compressive enough.
One thing I did notice is that even though Brooks says that they provide nipple coverage, I can see how this would be a bra I'd avoid using during winter. I think it's safe to say that the nipple coverage could ring true for some and not for others, especially if you're wearing it in mild weather or colder.
Brooks does offer a variety of sizes, so I'm glad this is an accessible bra to more people because it truly is very comfortable. When choosing your size, you should probably go a size up because Brooks' Drive bra tends to run small. I can see how getting the wrong size might result in chaffing despite Brook's effort to prevent it with their design.
I personally tend to stay away from convertible sports bras for the simple reason that whenever I do try to use them in their racerback alternative, I end up endlessly adjusting the straps, having to wear them too tightly for proper support or too loose to secure my bust properly. If you have similar issues, then sticking to a different kind of bra might work best for you.
I do love that their fit seems to hug your silhouette in the most flattering of ways. With a cut that is free of seams and distractions, you can run in style and comfort. Remember to check the tags to make sure the bra you're buying was indeed made in the USA!
Who We Recommend Them For:
We recommend this bra for anyone who is active and wishing to have support in a myriad of different situations, and this bra is a perfectly adjustable garment. This bra gives you the versatility to adjust the straps based on the type of movement you'll be performing in it, you can easily transition between your preferred scoop-back or racerback.
Your bra will adjust to your body and move as swiftly as you do, and its shock-absorbing technology will give you the compression you need to feel secure! If you're interested in some guidance to understand what you need out of a good sports bra, check out this video by Brooks Running:
Hemp Black Eco-Friendly Hemp-Infused Ribbed Sports Bra (Most Sustainable)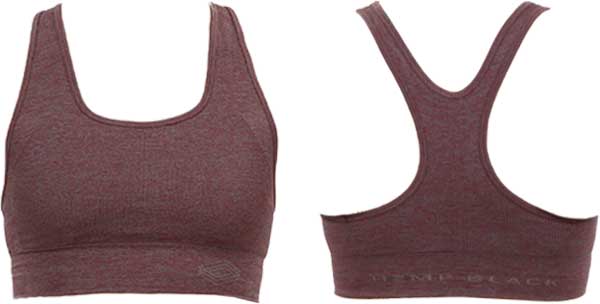 | | |
| --- | --- |
| Estimated Price Range | $60 |
| Materials Used | 86% Recycled Nylon, 9% Nylon, and 5% Spandex |
| Colors Available | Grey, Wine, Heather, and Black |
| Origin | North Carolina, USA |
Product Origin and Manufacturer Information:
Hemp Black's bras and the other garments the company makes are a green alternative for those looking to be conscious about where the clothes they wear come from. Hemp Black uses a waterless dyeing process that ensures that the color on your bra won't fade with the pass of time and usage, not to mention that this entire process ends up saving up a lot of water that would otherwise turn to waste with the chemicals that have to be added in order to give the fabric unique colors.
Sometimes when we read a tag that says that a garment has been made with recycled materials, we tend to automatically assume that most, if not the entirety of the product are made out of recycled content. We'd do well to check the percentage that actually corresponds to ecologically conscious sourced materials, and with Hemp Black, you can be certain that your bra is made of over 85 percent recycled materials.
Hemp Black does utilize post-industrial recycled nylon, and as we know, nylon is one of those materials that end up degrading over time after every wash. If recycled nylon is not green enough for you, there are other options in this article for you to consider.
What We Like and Don't Like About These Bras:
You could be sweating a river, and the fabric of this bra will do a superb job at keeping any unpleasant smells at bay. They're comfortable and supportive enough to run a marathon or your six-mile hike trail without getting any chaffing around the underarm area, and that's very important to consider for a bra you're planning to be very active in. I love quick-drying fabric, especially on bras, because it just makes for a more comfortable workout experience altogether, and Hemp Black's bra definitely has your back in that department.
It's not hard to tell how Hemp Black puts some serious work into their products because they're nothing like your regular big fast-fashion retailer. If anything, they're the complete opposite. Instead of making quantity, they make quality, and to top it off, every small batch of products they do release comes from a traceable, transparent, and sustainable supply chain.
Who We Recommend Them For:
We recommend this bra to anyone looking for an environmentally sustainable fabric alternative for their activewear. You care about the environment, and so does Hemp Black. With their high-quality garments and technology to back them, you'll be a match made in heaven.
It resists chafing and does well during sweaty workouts, so this is the bra for you if you're looking for a decent, comfortable sports bra. Sizes do run a bit large, so think about sizing down at the time of purchase. Sports bras that are designed with thick straps like Hemp Black's are very supportive and sturdy unlike some other options with spaghetti straps. It doesn't move much whether you're running in it or just wearing it to the grocery store. As far as American-made bras go, Hemp Black is certainly one of the highest quality bras out there.
BGreen RACER BRALETTE (Most Waste Conscious)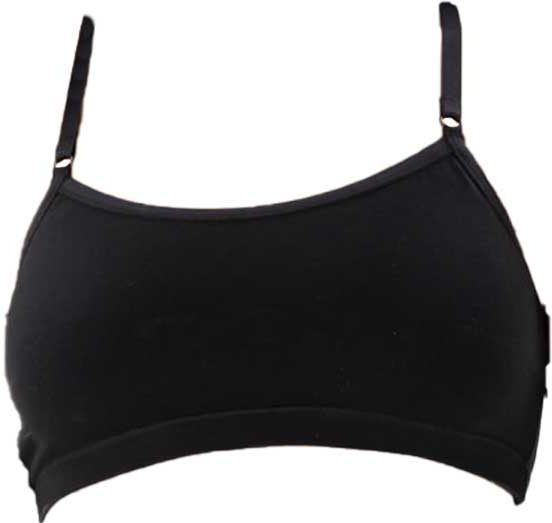 | | |
| --- | --- |
| Estimated Price | $45 |
| Materials Used | Jersey |
| Colors Available | Black. white |
| Origin | Los Angeles, California, USA |
Product Origin and Manufacturer Information:
BGreen is a family-owned American company located in Los Angeles that has dedicated itself to trying to change the fashion manufacturing space by actively choosing to take a different approach in order to reduce the usage of raw and virgin materials. We all understand this approach as circular fashion, where the materials used to manufacture their products are repaired, recycled, and upcycled whenever possible.
BGreen's method for avoiding wasting resources encourages its customers to order items from the many collections they design each season and produce them to order. To BGreen making products based on the orders they get doesn't mean all slow shipping times, in fact, their standard shipping time is usually 30 days, and that way, BGreen can guarantee variety, availability of sizes, colors, and the elimination of the waste overproduction creates.
In what is truly a remarkable initiative. Autumn of 2021 saw BGreen launch its "Take Back" program as an attempt to fully eradicate the lifecycle waste of its products. That means that if you've ever bought anything from BGreen, they'll take back the garment and put it to better use after identifying the best way to give the materials a brand new life. On top of that, BGreen will give you a 10 percent discount on anything you buy from them after your return.
This company's dedication to the conservation of the environment masterfully translates to the way their factory is run; BGreen's factory has been operating on a zero-waste status since 2005.
What We Like and Don't Like About These Bras:
Let me start by telling you what a pleasant surprise it was when I realized that BGreen doesn't use tags! Yes, you read that right. No tags whatsoever. It made me seriously question why a lot more brands aren't taking this small but smart approach to sustainability. A lot of us, if not all, end up cutting the annoying pieces of fabric out anyway.
BGreen's signature 4-way organic stretch jersey provides an amazingly soft fit and security since it has been so thoughtfully double-layered. Have you ever tried on a bralette and thought it would be perfect if only they added another layer of fabric? Well, BGreen has, and it is such a nice detail to this piece that I personally appreciate a lot. The adjustable straps are always welcome to best fit different bodies but consider the width of the straps because these are thin and could potentially be uncomfortable to wear for long periods of time if you require more support.
Who We Recommend Them For:
We recommend BGreen if you're someone with an interest in seeing where the products you buy come from; BGreen is a superb choice. Not too many brands offer to show you their facilities, but they openly invite you to visit their facilities in Rancho Dominguez, California. They offer living wages, healthcare, bonuses, and benefits in a family-owned company.
The bra is very well made, and the adjustable straps do provide a sensible amount of support for someone with small to medium breasts, but for those of you with a larger bust, this might not be the best fit for strenuous hours of activity during the day.
Bella Materna Maternity Plunge T-Shirt Nursing Bra (Easiest for Nursing)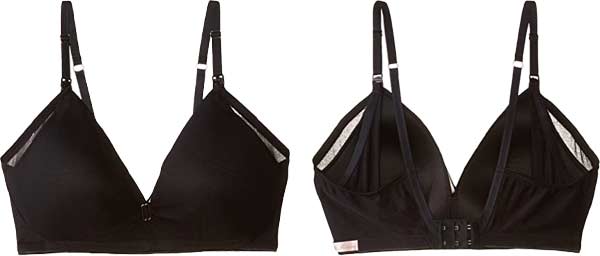 | | |
| --- | --- |
| Estimated Price | $25 |
| Materials Used | 80% Nylon, 20% Lycra |
| Colors Available | Black, Rose |
| Origin | Seattle, Washington, USA |
Product Origin and Manufacturer Information:
Bella Materna is known for offering top-quality maternity and nursing essentials at prices that won't necessarily make a dent in your bank account. Bella Materna started around the year 2001 with the partnership of two designers, Anne Diamond and Candace Urquhart. Back in the begging of the 2000s, Diamond and Urquhart already saw a need in the industry to combat the consequences of fast fashion on our planet, and so they led Bella Materna along the path of slow fashion, making quality garments meant to last.
The popular Plunge Nursing Bra from Bella Materna offers the best support it can give without using any underwire. The fabrics they use to manufacture their bras are not sourced in the United States, so if that's something you care about, just know that Bella Materna chooses to use fabrics that are imported from Italy. You'll be so glad you found Bella Materna if you're a breastfeeding or soon-to-be nursing mom.
What We Like and Don't Like About These Bras:
This machine-washable bra has a 6-setting hook & eye for pregnancy or nursing and thin foam cups for smooth coverage and extra support. The racerback being optional is a nice detail, and I'm sure anyone nursing will appreciate the nursing clips with one-hand access. For comfort and support, there is a wide plush band at the hem, but understand that without an underwire, there's only so much support you can actually get from any type of bra, and since the cups aren't necessarily rigidly molded to allow for easy access, the breast shaping you get out of wearing a Bella Materna bra might not be up to your standards if this is something you want to consider.
A really good design choice here, though, is the lining in the cups. Someone nursing will want to have extra security and padding in case of any leakage happening in public. Bella Materna's bra keeps the leaks from getting through to your clothes.
Even though it is advertised as a maternity bra, if you're willing to overlook the front clips meant to allow nursing, it could be a great and comfortable plunge bra to add to your lingerie wardrobe. I could see it as a comfortable everyday wear option for anyone, especially because they offer a bigger array of sizing options, so you're sure to find the best fit for your body. By any means, do consider giving this gorgeous plunge bra a chance.
They do seem to run a little on the bigger size so consider sizing down from your regular fit and checking their sizing chart.
Who We Recommend Them For:
We'd recommend this to someone who strives to get both comfort and decent support out of their everyday bra, whether they're nursing a baby or not, but especially if you are nursing and want to avoid leaks getting through your clothes.
This bra is comfortable, but it does not necessarily fit the bill to be called super supportive, an underwire would certainly provide more support, but that's a tradeoff we usually have to go with if we're prioritizing comfort. That said, it is the best support you can get with comfortable adjustments to allow for larger ladies. The Bella Materna Plunge Bra is a very comfy bra and a great choice if you truly do not want an underwire.
Nanette Lepore Play Women's Solid Bra W/lace (Most Economical)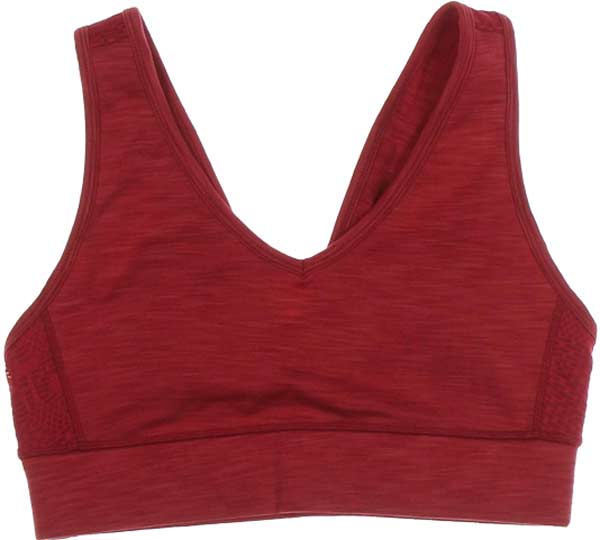 | | |
| --- | --- |
| Estimated Price | $30 |
| Materials Used | 90% Polyester, 10% Spandex |
| Colors Available | Pink |
| Origin | Los Angeles, California, USA |
Product Origin and Manufacturer Information:
Nanette Lepore was founded by Nanette Lepore in 1993, a fashion designer with a desire to bring about youthful and playful looks into all of her collections. It's important we make note that the designs made by Lepore herself are no longer being steadily produced. Since her last collection was shown at the Fashion Week in New York back in 2020, she has closed her personal atelier and will not be coming back to the fashion world as far as anyone knows, at least her personal designs won't. Her legacy and the brand will live on.
Even though Nanette Lepore manufactures most of its pieces in New York, not every garment that makes it to the American market has been made in the USA. You might not always get a product from them that's been 100 percent made in America, but that being said, the garments that are made in the US make up 80 percent of their production line, and that's not an insignificant amount.
When it comes to manufacturing, Nanette Lepore decides where production goes based on where it would best suit them economically, and in their transparency, they happily let us know that the majority of the time, manufacturing in the US does make sense. Nanette Lepore is proof that making garments in the United States is not an impossible dream nowadays and that companies can commit to keeping more of the textile manufacturing jobs here and still be financially responsible with their companies.
What We Like and Don't Like About These Bras:
You might want to consider sizing up for this bra because the design tends to fit somewhat smaller than you'd expect. If you're someone with large breasts, this Nanette Lapore piece will absolutely give you the extra support you need but note that if you fail to buy an appropriate size, you might end up with a uni-boob situation in terms of shaping. We all know that sports bras generally give great support, but the uni-boob is something a lot of women have dealt with at some point in their lives.
Something that I do really like about this particular bra is that it has good wicking properties, and it allows for decent breathability on your skin, I also give them extra comfort points because I do appreciate a thicker band to secure my sports bras. The back of the bra is in the form of a cool-looking v-shape, and I'm a sucker for a fashionable back design on activewear. It's nothing too crazy that takes away from the support, so this is a lovely style to add to my closet.
Because this is a cup-less bra, all you need to do to wash it is throw it in the washing machine, but even though Nanette Lapore doesn't specifically tell you to wash it in a delicates bag, I would just take the extra precaution to make sure you can extend the bra's lifespan as much as possible. Definitely a solid choice for activewear!
Who We Recommend Them For:
We could recommend this bra to you if you're looking for a sturdy sports bra that holds its place. The thick band around the torso area is super comfortable to have because it is one of the key points of the design that holds everything in its place. Ideally, you're also someone that will know to accessorize and mix and match this cute piece with other styles of clothing in your closet, perfect if you're all about athleisure. Overall, this is easily one of my favorite bras made in the USA.
Naked Princess Women's Micromodal Criss Cross Bralette (Great for Petite Women)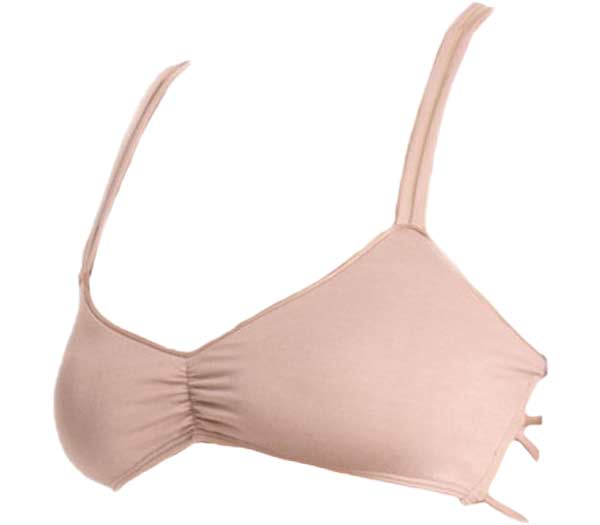 Check Price on Amazon
| | |
| --- | --- |
| Estimated Price | $55 |
| Materials Used | 92% micro modal, 8% spandex |
| Colors Available | Pink |
| Origin | Los Angeles, California, USA |
Product Origin and Manufacturer Information:
For the founder of Boudoir Magazine, Jordana Woodland, Naked Princess is a project that perfectly merges her love for Boudoir and her desire to build a business of her own.
Naked Princess has a design and manufacturing process that Jordana Woodland has led closely, with materials of the highest quality, an incredible commitment to detail, and craftsmanship. These values remain essential to the creation of every piece Naked Princess has to offer. Naked Princess is a brand that encourages the busiest of women to remember to take time for themselves without a trace of guilt, and they translate that exact sentiment into their collections.
Jordana knew to take bigger steps regarding her company when they launched campaigns and collections that included athleisure, loungewear, and even a mother-daughter line called "mommy and me."
Le Marché by NP was founded in 2017 as a lifestyle brand to include all the curated products that inspire a life full of self-love right along with the Naked Princess collections. Le Marché by NP started in Los Angeles, but Jordana made the decision to move it to Whitefish, Montana, and set up their flagship store there.
What We Like and Don't Like About These Bras:
This rose petite gold bra is hand wash only and will be one of your nicest possessions. Its dainty lines are charming, and it will make you feel beautiful, even if you're the only one who knows you're wearing it. The quality of the materials used to construct this bra can be felt as soon as you lay your fingers on it.
All the straps in the back might make you think it's a fragile garment, but this is a very well-made bra, and each stitch holds up securely. Since you do have to put it on over your head, you do want to be careful not to stretch it too much, it's easy to see how too much force stretching the fabric could make the stitches go loose over time.
Who We Recommend Them For:
Any woman who likes the finer things will enjoy this line. It's gorgeous and delicate. Jordana believes that beauty comes in many forms, whether it's the art of dressing, a beautiful smile, or a peaceful home.
Araks Beatrice Bralette Peche (Most Luxurious)

| | |
| --- | --- |
| Estimated Price | $180 |
| Materials Used | silk |
| Colors Available | Black, beige, peach, blue, pink, brown, red |
| Origin | New York, USA |
Product Origin and Manufacturer Information:
Araks Yeramyan founded Araks to bring a pop of color into the intimate lives of anyone wearing their designs. All Arak products are designed to make you feel beautiful and comfortable, all while aiming to enhance and complement natural beauty. The company calls their bras luxuries for everyday wear, and wearing something that has been thoughtfully crafted is an action that is purely for yourself.
Araks is the kind of brand that makes every single piece they produce work seamlessly within their own collections, a true ode to the timelessness of their craft.
What We Like and Don't Like About These Bras:
Generally, Araks' underwear does run a little small, so we would definitely recommend sizing up in general. The comfort levels are unmatched, and the bras and underwear still look sexy, which is something that Araks accomplishes masterfully with their everyday luxury garments. As for affordability, the brand is a little on the expensive side, but in its defense, the collection is locally made in NYC and focuses on sustainability, quality, expert design, and construction.
I tend to gravitate towards underwear, and bras specifically, that are either black, white, or nude, so looking at Araks collections makes me feel like maybe, just maybe, I should add a little more fun to my lingerie wardrobe. The colors Araks uses in their designs transmit a certain type of energy that is as playful as it feels natural like they are telling us that we should be wearing that hot pink bra underneath our favorite blouse. I'd forgotten how bright and bold colors can make you feel empowered, and Araks has brought back that much to me.
Who We Recommend Them For:
We'd recommend Araks to anyone that wishes to feel pampered and comfortable in their own skin. Ideally, you're also someone who wants to add a gorgeous array of colors to your lingerie collection because, in my opinion, their collections come with a masterfully curated color palette anyone would be lucky to have in their closet.
Boxcar Forever Cadet Racer Sports Bra / Black (Best for Smaller Ladies)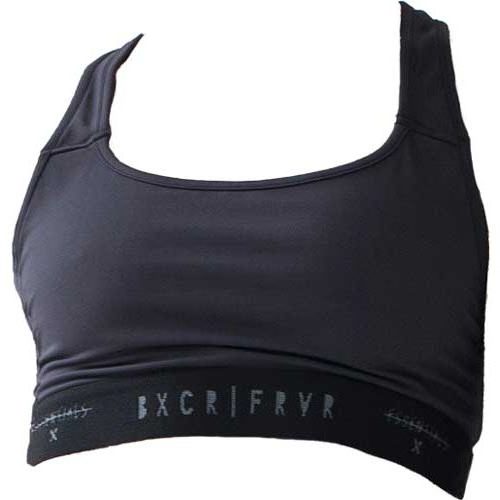 Shop Boxcar Forever
| | |
| --- | --- |
| Estimated Price | $62 |
| Materials Used | 76% Nylon, 24% Spandex |
| Colors Available | Black |
| Origin | Brooklyn, New York, USA |
Product Origin and Manufacturer Information:
An all-American activewear and apparel company, Boxcar prides itself on making every single fiber of its garments as American as it can get. They describe themselves as a militia streetwear company. Boxcar Forever is headquartered in Brooklin, New York, where they design, develops, and manufactures its products.
This company insists on assuring everything about your favorite activewear has been grown and sourced from different parts of the United States. Some companies will manufacture their products in the US but source their materials from elsewhere, and Boxcar Forever makes sure everything they sell is 100 percent American sourced and made.
What We Like and Don't Like About These Bras:
The Boxcar Forever sports bra is a solid workout bra that provides comfort and support to help you move in the ways you want to. The design in the front is in the basic sports bra go-to hugging shape, it offers medium coverage of the bust bringing in a nice secure tuck to your breasts. Although it looks super simple upfront, all the fun happens in the back, this specific model has two securing bands hugging the back and waist, and the front straps are brought together in a racerback design for excellent support.
Depending on the kind of activity you plan to wear Boxcar Forever's bra for, you could end up in a situation where the back straps move to an uncomfortable place on your body, especially if your workout has a variety of high-impact movements. I'd personally wear this specific bra to a lifting session at the gym, where I can rest assured that the back straps won't have a lot of room to wiggle out of place.
Who We Recommend Them For:
We'd recommend this Boxcar Forever bra to anyone looking for a comfortable and cute sports bra. These bras are high on comfort, and super soft but provide structure for your workout. We do find, though, that the brand's designs are slightly limited to people with smaller busts since their sizes only run from extra small to large, so you may want to consider the level of support and size you need before making any decisions.
Pansy Bras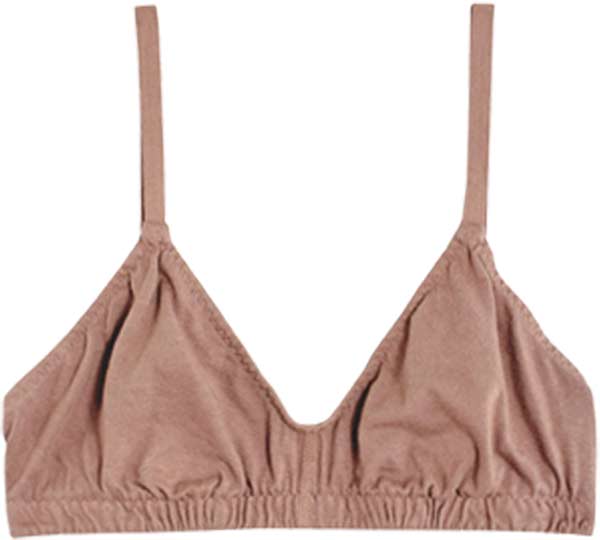 | | |
| --- | --- |
| Estimated Price | $50 |
| Materials Used | 100% Organic Cotton |
| Colors Available | Lilac, rust, cream, black, apricot |
| Origin | California, USA |
Product Origin and Manufacturer Information:
Pansy, the underwear company, was started by Rachel Corry and Laura Schoorl, and their bras are currently manufactured in California since 2013. They grow and mill their cotton domestically and design their underwear locally to meet the demand for luxurious, ethical underwear.
In their manufacturing, Pansy uses organic cotton and spandex from recycled PET, the plastic found in water bottles. Every single fiber of cotton used in the Pansy products is grown in the United States, just like every stitch has been sewn on American soil. The fact that supporting their brand supports American farmers, recycled materials, and a smaller company is as wonderful as it is admirable.
As we have mentioned before, we often shop ethically by supporting American-made products because it saves us time and supporting small businesses and makers mean supporting the people involved more directly than buying from large companies.
What We Like and Don't Like About These Bras:
One of my favorite surprises about Pansy is the fact that their bras are fully compostable. By doing this, they've found a way to tackle the lifecycle waste of their products to a net zero. This is the bra you wear when you don't feel like wearing a bra, and in all honesty, this is the best bra to help make the transition out of wearing bras if that's something you're interested in doing at any point in time. Comfortable, breathable, and super soft, Pansy is an excellent choice of underwear that prioritizes comfort.
The downside to this incredibly comfortable bra is the straps. They do tend to wear out over time, and that's how you know your bra needs to be composted!
Who We Recommend Them For:
We recommend Pansy to anyone looking for an affordable 100 percent cotton underwear option. Pansy is not the kind of underwear company to retouch their photos and show unrealistic bodies in their campaigns, in fact, Pansy's social media and website include dreamy photos of models with body hair, which depict how bodies look realistically. However, one good product is not a guarantee for another good product from the same company. If you're looking for 100 percent cotton bras made in the USA, Pansy has some great options.
Between the Sheets Arabesque Silk Bralette (Most Elegant)

| | |
| --- | --- |
| Estimated Price | $240 |
| Materials Used | Silk |
| Colors Available | Navy, Grey, Black, Cream, Fuchsia |
| Origin | New York, USA |
Product Origin and Manufacturer Information:
Layla L'obatti founded Between The Sheets Lingerie and loungewear with three primary goals in mind. First, to enhance the current market offerings of high-quality American-made women's apparel. Second, to ensure she leads a brand that is eco-friendly and causes the least amount of environmental impact with packaging. Third, to give back to her community, which she does by pledging the brand to the "One Percent For The Planet" foundation, which takes 1% of a company's revenue each year and philanthropic uses. We love a brand that loves the Earth and its loyal supporters, and there is nothing better than a downhome American company that knows how to give back while creating exceptionally high-quality goods.
What We Like and Don't Like About These Bras:
The Sheets Arabesque Silk Bralette is the kind of bra you wear to feel that you're being well taken care of. The silk provides a snug yet soft fit, which makes it super comfortable for everyday wear, provided you're not looking for a lot of extra support. Between the Sheets, bras are definitely on the higher end, especially when it comes to pricing, but you definitely get what you pay for. The bras are exquisitely made.
Who We Recommend Them For:
This is definitely a luxury bra with a dash of comfort but not extremely supportive, if you're someone with a larger bust, you may want to keep this one for more comfy situations instead of making the silk bralette your go-to for a full day out and about.
If you're looking for a bra to match both comfort and luxury, you've got a great choice with Between the Sheets and their Arabesque Silk Bralette.
Wrapping Up:
Despite having listed the brands that stay true to American manufacturing, we didn't find as many as we hoped we could find. It has become common knowledge that more and more of the American textile industry is placed abroad, and as consumers, there's not much we can do about it aside from supporting what we have left. Something we can do is be conscious of the origin of the products we buy. Buying American-made items is a choice that not only helps our internal economy, but it helps you lower your own environmental footprint.
If you think of the miles and miles your favorite pillowcase or the bra you're currently wearing had to travel to get to you, you'd realize how much of that trip you can shorten by buying an item manufactured in the United States.
We hope this list has given you enough options to find the bra you're looking for. If you have any questions, we'd love to hear from you in the comments!