Finding the right cooler to transport your food and keep it at the right temperature can make a big difference when camping or spending time outdoors. By choosing a quality American made cooler, you will be supporting American businesses while also getting a superior product.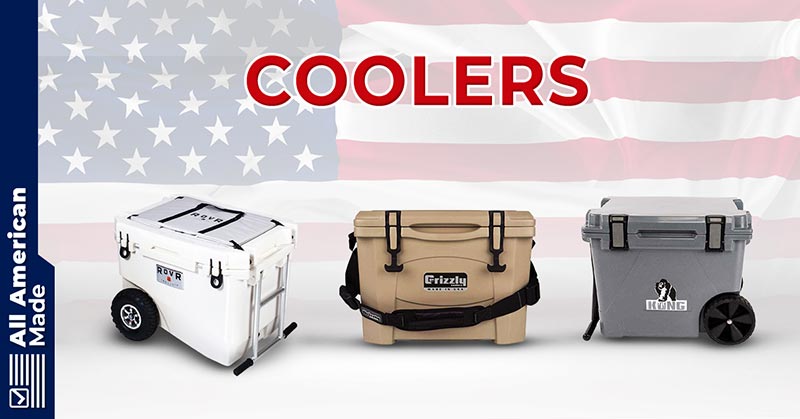 We've searched far and wide to compile the ultimate list of coolers made in the USA. The products on this list vary in style and size, so simply scroll through this list and choose the one that best suits your use cases.
List of American Made Coolers
1. Coleman Performance (Best Value)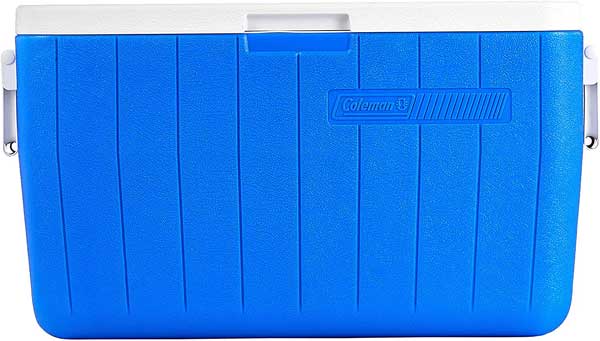 | | |
| --- | --- |
| Estimated Price | $45 |
| Material | Plastic |
| Size | 48 Quarts |
| Handle | Two Plastic Side Handles |
| Origin | Wichita, KS or New Braunfels, TX |
Coleman's Origin and Manufacturing Locations
Coleman is a legendary brand in the world of coolers, and while not all of their coolers are still made in the USA, their Performance Line and Flip Lid Line of coolers still are. I've even seen the manufacturing plant in Kansas and I can tell you, they definitely have a lot going on there!
Many cooler manufacturers seem to be moving some of their product manufacturing. Some are coming back to the US and some are moving overseas, so as always be sure to double-check that the model you're interested in is in fact made in the USA.
What We Like and Don't Like About Coleman Performance Coolers
The Coleman Performance cooler is one that I have a ton of experience with. Growing up my family would take this exact type of cooler on camping trips and such. We still have the coolers and they still work as well today as they did decades ago. These coolers have a very simple design and Coleman really wanted these coolers to be simple and affordable. I think they really hit the mark, as these coolers are extremely durable and hold ice for a long period of time.
I'm not the only one who loves these coolers, as you can spot tons of these at any busy campground no matter the state or region! Every time I end up on a campground, it's a guarantee to see these and it's no wonder why as they're super affordable, simple, lightweight, and they get the job done. Are they the best coolers ever made? Well, I suppose that's subjective, but when it comes to punching in their weight class (price), I'd say yes. No, they don't have all the new cool kid features and gadgets that modern, several hundred-dollar coolers may have, but I never really needed those things anyways. Still, to this day, I have two of these myself and my parents still have their arsenal of them as well, and I have most certainly gotten my money's worth several times over.
These are perfect for those of us who don't really care about the leading-edge technology or newest gadget add-ons. I like simple, I like rugged, I like affordable, and I like products that do what they say, and that's exactly what you get with the Coleman Performance lineup.
2. Grizzly 15 Cooler (Editor's Choice)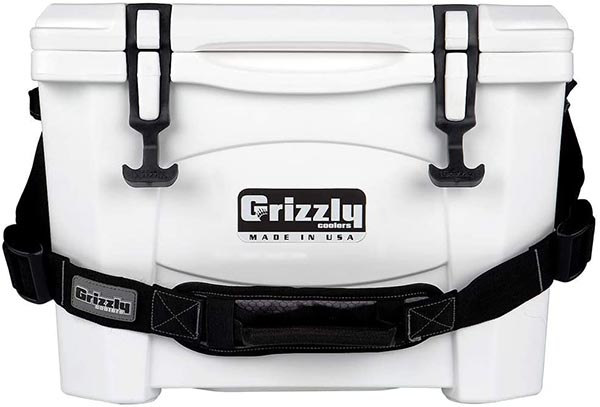 | | |
| --- | --- |
| Estimated Price | $150 |
| Material | Plastic |
| Size | 15 Quart |
| Handle | Nylon |
| Origin | Decorah, IA |
Grizzly's Origin and Manufacturing Locations
Grizzly coolers are made in a factory in Decorah, Iowa. They use a rotational molding technology called rotomolding. You can even read about their process and watch a cool video of a cooler being made. This manufacturing process makes sure that each cooler has a uniform thickness, which reduces the potential points of wear and failure. This is especially important at the corners, which tend to take the brunt of the force as you move your cooler around. The carrying strap is imported if you go with the 15 Quart cooler.
What We Like and Don't Like About the Grizzly 15 Cooler
Grizzly coolers aren't the most stylish on our list, but boy can they take a beating. They are available in a lot of different size options as a hard-sided cooler. They have a lot of colors, especially bright colors that will be easy to spot and keep track of whether you're at a crowded beach or secluded nature trail. The interior of the cooler is a bit on the small side relative to the overall size that you will need to carry. But this means that the cooler walls are extra thick and will keep your food and drinks cold using an impressive two inches of insulating foam.
Grizzly coolers are perfect for those who expect to toss their cooler around a lot and want to make sure that it can hold up to the impact. The rotomolding process ensures that the cooler walls are uniformly thick and durable. The two inches of foam is great for keeping the interior of the cooler icy and cold, although it does cut down on the actual storage space without upgrading to a larger, bulkier cooler.
3. Pelican 20 Quart Elite Cooler (Most Durable)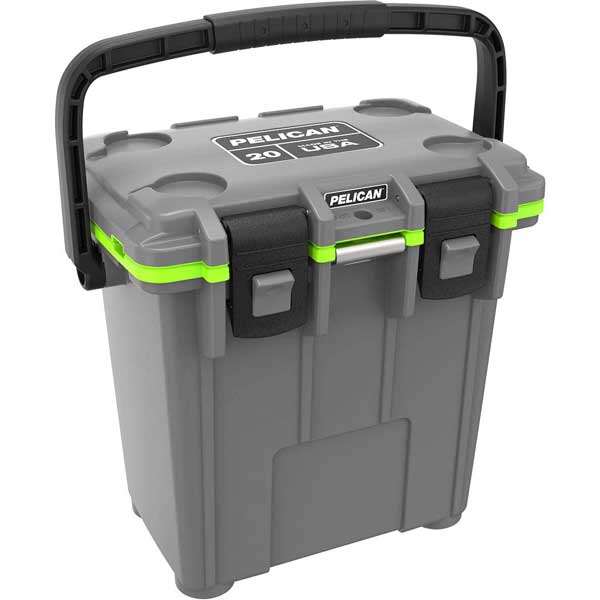 | | |
| --- | --- |
| Estimated Price | $150 |
| Material | Plastic |
| Size | 20 Quart |
| Handle | Top Handle |
| Origin | Torrance, CA |
Pelican's Origin and Manufacturing Locations
Pelican began by making products and cases for scuba divers in Torrance, California. Their cases and coolers are still made in Torrance and provide the same protection from the elements that they have been known for since their founding in 1976. Their cases are used by first responders, the U.S. military, and professionals like photographers who need to protect their gear. While newer to the cooler side of things, Pelican is a well-respected name in manufacturing in general.
What We Like and Don't Like About Pelican Elite Coolers
I like Pelican products for their tough construction. I have shipped items back from the middle east in a Pelican case without any issues. Pelican coolers are just as well-made and are perfect for those who expect to be in rough conditions. They have a variety of sizes, but the 20 Quart Elite cooler fits a need that not many other cooler companies focus on. It is a hard-sided cooler that can be carried easily by one person. It includes a comfort groove on one side that allows the carrier to hold it close to their body without straining. They do have larger sizes as well, depending on your needs.
If you have precious cargo to protect, Pelican is one of the best choices for its superior construction and durability. Even if you are just transporting your lunch, you can rest assured that things will stay cold and easy to carry in the Elite Cooler. The 20 Quart version is perfect for day trips where you need something that one person can carry, but they are also available in eight other sizes, all the way up to 250 Quarts.
4. Igloo Outdoor Sportsman (Best Value Wheeled)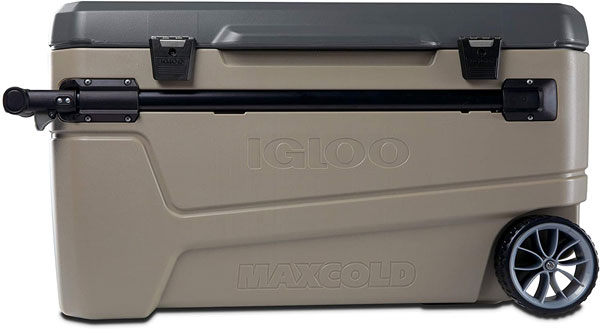 | | |
| --- | --- |
| Estimated Price | $150 |
| Material | Plastic/Polyurethane |
| Size | 30, 55, 110, 120, 150 Quarts |
| Handle | Two Plastic Side Handles (Some have a metal handle) |
| Origin | Katy, Texas |
Igloos' Origin and Manufacturing Locations
Igloo is a favorite among the affordable and simplistic crowd, but can they offer up against some of the newer, more modern, and feature-rich coolers that are hot on the market today? Yes, yes they absolutely can, and they do it well with their Outdoor Sportsman series. A quick note here, Igloo actually has several really awesome feature-packed lineups, but many of them are now made overseas, so you have to be wary of that! From what I can see at the time of writing, the Sportsman series is still being manufactured in Texas with proud American handy work.
What We Like and Don't Like About Igloo Outdoor Sportsman Coolers
There is a lot to like about the Igloo Outdoor Sportsman and probably the first thing you'll notice is that there are two versions, the Glide, and the regular version. The glide, which is the cooler I personally own, has wheels and a handy dandy telescoping handle, much like you'd expect from a large piece of luggage, and it acts much like that as well, which I really like. It makes filling up the massive 110 Quart cooler to the absolute brim really easy to move around by one person. The wheels are plastic, as they typically are on any wheel-equipped coolers, but they're awfully tough and durable, which I can attest to as I have dragged it through some pretty rough terrain and haven't been particularly gentle to my Igloo Sportsman.
I own a lot of coolers, and it's safe to say that while I don't usually worry about a matter of a few hours difference in insulation, it is obvious that the Igloo Sportsman has better insulation than most of the cheaper Igloo options and just cheaper options in the rest of the market. Compared to those coolers that reach up into the hundreds of dollars, the Igloo can hang with them, and even perform so similarly that you won't notice a difference. You can feel confident setting this next to your buddy's several hundred-dollar Yeti, knowing he paid a lot more but his stuff will be just as insulated as yours!
These aren't exactly cheap or low-cost options, but they certainly aren't in the realm of the most expensive coolers either, so I think they're a pretty happy middle ground between spending not enough and spending way too much. The truth is, most people don't really get the value they think they'll get spending upwards of three and even four or five hundred bucks, so giving the Igloo Outdoor Sportsman lineup a serious look is advisable, as its performance really isn't much less, if at all, compared to some of the heavy price tag holders.
5. Kong 50 Quart Cruiser Cooler (Best Accessories)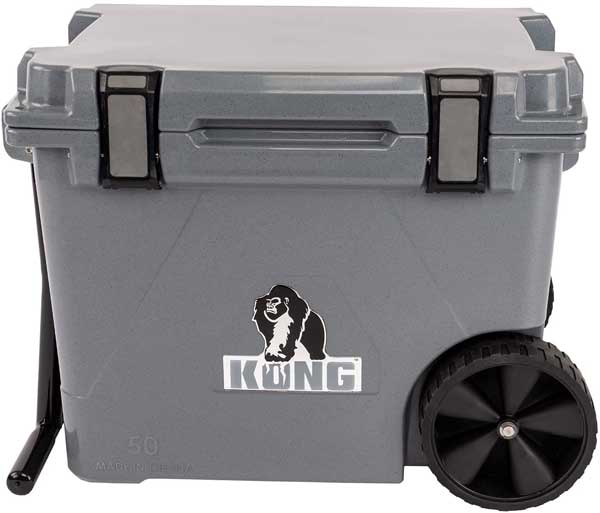 | | |
| --- | --- |
| Estimated Price | $505 |
| Material | Plastic |
| Size | 50 Quart |
| Handle | Plastic |
| Origin | Ridgefield, WA |
Kong's Origin and Manufacturing Locations
Kong coolers are designed and manufactured by Elkhart Plastics, a commercial plastic molding company that has been in the business of preservation through insulated plastic products since 1988. They developed a great production process that kept manufacturing and assembly in the United States for over 30+ years then decided to create a line of personal use coolers. Voila! Kong coolers were born.
What We Like and Don't Like About Kong 50 Cruiser Coolers
These coolers have a few features that aren't always included in high-performance coolers. Not only do they keep your food and drinks cold, but they are also made with the end utility in mind. Kong offers accessories that make your cooler easier to use, including cutting trays that connect to the side and a cool bottle opener that you can mount right on the cooler. The carrying handle works well to wheel your cooler around but is prone to failure over time. The body of the Kong coolers is built very toughly. If you want to see a bear putting one to the test, just head over to their products page for a helpful video.
If you want a great line of accessories to go with your cooler, Kong has attachments for just about any situation. Whether you are tailgating and need a place to prep food or want to divide the inside of your cooler into sections, you can find just the accessory for your Kong cooler. These do cost extra, adding to the overall cost of your cooler setup. When purchasing a high-performance cooler, most people are okay spending a little bit more to make sure that it will serve all of their needs. But the added cost is still something to consider.
6. Lifetime 55 Quart High Performance Cooler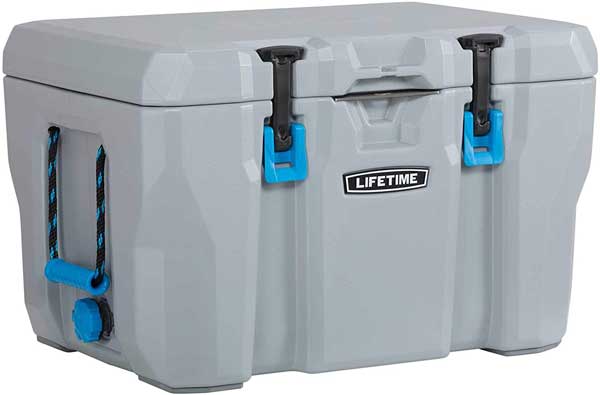 | | |
| --- | --- |
| Estimated Price | $130 |
| Material | Plastic |
| Size | 55 Quart |
| Handle | Nylon |
| Origin | Riverdale, UT |
Lifetime's Origin and Manufacturing Locations
Lifetime doesn't have a lot of information about the manufacturing of individual items and with such a diverse product line, it's hard to tell exactly where their coolers are made. They do state that they are made in the USA, likely at their Riverdale, Utah facility which is also their main headquarters.
What We Like and Don't Like About Lifetime High-Performance Coolers
If you want a cooler made in the USA that still works within a reasonable budget, you'll be jumping for joy when you see that Lifetime's models come in at less than $150. When similar coolers from other companies can cost $500 or more, the price tag of Lifetime coolers is enough to get anyone's attention. The cooling capability will keep you enthusiastic about this cooler. The nylon handles aren't the most durable, but unless you are really planning to go to a really rugged location, they will likely work just fine.
Lifetime coolers are perfect for the budget-conscious outdoor enthusiast who wants a cooler that will keep things cold while still having money left over to actually fill it with food and beverages. Lifetime coolers do come with a five-year warranty and will withstand a bear trying to get into the cooler for up to an hour. The drain spout is threaded, which is great if you want to connect a garden hose and drain the cooler away from your picnic or campsite.
7. Coleman FlipLid (Best Personal Cooler)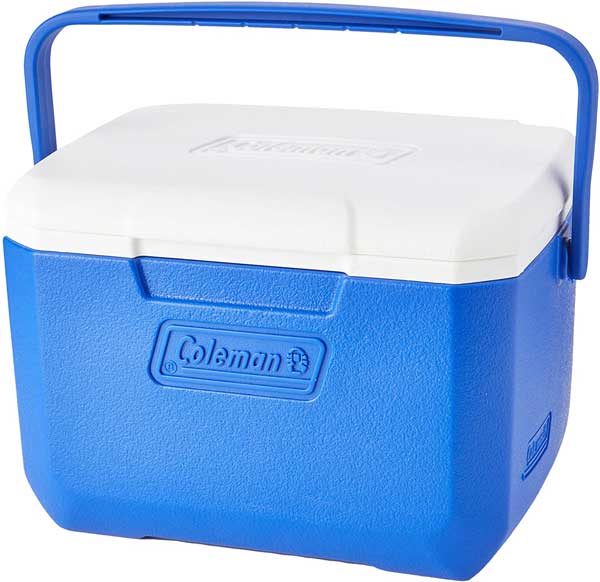 | | |
| --- | --- |
| Estimated Price | $25 |
| Material | Plastic |
| Size | 5 Quarts |
| Handle | Plastic Bail Handle |
| Origin | Wichita, KS or New Braunfels, TX |
Coleman's Origin and Manufacturing Locations
Coleman was founded in 1900 with a gas-powered lantern as its only product. They have since expanded to a wide range of outdoor products, adding coolers to their lineup in the 1950s. Not all of their products are made in the USA, but the majority of their hard-sided coolers are made in either their Wichita, Kansas or Braunfels, Texas facilities. If you do choose a Coleman cooler, make sure to pay special attention to the manufacturing information.
What We Like and Don't Like About Coleman FlipLid Coolers
Ah, the old flip lid Coleman, I share many memories with this particular cooler, from taking it for lunch at my first ever job to many bonfires, camping trips, and even having it alongside me while traveling around the US. I still have my old flip lid, almost ten years old now and certainly showing a ton of wear and tear as I wasn't always nice to it, but it's never let me down and despite many instances of heavy abuse, it still works as it did the first time I ever loaded it up!
It's impossible for me to be unbiased, but the truth is, this is one of the lowest-cost personal coolers on the market that's still made in the US and it's by no means low quality, these will last a seriously long time and although on first impressions, it doesn't seem very thick or insulated, it'll keep your lunch or brews cool throughout an entire day. There isn't much else to say, as these are pretty simple and don't have any gadgets or features you might find on a fancy pants cooler.
If you're like me when I first bought this cooler, a young kid going off to his first job on a construction site, and you're either on a tight budget or you just simply aren't prioritizing spending a ton on a personal cooler, then this is perfect for you. The only other real US made personal cooler competitor that's super affordable and high quality would be the Igloo Playmate, which I also own, and honestly, I do prefer the flip lid, but I think both are excellent choices. The Igloo Playmate will also be on this list!
8. Igloo Playmate (Best Personal Cooler Runner Up)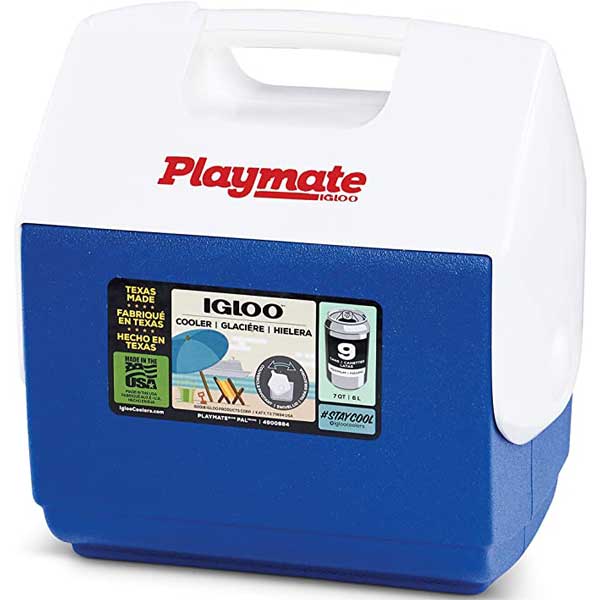 | | |
| --- | --- |
| Estimated Price | $25 |
| Material | Polyurethane |
| Size | 4, 7, 14, or 16 Quarts |
| Handle | Igloo Exclusive Tent Shape Lid/Handle |
| Origin | Katy, Texas |
Igloo's Origin and Manufacturing Locations
Not all Igloo coolers are made in the United States, but the company does provide a very comprehensive list of those that are. A lot of the Playmate portable coolers are made in their Katy, Texas facility, as well as the Marine coolers, water jugs, and a few vintage-inspired options.
What We Like and Don't Like About Igloo Playmate Coolers
I once tried replacing my Coleman Flip Lid because after over 10 years of very hard use and abuse, it started looking like it needed to join the cooler afterlife, and I did so by grabbing a Playmate from Igloo. I have since had both the version where you have to click the little button on the side, and if you aren't careful it bites your finger, and the one that opens from the button on the handle, and I can say that, although it isn't going to replace my love for the Coleman, it is an excellent personal cooler.
The old Playmate is pretty well known for that side button being a nuisance, but overall, both versions are excellent, low-cost options that simply get the job done. Will they have a bunch of modern new-age technology and fancy gadgets? No. Will they keep your lunch cool while you're at work all day? Absolutely. There isn't much to say, as these are rather simple designs and really the only thing that stands out is the tent lid, which does give you a little extra headroom for something like a tall water bottle, but it can interfere with the lid opening, so that's just a small user experience related thing to consider.
At just a few bucks more than the Coleman Flip Lid, I can't really tell you which one you should buy. I've owned both for many years and made memories with both of them, sometimes at the same time, and honestly, it really comes down to personal preference. One thing that made me frequent the Flip Lid more was that it simply fit under the seat perfectly in my boat, whereas the Playmate couldn't fit because of the taller tent lid design, so perhaps that's something to consider, but other than that, they both play the same role and they both do it about as well as each other. Either option is going to provide for a fantastic American made personal cooler experience!
9. Coleman Steel-Belted Cooler (Best Vintage Cooler)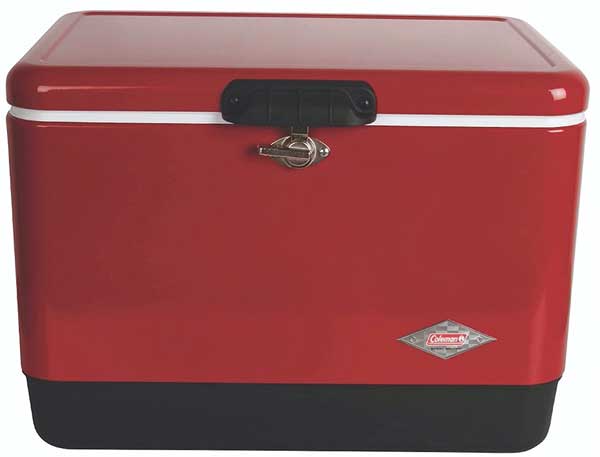 | | |
| --- | --- |
| Estimated Price | $130 |
| Material | Steel |
| Size | 54 Quart |
| Handle | 2 Steel Handles |
| Origin | Wichita, KS or Braunfels, TX |
We reference the Coleman Manufacturing information in the other Coleman reviews, so make sure to check that out!
What We Like and Don't Like About Coleman Steel-Belted Coolers
I like the vintage look of this cooler. It really evokes the bygone days when backyard barbecues and beachside picnics were top entertainment for Americans. It does have modern comforts, though, such as a seat on the lid that can hold up to 250 pounds, a stain-resistant plastic lining, and an easy-to-use drain. I also like how easy it is to find Coleman coolers, whether you choose this model or a different one. The price is good for the performance, although it isn't quite as tough as some of the other more rugged options on our list.
If you want a budget-friendly cooler that looks and performs well, you'll be happy with just about any hard-sided cooler from Coleman. The look of the Steel-Belted cooler provides vintage-inspired style, which is particularly great from a longstanding brand like Coleman. This isn't a particularly large cooler, so it's probably best for those looking for something to take on a family day trip or use with just one person for a few days.
10. Cabela's Polar Cap Equalizer Cooler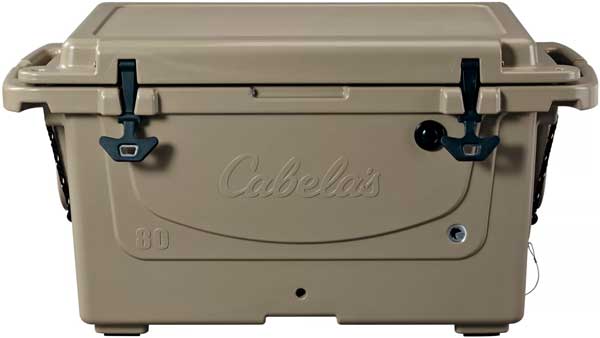 | | |
| --- | --- |
| Estimated Price | $350 |
| Material | Plastic |
| Size | 80 Quarts |
| Handle | Nylon |
| Origin | USA |
Cabela's Origin and Manufacturing Locations
Cabela's doesn't offer a lot of information about their manufacturing process, just stating that their Polar Cap line of coolers and tumblers are made in the USA. The company itself began as a Nebraska-based catalog company that marketed outdoors products. They eventually merged with Bass Pro Shops, a similar retail company based in Missouri.
What We Like and Don't Like About Cabela's Polar Cap Equalizer Cooler
The Cabela's cooler is a great balance of weight and insulation. It is made of a single piece of molded plastic, including handles that are molded in. This means that it is easy to carry even after years of use, although it does still come with a nylon cord handle that can be used to manipulate the cooler. It comes in four colors that will fit right in with hunting and fishing gear: white, tan, green, and orange.
If you want a cooler that performs well from an established brand, the Cabela's Polar Cap is a good option. It does have a rubber closure mechanism. While it advertises as bear-proof, you will need to make sure that this closure is secure before putting it to the test. The cooler has an airtight gasket seal to keep the cold temps inside and prevent leaks.
11. Igloo Marine Ultra 72 Cooler (Best for Wet Environments)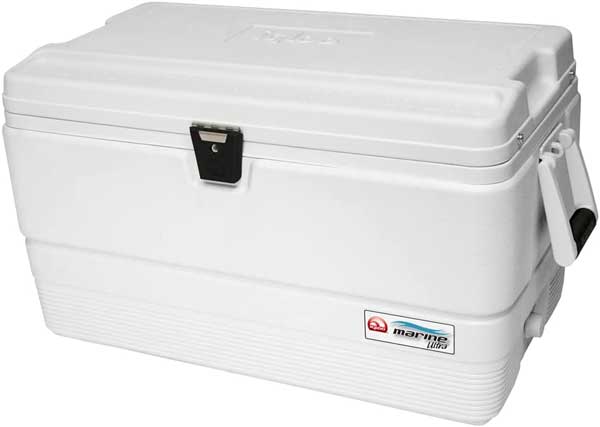 | | |
| --- | --- |
| Estimated Price | $95 |
| Material | Plastic |
| Size | 72 Quarts |
| Handle | Plastic |
| Origin | Katy, TX |
What We Like and Don't Like About Igloo Marine Ultra 72 Coolers
I grew up with an Igloo cooler, so I may be a bit biased on how great this option is. The Marine cooler is particularly great for its simple construction that can be drained and hosed out easily. It is available in eight different sizes, with the 72 Quart being one of the most popular. It works well with most boats and can hold plenty of food, drinks, and (hopefully) fish after a long day on the water. Every material that goes into the Marine coolers was chosen for its performance in wet environments, such as boating and fishing.
If you plan to use your cooler around the water a lot, the Igloo Marine cooler line is made of UV-protected material that won't fade or warp, as well as rust-resistant metal parts and hardware. The cooler can also be used as a bench seat (perfect for fishing) and has a built-in ruler to measure anything that you catch. The white color also blends in well with many boats and isn't visually jarring against a serene water landscape. The Marine cooler line fills a market need for those into water recreation that not many other companies really focus on.
12. Bison Hard Cooler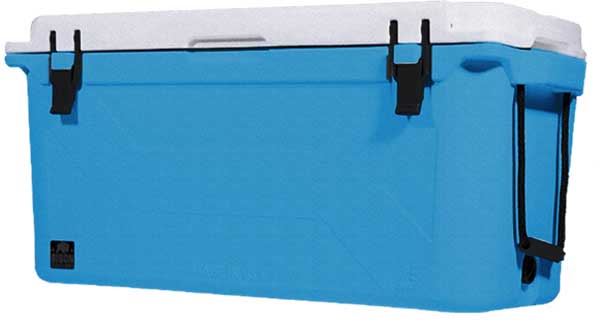 | | |
| --- | --- |
| Estimated Price | $330 |
| Material | Roto-Molded Polypropylene |
| Size | 25 or 50 Quart |
| Handle | Two Rope Side Handles |
| Origin | Fort Worth, Texas |
Bison's Origin and Manufacturing Locations
We cover what we dug up in the review of the Bison soft cooler, so make sure to check that out!
What We Like and Don't Like About Bison Hard Coolers
Bison hard coolers are an excellent middle ground of simplicity but modern aged technology. They aren't going overboard trying to reinvent the wheel, so to speak, but they do use the latest inject molding techniques to ensure an excellent top-class insulation level and a basically indestructible outer shell. These bad boys are tough as nails and will keep your goodies cool all weekend without breaking a sweat. They're a little expensive, but they're also the kind of cooler that you'd buy and never have to buy another ever again.
For those who have the extra money to spend on something that is impeccably built and will last a lifetime, I would definitely recommend these. The simple fact is that, while we all know Yeti coolers led the way in super expensive but high-performance coolers, it's rare to find a Yeti made in the United States, and with that said, Bison has filled that gap and offers us a very similar experience and performance, usually at a somewhat lower cost, while being made in a Texas town that really appreciates the work and patronage! Yeti is the cool kid brand, but if you can break the stigma and venture out, you'll find brands like Bison do just as good of a job without sending their production overseas.
13. OtterBox Trooper Cooler (Super Tough)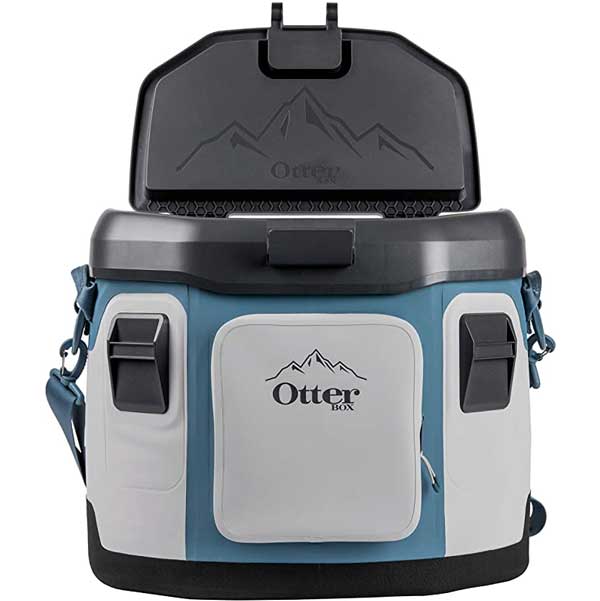 | | |
| --- | --- |
| Estimated Price | $200 |
| Material | Plastic |
| Size | 20 Quarts |
| Handle | Nylon |
| Origin | Fort Collins, CO and Detroit, MI |
OtterBox's Origin and Manufacturing Locations
OtterBox coolers are designed in Fort Collins, Colorado, and manufactured in Detroit, Michigan. They come with a lifetime guarantee and ship for free anywhere in the United States. There is more information available about the manufacture of the molded plastic parts and insulation for all of the OtterBox coolers. The Trooper cooler does include a detachable nylon strap as well.
What We Like and Don't Like About OtterBox Trooper Coolers
Chances are if you have heard of OtterBox, it is in relation to their durable smartphone cases. The company brings the same technology to its line of American made coolers. The securing latches on these coolers are particularly strong and the entire cooler itself is leak-proof. I also like the interior design, which includes plastic trays and sections that you can use to keep some foods dry and away from the ice in your cooler.
OtterBox is a well recognized name when it comes to durability. If you want a cooler that can take a beating without leaking or damaging your items inside, you'll love the OtterBox options. It also has plenty of accessories and interior organization modules to customize your cooler usage for the food, drinks, and situation.
14. Bison SoftPak Cooler (Best Soft-Sided Cooler)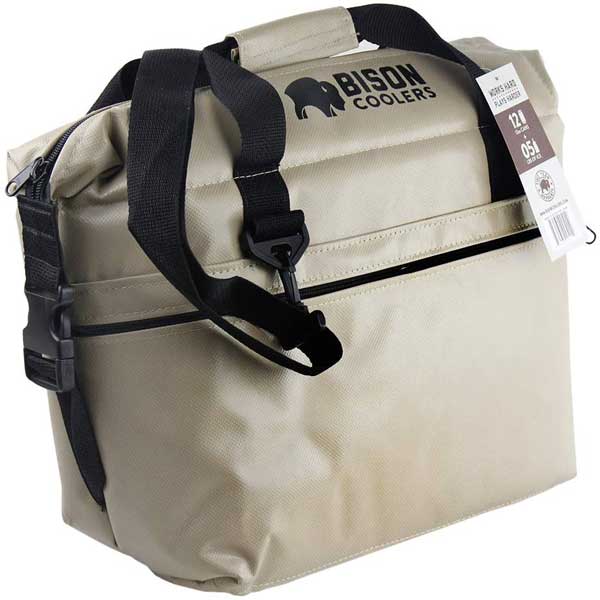 | | |
| --- | --- |
| Estimated Price | $130 |
| Material | Vinyl |
| Size | 50 Quart |
| Handle | Vinyl carrying strap |
| Origin | Texas |
Bison's Origin and Manufacturing Locations
Bison doesn't go into a lot of detail about the manufacturing of their coolers, only saying that they are made in the American South. The company that they use is an integral part of their local economy and partnering with Bison reinvigorated their manufacturing. Their hard cases are made and assembled in Texas. The company clearly supports American businesses and manufacturing.
What We Like and Don't Like About Bison SoftPak Coolers
This is a great soft-sided cooler and tougher than most of its competitors out there. It isn't huge but will hold a pretty large lunch, plenty of beverages for a group, or a small assortment of meats for grilling. I like that it comes in two size options and has a shoulder strap, carrying handle, and buckle top. Bison also offers a two-year warranty and a 30-day trial period. You can really put your cooler to the test to make sure it suits your needs.
If you want a tough cooler that is still easy to transport, the Bison SoftPak cooler is great. It uses a vinyl shell that is tear-resistant up to 375 pounds and UV protected to keep its color. This is an ideal cooler for outdoor sports enthusiasts who need something that can handle rough conditions but still need to be able to transport or carry it without taking on a ton of extra weight. It's bigger than a lunchbox, however, and is better suited for a full day or a meal for a few people. Unless you are a particularly hungry person, of course.
15. Orca 40 Cooler (Most Stylish)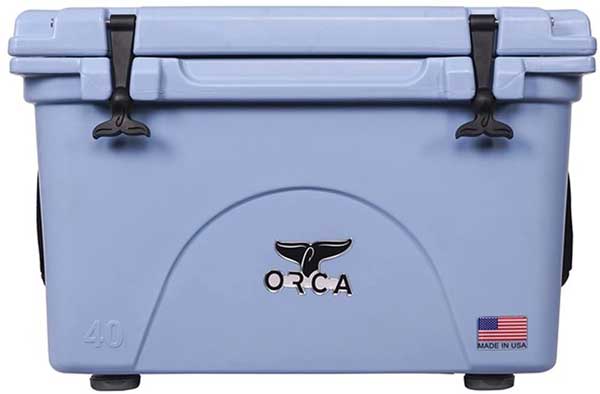 | | |
| --- | --- |
| Estimated Price | $350 |
| Material | Plastic |
| Size | 10 Gallons |
| Handle | Plastic |
| Origin | Nashville, TN or Streetsboro, OH |
Orca's Origin and Manufacturing Locations
Keeping manufacturing in the United States was a goal of Orca's from the very first cooler that the company designed and made. All of their hard-sided coolers are made in two facilities: Nashville, Tennessee (where their headquarters are located) and Streetsboro, Ohio. The plastic is molded at the factory in Ohio, then decorated, packaged, and shipped from Nashville to their loyal customers. Orca is one of the biggest names in American made coolers due to its manufacturing process and iconic look.
What We Like and Don't Like About Orca 40 Coolers
I like the look of the Orca hard-sided coolers, which are durable and still distinct. They come in 12 different colors and six different sizes. They also perform well, keeping ice cold and bears out. The handles are vinyl webbing straps, which tend to show wear earlier than other types, especially if you are carrying particularly heavy coolers often. The cooler does have an attached net to carry non-perishables, which is a nice touch.
If you like the look and performance of a Yeti cooler but want to support an American company, Orca is a good alternative. It's not cheap but will keep everything inside super cold and comes with a lifetime warranty. Once you invest in an Orca cooler, you'll be able to use it for years. Plus, the amazing color and size options mean that there's something to fit every person and need. This is the most Instagram-worthy cooler on our list, in my opinion, in case that's an important factor for you. In my opinion, this is easily one of the best coolers made in the USA. I also think it's easily one of the most stylish.
16. Cordova Hard Cooler (Best Single-Point Manufacturing)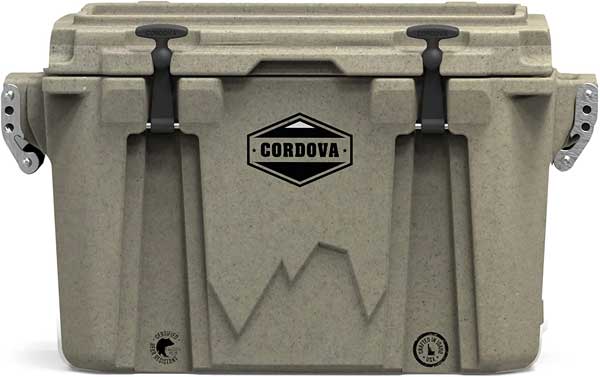 | | |
| --- | --- |
| Estimated Price | $180 |
| Material | Plastic |
| Size | 28 Quarts |
| Handle | Plastic |
| Origin | Nampo, ID |
Cordova's Origin and Manufacturing Locations
Cordova Coolers was founded in Walla Walla, Washington but now calls Nampo, Idaho home to its manufacturing plant. The company's founders (a former Navy SEAL and a backcountry pilot) developed a line of coolers and other products to help deep-sea commercial fishermen with the gear they need. Everything to make the hard-sided coolers is done at their Idaho facility, including molding the plastic, adding the insulating foam, assembling and inspecting the cooler, and shipping it to customers and retailers.
What We Like and Don't Like About Cordova Hard Coolers
The Cordova coolers are pretty utilitarian-looking but have an impressive number of high-tech features. They use top loader latches, which some customers find easier to undo with one hand. When you are loading your cooler, this can be a great feature. The lid also has a locking mechanism to keep it open as you pack up your food and drinks. The handles are particularly strong and even have a built-in bottle opener that can help get your party started without taking up valuable space or adding weight to your cooler.
If you want a cooler that supports American industry, the Cordova cooler is as All-American as they come. With every single aspect of the cooler's design, manufacture, assembly, and marketing done under one roof, you can rest assured that you are buying a cooler that takes its role in maintaining American manufacturing seriously. The company also works hard to reduce their environmental impact. Plus, they make a great cooler, which is what it's all about.
17. Kenai 45 Cooler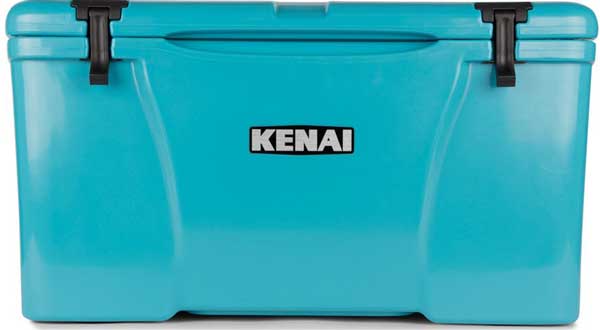 | | |
| --- | --- |
| Estimated Price | $225 |
| Material | Plastic |
| Size | 45 Quart |
| Handle | Polyester |
| Origin | Decorah, IA |
Kenai's Origin and Manufacturing Locations
Kenai is based in Decorah, Iowa where all of its coolers are made. They don't go into a lot of detail about where all of the materials of the coolers are sourced, however. It is worth noting that Kenai roto-molds their plastic to make sure that the plastic is free of imperfections and even across the entire cooler body.
What We Like and Don't Like About Kenai 45 Coolers
Kenai coolers come with a lifetime guarantee, one of the few features that I would happily pay more for when purchasing a cooler. They are expensive, but still less than similar coolers also made in the USA. This is because they sell direct from their website rather than shipping and tracking inventory in retail stores. This makes it a bit harder to check out the coolers before purchasing but does cut down on the overall cost.
If you are comfortable buying a cooler without getting to look at it first (or are very, very good at internet research and relying on reviews like this one), then purchasing a Kenai cooler is a great way to get a top-of-the-line quality product for a lower price. The lifetime guarantee does make it a bit easier to take a chance on these coolers without testing them out first since you can be confident that the company stands behind their product and will replace it if there are any issues.
18. Taiga Terra Cooler (Best Plant Product)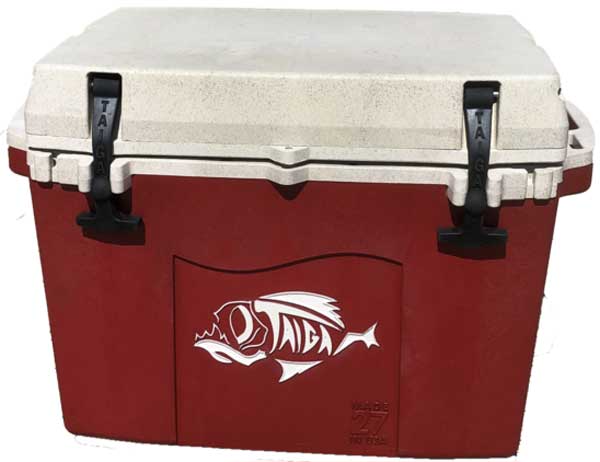 | | |
| --- | --- |
| Estimated Price | $200 |
| Material | Plant-based plastic |
| Size | 27 Quart |
| Handle | Molded-in |
| Origin | Texas |
Taiga's Origin and Manufacturing Locations
Taiga designs, manufactures, and assembles its coolers in Texas. As a Veteran-owned company, keeping business in the United States is very important to the way that they do things. From raw materials to finished cooler, everything that goes into a Taiga cooler comes from within a 200-mile radius.
What We Like and Don't Like About Taiga Terra Coolers
Taiga has a lot of great products but the Taiga Terra collection is definitely worth some extra attention. This cooler is made of hemp-filled polypropylene, a plant-based material that is eco-friendly. It still performs well and will keep your food and drinks cold. It has an airtight gasket, UV-protected surface, secure latches, and a drain spout. With all of these features and an environmentally conscious design, it's a great balance of performance and sustainability.
If you care as much about preserving nature as you do enjoying your time there, then the Taiga Terra cooler is a good option for you. It's made with eco-friendly materials while still performing all the functions you expect from a cooler. It only comes in the 27-quart size (for now), so it won't work if you need something particularly large. You can always double up and get multiple Taiga Terra coolers, however, which might even be easier to cart around.
19. Taiga 55 Quart Custom Cooler (Best for Customization)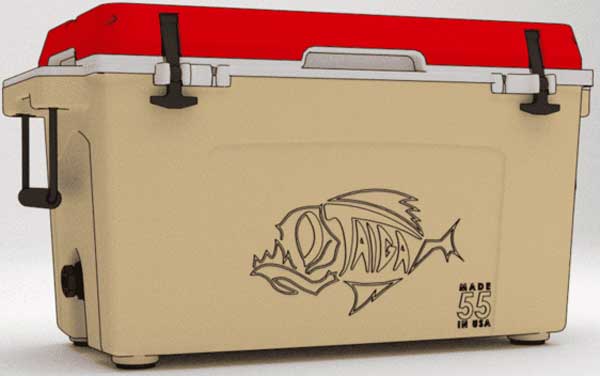 | | |
| --- | --- |
| Estimated Price | $330 |
| Material | Plastic |
| Size | 55 Quart |
| Handle | Molded-in |
| Origin | Texas |
Another Taiga product, this cooler is also made within the same 200-mile radius in Texas. All of the plastics, insulation, manufacture, assembly, and testing are done in the same facility. This is very impressive and a huge commitment to keeping the coolers made locally. Taiga really goes above and beyond to keep manufacturing in the United States and it shows in the pride that they have for their coolers.
What We Like and Don't Like About Taiga 55 Quart Custom Cooler
The Taiga custom cooler section performs just like all of their other products. It keeps drinks and food cold, is easy to use, and drains well. What sets this particular option apart is the ability to choose a custom color (or two or three) and put a personalized logo on the cooler. Taiga can match any color on the outside or inside of the cooler. They emboss your logo on the outside for the ultimate customized cooler.
This is a good option for those who want a one-of-a-kind item or for companies that want to promote their brand on their cooler. Not many cooler companies offer this amount of customization and they almost certainly charge a lot more than Taiga. Taiga specializes in custom coolers so they're able to keep costs down while still offering a great product because they have their system perfected. They also offer great discounts for veterans and military personnel.
20. KONG Coolers 110 Quart Cooler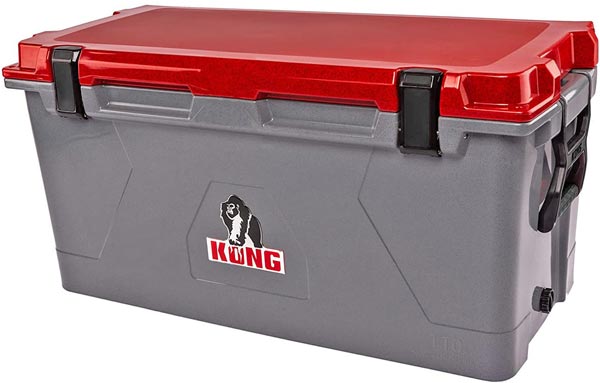 | | |
| --- | --- |
| Estimated Price | $500 |
| Material | Plastic |
| Size | 100 Quart |
| Handle | Yes |
| Origin | Texas |
We already talked about the Kong brand above so I'll keep this section short. Just know that they're a great company that has been making coolers in the USA for over 30 years.
What We Like and Don't Like About KONG Coolers 110 Quart Coolers
Kong makes a lot of great coolers so whether you need something with wheels or just something very durable Kong certainly has an option that's suitable for you. Their 110 model is great and has many of the same great features that make Kong coolers great and separate them from their competitors. The latches are very strong and there is a divider that makes storage and organization easy.
Coming in at around 47 pounds, Kong coolers are not light and when filled with ice you can imagine that they get heavy rather quickly. The 110 cooler is significantly heavier than the Cruiser, 70QT, 50QT, 25QT, and 20QT, which weigh 45 pounds, 37 pounds, 32 pounds, 22 pounds, and 15 pounds, respectively. All of these models are made in the USA.
Kong coolers are extremely solid and well built though so personally I don't mind that they are a little heavy. Compared to many coolers Kong coolers also do a great job keeping ice for a long time and their weight is probably related to the amount of insulation they provide.
This cooler is great for someone who needs a large cooler that's built like a tank. If you're someone who needs a cooler that will retain ice well this would be a great cooler for you. These coolers can retain ice for 10 days or more in some cases which is seriously impressive.
Here is a good video that shows the Kong 100 next to the 70 so you can compare the size difference.
https://youtu.be/z9eISqhDC1g" responsive="yes" autoplay="no" title="KONG Coolers 110 Quart Cooler"]
Factors We Considered
When picking out a new cooler, here are some things to consider before making your purchase.
Why Buy an American Made Cooler?
The American manufacturing industry is an important component of the economy and building opportunities for American workers. When you buy goods made in the United States, your purchasing power goes to support these businesses and workers. While many assemble their products in America, some take American made a step further. Look for a retailer or manufacturer that creates the raw materials that go into their coolers right here in the U.S, this includes molded plastic, insulation materials, latches, and handles.
Coolers and outdoor gear have a long history of design, manufacture, and use in the United States. American culture prioritizes outdoor recreation at important places like National Parks and supporting American businesses when you purchase gear is rewarding as well. Buying a cooler made in America also cuts down on shipping costs and the environmental impact of shipping an empty cooler from around the world to get to your local outdoor store or your door.
Supporting American Manufacturing
It almost always costs more to buy a product made in America than one by a competitor that moves manufacturing overseas. The United States has better labor laws, which require companies to pay their workers a fair wage and ensure their safety as they work to manufacture and assemble the products that you buy. This costs more and often translates to a higher price for the consumer but is better for the employees, the company, the product, and the economy.
Superior Products and Warranty
High-performance coolers (those made in the USA and those made overseas) use the best technology to make sure that they will keep your food and drinks cold for the longest time possible. This means that they cost more. They often come with a good warranty and some even have a lifetime guarantee. I believe that it's worth paying more for a better product that is guaranteed by the company.
Cooler Sizes
One of the main distinguishing features between different coolers is their size and capacity. Keep in mind that not all companies will have a wide variety of sizes available, although most do offer at least three or four capacities.
Small (Under 15 Quarts) – Ideal for Individual Daily Usage
A small cooler will work for a packed single lunch on a day trip or beverages on a road or boat trip. Smaller coolers often come with a detachable nylon strap to carry the cooler, either from your car to your picnic site or on the trail. Soft-sided coolers are more common in small sizes, but you can still find hard-sided small coolers, especially from companies that focus on rugged outdoor use products.
Medium (15 to 50 Quarts) – Ideal for Day Trips
These coolers are good for a small group on a day trip and can usually hold a few bottles of wine or water, snacks, and plenty of ice. Some have a pull handle to allow one person to pull them to the destination, while others are better for a two-person carry.
Large (50 to 100 Quarts) – Ideal for Groups or Long Trips
For those getting ready for a backyard barbecue or camping trip, a large cooler that fits in your vehicle or on your porch will usually do the trick. These coolers are best transported by two people, one carrying each handle. They can come with interior organization systems to separate sections or be open to allow for ice, drinks, and food.
Extra Large (100+ Quarts) – Ideal for Parties
If you need to provide cold drinks and food for a crowd, you'll definitely want an extra-large capacity cooler. These definitely need two people (usually two strong people when the cooler is full) to move them. In fact, it might be easier to get the cooler set up where you want it, then add ice, drinks, and food.
Special Features
Your cooler doesn't just need to be about keeping things cold. Special features can help with everything from carrying it easily to rocking some awesome style.
Material Considerations
Generally, coolers can be divided into hard-sided and soft-sided coolers. Soft-sided coolers are usually made of vinyl that is flexible and foldable (to some extent). These coolers come in smaller sizes, since large and extra-large coolers need the added structure that comes from a hard-sided material. Hard-sided coolers are made with molded plastic and can be made out of a single piece or assembled from multiple pieces. Many cooler manufacturers use a rotational molding process to make sure that the plastic is uniform and strong.
Handles
Nothing ruins a cooler's utility like weak handles. This is why strong handles remain one of the most in-demand cooler features, especially for high-end coolers that are meant to be used in rugged conditions. Molded-in handles are the least likely to fail, although may not be the most comfortable. Metal handles are usually pretty strong, although they should be made to be rust-resistant, especially if your cooler will be in wet conditions. Nylon strap handles are often the most comfortable and are pretty common on small coolers. These straps are often made outside of the U.S., however, which may be a big factor for some consumers.
Accessories
Some of the coolers on our list have optional accessories made to go with the cooler. These can range from interior organization, such as trays or dividers, to attachments on the outside of the cooler, such as cutting boards or bottle openers. These accessories almost always cost extra and are sold separately. If you know that you'll want accessories, look for a cooler that works with them and purchase a bundle to save money.
Colors
Style may or may not be a big factor for you when choosing a new cooler. But many manufacturers know that outdoor enthusiasts are passionate about their gear and want it to reflect who they are. A brightly colored cooler can be easier to find on a crowded beach or trail, as well as make it easier for other people to see you during hunting season. The interior of coolers can also be a great place to showcase color, although many are white to make it less likely to absorb heat. Look for colors that are UV protected to keep them from fading.
Drainage
If you put ice in your cooler, sooner or later you will need to remove the ice and water. Small coolers are easy enough to just empty and turn over to drain completely. Some large coolers can be drained this way, but many also feature a drainage hole or spout. Look for a cooler that is easy to drain without tipping. If you are required to tip the cooler full of ice, it can be difficult to get the required leverage needed to move the cooler without help. For the easiest drainage, find a cooler that has a threaded drain spout. With this system, you can attach a garden hose and route the water away from the site of the cooler.
Wrap Up
Finding a high performance cooler that has all of the features you need within your budget is a big task, especially since so many are a big financial investment. But once you find the company and cooler that fits your wants and needs, it can make your next outdoor gathering easy and a fun place to enjoy cold beverages and food. Whether you are looking for a personal use cooler, something for your family and friends, or an extra large storage cooler for your next fishing trip, buying something made right here in America is a great way to participate in American outdoor recreation and support the local economy.
Have you used any of these coolers to keep your treats and snacks cool? Let me know about your experience in the comments!
Hi, my name is Kevin and I'm from Pittsburgh, Pennsylvania. Choosing products made in America is important to me because it supports local economies, creates jobs, helps the environment, and ensures ethical labor practices. I also find that American made products are usually of higher quality so although they're a little more expensive, you save money in the long run. Before starting this website I was in the USMC infantry and nowadays I work on this website as a hobby.