Flying the American flag on your property is one of the most patriotic things you can do. A flagpole is a great way to display this symbol of freedom and liberty proudly, and if you're anything like us you certainly don't want to display this symbol of freedom, liberty, and the pursuit of happiness on a foreign-made flagpole.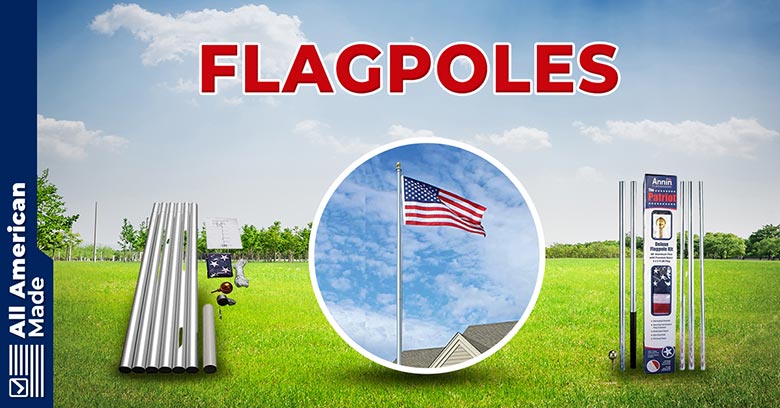 The good news is our team has done a ton of research and put together a list of only the most reputable flagpoles made in the USA. Most of the brands featured on this list have been manufacturing in America and hiring American workers for decades.
Keep in mind that there is no way our team could have possibly tested every single American made flagpole on the market, but we have owned and set up a lot, so we'll do our best to give our unbiased opinion. Also, there is no one "best" flagpole because everyone's situation and style preference is a little different.
List of American-Made Flagpoles
1. EZPOLE Flagpoles (Best Value)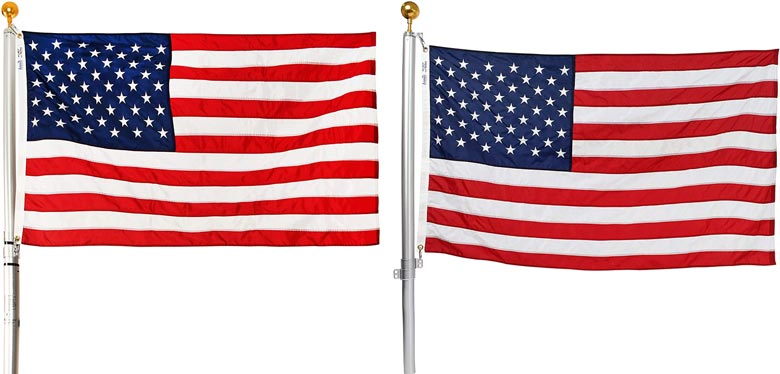 | | |
| --- | --- |
| Origin | Eastlake, OH |
| Year Founded | 2017 |
| Residential Sizes Offered | 6', 17', 21' |
| Materials | Aluminum |
EZPOLE's Origin and Manufacturing Locations
A father and son started the EZPOLE company nearly 20 years ago in the state of Ohio. They noticed an opportunity in the market because most flagpoles were made with thin materials that had a tendency to rust, causing the poles to bend or collapse completely over time. They wanted to create a solution and also set out to find a way to reduce or eliminate the noise caused by metal clips slapping the flagpole. They created EZPOLE flagpoles to fix the above quality issues, and their quality products have basically marketed themselves, leading to the massive growth of the company.
Wanting a way to give back to their community, EZPOLE partnered with Stop Soldier Suicide, and they give a portion of their sales every month to this worthy cause. When you purchase from Ezpole, you are also helping donate to this cause. Overall, I really have been impressed by the ethos of the company and the care they put into their flagpoles. They offer both sectional and telescoping options in all the most popular sizes. All of their flagpoles and accessories are 100% made in the USA at their manufacturing facilities in Eastlake, Ohio.
EZPOLE's Flagpole Selection and Offerings
EZPOLE offers many styles of flagpoles, but their two most popular models by far are their Defender and Liberty poles. The Defender pole is a sectional flagpole system with no ropes to get tangled up and a free swiveling system to prevent the flag from wrapping around the pole. Without a rope, there won't be annoying clanking from clips banging into the flagpole. The Defender series flagpole also features double polycarbonate swivels if you want to fly two flags at the same time.
The Liberty flagpole from Ezpole is a telescoping flagpole featuring the "No Drop Posi-Loc" system. This system is a dual-locking mechanism that prevents pole collapse that may happen with cheaper made telescoping flagpoles. Liberty flagpoles also come with 360-degree swiveling to keep your flag flying. You won't have to constantly go out and unwrap the flag from the pole.
If you are on a budget or are looking for a simple yet higher quality made flagpole, Ezpole also has traditional rope halyard flagpoles. These flagpoles are sectional for easier installation and feature longer inserts than most manufacturers for added strength and stability in high wind conditions. Overall, EZPOlE easily makes some of the best flagpoles made in the USA out there and if you don't believe me, just check out the video below.
Here is a video showing the EZPOLE Defender flagpole withstanding category four hurricane-force winds.
2. Annin Flagpoles (Most Iconic Brand and Solar Options)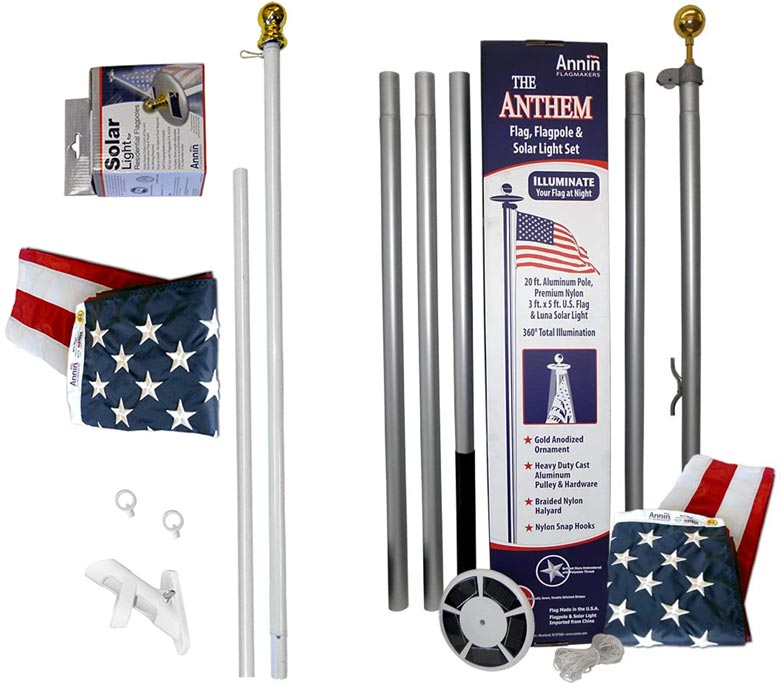 | | |
| --- | --- |
| Origin | Roseland, NJ |
| Year Founded | 1847 |
| Residential Sizes Offered | 20, 21, 25, 30, 35, 40' (and solar options) |
| Materials | Aluminum, Fiberglass |
Annin's Origin and Manufacturing Locations
Of all the companies on this list, Annin Flagmakers is easily the most iconic. Annin Flagmakers has been making quality American flags since 1847, some of which have been featured in some of the most historically significant events in the United States. Annin flags have flown at presidential inaugurations from Zachary Taylor all the way to George W Bush. An Annin flag was draped over President Abraham Lincoln's coffin, and an Annin flag was used in Apollo's mission to the moon in 1969.
Annin Flagmakers not only manufacture great quality American flags, but they also manufacture and sell flagpoles now. Their flags and flagpoles are made at their manufacturing facilities in South Boston, Virginia, and Coshocton, Ohio. They also hire over 500 American workers. Personally, I don't think their large flagpoles are as great as their flags, but they still get the job done and are readily available in many sizes and styles.
Annin's Flagpole Selection and Offerings
Annin Flagmakers has a lot of options when it comes to flagpoles, so whether you're looking for a 20-foot flagpole or a smaller flagpole with a solar light, Annin has you covered. Their flagpoles are rather lightweight compared to many other flagpoles on the market, and I find them very easy to set up. You should have no problem installing these on your own. The fiberglass poles are gel-coated white to keep the blazing white shining through on your landscape for years to come. Fiberglass is also non-conductive, so you won't have to worry about lightning striking your flagpole during a storm.
Their anodized aluminum, telescoping flagpoles feature a No-Drop Posi-Lock system that keeps the pole locked into place and will not accidentally drop. They feature swivel clips to keep your flag flying without wrapping itself up in windy conditions. For a truly tapered look with the convenience of a portable, easy-to-move telescoping flagpole, you should check out the Annin telescoping flagpole.
They also have steel poles that can be tire mounted for portability or ground-mounted. If you want to bring the flag with you when camping, tailgating, or at sporting events, bring along the tire mount flagpole. You can display your support for America wherever you go.
Annin also has solar, top-mounted flagpole lights. When the American flag is displayed at night, it is supposed to be illuminated. Instead of taking the flag down every night, and hoisting it back up in the morning, get yourself a solar light for your flagpole. The lights are bright, light up the flag for over 8 hours, turn off during the daylight and recharge themselves for maintenance-free flag flying 24-7.
Here is a good video of the Annin Villager III flagpole being set up. They have a lot of other great 20-foot residential flagpoles as well, but this is the only model I could find that had a video showing it being set up. Their 6-foot Model 238 flagpole is also one of the most popular flagpoles out there right now.
3. Eder Flag Flagpoles (Heavy Duty Sectional Options)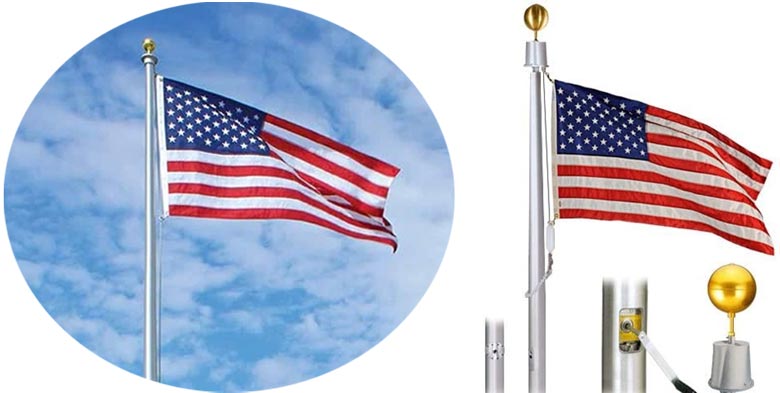 | | |
| --- | --- |
| Origin | Oak Creek, WI |
| Year Founded | 1887 |
| Residential Sizes Offered | 20, 25' |
| Materials | Aluminum |
Eder Flag's Origin and Manufacturing Locations
The Eder Flag Company was started in 1887, in Wisconsin, by seven Eder brothers. They got their start by producing pillows, pennants, hunting jackets, and even dolls. It wasn't until 1903 that they began producing American-made flags. The company flourished, and in 2016 they turned the company over to the employees, making the nation's largest manufacturer of flags and flagpoles a fully employee-owned company. As a member of FMAA, you know their products use American materials and labor.
During one of America's darkest hours, when the World Trade Centers collapsed, an Eder flag was hoisted by three Firefighters to let everyone know that Americans might have been dealt a terrible blow, but we would not be defeated. That historic flag was then donated to the 9/11 museum and is still on display today. Today, the company also makes some of the highest quality commercial and residential flagpoles.
Eder Flag's Flagpole Selection and Offerings
As mentioned above, Eder Flags offers both residential and commercial flag poles. For your residential needs, Eder has 20' and 25' sectional aluminum flagpoles. They come with everything you need and do not require any special tools, meaning they can easily be installed without professional help. If you're up for a little manual labor, there's no need to hire an installer to place these majestic flagpoles in your yard.
If you are looking for something stronger or live in a very windy area, Eder also offers smaller-sized commercial flagpoles. These come in sizes ranging from 15' tall to 25' and larger. There are different finish options and colors offered in the commercial flagpoles, but you will also pay a higher price for the finishes and commercial strength offered by these poles. Commercial poles offer a much higher wind speed resistance than residential flagpoles but come with a larger price tag.
For most people, the residential 20 to 25-foot flagpoles will get the job done. Compared to many other flagpoles made in the USA, they are a little more expensive, but I do think they are worth the investment.
Here is a great video of a 25-foot Eder Flag Flagpole being set up on YouTube. The company also offers small 20-foot flagpoles. Below is a little more information about the company and its long history in America.
4. Flagpole Farm Titan Flagpoles (Great Telescoping Options)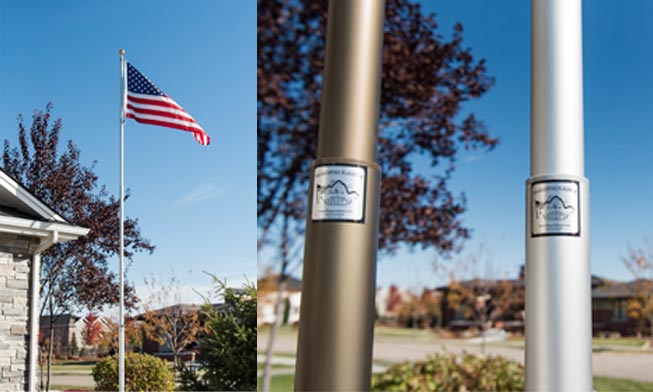 | | |
| --- | --- |
| Origin | Meridian, ID |
| Year Founded | 2017 |
| Residential Sizes Offered | 15, 20, and 25' |
| Materials | Aluminum |
Flagpole Farm's Origin and Manufacturing Locations
Located in the heartland of Meridian, Idaho, is Flagpole Farm. They don't grow vegetables or raise livestock, but since 2017 Flagpole Farm has been making and selling American-made flagpoles. They're a small American family-owned company that specializes in making and shipping commercial and residential flagpoles all around the USA. Their signature products include Titan Telescoping Flagpoles and Titan Solar lights.
Flagpole Farm's Flagpole Selection and Offerings
Telescoping Flagpoles. With a telescoping flagpole, you can take them down when a heavy storm rolls through, unlike permanent, long, solid steel poles that can bend or break in high winds. Even if you leave your telescoping pole up year-round, they offer more flexibility and give than traditional poles, making them a safer and more reliable choice for displaying your American heritage.
A telescoping pole is made of different locking sections of metal tubing that slide into each other. With Flagpole Farm's telescoping flagpole, you won't have to worry about the flag wrapping around the pole nearly as much compared to a traditional flagpole either. The Titan flagpole comes with 360° swivel clips that allow the flag to change direction with the wind without getting tangled.
If you fly your flag all day and night, you should keep a light on your flag during the dark hours. Flagpole Farm has solar-powered flagpole lights to make this an easy task. These flagpole toppers come with batteries included and have six bright LED lights that will illuminate the American flag like it's supposed to. They also have an automatic switch that will shut off when the sun comes out, so you don't have to switch it on and off every day.
Popular Related Article: The Best American Flags Made in the USA (Ranked)
5. Concord American Flagpoles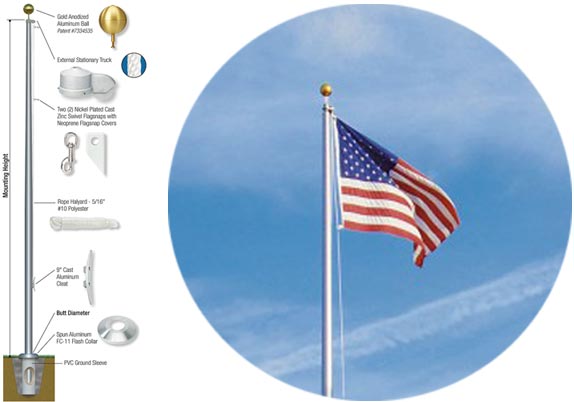 | | |
| --- | --- |
| Origin | Grapevine, TX |
| Year Founded | 1947 |
| Residential Sizes Offered | 15, 20, 25, 30, 35, 40' |
| Materials | Aluminum |
Concord's Origin and Manufacturing Locations
Concord American Flagpole was founded 75 years ago in 1947 in the little town of Grapevine, TX. Since then, both Grapevine and Concord American Flagpole have grown tremendously. Concord American Flagpole company is an industry leader in the manufacturing and distributing of flagpoles and components. They offer flagpoles, accessories, and lighting for all your residential or commercial needs, complete with outstanding customer service.
Concord's Flagpole Selection and Offerings
Concord American offers sectional and telescoping residential flagpoles, all made from high tensile strength, anodized aluminum, with different color finish options. Their telescoping flagpole units come with free swiveling clips to prevent flag wrap, and their sectional flagpoles have internal halyard options that have free swiveling components and traditional, lower-cost external halyards.
Concord American Flagpole stays on top of research and new technologies by employing testing in-house at R&D labs. They are always on the search for better materials and manufacturing processes that meet or exceed National Association of Architectural Metal Manufacturers (NAAMM) specifications. This means you will always have a rigorously tested, exceedingly high-quality flagpole made from state-of-the-art metals.
6. Grace Alley (Best Tangle Free Flagpoles)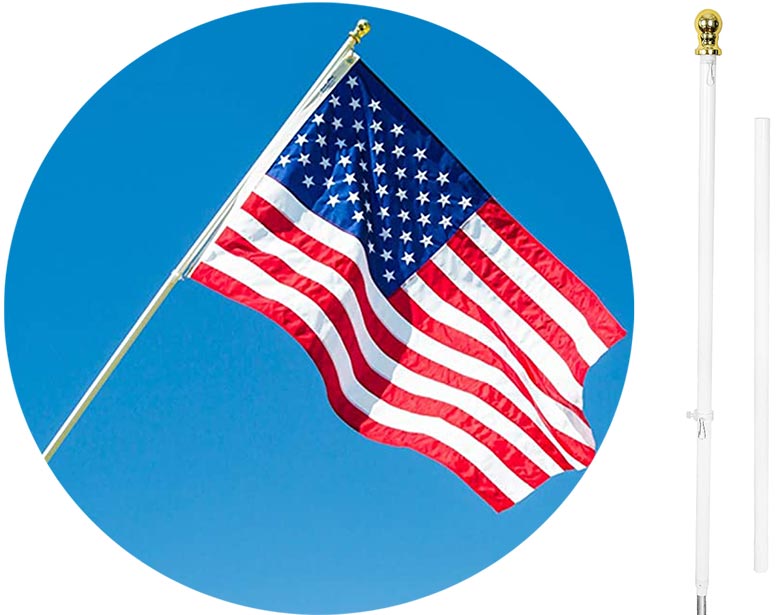 | | |
| --- | --- |
| Origin | Rockledge, FL |
| Year Founded | 2016 |
| Residential Sizes Offered | 6' |
| Materials | Aluminum |
Grace Alley's Origin and Manufacturing Locations
Grace Alley started in 2016, and in a few short years, they have grown into a behemoth of an American flag manufacturing company. Grace Alley is a Veteran owned, family-run, and American company based out of Rockledge, Florida.
Grace Alley's Flagpole Selection and Offerings
Grace Alley offers 6' house-mounted flagpoles in different colors. They have white, black, and silver (brushed aluminum) for whatever look you need for your home's exterior. Their flagpole clips are free spinning which means you spend less time unfurling your flag from the pole. In fact, if the flag gets wrapped up, another slight breeze almost always unrolls it again. Free spinning flag clips are one of the greatest inventions for flags, in my opinion.
7. Rushmore Rose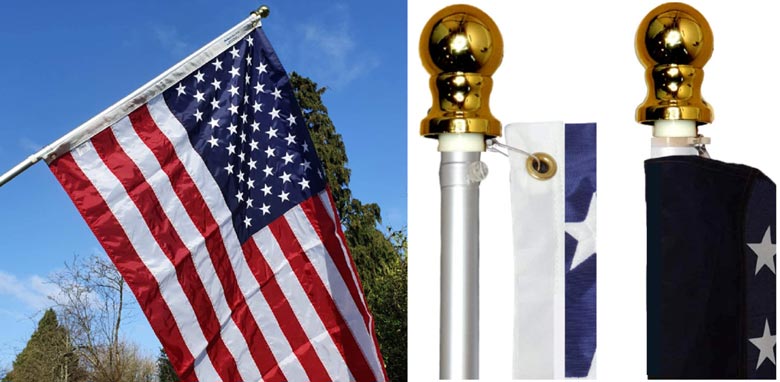 | | |
| --- | --- |
| Origin | Wyomissing, PA |
| Year Founded | 2016 |
| Residential Sizes Offered | 6' |
| Materials | Aluminum |
Rushmore Rose's Origin and Manufacturing Locations
Charles Miller, the founder, and owner of Rushmore Rose, started his flag business in 2016 when he had a startling revelation; most American flags were made by overseas companies, and a large quantity of those was made in China. Vowing to change that sobering fact, he started his own American-made flag company. He quickly started investing in US manufacturers and producers and, in a few years, has made a name for his company by providing outstanding American flags, paired with all-star customer service.
Rushmore Rose flags stick to what they know best, and their quality shows in the products they sell. They make American flags and flagpoles and nothing else.
In 2021 the company only had 5 American workers, but that doesn't stop them from being one of the highest-rated names in American flags and being a proud member of FMAA. You know you are getting a gorgeous, American-made product when you purchase a Rushmore Rose flag or flagpole. They are located in Wyomissing, Pennsylvania
Rushmore Rose's Flagpole Selection and Offerings
Their flagpoles are made from thick, anodized aluminum, so you will have years of lasting quality while displaying your American pride. Whether your flag comes with grommets or it's a sleeved flag, it has a hard time wrapping around in unsightly lumps of fabric with these flagpoles.
Free spinning clips and poles help to extend the life of your flag. When your flag is completely extended, it is free to wave in the wind, whereas if it's shortened by being wrapped around the pole, the ends flap much faster, causing frays and tearing much sooner.
8. Allied Flag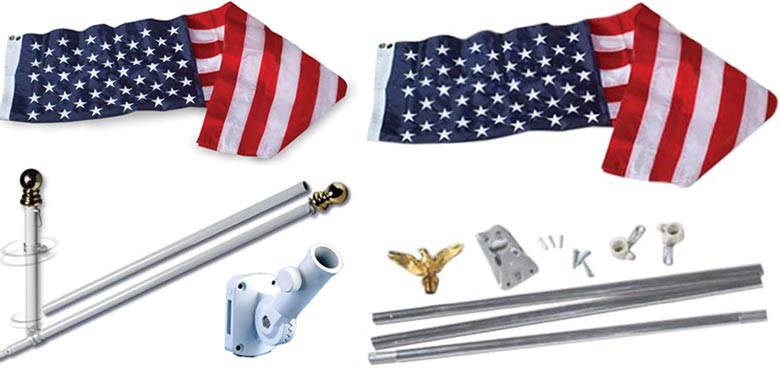 | | |
| --- | --- |
| Origin | Kansas City, MO |
| Year Founded | 1972 |
| Residential Sizes Offered | 6, 16, 20' |
| Materials | Aluminum |
Allied Flag's Origin and Manufacturing Locations
Allied Flag Company has been in business for over 50 years and is our only wholesale flag and flagpole company on the list. They do most of their business through the Government and the Department of Defense. Their flags fly in the House of Representatives and the US Senate. They have to stand by exacting standards of exceptional quality from hard-working Americans while using American materials.
Allied Flag Company owns and operates large manufacturing facilities that embroider their stars on their flags and craft flagpoles.
Allied Flag's Flagpole Selection and Offerings
Allied Flag Company offers different sizes of flagpoles for your residential property. They have smaller-sized, 6' Lawn-Mate flagpoles, which are great for smaller flags like 2' x 3' or a standard size of 3' x 5'. They also have 16' sectional flagpoles and a slightly taller, telescoping 20' flagpole so that your flag can fly majestically in the wind. Overall, if you're looking for a flagpole for your house, Allied Flag has a lot of great options.
9. Liberty Flagpoles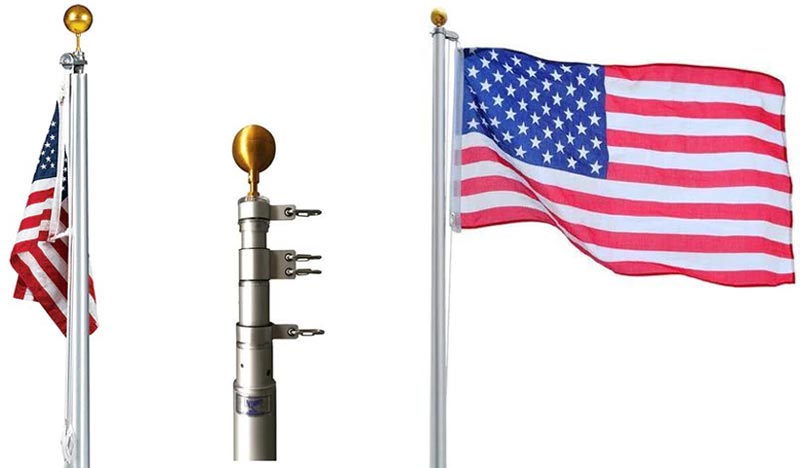 | | |
| --- | --- |
| Origin | Holyoke, MA |
| Year Founded | 2019 |
| Residential Sizes Offered | 15, 20, 25, 35' |
| Materials | Steel, Fiberglass, Aluminum |
Liberty Flagpoles' Origin and Manufacturing Locations
Liberty Flagpoles started in May of 2019. They wanted to make sure everyone who owns a flag can display it proudly on a superb quality, American-made flagpole. Liberty Flagpoles company is located in Holyoke, MA, and is a veteran-owned small business. They manufacture and sell American-made flags and flagpoles for either residential or commercial use. They have everything you need to start flying Old Glory, or if you need to replace your old flagpole, Liberty Flagpole can get you set up.
Liberty Flagpoles' Selection and Offerings
Liberty Flagpole has several different quality options for flying your flag. They offer telescoping, one-piece, or sectional flagpoles made from heavy-duty, aircraft grade, anodized aluminum, or fiberglass selections.
Their telescoping flagpoles offer 360-degree swiveling flag clips to prevent your flag from wrapping around the pole. They have high wind ratings and being telescoping means you can take your flagpole down with relative ease when poor weather is coming.
Fiberglass poles are great options for areas that tend to be much wetter or often have harsh weather as they will never rust or corrode. Liberty also offers options such as solar lights and internal locking halyards. Meaning the rope is mounted inside the pole and secured under a lock, giving you more peace of mind when flying your flag. All Liberty flagpoles have everything you need to install your pole and start flying your flag, and some include a nylon American flag with your flagpole purchase for easy, one-stop shopping.
10. American Flagpole and Flag Co (Great Reputation)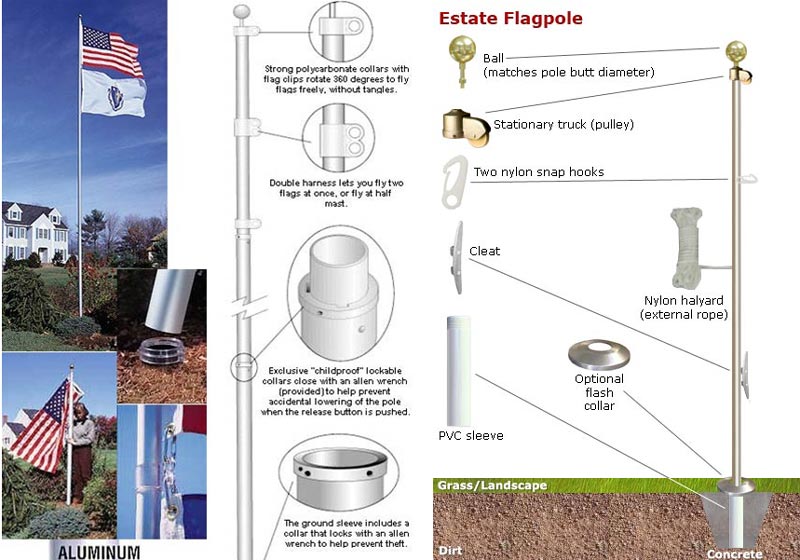 | | |
| --- | --- |
| Origin | Lake Elmo, MN |
| Year Founded | 1973 |
| Residential Sizes Offered | 19, 20, 25' |
| Materials | Aluminum |
American Flagpole and Flag Co's Origin and Manufacturing Locations
The year was 1973 in Lake Elmo, MN, when American Flagpole & Flag Co. got its start. They are an American company selling American-made flags and flagpoles all around the United States, and they service, install, repair, or move flagpoles anywhere in the state of Minnesota. They will also excavate older flagpoles or pour concrete footings if needed. Whatever type of flagpole you need, whether it's for indoor use, outdoor, or nautical purposes, American Flagpole & Flag Co. probably has what you are looking for.
American Flagpole and Flag Co's Selection and Offerings
American Flagpole & Flag Co offers anodized aluminum telescoping and solid pole constructions for their outdoor flagpoles. Their Sentry flagpoles are the top of the line when it comes to flag protection and long-lasting quality. Sentry features an internal halyard for longer rope integrity; it's not exposed to the elements, so it lasts longer and is a theft-proof option. There is less flag noise with the internal halyard system, as the rope clips are not constantly banging on the side of the pole, and the flag is able to spin 360 degrees like the telescoping flagpoles. Their residential flagpole offerings come in sizes ranging from 19' to 25' tall.
11. Flag and Banner

| | |
| --- | --- |
| Origin | Little Rock, AR |
| Year Founded | 1975 |
| Residential Sizes Offered | 15', 18', 20', 25', |
| Materials | Aluminum, Fiberglass |
Flag and Banner's Origin and Manufacturing Locations
Kerry McCoy started Flag and Banner in 1975 by selling flags door-to-door in Little Rock, Arkansas. For 40+ years, Mrs. McCoy altered her small business to keep up with increasing demand, going from door-to-door to telemarketing and mail order to a multi-million dollar company. She started sales on the internet in 1995, and after 9/11, she opened a local gift shop for local customers and is still active in her business and the community still today.
Flag and Banner's Selection and Offerings
Flag and Banner offer both aluminum and fiberglass flagpole options. The 20' fiberglass flagpole is great for areas that get a lot of rain and snow. It comes with a white gel coat finish and a 360-degree rotating truck.
Their commercial grade aluminum options come in 20' or 25' sizes and feature tapered sections. These flagpoles are more traditional flagpoles with external halyards and cleats. A great option to update your landscape and make your property pop with patriotism.
Flag and Banner has a telescoping flagpole in 3 different sizes featuring polycarbonate swivel clips and a locking mechanism at the bottom that is tamper resistant to prevent curious hands from accidentally dropping sections.
12. Veterans Flag Depot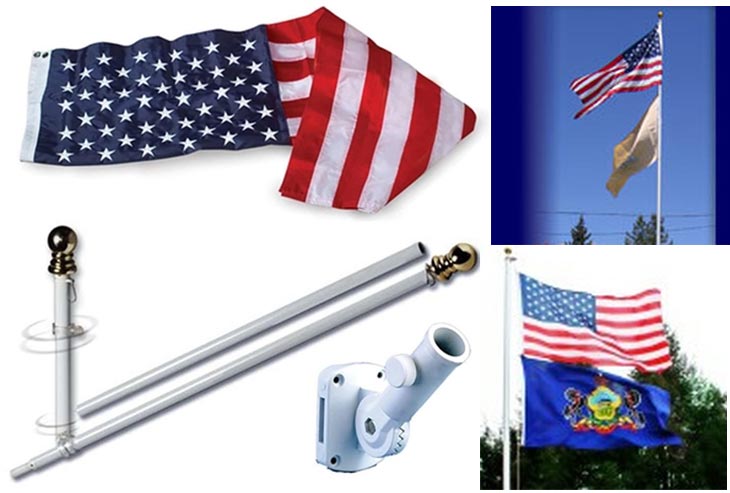 | | |
| --- | --- |
| Origin | Aubrey, TX |
| Year Founded | 2004 |
| Residential Sizes Offered | 16, 20, 25' |
| Materials | Aluminum |
Veterans Flag Depot's Origin and Manufacturing Locations
Owner Tony Kauffman wanted a way to honor all veterans who have served, including his father, a military veteran who served for 37 years and survived action in both WWII and the Korean War. In 2004 his dream came true as he started Veterans Flag Depot in Aubrey, TX. Veterans Flag Depot makes flags, pins, flagpoles, and many other patriotic goods using American materials and manufacturing. They could make more money by outsourcing to lower-cost foreign companies, but Veterans Flag Depot wants to support our country by keeping everything they can here in the USA. They believe not doing this would take away the message of patriotism and American ideals. In fact, Veterans Flag Depot's motto is "Strive for the highest quality at the lowest price possible."
Veterans Flag Depot's Selection and Offerings
Veterans Flag Depot uses ten gauge aerospace drawn aluminum that is just as strong as typical steel but much lighter, and since it's aluminum, there is no chance for rust. They offer two sizes of all aluminum flagpoles; 20' and 25' telescoping flagpoles. Veterans Flag Depot has removed springs and plastic from their telescoping flagpoles. This means the thin springs don't rust or pop out of place which can make the flagpole accidentally drop. The three rotating swivels are made from thermoplastic that is even stronger than polycarbonate plastic. Since there are three, you can fly two flags at the same time.
13. TelePole Manufacturing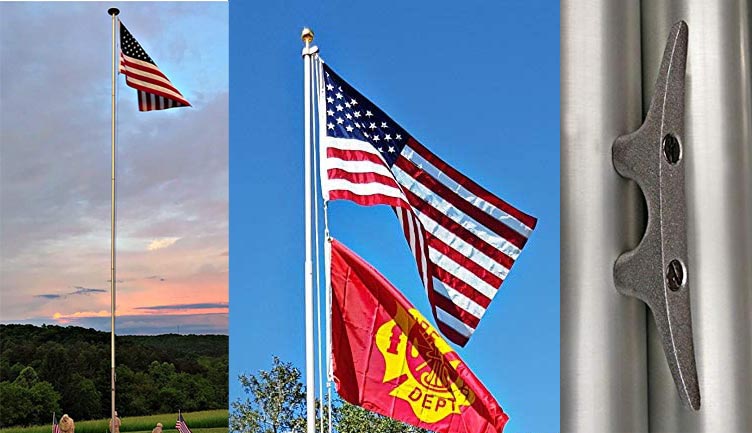 | | |
| --- | --- |
| Origin | Muncy, PA |
| Year Founded | 1984 |
| Residential Sizes Offered | 16'-40' |
| Materials | Aluminum |
TelePole's Origin and Manufacturing Locations
Telepole Manufacturing started off with the name of Exim Trade Company in 1984. When they started selling telescoping flagpoles as their primary product, Exim changed its name to Telepole Manufacturing. Located in Muncy, Pa, Telepole is a company that doesn't hide from manufacturing stronger, higher quality flagpoles than most of its competitors.
They pride themselves on being innovators of flagpoles, especially telescoping flagpoles. They use thicker, stronger, anodized aluminum in all their flagpoles, have eliminated plastic swivels in exchange for metal ball bearings, and they use beaded retainer rings to hold your flag on the pole.
Thickened the poles and uses 5' sections in telescoping poles instead of standard 6', offering the most compact flagpoles.
TelePole's Flagpole Selection and Offerings
Telepole Manufacturing offers both telescoping and sectional flagpoles, all made thicker than their competition's aluminum. Telescoping poles use 5' sections of tubing rather than a standard 6' section, making these flagpoles easier to assemble and take down, as well as being a little bit more compact for storage. Telepole Manufacturing uses state-of-the-art locks that don't utilize flimsy springs that can cause other telescoping poles to accidentally drop. They also offer the tallest telescoping flagpole on the market, topping out at 40' feet tall.
Their sectional poles are also handmade in America using thicker gauge aluminum, tougher nylon ropes, and stainless steel cleats and top headers for added strength. You may pay a little more for a Telepole product, but they put in the extra effort to bring you a stronger, longer-lasting flagpole with a great warranty to back it up.
14. American Flag and Pole Company (Great Commerical Options)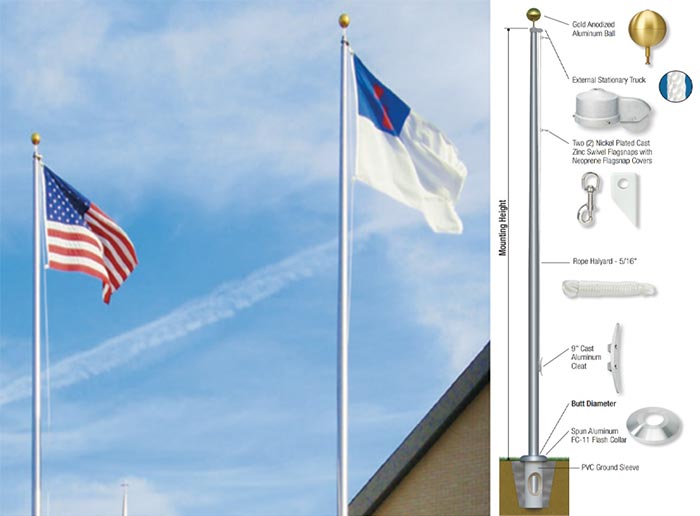 | | |
| --- | --- |
| Origin | Phoenix, AZ |
| Year Founded | 1985 |
| Residential Sizes Offered | 15-40' |
| Materials | Steel, Aluminum |
American Flag and Pole Company's Origin and Manufacturing Locations
American Flag and Pole founder Joseph M. Cicero was a commercial window cleaner in 1983 when he was asked if he could fix a flag on top of the building he was working on. While he was doing repairs on the flagpole, he realized there was a need for this type of service. In 1985 Cicero got a crane and started servicing flagpoles around the Phoenix, Arizona area, and soon opened American Flag and Pole Company. Since then, the company has been offering 100% made-in-the-USA flags and flagpoles, as well as servicing, repairing, mounting, and moving flagpoles in their area.
American Flag and Pole Company's Selection and Offerings
American Flag and Pole Company are one of the few companies that will personally set up and provide maintenance on the flagpole you purchase. This adds on an extra charge, but you get peace of mind that your flagpole is going to be installed professionally and accurately.
American Flag and Pole Company manufacture its steel flagpoles in Phoenix, Arizona. Steel poles are typically larger sized for commercial applications, but you can still get 20' sizes for your home, and they come in five different color options.
Their aluminum flagpole selections have more colors to choose from; eight different colors and finishes, to be exact. The most options in colors from our entire list. The aluminum selections also have options for external or tamper-resistant internal halyard applications.
15. Flagpoles Etc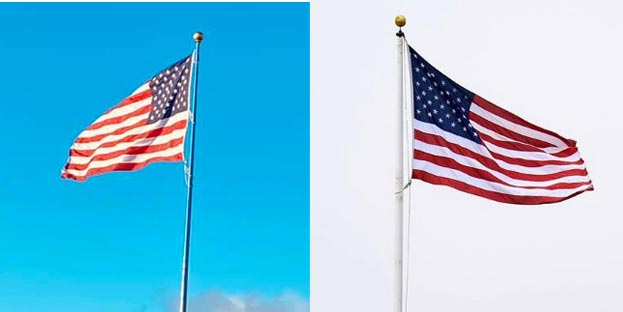 | | |
| --- | --- |
| Origin | Holly, MI |
| Year Founded | 2004 |
| Residential Sizes Offered | 6' to 80' |
| Materials | Fiberglass, Aluminum, Red Oak |
Flagpoles Etc's Origin and Manufacturing Locations
Flagpoles Etc started in 2004. It is an all-women-owned family business located in Holly, MI. After witnessing the horrific events of 9/11, these ladies knew they wanted to do something to help unite Americans. They realized the majority of American flags and accessories, such as flagpoles, were manufactured by foreign companies. To help Americans show their patriotism with American products, they started manufacturing flagpoles in their home garage. Starting with fence posts and other spare parts, they crafted their first flagpole. With support from friends, neighbors, and other patriotic Americans, Flagpoles Etc has moved from the humble beginnings of their garage to a huge manufacturing facility. No longer using spare parts, Flagpoles Etc has become one of the leading flagpole companies in the USA.
Flagpoles Etc's Selection and Offerings
Flagpoles Etc offers flagpoles made from anodized aluminum, which resists corrosion, and oxidation and is rustproof, fiberglass, and even red oak for restoration projects or for those of you who are partial to the timeless look of polished wood grains. They have internal and external halyard options, a choice of different colors on aluminum poles, and any size you may need for your flag flying needs.
Flagpoles Etc offers telescoping flagpoles with Lexan swivel clips that prevent the flag from wrapping around the pole. Lexan is the same material used in aircraft windshields. It is treated to withstand harmful UV rays from the sun to resist dry rot, cracking, and discoloration.
Flagpole Material Considerations: Pros and Cons
Anodized Aluminum
Most flagpoles are now made from anodized aluminum, which is lightweight compared to solid wood and steel. The anodizing process makes aluminum virtually maintenance-free, corrosion resistant, and great for outdoor applications as it will hold up well to most weather conditions. Aluminum also will never rust the way steel can. Anodized aluminum flagpoles are well-rounded and the most popular option for residential applications. They are typically a great choice for the majority of installations. You can't go wrong with a strong, rust-proof, corrosion-resistant aluminum flagpole.
Fiberglass
Fiberglass flagpoles are not quite as strong as their metal counterparts, so are typically smaller in size, but they are lighter and tend to be the least expensive in the group. Where fiberglass flagpoles really shine are in areas that get exceptionally high rainfall, heavy winters with a lot of snowfall accumulation, or coastal areas that are very humid and contain salt air. A flagpole made from fiberglass will never rust or corrode because of moisture, so they are a great option for coastal, marshy, or all-around very wet areas or for those who want a good budget-friendly flagpole.
Steel
Steel flagpoles still have their place among the newer, more weather-resistant materials. For commercial applications and very tall flagpoles in excess of 60 feet tall is where steel poles shine. Even aluminum has a hard time withstanding the harsh conditions at such heights. Stronger structural integrity and the ability to withstand higher force winds are needed for large commercial flagpoles.
One company on our list offers solid, red oak flagpoles for residential applications. These poles are great for aesthetics. The stunning wood grain really stands out in a landscape, especially against the backdrop of a log cabin in the woods. Wood flagpoles will require more maintenance than other materials as it's a natural material that doesn't stand up as well to rain and sun damage. You can still get years of beautiful life out of a wooden flagpole, but you will probably have to replace it more often than aluminum or steel. If the look of solid wood grains is most important to your search for the perfect flagpole, then the red oak flagpole is right up your alley.
Differences Between Telescoping, Sectional, or Solid Piece Construction
Now that we have gone over the different materials a flagpole can be manufactured from, let's talk about the different construction options and which might work best for you. We have sectional flagpoles, solid piece poles, and telescoping types of flagpoles.
Solid Piece Flagpoles
Solid piece flagpoles are a more traditional construction and are more structurally sound than sectional or telescoping flagpoles. Solid piece flagpoles are typically one long pole with external halyards but may come in two sections if they are taller than 20'. If you are looking for a flagpole that doesn't have a lot of technology that will need a lot of maintenance, or you simply want a budget-friendly but strong flagpole in your yard, then a solid piece construction might be best for you.
If you live in an area that gets a lot of very windy days and high gusts, then the solid flagpole might be best for you as well. These poles are usually rated for higher gusts and are stronger than sectional and telescoping flagpoles.
Sectional Flagpole
Sectional flagpoles are easier to set up than single pole constructions, meaning you probably won't have to have specialty equipment to get yours installed. You can also take them down and store them in 5' or 6' sections, which is much easier than trying to store a 20' or longer metal tube. The sections also mean they are not quite as strong as single-piece constructions, but if you don't regularly have extremely strong winds, you should be alright. Sectional poles are also a little bit more budget-friendly.
Telescoping Flagpole
A telescoping flagpole is usually more expensive, but it comes with the most versatility and options. Almost all telescoping poles have free swiveling clips that keep the flag from wrapping around the pole. They are lighter and easier to install and set up. If you know you're about to get a bad storm with lots of wind and bad weather, you can take your flagpole down by yourself and get it out of the bad weather.
Telescoping flagpoles are easy to store and a great option if you want to take your flag and pole with you. If you spend time at different properties, such as a summer house and winter house, it's easy to take your flag and pole with you so you can display the American flag wherever you go.
Wrap Up
That's all for this article. If you have comments or questions or have an American-made flagpole that we didn't include here, we'd love to hear from you in the comments section below. We hope this has been useful for you and that you have found the perfect flagpole for your flag.
Hi, my name is Kevin and I'm from Pittsburgh, Pennsylvania. Choosing products made in America is important to me because it supports local economies, creates jobs, helps the environment, and ensures ethical labor practices. I also find that American made products are usually of higher quality so although they're a little more expensive, you save money in the long run. Before starting this website I was in the USMC infantry and nowadays I work on this website as a hobby.