Hoodies are sweatshirts are some of the most popular types of clothing because they're incredibly versatile and comfortable. The problem is that most are made overseas by companies that only focused on profits. The good news is that in this article we're going to be showing you some great hoodies and sweatshirts made in the USA.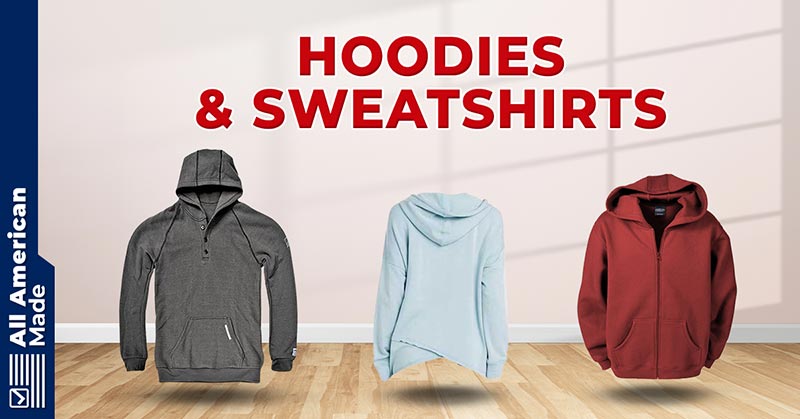 We've found some great styles and options at different price ranges. There are great options for both men and women on this list!
List of American-Made Hoodies and Sweatshirts
All American Clothing Co Hoodies and Sweatshirts

| | |
| --- | --- |
| Estimated Price | $60 to $80 |
| Materials | Cotton / Polyester Blends (Organic & Recycled Material Options also available) |
| Sizes Available | S-4XL |
| Fit | Regular |
All American Clothing Co's Origin and Manufacturing Locations
The All American Clothing Co is here today because its founder Lawson Nickol refused to be a part of something that he felt was misleading the American consumer. He was a salesman for a blue jean company that marketed their products made in America however, when he was browsing in a store, he came across the jeans on display, and low and behold, the tag now said: "Made in Mexico."
After a phone call to the CEO and being told that was how it would be going forward, Lawson decided that he would rather try and strike out on his own than be a part of something untrue. In 2003 he and his son founded All American Clothing Co out of their hometown in Arcanum, Ohio, and although Lawson has since passed away, his son B.J. continues to run the company with the same American-made values that his father insisted on.
The company's biggest seller is their original blue jeans, but they have branched out into other American-made goods such as hoodies, t-shirts, and socks. They work on sourcing the best products from over 20 different states and try to keep any imported materials used to a bare minimum. I own a lot of products made by All American Clothing Co, including their jeans and sweatshirts. I've found them to be extremely quality, and their prices are more than fair. Compared to sweatshirts made overseas, I've found them to be much higher quality, and the price is similar.
What We Like and Don't Like About All American Clothing Co Hoodies
I really like the number of options All American Clothing Co has when it comes to hoodies and sweatshirts. They include your classic fleece pullover or zip-up style as well as some Softech and Bondi fiber options that are lighter-weight and might be better for going on a run.
Most of their sweatshirts are made of a cotton blend or polyester. Personally, I like the cotton blend because it's extremely comfortable, but I can understand why some people like polyester in some cases because it drys faster and is a little more wrinkle-resistant. I don't think they offer any 100% cotton sweatshirts or hoodies, but they're always adding new products to their inventory, so it's a good idea to check to see if they do now.
No matter what style you choose, the best part is knowing that your hoodie was pieced together with American materials by a pair of American hands. That was one of the founder's favorite parts of his business. Walking through the factories and seeing the people who took pride in putting a piece of clothing together for someone to use. I own several of the sweatshirts they offer and I've found them to be extremely quality.
Adding a hoodie to your collection from All American Clothing Co will not only come in at a good price but has the quality to hold up for many years. Considering the price point that they sell the majority of their styles, there really isn't a way to go wrong.
If you are really wanting to flaunt your American spirit, they offer an option that is a navy body with red stripes on the side and starts inside the lining of the hood. You really don't get much more American than that.
You can also contact the company regarding wholesale options as well as screen printing a company or team logo on any of their hoodie styles.
Bayside Classic Hoodies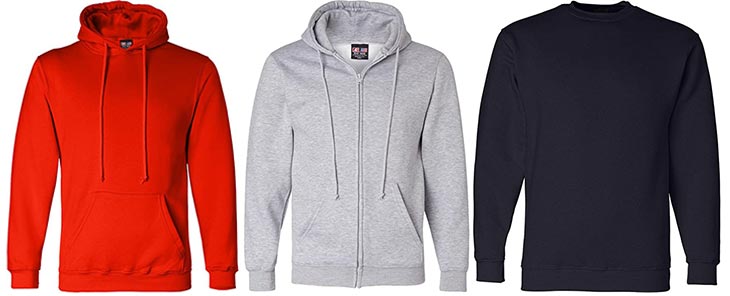 | | |
| --- | --- |
| Estimated Price | $45 to $90 |
| Materials | Cotton Blends / Polyester |
| Sizes Available | S-4XL |
| Fit | Regular |
Bayside's Origin and Manufacturing Locations
Bayside is a company that stands alone in its American manufacturing process as it does not outsource a single part or material. They collect their cotton from farmers all across the United States. The cotton is then transported to their yarn-making factory in North Carolina. After it's made into the exact type of yarn that is needed, it is sent over to the West Coast, where it is knitted, dyed, finished, cut, sewn, and ready to be boxed up and arrive at your house.
With all of these products, they pride themselves on being the largest vertical apparel manufacturer in the United States. They are also doing all steps possible to reduce their carbon footprint and recycle all waste throughout their production cycles.
When you unbox your hoodie, there is a good chance that from the very first piece of cotton that left the farm until it reached your hands that it went through almost 500 pairs of American hands. You not only get an amazing product, but you also supported all of those people along the way.
What We Like and Don't Like About Bayside Classic Hoodies
Bayside hoodies and sweatshirts come in several different weights depending on what you are looking for. Starting around 9.5-ounce and going up to a 17-ounce heavyweight option, you can find a hoodie for every season.
They offer a variety of color options, and the cotton is pre-shrunk and ready to get you through the day. Whether you choose a pullover or a zip-up option, they also include spandex in the cuffs and bottom band to keep your hoodie in place throughout the day.
Everyone needs a classic hoodie that they want to collect in every color. The Bayside hoodies would be a great option to fit this need. They are one of the most affordable American-made brands and offer a great variety of colors and weights.
I find their sweatshirts to be extremely soft and comfortable. If it is an important selling factor to you, there are some styles that are Union-Made. You can find these styles by searching the Union Made button on their website. Overall, if you're looking for hoodies made in the USA, then Bayside has some great options for you.
Popular Related Article: Our Favorite Jeans Made in the USA
Origin Maine USA

| | |
| --- | --- |
| Estimated Price | $55 to $125 |
| Materials | Cotton / Poly Blends |
| Sizes Available | XS-3XL |
| Fit | Regular |
Origin Maine's Origin and Manufacturing Locations
Origin USA is not only a great American brand but the time and attention to detail that they put into their products are really in a league of its own. They were founded in 2009 by Pete Roberts (who is also the co-founder of BJJ Weekly.com, a Brazilian Jiu-Jitsu lifestyle brand).
Being a citizen of Maine his entire life, he remembered as a kid watching PBS shows featuring products that were "Made in Maine" and wanted to do something that could bring the old factories back to life after being left behind when so many manufacturers moved their brands overseas.
With his knowledge as an athlete that clothing products need to work with you and not against you, his styles are ones that can be worn running errands around town or working on-site for a full day.
What We Like and Don't Like About Origin Maine Hoodies
I was very impressed by all styles of hoodies that Origin USA produced. My favorite was The Heavy option. In this particular style, the hoodie is made up of over 20 pieces and panels compared to the average hoodie's 7. It is made to move with your body at the arms and waist which is where many hoodies tend to get pretty boxy.
There was also a feature of having a zipper-closing pocket on your traditional kangaroo pocket on the front to keep phones, keys, or cards in safe storage without the fear of dropping them. I don't know how many times this option on a hoodie would've come in handy when you want to have your hands free.
While they do have a few options at a lower price point if you are looking for the absolute best in styles of hoodies, I would recommend splurging on the higher-end options from this brand. The thought process and details have me getting ready to put one in my cart.
These hoodies are made with love, and the company works through social media to make sure that the customer and the workers stay connected to keep that relationship going. They understand that there is something special about seeing the gear that you sewed together being used by an actual person. This is not something you can get with a brand that manufactures overseas.
Karen Kane Women's Sweatshirts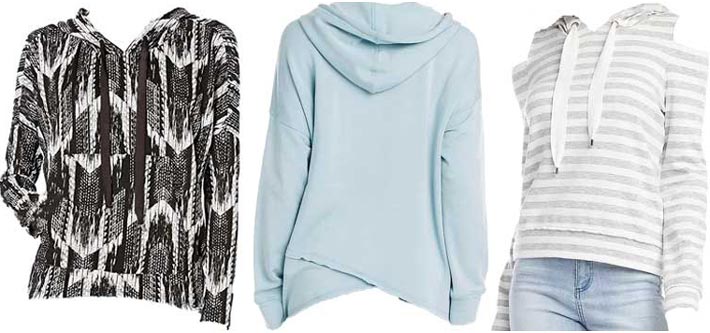 | | |
| --- | --- |
| Estimated Price | $110 to $120 |
| Materials | Modal / Cotton / Spandex Blends |
| Sizes Available | XS to XL (Plus Sizes also Available) |
| Fit | Several different fit options |
Karen Kane's Origin and Manufacturing Locations
Karen Kane was founded by a husband and wife team back in 1979 and continues to grow and evolve into a brand that gives women clothing options that make them feel beautiful and comfortable all at the same time.
This is the first brand we have gone over so far that doesn't do all of its manufacturing in the United States. However, their largest plant is in Los Angeles, and they strive to do as much here as possible. Their website and Amazon both clearly mark which styles are Made in the USA and which ones are imported.
Not only do they work to create products for American women, but they are also mostly run by women. With over 70% of their management team from the female population, they not only talk the talk, but they walk the walk of placing women in leadership roles.
They also work to keep their staff diverse, with about ¾ of all employees from under-represented populations. This gives them a different vantage point than most large companies because they are able to get direct feedback from so many different backgrounds within their own company.
What We Like and Don't Like About Karen Kane Hoodies
They offer so many great sweatshirts and hoodies in various styles, so it might be hard to choose just one. Many of these styles can also be dressed up or down, and being comfortable in the workplace is always a bonus.
With their goal of serving the entire population of women, most of their styles come in petite, regular, and plus sizes. This guarantees that if you find a style you like, they can make it work for you.
There is something to say about women's clothing that is designed by other women. They get the issues and personal frustrations that come with certain articles of clothing and work to make them better.
If you are a fashion-forward woman who also likes to be comfortable, this would be a great brand to look into. They have several different prints and cuts that make them one of the most versatile hoodie brands that I have found so far.
Many of the brands we have looked into offer plain styles that are all great but adding some flair and fashion into your wardrobe is always fun. Not having to decide between comfort and style is also a big bonus.
Tyndale Sweatshirts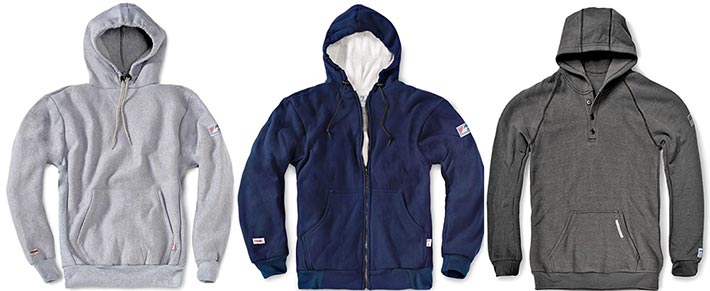 | | |
| --- | --- |
| Estimated Price | $150 to $180 |
| Materials | Flame Resistant Fabrics |
| Sizes Available | XS to 5XL |
| Fit | Regular |
Tyndale's Origin and Manufacturing Information
If you work in an industry that requires flame-resistant clothing, you should be pretty familiar with the Tyndale brand. They currently supply 50 of the Fortune 500 companies with all of their FR clothing needs and have a retention rate for their customers of around 99%.
As one of the top 3 largest FR clothing suppliers in the market, they strive for excellence in all of their products. They know that their customers are relying on them for a lot more than just a comfortable hoodie. Their products are made to protect them as they complete their jobs.
Headquartered in Pipersville, Pennsylvania, this Certified Women's Business Enterprise is still family-owned.
What We Like and Don't Like About Tyndale Hoodies
The breakdown of their products' ARC and CAT ratings is very helpful when deciding exactly what hoodies will work for you and meet all job requirements. They also design the hoodies to be oversized and fit over hard hats when needed.
All of their FRMC fabrics are made with an FR polymer base and are designed to stand up to the day-to-day grind of their environments. While they are designed to not break down with normal wear and laundering, they do list some things to avoid in order to keep the FR material at its peak performance such as not using chlorinated bleach, cleaning all flammable materials off of the product before wearing it again, and make sure you watch for any kind of areas that might be wearing thin or have any unrepaired holes as this will make them no longer FR.
Tyndale had very strong reviews for an overall good experience with comfort, durability, and meeting the needs of their customer. They tend to be searched for by people in the construction and manufacturing sectors but would be a solid hoodie for anyone looking for an American-made product with the FR bonus.
They offer options with a full-zip or pullover style. There are also different weights like mid or heavy as well as a lined option for when it gets really cold outside. With all of these different products to choose from, you can rest assured that your investment is well worth it and will be exactly what you needed. If you're looking for made-in-USA hoodies, then Tyndale has a lot of great options.
Hard Tail Forever (Great Variety)

| | |
| --- | --- |
| Estimated Price | $100 to $150 |
| Materials | Fleece / Velour / Terry |
| Sizes Available | XS to XL |
| Fit | Different Fits Available |
Hard Tail Forever's Origin and Manufacturing Locations
When you are the parents of 3 daughters, what better investment can you make than to start your own clothing line? That's exactly what Dick & Patty Cantrell did back in 1992 and are continuing to reap the rewards of that idea today.
With its main office located in beautiful Santa Monica, California, the company is still family-owned and operated and continues to build on its original goal of creating a brand that celebrates female athleticism in their lifestyle and active-wear clothing options.
What We Like and Don't Like About Hard Tail Forever Hoodies
You could spend a lot of time looking through all of the great product options that are offered by Hard Tail Forever. If you want something more fitted with a touch of sass, they have it. If you want something softer with a more relaxed fit for chilling and watching Netflix, they have that too.
I love the idea of parents knowing they would be spending the rest of their lives buying clothing for three girls and decided to just set off and make their own. This brings attention to detail in design and style that you can only get from knowing how women like clothes to fit and to feel.
Another cool option with this company is after you pick the hoodie you like, they will offer options in their line that would pair well with it when putting together an outfit.
Any sweatshirt from this brand would be a great pick to add to your staple wardrobe. Whether you are wanting something that you can dress up or down to anything in between, they have a hoodie option for you.
Many of the styles would be great picks for going to and from yoga or workout classes. With different weights and materials, the options are truly endless. I would definitely set back plenty of time to do some browsing before making your purchase as they have many great styles to choose from.
LA Made Sweatshirts (Very Comfortable)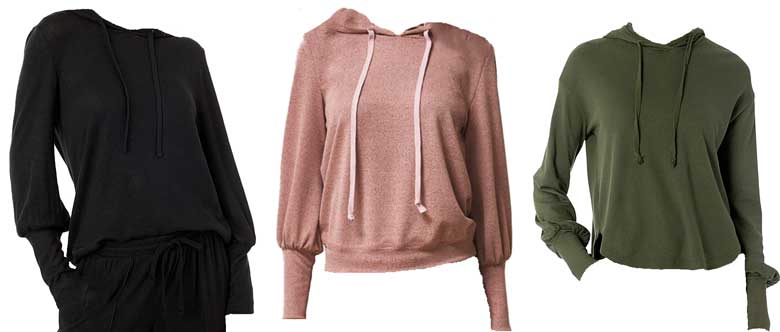 | | |
| --- | --- |
| Estimated Price | $60 to $160 |
| Materials | Lots of Different Blends |
| Sizes Available | XS to L |
| Fit | Different Options Available |
LA Made's Origin and Manufacturing Locations
Another great story behind the brand can be found with LA Made Apparel. Taiwanese immigrants Jack and Georgia Chang immigrated to the United States looking for a better life. In 2004 they founded the company, and their son Elbert is now the CEO.
They not only manufacture and source most of their materials from the LA area, but they also look around their community for continued inspiration for new styles and fits. With a population as diverse and interesting as The City of Angels, it's no wonder they have such amazing styles to choose from.
Another advantage they use for building their company is to listen to their employees on ways to continue to make the brand not only a top-line apparel company but also a great place to work. It's easier for them to get this direct feedback when you have your offices and manufacturing facilities in one building.
What We Like and Don't Like About LA-Made Hoodies
This brand really offers a lot of unique options that you don't see in any others. Whether it be detail in how the sleeve is cut or the quality of materials used, they really hone in on the details to make the best products possible.
If you are needing a style with a full zip, they've got it. If you need something that pulls over and is full-length, they've got it. If you are wanting a soft crop top hoodie to wear to and from the gym, they've got that too.
I was really impressed with the different finishes of the hoodies they offered. They have a crepe terry blend that was unlike any other hoodie I have ever seen and just looked like something you would want to slip on and wear all day.
If you love the SoCal lifestyle and want a hoodie that expresses it, this is the brand you should look into. You can really tell that their styles are designed by real people and not something you can find just anywhere.
The only downside I can find on this brand is that the sizes available are not as broad-range as I would like them to be, but if you are right there in the middle of the spectrum, then go ahead and start looking for your next favorite hoodie.
Royal Apparel (Great Wholesale Hoodies)

| | |
| --- | --- |
| Estimated Price | $15 to $50 |
| Materials | Cotton / Polyester / Rayon / Modal / Viscose Hemp /and several other blends |
| Sizes Available | XS-3X (Kids, Women's, Men's Available) |
| Fits | Loose, Comfortable Fits |
Royal Apparel's Origin and Manufacturing Locations
Royal Apparel has two company values that they have stuck to since when they started in the early 1990s and continue in their production today. That is to craft the most eco-friendly apparel and accessories possible and to manufacture those products right here in the United States.
What began with two employees in the Garment District of Manhatten still stands today and has expanded into its Long Island Headquarters to include production facilities currently in Pennsylvania, New Jersey, and New York. Royal Apparel hasn't produced its apparel in any other country.
They are also continuing to work on their other original company value to not only improve the U.S. economy but also to help keep the planet clean and reduce their business's carbon footprint as they integrate new manufacturing procedures and materials.
What We Like and Don't Like About Royal Apparel Hoodies
One of the styles that Royal Apparel shows off their eco-friendly work is in their hoodie styles that are made out of RPET yarn. This yarn is made up of a variety of recycled bottles and reflects this uniqueness by having each individual hoodie with just slightly different coloring.
There are several different options for materials to meet whatever needs you might have for a hoodie. They can vary from the classic 50/50 blend to a Viscose Bamboo or Hemp option. Showing that they can evolve with the apparel industry is a huge bonus for this brand.
The dyes in all Royal Apparel items are now used with a fiber reactive that has nixed using any kind of heavy metals or toxic substances and they use recycled water in all of their facilities that handle the dyeing processes.
The Royal Apparel company has transitioned into a more wholesale apparel company. However, you can still buy individual pieces when you need them. They focus the majority of their business by selling large quantities of hoodies and apparel to companies, restaurants, retail chains, and entrepreneurs, and they have even worked with some top musicians and artists.
No matter what color or style you might be looking for, there is bound to be an option that could work for you from Royal Apparel. Knowing that the company didn't jump the boat and move production anywhere else is definitely a huge bonus when picking the new hoodie to hang up in your closet.
LA Speedy Sweatshirts (Soft and Comfortable)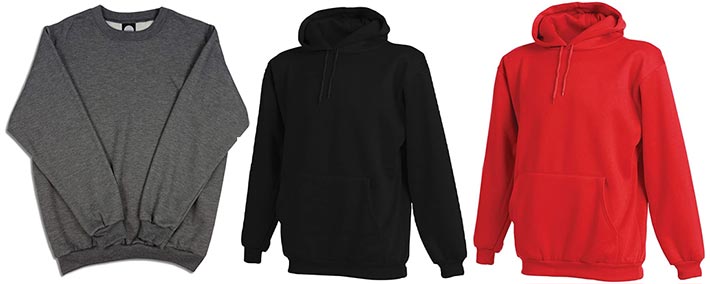 | | |
| --- | --- |
| Estimated Price | $25 to $30 |
| Materials | Polyester / Cotton Blends |
| Sizes Available | S-2XL |
| Fit | Regular / Loose Styles |
LA Speedy's Origin and Manufacturing Locations
About a mile and a half away from LA Memorial Coliseum is a little shop known as LA Speedy that has been manufacturing its hoodies and other apparel in Los Angeles, CA, since 1997.
They feel that producing their styles here not only helps the economy but also gives them more control and versatility to stay on top of trends and give Americans the best products possible. Working to provide fair and ethical treatment of all their workers is a core value for the company.
Making products that can be sold at wholesale or regular retail stores keeps the company relevant and ready to get its products into the hands of all customers.
What We Like and Don't Like About LA Speedy Hoodies
From the classic fleece pullover to the tri-blend crop hoodie, you can definitely find a soft, comfortable space to hide out in. They offer size charts to help you order just the right fit so that you can put that hoodie on as soon as it's delivered.
Being a local company, they take great pride in paying attention to every cut, stitch, and fold so that you can see the difference in an American-made product. Quality and comfort are two of the greatest attributes of a hoodie, and LA Speedy is a great choice to mark these off your list.
This would be a great everyday hoodie that will continue to hold its shape and comfort for many washes and wears. With lots of colors and styles to choose from, you can definitely find a great option to add to your collection.
With their option for wholesale pricing, this could also be a great company to work with if you are needing a lot of hoodies for a business or group order.
Venley (Great Fitting)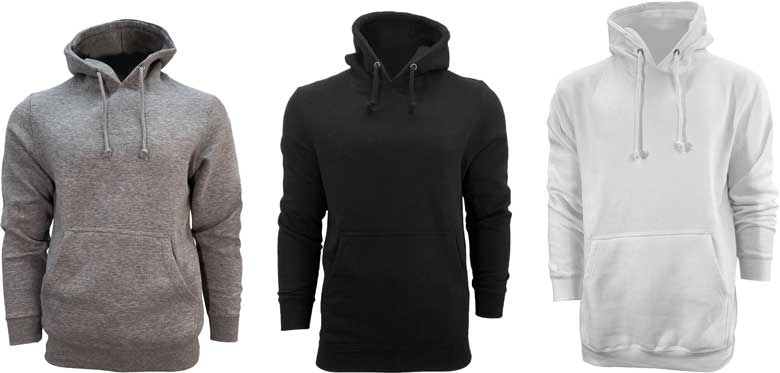 | | |
| --- | --- |
| Estimated Price | $35 |
| Materials | Cotton / Polyester Blends |
| Sizes Available | S-3X |
| Fit | Relaxed |
Venley's Origin and Manufacturing Locations
Venley has been making quality apparel in the United States since 2010. They are a part of Antex Knitting Mills and employ over 1,200 people across a 16-block radius in Los Angeles, California.
What started with an idea of making great products that could be staples in the wardrobe and simplify needing so many different pieces continues to evolve and improve all of their product offerings. They start with only picking the highest quality fabrics and then run those through a wash process in-house that makes the fabric soft and the perfect fit when you receive it.
What We Like and Don't Like About Venley Hoodies
The quality is in the details of this brand. They offer ribbed cuffs and waistbands to make sure your hoodie stays in place throughout the day and even offer a sizing guide so custom that you put in actual body measurements to get just the right one for you.
Not only do you have several color options to choose from, but the drawcords on your hoodie are specifically dyed to match the hoodie for a seamless look. This will make it a perfect go-to style for casual Fridays or running around town on the weekend.
With quality characteristics such as breathable, skin-friendly, and moisture-wicking, picking a Venley hoodie will be a great addition to any wardrobe. At around $35 each, they also won't be breaking the bank.
If you're looking for made-in-USA hoodies, Venley has a ton of options I really like. Their styles were very positive for style, quality, warmth, and an overall great deal. Overall, these are easily some of my favorite sweatshirts made in the USA.
Corbeaux (Great Baselayer Hoodies)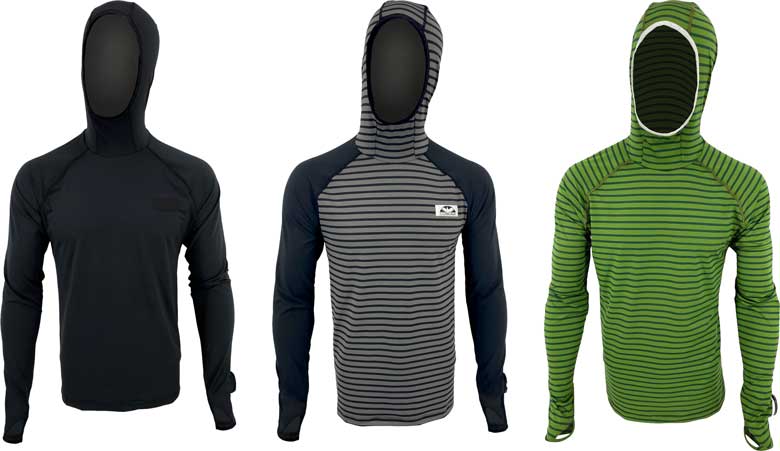 | | |
| --- | --- |
| Estimated Price | $100 to $150 |
| Materials | Custom Recycled Fabrics |
| Sizes Available | S-2XL |
| Fit | Fitted |
Corbeaux's Origin and Manufacturing Locations
Baselayer hoodies have very specific needs if they are going to keep you comfortable while out in the elements. What better way to know your investment is going to be worth it than to buy a brand of baselayer hoodie that has been designed and tested by the company's owners, who happen to be pro-skiers?
That is what you get with the Corbeaux brand of hoodies. They not only test the products themselves but also gather feedback from other outdoor athletes in the Aspen, Colorado area. Their products are manufactured in Colorado and Minnesota, and they have fabric levels for each type of season you might need them for.
Being an American-made brand, they also offer discounts to those in the service industries such as military, law enforcement, fire, EMS, healthcare, and government employees.
What We Like and Don't Like About Corbeaux's Hoodies
This is the most well-designed and researched hoodie brand I have ever seen, and the fact that they are made here in America is pretty awesome. They have custom-designed fabrics such as SILKweight, TEMPOweight, CONTOURweight, and ExpeditionWeight depending on what your adventure is.
All of these custom fabrics are sourced from post-consumer recycled materials, so you can also rest assured that your purchase is eco-friendly. After all, they design their products to enjoy the outdoors, they also want to do their part to preserve it.
The fabrics are also quick-drying, fast-wicking, and temperature-regulating to keep you at your best no matter what the elements are outside.
A Corbeaux hoodie is a must-have if you are going to be outdoors skiing, hiking, snowboarding, bike riding, or any other activity that you enjoy. It provides a scientifically-designed extra layer of skin that will help keep you protected and comfortable in all seasons.
Most styles come in kid's, women's, and men's sizes, making it a perfect one-stop shop for all your base layer needs.
Voormi Hoodies and Sweatshirts

| | |
| --- | --- |
| Estimated Price | $200 to $300 |
| Materials | COREConstruction Technology with wool bases |
| Sizes Available | XS-3XL |
| Fit | Base Layers, Mid Layers, Outer layers |
Voormi's Origin and Manufacturing Locations
Voormi was built when a small group of entrepreneurs were tired of having tons of hoodies and outwear but none that actually stood up to the elements. Wanting to reduce waste going to landfills, they began researching what fabrics could be the most sustainable, comfortable, and long-lasting.
Putting together a group that had knowledge in the areas of technology, textiles, and expedition guiding, they began their quest to make a great American-made product that people could keep for lifetimes.
In 2013 they launched their first product line, and by 2014, they had enough success that they began incorporating their own COREconstruction technology into all of their hoodies which is placing waterproof membranes directly into the knitting process. This keeps water out and warmth in no matter what you might be doing on your adventure.
What We Like and Don't Like About Voormi Hoodies
The research and technology in this brand are surpassed by none of the other brands that I have researched. They are a bit more of an upfront cost, but with their entire goal of having to buy fewer items, this one hoodie could replace multiple that you already have.
Not only is their main material tested and custom, but they have several styles that offer hand-warmer pockets and headphone ports for a truly unique hoodie experience.
These hoodies would be a great investment if you love adventuring outdoors. While you might first think of only needing them for cold weather, they also have styles specifically designed to keep you comfortable during the summer and spring months as well.
There were several reviews from customers that had used their hoodies while fishing, duck hunting, kayaking, biking, or just sitting on the deck enjoying the view of the lake. They offer a weather chart with their item descriptions to help you see which hoodie you need for different activities.
Conclusion:
There will always be a need for comfortable sweatshirts, and thankfully there are also many brands that work to meet this basic need by producing and manufacturing their styles right here in America.
I hope you are able to find just the hoodie you are looking for after reading through our guide. If you have any questions or comments, let us know in the comments section below. Also, if there are any great products you know of that you feel we should add to this list, please let us know below.
Hi, my name is Kevin and I'm from Pittsburgh, Pennsylvania. Choosing products made in America is important to me because it supports local economies, creates jobs, helps the environment, and ensures ethical labor practices. I also find that American made products are usually of higher quality so although they're a little more expensive, you save money in the long run. Before starting this website I was in the USMC infantry and nowadays I work on this website as a hobby.