Finding luggage that's actually made in America is not an easy task nowadays. Most companies have moved their production overseas to cut costs and maximize profits. Thankfully, there is still some great luggage made right here in America, and in the rest of this article, we'll be sharing our favorite luggage made in the USA.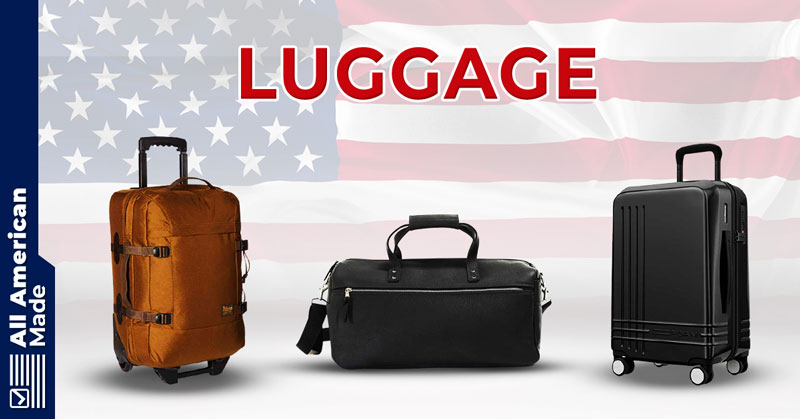 By investing in high-quality American-made luggage, you can travel in style and with peace of mind. This luggage ensures not only that you get a quality product but that you are also helping to employ American workers.
Whether you're looking for a standard suitcase, wheeled luggage, a travel duffel, or a carry-on bag, this list will save you a lot of time!
List of American-Made Luggage
1. ROAM Custom Luggage (Customizable)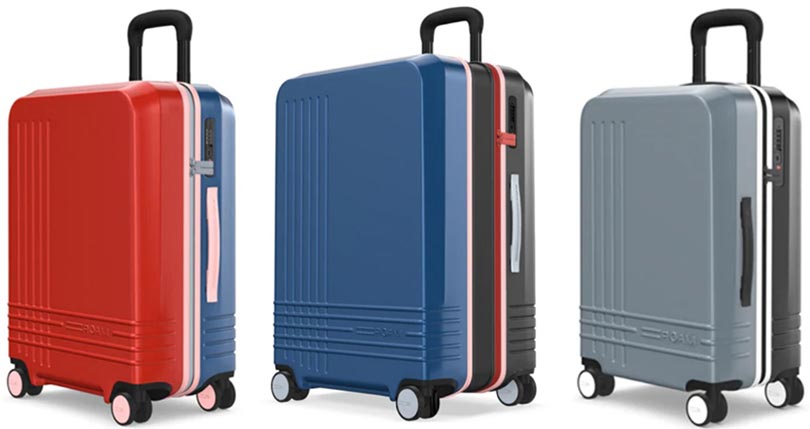 | | |
| --- | --- |
| Estimated Price | $500 to $700 |
| Materials Used | 100% virgin polycarbonate shell |
| Size | 26"h x 17.5"w x 10"d |
| Storage Features | Fully customizable + TSA-approved lock |
| Origin | San Diego, California, USA |
ROAM's Origin and Manufacturing Locations
Just like clothes and accessories, your luggage can be used to flaunt your personal style and personality! Look around a baggage carousel at the airport, you'll notice several identical bags moving around. Well, say hello to ROAM; its made-to-order concept gives you the freedom to express your style and personality through the luggage you carry.
ROAM was founded in 2018 by Charlie Clifford and Larry Lein, two former executives of the renowned high-end luggage brand Tumi. The duo decided to approach the customers directly and give them the flexibility to fully customize the bag of their dreams. What's impressive is once the customer has picked the luggage case of choice, it is hand-assembled at ROAM's California factory and shipped off within one business day.
What We Like and Don't Like About ROAM Custom Luggage
ROAM suitcases are by far the most unique I've ever seen. With the luggage builder on their website, there are over 1 million different possible combinations, meaning your luggage will be totally unique. ROAM suitcases are made from premium grade, American-made polycarbonate. The hardshell case is equipped with top-notch wheels that roll like a dream. The bag's comfortable handle will woo any ergonomic enthusiast and can be pulled up to 4 different height settings.
You can breathe easy about the security of your belongings with a TSA-approved combination locking system and a sturdy, water-resistant zipper. If you look inside the case, you'll notice a fine-quality fabric lining that is easy to clean and doesn't absorb water.
The team at ROAM has so much confidence in their suitcases that they offer a 100-day trial and let you return the bag if it doesn't live up to your expectation. Have you ever heard any company offer something like this for a product that has been custom-made for you? It's remarkable!
Anyone looking for a fashionable yet practical luggage bag should give ROAM a shot. I say this because they let you fully custom-design your bag. ROAM offers eight different sizes to choose from and a mix of carry-ons and check-in variants.
Once you've made your choice, you pick out the front shell, back, and trim color and add a free monogram. After that, all that's left for you to do is order it, and ROAM will deliver the travel bag of your dreams to you, pronto! ROAM offers a lot more than just hardshell suitcases as well, so check out their website for more information!
2. Filson Dryden Wheeled Carry-On Suitcase (Editor's Choice)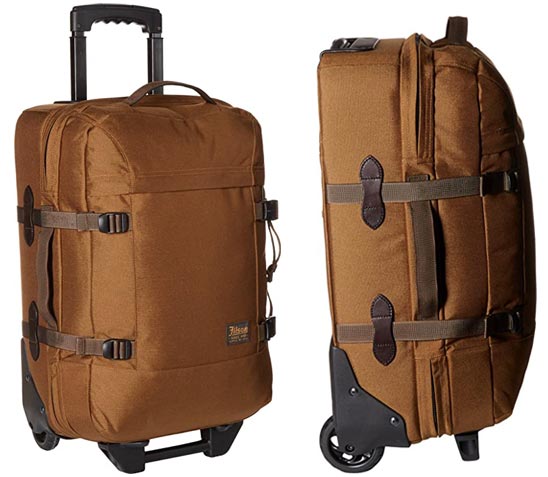 | | |
| --- | --- |
| Estimated Price | $225 |
| Materials Used | Cordura nylon, 100% leather accents, and panels |
| Size | 15 x 8 x 21 inches |
| Storage Features | Internal pockets for smaller items |
| Origin | Seattle, Washington, USA |
Filson's Origin and Manufacturing Locations
Filson is actually one of my favorite brands, and their luggage is just as quality as the other products they make. They started their journey 125 years ago as an outfitter for people participating in the 1897 Yukon Gold Rush. Making dependable, high-quality products fit to withstand severe conditions is in the company's DNA. Not surprisingly, this Seatle-based brand is now a huge hit with adventure enthusiasts, including outdoorsmen, engineers, and explorers, for offering highly reliable, American-made outdoor clothing and gear.
What We Like and Don't Like About Filson Dryden Wheeled Carry-On Suitcases
Filson's world-class quality is a product of American craftsmanship that the brand has supported for over a century, and Dryden carry-on bag is a fine example of that. This rugged bag has been built to rough it out in the harshest weather conditions. It is made from a thick 1000-denier CORDURA ballistic nylon fabric known for its high resistance to abrasions and water.
Dryden carry-on bag with its two wheels and a convenient nylon handle is a breeze to roll around, and the molded feet make sure it doesn't topple over. Inside, you'll find two dividers complete with zippers and nylon lining to hold your belongings in place. You also get two pockets to stash smaller items or toiletries. For all the accents, Filson has used natural vegetable-tanned Bridle leather sourced from Wickett-Craig, the oldest veg tannery in the US. Filson also has a lot of other options when it comes to suitcases which you can see here.
What I like most about this bag are the quality zippers, wheels, and handles. You can tell right away that this is not your average suitcase. Compared to most luggage you would find that is made overseas, the attention to detail and craftsmanship is much higher.
Dryden carry-on is what I call a perfect blend of great looks, practicality, and affordability. It has all the essential ingredients of an ideal hiking, camping, and outdoor luggage bag, including two compression straps to hold your belongings securely. Finally, this bag comes in three equally stunning layouts- Whiskey, Dark Navy, and Otter Green for you to pick from.
Overall, I personally love the Filson brand, so I'm a little biased towards them. I've owned and tested a lot of their products and found them to be extremely high quality. Along with lots of outdoor products, they make some great luggage made in the USA. The video below talks about the Filson bag and explains what separates them from its competitors.
3. Cinda b. Luggage Bags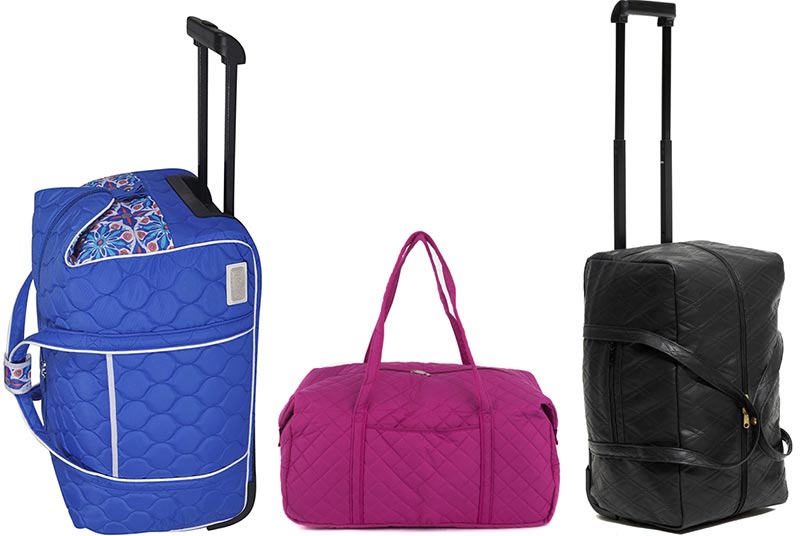 | | |
| --- | --- |
| Estimated Price | $30 to $150 |
| Materials Used | Polyester and nylon |
| Size | 24 x 14 x 14 inches |
| Storage Features | Depends on model |
| Origin | Fort Wayne, Indiana, USA |
Cinda b's Origin and Manufacturing Locations
The brand was started in 2004 by Cinda Boomershine, a well-known designer and TV celebrity who wanted to make beautiful, functional bags. Instead of opting for a manufacturer overseas, Boomershine partnered with Hentz Manufacturing, an American handbag sewing company, to make sure the jobs stayed in the US. Today, Cinda B is a rapidly growing brand with over 1000 retail tie-ups across the country.
What We Like and Don't Like About Cinda b Luggage Bags
Cinda B.'s catalog is full of some of the best-looking bags I've ever laid my eyes on! From its luggage bags, totes, pouches, and purses, every piece is high on style and versatility without compromising utility. The vacationer is an incredibly lightweight, large-sized duffel bag from stain and water-resistant quilted fabric.
It boasts the brand's signature big mouth, zip closure, and snap-down ends for a quick packing and unpacking experience. Besides the generous space inside, you also get three slip pockets inside and two outside to pack in smaller items.
They off so many great bags with beautiful layouts that you'll have a hard time picking only one. My personal favorite is Verde Bonita, but there's also Radical Rose, Royal Bonita, Calypso, and Camo to choose from.
These bags are perfect for people who find it hard to pack light! We want to squish our entire wardrobe if the space allows! Cinda B.'s light-as-a-feather bag is roomy enough to pack clothes and essentials fit for a two-week-long vacation for an individual or a weekend trip for a family.
You can also visit their official website to learn more about the company and see more designs here.
4. InUSA Hardshell Luggage (Only Assembled in the USA)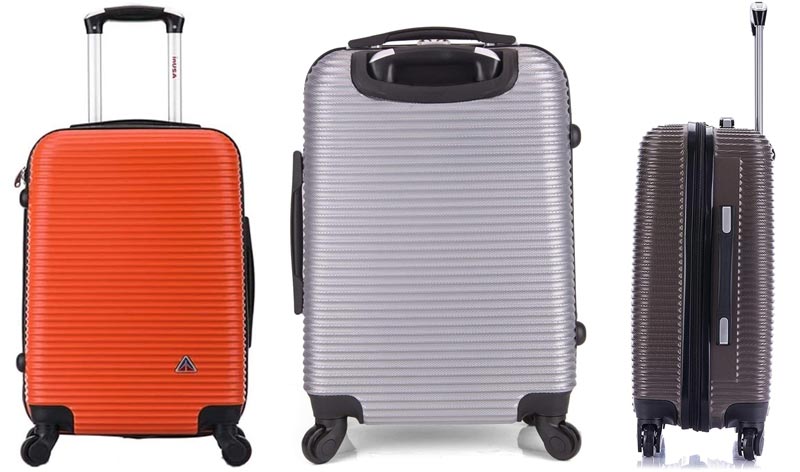 | | |
| --- | --- |
| Estimated Price | Varies |
| Materials Used | Polycarbonate/ABS Plastic |
| Size | Varies |
| Storage Features | Depens on model |
| Origin | Florida, USA |
InUSA's Origin and Manufacturing Locations
InUSA produces a line of durable and functional hard case suitcases and offers them at prices that won't hurt your wallet too bad. Each product has been designed keeping in mind modern tastes and features valued by savvy travelers.
One thing to note about this company is that they assemble some of their bags in the USA, but not all of them. However, the company is actively working towards creating more manufacturing jobs here. This is why they started a "Made in USA" initiative to cater to customers looking for authentic American-made products. I personally would like to see the company source more of its materials from the USA, but in the luggage industry, that's a difficult thing to ask for. I figured I'd show you their suitcases and let you make the decision on whether or not you want to support them.
What We Like and Don't Like About InUSA Hardshell Luggage
They have many different styles that are assembled in the USA. Rather than discussing all of the different features here, I provided a link to their website directly that shows only their luggage that is made in the USA. One thing you'll notice about the suitcases made in the USA compared to ones made overseas is that they are more expensive. This isn't a surprise, and from what I've seen, their luggage that is assembled in America is of higher quality.
Whether on a business or leisure trip, this rough and tough bag will serve you well. The hardshell exterior with a four-wheel design makes it easy to maneuver at airports and train stations. InUSA's bags come in a variety of colors, including bright orange, which happens to be my favorite.
5. Revo Luna Hardside Spinner (Unique Patterns)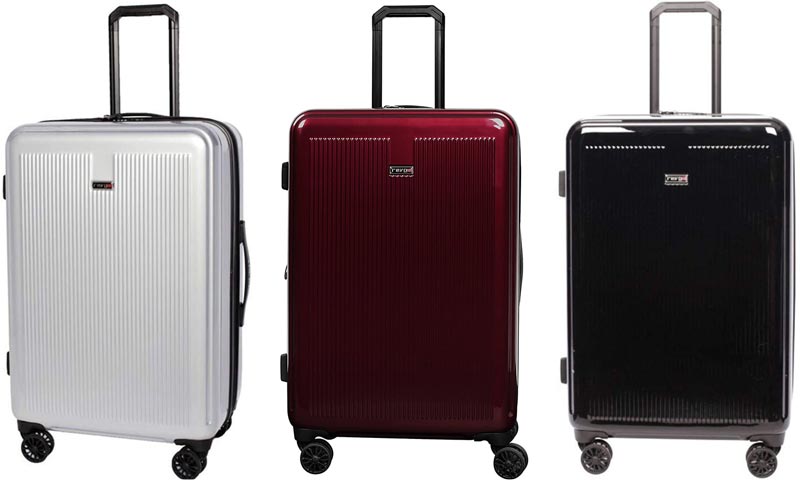 | | |
| --- | --- |
| Estimated Price | $240 |
| Materials Used | 100% Bayer Makrolon Virgin Polycarbonate |
| Size | 17.5 x 11 x 26 inches |
| Storage Features | 2" expansion, no outside pockets |
| Origin | Mira Loma, California, USA |
Revo's Origin and Manufacturing Locations
Based out of Mira Loma, California, Revo luggage has been a well-recognized brand among travelers since its launch in 2006. The brand's key focus is on offering high utility, competitively priced products with contemporary designs. Revo's products are designed at their office in New York City and brought to life at their Mira Loma manufacturing facility using eco-conscious and sustainable practices.
What We Like and Don't Like About Revo Luna Hardside Spinners
Revo Velocity is a sturdy hardshell travel bag equipped with an 8-wheel spinner system for smooth mobility. The bag's exterior has been made from durable 100% ABS and Polycarbonate.
Open the bag, and you'll see two mesh zippered compression compartments with tie-down straps to pack your things. I always prefer multiple compartments to keep my fresh clothes separate from dirty laundry or shoes.
Revo Velocity has pretty much everything you expect from a hard-sided travel bag- TSA-approved lock, retractable handle, multidirectional wheels, and a 2-inch expandable zipper to amp up the space should you need it.
Who should get this bag? Well, I'd say all those looking for a budget-friendly, hardshell bag with a little more room than what typical carry-on bags offer. It doesn't provide many fancy features but all the must-haves to make your travels comfortable. If you're looking for a suitcase made in the USA, Revo is certainly a brand worth considering.
More Carry-On Luggage Made in the USA
You can find quite a few leather or canvas duffle bags made by independent companies that specialize in handcrafted goods; however, if you want a duffel bag or soft-side suitcase made by American luggage brands, then these bags are perfect.
6. Tom Bihn Tri-Star (Most Versatile)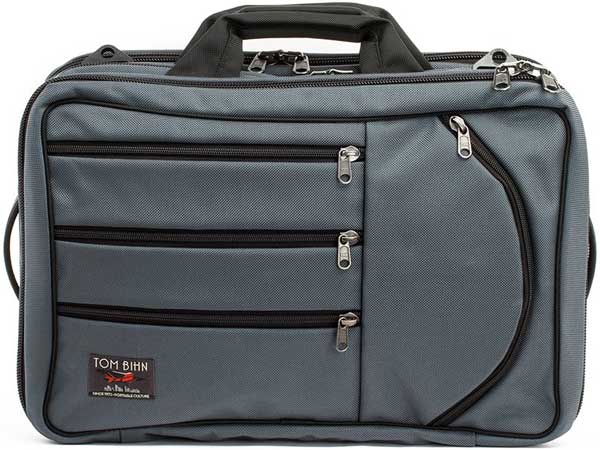 | | |
| --- | --- |
| Estimated Price | $340 |
| Materials Used | US high tenacity 1050 denier ballistic nylon |
| Size | 18.9″ (w) x 13″ (h) x 8.1″ (d) |
| Storage Features | Straps and expansion pieces |
| Origin | Seattle, Washington, USA |
Tom Bihn's Origin and Manufacturing Locations
A list of well-known American-made luggage brands is incomplete without Tom Bihn. Founded over 50 years ago, the brand has earned a reputation for making tough, durable, and eye-catching gear that'll last you decades.
When I read up about the folks working at Tim Bihn, I saw one big family who loves making bags and has fun while at it! Anyone who works there, whether in designing, manufacturing, shipping, or customer service, collaborates and operates out of the same location- a 16000 square foot facility in Seattle, USA.
What We Like and Don't Like About Tom Bihn Tri-Star Bags
I found Tri-Star to be a three-in-one travel solution for my clothes, essentials, and laptop. Designed keeping in mind carry-on dimensions, Tri-Star comes with two equally-sized outer compartments for clothes and essentials and a padded slot in the middle for your laptop. Each compartment has two O-rings and tie-down straps to securely hold the contents and keep them from mixing into each other.
The zippers in the main compartments are water resilient #10 YKK Aquaguard coil zippers, while the ones on the pockets are #8 of the same model. The bag itself has been made from superior tenacity 1050-D ballistic nylon and sustainable, chemical-free 200-D nylon ripstop fabric lining.
You can carry Tri-Star using its two easy-to-hold PORON foam padded handles or for even more comfort, opt for their Absolute Shoulder Straps at a small upcharge.
While most bags crumple down when empty, Tri-Star has been built to stand and hold its shape even when there's nothing inside. It is one good-looking bag! And I recommend it for anyone who wants to pack in clothes, shoes, and a laptop all into one bag while on work travels or short weekend trips. Besides laptops, it's great for storing and protecting other valuable carry-on items like iPad, kindles, or such.
7. Flowfold Nomad 24L Packable Duffle Bag (Vegan)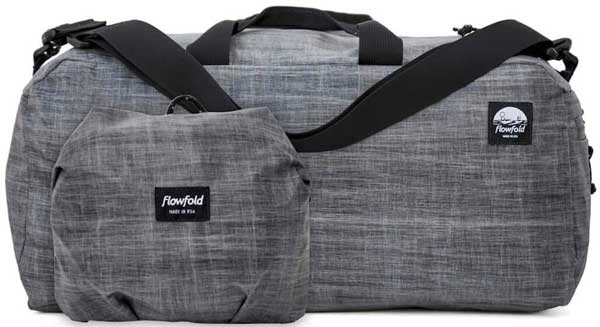 | | |
| --- | --- |
| Estimated Price | $80 |
| Materials Used | X-Pac Fabric, EcoPak Fabric, or Lite Skin Composite Fabric |
| Size | 18″ x 9″ x 9″ |
| Storage Features | Outer pocket 9″ x 9″ |
| Origin | Maine, USA |
Flowfold's Origin and Manufacturing Locations
Founded by Charles Friedman in 2010, the first product Flowfold made was a hand-sewn bifold wallet made from recycled sailcloth. Delighted with people's response to the purse, Friedman started experimenting with designs and fabrics to expand his lightweight and durable product range.
Soon the company's catalog grew to include bags, totes, backpacks, pouches, and even protective face shields during the pandemic. What has worked in Flowfold's favor are the three principles that are pretty much non-negotiable for them- sustainability, quality, and making sure every single item they produce is made in the USA.
What We Like and Don't Like About Flowfold Nomad 24L Packable Duffle Bags
Built in Maine, this bag boasts superior American craftsmanship combined with state-of-the-art materials. The Nomad's signature sailcloth fabric and YKK zipper construction will protect your belongings from water or harsh weather. The fabric used here is one of the most flexible, long-lasting outdoor-friendly materials out there.
What's even more impressive is this lightweight bag's high strength-to-weight ratio. So no matter how much you pack into this, you won't have to worry about rips and tears.
This ultra-light duffle bag with adjustable shoulder straps is easy to carry around. And once you've unpacked, its clever design lets you fold the bag into itself, inside its own side pocket.
With its 24-liter capacity and TSA-approved carry-on dimensions, the Nomad duffle bag is perfect for weekend getaways and staycations. It is very versatile and can take on gym bag duties when you're not traveling. Flowfold sells this bag in two classic colors- Heather Gray, Jet Black, and a limited Recycled Olive version.
You can see more of their bags and luggage on their website here.
8. Bags USA Travel Bag (Best Value Carry-On)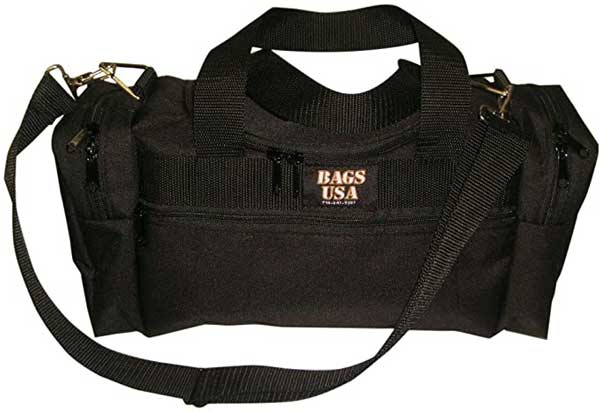 | | |
| --- | --- |
| Estimated Price | $30 to $40 |
| Materials Used | Canvas |
| Size | 17″width x 8″Height x 7″depth |
| Storage Features | 1 outside pocket |
| Origin | Huntington Beach, California, USA |
Bags USA's Origin and Manufacturing Locations
The name says it all, BAGS USA MFG offers a wide range of dependable bags proudly made in the USA. Based out of Huntington Beach, California, the company has been in the manufacturing game since 1985 and has worked with various businesses and organizations. Besides selling to individual customers, BAGS USA's list of clients includes sports teams, disaster relief, and medical companies.
What We Like and Don't Like About Bags USA Travel Bags
Here's a bag that can best be described as a no-frills option designed to carry out the primary task of storing your belongings. It's made from durable nylon and has a main compartment with two more large zipper pockets on each side. The big U-shaped opening makes it a breeze to pack and unpack your things.
You also get a front pocket that's a nice and accessible place to store anything you might need to take out frequently, like your cell phone, keys, or wallet. To carry the bag around, you'll be using the adjustable shoulder strap that can also be removed should you feel the need to do so.
The space in the bag is roomy enough for overnight work trips, gym, or last-minute weekend getaways. All in all, a strong, lightweight, packable profile with a wallet-friendly price to boot makes this duffle bag an excellent option to have around in the house in addition to a primary luggage bag.
9. Red Oxx Big Oxx Expedition Series (Most Ergonomic)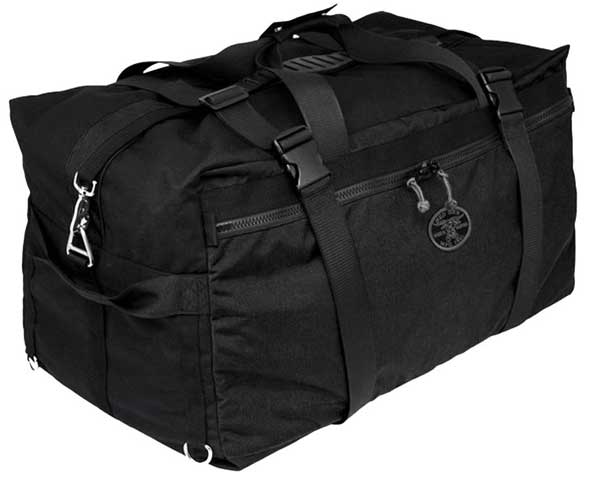 | | |
| --- | --- |
| Estimated Price | $325 |
| Materials Used | Dupont certified CORDURA brand nylon |
| Size | 30″L x 16″W x 16″H |
| Storage Features | two exterior flat pockets, no internal pockets |
| Origin | Montana, USA |
Red Oxx's Origin and Manufacturing Locations
Red Oxx Manufacturing deserves every bit of respect and success it gets. Not only because it makes top-quality travel bags but also because it is a second-generation Veteran owned company. It was launched in 1986 in Montana by Jim Markel Sr., a retired Green Beret Captain.
Over the years, Red Oxx's product portfolio has steadily expanded to include travel bags, accessories, and sporting gear. People admire Red Oxx for its premium products and its steadfast commitment to American manufacturing.
What We Like and Don't Like About the Red Oxx Big Oxx Expedition Series
Made from 1000 weighted urethane-coated CORDURA nylon with a thick ballistic nylon skid plate, the Big Oxx will keep the weather out and your clothes intact while you're in exploration mode. It's equipped with self-locking #10 YKK VISLON zippers protected with a storm flap over them.
In terms of space, this super-sized bag, with its huge main compartment and two zippered side pockets, could comfortably fit all my winter favorites with some room left! And once I was done packing, the compression straps made my fully packed bag more compact and portable while holding all the contents securely in place.
It's easy to see the team at Red Oxx has poured in a lot of thought and effort into getting the ergonomics right. This bag comes with so many different ways to carry it- by using the slip-proof adjustable shoulder strap, which can be attached or removed using a 360-degree rotating nickel-plated claw. You could also transport it using the top or side handles, grab loops, or padded retractable back straps.
The Big Oxx weighs 125.6 liters of capacity and is big enough to pack a month's worth of clothes and essentials. Everything from the use of durable construction materials to double cross-seam stitching and a generous array of straps and handles make this bag a dependable companion for your outdoor adventures.
10. Lifetime Leather Co (Great Budget Leather Bag)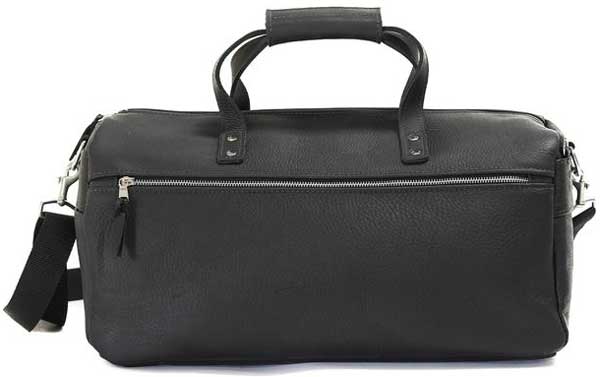 | | |
| --- | --- |
| Estimated Price | $300 |
| Materials Used | Authentic American Felt & Full Grain Leather |
| Size | 18 L x 12 W x 11 H inches |
| Storage Features | Side pocket + zippered front pocket |
| Origin | Arizona, USA |
Lifetime Leather Co's Origin and Manufacturing Locations
At a time when so many American companies are shifting their manufacturing offshore, it is heartening to see some small, family-owned businesses that are still adamant about creating and keeping the jobs here. Lifetime Leather Co. is one such brand.
Started in 2011 by Ty Bowman, the company specializes in handcrafted American leather products that'll last you a lifetime. In their catalog, you'll find a range of wallets, luggage bags, totes, and other leather accessories. Each is designed, cut, and sewn proudly at Lifetime Leather Co.'s Arizona workshop.
What We Like and Don't Like About Lifetime Leather Co Bags
Lifetime Leather Co. has spent over ten years perfecting this duffle bag, and it shows! A striking authentic American full-grain leather exterior backed by a functional design makes this bag the best travel companion anyone could ask for. It is durably built with a stable bottom made strong by five stainless steel studded feet.
With this bag, organizing your belongings is incredibly easy, thanks to multiple pockets and zipper closure. The lining inside the bag is made from sturdy, easy-to-clean nylon and comes with extra pockets for storage. Once you've packed the bag up, all you need to do is carry it using a comfortable crossbody strap or two solid handles on the top.
Each of Lifetime Leather Co.'s bags comes with a lifetime repair and replacement guarantee. Simply put, when you buy this duffle bag, you can rest assured it's yours for life.
Get this bag if you've been dreaming about owning a premium-grade leather luggage bag without breaking the bank. Once you've made up your might, you can pick any of its four gorgeous layouts, depending on your taste.
11. Tough Traveler (Family Favorite)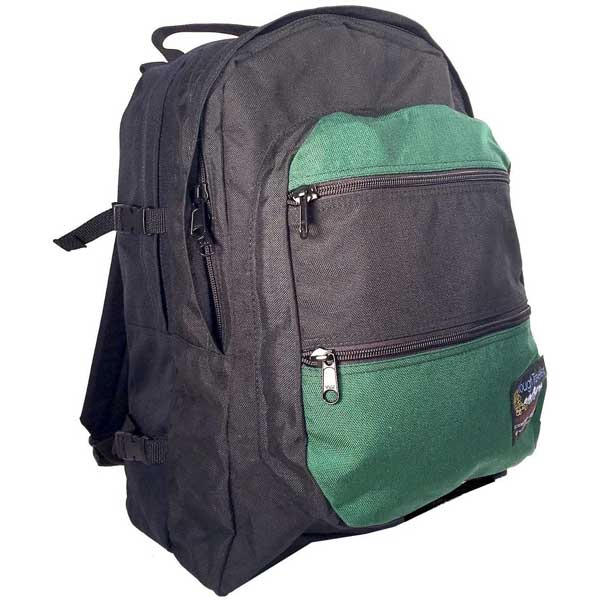 | | |
| --- | --- |
| Estimated Price | $230 |
| Materials Used | 1000 denier Cordura |
| Size | 12.5 x 8 x 17 inches |
| Storage Features | Two main compartments, optional water bottle holders |
| Origin | Schenectady, NY, USA |
Tough Traveler's Origin and Manufacturing Locations
The next brand comes from an old industrial corridor in Upstate New York. For the last five decades, Tough Traveler has been making different kinds of bags and packs one might need in their day-to-day life. Their product portfolio includes everything from luggage bags to guitar cases to dog carriers.
What makes Tough Traveler stand out from other similar brands in the market is its respect for U.S. wage laws and environmental laws. Every item they make is sustainably designed and ethically made by talented artisans in the USA.
What We Like and Don't Like About Tough Traveler Bags
It might sound a bit odd, but in this digital age, many of us cannot afford the luxury of leaving behind our laptops even while out holidaying with friends and family. And this bag is built specifically for your laptop and precious cargo! Tough Traveler's TOUCOM is made from 1000-Denier Cordura, known for being durable, moisture-resistant, and easy to clean.
Boasting a classic, time-tested laptop bag design, TOUCOM has two main compartments and three smaller extra pockets for additional items. While the front compartment can store anything, it's the rear compartment where the laptop goes. It is foam-padded from the front, back, and bottom to protect your laptop and cushion it against any bumps. Plus, an elastic strap inside the rear compartment will hold the laptop in its place.
After you're all packed up, secure your belongings using the quick-release buckle-on cinch straps, two on each side of the bag. To carry it, place the extra-wide, thick-padded straps on your shoulders, and you're good to go!
Over the years, Tough Traveler has become a popular brand among families, travelers, first responders, and professionals for being budget-friendly and long-lasting.
The TOUCOM bag is ideal for those on business trips or social media savvy folks who like to capture, edit and share updates during their travels frequently. If you are looking for a backpack to travel with, also check out our guide on backpacks made in the USA.
12. Frank Clegg Python Travel Duffle Bag (Most Unique)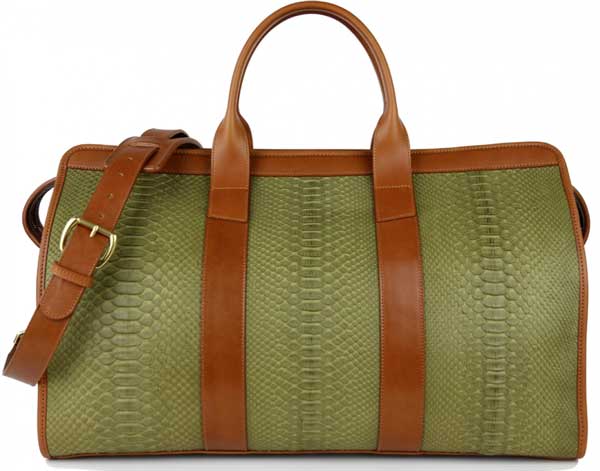 | | |
| --- | --- |
| Estimated Price | $3000 |
| Materials Used | Python Leather |
| Size | 20 x 12 x 10 inches |
| Storage Features | Interior Zipper Pocket |
| Origin | Fall River, Massachusetts, USA |
Frank Clegg's Origin and Manufacturing Locations
Since 1970, this luxury brand has been creating distinctive, expertly handcrafted, American-made leather bags that you'll be proud to own and carry. Everything Frank Clegg makes, be it their totes, briefcases, duffles, backpacks, wallets, or accessories, is a fine example of durability, sustainability, and top-shelf quality. The brand also makes "one of a kind" limited edition bags, each with its unique character. Once sold out, these pieces are never made again.
What We Like and Don't Like About Frank Clegg Python Travel Duffle Bags
Frank Clegg Signature Travel Duffle has been handcrafted in Massachusetts using durable premium grain leather with a great lining. The soft vegetable-tanned leather is shrunken to give it a unique texture.
Minimalist and understated in looks, the main compartment in the bag is roomy enough to accommodate everything you might need for a short trip. Plus, an interior zipper pocket comes in handy to store small personal items.
The bag comes with rolled handles and an adjustable strap with a shoulder pad to make hauling it a breeze. Solid brass hardware and brass zippers mean that you won't have to worry about anything snapping or breaking.
When style meets functionality, you get Frank Clegg's Signature Travel Duffle. It is undoubtedly the most expensive piece on the list but for a good reason. Overall, the company simply offers high-quality luggage made in the USA. When you buy a Frank Clegg, you know the bag will only get better with the wear and can be passed down generations.
This elegant duffle is available in two classic shades of Chocolate and Black. You can also personalize it with up three-letter monogram for a small additional charge.
13. Jon Hart Burleson Bag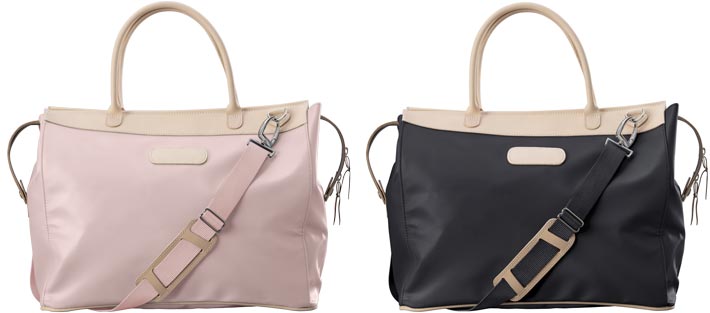 | | |
| --- | --- |
| Estimated Price | $370 |
| Materials Used | Coated Canvas with Natural Leather Trim |
| Size | 15h × 19w × 11d in |
| Storage Features | Main compartment, one interior pocket, one external rear pocket |
| Origin | San Antonio, Texas, USA |
Jon Hart's Origin and Manufacturing Locations
Last on this list is a Texas-based brand recognized for its high-end travel bags and accessories. For 45 years, Jon Hart has been producing and selling stunning bags handcrafted from start to finish at their San Antonio facility.
Be it backpacks, duffles, overnights, computer cases, or handbags, premium quality canvas and leather remain Jon Hart's material of choice. The brand's universally appealing collections are brimming with colorful, tasteful designs and can be personalized to your liking.
What We Like and Don't Like About Jon Hart Burleson Bags
The Burleson is a sturdily built bag packed with clever details and looks to match. I mentioned how this brand has a soft corner for canvas and leather. So like many other Jon Hart bags, the Burleson is a coated canvas duffle anchored by a natural trimmed leather base with silver feet.
There's plenty of storage space in the main compartment. And for the knick-knacks and other smaller items, you can rely on the zippered pockets- one inside and the other out in the rear.
This bag is best suited for overnight or weekend trips in terms of capacity and functionality. The Burleson is also a great pick for those who want a bag that stands out.
You can add your personality to this bag by having it custom-made in any of the 19 different colors that the brand offers. Classic black, brown, grey, or something more uncommon like mint, lilac, rose, or a striking Leopard print, take your pick and make it yours!
Factors We Considered
As we compiled this list of American-made luggage, suitcases, and travel duffle bags, we took into consideration a few of the things you might also be considering when shopping for your next trip.
Size:
While the FAA regulates child safety seats, airlines determine carry-on sizes. Even though some of the items on our list say they're FAA/TSA-approved, you should check the policies of the individual airlines before purchasing. The majority of airlines allow you to take one carry-on and one personal item, such as a purse or laptop bag.
Keep in mind that bin sizes differ between planes, and older planes and smaller commuter planes may not have as much storage space as newer or larger planes. For these flights, you may be allowed to keep one personal item with you while your carry-on is tagged and placed in the cargo bin.
If you are traveling outside the US, keep in mind that non-domestic airlines often have smaller carry-on luggage dimensions.
Weight:
There are a few U.S. airlines that allow carry-on bags up to 40 pounds, but many do not specify how heavy they can be. Keep in mind that airlines often have smaller weight limits for carry-ons when traveling outside of the U.S., and they enforce these restrictions.
It might help to transfer excess weight to another suitcase, but you'll probably have to pay for overweight checked items, too.
If you want to avoid additional baggage fees, opt for a carry-on made from lightweight, durable materials, like ballistic nylon or high-density polyester. In general, lightweight carry-ons weigh less than 10 pounds, though the lightest models weigh as little as three pounds. You can choose between backpacks and hard shell exteriors for lightweight carry-on bags.
Hard Shell or Soft Shell:
High-tech fabrics make carry-ons more resistant to wear and tear than ever. In addition, hardshell luggage has become lighter and more resistant to cracking thanks to materials like polycarbonate. For last-minute items and electronics, hardshell designs even feature easy-zip front pockets. Carry-ons made of hard shells, however, have less flexibility when stowed in an aircraft. This factor is a matter of preference and depends on what's in your bag too.
Maneuverability:
Keeping your bag from tipping over while making turns and navigating through crowds is easy with 360-degree spinner wheels. When boarding or exiting an airplane, travelers can turn their spinner carry-on or suitcase sideways for easy access to narrow aisles.
The wheels of these rollers protrude further than traditional rollers, so if handled incorrectly, they will break. Retracted wheels are more durable in traditional roller bags.
Carry-ons have other maneuverability options besides wheels. There are luggage companies that also offer ergonomic handles with either one- or two-bar construction. Handles on carry-ons can also be rotated to reduce wrist and hand strain.
Zipper Quality:
Having a broken zipper is extremely inconvenient when you're far from your destination. Choose metal or plastic zipper chains instead of coil zippers. Many bags are also equipped with self-repairing zippers, so travelers can move the zipper pull over a section where the teeth have separated to reseal.
If you are buying a waterproof carry-on in a hard shell or soft shell, make sure the zipper isn't going to pose a potential leak problem.
Warranty:
Be sure to read the fine print on the warranty before investing in luggage. Most lifetime warranties only cover manufacturing defects. Determine whether additional damages are covered by the warranty. Some luggage companies will charge you an additional fee for a lifetime warranty, even if your luggage is damaged by baggage handlers. Some luggage companies will send you a temporary replacement while they repair certain lines.
Wrap Up:
That does it for this article; if you know of any great luggage or suitcases made in the USA that we missed, please let us know in the comments below. We're always looking to add recently released products to our guides to make them as useful as possible.
Hi, my name is Kevin and I'm from Pittsburgh, Pennsylvania. Choosing products made in America is important to me because it supports local economies, creates jobs, helps the environment, and ensures ethical labor practices. I also find that American made products are usually of higher quality so although they're a little more expensive, you save money in the long run. Before starting this website I was in the USMC infantry and nowadays I work on this website as a hobby.