A lunch box is an inexpensive and handy tool to keep food fresh and preserved on the go. Many lunch boxes are cheaply made overseas, but thankfully there are still many great USA-made lunch boxes and bags.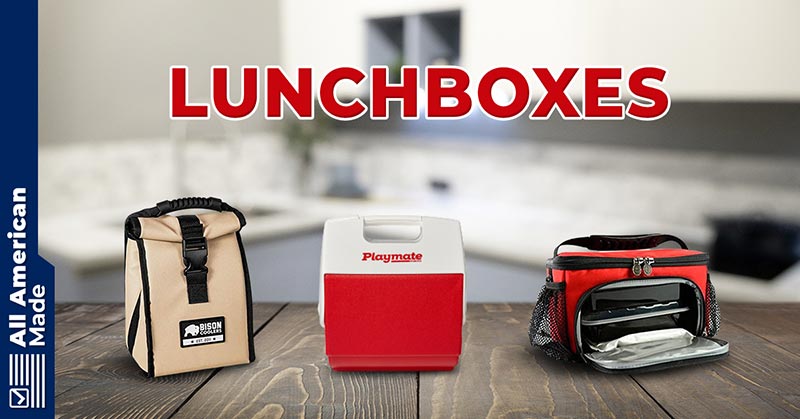 We've made sure that each lunch box on this list is not just one of the best in the market and is proudly made in America! We have many different styles of lunch boxes, and they vary in price, so simply scroll through the list and pick out the perfect lunch box for your needs!
List of American-Made Lunch Boxes and Bags
Igloo Playmate Pal Cooler (Great for Outdoor Meals)

| | |
| --- | --- |
| Materials Used | Polyethene Exterior and Polypropylene Interior |
| Dimensions | 11.75" L x 8.25" W x 12" H |
| Colors Available | Red and Blue |
| Origin | Katy, Texas, USA |
Igloo's Origin and Manufacturing Locations
Igloo is a great example of a true American success story. What started as a small metalworking shop way back in 1947 is now one of the most sought-after cooler-maker in the world! Today, it employs 1200 employees and offers over 500 products ranging from coolers to ice chests to drinkware. Barring a few items, almost all of their hard coolers are manufactured at their facility in Katy, Texas, USA. The company has a great reputation for treating its workers well, and I like the ethos of the company.
What We Like and Don't Like About Igloo Playmate Pal Coolers
This is a cooler I have a lot of experience with as I've owned and used Igloo coolers for years. Growing up, my family always took Igloo coolers on camping trips and such, so I'm very familiar with them. I also used to work on a farm, and Igloo coolers just like the one we'll be discussing here were what most of the farmers brought to work due to their versatility and inexpensive price point. The Playmate Pal Cooler is a compact twist on the original and is perfect for carrying lunches straight from the kitchen to where you work.
These coolers are the perfect size to take to work and keep your lunch fresh and secure.
The 7-Quart cooler is one of their smaller-sized, hard-sided coolers that is designed for a single person. I have a 7-quart cooler, and it's large enough to hold a couple of sandwiches, fruit, chips, multiple drinks, and an ice pack.  The innovative and trademarked tent-top construction and molded-in handle make it an ultra-portable lunch companion. What's more, the cleverly designed swivel lid opens wide open at the push of the button, revealing all the contents inside for you to choose from.
Since these coolers are so durable and secure, they're also great for construction sites and camping trips.
Who We Recommend it for:
Igloo Playmate Pal would make a brilliant pick for some who spend most of their time working outdoors. It neatly fits in a nice, big lunch and a few beers to share with your co-workers, not to mention an ice pack to keep it all cool.
ISOMINI 2 Meal Insulated Lunch Bag (Great for Meal Prep)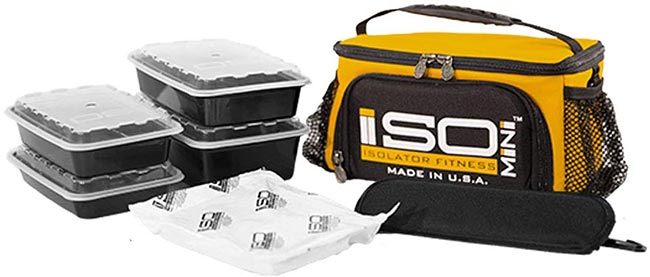 | | |
| --- | --- |
| Materials Used | Polyester |
| Dimensions | 9.5″ L x 5.75″ W x 5.75″ D |
| Colors Available | Black, Blackout, Red/Black Accent, Gold/Black Accent, Marine Woodland, and 6 others |
| Origin | Reading, Pennsylvania, USA |
ISOMINI's Origin and Manufacturing Locations
Isolator Fitness was born with the aim to promote health and fitness by inculcating a habit of meal prepping. Their best-selling ISOBAG, a food portioning insulated bag, was a step in that direction.
The brand listens to its customers and adapts accordingly, introducing new products and upgrades every now and then. And this has majorly contributed to their rise, besides the fact that everything they produce is manufactured in the USA.
What We Like and Don't Like About ISOMINI 2 Meal Insulated Lunch Bags
Food portion control, meal prepping, and doubling up as a drinks cooler, what can this lunch bag not do? ISOMINI meal bag is hand-stitched with premium-grade insulated material, in a size that can accommodate up to 2 meals. When you open up the bag using top-notch YKK zippers, you'll notice that it has not one but two fully insulated pockets. There's one in front, another on top, and two additional mesh side pockets to store some knick-knacks.
If the price tag feels a tad steep, know that, along with the bag, ISOMINI also includes BPA- free and stackable and leak-proof containers of multiple sizes. That's not all. You also get a 12oz proprietary ISOBRICK ice pack and an easy-to-adjust, removable shoulder strap.
Who We Recommend it for:
ISOMINI is hands down one of the most versatile lunch bags out there! Thanks to heavy-duty insulation and multiple food containers, this bag is ideal for anyone who wants to stick to a diet. It'll also work nicely for someone who works outdoors or has a long commute to work.
Bison Work Lunch Bag Cooler (Highest Capacity)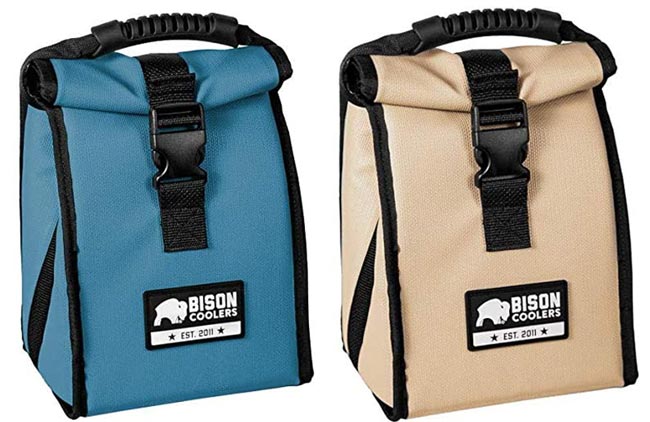 | | |
| --- | --- |
| Materials Used | Marine-grade Polyester and TPU Liner |
| Dimensions | 9" L x 7.5" W x 12" H |
| Layout Options | Quicksand, Gunmetal, and Marlin |
| Origin | Fort Worth, Texas, USA |
Bison's Origin and Manufacturing Locations
Bison ice chests, whether they're rotomolded, soft, or hard cases, are designed and crafted with passion, and all of it is on American soil. The Texas-based company was founded with an aim to create not only top-of-the-shelf yet affordable ice chests but also American jobs. And they've stayed true to their word.
Bison gets their material from across the length and breadth of the country, from West Coast to the East Coast, the Rocky Mountains, and the Pacific Northwest. So, if you're looking for sturdy heavy-duty American-made coolers and lunch bags, Bison is a brand to look out for.
What We Like and Don't Like About Bison Work Lunch Bag Coolers
Here's another cooler that can take on multiple roles, including that of a lunch box! Bison Work 'N Play SoftPak Cooler Bag is roomy enough to fill up to a lavish lunch or six bottles plus 2.5 lbs of ice and keep it for several hours. You also get an extra rear pocket to stash your cutlery, condiments, and napkins.
This bag fares pretty well in the insulation department, all thanks to Marine-grade polyester, something that's often used by reputed boat makers. With lunch bags, my biggest worry is the stains and fades. Bison has taken care of that by employing leak-proof thermoplastic polyurethane inner liner and outer fabric that's resistant to UV, stains, mildew as well as bacteria.
Who We Recommend it for:
Their Work 'N Play lunch bag is reusable, easy to clean, and boasts versatile uses. Add to that a haul handle that makes it super easy to grab and go, and you get a lunch carrier that can be taken to work or anywhere outdoorsy and sunny.
Frio 6 Lunch Bag (Budget Pick)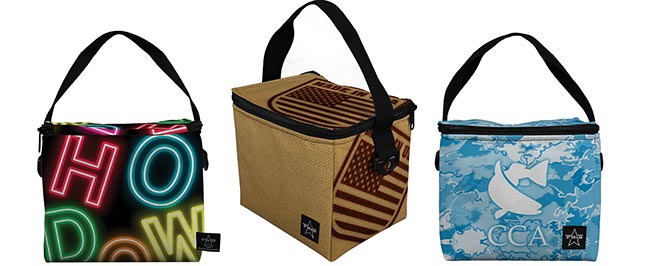 | | |
| --- | --- |
| Materials Used | 600 Denier Polyester and Foam-nylon Lining |
| Dimensions | 6.5" L x 8" W x 7.5" H |
| Layout Options | Camo, Workman, Neon, Blue Camo CCA, or Custom-made |
| Origin | Sealy, Texas, USA |
Frio's Origin and Manufacturing Locations
Based out of Texas, Frio makes a range of products that complement a healthy, active, and outdoor-centric lifestyle. Although coolers are their most popular product, the brand also has a smashing catalog of drinkware, dry boxes, apparel, and accessories.
In terms of color and layout options, Frio exceeds expectations! And on the off chance you don't find the design or size you like, they'll be happy to customize one just for you.
What We Like and Don't Like About Frio 6 Lunch Bags
This American-made lunch bag can hold up to 6 cans of ice or something an equivalent size, say, a big meal and a couple of drinks. To keep the contents cool and fresh, Frio's recipe for insulation includes 600 denier polyester with multi-ply foam and vinyl lining.
There's an 18.5 oz vinyl coating to enhance the aesthetics by giving it a classy matte finish. A lightweight nylon strap sits comfortably on your shoulders and has side rings to hang keys and other such stuff. It also has a quick funnel drain system to remove water and a leak-proof side liner are other thoughtful detail that makes this lunch bag such a steal!
Who We Recommend it for:
With your lunch, snacks, and beverages comfortably packed in this bag, take it to the office, picnic, outdoor parties, road trips, or wherever you like. Overall, it's just a great American-made lunch box, and it's a very affordable price.
LL Bean Boat and Toat (Great Multipurpose Lunchbox)

| | |
| --- | --- |
| Materials Used | 100% Cotton Canvas |
| Dimensions | 10½" H x 9½" W x 5″ D |
| Layout Options | Black, Blue, Dark Green, Red, and Regatta Blue |
| Origin | Brunswick/Lewiston, Maine, USA |
LL Bean's Origin and Manufacturing Locations
A renowned name in the U.S., L.L. Bean has been around for over a century and enjoys a strong market presence in clothing and outdoor recreation equipment. They also make great lunch bags and totes, something we'll talk a bit more about below.
The Maine-based company was founded in 1912 by Leon Leonwood Bean, famously known for inventing Maine hunting shoes or L.L. Bean boots. Since then, the brand has come a long way with over 6000 employees and a global retail footprint. All of their products are designed, crafted, and manufactured in Brunswick and Lewiston in Maine, USA.
What We Like and Don't Like About LL Bean Boat and Toats
Made from 100% cotton canvas, L.L. Bean's patented Boat and Totes are high-performance bags that can carry anything from lunch to groceries to books. They bear the hallmark of L.L. Bean's expert craftsmanship and, unlike some of their other products that are made overseas, are still designed and stitched in Maine.
Although these lunch boxes sport a no-nonsense, rugged look with contrasting handles, I find them beautiful in an understated kind of way. They are sturdily built with thick fabric, a double-layered base and come with long handles that can hold a ton of weight. The makers also took extra care to double-stitch the overlapped seams with nylon for longevity.
Who We Recommend it for:
If you ask me, these bags are perfect for an office goer or a college student looking for something that can fit in a few other knick-knacks besides lunch – say groceries, library books, or an iPad! With a hearty lunch, thermos, and a couple of books, this bag can accommodate it all with room to spare! If you're looking for a quality USA-made lunch bag, this is one of my top recommendations!
Cinda B Quilted Snap Lunch Tote (Most Stylish)

| | |
| --- | --- |
| Materials Used | Quilted poly/nylon |
| Dimensions | 8″ L x 11.5″ W x 4″ H |
| Layout Options | Neptune, Verde Bonita, Ravinia Black, Ravinia Ivory, Rosalita Pink, and 4 others |
| Origin | Fort Wayne, Indiana, USA |
Cinda B's Origin and Manufacturing Locations
Those who watched "Movie and a Makeover," a well-known TBS show back in the early 2000s, would undoubtedly be aware of Cinda Boomershine. As a design expert on the hit TV show, Cinda became a household name and went on to launch a very successful bags brand.
Right from the start, all Cinda wanted to do was to produce American-made bags and contribute to job creation here. Cinda B bags have been winning hearts for their fabulous design and striking color palette, all of them designed and crafted in Fort Wayne, Indiana.
What We Like and Don't Like About Cinda B Quilted Snap Lunch Totes
Sleek, roomy, and so chic that no one would be able to tell it's a lunch bag! Cinda B lunch tote is made from incredibly lightweight and long-lasting quilted poly/nylon fabric and comes with a snap-adjustable handle.
This tote had a zipper closure that keeps leakages at bay and a nifty little pocket inside where you can keep your spoons, forks, and napkins. My favorite part? Cleaning this bag is absolutely fuss-free! It's stain-resistant and machine washable. Use on a warm wash cycle and leave it out to air-dry, simple.
Who We Recommend it for:
Cinda B Snap lunch tote is perfect for anyone who seeks utility without compromising in the looks department. With not one but nine equally fantastic options to choose from, these totes make a great pick for folks who want to carry their lunch in style!
Frost River Reusable Waxed Canvas SB Lunch Bag (Great All-Round Utility)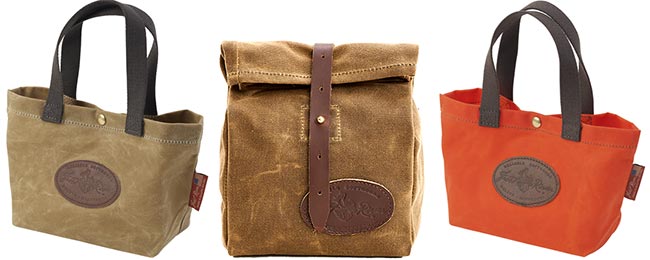 | | |
| --- | --- |
| Materials Used | 18oz Waxed Cotton Canvas |
| Dimensions | 11" H x 8" W x 5" D |
| Layout Options | Field Tan, Hunter Orange, Heritage Black |
| Origin | Duluth, Minnesota, USA |
Frost River's Origin and Manufacturing Locations
Frost River is an excellent example of preserving age-old craftsmanship and showcasing it to the world. So, even though the brand is only 2 decades old, the founders have over 250 years of North Woods' legacy of building superior quality bags to their name.
Canoe packs, made to withstand northern wilderness, are undeniably their most famous creation. They also added a range of products to their catalog, including high-quality and durable lunch bags.
The Frost River SB lunch bag is a premium waxed cotton canvas sourced from Fairfield textiles and sports flap straps made from leather from Red Wing, Minnesota. Once the materials arrive, they are expertly handcrafted in Duluth, Minnesota, to give you a lunch bag that's 100% made in the USA, from start to finish.
What We Like and Don't Like About Frost River SB Lunch Bags
In terms of looks, functionality, and feel, with this stunning lunch bag, you're getting your money's worth. The wax coating on the 18oz strong cotton canvas fabric increases its durability and makes it resistant to water. Besides water, you also won't have to worry about your bag falling prey to juice, salad dressing, and other fills.
This bag comes in three amazing layouts, although the one that really caught my eye was their SB variant which is an upgrade on their original lunch bag. The brown paper bag style rolled-up top is secured with a solid brass post and premium grade slotted leather strap. In short, it's a bag that's been built to last with looks that match its utility.
Who We Recommend it for:
SB lunch bag can easily fit a big lunch leaving ample space to throw in a couple of light snacks and a drink. Anyone from high school kids to adults can make this their everyday lunch gear.
Zip Top Lunchbox (Great for Light Meals)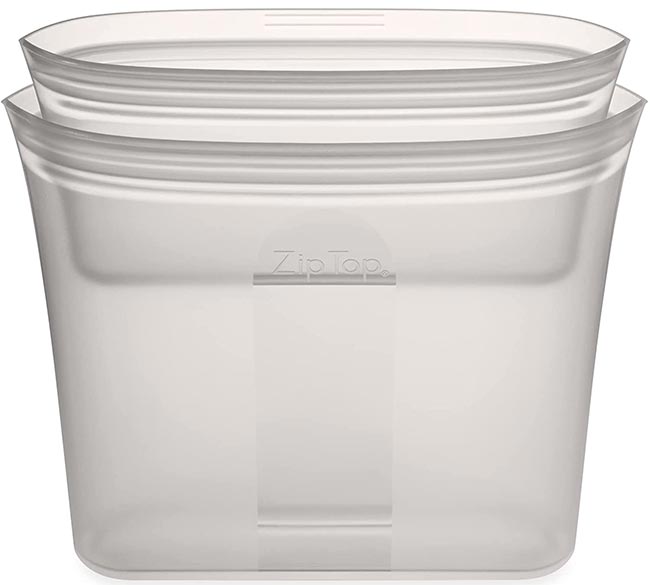 | | |
| --- | --- |
| Materials Used | 100% Platinum Silicone |
| Colors Available | Teal, Frost, Gray, Peach, and Lavender |
| Origin | Austin, Texas, USA |
Zip Top's Origin and Manufacturing Locations
Rebecca Finell, founder and the brains behind Zip Top's unique design, wanted people to stop using single-use plastic. So she gave came up with eco-friendly, BPA-free silicone containers that can be used over and over again. Not only did her line of products take off, but Finell's efforts were widely recognized worldwide for encouraging an eco-conscious lifestyle.
Zip Top containers are made entirely in the USA, with the highest grade of silicone available here. With its imaginative products and heart set in the right place, Zip Top is going places, one planet-friendly container at a time.
What We Like and Don't Like About Zip Top Lunchboxes
Zip Top's imaginative design allows the containers to stay open upright and zip shut when you're done eating. Being made from food-grade platinum silicone means your meal will be free from fillers and other impurities like BPA, led, phthalates or PVC.
These containers are freezer as well as microwave safe, and the open rounded construction is perfect for a thorough clean in the dishwasher. Zip Top claims one of these will spare our planet from more than 5000 disposable bags. Now, this piece of info sure sweetened the deal for me. How about you?
Who We Recommend it for:
This bag set gives you two Zip Tops- one for a snack and the other big enough to fit a large sandwich. I recommend these for school-going kids or those who need to do a bit of meal prepping for their lunch.
Re-Play 5 Piece Feeding Set (Great For Toddlers)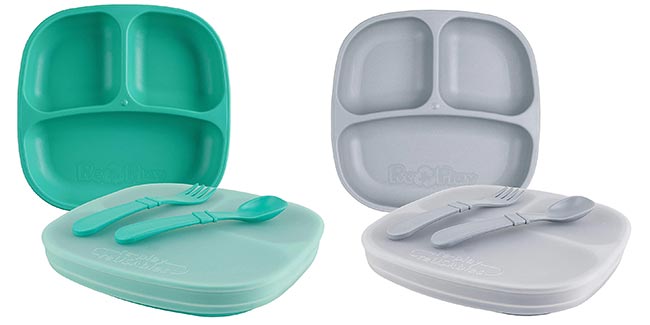 | | |
| --- | --- |
| Materials Used | Recycled HDPE and Recycled Polypropylene |
| Dimensions | 7.375" L x 7.375" W x 1.25" D |
| Colors Available | Aqua, Amethyst, Black, Blush, Bright Pink, and 12 others |
| Origin | Winter Park, Florida, USA |
Re-Play's Origin and Manufacturing Locations
Even back in 1987, the husband-wife duo of Craig and Amy Shumway were already setting an example on how to live eco-friendly with their brand Re-Play. They started off by producing an all-purpose scrubber with a handle made out of recycled milk jugs and, in 2011, added a whole range of dishware for tiny tots. Since then, the brand has grown by leaps and bounds, now selling across the globe an array of affordable, reusable, colorful tableware that's entirely put together in the USA.
What We Like and Don't Like About Re-Play 5 Piece Feeding Sets
Make way for a bright as sunshine lunch set that's safe and convenient for toddlers and little schoolgoers. This lunch kit is made from recycled milk jugs and polypropylene, so you'll never have BPA, PVC, and other such chemicals leeching into your baby's meal.
Moreover, the material used in this one is quite thick, so you can keep using it for a long time. And when you feel it's time to buy a new set, discard it, knowing that it's 100% further recyclable. These plates are stackable and come with a lid to seal the food inside. Color-wise, your child will be spoilt for choice with 17 vibrant shades that'll never fade.
Who We Recommend it for:
This 5-piece lunch set comes with two divided plates and easy-to-grip cutlery with rounded tips. The deep wall design makes it easy for little ones to feed themselves. And finally, the fact that you can seal the contents inside with a silicone storage lid makes this not just great tableware but also an ideal lunch box candidate for toddlers and young kids.
Preserve Sandwich Food Storage Container (Most Eco-friendly)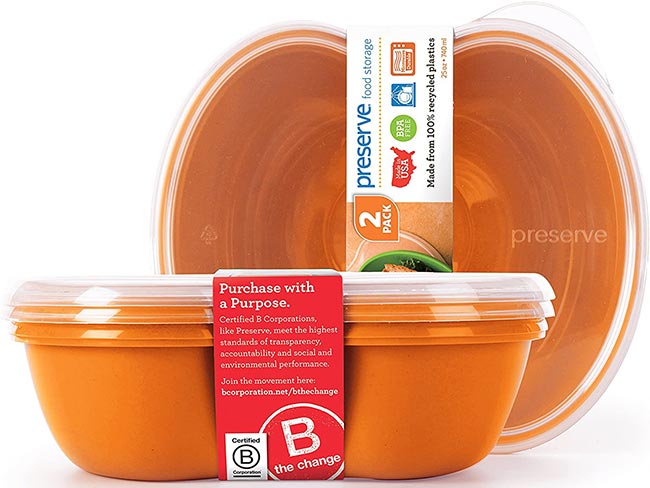 | | |
| --- | --- |
| Materials Used | 100% BPA-free Recycled Plastic |
| Dimensions | 7" L x 6" W x 2.25" D |
| Colors Available | Apple Green, Aqua Blue, Orange, Bright Poppy Red, and Yellow |
| Origin | Waltham, Massachusetts, USA |
Preserve's Origin and Manufacturing Locations
Turning yogurt cups into toothbrushes and take-out boxes into tableware, that's Preserve for you! The eco-friendly company was started in 1996 by Eric Hudson, at a time when people were usually not bothered with using recycled material in manufacturing. He stepped in, swinging into motion an innovative way to create low-impact products made from 100% recycled material. Over time Hudson, together with experts from various fields, developed smarter ways to recycle and designed highly functional to encourage repeat use.
What We Like and Don't Like About Preserve Sandwich Food Storage Containers
Doesn't it feel great when you buy something that's better for the planet, even if it means shelling out a bit more than other not-so-eco-friendly alternatives? But how amazing would it be if you could get one that's kind to the earth as well as your pockets? This lunch box fits the bill!
The lunch box option I've picked out of Preserve's catalog is an American-made 25-ounce container with snap-on lids. Two of these can easily fit sandwiches, snacks, and desserts. Like all Preserve products, these meal containers are made from recycled plastic and are dishwasher safe. They are also convenient to store, courtesy of their stackable design.
Who We Recommend it for:
These boxes don't use a lot of space and can be tucked into bags and purses without much hassle. I recommend these for anyone who wants to pack a light meal, say a combo of sandwich and salad or wraps and desserts, preferably something not too soupy or liquidy.
Factors to Consider While Buying a Lunchbox
In order to zero down on the right lunch box, here are a couple of things to keep in mind when checking their features:
Size: While compact zipper and paper bags are perfect for a light snack or sandwiches, containers with lids work well for a proper meal with 2-3 different dishes. Mini coolers, on the other hand, can pack not just multiple meals but also keep your drinks icy cool. It all depends on who you're packing the lunch for and whether it is a light snack or a proper meal with beverages.
Style: We all know there are many different ways to pack a lunch. It could be in a bento-style box, classic brown paper bag, totes, sandwich-friendly zipper bags, or mini coolers. They also come in attractive designs and colors. Go for one that sits well with your personal style or your child's favorite cartoon if you're buying one for them.
Material: From canvas bags, and quilted totes to eco-friendly recycled plastic and silicone, lunch boxes and bags can be made from many different materials. You only need to make sure to pick something strong enough to withstand everyday use and one that is chemical-free.
Brand: All brands on this page manufacture either most or all of their products in the USA. We've got the likes of well-established American brands like L.L. Bean, and Igloo to up-and-coming ones like Isolator Fitness, Zip Top, and many more. Go through our selection below to decide which lunch box or brand supports your lifestyle.
Final Thoughts:
Everyone deserves to enjoy a delicious, fresh lunch. We hope our list of USA-made lunchboxes helps you find the perfect American lunch bag for you – enjoy your meal!
Hi, my name is Kevin and I'm from Pittsburgh, Pennsylvania. Choosing products made in America is important to me because it supports local economies, creates jobs, helps the environment, and ensures ethical labor practices. I also find that American made products are usually of higher quality so although they're a little more expensive, you save money in the long run. Before starting this website I was in the USMC infantry and nowadays I work on this website as a hobby.