Most experts agree a pillow is an essential piece of the puzzle for a good night's sleep. So, whether you like them soft, firm, or somewhere in between, this list has the perfect pillow just for you, giving you the best night's sleep you've ever had and supporting American workers in the process.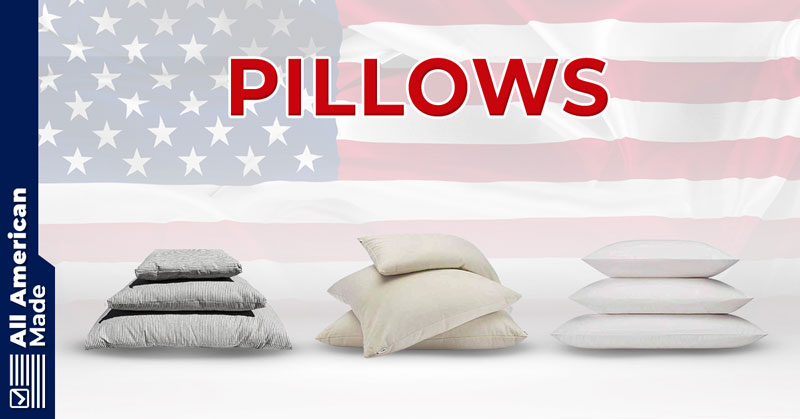 We've included pillows at a wide range of price points, and many of the pillows on this list are also made using only organic materials. Simply scroll through our list and find the perfect pillow for you!
List of American-Made Pillows
My Pillow Classic (Most Popular)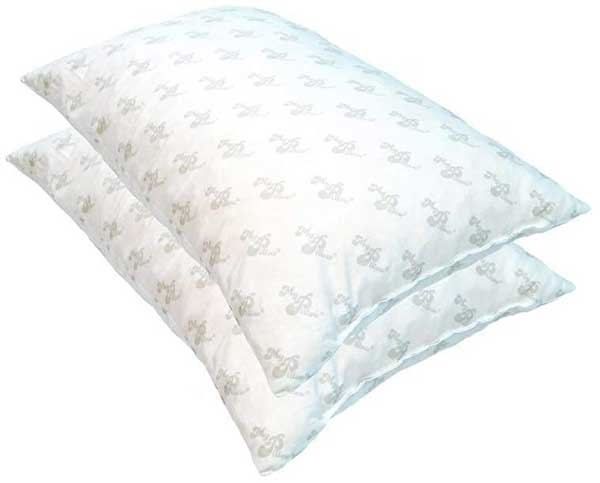 | | |
| --- | --- |
| Year Company Was Founded | 2004 |
| Materials | 100% cotton, shredded polyurethane foam |
| Made in | Chaska, MN |
My Pillow's Origin and Manufacturing Locations
Former bar owner Mike Lindell sold his businesses and mortgaged his home to begin making pillows in 2004. Originally a family affair, Lindell sewed the pillows himself, and family members assisted with the distribution and sales of the product.
After struggling to sell the product through state fairs, mall kiosks, and trade shows, the company launched a successful infomercial in 2011, and the company has since grown from 50 employees to 1,500 and sold over 40 million pillows. Today, most My Pillow products are made at their manufacturing facilities in Minnesota. If you'd like to learn more about My Pillow's manufacturing locations and practices, check out our full article discussing where My Pillows are made here.
What We Like and Don't Like About the My Pillow Classic
My family owns over a dozen My Pillows, and we love them. We find they're extremely comfortable, and they're hard to beat for the price.
We love their ability to remain cool throughout the night, thanks to the interior foam chunks facilitating airflow and dissipating moisture. And the 100% cotton shell is lightweight and soft. The result is that the pillow stays cool, dry, and comfortable regardless of the temperature.
Unlike some of the other pillows on our list, the My Pillow Classic isn't adjustable, but you can purchase different fill levels to get the right amount of support. Being able to choose your fill level is a very unique and cool idea and one of the major reasons people fall in love with My Pillows.
One thing I don't like is that I have noticed the foam chunk filling tends to flatten over time, but the company says you can restore it to its original shape by putting the pillow in the dryer for about ten minutes. I haven't personally tried this because my pillow has only flattened slightly, and I've had it for years. It's really not a big deal to me, but something worth noting.
The My Pillow Classic is perfect for those who are on a budget but don't want to sacrifice a good night's sleep.
Here is a video where the My Pillow founder helps you find the right pillow for your specific needs. Each pillow has a different amount of fill, and depending on how you sleep, certain fill levels will be ideal for you.
Hullo Buckwheat Pillow (Great Organic Option)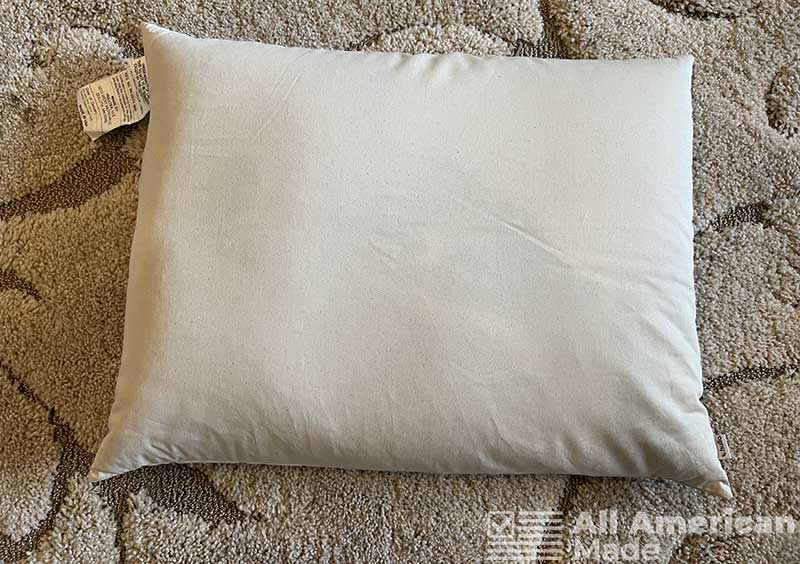 | | |
| --- | --- |
| Year Company Was Founded | 2012 |
| Materials | 100% organic cotton twill & premium buckwheat hulls |
| Made in | Duluth, MN |
Hullo Pillow's Origin and Manufacturing Locations
The Hullo Pillow is manufactured by Hulltex, an American company based in Duluth, MN, specializing in buckwheat hull pillows. The company began when three friends, Jasha, Ryan & Nick, discovered how much better they slept when using buckwheat hull pillows.
The friends tested other brands of buckwheat hull pillows but found them all to be substandard and decided they could do better and set out to make the best buckwheat hull pillow. After experimenting with different sizes and sources of buckwheat hulls, they settled on the formula they believed would provide the most comfort and support at the best price.
What We Like and Don't Like About Hullo Buckwheat Pillows
Buckwheat hull pillows are widespread throughout Asia for being breathable and comfortable while providing the necessary support for your neck and head. We found the Hullo Pillow provided ample support regardless of whether we slept on our backs or sides. We also liked how easy it was to adjust the firmness by adding or removing the buckwheat hull filling.
Another advantage of buckwheat hulls is the pillow remains cool, so if you're one of those people who hates constantly flipping the pillow around to get the 'cool side,' you'll appreciate this as much as we did.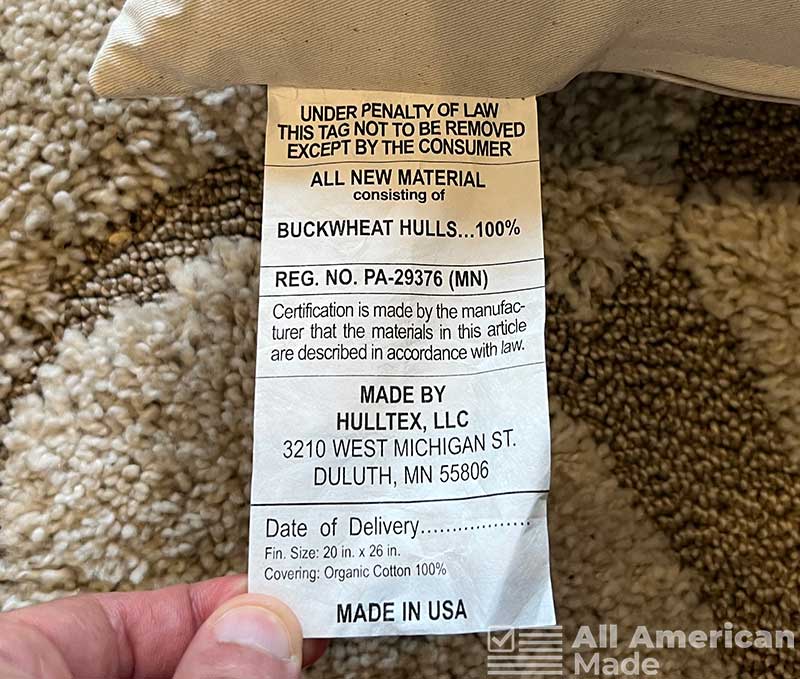 The pillow uses an organic cotton twill cover, which can be removed for easy washing. Our vegan friends liked that the materials used in making the Hullo Pillow are 100% natural and organic. And, when the buckwheat hulls begin to lose their support, simply replace them. This makes the pillow a great value and better for the environment since you can buy one and use it for many years instead of tossing it into a landfill when it loses its shape like other pillows.
The only significant drawback we found is the rustling sound the buckwheat hulls make, which may be distracting for some people who need silence when trying to fall asleep.
The bottom line is that the Hullo Pillow provides comfort, support, and affordable sustainability and delivers on its promises.
If you're vegan or environmentally conscious, this pillow is perfect for you, thanks to its all-natural construction, American-sourced buckwheat hulls, and the ability to replace the stuffing to extend the lifespan of the pillow. This is easily one of the best organic pillows made in the USA.
Rejuvenite American Talalay Latex Pillow


Check Price on Amazon
| | |
| --- | --- |
| Year Company Was Founded | Unspecified |
| Materials | 100% cotton, open-cell latex structure |
| Made in | Shelton, CT |
Rejuvenite's Origin and Manufacturing Locations
Talalay Global began 35 years ago in the basement of a VFW in Connecticut by two friends who lost their jobs due to a factory fire. With support from family, friends, and their community, the two entrepreneurs moved into a 15,000-square-foot facility where they made their first latex pillow.
The company grew over the next 18 years and built a state-of-the-art facility in Shelton, CT, where they produce various Talalay products. For over 35 years, Talalay Global has grown to become the largest producer of Talalay in the world and the only company to produce it in the United States.
What We Like and Don't Like About Rejuvenite American Talalay Latex Pillows
The first thing to strike us about this pillow is the weight. It's perfectly balanced between the weight of a poly-fill pillow and memory foam.
One of the main advantages of latex is its ability to remain cool and dry throughout the night, and this pillow is no exception. We found the open cell structure of the filling to provide maximum airflow, increasing breathability and temperature control.
As with all pillows, they're only as good as the support they give, and this is highly dependent on the user. The Rejuvenite pillow comes in four firmness levels and high and low profile designs to accommodate side and back sleepers.
During testing, we found the pillow to be resistant to flattening and maintained its shape and support throughout.
If we had one complaint about this pillow, it would be the latex odor it has out of the box. While the 100% cotton cover is machine washable, you'll have to give the pillow time to 'breathe' to dissipate the smell. However, once you do that, you won't notice a smell at all.
We also liked the fact that latex is ideal for people who suffer from allergies because it's hypoallergenic. Latex also won't attract pests like bedbugs or dust mites.
The Rejuvenite pillow is perfect for people who want the benefits of latex pillows but don't want to pay the hefty price of some brands.
Digital Decor Gold Hotel Pillow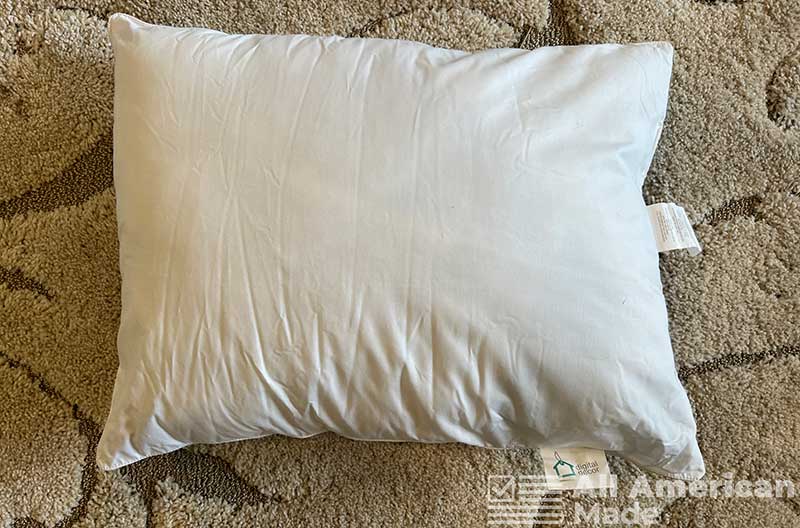 | | |
| --- | --- |
| Year Company Was Founded | 2012 |
| Materials | 100% cotton sleeve, polyester fill |
| Made in | Philadelphia, PA |
Digital Decor's Origin and Manufacturing Locations
Digital Decor started in 2012, selling products online via Amazon and eBay. Today they operate out of Philadelphia selling high-quality bedding products from reputable merchants throughout the United States.
What We Like and Don't Like About Digital Decor Gold Hotel Pillows
When we saw the cost of this pillow, we naturally assumed it was poor quality; however, we were surprised to find the opposite. The pillow shell is made from a 220-thread count 100% cotton fabric, which is much softer than what you find on some of the more expensive pillows on our list.
Because this is a hotel-style pillow, we found the loft to be a little high for people who prefer a lower-profile pillow, and the pillow is on the firm side. Still, the polyester filing gave us adequate support whether sleeping on our backs or sides. This pillow is also available with down fiber filling if you prefer.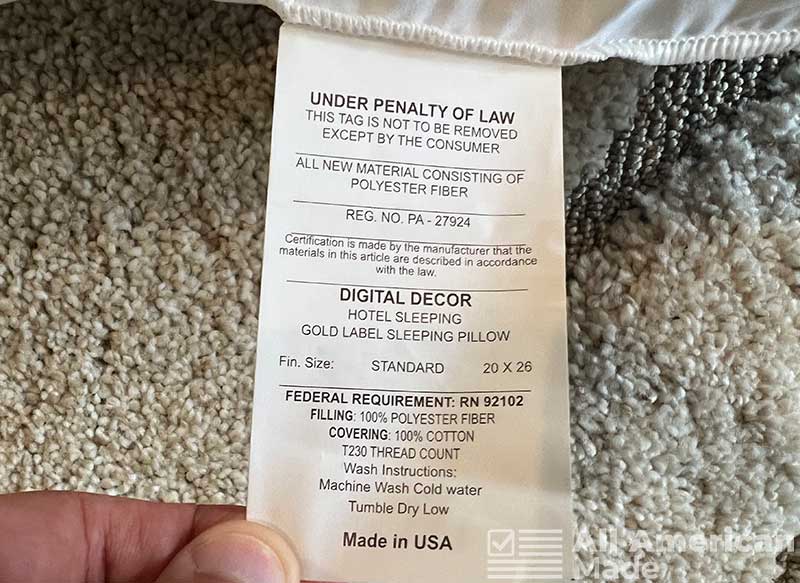 The polyester filling also means the pillow is hypoallergenic, durable, and machine washable.
For people who want a comfortable, hypoallergenic pillow that's easy to care for at the lowest price, this is the one for you. This is one of the most popular pillows made in the USA for good reason, and for the price, it's hard to beat.
Snuggle-Pedic Memory Foam Pillow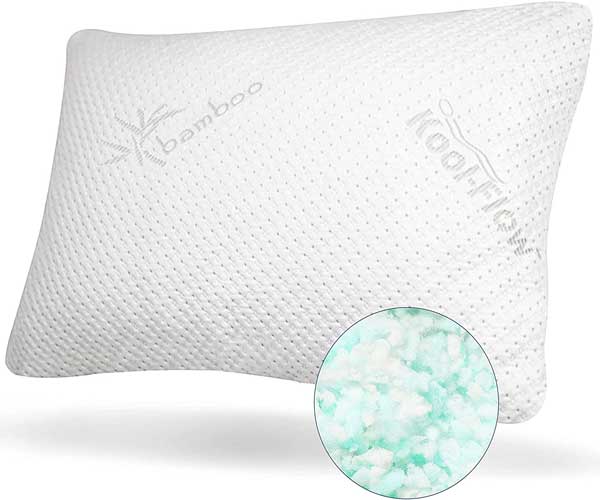 | | |
| --- | --- |
| Year Company Was Founded | Unspecified |
| Materials | Bamboo pillow cover, shredded memory foam |
| Made in | Walpole, MA |
Snuggle-Pedic's Origin and Manufacturing Locations
Snuggle-Pedic was founded by chiropractor Dr. Rick Swartzburg after years of witnessing the kinds of chronic pain many people suffer with. Dr. Swartzburg concluded much of this chronic pain could be relieved during the sleeping hours, provided the person had the proper head, neck, and body support, and the company was born.
Today, Snuggle-Pedic sells numerous sleep products to reduce body stress during sleep, so people don't suffer from aches and pains while awake.
What We Like and Don't Like About Snuggle-Pedic Memory Foam Pillows
The Snuggle-Pedic pillow does an outstanding job adapting to your sleeping position and retaining its shape night after night. Once you find the perfect spot for your head and neck, you'll be able to get to sleep quickly without having to fluff the pillow into the right shape.
This pillow comes in four sizes: kid, standard, queen, and king, and you can adjust the foam material to get the right level of support for your body type. We found this pillow to work well regardless of your sleeping position.
Like the other pillows on our list, this one promises to remain cool throughout the night, and this one is no exception. We found the company's patented Kool-Flow bamboo cover and interlocking foam pieces allow sufficient airflow to circulate through the pillow to keep it cool and dry.
For people with allergies or who are sensitive to chemicals, this pillow features Green Guard Gold Certified bamboo, which is non-toxic and ideal for people with respiratory problems.
One thing we didn't like was the odor coming from the pillow right out of the box, which is common for latex and memory foam. However, this pillow is 100% machine washable, and running it through the wash one time freshened it up nicely.
Authenticity50 Custom Comfort Pillows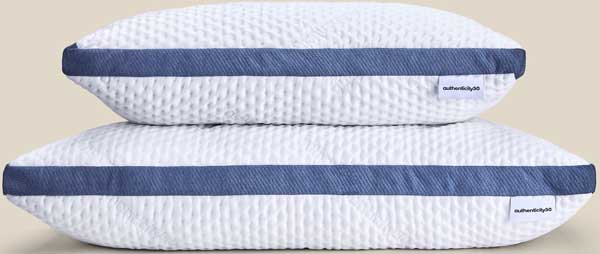 | | |
| --- | --- |
| Year Company Was Founded | 2015 |
| Materials | CertiPUR-US foam/knit fabric |
| Made in | Vancouver, WA |
Authenticity50's Origin and Manufacturing Locations
A husband and wife team, both raised by parents who supported local American businesses, came up with the idea for their comfort pillows when trying to find high-quality American-made products for their home.
Becoming frustrated with the disappearance of the textile industry in the United States, the couple set off to bring luxury bedding product manufacturing and sales back to America.
Today, the company sources materials from all 50 states in what's been dubbed "Seed-to-Stich" and proudly manufactures its bedding products in the USA. EveryCustom Comfort pillow is hand-sewn in California.
What We Like and Don't Like About Authenticity50 Custom Comfort Pillows
One of the most critical aspects of pillow design is its ability to provide proper head and neck support to reduce fatigue and discomfort. These pillows contain memory foam and a soft microfiber blend but still provide ample support throughout the night.
Also, like the Hullo pillow, users can add or remove memory foam to get the perfect level of support based on their body type.
If you've used pillows made with memory foam before, you may have noticed their tendency to overheat, which isn't a problem with the Custom Comfort pillow, thanks to the microfiber blend.
Lastly, the outer shell is machine washable.
People who appreciate the build quality and longevity that come from hand-made products will love this pillow, along with those who want the ability to fully customize their sleeping experience.
Related Article: What Mattresses Are Made in the USA?
Lifekind Organic Spiral Wool Pillow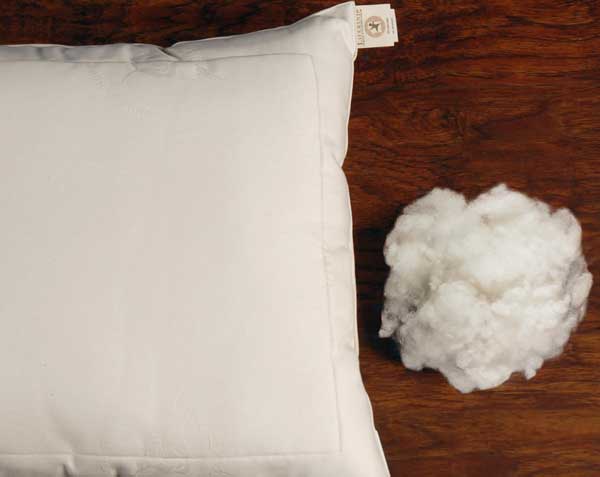 | | |
| --- | --- |
| Year Company Was Founded | 1997 |
| Materials | GOTS certified organic cotton and organic wool |
| Made in | California |
Lifekind's Origin and Manufacturing Locations
Lifekind was founded by Walt Bader, a man who suffered from chemical sensitivity throughout his life. Growing up, he found it difficult to find products that offered high quality and wouldn't trigger allergies or chemical sensitivities.
He founded Lifekind in 1997 as a mail-order company selling organic, naturally safe products geared toward people concerned about the ingredients and makeup of the products they buy.
Today, the company sells a broad range of organic products, including mattresses and bedding, to customers who want to reduce allergies and their exposure to harmful chemicals.
What We Like and Don't Like About Lifekind Organic Spiral Wool Pillows
If you're one of those who prefer a pillow with a flatter profile, this is the one for you. This organic pillow is firm but with a lower profile that doesn't put your head in an unnaturally high position.
The pillow is available in three fill weights, light, medium, and full. Light is ideal for kids and people who prefer sleeping on their stomachs, medium is the best choice for people who sleep on their backs, and full is the one to choose if you sleep on your side.
We liked that you can customize the pillow with either wool or cotton filling. We found the wool to have a more springy feel that's better at keeping you cool throughout the night compared to the cotton.
We also found that the wool filling compresses about one-third during use, while the cotton compresses by half during the same period. So keep in mind, the pillow you buy today isn't going to be the same pillow in a month or so.
Lastly, we loved the fact that these pillows are handmade. The quality of the stitching and manufacturing suggest this is a pillow built to last.
This pillow is perfect for people who suffer from allergies or chemical sensitivities and want something that won't cause these conditions to flare up.
Malpaca Standard Pillow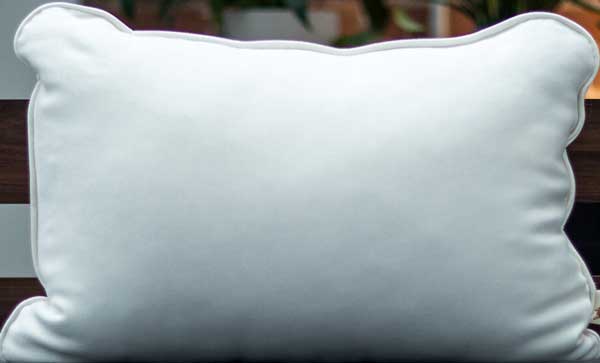 | | |
| --- | --- |
| Year Company Was Founded | 2009 |
| Materials | 100% alpaca fleece |
| Made in | Indianapolis, IN |
Malpaca's Origin and Manufacturing Locations
After working as an interior designer for 25 years and seeing the effects of insecticides and fire retardants on furniture, Mary Anderle wanted to make a pillow that was eco-friendly and naturally hypo-allergenic.
She researched materials and eventually settled on alpaca fleece to create the Malpaca pillow, which is anti-bacterial and naturally resistant to fire and dust mites, and free from toxins.
What We Like and Don't Like About Malpaca Standard Pillows
The first thing we noticed was how soft this pillow was right out of the box. The alpaca fleece is unique compared to the fill material used in the other pillows we tested.
Similar to other pillows on our list, Malpaca pillows don't allow the user to add or remove the filling, so you must choose the right fill during purchasing.
The pillow comes in three fill options, light, medium, and full. The light fill is best for children and people who want a pillow that's flatter and softer. The medium fill is considered the perfect balance between light and full and provides decent head and neck support without being too stiff or heavy. The full is for people who need a firm pillow with maximum support and who like their heads elevated for easier breathing.
Another aspect we liked is the natural resistance to heat and moisture the alpaca fleece provides, and the 100% organic cotton/viscose bamboo cover gives you a pillow that remains soft and cool all night long.
When you get your Malpaca pillow, you may notice that it's thick with more loft than what would typically be comfortable, but remember that the fleece naturally compresses over the first few weeks to conform to your head and neck and will hold that shape for years.
Caring for the Malpaca pillow is simple; simply put it in the sun for a few hours to clean and deodorize it. It's one of the more expensive on our list, but the handcrafting and all-natural materials make it worth the price, in our opinion.
Kelly Green Organic Bed Pillow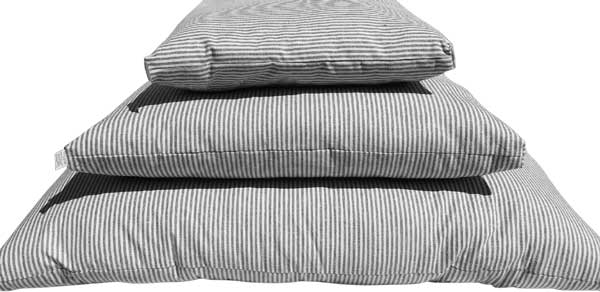 | | |
| --- | --- |
| Year Company Was Founded | 2004 |
| Materials | Hemp/organic cotton, eco wool batting |
| Made in | California |
Kelly Green's Origin and Manufacturing Locations
The Kelly Green Organic company started in 2004 in Ashland, Oregon, with a mission to make better futon mattresses. After experimenting with various fabrics and fillings, they settled on an organic wool textile and Eco wool batting.
The company moved to California, where they produce a full line of mattresses, organic bedding products, and home wellness products. The women-owned company prides itself on its commitment to the environment and sustainability and uses only 100% locally harvested fibers such as cotton and hemp certified GMO-free.
What We Like and Don't Like About Kelly Green Organic Bed Pillows
The first thing you'll notice when you lay your head down on this pillow is how it gently cradles your head and neck, pulling it down into the pillow. It's ultra-soft but still provides plenty of support regardless of whether you sleep on your side or back.
The casing is made from hemp/organic cotton linen and feels cool and soft against your skin. The materials used in this pillow naturally resist heat and moisture, providing a cool, dry sleeping experience.
The pillow comes in seven different configurations, standard, queen, king, body, junior, travel, and Euro. Also, like other pillows on our list, you can add or remove the wool material to customize the pillow and sleeping experience.
Like the Malpaca Pillow, Kelly Green's organic materials mean you don't have to worry about dust mites or bed bugs because they don't inhabit the company's Eco-Wool.
Although the wool isn't washable, you can remove the casing and toss it in the washing machine; however, the company recommends using two pillowcases or a pillow protector and pillowcase to keep it clean.
The bottom line is that you can't beat the quality and comfort you get with this pillow for the price. It offers customizable support in an all-natural package that's hypo-allergenic and chemical-free.
This is the perfect pillow for people who are conscious of the environment and want to support American companies that share their values of sustainable farming and sourcing.
Pure Living Space Natural Latex & Organic Cotton Pillow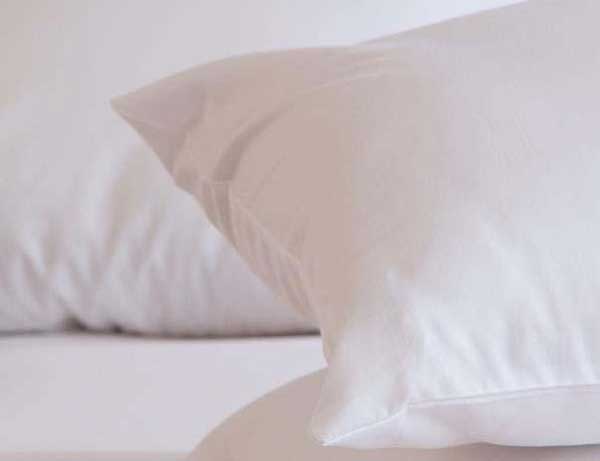 | | |
| --- | --- |
| Year Company Was Founded | Unspecified |
| Materials | 100% natural shredded latex & organic cotton |
| Made in | USA |
Pure Living Space's Origin and Manufacturing Locations
What if I told you this company's origin story contains a sadistic cat? Well, it's true. Several years ago, Carol Trimmer's rescue cat ambushed her while she was going down the stairs, resulting in Carol receiving a concussion that put her down for a few months.
During her recovery period, she went about cleaning her home only to discover the numerous toxins contained in most of the everyday household products she used.
She and her husband Kelly began a rigorous research campaign and compiled information to find products that were safe and free from these harmful toxins and chemicals, and found small, US-based companies that adhered to higher standards for their products than the large conglomerates.
Naturally, friends and neighbors became interested in the couple's desire for a cleaner, healthier home and constantly asked for advice and information on which products they should buy. Once Carol was fully recovered, she and her husband created Pure Living Space to help people find safe, ethical home products made in the United States.
What We Like and Don't Like About Pure Living Space Organic Cotton Pillows
At first, we were skeptical about latex pillows because one doesn't associate latex with comfort or a good night's sleep. However, we were surprised by what this pillow has to offer.
One of the key advantages of latex pillows is how easily they conform to your shape, making them ideal for various sleepers, and it's the first thing we noticed about this model.
The standout feature of this pillow is how flexible the foam latex is, which means it conforms to the shape of your head better than any other material we have tried. This latex also retains its shape better than its competitors that use foam, wool, or other materials.
This pillow is made from 100% natural latex, which is superior to synthetic latex because it's more durable, and it doesn't have the latex odor you get with synthetics.
Another advantage we liked about this pillow is how quiet it is. Yes, some pillows are noisy, which can be distracting when you're trying to fall asleep. This pillow is soft and quiet, so you can move your head without hearing the annoying sound of the filling scrunching around inside.
Because the latex conforms better to the shape of your head and neck, we noticed that some experienced a significant reduction in snoring because the pillow keeps the neck in the perfect position to maintain clear airways.
Also, unlike some pillows on our list that compress slightly over time, this latex pillow retains its shape, meaning it will be the same pillow a year from now as it is today.
Lastly, this pillow also maintains a cool temperature throughout the night, even during room temperature fluctuations, by providing maximum breathability.
Although this pillow is on the pricier side, it's a worthy investment for consistently good sleep night after night.
This pillow is ideal for people who don't mind paying a little more for a product that delivers luxury and longevity and doesn't want to bother experimenting with different filling levels to get the perfect level of comfort and support. This is one of the highest quality American-made pillows out there and, in my opinion, worth the price tag.
Factors We Considered: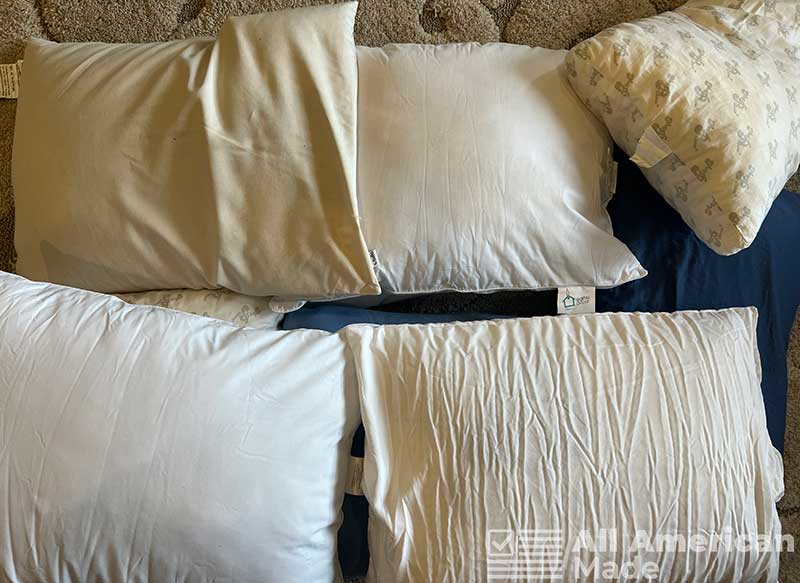 The goal of this article was to find the pillows made in the United States that will give you the best night's sleep for your money.
We strive to find companies that not only manufacture their products in America but also source their supplies from America as well. All of the pillows we reviewed are 100% American-made and American-sourced.
We also wanted to provide a range of comfortable, American-made pillows for every budget and made from various materials to suit individual tastes.
One of the primary aspects of pillow design is how much support it provides and how well it maintains that support throughout the night.
Pillow fillings vary in how much support they provide. The pillows we tested all provide better than average head and neck support when sleeping and maintain a c throughout the night to keep you cool and comfortable. On our list are pillows that you can customize by adding or removing filling and pillows that naturally conform better to the shape of your head and neck.
We also considered pillow temperature and moisture. Everyone has probably experienced a pillow that gets hot and sweaty during the night and knows how gross and uncomfortable that can be.
All of the pillows on our list use materials that whisk away moisture to remain dry and are constructed from materials that maintain cool temperatures regardless of how hot or cold it is in your room.
Wrap Up:
Regardless of your sleeping habits, material preferences, or specific health needs, we think this list has a solution to help you start sleeping more soundly and wake up more rested than ever.
Let us know if this list helped you in the comments below or if you know of any great USA-made pillows that we should add to our list.
Hi, my name is Kevin and I'm from Pittsburgh, Pennsylvania. Choosing products made in America is important to me because it supports local economies, creates jobs, helps the environment, and ensures ethical labor practices. I also find that American made products are usually of higher quality so although they're a little more expensive, you save money in the long run. Before starting this website I was in the USMC infantry and nowadays I work on this website as a hobby.