A rug adds warmth, texture, and dimension to a room. It also complements existing furniture and displays your personal style. If your home is already filled up with American-made goods like many of us here at All American Made, then you might as well accent those goods with quality rugs made in the USA!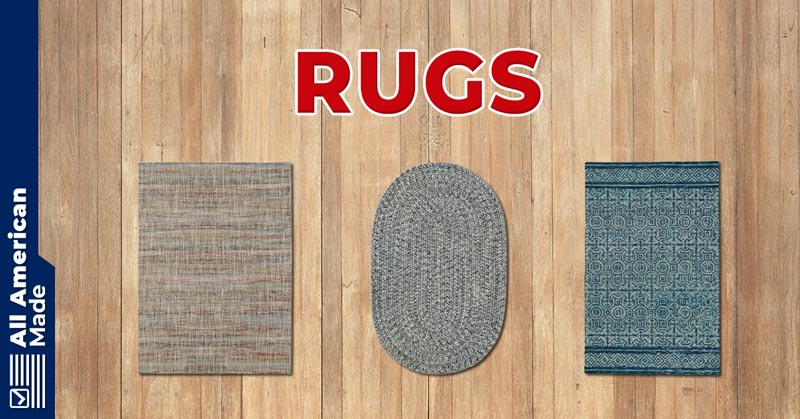 Below we've provided a list of rugs from our favorite American companies along with some basic information and our personal opinions on each piece.
List of American-Made Rugs
Capel Rugs (Most Traditional)
| | |
| --- | --- |
| Estimated Price | $150 to $1800 |
| Materials Used | Polypropylene, Cotton, Polyester, Olefin, |
| Size | 2'x'3, 4'x6′, 5′,x8′, 8'x10′, 10x'x14′, 20" x 30" and many more |
| Colors Available | A myriad of designs, colors, and even an American Heritage lineup |
| Origin | Troy, North Carolina, USA |
Product Origin and Manufacturer Information:
Starting in 1917, Lean Capel created Capel Rugs and their first braided rug, and of course, given the excellent quality and craftsmanship and total lack of a quality competitor at the time, Capel Rugs exploded in popularity, both domestically and internationally. Since then, Capel Rugs has kept its manufacturing right here in the US, located in Troy, North Carolina, and with several retailer partnerships across the US, including L.L Bean, Pottery Barn, and Wayfair.
Why We Like These Rugs:
Capel Rugs started off in the premium space selling rugs that were expensive albeit of extremely high quality. Most of their rugs utilize Lanolin, which aids in releasing soil, dust, and dirt, making these very easy to clean. Each and every rug is handmade and hand-knotted, which lends itself to giving Capel Rugs a reputation of the utmost quality and quality control, as each rug is seen and handled by multiple employees before being shipped out.
I'll be honest, paying over a thousand dollars for a rug isn't exactly the first thing that gets me excited in the morning, but my home was feeling a bit drab, and I didn't just want any old junk that I'd have to replace in a year either. Capel thoroughly impressed me, and I'm here to say that if you do have the budget, spending the money on a quality rug is a solid choice. Of course, in the last few years, Capel has noticed a growing need for rugs in the budget space, and as such, they have released a line of very quality rugs within lower price points of just a few hundred bucks.
With all this versatility, these rugs are appropriate for all kinds of rooms, including hallways. Easy to clean, traditional braided rag rug of very good quality. There are also great colors; we received Sea Glass Spa, a little bluer than the website photo in daylight but still looking cool and appearing more green in low light. There are enough colors in this one to make the exact shade unimportant. It looks great in our relaxed yet traditional family home. It is recommended that a rug pad be used to prevent slipping. If you're already in the market for an American-made braided rug, Capel is a solid choice.
All in all, Capel Rugs aren't a cheap budget option by any means, but if you do have the extra funds for a quality rug, I can certainly recommend shopping with them! In my opinion, they make some of the best American-made rugs out there! The only thing I don't like about them is the price of some of the premium rugs, but if you have the money, they're great.
Orian Rugs (Softest Pile)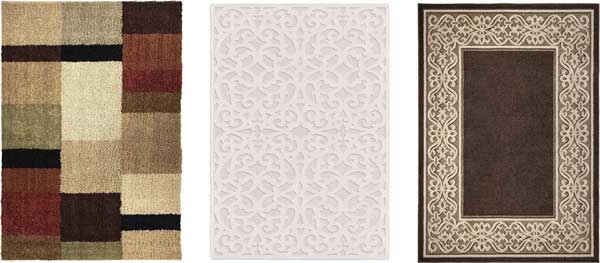 | | |
| --- | --- |
| Estimated Price | $500 to $2000 (My Texas House Collaboration $60-$200) |
| Materials Used | 100% Polypropelene |
| Size | 7'10" X 10'10" |
| Colors Available | One style: brown/beige combo |
| Origin | Anderson, South Carolina, USA |
Product Origin and Manufacturer Information:
The Orian Rug Company manufactures its products in Anderson, South Carolina, in the United States.
Each and every Orian rug that you purchase from Orian is designed, extruded, dyed, woven, and warehoused in America, utilizing incredible American textile talent. This means that every dollar earned in their factory stays local and supports local businesses. The factory also supports local charities, schools, and businesses in the United States.
Their contribution to this country's success and continuing, albeit waning, textiles industry makes them proud and motivated to continue. The products they make in America are of exceptional quality and really have mustered up a global reputation for being durable, robust, and creatively designed.
The "My Texas House" collaboration is a partnership between a Chic designer and Orian, which puts out budget albeit high-quality rugs that are more affordable and easier to attain.
This rug has a nice pile without being too high, and our vacuum worked well with it. It's super soft and cozy, and our new puppy fell asleep on it almost immediately. As for the backing, it has a slight nub texture that helps keep it in place on the floor. The seams are well stitched, and I don't notice any color difference or cut problems. Something I really liked was that once you unroll the rug, it immediately lays flat and natural as if it's never been folded or rolled up before, which is a nice touch because some of the rugs I've owned in the past take several days to fully lay flat.
Who We Recommend These for:
Palmetto Living carries Orian rugs in countless styles, colors, and sizes to suit any home, office, or business so long as you have a modest budget. Shopping with Orian should give you plenty of options to fit your taste and lifestyle.
Karastan Fowler Area Rugs (Great for Families)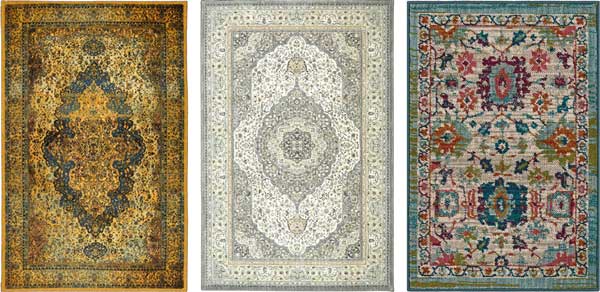 | | |
| --- | --- |
| Estimated Price | $500 to $1400 |
| Materials Used | 100% Polyester |
| Size | 2'x3′, 4'x6′, 5'x8′, 6'x9′, 8'x10′, 9'x12′, 10'x14′, 12'x15′ |
| Colors Available | Myriad of colors and designs to choose from |
| Origin | Eden North Carolina |
Product Origin and Manufacturer Information:
Since 1928, Karastan has been known as "The Wonder Rugs of America." Their goal is to design rugs that are both comfortable and luxurious.
Before expanding its horizons, the company was located in North Carolina. Their beautiful yet durable rugs are known around the world. You can also purchase their carpets for use as flooring. There are three types of loop pile textures: shag, piles, and twill.
Why We Like These Rugs:
I haven't personally owned or felt a Karastan Fowler rug, however, I can see why people really like them, and I think they have a lot of cool designs that are very unique. If I were in the market for a new rug, I would certainly consider getting one. These rugs have a great reputation for exceptional quality and durability. If you already have an oriental theme going in your home, then these are probably going to be your best bet in terms of creatively styled rugs.
Their woven rugs have proven to be durable even after constant wear and tear. Rugs from this company are perfect for families with pets, children, and visitors. Rugs from Karastan are not easily stained. If you're in the market for a beautifully crafted oriental rug, Karastan makes some of the sharpest-looking oriental rugs made in the USA.
You can use these rugs in your living room, basement, den, and dining room. Their design makes them a fantastic choice for any room really.
Dalyn (Awesome Custom Rugs)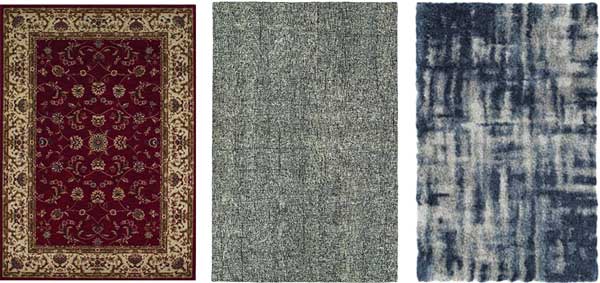 Estimated Price
$80 to $1200
Materials Used
Polypropylene, Wool, Nylon, Acrylic
Size
2'0″x7'6″, 3'0″X5'0″, 5'0″X7'6″, 20″X30″,

8'0″X10″, 8′ Round, and Custom

Colors Available
Multicolored and Many Designs to Choose
Origin
Lawrence, Kansas, USA
Product Origin and Manufacturer Information:
Dalyn is one of the largest producers of custom rugs in the world. The company was founded in 1979, and since then, Dalyn has created over 450 designs, customs, and colors through the years. The company decided about 30 years ago it wanted to make custom rugs at an affordable price.
Their rugs are made from polyester, nylon, polypropylene, acrylic, and wool. Some of their rugs are indeed machine-made while others are hand-tufted. Their designs range from simple to complex, with something for every age group, even teenagers.
Why We Like These Rugs:
Featuring vibrant colors and exciting inspiration from exotic food and spice markets, this collection is a trendsetting collection. It adds a symphony of brilliant color to your home thanks to its carefully crafted bohemian erased patterns. This rug is woven from robust and stain-resistant polypropylene, making it a true value since it carries the detail and color of some of the finest rugs.
If you cannot afford to pay thousands of dollars for a high-quality rug, this company is your best option. Rugs can be found for anywhere between $79 and $999, depending on the size, design, and color.
There are plenty of choices, even for those of you who are picky and want a very specific color scheme. Another thing I like about these rugs is that they pet-friendly. These rugs don't collect a lot of hair like some rugs, and I've found them to be very easy to clean. If you're like me and you love wool rugs, then Dalyn is a great place to find not only customization but finely crafted wool rugs made in the USA.
Apache Mills Fashionables Deluxe Doormat (Great For Industrial Use or Door Mat)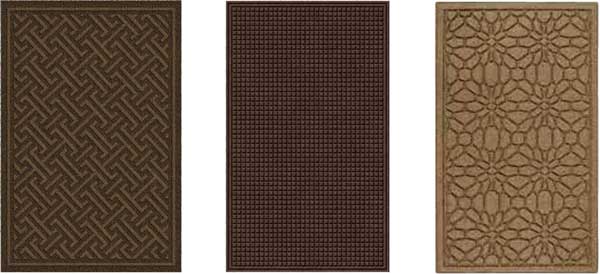 | | |
| --- | --- |
| Estimated Price | $25 to $300 |
| Materials Used | Rubber, Recycled Plastic, Polypropylene, Vinyl |
| Size | Many |
| Colors Available | A myriad of Colors and Designs Available |
| Origin | Calhoun, Georgia, USA |
Product Origin and Manufacturer Information:
The manufacturing and distribution facilities at Apache Mills, located in Calhoun, Georgia, USA, employ over 800 associates, and the company has been in the business for over 40 years. They are widely recognized as one of the leaders in manufacturing American floor mats. What I really admire about this company is that, although their focus is mostly on industrial and utility-use rugs and mats, they still manage to keep an eco-friendly mind and use recycled materials to create their products as much as they can.
In just one year, it's possible for Apache to recycle in excess of 50,000,000 pounds of tires, keeping more than 3,000,000 tires out of landfills and turning them instead into useful and quality floor mats.
Why We Like These Rugs:
I love a good resourcefulness example, and Apache Mills certainly qualifies. You'd never guess the quality mats you get from them are made out of trashed tires, but once you know, it's comforting because your money is spent with a company that has both the ingenuity to solve complicated problems and turn waste into products but is also conscious of the environment and recycling. I like their approach to manufacturing, and the fact that they use American talent is really the topping on the cake.
The mats and rugs from Apache Mills are phenomenal. No, this company isn't making top-tier artistry or floor mats you'd brag about when hosting a wine party, but they are so extremely useful and versatile. I've seen many local businesses using these mats as they make for excellent non-slip entryway placements as well as comfortable workstation mats. For me, just the average Joe, I buy these and throw them in the doorway of my garage and to the entrance of my unfinished basement, as they do well even when exposed to a bit of moisture.
Apache Mills are somewhat like GelPro in that they're excellent utility-based mats and rugs meant to aid with knocking off debris before entering a building and keeping things stable in wet conditions. These mats are competitively priced and are extremely durable, so while I wouldn't be making them a centerpiece of an artsy living room, they do have their place at my front door, keeping my house clean and protected.
GelPro Anti Fatigue Mat (Most Ergonomic)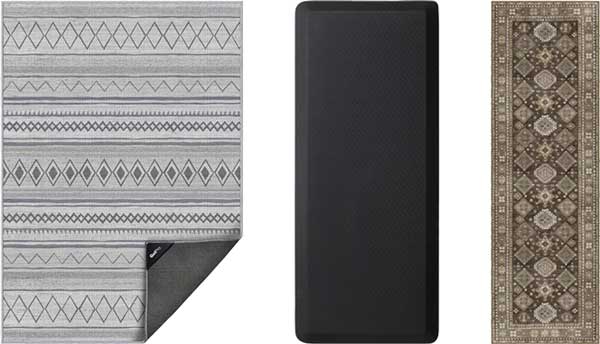 | | |
| --- | --- |
| Estimated Price | $30 to $250 |
| Materials Used | Therapeutic Gel and Energy-Return Foam |
| Size | 20" x 36", 24″x34″, 24″x76″, |
| Colors Available | 37 Colors/Patterns |
| Origin | Waco, Texas |
Product Origin and Manufacturer Information:
GelPro has its roots in Texas, and like most great companies, it was started out of frustration with a problem that the current market of goods had no solution to. The founder of GelPro noticed his wife experiencing discomfort when preparing complex meals in the kitchen and thus set out to make the kitchen a bit more hospitable with a nicely cushioned rug. To their surprise, the market at the time really wasn't focused on creating mats or rugs for the kitchen that were robust, easy to clean and make working on your feet a lot more comfortable. Thus, as a former engineer, he got to work designing and crafting a kitchen rug and mat collection that would check all three of the aforementioned boxes.
So, how'd they do it? Well, many GelPro products introduced what's called the "Elite Dual Comfort Core System," which contains therapeutic gel and energy-return foam, making it a perfect comfort solution for people suffering from back pain, hip pain, knee pain, leg pain, foot pain, osteoporosis, and arthritis. The mats generally contain a rubberized and grippy bottom to ensure that, unlike decorative rugs, they don't slip, even when the floors get a bit wet.
Why We Like These Rugs:
GelPro has come a long way since designing kitchen mats to make a wife happy and dinner less painful. Today, GelPro has some of my family's favorite products, which is weird because I didn't think of it that way before writing this article. We've had them around the house and in the garage for as long as I can remember, and yet, they're so low profile that I hadn't truly given them the admiration they deserve!
And admiration they do deserve, as our GelPro mats have survived kids, dogs, cats, and constant daily abuse over many years now, and so long as I take the time to clean them up, they look dang near brand new!
GelPro offers a super-wide assortment of colors and patterns to fit any home decor style, and although their initial mats were industrial-like by nature, they now have mats that have similar durability and utility but are finely crafted to be creative and interesting by design. It's tough not to find something for everyone in terms of a nice rug or mat that serves more of a utilitarian purpose than one of decorative lavishness, which other options on this list will suffice better with anyways.
GelPro mats feature a non-toxic polyurethane top surface which is really important to me as I worried about the dogs chewing on them, which never happened, but you never know! They also encompass an extremely slip-resistant bottom which is one of the top reasons I chose to shop with GelPro in the first place after learning they are certified by the National Floor Safety Institute.
The Elite Comfort Mats are some of my family's favorites. They are simple and quick to clean with a damp cloth and mild soap or detergent, unlike ordinary kitchen rugs, which I used to drag out into the driveway and powerwash.
This was purchased to be used under our sink at home, but it would be a great addition to a standing desk in the office. I have never felt a floor mat as comfortable as this one. For those of you looking for something outdoors, GelPro definitely makes some outstanding outdoor rugs. For those of you looking for something heavy-duty in the kitchen, GelPro also provides some excellent options and are some of my personal favorite kitchen rugs.
Cicil Linear Rugs (Highest Mostness)

| | |
| --- | --- |
| Estimated Price | $140 to $2200 |
| Materials Used | East Coast Wool |
| Size | 6′, 8′, 28″ x 79″, 2′ X 8′, 3′ X 5′, 5′ X 7′, 6′ X 9′, 8′ X 10′, 6′ x 8 1/2′, 8′ x 8 1/2′, 9′ x 9 1/2′, 5′ x 6′ |
| Colors Available | Granite, Soft Grey |
| Origin | North Carolina, USA |
Product Origin and Manufacturer Information:
Cicil was founded by a dynamic and creative duo, Laura and Caroline, who are both veterans in the American textiles industry in Northern Carolina. They went into business with the goal of producing very modern and sleek designed rugs that don't stick out and steal the show in your home's interior decor but instead complement each and every aspect, all while simplifying the supply chain and keeping it American! The duo wanted to attempt something more personal and different after working with inefficient carbon-intensive supply chains globally.
Cecil rugs are made with 100% cotton thread, which lends itself to being a very easy material to manufacture rugs with but also a naturally biodegradable product. The wool that Cicil uses to craft their rugs is from Wensleydale, Cotswold, and Romney sheep. After they have been sheared, an in-house scouring process is used to remove dirt and debris from the wool. When they see the bits of food or grass in the fleece, they are reminded that wool comes from live animals, and as such, their business processes are developed around the respect and honor these animals deserve. No harsh chemicals or extra processing is used to cleanse the wool.
Why We Like These Rugs:
I do like a good flamboyant and colorful rug from time to time, but as I decorate my new home, I aim for a modest and modern design absent abhorrent distractions and heavily contrasting colors. For this, Cecil is the perfect rug company to shop with, as their specialty is creating rugs that are beautifully elegant and fit in naturally with a modern and sleekly designed room. Some of my favorites from them are the linear rugs, which are timeless, clean, and a great grounding for any room. These excellently crafted and modestly designed rugs blend seamlessly with the surrounding environment, making your furniture sing and your wall art pop.
To ensure the rug's stability, it has been braided around a jute core using 100% East Coast Wool yarn. Jute is a natural fiber that is sourced from deadstock, which would otherwise be thrown into landfills, making Cecil a great and resourceful business to work with in terms of its eco-friendliness. Yes, these rugs are a bit expensive, but they're also finely crafted with some of the best American talents in the business, utilizing eco-friendly materials that are strong, durable, and made to last.
This is a gorgeous addition to any room, but we could particularly see it in a home filled with other natural woods and fibers as these are among the highest quality natural area rugs. With these rugs being made of wool, they are naturally mold and mildew-resistant, and easy to clean. Cicil sells some great wool braided rugs, so if you're in favor of braider wool, these are the people to talk to!
Colonial Mills (Best Braided Rugs)

| | |
| --- | --- |
| Estimated Price | $30 to $3000 |
| Materials Used | Wool, Chenille, Nylon, Polypropylene, Rubber, Polyester |
| Size | Over 20 Sizes Available |
| Colors Available | Over 100 Colors and Designs to Choose From |
| Origin | Rumford, Rhode Island |
Product Origin and Manufacturer Information:
Crafting some of the finest braided rugs for over 40 years now, Colonial Mills, based out of Rhode Island, has been a top-tier and top-class rug producer at the top of any American textile list. Run by the Scarlata family, they believe braided textiles are among America's sacred textile manufacturing processes and have taken a vow to keep business within the United States using the finest and most well-trained talent. Colonial Mills also works with the Sunbrella brand and manufactures its rugs as well.
Why We Like These Rugs:
When it comes to braided rugs, it's pretty tough to beat a Colonial Mills rub. They pride themselves on being one of the first and most successful braided rug manufacturers and they employ some of the best in the business, which shows through in their quality and durability. Colonial Mills hits both the classic and rustic taste while also offering new modern designs and technology to ensure they have something for everyone.
Colonial Mills is recommended really for anyone, as they have a wide range of rugs for budgets of all levels while also hitting both the rustic and modern styling options. If you're a big braided textile fan, then these are some of the best value braided rugs made in USA you'll find!
Maples Rugs (Great Tufted Rugs)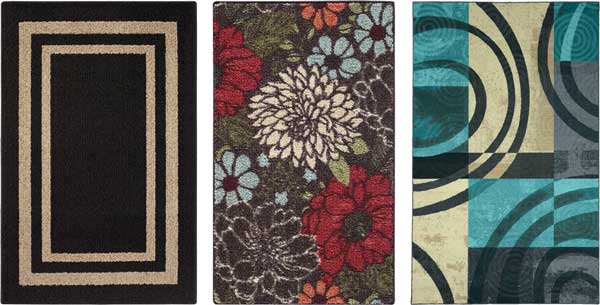 | | |
| --- | --- |
| Estimated Price | $30 to $400 |
| Materials Used | Olefin, Nylon, Rubber, Polypropylene |
| Size | 1'8″ X 2'10", 2'6″ X 3'10", 2′ X 6′, 1'9″ X 5′, 2'6 X 10, 5′ X 7′, 7′ X 10′ |
| Colors Available | 8 Distinct Colors and Many Design Patterns Available |
| Origin | Scottsboro, Alabama |
Product Origin and Manufacturer Information:
The Maples legacy was started in 1928 out of Scottsboro, Alabama. They originally made tufted Chenille bedspreads, robes, and a few other textiles until in 1963 the company was sold to J.P. Stevens. Three years after the acquisition, the Maples family was back, this time crafting tufted rugs. Wade Maples oversaw the initial production and focused on creating the highest quality rugs possible. From 1966, Maples expanded into four facilities within Scottsboro, totaling over 1 million square feet of manufacturing space. Today the company is still managed by the Maples family. Still focusing on tufted rugs, the Maples Rug company now produces many products, including nylon bath rugs, runner rugs, area rugs, and accent rugs.
Why We Like These Rugs:
Maples Rugs offer excellent levels of performance and quality-to-cost ratios, being among my favorites in this category. Maples offers a ton of shapes and sizes across many different design patterns that almost anyone can find something suitable with. Something I really liked about these rugs is that they come equipped with a latex-coated back, ensuring they don't slide around and do not need a rug pad. The area rugs they provide are 0.44″ in Pile height which feels premium without being overly thick.
The Maples family certainly knows how to make rugs, and lucky for us, they have incorporated a large array of offerings that I think almost anyone could find something to their liking. If you want something simple, low maintenance, and budget-friendly, it's hard to go wrong with Maples Rugs.
Carpets for Kids KidsSoft Educational Rugs (Great For Kids)

| | |
| --- | --- |
| Estimated Price | $50 to $400 |
| Materials Used | Nylon, Polypropylene |
| Size | 8' x 12' |
| Colors Available | Alphabet Pattern for Literacy |
| Origin | West Point, Georgia |
Product Origin and Manufacturer Information:
Carpets for Kids provides classroom rugs with colorful, patterned themes to teachers, librarians, parents, and pastors to enhance children's learning.
The world's largest provider of high-quality, educational area rugs is Carpets for Kids. The company was founded in 1992 and now supplies educational rugs to daycares, schools, and households throughout the country. With its vibrant colors and earth-toned palette, and innovative designs, CFK is the only company to choose for children's classroom rugs of quality. Carpets for Kids aims to provide educators with quality learning materials to enhance the education of young children. With the highest quality and best designs on the market, they make sure they have the best area rugs for kids, classrooms, daycares, and Sunday schools.
They are manufactured in the United States and are 100% lead-free, with only non-toxic materials used in their products. You can rest assured you're getting the safest option possible for your children or students.
In addition to offering a great product to the educational and consumer markets, they also strive to be good stewards of what they have. Carpets For Kids works towards reducing waste in landfills. Their area rug manufacturing facility sends scraps and damaged materials to a recycling center nearby.
Their average annual recycling amount is 115 tons. Carpets for Kids is also committed to achieving its environmental objectives by processing this material for recycling.
Why We Like These Rugs:
Featuring a whimsical uppercase alphabet in the center of a simple lowercase border, this rug is quite lovely. The yarn is ultra-soft and plush for a comfortable feel. I love that they don't use harsh chemicals and encourage water only for cleanup, making it even safer for kids.
Suitable for homes, schools, daycares, pre-schools, and churches. With True Stain Blocker Technology and a lifetime warranty, these rugs are easy to clean using only hot water extraction without harsh chemicals. Stain treatment is completely infused into fibers. The carpets have been tested to ensure they provide a safe, healthy environment for children to learn and play.
Factors We Considered While Putting This List Together
If you are looking for a rug to complement the neutral color of the sofa's fabric or a runner to greet guests, think of an area rug. When picking a rug for your home, it's important to keep a few factors in mind. Find out about colors, patterns, and materials below.
Colors and Patterns:
A stylish accent rug can set the tone for an entire room. The master suite's neutral color palette can be brought to life with bold patterns and vibrant colors. The living room and foyer are filled with eye-catching designs, while mint green and ice blue use cool tones for a more modern touch. Be sure to incorporate traditional patterns like stripes, circles, and squares, too. For a polished presentation, choose a rug that complements the table and chairs.
Rug Size:
Choosing the right rug size depends largely on the room. An area rug is the best choice if you are looking for a flooring solution for a wide area of the home, such as a family room, playroom, or finished basement. This type of rug offers more than sufficient coverage and usually ranges from 5′ x 8′ to 10′ x 14′.
Instead of an area rug, how about an accent rug to cover high-traffic areas? A runner is an excellent choice. Designed to fit seamlessly in entryways and hallways, it is long and narrow. Make sure you measure the area where you wish to place the rug before choosing a style, regardless of your needs.
Type of Material:
As a stain-resistant and a quite durable floor decor, wool is a traditional choice. Furthermore, it is very comfortable underfoot. Wool rugs, for example, can protect floors in high-traffic areas. The open area beneath the dining table, for instance, adds an unexpected pop of color, texture, and formality with another in the same material.
For a more casual look, cotton rugs work well. Because they are easy to clean and available in smaller sizes, they make great placements near the stove, sink, or patio door. Opt for a polypropylene rug instead if you need an ultra-durable option. You can choose the material that softens ambient noise and enhances coziness.
Wrap Up:
That does it for this article; let us know if there are any great rugs we missed in the comments below. We really appreciate your feedback.
Hi, my name is Kevin and I'm from Pittsburgh, Pennsylvania. Choosing products made in America is important to me because it supports local economies, creates jobs, helps the environment, and ensures ethical labor practices. I also find that American made products are usually of higher quality so although they're a little more expensive, you save money in the long run. Before starting this website I was in the USMC infantry and nowadays I work on this website as a hobby.