Safety razors are increasing in popularity year after year as men discover how much more comfortable they are to use and how much money they save over disposable razors or shave clubs.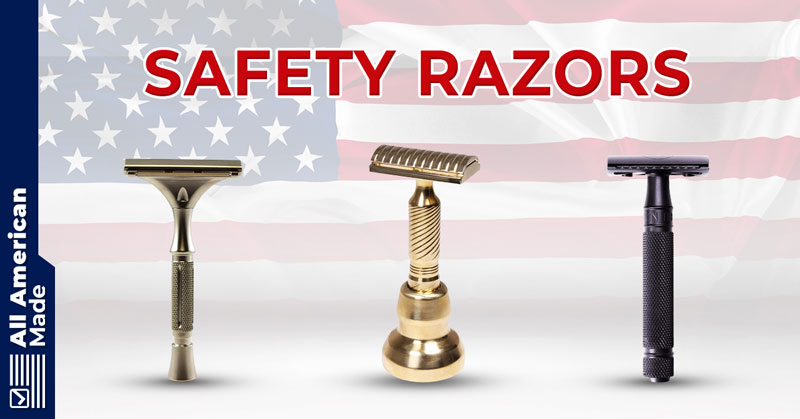 Whether you're new to safety razors or are someone who's already experienced the benefits, this guide will help you find the perfect safety razor made in the USA.
List of American-Made Safety Razors
Battle Brothers MKII Double Edge Razor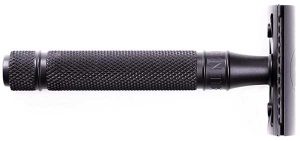 | | |
| --- | --- |
| Estimated Price | $100 |
| Materials | Aircraft-grade aluminum |
| Manufactured in | Michigan |
The Battle Brothers Shaving Company got its origins in the military when Blackhawk helicopter crew chief Andrew Weiss was deployed during Operation Iraqi Freedom and Operation Enduring Freedom.
Living and working in a forward operating area posed many grooming challenges. He and his group experimented with different razors and blades and what began as a hobby to create the perfect razor turned into a business.
What We Like And Don't Like About It:
The MKII was designed by veterans, and it definitely looks the part. As a veteran myself, I can appreciate a group of veterans constantly testing different razors and blades until they finally go a product that they were confident to bring to market.
I think it's cool that these razors are made with the same aircraft-grade aluminum used to make Blackhawk helicopters, and featuring an all-black anodized finish, the MKII is a serious piece of kit that's ready to battle your beard.
The aluminum construction also makes it much lighter compared to many razors out there, so if you're used to a razor with more heft to it, this one will take some getting used to.
The handle is heavily textured, providing a sure grip even when wet.
Another feature we liked about this razor is its simplicity; it has only three parts so that you can disassemble and maintain it with ease. Also, fewer parts mean there are fewer things that can go wrong, increasing its lifespan.
Like all safety razors, the quality of the shave you get depends mainly on the blade you use. The razor has an approximately 30-degree angle, and when you pair that with a high-quality blade, you will get excellent results.
Asylum RX V2 Single Edge Razor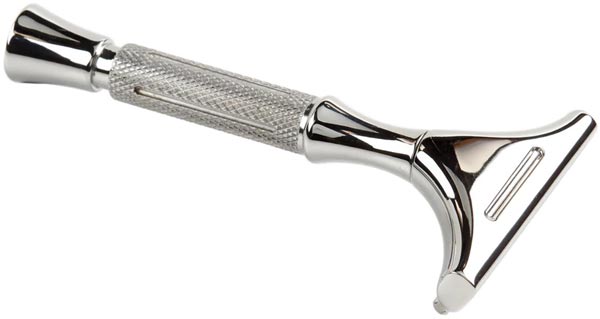 | | |
| --- | --- |
| Estimated Price | $230 |
| Materials | 303 stainless steel |
| Manufactured in | Los Angeles |
The first Asylum single-edge razor was released in 2016 to cater to the resurging interest in wet shaving. The V2 model seen here has some nice improvements from the beloved V1 model but still sports a single blade. The company has a nice variety of safety razors, and all of their razors are made right here in the USA.
What We Like And Don't Like About It:
The Original Asylum RX Single Edge Razor was designed exclusively for BullGoose Shaving Company by an engineer in Los Angeles, Ca.
The first thing that struck us about this razor was how well-balanced it is. The company advertises this razor as "nimble," and it is thanks to the low profile head and tongue and groove design that holds the blade. While this system makes for quicker blade unloading, some thought it was worse for loading, but your mileage may vary.
The handle looks like a work of art, with its smooth lines and gentle tapers. The advantage of this design is that it gives you greater precision when angling and moving the blade across your face for increased comfort and reduced chance of nicks.
Like many razors, the Asylum RX's handle has a knurled finish for better grip; however, it's not as substantial as other models, and you might find your fingers fighting for space.
The 'Merica Razor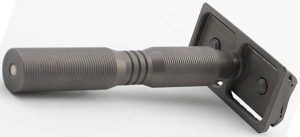 | | |
| --- | --- |
| Estimated Price | $100 |
| Materials | Marine-grade 316 stainless steel |
| Manufactured in | Pennsylvania |
While sold by Wet Shaving Club, the 'Merica Razor is a product of Yates Precision Manufacturing in southwestern Pennsylvania.
The company didn't set out to make safety razors, setting itself up as a manufacturing contractor in the beginning. It was only when the owner's father brought in a safety razor and asked if they could make one did they go down that road.
After creating their first razor and posting about it on social media, interest grew, and the company never looked back.
What We Like And Don't Like About It:
If you're new to safety razors or are a seasoned veteran, it's easy to spend a lot of money on one of these tools. And though you'll earn the cost back by not buying disposable razors or cartridges every month, sometimes a $200-$300 upfront price can be a tough pill to swallow.
The sub-$100 price tag of the 'Merica Razor makes this the perfect entry-level model if you're new to the hobby or if you want an attractive, functional razor that you can toss in a bag and not worry about.
But, don't let the low price fool you into thinking this is a cheap razor designed to cash in on the resurging popularity of safety razors; it's a finely crafted tool built to give you an optimal shaving experience combined with durability.
We love the look of this razor; it's sleek and modern with a sandblasted gunmetal finish. A real man's weapon against stubble and a sentinel against nicks and skin irritation.
The razor uses a magnet on the bottom, which makes changing the blade quick and seamless.
Another feature we loved about the 'Merica Razor is the handle; it's thick with circular ridges, providing a sure grip and greater precision for a more comfortable shave. We also liked the option of ordering this razor with an American flag emblem on the razor's cap, perfect for those who want to show off their love of America even when shaving.
Although it's not the fanciest or most dazzling razor on our list, it boasts a practical design that fits perfectly with the sensibilities of the no-nonsense man and can be had for a reasonable price.
Sixty8 Chicago's Working Man Safety Razor

| | |
| --- | --- |
| Estimated Price | $175 |
| Materials | Machined 316 stainless steel |
| Manufactured in | Chicago |
Third-generation Chicago barber Joe Caccavella Jr. wanted to create a line of high-quality, affordable men's grooming products to meet the needs of professional barbers like himself and satisfy people like his customers.
With the help of his father, Joe Sr., a master barber with over 50 years of haircutting experience and two of the barber shop's regular customers, the father/son duo formed Sixty8 Provisional Company.
What We Like And Don't Like About It:
The two main things that sold us on this razor are the weight and the handle's design. Many safety razors lack sufficient space along the handle to comfortably rest your fingers, making it a challenge to get a secure grip and the most precise shaving angle.
The Working Man Safety Razor's unique knurled handle design provides ample space for each finger to grip, making it safer and more comfortable, especially for wet shaving. Also, the designers raised the razor's head by 5/8", improving the edge visibility.
We also loved the razor's weight, which is perfectly balanced and twice the weight of many other safety razors. The advantage of a heavier razor is it allows gravity to do much of the work for you, so you don't have to 'force' the blade across the skin.
Lastly, the razor comes in a handmade box made from reclaimed old-growth wood from various deconstruction projects throughout Chicago, making it an ideal gift for that special man in your life.
Timeless Bronze Razor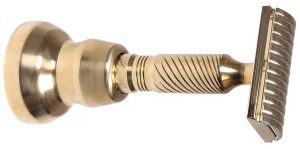 | | |
| --- | --- |
| Estimated Price | $135 |
| Materials | C954 bronze |
| Manufactured in | Ohio |
Founded by a family of machinists in North Royalton, Ohio, the designers invented Timeless Razor after finding other premium razors lacking quality and comfort.
The family decided that they didn't want the hassle and expense of dealing with razor subscriptions; instead, wanting to build a product that could stand the test of time.
Taking the designs of other premium razors and improving them, the company developed its high-quality double-edge safety razor modeled after the razors of the WWII generation.
What We Like And Don't Like About It:
The standout feature of the Timeless Bronze Razor is its bronze finish that's elegant and reminiscent of a piece of fine jewelry.
Many users say this razor is easy and intuitive, and perfect for those who are new to safety razors, and we agree. The sharpness of the blade and the bronze work together to glide across the skin, gracefully cutting the hairs without pulling.
If you swap out the included blade for a sharper model, you'll get even better results, but out of the box, this razor shaves like a dream.
And speaking of the metal, the bronze finish naturally develops a patina as you use it, which gives each razor a unique, personal appearance, which only improves over time.
Although one of the higher-priced models on our list, this razor is made from premium materials and workmanship designed to stand the test of time like a fine watch and is something you can hand down to your kids.
Weber Stainless Steel Bulldog Handle

| | |
| --- | --- |
| Estimated Price | $30 |
| Materials | Solid rod 316 marine grade stainless steel |
| Manufactured in | USA |
The company was founded in 2010 when Ed Weber saw that while most of the larger companies making razors were in Germany and England, few were in America. As someone who is into the razor hobby, he wanted to see if it was possible to produce an all-stainless steel razor in the United States and sell it competitively.
What We Like And Don't Like About It:
This product differs slightly from the rest on our list because Weber sells the handles, and it's up to you to provide the top cap.
The Bulldog handle is the company's most popular model because of its evenly balanced weight, aggressive yet comfortable knurling, and durability.
Unlike many other handles that are made from inferior materials and chromed. While these look great when you take them out of the box, it doesn't take long for them to corrode once the chrome wears down.
The handle fits most vintage Gillette and modern 3-piece heads, making this one of the most versatile products on our list.
Hart Steel Round Point Straight Razor
| | |
| --- | --- |
| Estimated Price | $215 |
| Materials | 6/8" satin finish steel |
| Manufactured in | Pennsylvania |
Back in 2009, a group of artisans came together to form Hart Steel in the upper midwest. The goal of the company was to return the art of crafting fine steel cutlery and razors to America.
What We Like And Don't Like About It:
While not technically a safety razor, we threw this straight razor onto our list because it's a high-quality product that's also made in America.
The Hart Steel 6/8" Satin Finish Round Point Straight Razor is a sight to behold. Crafted by Artisan Technicians, these razors are created one at a time, like a medieval sword maker. Each blade is hand-ground, marked, and sharpened for each razor. And every blade bears the mark of its maker, so you know you're getting high-quality craftsmanship.
The steel is tested at a Rockwell hardness of 63, meaning the edge stays sharp longer, making for an ultra-comfortable shaving experience. We found the blade to be exceptionally sharp out of the box, and it held its edge through multiple shavings without needing re-honing. In fact, if you learn how to properly care for your straight razor and learn proper shaving techniques, you should be able to maintain the blade's edge for months.
The default blackwood scale is an understated yet perfect complement to the simplicity of the razor's overall design. However, you can opt for a custom scale when ordering either maple, cocobolo, or carbon fiber.
Parker Premium Straight Razor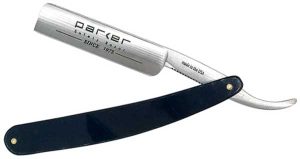 | | |
| --- | --- |
| Estimated Price | $230 |
| Materials | 01 carbon steel |
| Manufactured in | USA |
While Parker is an Indian company, we chose this razor for our list because it's made in the United States from start to finish by skilled artisans.
Shaving with a straight razor can be intimidating, but they're much better for your skin than the cartridge razors you're probably used to. Straight razors only cut the hair on your skin's surface, not beneath, reducing the chance of bumps, irritation, and razor burn.
What We Like And Don't Like About It:
Parker is well known for its safety razors, shavettes, and straight razors. Since 1973, this family-owned company has grown to become the gold standard for razors and other grooming supplies, relying on the finest materials and precision manufacturing to make products functional and long-lasting.
The Parker Premium Straight Razor is an elegant tool straight out of the past, but with a modern, premium aesthetic and feel, unlike some of the cheaper straight razors that feel a little rough around the edges.
It comes with black acrylic scales giving it its classic look; however, you can opt to purchase yours with red oak or walnut scales.
The hand-carved jimps on the interior of the blade's tang give you a better grip for both comfort and safety.
How this differs from the Hart Steel straight razor, which is a 6/8" round point; the Parker is a 6/8" square point. The difference is a personal preference.
Some prefer the square point because it gives better feedback on where the tip of the razor sits, providing greater precision. Others prefer the round point because it's not as sharp on the end.
Kamisori Japanese Straight Razor Kit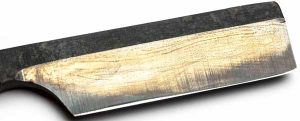 | | |
| --- | --- |
| Estimated Price | $265 |
| Materials | Hand-ground high carbon 01 steel |
| Manufactured in | Colorado |
Christopher Schall fell in love with bladesmithing by learning from his father, who made knives, although his passion didn't come until later in life when he was in college and found his grandfather's straight razor and taught himself how to use it.
After restoring razors for a few years, it wasn't long until he bought straight razors from antique shops and taught himself honing techniques, eventually leading to opening his shop in 2014.
What We Like And Don't Like About It:
ShaveSmith is a small company in Denver that offers uniquely handcrafted razors. There's no mass production here; every razor is custom-made by hand by the owner himself.
What sets ShaveSmith apart from other manufacturers on our list is that you have the option of purchasing handcrafted razors that are works of art and heirlooms you can pass on to your kids and grandkids.
The Kamisori is unlike the other razors we tested in that it looks like something from medieval times with its slightly curved blade and leather-wrapped handle.
Because each razor is hand forged, there are no two that are exactly alike, making this a perfect heirloom you can pass on to your kids and grandkids.
While this razor comes shave-ready out of the box from an export forger, it's by no means a beginner's razor. The blade's precision grinding makes for one of the smoothest shaves you'll ever get, but you're going to have to go slow and be patient, especially if you're new to the hobby.
Why Safety Razors?
Before getting into our list of the best American-made safety razors, let's take a quick look at why many people are switching over from cartridge or disposable razors and why you should consider them.
According to the New York Times, in a piece about the resurgence of safety razors,
Terrance Keaney, a dermatologist in Washington D.C., said he frequently recommends that patients 'reverse time,' forgoing cartridge styles for safety razors. Too-close shaves start an unforgiving cycle. The skin is not a smooth surface; it has peaks and valleys, like mountain ranges. With multiple blades so close to the skin, there are more tiny nicks, and the skin becomes less smooth, thus more prone to being cut or injured.
Take a look at the razor industry today, and you'll see gimmick after gimmick. Vibrating heads, two, four, six-blade cartridges, lubricating strips, etc. Every razor company tries to one-up the competition with another 'feature' to give you a better shave.
But do they?
Despite all modern features, today's razors can't provide the same close shave you can get with a safety razor or straight razor.
The reason safety razors give you a cleaner, smoother, more comfortable shave and are precise is because they use one extremely sharp blade. See, the more blades that touch your skin, the greater the chance for nicks and irritation like razor burn and bumps.
And it should come as no surprise that the quality of the steel blades in the typical disposable razor cartridge is relatively low, which means it's more likely you're going to cut yourself or experience irritation.
Safety razors use high-quality, extremely sharp blades that cut hair with greater precision and comfort than what's possible with disposable blades.
One of the reasons people choose modern cartridge or disposable razors today over safety razors or straight razors is because the latter requires a little patience and practice to master. At the same time, you can jump right in with the former and be done with it.
However, while there is a slight learning curve in using a safety razor, we think you'll agree that the results are so much better that you won't want to go back.
Lastly, if you add up the money you spend on shave club subscriptions or disposable blade cartridges, safety razors are much less expensive to use and save you money over time.
Conclusion:
In a day where everyone moves quickly, many men have decided to slow down and enjoy the ritual of shaving. Instead of slathering on some shaving cream from the drug store, running a disposable razor up and down your face before rinsing off, and hurrying to work, many people are beginning to understand how the simple art of shaving engages both the body and the spirit.
Shaving with a safety or straight razor is intimidating, but remember that the process is meant to be slower and more methodical than the cartridge razors you're used to.
With a bit of practice and patience, you'll be amazed at how much smoother your skin feels, and you'll realize that our grandfathers and great-grandfathers knew a thing or two about grooming like a man.
Hi, my name is Kevin and I'm from Pittsburgh, Pennsylvania. Choosing products made in America is important to me because it supports local economies, creates jobs, helps the environment, and ensures ethical labor practices. I also find that American made products are usually of higher quality so although they're a little more expensive, you save money in the long run. Before starting this website I was in the USMC infantry and nowadays I work on this website as a hobby.