There are few things more American than T-shirts. They were first introduced by the United States Navy as undershirts, but nowadays, they are worn for far more than that and are the most popular piece of casual clothing. The problem is many T-shirts are of poor quality and don't last long, which is why it's a good idea to invest in high-quality T-shirts made in the USA.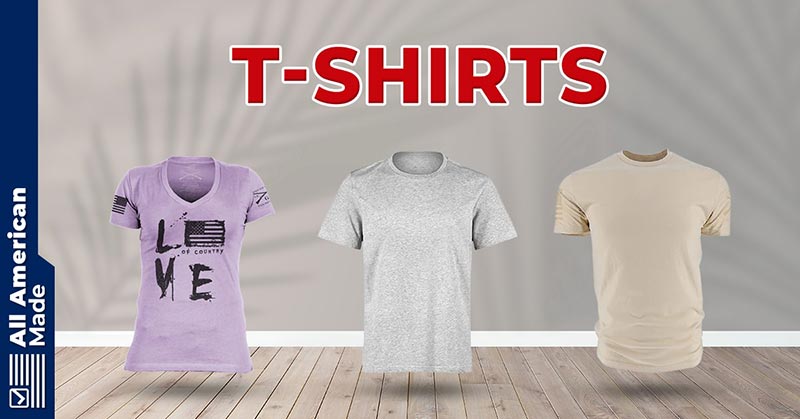 American-made T-shirts are often made with higher quality cotton and have an overall higher build quality. Along with all that, buying shirts made in America also supports American workers and local economies. On this list, we'll have a great selection of shirts for both men and women.
List of American Made T-shirts
Grunt Style T-shirts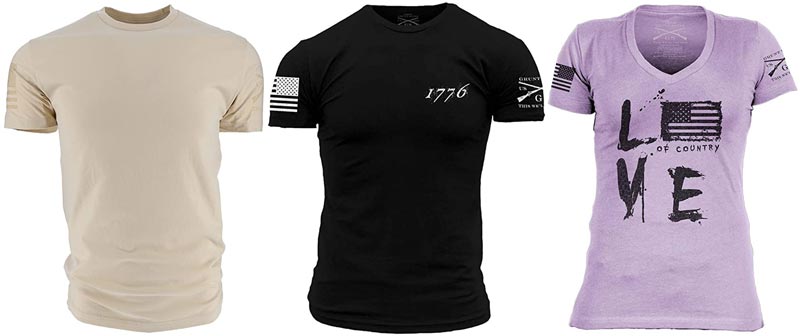 Company Founded
2009
Materials
100% 

cotton (most shirts)

Sizing
Small to 3-XL
Grunt Style Company Origin:
Grunt Style was founded in 2009 and now employs nearly 400 veterans. This company truly has the American spirit, and they are so confident in their product that they back it with a lifetime guarantee. I don't know of any other T-shirts that offer that! If you'd like, you can learn more about the company on their about us page here. If you're looking for Patriotic T-shirts made in the USA, these are a great option. They have lots of great options for both men and women.
Why We Like These Shirts:
Grunt Style is one of the largest T-shirt companies in the United States. Their T-shirts are extremely unique and are more tailored to fit an athletic body type. I personally own some Grunt Style shirts, and I do have to say they are the highest quality T-shirt I've ever worn. All of their T-shirts sport an American flag on the shoulder and they have hundreds of designs to choose from.
When I was in the Marines, you'd see guys wearing these shirts all around the base. To my surprise, when I moved back to Pennsylvania, many civilians were also wearing their shirts. I think most people just like their pathetic fit and great design patterns.
These are some of the most unique T-shirts I've ever owned because they do have a very athletic cut. They're a little tighter around the arms and cut in around the waist to give a more athletic look to the person wearing them. I personally love the fit, but depending on your body shape, they may or may not be right for you.
Grunt Style T-shirts can be worn by anyone. On the company website, they say you don't have to be a veteran to wear their clothing, but you do have to love freedom. That said, Grunt Style shirts are extremely popular among military personnel, patriots, and law enforcement. Give one of their shirts a try, and I think you'll be impressed. They have some shirts that don't have any graphics, but they also have a large variety of graphic T-shirts.
All American Clothing Co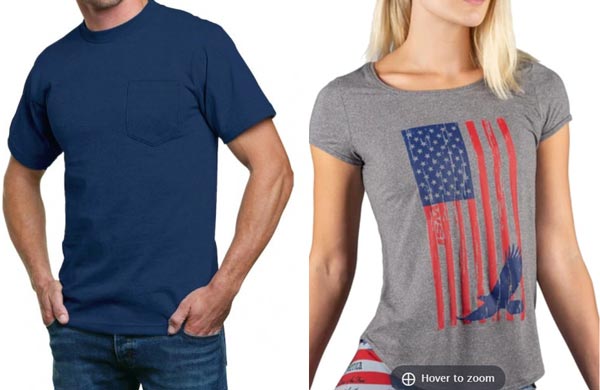 | | |
| --- | --- |
| Company Founded | 2002 |
| Materials | 100% Cotton |
| Sizing | Small to 4X |
All American Clothing Company Origin:
All American Clothing Co was founded by Lawson Nickol, who in 2002 was working as a sales manager for a US jeans manufacturer. Lawson's inspiration for starting his company came about one day while out shopping for jeans. He noticed his company's label on a pair of jeans on the rack. When he started reading the label on a pair of jeans, he noticed they were made in Mexico, not the United States as he expected. Because of this, he resigned from the company to start All American Clothing Company along with his son BJ, and the two committed themselves to manufacturing clothes solely in the United States.
After Lawson's passing in 2019, a generation of young entrepreneurs passionate about providing Americans with jobs took over the company, with members of Lawson's family remaining involved in daily operations. If you're looking for high-quality T-shirts made in the USA I highly recommend this company. This company also makes a lot of great jeans and other clothing. Be sure to check out their website and their about us page here to learn more about the All American Clothing Company.
Why We Like These Shirts:
One complaint we and many others have with the average tee shirt is the collar and how they tend to lose their shape quickly. We're happy to say this shirt doesn't have that problem.
Despite repeated putting on, taking off, and washing and drying, the collar holds its shape no matter what and doesn't feel too snug around your neck.
We're also impressed by the shirt's double-needle bottom hem and sleeves, which not only add a splash of style, it makes it more durable than shirts made with less attention to detail. The pocket over the left chest seems well-attached and durable.
Some people note that these shirts run a bit smaller than expected, so take that into account when ordering. Also, don't forget to take into account the 100% cotton construction, which can shrink.
If I had to be critical and point out one thing I don't like, it would be the small color choices available as of this writing. Otherwise, this is a comfortable, well-constructed, 100% American-made T-shirt that's well worth the price.
Who We Recommend These T-Shirts for:
This is the perfect tee for people who just want a well-constructed, no-frills cotton shirt at a mid-range price.
Love of Country T-shirts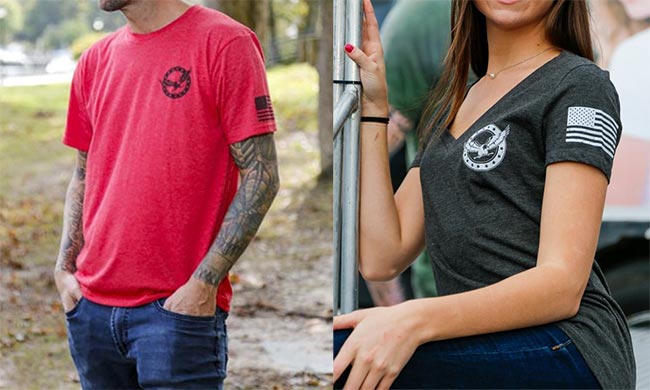 | | |
| --- | --- |
| Company Founded | 2016 |
| Materials | 100% cotton or 50% cotton, 50% polyester, depending on the style |
| Sizing | XS to 3XL |
Love of Country T-shirts Company Origin:
The Love of Country Company was founded by an Air Force veteran, and to this day, they still support the military, law enforcement, and first responders. If you are on active duty military or serving in law enforcement, fire, or EMs, you can get a 10% discount. They also have a 100 percent happiness guarantee which I think is great and shows they care about their customers. If you'd like, you can learn more about the Love of Country Company here.
Why We Like These Shirts:
The Love of Country company has a nice selection of patriot T-shirts that are manufactured in New York or California, then printed in New York. Much of their clothing is 100 percent cotton, but they also utilize an eco-friendly technology called RPET, with makes a soft fiber from discarded plastic. Overall I really like their shirts and the overall ethos of the company.
Who We Recommend These T-Shirts for:
These shirts are great for just about anyone who loves their country and wants a quality shirt. The company has a great ethos so it's great to support them and at the same time you get a quality T-shirt.
Made Here T-Shirts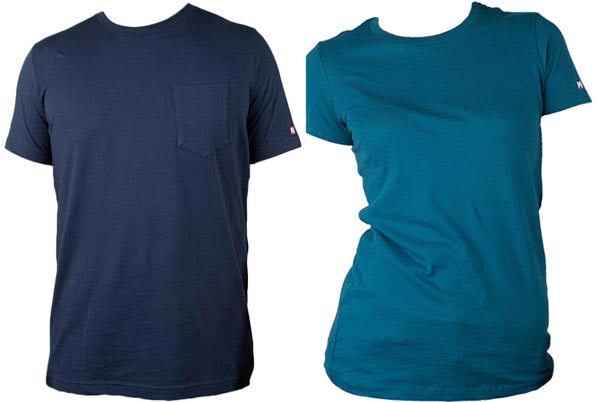 | | |
| --- | --- |
| Company Founded | Unspecified |
| Materials | 100% ringspun cotton (most shirts) |
| Sizing | Small to 2X |
Love of Country T-shirts Company Origin:
Made Here was founded by Dane Chapin and Scott Eastwood, son of actor/director Clint Eastwood. Eastwood said he desired to create a company rooted 100% in America, from the people to the production process and everything in between. He met and became friends with Dane Chapin, and the two bonded over their passion for high-quality work and American workmanship.
Besides garments, the businessmen created Made Here brewing, creating a beer that's 100% made in America from start to finish. They truly are an awesome company. Check out the Made Here website here to learn more about them and their ethos.
Why We Like These Shirts:
I own a couple of the Men's Made Here T-shirts, and they're soft and comfortable thanks to the 100% ringspun cotton and have enough stretch to allow for freedom of movement without binding or pinching.
The shirt is made true to size, and we didn't have any trouble with sizes not matching up as you find with other brands. I'm a taller guy, and I find the length to be great.
The stitching and workmanship are higher quality than what you get from less expensive shirts made overseas, especially where the pocket is concerned. For many people, a pocket on a T-shirt is only there for looks, but if you're in the habit of putting things in there, this one should hold up.
I also found the shirt washes and dries well, and depending on your laundering, the color should hold for a long time.
Who We Recommend These T-Shirts for:
If you want a heavy pocket tee that's built to last, this is the ideal shirt for you.
Jockey T-shirts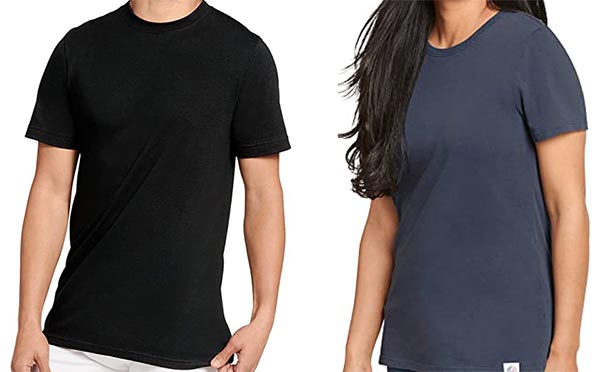 | | |
| --- | --- |
| Company Founded | 1876 |
| Materials | 100 percent cotton |
| Sizing | Small to 3XL |
About the Company:
Jockey has been a family-owned company for three generations. The company was founded in 1876 and is a major manufacturer of underwear, sleepwear, and sportswear. Overall the company has a great reputation, and I like that they make many of their products in the USA and employ American workers. If you'd like, you can also check out their offerings on the Jockey website here.
Why We Like These Shirts:
Jockey is a well-known company with a reputation for making high-quality clothing at a reasonable price, and they certainly didn't disappoint with their 100 percent American cotton T-shirts made in the USA. The crew neck T-shirt has a rather basic look, and the men's version has a small American flag on the sleeve (I'm not sure if the women's version does). The T-shirt is comfortable and has a great collar and a good overall fit. They're machine washable and overall require little to no maintenance.
Who We Recommend These T-Shirts for:
These T-shirts are perfect for just everyday use and can even be worn as an undershirt if needed. They fit nicely and are built to last. They're slightly more expensive than your average T-shirt but that's because they're made with American cotton and made in the USA.
Union Made T-shirts
| | |
| --- | --- |
| Company Founded | Unspecified |
| Materials | 100% cotton (preshrunk) |
| Sizing | S to 4XL |
About the Company:
Union Made T-shirts are a division of Bayside Apparel. They employ many American workers and buy American cotton to make their shirts. They do all the sewing, cutting, and other operations in-house to ensure quality. The company takes pride in providing high-paying American jobs and providing great products. They have great options for both men and women!
Why We Like These Shirts:
Union Made's attention to detail hasn't gone unnoticed I personally find the quality of these T-shirts to be quite impressive. I also find their T-shirts to be very comfortable. Overall if you're just looking for a basic T-shirt that's comfortable at a reasonable price you can't go wrong here.
Who We Recommend These T-Shirts for:
If you're looking for a T-shirt for everyday wear or for work this T-shirt here is perfect. It's comfortable and built to last.
Bayside Short Sleeve T-shirts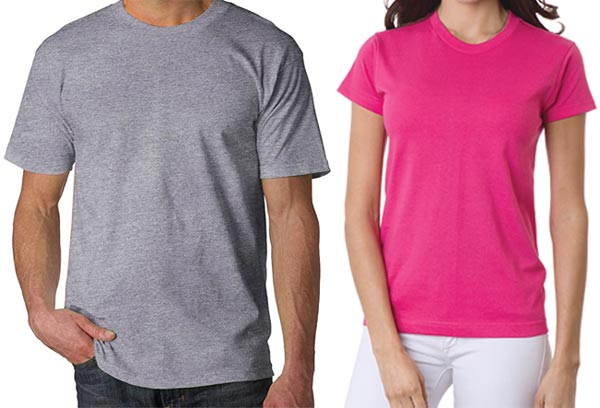 | | |
| --- | --- |
| Company Founded | 1995 |
| Materials | 100% Cotton |
| Sizing | Small to 5X |
About the Company:
Based in Southern California, Bayside prides itself on being the largest vertical apparel manufacturer in the United States.
The company says they knit, dye, cut, and sew all of their garments in-house. And, unlike other companies that source materials from overseas, Bayside claims they get their cotton from farmers in the USA, making their tees truly American Made.
Besides sourcing its materials from US-based farmers and suppliers, Bayside also is committed to eco-friendly production by recycling waste when possible.
Why We Like These Shirts:
The Bayside 5100 may look like your average tee shirt, but on closer inspection, you notice what sets it apart from lesser quality designs.
This is a full-cut shirt with shoulder-to-shoulder tapering for a loose but not baggy fit. The double needle hems provide durability, meaning this is one tee shirt that should last for years. The 5100 comes in a variety of colors, so you can find one that fits your personality and outfit.
However, we found the shirt runs small, so we recommend ordering a size up for a good fit. We found the length to be at the perfect spot, resting just below the beltline.
Because it's 100% cotton, you'll want to take care when washing to avoid shrinkage. Otherwise, we found this to be a high-quality shirt that looks great and is well-constructed.
Who We Recommend These T-Shirts for:
This is the ideal T-shirt for those who want a shirt with a looser, more comfortable fit that comes in a variety of color choices.
Royal Apparel Performance Polyester T-shirts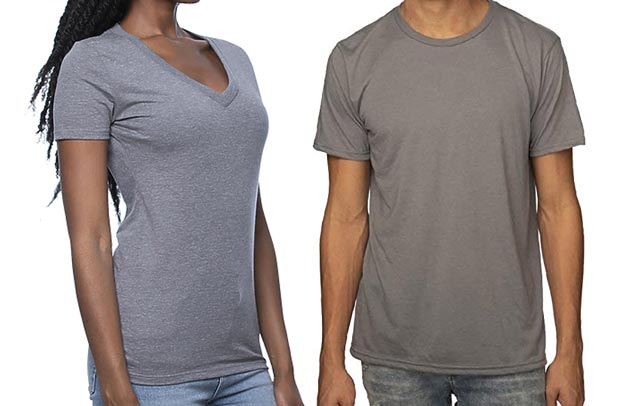 | | |
| --- | --- |
| Company Founded | 1992 |
| Materials | 100% polyester |
| Sizing | Small to 3X |
Royal Apparel Company Origin:
Royal Apparel began in the early 90s as an idea thought up between the founders Morad Mayeri and his brother Abraha after seeing the gaps in the garment industry continuing to grow as more manufacturing went overseas.
After learning from mentors the ins and outs of production, styling, and supply, the two founders began growing and supplying private-label knitwear to luxury stores, national fashion brands, and big-name retailers.
However, after watching most of the fashion industry move their production to overseas facilities, the brothers hunkered down. They evolved to fill the void and continue manufacturing their garments from their headquarters in Long Island.
Today, the company is known not only throughout the fashion industry but is a favorite brand among Fortune 500 corporations, top musicians and artists, and more.
Why We Like These Shirts:
The Performance tee is designed with a classic relaxed fit reminiscent of street-style tees from back in the day. Everything from the sleeve length to the length, this shirt screams classic in every sense.
You can pair this shirt perfectly with jeans or shorts and it looks great tucked and untucked. Although this is a great-looking shirt, it comes down to whether you're a fan of polyester or not. Most of us prefer cotton because it's a natural fiber that breathes better and is more comfortable. However, some prefer polyester because they believe it to be more durable.
While we can't ding this shirt for the materials, it really comes down to personal preference. For the price, you're getting a great-looking, durable shirt that you can wear with multiple outfits, and for some, that's worth it.
Who We Recommend These T-Shirts for:
This is the perfect shirt for people who like the look of a classic tee shirt but want one at a budget price.
Rogue Fitness American Made Shirt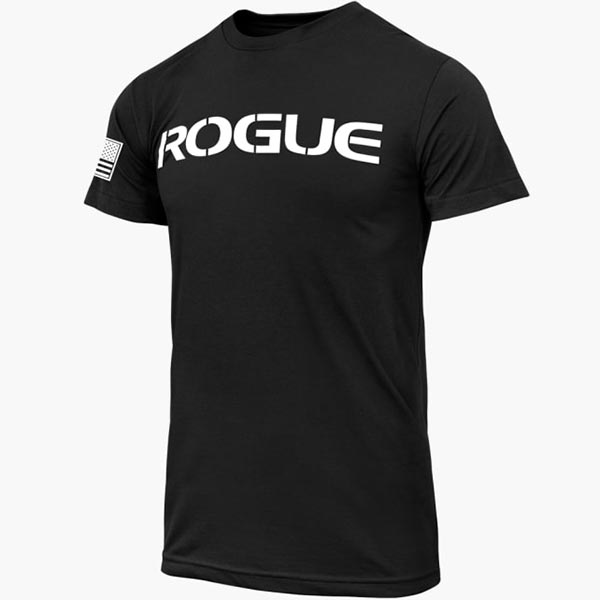 | | |
| --- | --- |
| Company Founded | 2007 |
| Materials | 48% Polyester 52% Cotton |
| Sizing | Small to 4X |
Rogue Fitness Company Origin:
If you're into athletics, you probably know of Rogue Fitness, a company known for its athletic equipment, including barbells, power racks, and other fitness accessories.
Like many successful companies, Rogue Fitness was founded in a garage in 2006, and since then, they've grown to a team of 1400 employees around the world from their home base in Columbus, Ohio.
Rogue Fitness has seen the devastation caused by the loss of good-paying manufacturing jobs throughout the country, which is why they do everything possible to source products made in the USA whenever possible.
Why We Like These Shirts:
This Rogue Fitness T-shirt is designed for the gym with its polyester/cotton blend for comfort and breathability. It's manufactured with side seams and shoulder taping to provide a free range of motion without pinching or binding, which is perfect for working out.
The durable ribbed neckband is comfortable and rests flat around your neck instead of hanging loose, as you find with low-quality tees. The shirt features the company logo on the front and American Made on the back, along with an American flag screened on the sleeve.
We find the shirt to be true to size, and most people will experience a snug but comfortable fit. Lastly, because this shirt is meant for the gym, it's designed to maintain its shape and fit despite repeated trips through the washer and dryer.
Who We Recommend These T-Shirts for:
This shirt is perfect for guys who want to look cool and feel cool when working out in the gym.
Goodwear Crew Neck Pocket Classic Fit Tee Shirt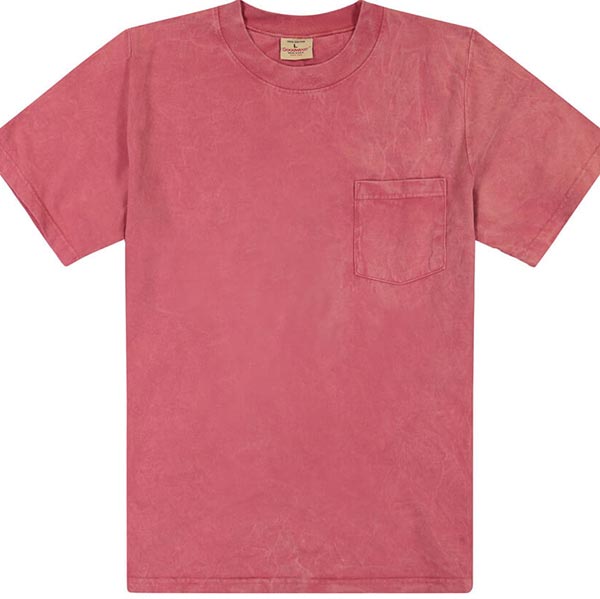 | | |
| --- | --- |
| Company Founded | 1983 |
| Materials | Cotton |
| Sizing | Small to 3X |
Goodwear Fitness Company Origin:
Goodwear traces its roots back to the Boston Marathon when in the early 70s, Boston College runner Stephen Liquori started making silkscreens.
Liquori purchased shirts in bulk and hand-printed them for his track and cross-country teammates and local track clubs, and eventually made shirts for Boston College events. In 1974, his design became the unofficial shirt for the Boston Marathon before the event ever had any licensed products.
Upon graduating, Stephen opened a company called GladRags in Chestnut Hill, MA. In 1983, he and his partners founded Goodwear, where Steve developed the iconic Made in the USA heavyweight shirt designed to hold up long-term while maintaining its shape and comfort.
Why We Like These Shirts:
This classic fit pocket T-shirt is built from heavyweight cotton that's perfect for everyday use, whether you're tucking it into a pair of jeans or wearing it under a sports jacket.
Also, the benefit of a heavyweight shirt is its durability and ability to keep its shape through repeated washings. While it's true this tee is more pricey than what you can find from your big box retailer, it's designed to last for years, so you're really not saving when buying something cheap that's going to fall apart after a season.
It features a tubular construction that we found to be more comfortable than shirts with side seams. The neck rib at 1.25" is snug without hanging loose.
We also liked that this shirt comes in a variety of colors to match whatever style you're looking for.
And as mentioned, this shirt retained its shape and color through multiple washing and drying, and we think it will last for a few years before wearing out.
Who We Recommend These T-Shirts for:
This shirt is perfect for men who want a classic, well-fitting, durable pocket T-shirt and don't mind spending extra to get the best.
Bella Canvas Unisex Jersey Short Sleeve Tee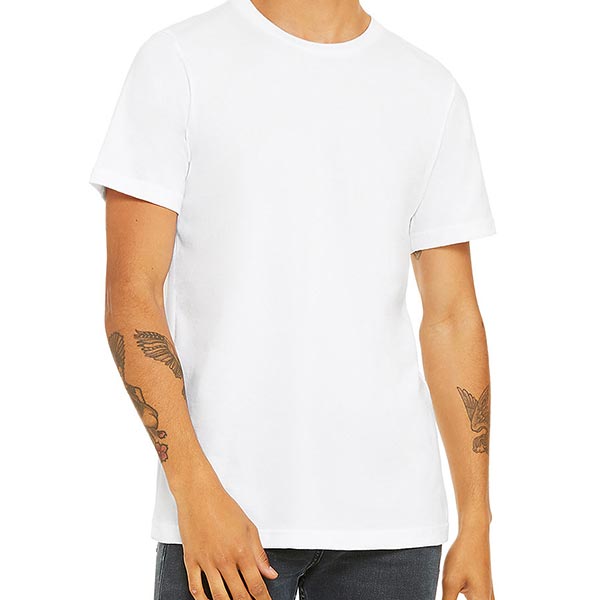 | | |
| --- | --- |
| Company Founded | 1998 |
| Materials | 100% Combed Cotton |
| Sizing | Small to 4X |
Bella Canvas Company Origin:
Bella + Canvas was founded by best friends Danny Harris and Marco DeGeorge who started a screen printing business after graduating high school in 1992. During this time, they realized finding great fitting and feeling garments — especially for women — off the shelf was a challenge.
In 1995, they launched a cut and sew operation to address the need for high-quality women's products. In 1998, they created Bella and shifted their business towards manufacturing, and in 2000, expanded to include a men's line, named Canvas. 2012 saw the company merge Bella and Canvas into the single brand we see today, Bella + Canvas. Overall, they easily make some of the best T-shirts made in USA. Give one of their shirts a try and see what you think!
Why We Like These Shirts:
When reviewing T-shirts at this price range, you typically get what you pay for, and this shirt is no exception. That's not to say it's poor quality — it isn't, but don't expect beefy construction or durability. In fact, this shirt is probably best as an undershirt.
The 100% cotton construction is soft and comfortable, and we found the fit to be loose enough without looking frumpy. However, it's not as thick as some other shirts on our list and we wonder how well it will hold up over time.
Like many budget tees, this one is side-seamed, which some people find uncomfortable, so take that into consideration before ordering.
This T-shirt is pre-shrunk, and we found it retained its size with no shrinkage after machine washing and drying, and the collar remained in decent shape instead of curling like one would expect from less expensive tees.
The company makes higher quality tees at heftier prices, but all in all, this is a decent budget American-made T-shirt at a fair price.
Who We Recommend These T-Shirts for:
This shirt is recommended for someone who wants an inexpensive tee to wear as an undershirt or working around the house.
American Apparel Men's 50/50 Crewneck Short Sleeve Ringer Tee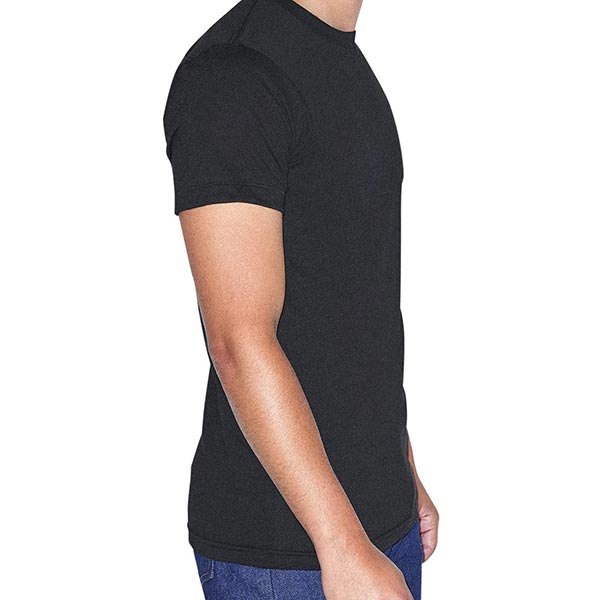 | | |
| --- | --- |
| Company Founded | 1989 |
| Materials | 50% cotton 50% polyester |
| Sizing | XSmall to 2X |
American Apparel Company Origin:
American Apparel traces its history back to 1989 in North Carolina, where it was founded by Canadian businessman Don Charney as a small wholesale company that set out to create the best American-made T-shirt.
In 1997, the company relocated to Los Angeles, where it continued to operate as a wholesale business, mainly selling blank shirts to screen printers and uniform companies, then moved into retail.
After going through financial hardships, the company filed for bankruptcy in 2015 and was eventually purchased by Gildan Activewear in 2017.
Why We Like These Shirts:
Where would a T-shirt review be without the classic ringer? Well, here it is. This shirt features a slim, classic fit that's ultra soft thanks to the 50/50 construction. It has contrast ribbing around the neck and arm openings and retains its shape well even after repeated wearing and washing.
We loved the fact that this shirt doesn't require ironing or dry cleaning — it looks great right out of the washer. We found the sizing to be true, and because of its construction, you shouldn't have to worry about shrinkage.
Depending on your body shape, this unisex shirt fits a little snug at the sides but doesn't feel constraining. And the length falls just below the beltline where you want it. The seamless collar fits snugly but not overly tight and didn't appear to show signs of puckering. We also liked that this shirt comes in a variety of colors.
Who We Recommend These T-Shirts for:
This is for people who love the classic ringer T-shirt style and like the American Apparel brand.
Bayside 8100 USA Pocket Long Sleeve Tee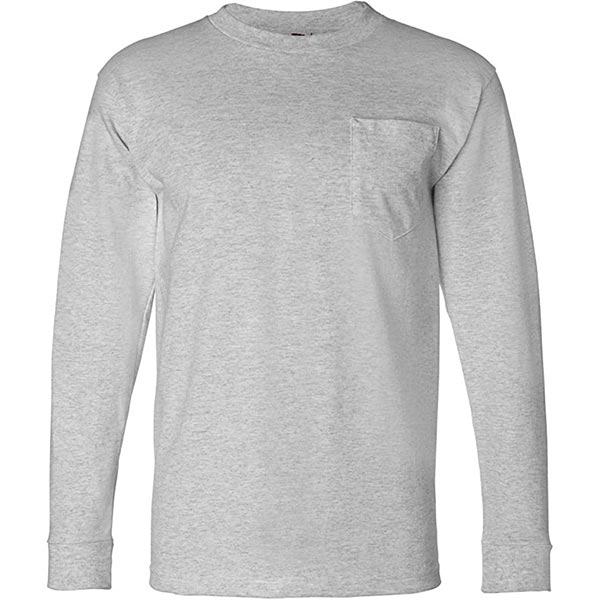 | | |
| --- | --- |
| Company Founded | 1995 |
| Materials | 100% Cotton |
| Sizing | Small to 4X |
Bayside Company Origin:
Bayside Apparel is the largest vertical apparel manufacturer in the United States, as one of the few that knits, dyes, finishes, cuts, and sews all of their products in-house.
Located in Southern California, the company sources all of its cotton from US farmers, which is then processed into yarn in North Carolina. Once it's made into yarn, the fabric goes to another plant for dyeing, and it's here the company boasts about its commitment not only to American jobs but to the environment as well.
All material waste is recycled, and the plant takes every measure to minimize the amount of water used in the process.
Once the fabric is dyed, it moves onto the cutting plant and is eventually sewn into the final garments.
The company says every garment they make is touched by more than 500 American workers.
Why We Like These Shirts:
As the only long sleeve tee on our list, the 8100 is a pre-shrunk, heavyweight cotton tee that gives you that classic look you want in a T-shirt for when the weather gets cold.
One thing we look for when recommending T-shirts is variety, and this one comes in a plethora of colors, including safety green.
We found this shirt to be well-constructed with full-cut shoulder-to-shoulder and double-needle hems. Also, people of average height will be pleased the shirt doesn't hang like a nightgown.
If we had one complaint, it's that one reviewer found the cuffs lost elasticity too quickly. This may have been a one-off issue, but take that into account or be careful if you're in the habit of pushing your sleeves up around your arms.
The bottom line is this is a well-made, comfortable long-sleeve tee that fits and wears well.
Who We Recommend These T-Shirts for:
This shirt is best for outdoor workers.
American Made Supply Co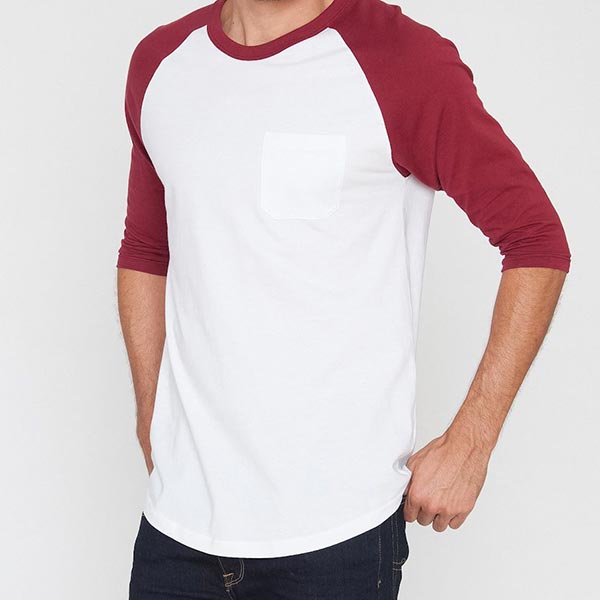 | | |
| --- | --- |
| Company Founded | Unspecified |
| Materials | 100% Cotton |
| Sizing | Small to 2X |
American Made Supply Co Company Origin:
For over two years, the founders of American Made Supply Company purchased virtually every tee-shirt and piece of casual wear they could and studied them to determine what went into making the perfect style with the best materials and construction.
The company wanted to make garments that fit and feel right and stand the test of time. Whether it's a collar that doesn't twist after wearing it a few times or shirts that come out of the dryer faded, the founders set their sights on delivering high-quality, American-made products that become the cornerstones of your wardrobe, not only because they look and feel great, but because they last.
Headquartered in Los Angeles, American Made Supply Co is one of the fastest growing direct-to-consumer private label brands, which allows them to maintain quality while keeping their prices competitive.
The company believes in the American way and proudly puts the American flag on every garment they ship.
Why We Like These Shirts:
As with the ringer tee, where would our list be without the timeless baseball pocket tee?
This shirt feels great thanks to its 100% American-made ringspun cotton in a jersey knit fabric. Its midweight design makes it ideal for colder weather, under a jacket or hoodie, or you can roll up the sleeves when it heats up.
We found these shirts to be true to size, and depending on your body type, you may want to size up if you want a looser fit. These shirts are pre-shrunk and laundered so you won't have to worry about shrinkage.
The colors and shape held up perfectly after several trips through the washer and dryer.
The pocket is double stitched and seems like it will hold up well long term.
Whether you or your kids play baseball or you just like the look, this is a high-quality baseball tee that's well-constructed and designed to last for years.
Who We Recommend These T-Shirts for:
People who like the look of the classic baseball tee
Factors We Considered:
Ranking T-shirts is a challenge because not every company's production is 100% US-based. Some companies might source materials from overseas and sew the clothes here in the States.
So, while we strive to review only companies that operate entirely in the US, we recognize that it's not always possible, but acknowledge that at the very least, American workers are responsible for some part of the production.
We also looked at the materials and the quality of the workmanship. We believe while all of the shirts we tested vary in quality and how well-made they are, all of them are superior to what you find from most companies that source everything overseas.
Another thing we took into consideration is the fit, which is also difficult because of how body types vary. Our testing was on an average male body type standing 5'9" and weighing 180 lbs.
Lastly, durability played a factor in our rankings as we sought to give you choices that would hold up long enough for you to get your money's worth.
Wrap Up:
That does it for this article; let us know if there are any great T-shirt brands we missed in the comments below.
Hi, my name is Kevin and I'm from Pittsburgh, Pennsylvania. Choosing products made in America is important to me because it supports local economies, creates jobs, helps the environment, and ensures ethical labor practices. I also find that American made products are usually of higher quality so although they're a little more expensive, you save money in the long run. Before starting this website I was in the USMC infantry and nowadays I work on this website as a hobby.