Passionate automotive engineering has deep roots in American history and there are a lot of crafty entrepreneurs that took full advantage of the scene and built American tire companies that continue to hold our cars on the pavement to this day. With over 150 tire brands on the market, picking out tires made in the USA from an overabundance of choices can prove difficult.
Only a few tire brands with true American roots remain, which we will, of course, talk about down below, but there are also some tire brands that are owned by foreign companies but with tire manufacturing in the US that are worth mentioning, which will also be covered in this article!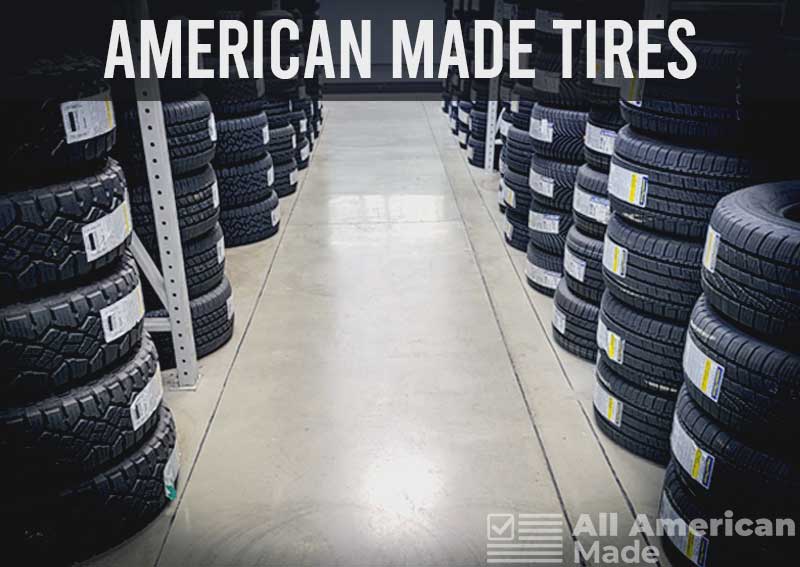 In this article, we'll cover any and all manufacturers in the United States that build tires you can trust, using American labor, high-quality materials, and adhering to the strictest and most in-depth safety regulations and engineering.
It's important to note that many of these brands will also have manufacturing facilities outside of the US, which means that you need to specifically ensure the exact model and size of tire you are looking for is indeed made in the USA. In most cases, there is a code on the tire to aid with this process, which we will detail later in the article.
We will be starting this article with brands that are American-made and American-born. Only three major all-American tire brands remain—Goodyear, Hoosier, and Cooper. We will cover each of them along with some of their subsidiaries.
One of the things about the tire market comes from the fact that tire brands regularly consolidate other companies. An example of this is Bridgestone buying out Firestone, but many examples of this exist.
List of American-Made Tires
1. Goodyear Tires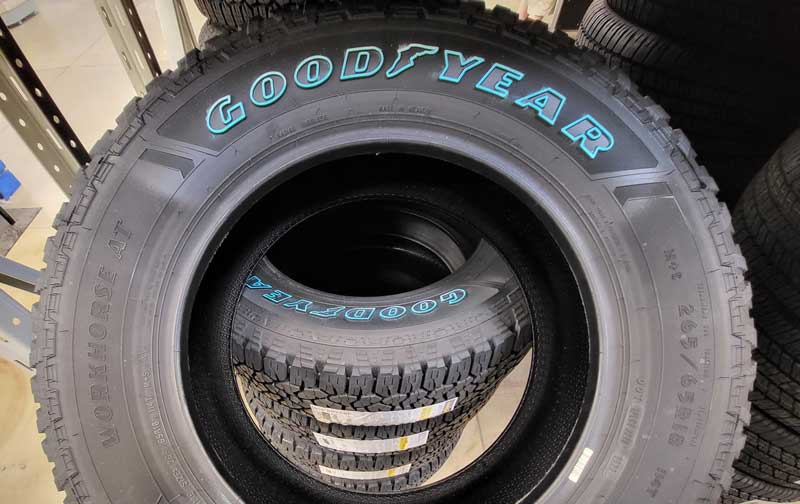 | | |
| --- | --- |
| Year Founded | 1898 |
| State Founded | Akron, Ohio |
Company Origin and What We Like About Good Year Tires
Frank Seiberling founded Goodyear Tires in 1898 in Akron, Ohio. Since 1997, Nascar has exclusively used Goodyear tires. All Nascar drivers are required to use Goodyear tires. Long praised for exceptional wear, Goodyear earned its reputation in the tire industry for its responsive handling and tenacious grip. We should highlight that while this remains a great American-made tire brand, Goodyear makes some of its tires abroad nowadays. They operate 48 facilities in 21 countries around the world. Still, we believe that the brand does a good job at staying American made when much of the competition chooses to manufacture elsewhere.
One thing that makes Goodyear stand out; they announced that they had acquired Cooper Tires on February 22, 2021. Goodyear did this to become the largest tiremaker in North America. Cooper Tires was the fifth largest tiremaker in North America, adding to Goodyear's already impressive record. This acquisition will give Goodyear better access to the market in China, but we can expect that they will keep the manufacturing at Cooper Tires in the USA since this corporation has already done that.
Some of the DOT codes to look for with American-made Goodyear tires include:
| | |
| --- | --- |
| Dot Code | Location |
| PL, MP | Tyler, Texas |
| M6 | Lawton, Oklahoma |
| MB | Akron, Ohio |
| MD | Gadsden, Alabama |
| MC | Danville, Virginia |
| MJ | Topeka, Kansas |
| MK | Union City, Tennessee |
| MN | Freeport, Illinois |
| PJ, MM | Fayetteville, North Carolina |
Some of the top American-made tires from Goodyear include:
Goodyear Assurance ComforTred Touring—The quietest tire from Goodyear
Fortera HL Radial Tire—Great for exceptional highway performance
Assurance MaxLife—Best all-season tire
Wrangler TrailRunner All-Terrain Tire—Most versatile tire
Who We Recommend Goodyear Tires To:
Anyone who wants durable designs and high-quality materials from a distinctly American brand will appreciate Goodyear tires. Nascar fans may also feel the excitement of owning tires that are used in their favorite sport. The company has a reputation for standing behind its products, and someone who has felt burned on a warranty in the past may appreciate the helpful customer service and warranty backing this tire.
Some Goodyear tire models receive an 80,000-mile warranty, such as the Assurance TripleTred All-Season. Compared to budget tires, Goodyear does have a higher cost, but their quality is second to none. They provide more durability and performance than their cheaper rivals. Overall, Goodyear tires are some of my favorite tires made in the USA and they're very dependable.
2. Cooper Tires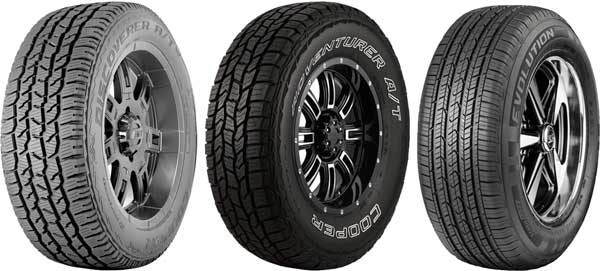 | | |
| --- | --- |
| Year Founded | 1914 |
| State Founded | Akron, Ohio |
Company Origin and What We Like About Cooper Tires
A subsidiary that Goodyear acquired for $2.8 billion, Cooper Tires has kept its American manufacturing operations. Some of the things that have made Cooper Tires stand out from the competition include price point, the focus on safety, and the replacement tire options. In 2021, Automo listed them as the Most Affordable Tire Company. Started in 1914 in Akron, Ohio, Cooper Tires produced mostly for the passenger vehicle market.
Keep in mind that Cooper Tires make their truck tires now in Hangzhou, China. Cooper estimates that they will make 250,000 to 300,000 truck tires in Hangzhou from there. You may need to watch with this brand to ensure American-made, but you can still buy some great American-made tires from Cooper.
Some people worry that the acquisition may cost jobs, as they often do, but Cooper didn't comment on how many jobs were lost as a result. The one thing that could be said was that Goodyear agreed to comply with the union agreements previously made with Cooper employees to ensure the terms and conditions.
Cooper operates four manufacturing facilities within the USA. If you want an American-made tire from Cooper, we would recommend the following choices that are known to be made there:
Cooper Zeon LTZ
Cooper A/T3 XLT
Cooper Discoverer H/T Plus
Look for the following DOT codes on your Cooper Tires for an American-made tire:
| | |
| --- | --- |
| Dot Code | Location |
| UT | Texarkana, Arkansas |
| U9 | Tupelo, Mississippi |
| 3D | Albany, Georgia |
| UP | Findlay, Ohio |
We previously highlighted some of the tires known to be made at Cooper manufacturing facilities in the USA. Some of the best American-made tires from Cooper include:
Cooper Evolution Tour H/T—Best for SUV
Cooper Zeon RS3-G1—Made as ultra-high performance tires
Cooper Trendsetter SE—The best all-season tires
Cooper Discoverer SRX—Made for small to mid-size SUVs
Who We Recommend Cooper Tires to:
Listed as a budget-friendly tire, Cooper Tires would be best as a tire for those on a budget who still want an American-made tire. Unfortunately, American-made tires have a reputation for often costing more than their foreign-made counterparts. Two of the biggest qualities that you will see from Cooper include safety and durability.
For those in a rainy climate, Cooper tires have another advantage in their tread. They structured the tread well to push off the excess water from the road. This design will prevent hydroplaning for extra safety.
That matters because some estimates show that one out of every four car accident deaths happened because of inclement weather. Of 445,000 injuries due to crashes, an estimated 46 percent of them happened during rainfall. In the rainiest states like Hawaii, Louisiana, and Mississippi, Cooper tires could prove a big safety advantage. Cooper tires are, without a doubt, some of the best tires made in the USA.
3. Hoosier

| | |
| --- | --- |
| Year Founded | 1957 |
| State Founded | Lakeville, Indiana |
Company Origin and What We Like About Hoosier Tires
Ranking as the largest race tire manufacturer in the world, Hoosier tires have other advantages of being American-made and American-born. Founded in Lakeville, Indiana, in 1957, the brand specializes in tires for competitive use. The company began with two entrepreneurs dedicated to achieving the American Dream. They mortgaged their home to build the world's first and only factory dedicated to producing race tires.
Hoosier boasts itself as the only true American-made tire. Hoosier proudly produces all of its race tires in Plymouth, Indiana.
The biggest highlight of a Hoosier tire comes from its straight-line traction. Look at the DOT code on a Hoosier tire, and they only have a single plant where they produce them. The code is J7, which stands for Lakeville, Indiana, even though they produce them in Plymouth, Indiana. However, Lakeville is only 13.1 miles away.
To give you an idea of how American-made, Hoosier sat among the ranks of 50 American-made companies that the White House invited in October 2020 to the fourth annual Made in America Showcase. Hoosier was the company representing Indiana. Despite its proud American heritage, Continental A.G., a German company, acquired Hoosier in 2016. Still, the company has kept its American manufacturing.
Some of the best American-made tires from Hoosier include:
Hoosier R7 De Time Trial Race Tire—Made for fast and consistent lap times
Hoosier A7 Autocross Race Tire—Made for autocross, Hillclimb, and time trial
Hoosier D.O.T. Drag Radial—Made for drag racers
Who We Recommend it for
Designed and approved for DOT racing only, Hoosier tires are neither approved nor recommended for street use. Because of that, you would want these tires if you had a race car that required them. Keep in mind that Hoosier tires often require higher pressure than other brands. The company says that it would be best if you were to start with a minimum cold pressure of 26 PSI.
Anyone into racetrack and autocross will appreciate what they receive with Hoosier tires.
4. Mickey Thompson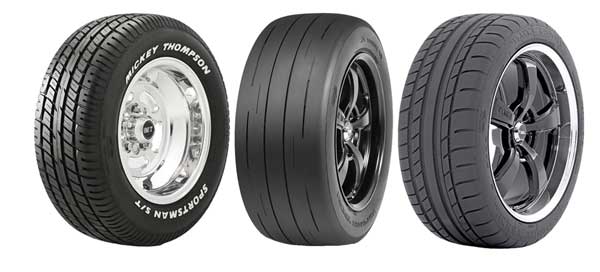 | | |
| --- | --- |
| Year Founded | 1963 |
| State Founded | Stow, Ohio |
Company Origin and What We Like About Mickey Thompson Tires
Now a subsidiary under the Cooper Tires label, Mickey Thompson tires were made for extreme off-road adventures in the truck. American racing legend and innovator Mickey Thompson started the company in 1963.
Many of the most passionate 4×4 drivers swear by the Mickey Thompson brand. Made in Stow, Ohio, this is an American-made and American-born brand, but we didn't highlight it as one of the major brands because they're not a major tire company. The brand rakes in an estimated $27.7 million every year. Compare that with Hoosier, another race tire brand, they bring in an estimated $65.7 million annually.
In particular, if you wanted a great choice from the Mickey Thompson brand, we would recommend the Baja Series. The performance and handling of the tires won't disappoint. The aggressive style that Mickey Thompson has become known for is also present.
We could not find anything on it related to the DOT codes, but because of it being a race tire and off-roading tire, they're not required to post this information. Still, they remain a great American-made brand now also owned under Goodyear.
With that acquisition in mind, we don't necessarily know what brands Cooper Tire and Goodyear plans to keep. Because of its smaller size, we could see this one being merged into another one like Dick Cepek. In fact, we saw this on their website where the Dick Cepek brand now redirects you to Mickey Thompson's page.
While being known as an American-made company, we would advise caution because there are rumors of some of the tires being made in China. For example, the 245/45ZR20 Mickey Thompson Street Comp tires are believed to have possibly been made in China. This Chinese manufacturing may happen through the facilities that Cooper Tires own there in Hangzhou.
Again, we don't know this for sure and have only heard a rumor that may or may not be true. We don't want anyone feeling disappointed later, however, if they learned that it was made in China.
Some of the great American-made Mickey Thompson tires include:
Mickey Thompson ET Street R Racing Radial Tire – P305/45R17—Best street-legal approved tires
Mickey Thompson Baja ATZP3—Great hybrid all-terrain tire
Mickey Thompson Baja Claw TTC—Best in rugged off-road performance
Mickey Thompson Baja MTZP3—An incredible mud terrain tire
Who We Recommend it for
In particular, Mickey Thompson tires were intended for specialties like off-road racing, high-performance street tires, and track racing. They have become popular among drag racers, and many estimate that your tires will last anywhere from 15,000 to 30,000 miles on the street drag radials. Keep in mind that they constructed those tires differently from the other tires.
5. Dick Cepek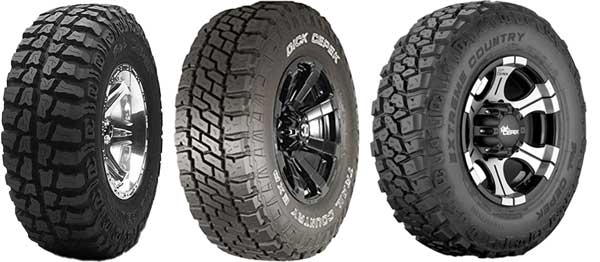 | | |
| --- | --- |
| Year Founded | 1958 |
| State Founded | Temecula, California |
Company Origin and What We Like About Dick Cepek Tires
Another American-made and American-born company, Dick Cepek, delivers outstanding traction in extreme environments. When Cooper Tires bought Max-Trac Tire Co. Inc. for an undisclosed amount, they purchased Mickey Thompson and Dick Cepek under the deal. Dick Cepek operates its division in Temecula, California. Founded in 1958, the brand specializes in off-road truck tires.
Dick Cepek first decided to start the company when he struggled to find reliable tires that would perform in extreme environments. Unlike some of the other tire brands, Dick Cepek keeps it simple, and they only produce three types of tires. That said, they are masters at what they do with all-terrain capabilities and various sizes to fit your truck.
An avid outdoorsman, Dick Cepek desired to create the perfect tire that could ride on all surfaces unhindered. The brand continues to follow that philosophy that Dick laid out decades ago. Dick Cepek tires were designed to conquer some of the most treacherous and demanding road conditions imaginable.
We do think that under the Goodyear-Cooper acquisition, Dick Cepek may have been the one brand that could be phased out in the future. We already see how their website now redirects you to the Mickey Thompson brand.
Some of the great American-made tires from Dick Cepek include:
Dick Cepek Crusher OTR Tires—Best in off-road capabilities
Dick Cepek Mud Country OTR Tires—Best for mud traction
Dick Cepek Fun Country OTR Tires—Hybrid all-terrain tires
Who We Recommend it for
Anyone who loves the all-terrain challenge will appreciate the durability and power of Dick Cepek tires. People who share Dick's love of the outdoors in an off-roading environment will get the most from them. These tires were created with the purpose of going straight from the pavement onto an off-road environment.
You can pick out some great 4×4 off-road tires from the brand. You might choose these tires for a truck, jeep, SUV, or 4×4.
Foreign Companies Manufacturing Tires in the USA
Looking at foreign companies that produce tires in the United States leaves us with more choices. Even a foreign company that manufactures in the United States still provides Americans with manufacturing jobs. In fact, this distinction matters more than a company that is simply an American company that manufactures elsewhere because that doesn't provide Americans with jobs.
Some of the biggest foreign companies producing tires in the USA include:
Michelin
Yokohama
Bridgestone
Continental
With foreign companies, you will want to check ahead of time to ensure that the tires you bought came from the United States. A foreign company will often be more likely to produce elsewhere, but we will look at the ones that do some of their manufacturing in the USA.
We will cover the DOT codes where possible so that you can decide for yourself.
6. Michelin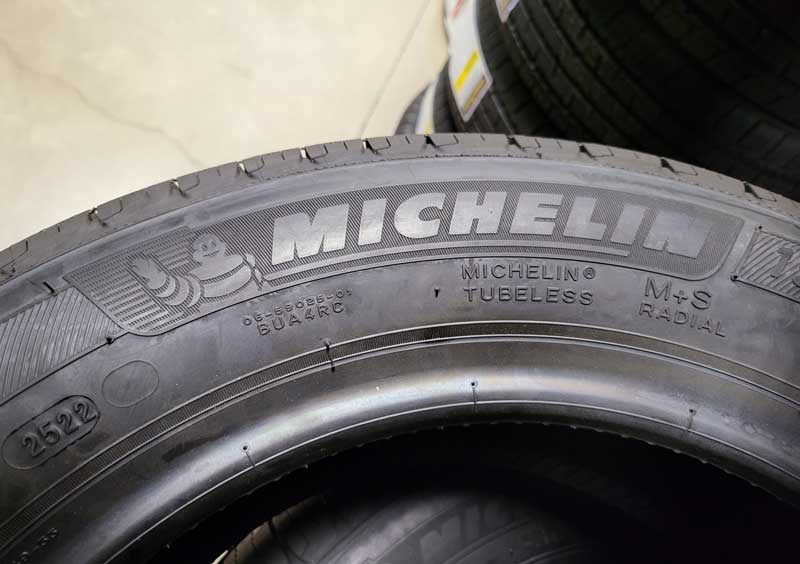 | | |
| --- | --- |
| Year Founded | 1889 |
| Country Founded | France |
Company Origin and What We Like About Michelin Tires
Founded in Clermont-Ferrand, France, Michelin has 68 production facilities in 17 countries. This includes 19 facilities in 16 North American locations. Don't let that statement fool you, however. North America includes Canada and Mexico.
We highlight this because how Michelin has a facility in Kentville, Nova Scotia, Canada, and a facility in Benito Juarez C.P. Santiago, Queretaro, Mexico. As far as we know, they have two manufacturing plants in Canada and one in Mexico.
Michelin's largest manufacturing presence in the United States is in South Carolina, where they have nine manufacturing plants. Michelin also has a number of subsidiaries like:
Uniroyal
BFGoodrich
Kleber
Riken
Tigar
Kormoran
In North America, Michelin employs an estimated 22,750 workers. An estimated 10,000 of those employees work in South Carolina. Michelin has done so well for the state that Lexington County had the second-lowest unemployment rate at 2.5 percent. Despite its French origin as a tire company, Michelin has done well in the United States.
Under its Michelin North America division, the company operates its headquarters in Greenville, South Carolina. They began manufacturing here in 1975 and have continued ever since.
In Lexington County, they produced their first tire there on October 29, 1981. They have since produced 240 million tires, and the factory is a passenger tire manufacturing facility. They employ 1,470 workers who manufacture replacement tires and original equipment tires.
Despite its French origins, Michelin supports the local community, and they have donated to Saxa Gotha Elementary School and Red Bank Elementary. They also provide a long–term technical scholarship in partnership with the Midlands Technical College. We highlight this information to show you how even a foreign company that manufactures in the USA can do a lot of good for the local communities.
The DOT code for the American-made Michelin tires include:
| | |
| --- | --- |
| Dot Code | Location |
| 4M | Greenville, South Carolina |
| B6 | Spartanburg, South Carolina |
| B9 | Lexington, South Carolina |
| B7 | Dothan, Alabama |
| M3 | Greenville, South Carolina |
Some of the American-made tires from Michelin that we would recommend include:
Michelin Primacy All-Season 215/55R17 94V Tire—Best all-season tire
Michelin Latitude Tour HP All-Season 245/60R18 105V Tire—Great choice for light trucks, SUVs, crossovers
Michelin LTX M/S2 All-Season 275/55R20 113H Tire—Best performance tire
With any foreign company producing tires, check the DOT code ahead of time to ensure that it was made in the USA.
Who We Recommend it for
Fuel efficiency, longevity, and a quiet ride—if you value any of those three factors, then you can appreciate Michelin tires. Michelin also creates great "green" tires intended to help the environment, and they were doing this before everyone else was doing it. The company continues to investigate new ways to remain environmentally sustainable, and if you want to reward a company that does well for the environment, Michelin does a great job.
Michelin tires performed well in the all-weather tests, making them a good tire to use in a variety of weather conditions. If you live in an area that experiences all four seasons, Michelin might be your tire. You can expect Michelin tires to last anywhere from 45,000 to 85,000 miles.
7. Continental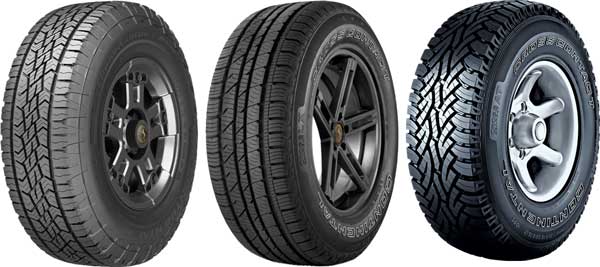 | | |
| --- | --- |
| Year Founded | 1871 |
| Country Founded | Germany |
Company Origin and What We Like About Continental Tires
Beginning in Hanover, Germany, in 1871, Continental had a special reputation as an awesome all-season tire. If you happen to drive in a climate with all four seasons, you may want to check them out. Continental first arrived in the United States in 1987. Continental produces its tires in seven states in the USA, including Georgia, Michigan, Texas, Illinois, Mississippi, South Carolina, and North Carolina.
The division of the North and South American headquarters for Continental situates itself in Fort Mill, South Carolina. Continental sells tires for cars, bikes, and motorcycles.
For drivers who have an interest in performance, touring or all-season driving, Continental does the job with expert skills. The one thing that we need to point out with Continental is that most of its tires come from Germany. However, Mount Vernon, Illinois, is home to one of Continental's largest tire manufacturing plants, where they employ 3,500 workers and produce an estimated 14 million tires each year. Continental established this plant in 1973.
In the fall of 2021, Bill Caldwell, the senior vice president of sales and marketing, announced that Continental has plans to expand its manufacturing capacity in North America, which could lead to more jobs. This new investment is expected to become a three-year investment where they will upgrade the personnel, buildings, and equipment.
Most of the tires produced at the Continental factory in Mount Vernon are for light truck vehicles. Continental has other plants around the country. For example, in Bolton, Mississippi, they produce commercial tires, and in Sumter, South Carolina, they make passenger tires and light truck tires.
If you want an American-made tire from Continental, we would highly recommend the light truck tires since this comprises over half their segment within the North American market.
Continental also acquired General Tire, an American tire company started in Akron, Ohio, in 1915. This company today remains a largely American-made tire company as well under Continental, which we will cover soon.
Still, we would consider it a big mistake to think of Continental as a largely American-made tire company because that doesn't show you the reality. Europe remains the critical base where Continental manufactures most of its tires. With all foreign companies and even American companies, we always recommend reading the DOT codes if you want a truly American-made tire.
Some of the DOT codes for Continental that are made in the USA include:
| | |
| --- | --- |
| DOT Code | Location |
| VY | South Sumter, South Carolina |
| AD | Mayfield, Kentucky |
| AC | Charlotte, North Carolina |
| A9 | Bryan, Ohio |
| A3, 6B | Mount Vernon, Illinois |
Some of the best American-made tires from Continental include
Continental CrossContact LX20 All-Season Radial Tire—Best all-season tire
Continental TerrainContact A/T all_ Season Radial Tire-275/60R20 115S—Tire with outstanding quality
Who We Recommend it for
Popular in sports cars, Continental tires often go into car brands like Maserati, Porsche and AMG. Maybach and Rolls Royce also drive on Continentals. The tires performed well in all types of weather conditions, and they were particularly impressive when it came to the wet-braking test. We would think of Continentals as the good all-around performer. For drivers who want slight comfort, safety, and performance, Continentals perform well.
8. General Tire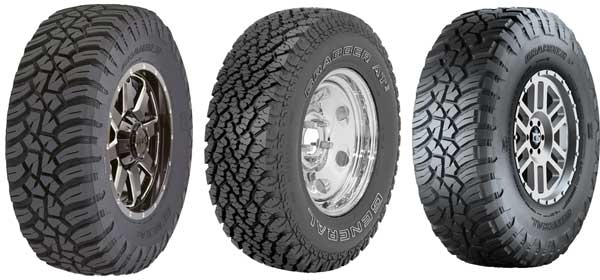 | | |
| --- | --- |
| Year Founded | 1915 |
| State Founded | Akron, Ohio |
Company Origin and What We Like About General Tires
While technically once an American company, the company is no longer American-owned.
When General Tire first opened its doors for business in 1915 in Akron, Ohio, it had to compete with over 300 competing tire companies. The industry has slowly consolidated into fewer companies, but you still have a flood of competitors in the space.
Now a subsidiary of the German tire company Continental, General Tire has kept its manufacturing presence in the United States. Continental acquired them in 1987. In fact, today, they're no longer known as General Tire. In 1995, the brand changed its name to Continental General Tire, and they were renamed again to Continental Tire North America Inc. in 2000.
Celebrating over 100 years in business, General Tire heavily focuses on the truck market for tires. In the 1930s, in fact, General Tire was the largest tire maker for trucks in the United States. The brand also has the world's largest tire test track in Uvalde, Texas. It has a manufacturing facility in Waco, Texas, and it used to have six manufacturing facilities in:
Mount Vernon, Illinois
Bryan, Ohio
Mayfield, Kentucky
Uvalde, Texas
Waco, Texas
Charlotte, North Carolina
In Mount Vernon, General Tire continues to produce three million tires each year.
General Tire won a reputation over time as one of the most innovative manufacturers of 4×4 tires. The broad range of tires today includes tires for commercial trucks and passenger cars. You have tires designed for off-road and on-road driving.
General Tire also has a manufacturing facility in Barrie, Ontario (DOT code: LV), and interestingly, another one in Casablanca, Morocco (DOT code: BO).
The DOT codes for the tires at General Tire include:
| | |
| --- | --- |
| DOT Code | Location |
| 6B | Mount Vernon, Illinois |
| A3 | Mount Vernon, Illinois |
| A9 | Bryan, Ohio |
| AC | Charlotte, North Carolina |
| AD | Mayfield, Kentucky |
Some great American-made tires from General Tire include:
General Tire Grabber X3 All-Terrain Radial Tire – 35/12.5R15 113Q—Excellent for off-roading driving
General Grabber AT/X All-Terrain Radial Tire – 285/75R16 126R—Great choice for wet and dry weather conditions
Who We Recommend it for
An affordable tire that is often made for the light truck, we would recommend it for truck owners on a tight budget. You have the opportunity to have high-quality tires at a low-budget price. The tread-life warranty is simply average in many cases, and we wouldn't necessarily call them the best tires, but they would work when pushed into a tight corner. You can, however, find General Tire products with a warranty of up to 75,000 miles, depending on the model.
These tires are also known for a quiet and smooth ride.
How to Tell if Tires Were Made in the USA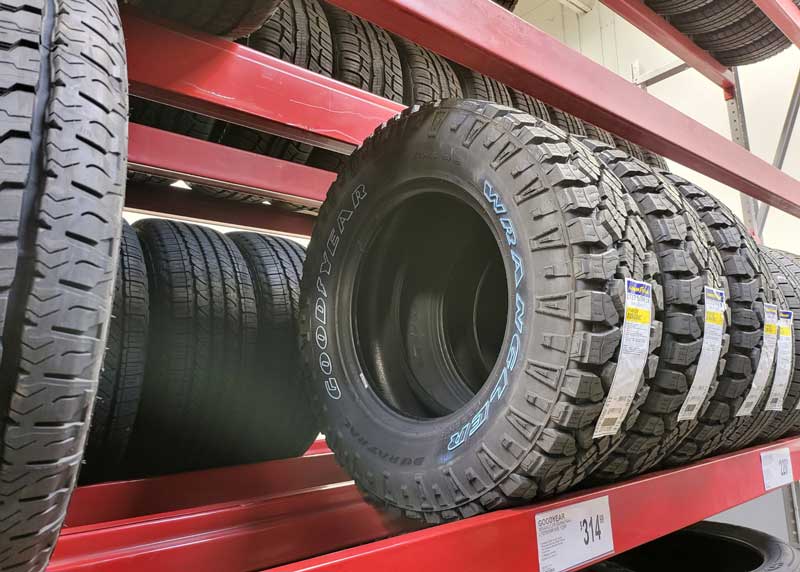 Every tire legally manufactured for sale in the United States must contain a DOT code. The only exception to that rule includes racing tires, farm equipment tires, and off-road competition tires. You can see the alphanumeric code on the sidewall of the tire. Legislators created the DOT code system to improve safety and make it possible to track sales.
Over 30 years, the DOT code has evolved so that consumers can track it as easily as retailers. They enacted the newest DOT code system in 2000. Under the new system, the DOT code starts with three letters. After the letters, you will see two alphanumeric symbols that represent where they manufactured the tires.
The final four numbers in the DOT code represent the week and the year that they made the tire. For example, 2120 means that they made the tire on the 21st week in 2020. If you were to look at the week specifically, this would mean that the tire was made somewhere in April 2020.
If you'd like to learn more extensively about manufacturing plants on the DOT code, the Tire Safety Group has created an extensive list worth checking out.
Wrap Up: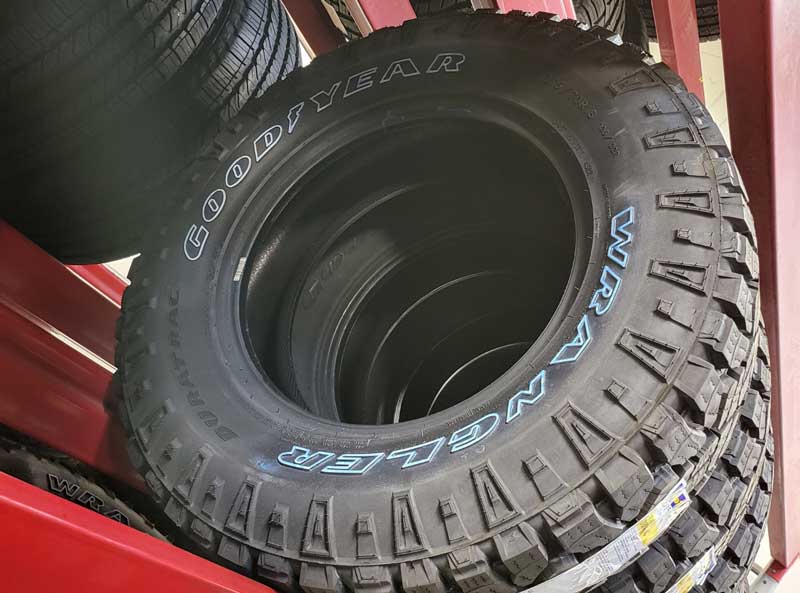 The tires that you choose will make a difference in fuel efficiency, safety, and durability. American-made products have long stood out worldwide as some of the best products because of strong quality control standards and better environmental practices. At the same time, you support your nation by propping up American industry and ensuring the future prosperity of our nation.
While not all the tire companies listed above are American companies, all of them bring jobs to American workers through manufacturing facilities on American soil. Some of them, like Michelin, have even become supporters of the local community.
That does it for this article. Let us know what you think of this list or if there are any good products we should add. We're always on the lookout for new products to let our readers know about.
Hi, my name is Kevin and I'm from Pittsburgh, Pennsylvania. Choosing products made in America is important to me because it supports local economies, creates jobs, helps the environment, and ensures ethical labor practices. I also find that American made products are usually of higher quality so although they're a little more expensive, you save money in the long run. Before starting this website I was in the USMC infantry and nowadays I work on this website as a hobby.