Choosing towels for your home can be tricky, especially when your goal is to support American businesses. Many towels that seem luxurious don't absorb water well, aren't soft, or start to break down after a few washes. The good news is that you'll find plenty of great towels made in the USA if you do a little digging.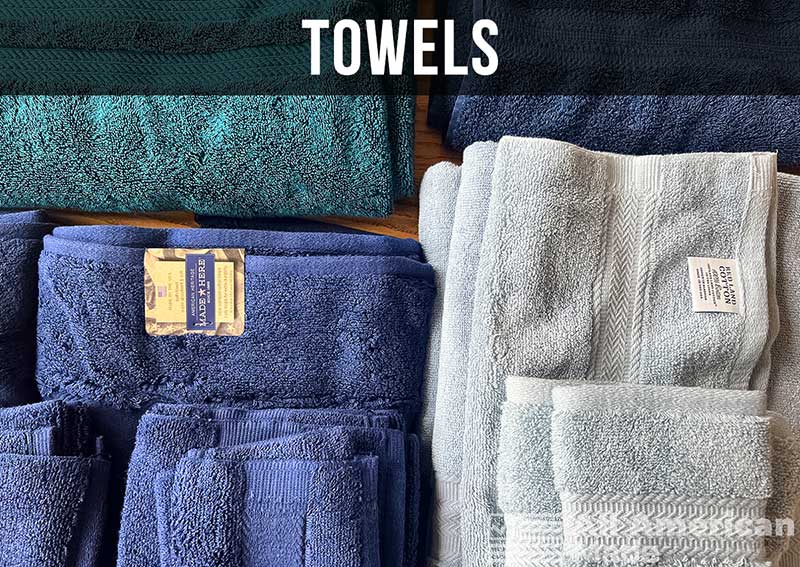 In the rest of this article, we'll be presenting many great towels that differ in size and color. Whether you're looking for bath towels, kitchen towels, or beach towels, this list has tons of great options. Simply scroll through and find the perfect towels for your home.
List of American-Made Towels
Made Here American Bath Towels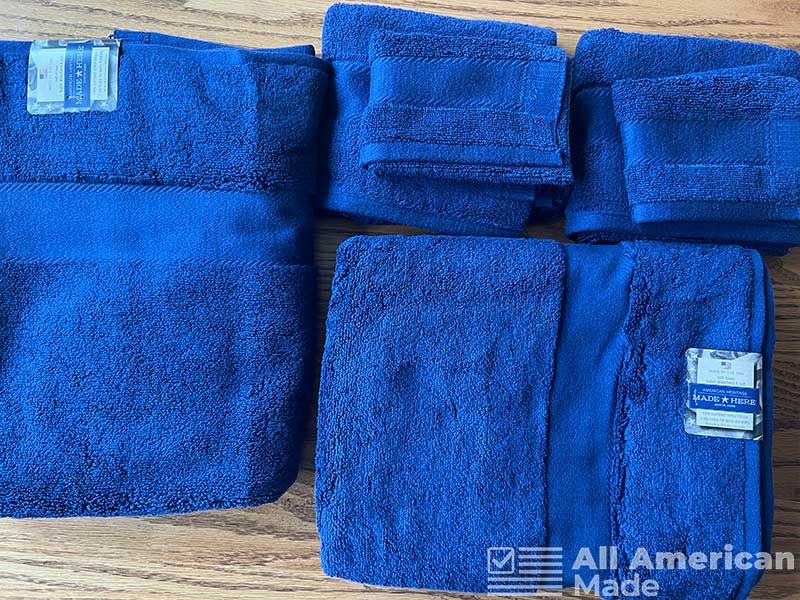 | | |
| --- | --- |
| Estimated Price | $50 |
| Materials Used | 100% 2-ply Combed Cotton |
| Colors Available | White, Blue, Red, Navy Blue, Gray, Purple |
| Origin | Griffin, Georgia, USA |
Made Here's Origin and Manufacturing Locations
Each and every Made Here towel is handcrafted out of Griffin, Georgia, using veteran American talent and very fine cotton material. These towels are constructed on what is a historical and last remaining vertical mill in the United States. Despite so many of our beloved textile companies leaving the United States for cheaper labor, Made Here is a brand committed to utilizing Americans and their love for high-quality goods. Their determination to remain American made in the face of so many companies trying to undercut them by using foreign labor is a great reason to support them!
What We Like and Don't Like About Made Here Towels
You can find Made Here bath towels in 5 different colors, and all versions are crafted from double-ply cotton loops, making them extremely durable and able to withstand a ton of washing cycles. It's not uncommon for imported towels to be manufactured with the use of harmful chemicals, but with Made Here, they not only truly care about American jobs, but they care about American lives, and with that, they've made sure to be compliant with OEKO-TEX, a certification that proves their products are free of harmful manufacturing substances.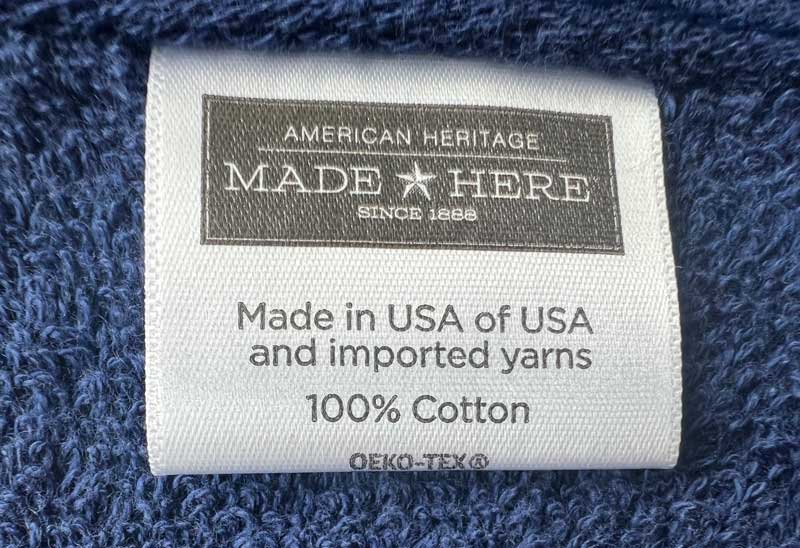 One of the worst things about having a low-quality towel is that I always end up having issues with both the material itself getting hard and losing its softness quickly and the sides of the towels coming undone and starting to fray. With Made Here, they've taken note of these common issues with cotton towels, and they've refined their design, creating their own "fast selvage side hems" technique, which creates a must stronger barrier around the towel so that it doesn't fray and fall apart. They use really high-quality cotton that is sewn by some of the most experienced people in the world, ensuring that there is very limited lint and pilling coming off of these, which also makes them keep their softness for much longer.
These towels aren't exactly cheap, but they aren't exactly expensive, either. I recommend these towels for anyone looking for a nice neutral set that is right in the middle in terms of the price point but offers great long-lasting quality and durability. Made Here is an awesome brand and a brand that we need to support so that it can continue its long heritage of awesome textile manufacturing.
Red Land Cotton Bath Bundle (Great Two-Ply Softness)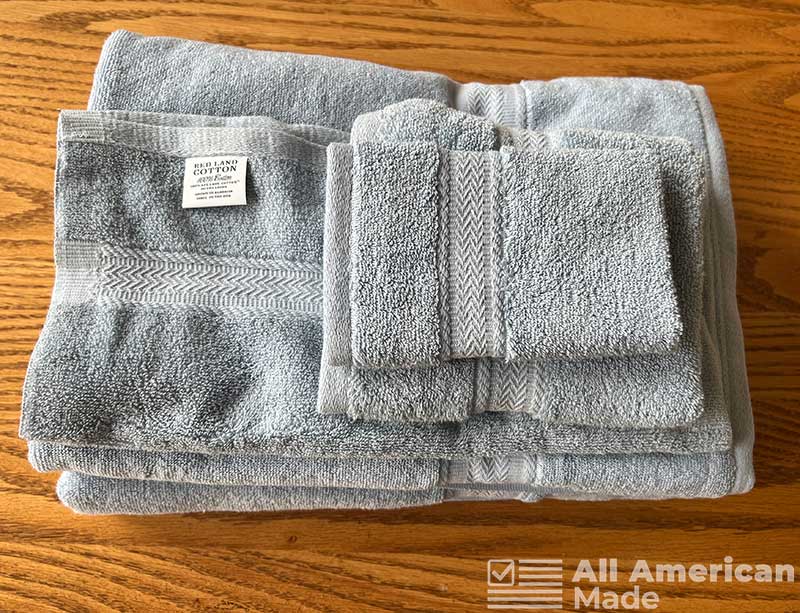 | | |
| --- | --- |
| Estimated Price | $170 |
| Materials Used | 100% Cotton |
| Colors Available | White, natural, grey, blue |
| Origin | Alabama, USA |
Red Land Cotton's Origin and Manufacturing Locations
Family-owned and operated, the Red Land Cotton Company is located in North Alabama. Each piece of Red Land Cotton, from the seed in the ground to the final stitch, is made right here in the USA. Their products are made with cotton that is grown in strict compliance with US regulations and sustainably. In addition to raising their children on their farms, they are committed to protecting the environment.
What We Like and Don't Like About Red Land Cotton Towels
The Towel Bundle includes everything you need to start your bathroom renovation. These are the only two-ply bath towels made in the USA! What makes them special? More cotton per loop means your towel will be more absorbent, durable, and soft! Two bath towels or bath sheets, two hand towels, and two washcloths are included in this set. We will take care of the rest! Select your favorite towels or sheets, and we'll do the rest!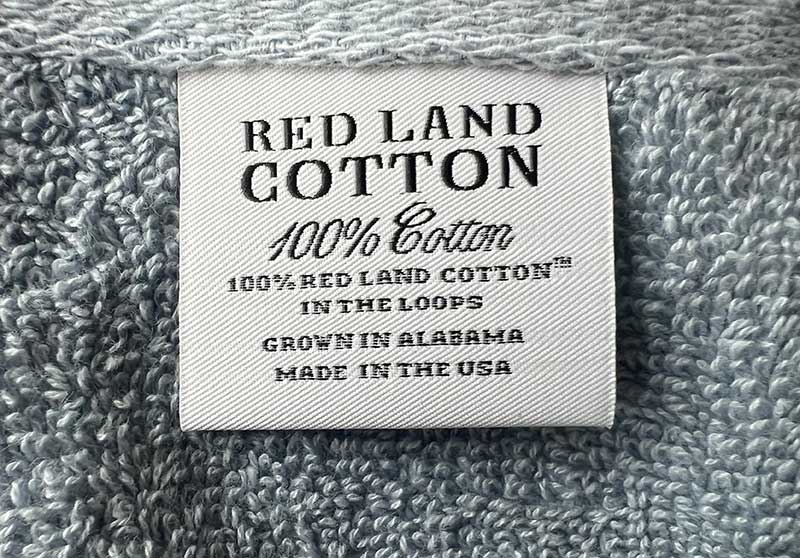 These towels are expensive compared to many of the other towels on this list, but they truly are of great quality, and the company has a great reputation. If you're looking for new towels for your home, these are perfect.
Authenticity50 Essential Cotton Towels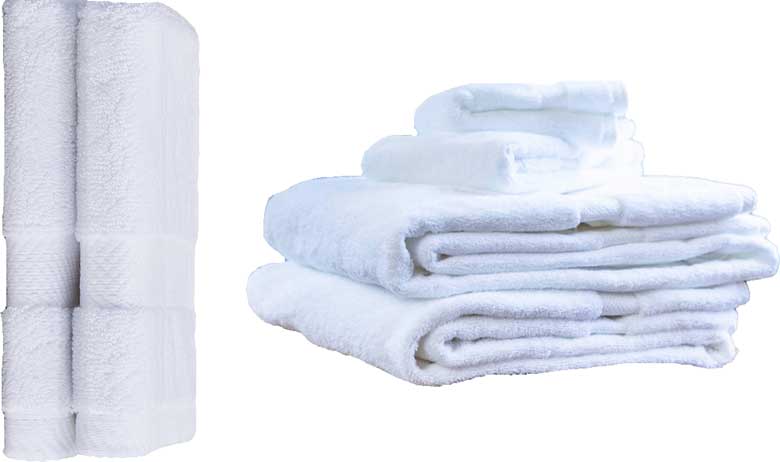 | | |
| --- | --- |
| Estimated Price | $140 (Bath Towel) $50 (Hand Towel Set) |
| Materials Used | 100% Cotton |
| Colors Available | White |
| Origin | Vancouver, Washington, USA |
Authenticity50's Origin and Manufacturing Locations
Jimmy and Steph MacDonald didn't give much thought to the American dream as kids. They had the privilege of seeing it all around in their schools, communities, and, most of all, at home.
Each of the folks who started Authencity 50 was raised by parents who owned and operated small businesses in their communities. As kids, the founders worked tirelessly to provide for their families and build something they were proud of. Through them, Jimmy and Steph learned values such as hard work, honesty, kindness, and perseverance-values they apply to their work every day at Authenticity50.
Several years ago, when they were newlyweds, they shopped for durability and craftsmanship above all else when furnishing their homes. In terms of bedding, however, they were unable to find anything. They were baffled. They realized that the problem was bigger than just finding bedsheets because the domestic textile and sheeting industry had nearly disappeared from the US. Jobs, communities, and even entire towns were at stake.
From Seed-to-Stitch, they set out to bring bedding back home by delivering quality, long-lasting products at incredible value. They employ over 1,000 skilled workers coast-to-coast with their local manufacturing supply chain and production process. As important to Authenticity50 as making these products is for you to own and purchase them here.
What We Like and Don't Like About Authenticity50 Towels
Comfortable and thick, their 100% cotton towels are thick and absorbent. As the foundation of their operation, they begin with the finest Supima cotton loops and American cotton base from family-owned farms in California and the South. To ensure you receive the best towels, they are proudly woven by the same manufacturer that weaves spa towels for 5-star resorts worldwide. I love these towels, and they are among my favorite cotton bath towels made in the USA.
These towels are as plush and soft as spa towels, they would be perfect for any family home, cottage, camper, or rental home. As well as their 800 gsm weight (25% heavier than most towels), they have an oversized design to keep you warm and covered. You can wrap yourself up in them after a long soak or scoop your kids up in them after their tub time. Just as important as the great product is the fact that you are supporting local communities, jobs, and industries from coast to coast with 100% Seed-to-Stitch Made in the USA 100 percent cotton towels.
Better Homes & Gardens American Made Bath Towel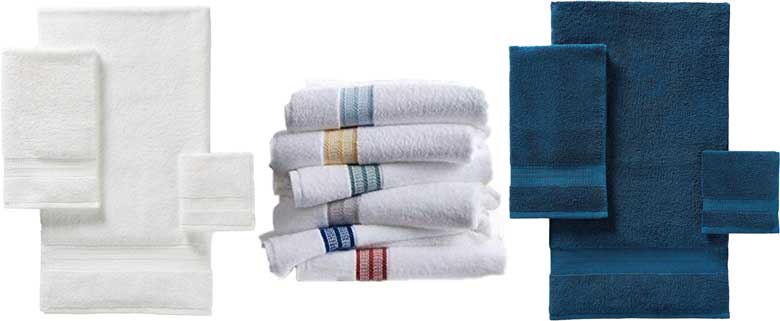 | | |
| --- | --- |
| Estimated Price | $25 |
| Materials Used | 100% US-Grown Cotton |
| Colors Available | various |
| Origin | Georgia, USA |
Better Homes & Gardens' Origin and Manufacturing Locations
Better Homes And Gardens towels are perfect for those of you looking for a good and economical "get the job done" kind of solution. These towels are made by the same Americans at the Griffin, Georgia's 1888 Mills utilizing a tried and true standard and technique passed down through many American textile generations. Hygro Cotton, the cotton used in every towel from this brand, is made with ultra-absorbent hollow core yarns that allow air to pass through the fibers, making it softer and loftier after every wash.
What We Like and Don't Like About Better Homes & Gardens Towels
The cotton that they use is exceptionally low-linting and will not lose its thickness over time. There are many color options to choose from and styles from a white towel with a colored band to full-colored towel sets. The colors in the collection are bleach-friendly and machine washable. The stripe towels are complemented by a classic, casual solid which adds a touch of elegance to the collection. There should be something in here for everyone looking for an economically friendly set of towels. Designed with heritage, craftsmanship, and quality, Better Homes & Gardens towels are made with US yarn.
These towels are luxurious but at a relatively low cost! Better Homes and Gardens' exceptionally soft and durable home and bath towels are an easy and quick way to outfit your bathroom with quality American-made bath towels. Overall, if you're on a budget, these are a great choice for USA-made bath towels.
1888 Mills Fibertone Oversized Beach Towel (Great Value Beach Towel)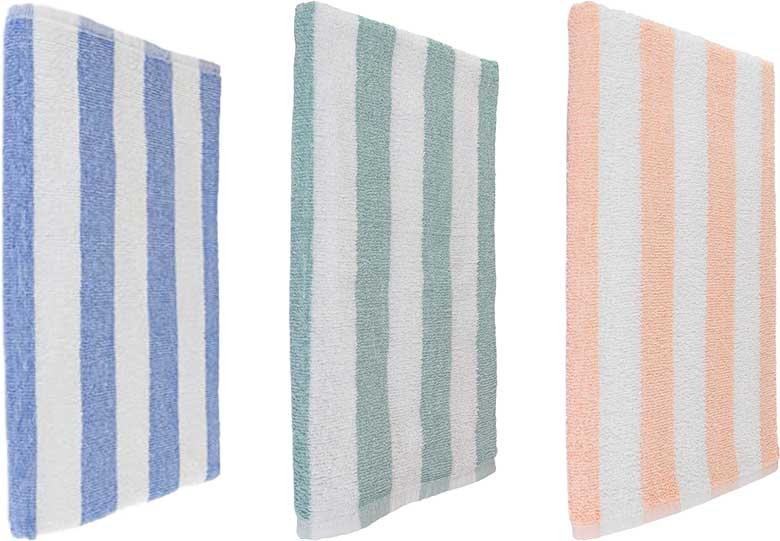 | | |
| --- | --- |
| Estimated Price | $15 |
| Materials Used | 86% Ring-Spun Cotton; 14% Polyester |
| Colors Available | Blue, peach, yellow, seafoam |
| Origin | Griffin, Georgia, USA |
1888 Mills' Origin and Manufacturing Locations
Before we get started, I just want to make it clear that some of the Fibertone branded products are made in Pakistan, not the US. The towel we are talking about here, though, is a beach towel that is, in fact, made at the famous 1888 Mills in Griffin, Georgia.
Something the experienced textile designers noticed was that beach towels often fade rather quickly when exposed to an abundance of sunlight, and so they set out to craft a luxurious beach towel that has a patented technology that is both bleach-safe as well as fade-resistant.
What We Like and Don't Like About 1888 Mills Towels
Towels from Fibertone's new bleach-safe beach collection are strong, durable, absorbent, and fade-resistant. Fibertone is a patented yarn and color technology that makes chlorine bleach-resistant towels. Beach towels get put through a lot of stress and abuse, and it's not uncommon for dirt, sand, and even the goodies from a picnic or beach meal to be exposed to your beach towel and scuff it up. These towels are built with these scenarios in mind and as such, are resistant to stains and spills and are easy to clean even after a long day of heavy outdoor usage. You can also wash these towels regularly, and they will remain durable.
If you're looking for some durable beach towels that will survive the wear and tear of family life and repeated washings, these towels are great for you! There aren't many options on this list or in the market that will endure such harsh outdoor usage and remain beautiful and intact as these beach towels can.
American Blanket Co Colorful Beach Towels (Personalizable)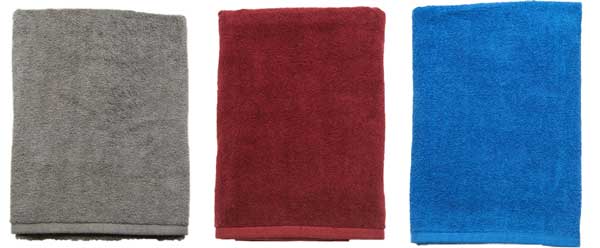 | | |
| --- | --- |
| Estimated Price | $40-$60 |
| Materials Used | 100% USA-grown long-staple cotton |
| Colors Available | Charcoal, white, cranberry, indigo, onyx, sapphire |
| Origin | Fall River, Massachusetts, USA |
American Blanket Co's Origin and Manufacturing Locations
American Blanket Company handcrafts luxurious home textiles that are luxurious and cozy. The fact is, these are truly exceptional, and once you've tried them, you might never buy anything else. They started with blankets, and choosing high-quality bedding is hard these days. They truly put effort into making sure that everything is right. When you buy from them, you can expect high-quality products that will last a lifetime.
Today they offer a wide range of products, including comforters, towels, sheets, pillows, scarves, and even Christmas stockings. To ensure their loyal customers receive the very best value and quality, they offer the best quality products. They use raw materials from the USA and from around the world, but they are always the best.
What We Like and Don't Like About American Blanket Co Towels
This soft, absorbent towel is made with long-staple cotton that's grown in the United States. Ring-spun yarn makes it soft and absorbent. You can roll up these towels small to fit in your beach bag but they are thick enough to absorb well.
The name or phrase of your choice can be embroidered with your choice of sea creature. This towel has the perfect combination of texture and absorbency. It will leave you feeling dry and clean after one use. Made in the USA, this is the best beach & pool towel on the market!
These towels are 35″ x 68″ (2.9ft x 5.6ft) and much larger than regular bath towels. The towels are big enough to fit adults and kids alike. There are offer six different colors of these beach and pool towels that can be embroidered with summer graphics and personalized. There are 13 different towel designs to choose from.
The towel is also great for summer camp, especially when personalized. You won't have to look through the lost and found anymore!
Lifekind Colorwoven Towel Collection

| | |
| --- | --- |
| Estimated Price | $50 |
| Materials Used | Texas-grown, GOTS-certified organic cotton |
| Colors Available | Cafe, sage, celery, |
| Origin | Texas, USA |
Lifekind's Origin and Manufacturing Locations
As someone whose whole life has been impacted by chemical sensitivity, Walt Bader learned the importance of reading ingredient labels at an early age. Aware that finding organic and chemical-free household products was a challenge for him, Walt founded Lifekind in 1997 – a mail-order brand dedicated to organic and safer household products. Lifekind's 1998 catalog featured the first comprehensive chemical glossary geared toward consumers.
Nowadays, Lifekind offers a wide range of products, including organic mattresses and bedding. Due to the dominance of the Internet, what was once a catalog-only business, can now also be found online, ensuring the expanding number of educated and concerned consumers looking for ways to reduce their exposure to chemicals can purchase quality and time-tested organic products. It was Lifekind's 20th anniversary in 2017.
What We Like and Don't Like About Lifekind Towels
These towels are made from organic cotton that is GOTS-certified and grown in Texas. They offer a beautiful collection of organic color woven towels!
GOTS-certified organic, long-staple, Texas-grown cotton is used to make these durable towels. They have a fabric weight of 580 GSM (grams per square meter). GOTS-approved, low-impact dyes are used to match the timeless beauty of color-grown cotton.
This is a great option for anyone with sensitive skin, allergies, and anyone who has a desire to buy organic and reduce chemical exposure to themselves or their family. They are fully available online now, so no need to wait for mail orders like in the good old days.
OHSAY USA Dish Towels (Great Kitchen Towels)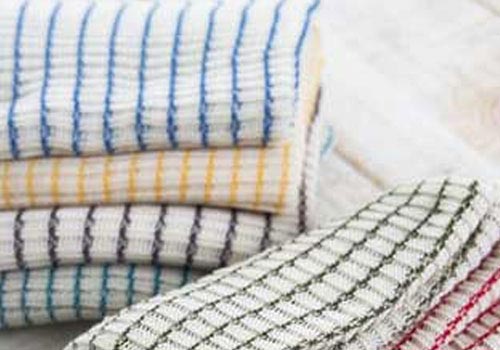 | | |
| --- | --- |
| Estimated Price | $20 |
| Materials Used | Polycotton |
| Colors Available | Multiple |
| Origin | Tennessee/Texas |
OHSAY USA's Origin and Manufacturing Locations
Easily one of the most patriotic companies on this list, OHSAY USA was founded in 2012 with the mission of providing a central location for people to find USA-made products. The company is based in Texas and has tons of awesome American products listed on the company website.
What We Like and Don't Like About OHSAY USA Towels
These particular washcloths are made with a durable double-layered cotton/poly blend that is thick and durable, allowing them to be used over and over again. They have a striped pattern that looks and varies depending on the season. They're the perfect size kitchen towels, in my opinion, coming in at 10×14″. These towels are multipurpose, and we're sure you'll love them!
Due to the versatility and inexpensive price, we recommend these kitchen towels to anyone. These are easily some of our favorite kitchen towels made in the USA.
American Spa Towels (Great Value Bath Towels)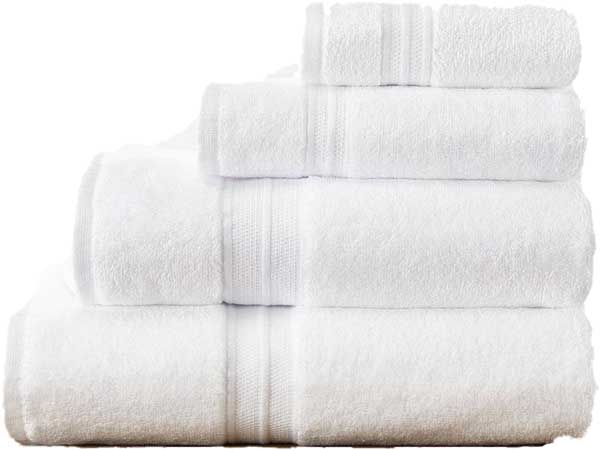 | | |
| --- | --- |
| Estimated Price | $30 |
| Materials Used | 100 percent Ring-Spun, Combed USA. Cotton from Georgia and South Carolina |
| Colors Available | White |
| Origin | Griffin, Georgia, USA |
American Spa's Origin and Manufacturing Locations
The company grows and sews all of its towels in the United States. So, from the moment that cottonseed is planted on the farm to the moment that your towels are made, they are all made in the United States. The American Towels company is firmly focused on the belief that consumers like you feel strongly about buying USA-made products whenever possible. They aim to support the manufacturers committed to American Made products.
If you prefer a soft, luxury spa towel or a classic super absorbent ring-spun towel, or even if you prefer organic cotton, they have it all.
When we purchase products made in the United States, we are helping their small businesses and American manufacturers, and most importantly, when we keep money in their local economies, workers remain employed, and farms and manufacturers continue to operate. The highest quality bath towels and bath linens are sourced from the United States, from the cotton to the millwork to the cutting and sewing. This is something The American Towels Company is very proud to offer their customers.
They are a passionate team that truly believes in making a positive difference. The work they do is what gives them value as a business. They promise to do good work, to be honest, to be fair and kind.
What We Like and Don't Like About American Spa Towels
These USA Luxury Hotel Bath Towels are constructed of long loops of 100% ring-spun cotton that is grown in the coastal plains of South Carolina and Georgia.
Their hotel bath towels from American Luxury are manufactured with EnduraWeave, a unique blend of base fabrics that provide superior dimensional stability in both the width and length of the towel. Softer, more durable, and better absorbent towels are the result.
These are a lovely choice for any family home, traveling, or even camping. I love the company mindset of integrity and kindness. These are not super expensive, have the great build quality, and overall are some of our favorite bath towels made in the USA.
Slakeware Monogrammed Personalized Hand Towels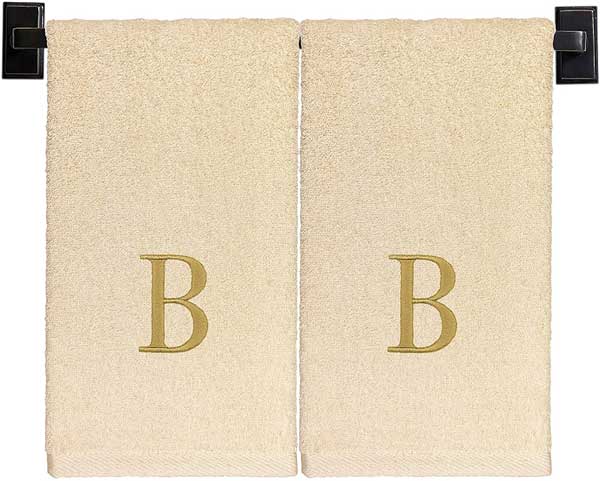 | | |
| --- | --- |
| Estimated Price | $20 |
| Materials Used | 100% Cotton |
| Colors Available | Beige, grey, navy, white |
| Origin | Wisconsin, USA |
Slakeware's Origin and Manufacturing Locations
This set of high-quality embroidered towels was designed and stitched in their Wisconsin-based studio. To ensure customer satisfaction, each towel is carefully inspected before and after embroidery. It is their team's goal to ensure that your towels are enjoyable in every detail.
What We Like and Don't Like About Slakeware Towels
Made from genuine 100% ring-spun Turkish Cotton, these towels have a beautiful and strong dobby design with prewashed yarn. They have reinforced side and end seams along with a double-stitched longitude. No chemical processing or pesticides were used and they are 16 x 27 inches.
Made in the USA, these 100% Cotton towels have plush ring-spun cotton which provides wonderful softness and absorbency. With a terry cloth design and dobby border, these towels are unique and pretty.
The 100% Turkish cotton or Made in the USA lines of monogrammed hand towels offer luxurious quality. The towels are made of ring-spun cotton loops for excellent water absorption. Towels of the same high quality as those found in luxury hotels and spas are now available at home. A perfect choice for wedding gifts, bridal gifts, or a gift for any occasion.
Alice's Cottage Queen Bee Flour Sack Towels (Most Sustainable)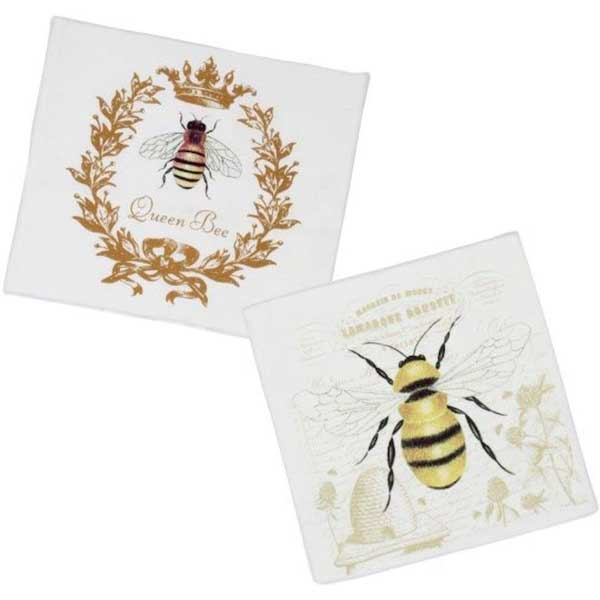 | | |
| --- | --- |
| Estimated Price | $20 |
| Materials Used | Super Soft, Lint Free, and Highly Absorbent Cotton |
| Colors Available | White with patterns |
| Origin | Maryland, USA |
Alice's Cottage Origin and Manufacturing Locations
It has now been 34 years since Alice's Cottage began making fabric gifts and kitchen textiles. For their commitment and support, the company would like to thank all its loyal customers. They wish they had the space here to list all of you who have been with them for more than thirty years.
They care about their customers and appreciate your feedback and suggestions. You can be assured that their commitment will never waiver as they continue to bring you the very best in quality and affordability.
Customer service is their top priority. If you call them during business hours, you will not hear an automated voice but a real person ready to assist you in any way they can. You can be assured that they will continue to strive to provide you with the quality of service and standard of excellence that you so richly deserve.
What We Like and Don't Like About Alice's Cottage Towels
Made in the US of super soft, lint-free, and highly absorbent cotton, Alice's Cottage Queen Bee Set of 2 Flour Sack Towels are 36 x 28 inches and make a great multi-purpose kitchen napkin.
Packaged in clear cellophane and tied with ribbon, this set consists of two 24″ x 38″ cotton flour sack towels. The towels are soft, non-linting, highly absorbent, and quick drying. An excellent substitute for paper towels. You'll absolutely love them! Easy to clean and machine washable.
If you're anything like us, you'll appreciate anything that is a more sustainable option to consumables like paper towels. These highly absorbent towels or kitchen napkins are a great option to reduce the waste in your home.
Towels by Gus Lake Tahoe Collection

| | |
| --- | --- |
| Estimated Price | $25 |
| Materials Used | 100% USA cotton |
| Colors Available | White, oatmeal, light and dark grey, 3 blues, and blush |
| Origin | Griffin, Georgia, USA |
Towels by Gus's Origin and Manufacturing Locations
Towels by Gus are a little boutique American brand inspired by the beautiful Lake Tahoe area in Nevada and offer the best absorbency combined with a fresh and modern aesthetic. Something I thought was really nice was that Towels by Gus will ship to you a free swatch, which is essentially a sample of their towel materials and colors, so that you can get an idea of what exactly it is you'll be receiving from them before making a commitment, which is nice and not something I recall any other towel brand offering.
The cotton utilized in Gus towels is all organic American grown, and the towels themselves are both designed and constructed by American textile veterans, ensuring each and every towel is completely American from step one and has the utmost in quality and experience with every stitch and hem. Oh, and Towels by Gus offers custom monogramming services that you can contact and discuss if need be!
What We Like and Don't Like About Towels by Gus
It's clear to me that these guys are no joke, and they aren't a high-volume retailer of mediocre towels, but more so a finely crafted and tailored towel buying experience for those who really aspire to find the perfect high-quality long-lasting toweling solutions, and this makes them inherently unique.
Each collection consists of only one towel style because they feel that their towels are the absolute jewel of the crown in their class for each type of material they offer and work with. Their towels are among the best and most tailored options you can inquire about.
You have to have a real appreciation and knack for both customization and finely tuned craftsmanship to truly appreciate Towels By Gus. If you're in the market for an economical "get the job done" kind of solution, this is the wrong place to be looking. If you're the kind of person willing to spend the extra money on a long-lasting and highly personalized buying experience for a product known to be among the best it can be, you're in the right spot!
Matteo Premium American Spa Towels (Most Luxurious)

| | |
| --- | --- |
| Estimated Price | $75-$150 |
| Materials Used | 100% Cotton |
| Colors Available | White, off white, greige, mica, blush, oat, coal, night |
| Origin | Los Angeles, California, USA |
Matteo's Origin and Manufacturing Locations
Matteo, founded in 1996, is another brand similar to Towels By Gus that offer more than just a towel but a premium purchasing and ownership experience. The company was founded in Los Angeles, and since 1996, the company has grown into a community of over 50 American artisans and has a collection of over 30 core fabrics and 6,000 unique products.
Before we go any further, it's important to note that the towels from Matteo are woven in Brazil, then shipped to the USA, where they are sized, sewn, hemmed, and finished by American talent. As such, these towels technically aren't completely made in the USA, but they are significantly altered and finished by American workers in Los Angeles.
What We Like and Don't Like About Matteo Towels
Riviera and the Matteo Spa towels were clearly inspired and designed to be on par with towels you'd expect to find in a top-class resort, and in fact, the very name of their premium towel lineup comes from the famous accommodations and the quality textiles they use along the Italian Riviera. Each towel has heavy attention to detail and often overlooked attributes, such as a reinforced hanging loop and double hemmed edges. Riviera towels are ideal to use in your bathroom as they are perfect for taking out to a pool day.
These towels are made from 100% cotton, garment-washed, and dyed using non-toxic dyes.
If you like fancy hotel towels, these are a gem. The price point is considerably higher, but if you don't mind the investment, these are probably going to last for years. Treat yourself to a couple and keep them just for you!
Rawganique Hemp Towels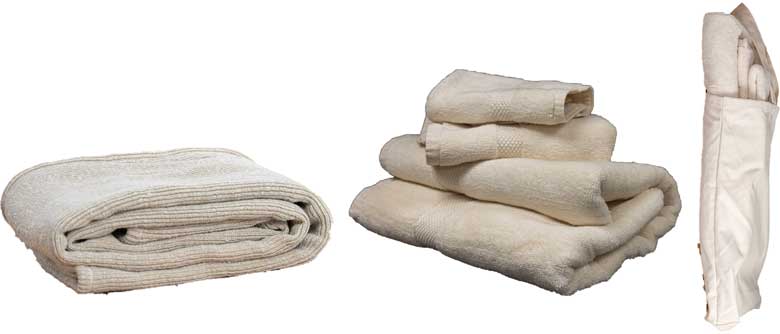 | | |
| --- | --- |
| Estimated Price | $60 |
| Materials Used | 100% Hemp |
| Colors Available | Natural |
| Origin | Washington, USA |
Rawganique's Origin and Manufacturing Locations
Manufacturing excellent and chemical-free products in-house since 1997, Rawganiques is actually one of my favorite companies, and I love their ethos.
One of the few manufacturers that readily and easily disclose the country of origin of their product, Rawganique is incredibly transparent and easy to understand. No, not all of their products are American-made, but their hemp bath towels are, and the rest of their product catalog can have their origin easily identified right on the product page, no obscuring their manufacturing location, which I personally really appreciate.
Products made from organic cotton, flax linen, and cannabis hemp are made in the USA or Canada. Their European products are generally those constructed from cotton and flax linen, and honestly, they are of excellent quality too. I know we're focusing on American-made products here, but hey, credit has to be given where credit is due!
We have mentioned this a few times already, but it's a big thing Rawganique focuses on, and that's harmful chemicals used in the manufacturing process of textiles that come into contact with our skin. It's clear that Rawganique cares just as much as we do about not exposing ourselves and our readers to harmful substances via their textile purchases, and thus, organic cotton, linen, and hemp products are really trustworthy as they are pure and do not emit chemicals into the indoor and outdoor environments.
Yes, their products are truly pure. They know this because they grow, comb, spin, weave, knit, and sew them, so they know what goes into (and what does not go into) their organic products. Due to their chemical sensitivities, they only use their products because they know how pure they are. The focus is always on purity, not fads. Several companies abuse the term "Eco" or "Made in the USA" (with components grown and sourced from China) or "Organic" (with formaldehyde and dioxin being liberally used in production). Their customers have found that such rhetoric does little to improve their products. Their goal is to stay small in order not to compromise.
What We Like and Don't Like About Rawganique Towels
I know it's not always on the mind of the consumer what chemicals are used in the manufacturing process of their goods. As a matter of fact, i'd guess that most people just go about their day having no idea that they are being exposed to a myriad of chemicals across any product they use, and it's fair to say that most of us simply don't have the time to learn every detail about every product we own. Rawganique knows this too, and it's clear that they want to make things easy for us by simply just creating products out of great materials from step 1 that have no introduction or exposure to harmful chemicals – easy, right?
Organic bath accessories from Rawganique are constructed from cotton, linen, and hemp by Rawganique themselves, not some factory in some distant land, and are chemical-free and organic. Always free of PVC, dioxins, and formaldehyde.
If you or a loved one are immune-compromised or you just want a chemical-free, unbleached, dye-free, as natural as possible option, this is the solution for you. These towels are made from the best of the best hemp, linen, and cotton, homegrown here in the USA, and manufactured without frills. A wonderful bare-naked option!
Great Useful Stuff Cotton Dish Towels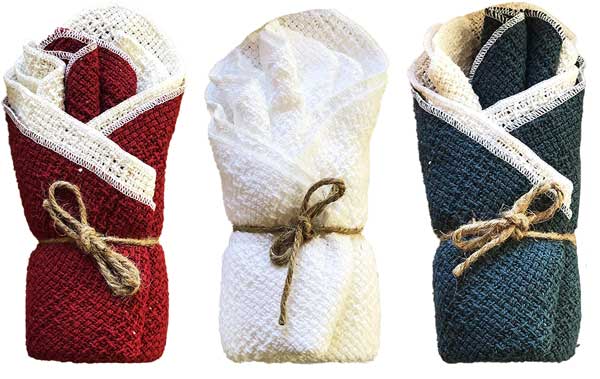 | | |
| --- | --- |
| Estimated Price | $15 |
| Materials Used | 100% USA Cotton |
| Colors Available | Blue, green, yellow, red, white |
| Origin | California, USA |
Great Useful Stuff's Origin and Manufacturing Locations
Great Useful Stuff has taken the time to source the highest quality American cotton and paired it with a custom-designed fabric so that these dishcloths continue to work for you in the kitchen so you don't have to. These are made with 100% USA cotton in the USA.
What We Like and Don't Like About Great Useful Stuff Towels
Cotton grown in the USA is now available in your kitchen. All while providing living wages and supporting American farmers, they help grow American businesses and bring American materials into your home. What makes their dishcloths so special? They are made from American materials. With every wash, they become even more absorbent.
Got a kitchen? Need some decent dishcloths and towels for that kitchen? Boom. Easy decision. These kitchen cloths and towels are unique and functional. The reviews speak for themselves, and I personally love these, especially as American-made cotton hand towels!
Amrapur Overseas Cotton Sterling Towels (Honorable Mention)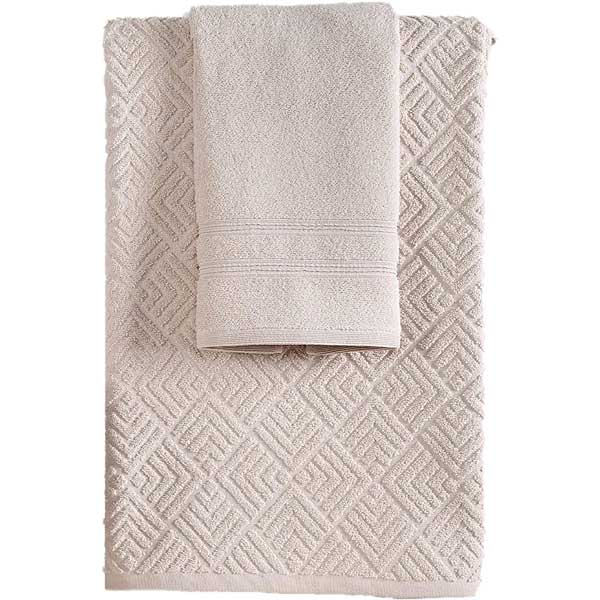 | | |
| --- | --- |
| Estimated Price | $65 |
| Materials Used | 100% USA Grown Cotton |
| Colors Available | Tan, Charcoal, White |
| Origin | Corona, California, USA |
Amrapur's Origin and Manufacturing Locations
Harry and Chandru "Kevin" Wadhwani, father and son, started Amrapur Overseas in California in 1983. Starting as a producer of commercial and hospitality linens, they evolved into retail home fashion textiles and décor items.
Amrapur's roots date back to 1960, when founder Harry M. Wadhwani founded Lachmi's International in Hong Kong.
The company has an experienced design team based in California, and they constantly research colors and trends in the main design hubs. Whether it is designing or developing products for their retail partners, they work closely with them. Their private label programs allow them to meet customer requirements.
The company moved its distribution center to Corona, California, a state-of-the-art facility with 225,000 square feet of space, in September 2015. By investing in the latest software and racks and sortation systems, they can maintain low overheads while picking and packing large volumes of products.
Dropshipping for their e-commerce partner within 24 hours is their expertise, as they carry thousands of SKUs. EDI, retail projections, and planning, as well as a dedicated sales executive, are all handled by the company's staff.
Whether they are working with new or existing clients, they are very committed. In addition to investing time and expertise into a project, they use their financial strength to support growth.
What We Like and Don't Like About Amrapur Towels
Give your bathroom a fresh new look with the Modern Threads 100% USA Grown Cotton Jacquard Turkish Made 6-Piece Towel Set. Soft loops of cotton grown in the U.S. are knitted into hollow yarns that quickly absorb water. This striking bathroom accessory is available in a range of colors. With the plush towel set, you can dry off your hands and face quickly after washing up or after stepping out of the shower, thanks to its lighter weight, fluffy softness, and quick absorbency.
With Modern Threads' incredible bath line, they've given you all that plus and more. Finding a quality bath towel that combines luxury softness and ultimate absorbency isn't easy these days, especially at an affordable price.
Things to Consider When Choosing an American-Made Towel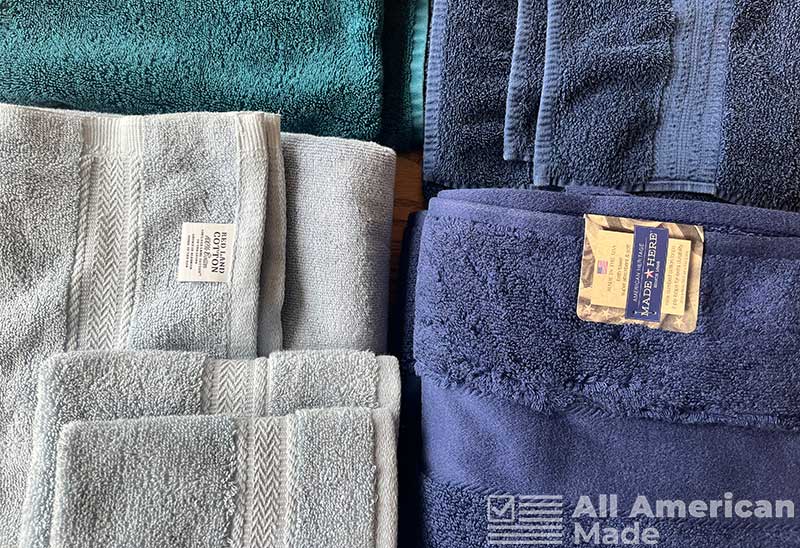 Do you prefer it thick or thin? Polyester or cotton?
Choosing bath towels involves a blend of art and science. There are a lot of towels, in a wide range of prices and a lot of advertising claims. You should choose an eco-friendly bath towel that is soft, durable, and absorbent. They also should be made in the USA.
Absorption:
Heavy, thick towels tend to be more absorbent than thin, lighter towels, but they take longer to dry, of course. Luxury cotton towels like Egyptian cotton or Pima cotton, as well as towels made with rayon, are super absorbent. The towels we chose are large enough to absorb large amounts of water and still dry quickly.
Double-stitched construction:
We carefully examined the stitching around the hems of towels. To ensure maximum strength and durability, hems should be double-stitched with heavy stitching. Heavy stitching reduces fraying and reduces wear problems.
Pattern and color:
In addition to being durable and soft, the best towels should also come in a wide variety of looks to complete your bathroom décor. Choose towels with interesting floral patterns or neutral towels with many color options to choose from.
Softness:
When a towel is purchased, it feels softer than once it has been washed. Consumer Reports experts say the fabric softening coating on most towels wears away after a few washes. To determine our top picks, we paid close attention to how the towels felt. The weight of high-quality towels is different from that of standard towels. Low-quality towels cannot match the dense feel and tightly coiled fibers of high-quality towels. Of course, we choose towels based on their softness but always look first and foremost for tightness, density, and weight to ensure high quality.
Rayon towels, including bamboo towels, are usually very soft. Additionally, Pima and Egyptian cotton towels are super soft since their yarn is smooth and silky, and it tends not to pill.
Durability:
Hotels and gyms use cotton/polyester blend towels because they are durable, but they are less absorbent than 100% cotton. We prefer two-ply construction over single-ply construction. A two-ply towel is tougher, absorbs more, and generally lasts longer. When maximum strength is needed, it is a good idea to choose nylon/cotton blends for towels, even though you will lose a bit of absorbency for increased durability.
Towels become less absorbent and flammable after using liquid fabric softeners. Dryer sheets are a better alternative. The temperature should be set appropriately for towels as they tend to shrink. It would be ideal if your dryer had a moisture sensor.
Wrap Up:
That does it for this article. Let us know if know of any other great towels that we should add to our list in the comments below.
Hi, my name is Kevin and I'm from Pittsburgh, Pennsylvania. Choosing products made in America is important to me because it supports local economies, creates jobs, helps the environment, and ensures ethical labor practices. I also find that American made products are usually of higher quality so although they're a little more expensive, you save money in the long run. Before starting this website I was in the USMC infantry and nowadays I work on this website as a hobby.