By choosing an American-made air compressor, you ensure the highest standards of quality because Americans have high expectations for performance, quality, and innovation.
Keep in mind that few air compressors remain fully made in America due to the higher labor costs in a highly competitive market.
We would like to emphasize how some air compressor brands will do a better job at being American-made than others. For example, some might say made in America while outsourcing most of the work overseas. One of the examples of an American-made brand that does a good job at being made in America is Saylor-Beall. Over 90 percent of what they do is made in America, and the company makes its own crankshafts, cylinders, connecting rods, blocks, and other parts of the compressor. Their manufacturing facility sits in Michigan, and they use iron sourced from American suppliers.
With that in mind, let's have a look at some of our favorite air compressors made in the USA.
List of USA-Made Air Compressors
DEWALT Air Compressors (Most Options)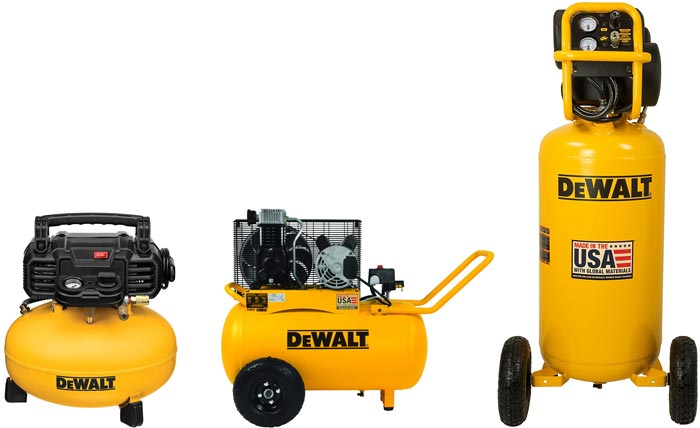 | | |
| --- | --- |
| Estimated Price | Varies by size and model |
| Origin | Multiple facilities across the US |
| Maximum Output | 90 to 200 PSI (depending on model) |
| Capacity | 2.5, 6, 20, and 27-gallon models are available |
DEWALT's Origin and Manufacturing Locations
Founded on American soil in 1924, DEWALT makes its air compressors in the USA with global materials. DEWALT has several manufacturing plants located throughout the United States, but some of their other hand tools and power tools are made elsewhere like China, Brazil, the Czech Republic, Italy, and the United Kingdom. Also, be aware that not all of their air compressors are made in the USA. However, they do have USA-made models in pretty much every size the average consumer would want.
While not everything with DEWALT is made in the United States, they have several product lines made here, and the company is working to bring more of their tool manufacturing back to the USA.
What We Like and Don't Like About DEWALT Air Compressors
DEWALT offers many American-made air compressors in a variety of sizes, which pretty much makes DEWALT air compressors a viable option for everyone. Most people are already familiar with DEWALT tools, and their air compressors are pretty much on par with their other tools. We love the brand, and their air compressors really are an incredible value. Compared to air compressors made overseas, you get a far better product at a comparable price.
Whether you're looking for a portable air compressor, a mid-sized air compressor, or something very large to place in a shop, DEWALT really does have something for everyone.
That said, the only thing we don't like is that many of the components for their air compressors are sourced overseas, but when it comes to electronics and products such as air compressors, it's extremely difficult to find anything fully made in the USA.
You can find DEWALT's smaller portable 2.5-gallon air compressor, their most popular 6-gallon air compressor, their 20-gallon air compressor with wheels, and their largest 27-gallon air compressor all made in the USA.
As mentioned, DEWALT pretty much has an air compressor for everyone. The right model for you really depends on what capacity and PSI output you need. You'll also want to consider whether you want something portable or something larger with wheels.
Here is a video showing their most popular model (DWFP55126) being unboxed.
Craftsman 6 Gallon Air Compressor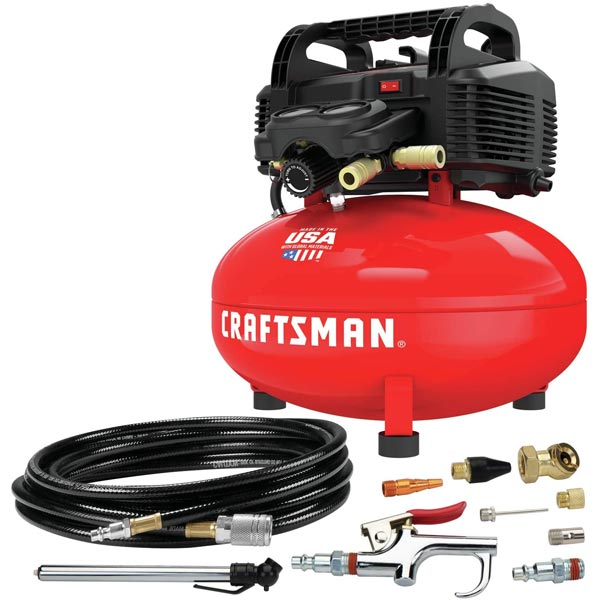 | | |
| --- | --- |
| Estimated Price | $180 |
| Origin | Jackson, Tennessee |
| Maximum Output | 150 PSI |
| Capacity | 6-gallon tank |
Craftsman's Origin and Manufacturing Locations
Craftsman was founded in 1927, and ever since, they've been delivering their customers great tools for a great price. Being an American-founded company competing in such a competitive tool market, I'm proud that they've continued to make as many of their tools as possible in the USA. Their air compressors are top-notch, and while not all of them are made in the USA, the model shown above is, in fact, made in the USA with global materials.
What We Like and Don't Like About Craftsman Air Compressors
This particular air compressor is one of the most popular air compressors in the world. With a 6-gallon capacity and a maximum output of 150 PSI, it will do most jobs around the house or garage. Being that it's rather lightweight at around 30 pounds, this portable air compressor doesn't need wheels.
Along with the air compressor, Craftsman also includes an accessory kit that includes inflator adapters, a tire gauge, and other handy accessors.
This air compressor is perfect for someone who just needs to do basic tasks around their home or garage. It is capable of doing everything from filling tires, filling snow tubes, and use with other small power tools that require an air compressor.
Quincy QT-54 Splash Reciprocating Air Compressor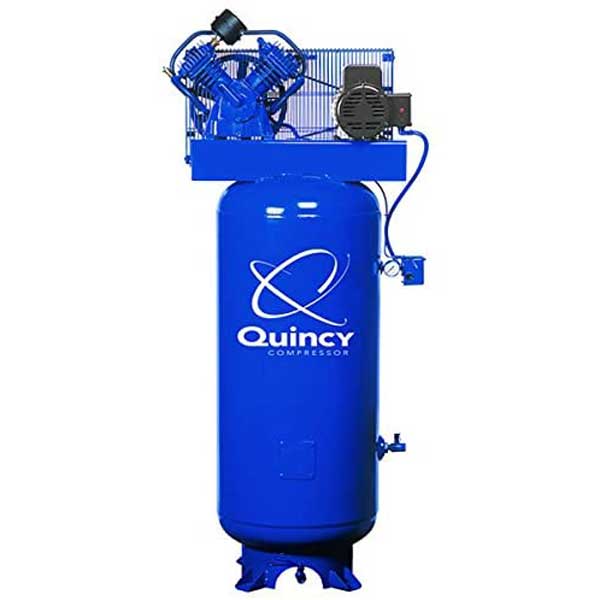 | | |
| --- | --- |
| Estimated Price | $1700 to $1710 |
| Origin | Quincy, Illinois |
| Maximum Output | 145 to 175 PSI |
| Capacity | 60-gallon tank |
| Motor Type | Baldor Motor |
Quincy's Origin and Manufacturing Locations
Designed and manufactured in Quincy, Illinois, and Bay Minette, Alabama, as a testament to American quality, all Quincy products have a reputation for a low cost of ownership and rugged dependability. Quincy remains one of the most recognized American brands, and they have built air compressors since 1920—over a century of American innovation.
What We Like and Don't Like About Quincy Air Compressors
The QT-54 has 145 to 175 PSI, and the capacitor start motor has a built-in thermal overload. For a pump RPM, you receive 1310 RPM. Important to note: Keep the tank drained and practice good preventative maintenance. The QT-54 was built from such quality that it will provide longstanding value for years. Quincy keeps its parts available as needed.
The QT-54 runs smoothly and quietly to a degree, and while it might vibrate a bit, if you set it on an anti-vibration pad, it won't move when you go to use it. Another one of the great things about it comes from the fact that it saves on space. The accessible drain line of the QT-54 remains a great advantage in that if you get a clogged line, you can clear it of the obstruction.
An American-made air compressor like this one might cost more upfront, but like how many people reported, the cheaper ones didn't last as long. The motor, compressor, and tank of this air compressor were made in the USA, supporting our nation's jobs.
I recommend this to serious hobbyists or those who run a small shops. Keep in mind that the QT-54 weighs 475 pounds, so you wouldn't buy this if you had portable needs. This is the type of air compressor where you set it, and it won't move for the duration of its lifetime.
To give an example of where you might use it, someone who works on old cars for a hobby might appreciate this air compressor.
We wouldn't advise someone who likes to tinker around in the garage at night to choose this air compressor. While it operates quietly to some extent for an air compressor in its class, you wouldn't want to use this one at night, or you might irritate the neighbors. Overall, this is an outstanding air compressor made in the USA.
Kobalt Quiet Tech 4.3-Gallon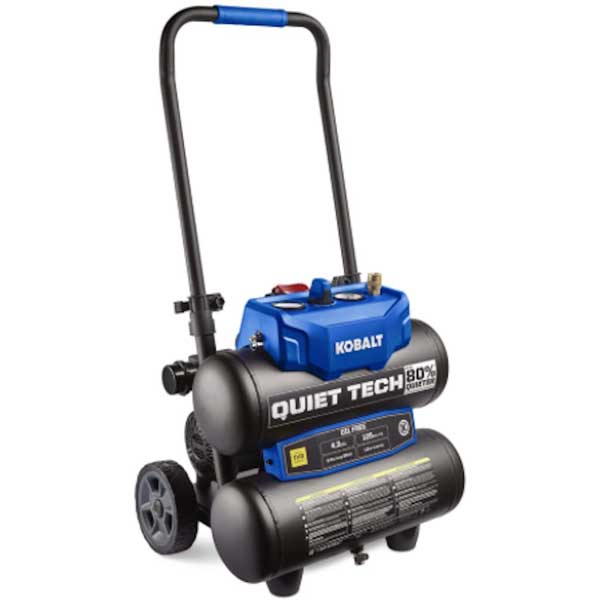 | | |
| --- | --- |
| Estimated Price | $260 to $270 |
| Origin | Las Vegas, Nevada |
| Maximum Output | 150 PSI |
| Capacity | 4.3-gallon tank |
| Motor | 1 HP Induction Motor |
Kobalt's Origin and Manufacturing Locations
Founded in 1998, Kobalt became one of the best-selling tool brands in the United States. Its high-quality tools are packed with features and value. Kobalt air compressors are American-made, and they have their products made at JS Tools in Las Vegas. Before you buy this brand, however, you should understand how they assemble the product in the USA, but they often outsource the tools to China and Taiwan. Still, you will struggle to find a single brand of air compressors solely made in the USA because of the higher labor costs. Saylor-Beall is the only brand that comes close.
Kobalt is owned, in fact, by the American home improvement chain Lowe's. Lowe's, in partnership with J.H. Williams, launched Kobalt to compete against Home Depot and Sears.
What We Like and Don't Like About Kobalt Air Compressors
Turn on the Kobalt Quiet Tech 4.3-Gallon, and you will notice something incredibly different about it. In comparison to the other air compressors on the market, it makes a fraction of the noise. Many people who purchased this air compressor talked about how it impressed them with its quiet sound. The other aspect that you will love is the smooth and easy handling of it.
The 150 PSI that it reaches easily makes this a wonderful air compressor to own because of the versatility—you could choose to either use it for large projects or small projects.
You will love the design, accuracy, and quality of this air compressor. It does have a flaw in that the on/off switch will rattle when the air compressor runs. Many of the smaller tasks like filling a tire or using it as a nail gun will be overkill, which could be a good thing because you can use it for everything.
We would call the Kobalt Quiet Tech 4.3-Gallon the most versatile American-made air compressor on this list. You could use it for a variety of things, and if you're the type of person who has many projects from a diverse range, go with this one. You won't regret it. Its mobility would make it a decent choice for a carpenter or another professional.
For small projects that would require a larger pneumatic tool, this air compressor can handle it. At the same time, it can adjust the PSI easily according to the size of the tool.
Saylor-Beall Air Compressor (Most American Made)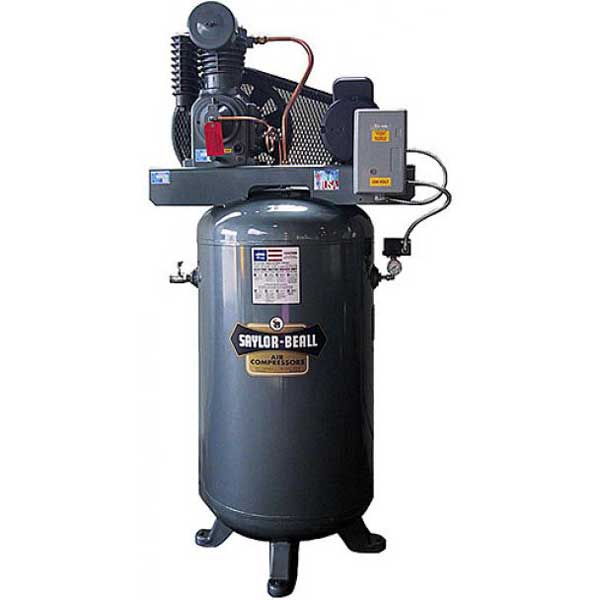 | | |
| --- | --- |
| Estimated Price | $2,980 to $2,990 |
| Origin | St. Johns, Michigan |
| Maximum Output | 175 PSI |
| Capacity | 90-gallon tank |
| Motor | Baldor or Lesson Motors |
Saylor-Beall's Origin and Manufacturing Locations
Saylor-Beall ranks right along with the best air compressors in the market. This is a two-stage industrial air compressor that has been strenuously tested, machined, and assembled at its manufacturing facility in St. Johns, Michigan. Its industrial-grade piston air compressors feature ½ to 30 horsepower. Established in 1915, they have a reputation for its industrial quality designs.
The Saylor-Beall team remains extremely proud of holding the title of a truly American-made brand; not only that, but they've made it their mission to keep Saylor-Beall air compressors a synonym for quality and durability.
What We Like and Don't Like About Saylor-Beall Air Compressors
This air compressor was particularly made for the industrial setting where the demands remain high and require excellence and quality in an air compressor. The motors used are Baldor, but they will occasionally put a Lesson Motors in their 5 HP packages.
We mention Saylor-Beall because they do their best to keep everything made in America, which supports the future prosperity of our nation. For that, we can't do a list of air compressors without praising a company that has done its best on that point.
You would use this air compressor for things like spraying crops or ventilating silos on a farm. Some people have used it for oil and gas operations, or they might use it in food and beverage manufacturing. The power and efficiency behind this air compressor make it perfect for industrial applications. It performs several tasks in a demanding environment, but before you buy this air compressor or any compressor, check to see that you size it appropriately to your needs. Think of what you want it for and how much PSI will be required.
This air compressor has a capacity of between 150 and 175 PSI. You want to check to see if your application will require that much PSI.
BOSTITCH Air Compressor (Budget Pick)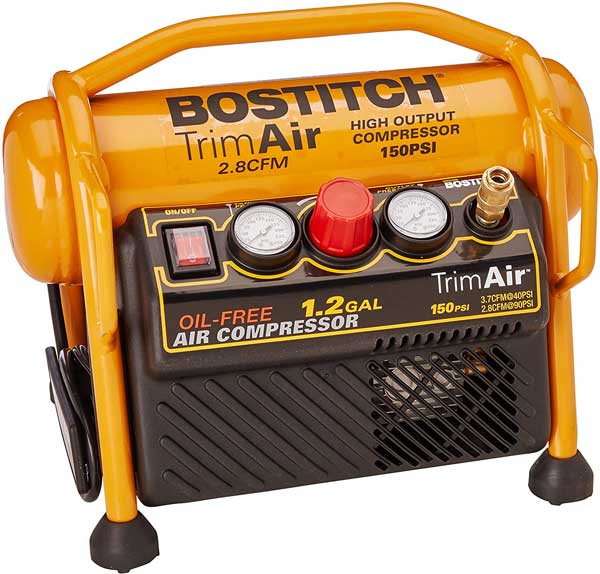 | | |
| --- | --- |
| Estimated Price | $180 to $190 |
| Origin | Arlington, Massachusetts |
| Maximum Output | 150 max PSI |
| Capacity | 1.2-gallon tank |
| Motor | 1.5 HP motor |
BOSTITCH's Origin and Manufacturing Locations
Bostitch, a company founded in 1896 in Arlington, Massachusetts, by Thomas Briggs, this company isn't known as a key player in air compressors, but the air compressors they do make are quite good and affordable. You will find their manufacturing plant in East Greenwich, Rhode Island. Some of the other things that they produce include staplers, glue guns, nail guns, and riveters. Primarily, they make fastening tools. Their parent company is Stanley Black & Decker.
The company has a rich history of creativity and innovation. Some of the things that they invented include the first nail coiler, the wire stitcher, and the smart point brad nailer. Bostitch power tools remain some of the most accurate, reliable, and powerful on the market.
What We Like and Don't Like About BOSTITCH Air Compressors
Not an air compressor that you would want for a high-demand setting, but this Bostitch has a huge advantage when it comes to portability since it only weighs 23.5 pounds. The 1.2-gallon compact design makes this electric air compressor easy to store away, unlike some of the larger choices. An integrated cord wrap will make it easier to handle the cord on it. I like the LED on/off switch on this air compressor because of how it helps me to avoid low-pressure miss fires.
Keep in mind that this air compressor's size makes it virtually impossible to use for larger applications. For example, it wouldn't do well for sandblasting since you would need a minimum of 4 to 8 CFM. This air compressor can only do 2.8 CFM.
Let me clarify: You could use this air compressor for sandblasting, but it wouldn't be ideal if you had to do it a lot since the lower CFM will make your projects take longer. Also, if you used it regularly for that, you would burn it out in no time because it wasn't made for that purpose.
I love the beautiful and intelligent design of this air compressor. Because of the robust design, you don't experience it vibrating all over the floor and moving all over the place.
The one thing about Bostitch as a company is that they could package this air compressor better. If you have it shipped to you by buying it online, it may take some abuse in the truck because it isn't packaged as well as it could be.
This product shines with lighter applications, but we would advise you to buy another air compressor for things that require more CFM. Bostitch designed this air compressor for staplers and finish nailers. You could use it to install cabinets, baseboards, trim, or window casings. You could also use this air compressor to inflate bike tires.
Anything with moderate DIY use will work fine for it, but you wouldn't use it for production framing or paint spraying because how the CFM isn't high enough. Someone who wants an air compressor for those applications will want to spend extra on a bigger one to meet their demands. Better to spend more once than buy cheap and have to buy a second time later. Overall, it's a reliable USA-made air compressor at a reasonable price.
Conclusion:
That does it for this article. Let us know if there are any good air compressors s out there that we should add to our list. If we learn about any good products not on this list, we will add them to the list as soon as possible, so others have the information.
Hi, my name is Kevin and I'm from Pittsburgh, Pennsylvania. Choosing products made in America is important to me because it supports local economies, creates jobs, helps the environment, and ensures ethical labor practices. I also find that American made products are usually of higher quality so although they're a little more expensive, you save money in the long run. Before starting this website I was in the USMC infantry and nowadays I work on this website as a hobby.