Today, like most products, a lot of vacuum manufacturing has moved overseas. While overseas manufacturing usually results in lower prices, it also usually results in lower quality. Vacuums made overseas are often made with cheap plastic that is not durable and wears out easily. That's why it's a good idea to invest in a high-quality vacuum made in the USA.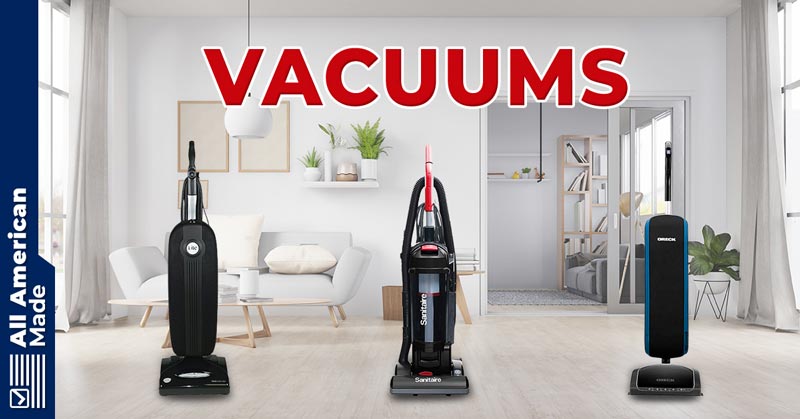 While they are a little harder to find, there are still plenty of manufacturers that still make vacuums domestically. Simply scroll through this list and find one that meets your needs and budget!
List of American-Made Vacuums
Oreck HEPA Bagged Upright Vacuum (Great Value)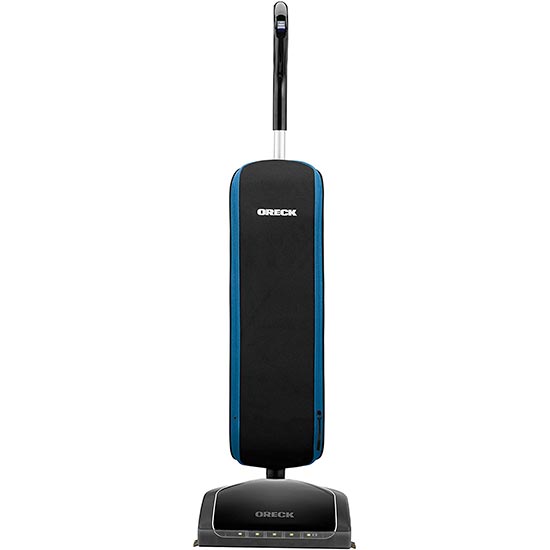 | | |
| --- | --- |
| Estimated Price | $350 |
| Attachments Included | No |
| Weight | 10lbs |
| Height | 39.5 in |
| Bagless  | No |
Oreck's Origin and Manufacturing Locations
Today Oreck is known by hotels and homeowners alike for selling and manufacturing air purifiers, steam mops, vacuum cleaners, floor machines, and cleaning products all throughout Canada, the US, and even some parts of Europe. Oreck was founded in 1963, inspired by the cleaning technology demand in the American hotel industry. Their first solution to supply such a market was to produce upright vacuum cleaners.
I reached out to Oreck to verify that this model is in fact made in the USA; however, be aware that some parts are international, but that's not too surprising considering this vacuum is lower priced.
The company's founder, David Oreck, started the company with the idea that vacuums can be lightweight yet still powerful. While this was an attractive idea for the hotel and service industry, the idea quickly spread to residential consumers as well. The company's principal manufacturing facilities are based in Cookeville, Tennessee. Do note that a company that owns Hoover bought Oreck many years ago, and they are a Chinese company, but they still do employ many American workers.
What We Like and Don't Like About Oreck Upright Vacuums
The Oreck brand is known for producing quality products that are lightweight and functional, with no unnecessary frills. Unlike other vacuums, this Oreck does not come with a bunch of attachments, it is designed for the sole purpose of effectively cleaning hard and soft surfaces. One of the best things about this machine is the HEPA filter.
Almost all vacuums come with filters, but it is rare to find one with a HEPA filter. This filter ensures that almost all unwanted particles will be filtered out of your floors and the surrounding air. This is one of the most lightweight vacuums you'll find on the market, you can easily take it up and down flights, and you'll never get tired of using it, even in the biggest homes or offices. Oreck customers are some of the most loyal out there, and they rave about the quality of this machine. The model shown here is great, but they also offer a lot of other models. When I contacted Oreck, they informed me that most of their upright vacuums were made in the USA, but I always recommend double-checking before purchasing. You can see all of the models they offer on Amazon here.
Who We Recommend This Vacuum For:
We recommend this vacuum for the everyday consumer looking for a high-quality vacuum that is easy to use and easy to transport. The video below shows an Oreck vacuum in action!
Ricaar Tandem Air Deluxe Upright Vacuum (Great Quality)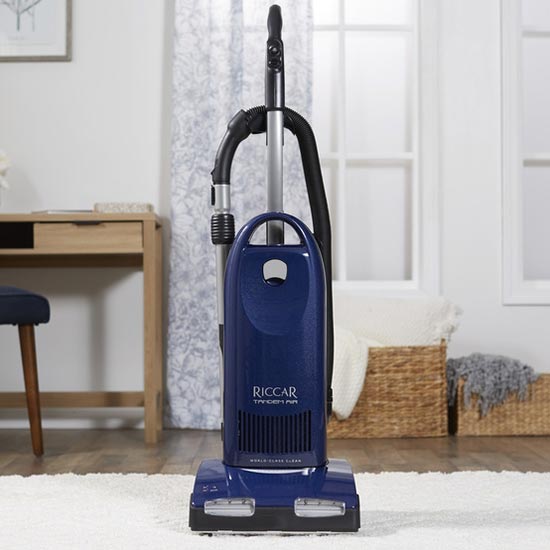 | | |
| --- | --- |
| Estimated Price | $1100 |
| Attachments Included | No |
| Weight | 22lbs |
| Height | 30 in |
| Bagless  | No |
Ricaar's Origin and Manufacturing Locations
Ricaar is a manufacturer of luxury, high-performance vacuum cleaners. They focus on making world-class vacuums over selling large quantities of machines. The company is extremely detail-oriented and spends years on design and manufacturing iteration.
Ricaar is best known for its proprietary tandem air technology. Before Ricaar, there were two types of vacuum cleaner technologies: direct air machines and clean air machines. The engineers at Ricaar combined the two technologies into one vacuum and the result was a machine that produced better cleaning numbers than anyone had ever seen. They use materials sourced both domestically and globally and manufacture all of their machines in Missouri.
What We Like and Don't Like About Ricaar Tandem Upright Vacuums
While the Ricaar line of vacuums will cost you more than the average machine on the market, the quality and performance of this vacuum are truly superior. The tandem technology gives you the best of both worlds: incredibly clean carpets and floors and advanced filtration. This vacuum is an investment, but you won't find yourself needing to replace it after a few years like the less expensive models. For the power of this machine, it is surprisingly light at just 22lbs, so you'll have no problem maneuvering it or taking it up and downstairs. It is also surprisingly quiet.
Aside from the functionality, the Ricaar simply looks and feels like a luxury product. While most machines are designed for utility and don't have any unique design features, Ricaar has really taken the time to consider the aesthetic of the machine.
Who We Recommend This Vacuum For:
We recommend this product for a home or business owner looking to invest in a long-term, quality vacuum rather than a short-term machine that will only last a few years. This is also a great wedding or new home gift.
Lite Cordless by Aerus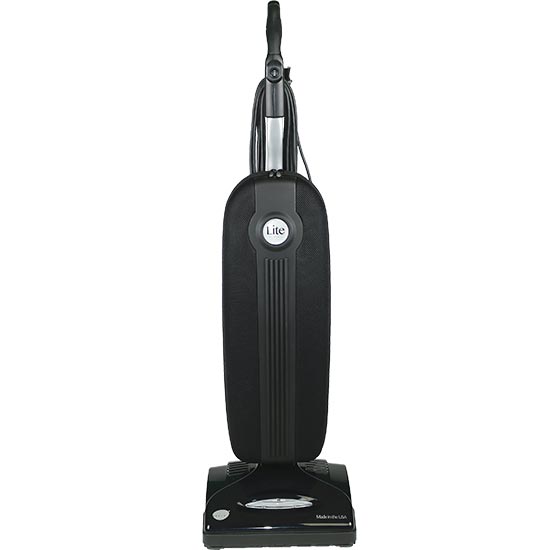 | | |
| --- | --- |
| Estimated Price | $400 |
| Attachments Included | No |
| Weight | 11lbs |
| Height | 37 in |
| Bagless | No |
Aerus's Origin and Manufacturing Locations
Aerus has been in the home cleaning business since 1924. They are best known for their Electrolux vacuum models which were once a mainstay in both the residential and commercial vacuum space. In fact, Electrolux was recognized by the Smithsonian Institute as a top 100 U.S. product. They've since moved away from the Electrolux brand but still offer an array of vacuums and other home cleaning products, including air and water filters. Aerus is headquartered in Dallas, TX, and has over 500 independently owned franchises in the U.S. and Canada. Aerus is a trusted name in the business and is well known for making incredibly reliable machines.
What We Like and Don't Like About Aerus Lite Cordless Vacuums
Cordless vacuums are notorious for short battery life and low power, but this machine offers a lot of power for a full 45 minutes. Unlike other cordless machines that get weaker as the battery gets low, the Lite Cordless operates at full power all the way until the end of the battery life. It also charges fast, so if you need it for a big cleaning job you won't lose much time charging.
This vacuum is super light at just 11 lbs. The weight in addition to the cordless feature, lets you get around any space super quickly. Finally, unlike other battery-powered vacuums where you have to deal with a dead battery every few years, the Lite Cordless battery will last up to 10 years. In addition to the functionality of the machine, it is also incredibly reliable. Aerus is well known in the industry for reliability, so you won't have to replace this vacuum for many years.
Who We Recommend This Vacuum For:
We recommend this product for everyday home cleaning, particularly for homeowners looking for a quick and light way to clean.
Kirby Avalir Home Cleaning System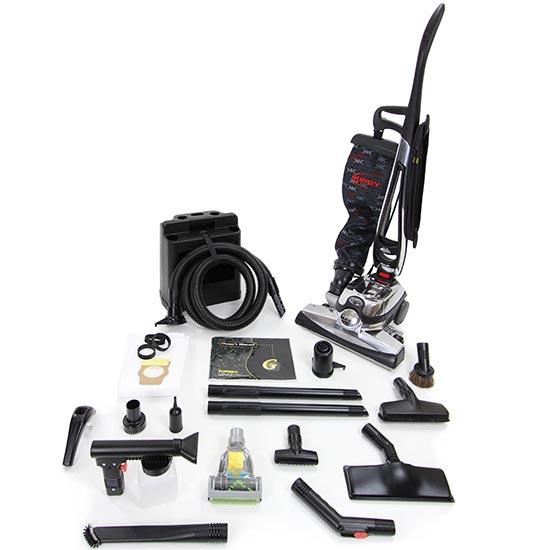 | | |
| --- | --- |
| Estimated Price | $1000 to 3000 |
| Attachments Included | Yes |
| Weight | 23 lbs |
| Height | 43" |
| Bagless  | No |
Kirby's Origin and Manufacturing Locations
The Kirby Company was founded in 1906 by Jim Kirby who was an inventor and owner of more than 200 patents. He designed products with the goal of eliminating unnecessary hard work, which is why he set out to invent vacuum cleaners and home cleaning systems. The company is headquartered in Cleveland, Ohio, where they design and manufacture their products.
The Avalir Home Cleaning System is Kirby's flagship product and is sold only through their direct-selling business. Authorized distributors provide consumers with an in-home demonstration of the system to allow customers to experience the product first-hand.
Kirby is a heavy hitter in the vacuum industry and is well known for producing quality products. While lots of companies have transitioned to cheaper materials and overseas manufacturing, Kirby has remained consistent in using only the best materials, even if that means they can't compete as effectively on price.
Another thing that makes Kirby unique is its Lifetime Rebuild Program. Through this program, Kirby owners can have their machines repaired or even rebuilt for a small fee for life. This is in addition to the 3-year warranty that comes with all machines.
What We Like and Don't Like About Kirby Vacuums
The Kirby home cleaning system is an incredibly versatile machine that is keyed toward a deep clean that you won't get with most vacuum cleaners. As the name indicates, this machine is not just a vacuum, it is also a carpet cleaner that allows you to deep clean carpets and hard surfaces with shampoo or floor cleaner. It also has a HEPA filter that removes up to 99% of unwanted particles, leaving your home truly clean.
The Kirby can be purchased as a standalone system with basic attachments, but consumers also have the option of purchasing upgraded attachment kits. The upgraded kits include a variety of special attachments, including a zip brush and an air pump. Finally, this model is made of aluminum, not plastic, so it is more durable and will last a lifetime.
While this model is significantly more expensive than other models on the market, it is hard to compare to your standard off-the-shelf vacuum. It offers so many more features and is meant to last generations.
Who We Recommend This Vacuum For:
We recommend this for consumers who are willing to make an investment in a vacuum that will last a lifetime. This is also perfect for people looking for an all-in-one machine to clean their home. All in all, it's just a high-quality American-made vacuum made by a great American company.
Hoover PowerDash Go Lightweight Carpet and Upholstery Machine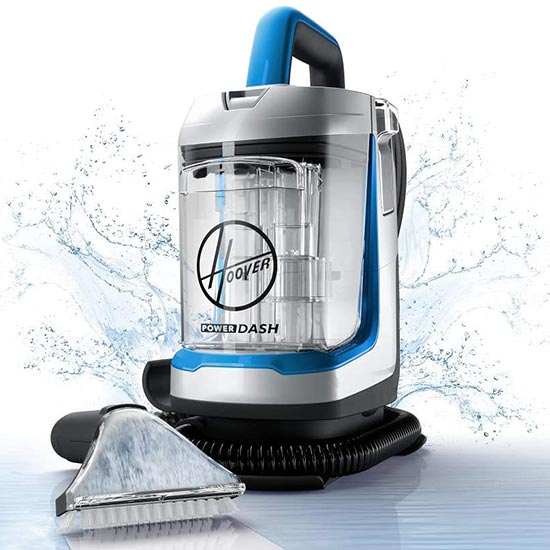 | | |
| --- | --- |
| Estimated Price | $100 |
| Attachments Included | No |
| Weight | 8lbs |
| Height | 15 in |
| Bagless  | Yes |
Hoover's Origin and Manufacturing Locations
Hoover is an established vacuum manufacturer that has been around for over 100 years. While not all of their products are made in the USA, they've recently made new investments to expand their made-in-the-USA line. They have a manufacturing plant in Cookeville, Tennessee, where they made a number of their products, including the PowerDash Go.
Hoover was started in 1908 and is well-known as a provider of reliable and affordable vacuums. They are also known for their innovative products and have developed several groundbreaking vacuum features that are used industry-wide today. Some of these include the disposable paper bag, the vacuum cleaner headlight, the self-propelled feature, and the side-mounted hose feature.
What We Like and Don't Like About Hoover PowerDash Go Vacuums
The Hoover PowerDash Go is a great product for conveniently cleaning small messes. It is a vacuum but also has a built-in stain remover that runs water over a soiled area for a deep clean. It has a dual tank system that keeps the dirty water separate from the clean water, so this is especially great to use on pet messes. Unlike other cleaners that utilize water, the setup is incredibly intuitive and easy, you'll be an expert at using it within just a few minutes. It is also very easy to dump dirty water.
The PowerDash Go is also small and compact, so you can store it almost anywhere. It fits inside closets, cupboards, or in a pantry or garbage room. Reviewers love how fast and effective this machine is and love that it can be used on multiple surfaces like furniture, hardwood, and carpet. Finally, at just $90, this machine is a super affordable option for cleaning up tough messes.
Who We Recommend This Vacuum For:
We recommend this product for people looking for more than just a vacuum. It is perfect for pet owners that need a bit more cleaning power around the house.
Metrovac Vac N' Blo 4.0 Peak HP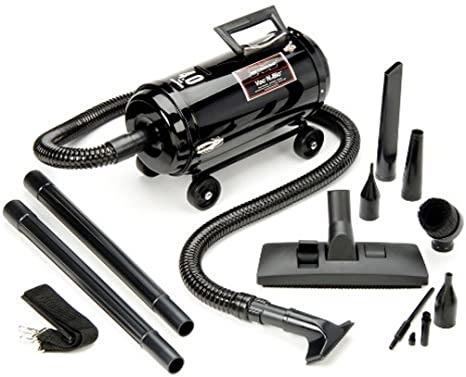 | | |
| --- | --- |
| Estimated Price | $315 |
| Attachments Included | Yes |
| Weight | 15 lbs |
| Height | 17 in |
| Bagless  | Yes |
Metrovac's Origin and Manufacturing Locations
Metrovac has been in the vacuum business since 1939. Over the years, they've manufactured vacuums for all types of industries, including home, auto, pet, and more. They've been around through dozen of iterations of vacuums and have always been at the forefront of new technology. The company continues to innovate and is continually rolling out new models with new features. For example, they were the first to debut a dual voltage handheld vacuum that's designed to work in homes and cars. Today, they manufacture their products in a 60,000-square-foot manufacturing facility in Oakland, New Jersey.
What We Like and Don't Like About Metrovac Vacuums
This is a great product for clean-up jobs on the go. This is the perfect vacuum for cleaning your car, garage, or anything else outside the home where you wouldn't want to haul a full-size vacuum. Many reviewers leave the vacuum in their garage permanently to have on hand to clean their car after a day at the beach or after a camping trip. It is also great for boats where you have limited space but still need to clean up the occasional mess.
This is a super versatile vacuum because it has a strong suction capability but also a blasting feature, so you can use it as a leaf blower as well. It is small and compact but very powerful, so you can use it to clean your home, garage, or yard. It also comes with eight attachments, including a dusting brush, nozzle, and an inflator adaptor, so you will not need any other vacuum when you purchase it. Reviewers love how mobile this vacuum is and rave about the quality.
Possibly the most important thing to note about this model is its strength. Many portable vacuums are only equipped to clean up light, small messes. But this model is very strong for its size and can pick up a large volume of material and even heavy pieces.
Who We Recommend This Vacuum For:
We recommend this for people looking for a vacuum that will clean more than carpets. This is perfect for the consumer looking for one machine that will clean their home, garage, car, and more.
Dustless Wet & Dry Vacuum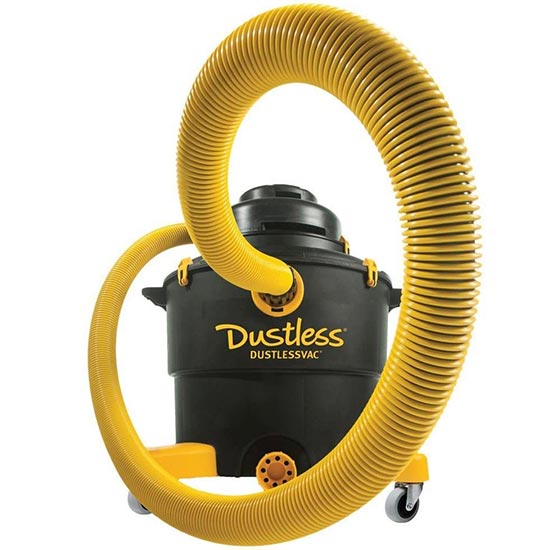 | | |
| --- | --- |
| Estimated Price | $380 |
| Attachments Included | Yes |
| Weight | 31lbs |
| Height | 27 in |
| Bagless  | No |
Dustless' Origin and Manufacturing Locations
The Dustless Vacuum company was founded in 1983 by Mike Loveless in Price, UT. Mike invented his first vacuum when he couldn't find anything to properly clean his coal and wood burning fireplace. After five years of development, Mike went on the road selling the first ever ash vacuum. The company has been growing ever since and has expanded into other types of vacuums. The manufacturing is done today out of an 18,000 sq ft facility in Utah.
Unsurprisingly, dustless's main point of differentiation is minimizing dust, especially when cleaning up large messes. Their machines are made with proprietary technology that cleans up small particles without blowing them around your home or releasing them back into the air. This company also invests heavily in testing. Each machine is tested for hundreds of hours before it goes into production.
What We Like and Don't Like About Dustless Vacuums
The Dustless vacuum company produces products that are clearly focused on quality. From the main machine to the hoses to the attachments, each piece is built with purpose and to last. The unique thing about this particular vacuum is you can switch between wet and dry pickup, and you won't damage the filters, unlike other vacuums. The machine holds about 40 pounds of dust, so it can handle both small and big jobs.
Unlike other wet/dry vacuums, which are hard to move around when full, this Dustless model is surprisingly easy to move around and maneuver. It also has upgraded rubber wheels which don't tend to get caught or dirty.
Who We Recommend This Vacuum For:
We recommend this for anyone looking for a great shop vac to clean up dust, ash, or other particles.
AirStorm HEPA Vacuum Cleaner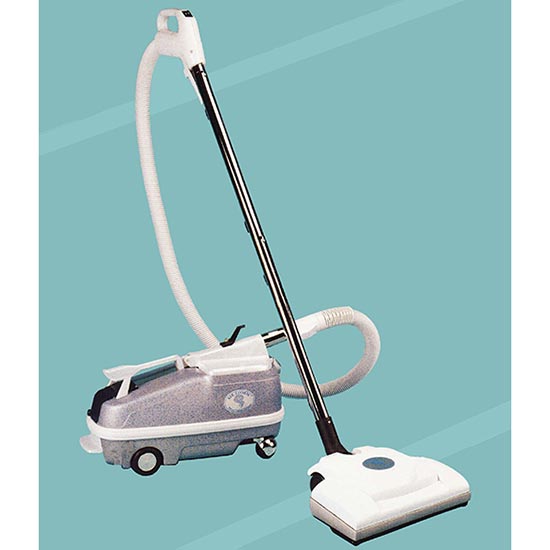 | | |
| --- | --- |
| Estimated Price | $1450 |
| Attachments Included | Yes |
| Weight | 13lb |
| Height | 27" |
| Bagless  | No |
AirStorm's Origin and Manufacturing Locations
The AirStorm vacuum is made in California and is known for its effectiveness in air purification. The company saw that many vacuums on the market let particles come out of the exhaust pipe or other openings, so they created a 100% sealed system that lets no air or particles back into your home.
What We Like and Don't Like About AirStorm Vacuums
If you are concerned about unwanted pollutants in your home, the AirStorm HEPA vacuum is right for you. The vacuum has been tested against dozens of other models and is the only one that is truly sealed and does not let anything escape through the exhaust pipe or other leaks. In a particle count test, this model was found to be 99.97% efficient and capable of removing particles that are .03 microns in size.
You'd think that the thoroughness of this vacuum would slow it down, but it is quite powerful and doesn't lose steam when the bag is almost full. The dust bag can hold 15 pounds of sand or dirt and will not slow down until it is completely full. The vacuum is so strong and trusted that companies even use it for cleaning mold and asbestos.
The vacuum is expected to last 35 years and also comes with a three-year unconditional part & labor repair guarantee.
Who We Recommend This Vacuum For:
We recommend this for homeowners who are concerned about unwanted contaminants in their homes. This is a perfect model for homeowners who look after family members with sensitive lungs or who have severe allergies.
Rexair Rainbow Cleaning System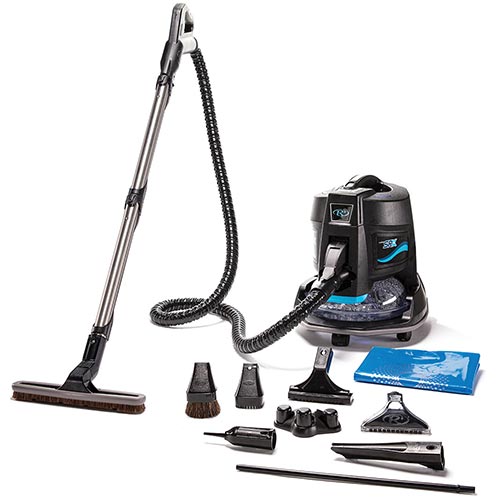 | | |
| --- | --- |
| Estimated Price | $1500 |
| Attachments Included | Yes |
| Weight | 19lbs |
| Height | 15 in |
| Bagless  | Yes |
Rexair's Origin and Manufacturing Locations
Rexair has been manufacturing vacuum cleaning systems since 1936. They are headquartered in Troy, Michigan, where they manufacture, market, and manage their worldwide distribution network. They use state-of-the-art manufacturing technology to ensure that each machine meets its standards of durability and performance.
What makes Rexair unique is its direct selling model. While nearly all direct selling companies have moved online, Rexair has not, and they only sell their machines through an authorized distributor which does in-home demonstrations.
Rexair is also focused on health more than other vacuum companies. The goal of their products isn't just to clean your home but to create a healthier home by filtering the air better than anyone else. The Rainbow System is advanced and uses aerodynamics to lift dust and dirt into the machine, then uses hydrodynamics to wash the air and return it to your home.
What We Like and Don't Like About Rexair Vacuums
The Rainbow Cleaning System is truly an investment for any home or a business owner. It is on the high end of the spectrum for any consumer vacuum, but you can expect to keep it for a lifetime. Unlike other systems that use filters to clean air, the Rainbow System uses water, so you know the air going back into your home is truly clean. No filter is 100% foolproof, but there is no way that dust particles can penetrate water, so this is one of the most effective cleaning systems out there.
The machine is also incredibly versatile, you can use it on hard floors, furniture, rugs, and dust-prone surfaces like window sills. The attachments are very thoughtfully made so it is obvious which parts are meant for various jobs. This is a great product to clean homes where allergens are a concern. Many reviewers of the product mention a noticeable difference in air quality after using the Rainbow Cleaning System. Buyers should be wary of purchasing this product online or from an unauthorized dealer. You will only get a warranty on your system if you purchase directly from the Rexair distributor network.
Who We Recommend This Vacuum For:
We recommend this product for home and business owners looking for a deep clean that cleans surfaces but also the air. This is also a great product for people with dust or allergen sensitivities. If you're looking for a high-quality vacuum made in the USA I definitely recommend this offer from Rexair
Intervac Surface Mount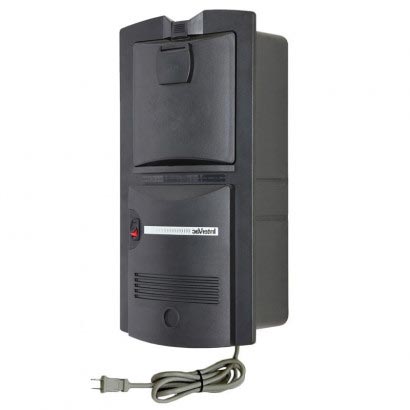 | | |
| --- | --- |
| Estimated Price | $240 |
| Attachments Included | Yes |
| Weight | 15lbs |
| Height | 20 in |
| Bagless  | No |
Intervac's Origin and Manufacturing Locations
InterVac Design Corp was founded by husband and wife duo Peter and Susan Schlapkohl, who set out to create a vacuum that was engineered for peak performance. They started the business in 1998 and have produced their machines in the USA from day one. Rather than make one machine that is meant to do everything, InterVac focuses on specific verticals and designs each vacuum for specific uses such as RV cleaning, car cleaning, or home cleaning. InterVac is also unique in its focus on designing machines for wall mounting. Almost all of their products are designed to be mounted, eliminating the need to find storage space.
Each InterVac product is thoroughly tested before it leaves the factory. The company also leads the way in product warranties, which often exceed the coverage and length of time of their competitors.
What We Like and Don't Like About Intervac Vacuums
It's clear that the InterVac company truly cares about quality. A lot of vacuums are made using cheap plastic, but you'll notice the difference in quality with the InterVac as soon as you take it out of the box. This is by far one of the best wall-mounted vacuum options out there. A lot of vacuums marketed as mountable were not designed with mounting in mind, it was more of an afterthought. This model was specifically designed to be mounted, so you should never have any issues no matter where you mount it. In addition, the mount itself is very intuitive and easy to install. It does not have complicated parts and instructions, just a straightforward mechanism to hang the machine.
It comes with several different attachments which were well thought out, not just thrown in the box. This model is great for those living in small spaces like an apartment, condo, RV, or boat and can be moved around easily. Reviewers consistently talk about how easy this model is to use and some have had it for over a decade.
Who We Recommend This Vacuum For:
We recommend this product for a space-conscious consumer who is looking for a compact machine that still has power. This is perfect for people who don't have the space to store a full-size vacuum but are looking for something with more power than a handheld machine.
Nikro 20 Gallon Wet/Dry Vacuum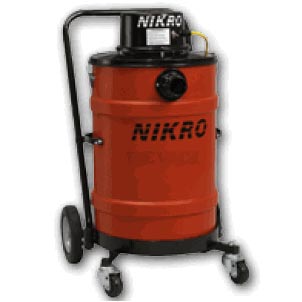 | | |
| --- | --- |
| Estimated Price | $570 |
| Attachments Included | Yes |
| Weight | 59 lbs |
| Height | 34" |
| Bagless  | No |
Nikro's Origin and Manufacturing Locations
NIKRO Industries is a commercial manufacturer of HEPA filtered vacuum systems, air purification equipment, and air duct cleaning equipment and supplies. They specialize in air cleaning and are a leader in the industry. They are headquartered in Illinois and strive to design products that will create a safer environment. Their products are designed to clean and filter harmful materials, including lead, asbestos, mold, and other toxic particles. They are highly respected in the commercial cleaning space and even made air cleaning equipment for clients like Mitsubishi, GE & NASA.
NIKRO's products are mostly meant for commercial applications and can stand up to big and small cleaning jobs alike.
What We Like and Don't Like About Nikro Vacuums
The NIKRO wet/dry vacuum is perfect for business owners looking for a quality machine to clean their facilities. This wet/dry vacuum is designed for tough messes and will leave any space spotless and with pure air. This model includes a powerful motor, so you don't have to worry about overwhelming it.
It also includes a four piece tool with a 10-foot hose, wand, squeegee, and crevice tool. The tools allow you to clean both big and small spaces with power and precision. The cord is 25 feet long so you can cover a big space without having to move outlets often. Note that it is quite heavy at 59lbs, but it comes with a cart to make it easier to move. It is also super easy to dump because it has a tank plug that can simply be undone to empty the entire tank in just a couple of minutes.
Who We Recommend This Vacuum For:
We recommend this product for business owners looking for a powerful machine to clean big messes and/or large spaces.
Factors We Considered
There are a lot of different vacuums on the market, each offering unique features. But even among USA-made products, not all vacuums are created equally. Vacuums can be a big investment for a home or business owner, so we carefully considered the most important factors to keep in mind when shopping for a new machine. Many of the vacuums on this list we have personally owned, used, or tested. Here are the factors that we took into account:
Price:
Price may seem like an obvious factor to consider when shopping for a vacuum. However, with such a range of products on the market, simple price comparisons can be like comparing apples and oranges. For example, the Sanitaire upright vacuum is less than $300, and the Kirby is well over $1000. However, it is difficult to compare these two because the Kirby has way more cleaning functionality than the Sanitaire.
Therefore, when we considered price, we considered the value you are getting for the price. Vacuums that were expensive but did not offer high quality or additional functionality did not make the list.
When considering which vacuum to buy and how to budget your purchase, be sure to consider not just the sticker price but what you are truly getting for that price.
Attachments:
While you can still clean a room thoroughly with no attachments, attachments significantly expand the utility of your vacuum. With the right attachment, you can clean small cracks and crevices, along with small objects and delicate materials. Attachments are an important part of the utility of your machine, and whether attachments are included or not should be a factor that you consider before purchasing.
Vacuums that include attachments are sometimes a better value, but not always. Not all attachments are created equal, so pay attention to what is included and if they are tools that are actually going to be useful to you.
If a vacuum does not include attachments, this is an equally important factor. Sometimes the company will sell attachments as an up-charge, which can add significantly to the overall cost. Other times, the machine may not be designed for attachments. If this is the case, you should consider whether your everyday cleaning needs require the use of attachments or not.
Weight:
No matter what you are using your vacuum for, weight is an important factor to consider. In our list, we included vacuums with a variety of weights, but heavier vacuums were only included if they had additional features that justified the weight.
With today's vacuum technology, there is no reason for vacuums to have unnecessary weight. A cordless vacuum or an upright with simple features should be easy to maneuver and carry from place to place. If it is not obvious why the vacuum you are considering weighs so much, it may be a good idea to explore other options.
Utility:
Consumers tend to assume that all vacuums work relatively well, but that is not the case. Some vacuums on the market will function but have very minimal cleaning power or will break within a year or two of use. Investing in an expensive vacuum minimizes the chances of poor quality, but there is still some risk.
In our list, we only included vacuums that have proven reviews for good functionality. Vacuums that tended to break down quickly or didn't stand up to heavy cleaning jobs were not included.
No matter what type of vacuum you are looking for, it is important to do thorough research and make sure the model you get is something that will perform.
Final Thoughts:
Choosing a USA-made vacuum may cost you some extra money, but you save the headaches associated with faulty manufacturing, ineffective filters, and cheap materials. There are several reputable companies in the US that truly care about creating high-quality vacuums for homes and businesses.
That does it for this article. Let us know if there are any good products we should add to this list! We're on the lookout for a robot vacuum made in the USA, but there don't seem to be any on the market at the moment.
Hi, my name is Kevin and I'm from Pittsburgh, Pennsylvania. Choosing products made in America is important to me because it supports local economies, creates jobs, helps the environment, and ensures ethical labor practices. I also find that American made products are usually of higher quality so although they're a little more expensive, you save money in the long run. Before starting this website I was in the USMC infantry and nowadays I work on this website as a hobby.