One item you pretty much always have on you when you leave the house is your wallet. Your wallet holds many of your most important items, such as your ID, credit cards, and cash, so it's a good idea to invest in a quality wallet that can hold all the items needed for your lifestyle.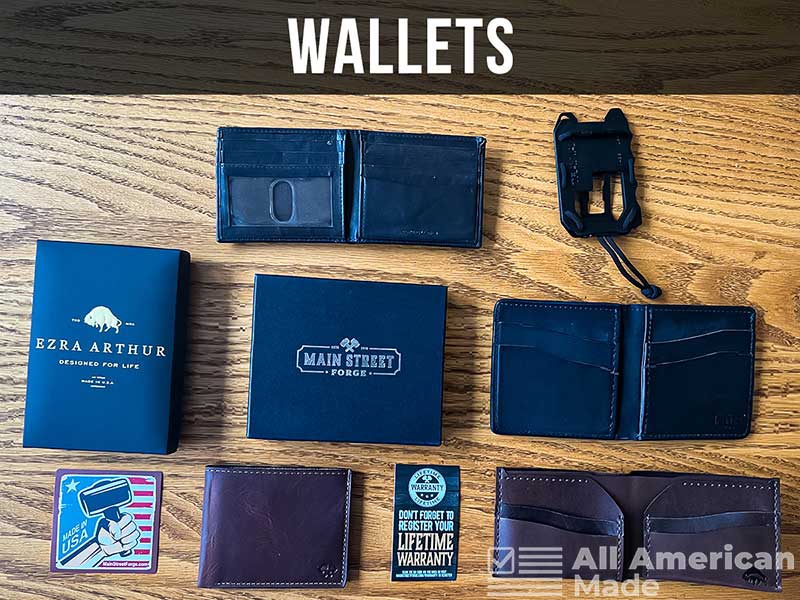 Some people want a more minimalistic design, while others want something with more storage and organization features. In the following list, we have a wide range of wallets made in the USA to choose from. Whether you're looking for a handmade leather wallet, tactical wallet, customized wallet, or a wallet with RFID-blocking technology, we're confident you'll find a great wallet from a great American company below.
List of American-Made Wallets
1. Main Street Forge Leather Wallet (Best Value)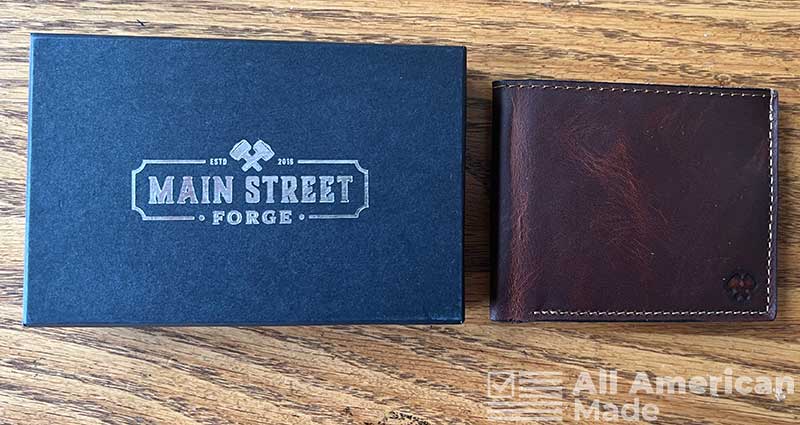 | | |
| --- | --- |
| Estimated Price | $50 |
| Materials | Full Grain Leather |
| Card Capacity | 6 |
| RFID Protection | No |
Main Street Forge's Origin and Manufacturing Locations
Main Street Forge is a relatively new company that specializes in making leather products like belts, wallets, and other travel accessories. Their slogan is "we still make them like they used to" and I do have to say I do like the slogan and the company's overall ethos. The company was founded in 2018  by two gentlemen from Detroit who have a passion for bringing manufacturing back to the US and supporting their local community. If you want to learn more about the Main Street Forge company, check out their story on their website here.
What We Like and Don't Like About Main Street Forge Wallets
What you're getting here is a full-grain leather wallet that's handmade in the USA. Main Street Forge didn't cut any corners to bring us this wallet at a more than fair price either! The wallet has a thin design, but the leather is still thick enough to provide structure but not so thick that it's awkward to carry. The stitching is great and they didn't use any harsh chemical dyes to make the wallets look great either. And just to ease the mind of consumers, they back their wallets with a lifetime warranty!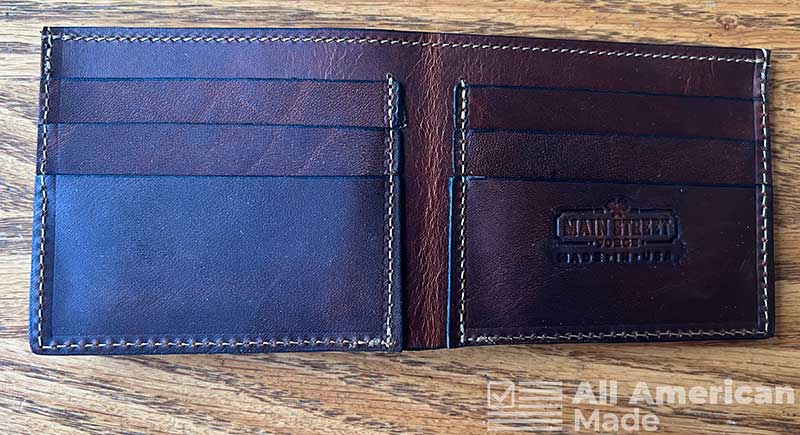 I really like the basic design and being that it has six interior pockets, it's suitable for most people. That said, being a rather thin wallet with six pockets and a bi-fold design, I'd classify this as more of a minimalist wallet, which I personally really like.
The wallet is available in many colors, and I have to say some of the finishes look amazing. The company also has other wallets to choose from, which you can check out here! This is one of my personal favorite wallets of all time. I've owned it for over a year, and I find it very durable. I've been very impressed that the leather looks still looks great even after heavy use.
Who We Recommend This For:
This offering is hard to beat if you're looking for just a simple bifold USA-made leather wallet for the money! It also isn't RFID blocking, so if that's a feature you're interested in, there are better options for you on this list. That said, for the money, I'd say it's nearly impossible to beat.
2. Tanner Goods Bifold Wallet (Editor's Choice)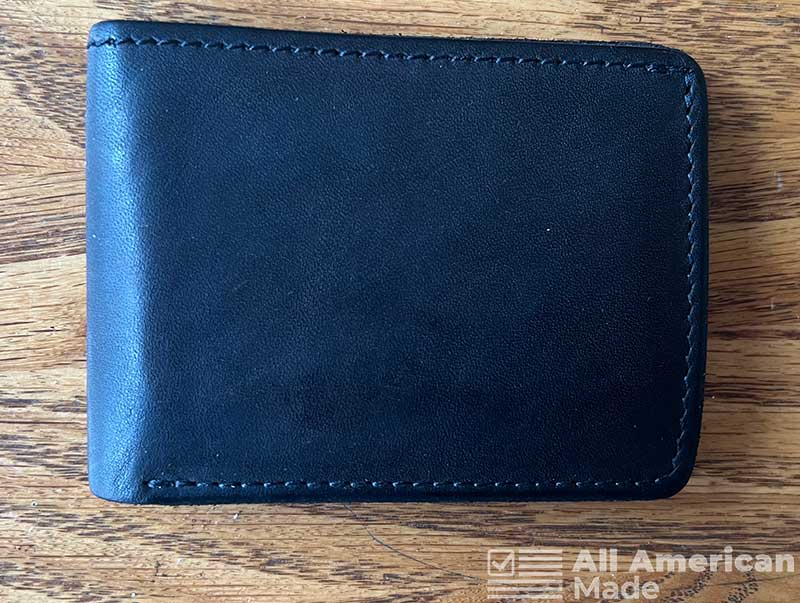 | | |
| --- | --- |
| Estimated Price | $125 |
| Materials | Leather |
| Card Capacity | 4 |
| RFID Protection | No |
| Dimensions | 4.25″ x 3.25″ |
Tanner Goods' Origin and Manufacturing Locations
Tanner Goods got its start 13 years ago as a company making hand strap belts in Portland, Oregon. Initially, every product was made by hand; however, as they grew, they invested in better, more efficient tools and techniques to increase production while maintaining quality.
Today, the company utilizes the talents of designers and manufacturers worldwide but still maintains its Portland headquarters, where they continue to make great handmade leather wallets.
What We Like and Don't Like About Tanner Goods Wallets
I like this bifold wallet for several reasons, including the four slots for cards, two hidden pockets, and ample room to carry some cash. The natural tooling leather felt stiff at first, and the card slots were tight, but we expect this to loosen as the wallet becomes more broken in.
The wallet is made with great leather, and it isn't super thin and cheap feeling like many other leather wallets I've owned in the past. This particular model only has 4 card slots, which for someone like me who doesn't carry more than a few cards, I find to be enough. Being a 4-card wallet, I notice it's also not quite as large as some 6-card wallets, making it a tad more comfortable to keep in your pocket. That said, the size difference is so negligible most people probably wouldn't even notice.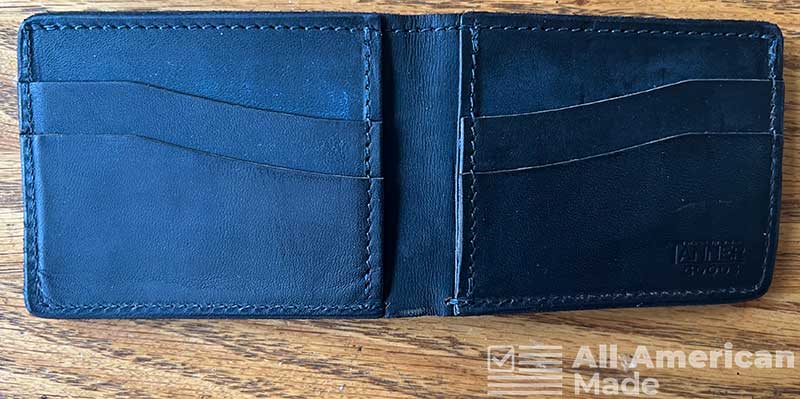 We found the stitching tight with no loose threads, which is expected for a higher-priced wallet like this. This is one of the pricier wallets on our list, but it's in line with what you would expect to pay for a high-quality, handcrafted leather wallet that's designed to last.
Who We Recommend This For:
This wallet is recommended for people who like a bifold design and don't mind paying a premium price for the quality.
3. Ezra Arthur No. 6 Wallet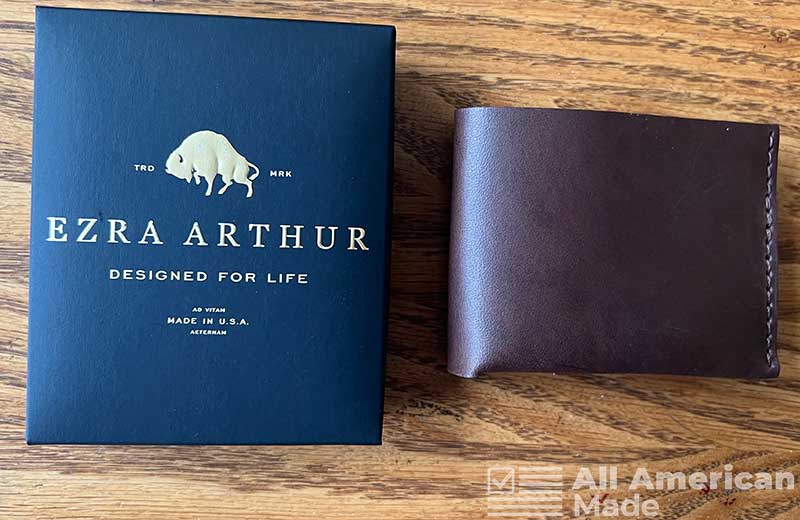 | | |
| --- | --- |
| Estimated Price | $125 |
| Materials | Chromexcel Leather |
| Card Capacity | 4 |
| RFID Protection | No |
| Dimensions | 4″ x 3.25″ x 0.5″ |
Ezra Arthur's Origin and Manufacturing Locations
Upon witnessing the economic downturn in the United States, which saw many small factories close and the loss of skilled trades, Ezra Arthur wanted to do something to save this segment of American manufacturing.
He bought some century-old equipment and opened a facility in Phoenix, Arizona's warehouse district with the goal of creating heirloom quality products and keepsakes using the tried and true techniques from a bygone era.
Today, the company is owned by four brothers who continue their grandfather's legacy, making the finest products that can be passed down to future generations.
What We Like and Don't Like About Ezra Arthur No 6 Wallet Wallets
Next on this list is another one of my favorite leather wallets, which is made from some very nice leather. Specifically, the No. 6 wallet is made from chromexcel leather sourced from a Chicago tannery, and upon holding it for the first time, you can tell it's something special.
One thing we find really cool about this wallet is that the chromexcel leather used to make it dates back over 100 years, and the process to create it takes highly skilled individuals working for nearly a month, sometimes around the clock.
The result is that you get leather that's not only incredibly durable but ages brilliantly. It will certainly age and scuff but never look beaten up or fragile. Unlike other leather wallets, the No. 6 doesn't use glue, rubber, linings, or any filler material that you find in products of lesser quality.
We also loved that the wallet felt smooth and supple out of the box, unlike many new leather products that start out stiff and only loosen up when broken in. The handcrafted stitching makes the entire wallet feel secure and like something that will last with proper care.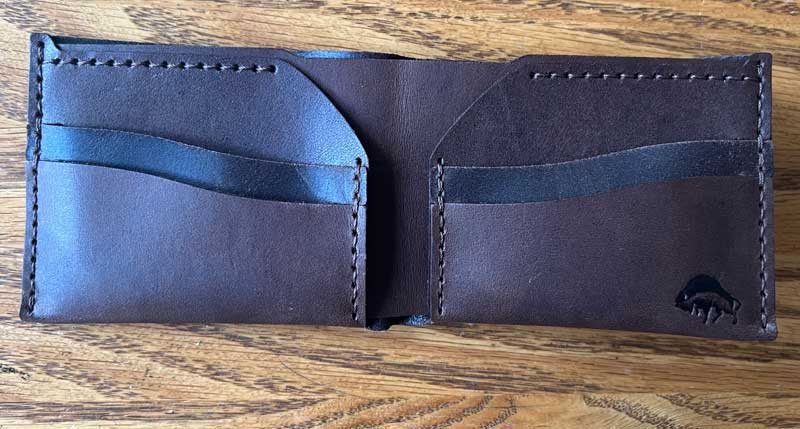 However, while this wallet comes with a lifetime warranty, you'll have to put some work into it to keep it in good shape, as with any high-quality leather product.
The company provides a card with maintenance instructions with the wallet, and if you follow these basics, there's no reason this product won't look as good or better 20 years or more down the road.
The No. 6 uses interlocking pockets, allowing for a slim profile, and while it doesn't hold as much stuff as the other wallets on our list, capacity and features aren't what this product is about. You do get the room for four cards and a place for cash, and not much more. We liked the color options available, including whiskey, malbec, green, navy, and jet.
The bottom line is that the No. 6 wallet is more than just a wallet; it's a love letter to the care and craftsmanship that we strove for before everything became disposable.
Who We Recommend This For:
The No. 6 is best for people who like the finer things in life and don't mind spending money to get quality and appreciate the work that goes into making products designed to stand the test of time. Honestly, for those of you just looking for a basic wallet, the Main Street Forge wallet above is a fraction of the cost, and I still find it to be very quality. That said, this is more of a premium option for those of you who really appreciate a fine handmade leather wallet.
4. Dango T01 Tactical EDC Wallet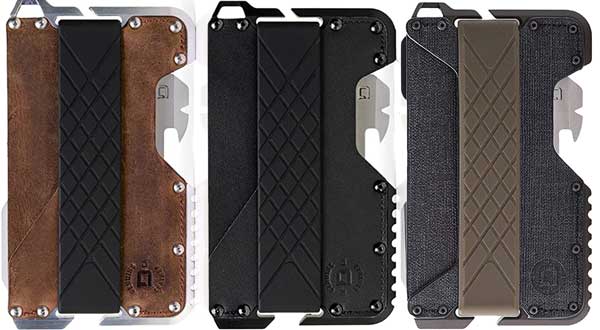 | | |
| --- | --- |
| Estimated Price | $100 |
| Materials | Leather or DTEX |
| Card Capacity | 12 |
| RFID Protection | Yes |
| Dimensions | 4.8″w x 2.6″h x 0.4″ |
Dango's Origin and Manufacturing Locations
Dango got its start in 2015 when mutual business partners Charlie Carroll and Thuan Tran got the idea to make well-designed, functional products.
Product designer Thuan Tran began designing functional carry products while studying at San Jose University and designing the Dango Loop Hook for a school project he eventually successfully marketed on Etsy.
Tran met Carroll through mutual jobs in the mobile case industry, and they joined forces to create the everyday carry product. The company is headquartered in the San Francisco Bay area. It produces various USA-made products for everyday carry using high-quality materials like top grain leather and CNC machined aerospace-grade aluminum.
What We Like and Don't Like About Dango T01 Tactical EDC Wallets
The T01 stands out as the Swiss Army Knife of wallets thanks to its included heat-treated, stainless steel multi-tool. This tool includes a serrated/sharpened edge box cutter, hex wrench cutouts, nail pryer, can opener, and a bottle opener.
While the multi-tool is handy and functional, it probably isn't TSA-approved, so you should plan on removing it before going through the checkpoints.
If you need more space, you can remove the tool altogether and stuff in a few more cards.
However, what's most impressive is the build quality of the wallet. This wallet screams Military Grade!
The frame is made from machined aerospace aluminum and is surrounded by water-resistant material attached to mini-bolts. Simply put, this is a rugged wallet, and the company is so sure about the quality that it comes with a lifetime guarantee.
Another feature we love about this wallet is that you can purchase additional parts from their website, such as a comb and clip multi-tool or pocket clip, making this the most versatile wallet we've tested.
If there's a downside to this wallet, it would be the price. Still, for people who demand durability under any circumstance, it's a fair price to pay for an American-made wallet with a limited lifetime guarantee.
Who We Recommend it For
This is the perfect wallet for the active person who loves the outdoors and needs a wallet that can withstand anything you can throw at it. The added multi-tool is handy for various situations any weekend warrior might find themselves in.
5. Trayvax Original 2.0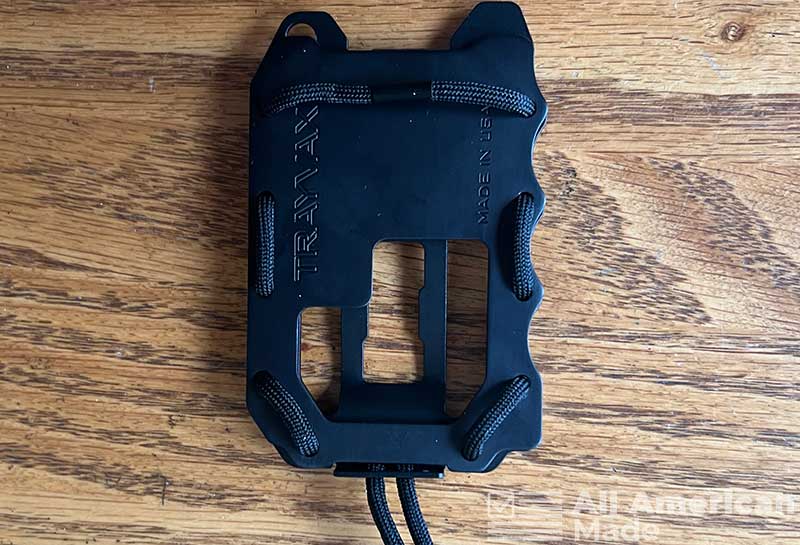 | | |
| --- | --- |
| Estimated Price | $40 |
| Materials | Fiberglass laminate |
| Card Capacity | 15 |
| RFID Protection | Yes |
| Dimensions | Length: 4.125 Inches Width: 2.625 Inches |
Trayvax's Origin and Manufacturing Locations
Trayvax founder Mark King set out to make a product to reduce the amount of plastic bag waste going into the environment. After numerous prototypes and revisions, he stumbled on a new product idea, which became the Trayvax wallet.
King designed the wallet to withstand extreme conditions and offer the most utility of any wallet up to that point, regardless of materials.
In the beginning, he made every wallet by hand and powder coated the aluminum frame in a countertop oven. Today, the company employs approximately 25 people to assemble, package, and ship several hundred wallets daily.
Trayvax added additional models to their lineup, including the Contour, Element, Ascent, Axis, and the Armored Summit.
What We Like and Don't Like About Trayvax Original 2.0 Wallets
What we love most about this wallet is its durability. The aluminum and laminate material feel solid and definitely stand up to abuse. This wallet is so well-made the company provides a 65-year heirloom warranty, so you can trust that you're getting your money's worth and then some when you buy this.
Another thing that impressed us is that it has room for approximately 15 cards. We're not sure why anyone would need to take that many with them, but this wallet has you covered if you're one of them.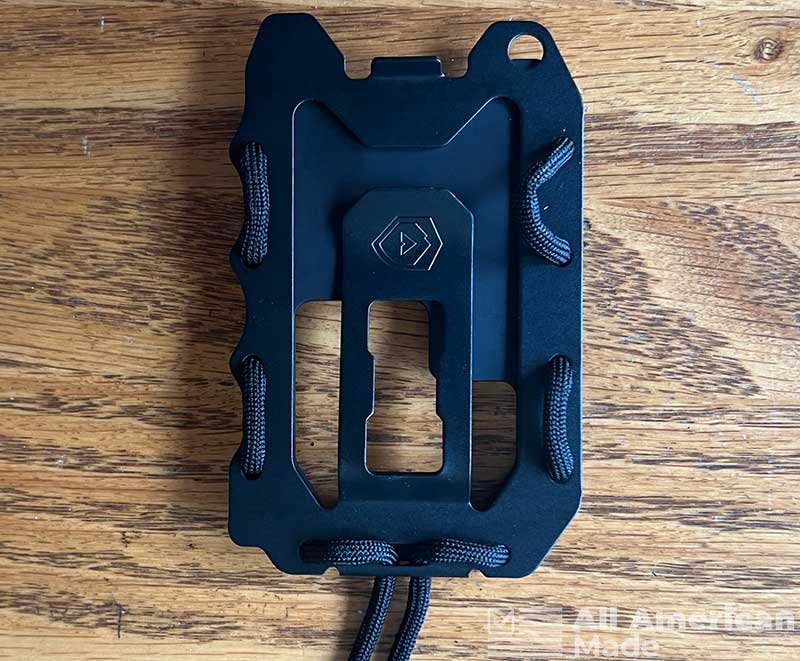 If you're a traveler, you'll be happy to know the Original 2.0 is TSA approved and offers RFID protection.
What is RFID protection?
Simply put, most modern credit cards contain a smart Radio Frequency Identification chip for quicker transactions and increased security. However, people who steal your information can use an RFID scanner to pull personal information from your card.
A wallet with RFID protection blocks these scanners, keeping your data safe.
We also liked how easy it is to flip through your cards to find the right one. This is a must-have feature if you've ever been frustrated trying to find the right card in a traditional wallet.
If there's any downside to this wallet, it doesn't hold too many bills, so if you like to carry a lot of cash, you may want to pass on this one.
Lastly, we also liked the additional wallet features like a convenient bottle opener, pry bar, and money clip.
Who We Recommend This For:
This is the perfect wallet for the adventurer or traveler who needs their wallet to be durable regardless of the conditions and offers protection against identity theft.
6. Rogue Industries Front Pocket Wallets

| | |
| --- | --- |
| Estimated Price | $70 |
| Materials | Bison Leather |
| Card Capacity | 12 |
| RFID Protection | Yes |
| Dimensions | 5 in x 3.4 in x 0.25 in; 1.6 ounces |
Rogue Industries' Origin and Manufacturing Locations
Rogue Industries began as a family project when founder Michael Lyons realized how dissatisfied he was with his bulky back pocket wallet.
Despite having no experience in leather crafting, he set out to learn all he could and came up with a uniquely designed wallet to fit in your pants front pocket, which nearly every tester said was more comfortable than carrying a traditional wallet.
Eventually, Michael's son Wells got involved in the business, creating the website, and developing the marketing strategy. The front pocket wallet became a huge hit at trade shows and with everyone that tried it, and the business was off and running from there.
Today, the Maine-based company offers dozens of finely-crafted leather products, from briefcases to card carriers.
What We Like and Don't Like About Rogue Industries Front Pocket Wallets
The Rogue Front Pocket Wallet is one of those products that seems so much like a no-brainer; you wonder why no one ever thought of it before. Many people begrudgingly carry a wallet even though they hate how bulky it looks and feels in the back pocket and how it ruins their style.
The Front Pocket Wallet is small and slim but doesn't compromise space. The shark fin design fits well in your front jeans pocket without adding much bulk.
There's plenty of room inside to fit your photo ID, a few credit cards, and some cash. We found the material lining inside the wallet provided enough grip to keep your cards secure, but not so much that it's difficult to slide your cards out when you need them.
The wallet we looked at is the leather model, which feels premium and well-crafted despite its lightweight and small size. The company does, however, offer this same design in ballistic nylon. Lastly, this wallet protects you from pickpockets and identity thieves because it features RFID blocking.
Who We Recommend This For:
This wallet is perfect for someone who wants an inconspicuous walking-around wallet for carrying the basic necessities. It's also perfect for people who like to wear slim jeans or pants and don't want a bulky back pocket wallet ruining their style.
Note: Not all of Rogue's products are manufactured in the United States, but their website features a Made in Maine section, and the American Bison Front Pocket Wallet is a made-in USA product.
7. Lowfold Recycled Sailcloth Vanguard Billfold Wallet

| | |
| --- | --- |
| Estimated Price | $40 |
| Materials | Recycled sailcloth fabric |
| Card Capacity | 10 |
| RFID Protection | No |
| Dimensions | 3.25″ H x 4.25″ W |
Lowfold's Origin and Manufacturing Locations
Flowfold founder Charles Friedman worked at a sail loft in Maine, where he learned how to repair boat sails. When his grandfather's wallet disintegrated, Friedman grabbed some racing sailcloth scraps from the trash and sewed together a wallet as a replacement.
The wallet proved durable, water-resistant, light, and even floated, and Charles knew he had stumbled on a great idea. He began sewing more wallets, making them stronger and lighter with each iteration. Word of mouth spread quickly, and soon Friedman was in business.
As the brand grew, so did the demand for products beyond wallets made with the same minimalist approach and using recycled materials. The company still operates out of Maine and creates a wide range of sustainable and durable products.
What We Like and Don't Like About Lowfold Recycled Sailcloth Vanguard Billfold Wallets
This is a neat, fun wallet that's quite a bit different from the others in our guide.
We love the fact that it's made from recycled sailcloth, which not only benefits the environment by not having this material end up in a landfill but makes this wallet lightweight and extremely durable.
It has four card slots and can fit up to 10 cards comfortably, 12 if you push it, plus a space for cash. It also has an ID window and two hidden pockets. This wallet remains remarkably thin, and light even when full and doesn't bulge too far out of your back pocket as other wallets do.
What's cool about this is that the wallet floats, so this is perfect for boaters, fishermen, or people who need to protect their valuables against water. Another thing we liked was the fun colors available, including black, green, blue, navy, purple, fuchsia, and fire red.
All in all, we really like this wallet. It's fun, durable, made from recycled materials, and slim and light.
Who We Recommend This For:
We highly recommend this wallet for people who like the idea of using recycled materials for people who work or spend time around water, and it's a perfect first wallet for kids.
8. North Star Men's Divider Wallet

| | |
| --- | --- |
| Estimated Price | $15 |
| Materials | Leather |
| Card Capacity | 4 |
| RFID Protection | No |
| Dimensions | 3 X 4-1/8 X 0.25 |
North Star's Origin and Manufacturing Locations
North Star Leather Co. started in Boston in 1969. The company's founder Stephen Batson worked as a leather crafter, selling products on the streets of Boston.
As the demand for his products grew, Batson moved the business to South Carolina, where the company operates today. Besides making wallets, North Star Leather increased its product line to over 150 products, all of which are still USA-made.
The company takes pride in its craftsmanship and guarantees them for as long as you own their products.
What We Like and Don't Like About North Star Men's Divider Wallets
The Northstar Leather wallet is more of a card/ID holder than a traditional wallet, and as such, you won't find a lot of space to store multiple cards, cash, or receipts. It has just enough space to carry the bare essentials.
This wallet is small, thin, and designed to fit inconspicuously in your front pocket. The full-grain cowhide leather is supple and strong but isn't as durable as other wallets made with higher-quality leather.
We found the card sleeve to be grippy enough to keep your cards secure without being so tight that it's difficult to get the card out when you need it. This wallet also comes in various shades, including black, brown, black cherry, and navy.
Who We Recommend This For:
This is an ideal wallet for those who want something discreet and straightforward to carry the basics at a fair price without sacrificing quality.
9. Filson Rugged Twill Outfitter Wallet

| | |
| --- | --- |
| Estimated Price | $125 |
| Materials | Weatherproof Leather |
| Card Capacity | 8 |
| RFID Protection | No |
| Dimensions | 4-3/8″L x 3-3/8″W |
Filson's Origin and Manufacturing Locations
Started by C.C. Filson, the company began as an outfitter for Yukon Gold Rush pioneers in 1897 in Seattle. Once the gold rush faded in 1899, Filson continued selling products to outdoors people and people who needed rugged clothing and supplies.
By the 1960s, the company's reputation spread throughout the world as a premier outdoor outfitter, and retailers began stocking their products.
What We Like and Don't Like About Filson Rugged Twill Outfitter Wallets
Knowing the company's pedigree, we weren't surprised by this no-nonsense wallet. It's not built to be fancy, it's built to be long-lasting, and that's what you get. Opening the tough leather conjures images of the Old West and the kind of men and women who survived that era.
The wallet features eight card slots, two hidden compartments, and a cash sleeve with a center divider to keep your bills more organized. The heavy-duty nylon stitching appears like it will hold up for decades.
Filson makes this model with weatherproof leather, and it's available in two colors, otter green and tan. It should be noted that this wallet is manufactured in the United States, and some materials are imported.
Overall, we like this wallet, even if it's on the pricey side. It's a clean, straightforward design made to be functional.
Who We Recommend This For:
With ample room for cash and cards and its weatherproof leather design, this wallet is perfect for the no-nonsense guy who's not afraid to get dirty. Whether you work out in the field or in a blue-collar job, this wallet is designed to stand up to whatever you throw at it. Overall, it's easily one of the best American-made leather wallets on the market right now.
10. Billykirk No 398 Bifold Wallet

| | |
| --- | --- |
| Estimated Price | $175 |
| Materials | Full Grain Leather |
| Card Capacity | 5 |
| RFID Protection | No |
| Dimensions | 4.25″ x 3.25″ |
Billykirk's Origin and Manufacturing Locations
Billykirk was founded in Los Angeles by brothers Chris and Kirk Bray with the inspiration to start the company after purchasing a leather watch strap in 1999.
The brothers had the desire to help grow the art of leather crafting in America and did so for the next 20 years, after which they moved their headquarters to Jersey City, NJ, and opened a design studio.
Today, Billykirk collaborates with name brands such as Levi Strauss & Co., Ace Hotel, and Target, to name a few.
What We Like and Don't Like About Billykirk No 398 Bifold Wallets
This bifold wallet is hand-stitched with heavy wax cording and features a leather lining. We found the wallet a little stiff at first, but that's true for many leather goods, and I suspect it will become more supple as time goes on.
Many people prefer the bi-fold design, and we like it a lot because it's easy to flip open and get access to cards and cash and folds thin. It features five card slots and a slot for bills and comes in three shades, tan, black, and brown.
Another aspect that stood out to us is the old-world design, which hearkens back to the kind of wallet your grandfather might have carried.
Who We Recommend This For:
The 398 wallet is a finely crafted leather wallet designed to last a lifetime and is recommended for the person who values no-frills simplicity and wants a wallet that reflects this aesthetic. The minimalist design complements both casual and dress attire.
11. Lifetime Leather Co Field Notes Wallet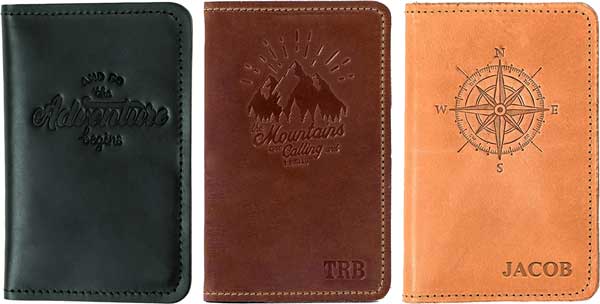 | | |
| --- | --- |
| Estimated Price | $80 |
| Materials | Full Grain Leather |
| Card Capacity | Up to 15 |
| RFID Protection | No |
| Dimensions | 6.25″ x 3.75″ x .5″ |
Lifetime Leather Co's Origin and Manufacturing Locations
Lifetime Leather Company is a family-owned business that started in 2011. The idea to start a leather business came from tragedy when owner Ty Bowman was injured in a zip line accident, leaving him disabled for three years.
To help pass the time, Ty turned to reading motivational books and learning leather crafting.
Broke and trying to figure out what to give his family for Christmas, Ty came across an old leather couch on the side of a road on a drive home. He salvaged the leather and made bags, purses, and wallets to give as gifts, and the idea for the company was born.
Today, the company handcrafts all its leather products from its factory in Arizona. The Lifetime moniker comes from its dedication to using the highest-quality materials and craftsmanship and guaranteeing its products to last a lifetime.
What We Like and Don't Like About Lifetime Leather Co Wallets
If you're looking for a personalized wallet, this is one of my personal favorites. What we love about this product is that it's more than just a wallet; it's a handy carry case for a pen or pencil and a thin notebook as well as your cards and cash.
The full-grain leather felt supple and lightweight but durable right out of the box. We were surprised that it came with a field notebook and Zebra pen, so you're ready for adventuring right away. However, despite its storage capacity, the notebook, and the pen, the wallet never felt too thick or cumbersome.
Sure, this isn't something you could easily slip into a back pocket, but it fits nicely in a jacket or bag for easy access.
This wallet has three separate storage slots and one sleeve for cards, cash, receipts, etc., plus two hidden pockets. And the sleeves are also large enough to accommodate a passport in place of the notebook.
Another feature we like is that you can have the wallet custom embossed with your name, initials, or anything else to make it uniquely yours.
Lastly, we liked that this wallet comes in various colors, including Buck Brown, Natural Russett, Oxford Brown, and Oxford Black, so you can find the one to match your particular style.
Who We Recommend This For:
The Field Note Wallet is perfect for the traveler or person who wants something more versatile than a traditional wallet but doesn't want to go as far as to carry a bulky hip pouch. This is the perfect choice if you like the convenience of taking your cash, cards, pen, and notebook in a light, easy-to-store carry-all. If you're looking for custom leather wallets made in the USA, this is a great option!
Conclusion: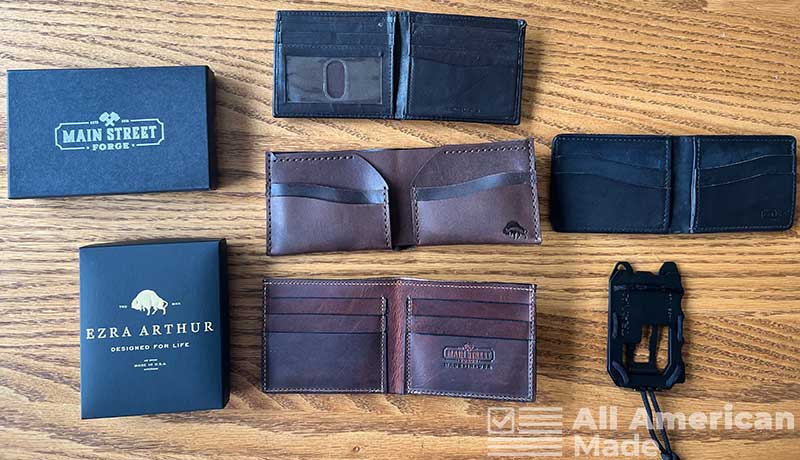 There are plenty of great options at virtually every price point when you're looking for a quality USA-made wallet. Whether you need something small that fits in your front pocket or something more traditional, there's something out there for you and your style.
I hope this article was helpful and you enjoy whichever wallet you choose. It's good to know that we can still get high-quality products built to last right here in America.
Hi, my name is Kevin and I'm from Pittsburgh, Pennsylvania. Choosing products made in America is important to me because it supports local economies, creates jobs, helps the environment, and ensures ethical labor practices. I also find that American made products are usually of higher quality so although they're a little more expensive, you save money in the long run. Before starting this website I was in the USMC infantry and nowadays I work on this website as a hobby.