Being founded in Hamamatsu, Japan, you may wonder where they make Honda generators. Honda is not an American company, which may have you wondering if you should support the company. While Honda has a reputation for sophistication and competence, you want to support American-made products.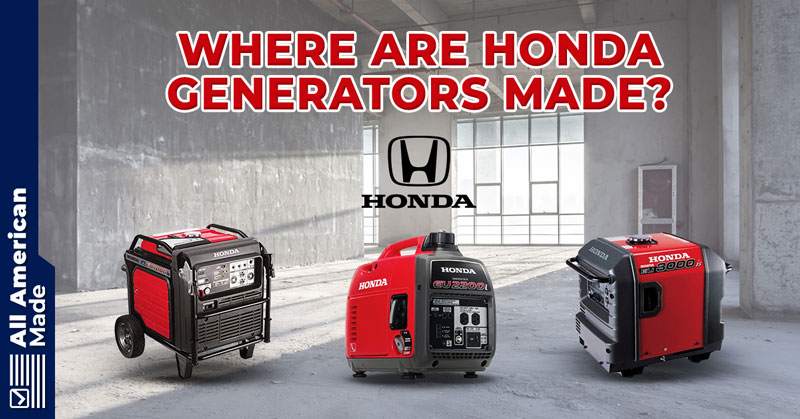 If you'd like to learn more about where they build Honda generators and some useful information regarding Honda's manufacturing processes, keep reading. We will elaborate on everything about Honda generators so that you know exactly where they are made.
Honda generators are primarily made in China. They do assemble some generators in the USA at their factory in Swepsonville, North Carolina. The components come from Thailand, and the engines and electronics are built in Japan.
Are Any Honda Generators Made in The USA?
Honda operates an 11,000-square-foot facility in Swepsonville, North Carolina, where they produce an estimated two million engines per year, among other products as well, like generators, lawn equipment, string trimmers, snowblowers, and tillers.
In 2019, Honda announced plans to expand its plant in Swepsonville. They would invest $46 million and expand 135,000 square feet. Honda likes to build its products close to its customers, and it's not uncommon for Honda to specially tailor the specifications and style of a product for the market where it's manufactured.
This facility ranks as one of Honda's largest producing plants in the world, and this is the third Honda manufacturing plant in the United States where they produce generators. Among all the things produced here, they make 38 million products for the USA at this facility.
As a foreign company, Honda does a great job at bringing jobs to the USA They have one of the largest manufacturing footprints of foreign companies that operate in the United States. In total, over 20,000 workers in the United States are employed by Honda.
Now that number may sound impressive, but they employed 215,000 workers worldwide in 2018. That means that 20,000 only accounts for an estimated nine percent of its total workers. Still, Honda invested an estimated $20 billion in the USA, with $5.9 billion invested in the last few years. The other thing is that Honda is a well-spread global corporation with manufacturing in multiple countries.
Honda's history in the United States goes back to 1973 when it first introduced outboards, tillers, and generators to the United States. The brand has over 40 million satisfied customers in the U.S, and their generators range in purpose and include domestic, commercial, and industrial purposes. The power ranges from 1,000 watts to 10,000 watts for total capacity.
Where They Were Made: Understanding the Location Code of Honda Generators
You can tell the manufacturing site through the location code. This information is marked through the last digit in the five-digit prefix. Examples of the code include:
USA = A
CHN = H
ITA = E
JPN = K
THA = T
To give you an example, if the code says HTNAA, it means that they made the product in the United States because it ends in A. If, on the other hand, the product says GCGAH, it means that they made the product in China. Look at the last digit in the code.
Are Honda Generators Made in China?
Many people feel especially concerned when they see a product that comes with the "Made in China" label because how the country has gained a reputation over the years for producing low-quality products that don't last. However, this rule doesn't always hold, and Honda has quality checks and balances and a reputation to uphold.
Honda isn't a faceless brand that can get away with that.
Many people in the United States have complained about their manufacturing jobs going to China, but this shows you how companies around the globe have outsourced their work to China because of a lower cost of labor.
Fuzhou, China, in Chongqing, produces around 260,000 generators per year. They started the production of generators here in 1995 and have continued ever since. This factory in Fuzhou is the only factory in China where they produce generators. While China has four Honda factories, only one of them produces generators. The other three produce cars, scooters, and other Honda products.
Are Honda Generators Made in Japan?
Since the corporation has its roots in Japan and was founded in 1948, you may wonder how much of the production happens in Japan. Honda used to largely be made in Japan, but like many other companies that saw better deals in Chinese manufacturing, they switched much of the manufacturing over to China to save on costs.
The electronics and engines remain built in Japan. The Honda Motor Kumamoto Factory, the fourth factory that Honda established, was built in 1976. This factory ranks as the largest in Japan based on size, and they produce many of the engine parts in Japan. It's estimated that they produce around 100,000 units per year among generators, snowblowers, tillers, GCV, and Monpal carts.
Other Places Where They Produce Honda Generators
Finally, we will finish some of the other places where they produce generators. For example, in Greater Noida, Uttar Pradesh, India, around 110,000 units are produced every year. Thailand is where they produce many of the parts, and they produce the GX series, GXV series, and the M4 series. Italy produces the GC series engines.
Should You Buy a Honda Generator?
Honda employs an estimated nine percent of its workforce in the United States, which puts around 20,000 Americans to work. Even at nine percent, that's a significant number with 20,000 jobs. We haven't seen any of the other foreign companies go quite as far as Honda has in supporting the American economy, but this article may show you how Honda has brought jobs to the U.S.
With that said, Honda generators have a reputation as some of the best in the industry. They have an awesome reputation for producing great generators, which is why they cost more. They're reliable, well-made and have a good design.
Some of the products that you might buy from Honda when you want quality include generators, batteries, power tools, and home enhancement equipment.
The range of Honda generators means that you have plenty of choices. Honda also became one of the first manufacturers to produce quiet-noise motors.
Because of the willingness to give jobs to hard-working Americans, we would recommend a generator from Honda. One of its biggest manufacturing plants is in the USA. Before buying, check to see that they assembled the generator in the United States.
Does this mean that you can't buy a fully American-made generator? None of this negates the fact that they still do a large part of the manufacturing of their generators in China. We understand the sentiment to buy fully American-made products from American companies, and for the people interested in those products, we will outline the best American-made generator companies in the following section.
Check out this explanation video of the Honda EB generator lineup to decide which models meet your needs:
Best American-Made Generator Brands
When it comes to some of the best American-made generator brands, the companies include:
Mi-T-M (made in Preston, Iowa)
Generac (made in Whitewater, Wisconsin)
Voltmaster (made in Arvada, Colorado)
Winco (made in Cherokee, Iowa)
Northstar Generators (made in Burnsville, Minnesota)
Cummins Generators (made in Elkhart, Indiana)
With whatever company you buy from, we would advise that you research each generator to understand who you support in buying from them. For example, some of the generator brands may assemble them in the U.S., but they have everything else made in China. For example, Cummins had five factories in China, and no one knows exactly what they produce there. They are said to be assembled in the U.S., however.
This fact barely differentiates them from Honda, which assembles its generators in the U.S. For that reason, we find them a company worthy of support. You could do worse than Honda, and the company has shown an ongoing willingness to support America. Did you know that 60 percent of domestic Honda vehicles were made in the United States? You have some American companies that don't produce that number and have taken their operations to Mexico and elsewhere. For that reason, this company deserves your support.
Generators, like some of the other product categories, have become largely made in China, but they might assemble them in the United States. You must exercise caution with what you choose, even with the brands that appear to be made in the United States. Some companies act highly evasive on this subject, and they try to cover up the origin of the generator. Beware whenever a company doesn't answer questions directly.
Are There Fake Honda Generators?
We would advise caution when you buy a Honda generator because you do have fakes on the market. These fake generators are often made in China. When you know they're fake, it's one thing. However, it becomes a different story when you paid full price for a Honda generator only to buy a fake one. To learn more about how fake products hurt our nation, check out this article here on the subject.
Whenever you buy a Honda product, keep in mind that it must come with an official warranty card from PT Honda Power Products. You can do a couple of things to distinguish an authentic Honda generator, such as:
Logo on the engine under the fuel tank
Check the serial number
Deal only with trustworthy sellers
Contact Honda for the status of the engine number
Beware of Honda generators that only come with a sticker. Many fake sellers have begun to put the Honda sticker on a brandless generator, but if it lacks the above, don't buy it. Any time you see a generator with a poor and unprofessional photo, beware. In some cases, they may sell it for an extra-low price to make it look attractive. If it looks too good to be true, it probably is.
Fake merchandise has become a growing threat, and based on a report from the OECD, fake goods now make up 3.3 percent of global trade in 2019.
Honda Alternative: Are Black Max Generators Made By Honda?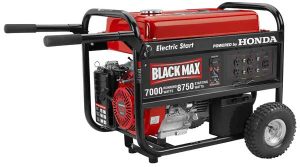 All Black Max generators use Honda engine technology, and they were sourced from here. In some cases, Black Max generators were made in China, but they have their base in Torrance, California. The budget-friendly prices have made Black Max a favorite. This brand can be bought through Sam's Club, which is another partner of Black Max.
One of the awesome things about Black Max generators comes from the fact that most of the components were made in California or the U.S. However, the suppliers in China do the assembly of the generators. It's unfortunately hard to avoid.
Understanding Honda and Its Manufacturing Facilities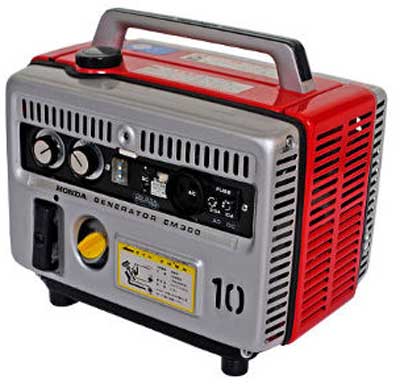 In total, Honda has 11 manufacturing facilities around the world in different locations where they produce power tools and things like Honda generators. This means that they are produced in a variety of locations, which can make it hard to discern without the manufacturing code to show their location. When you want to know where they make it, ask before buying. This offers you one of the most sure-fire ways of making sure that you buy a generator made in the United States.
How Long Do Honda Generators Last?
One of the things to keep in mind is that portable generators usually won't last as long as stationary generators. Most portable generators will last between 1,000 and 2,000 hours, but if you run the generator 100 hours per year, it will last 20 years. You want to size the generator appropriately for your home. In addition, generators require service at least once a year. We do not advise skipping this because generators can blow up due to a lack of maintenance. You must maintain them.
Honda Serves the Local Community
The factory in Swepsonville, North Carolina, employs an estimated 1,100 Americans. This factory has had a positive role in the community in several ways. For example, the factory gave $2,500 in a donation to the Alamance-Burlington School System. That hasn't been the only thing that they have done because they donated some of the generators to fire departments across the region.
Along with that, they provided those same generators to the American Red Cross. Anyone wondering if Honda as a brand has earned its place in our communities should look at what they have done for the local community.
To put this into perspective, the Honda EG2800i OFI generators, which they donated, cost $1,200 per unit. For that reason, we believe that the Honda brand deserves your consideration. They have taken an active role in our communities while providing people with jobs.
Are there other American-made generator companies that you could buy from? Absolutely, but we believe that despite being a Japanese company, Honda has done a great job supporting American jobs, including having a large manufacturing plant in Swepsonville. It is one of the reasons that we would recommend them.
Even some American companies haven't gone as far as Honda has, which is what makes them worthy of your consideration. Here's an article to better outline what buying American-made products even means. Due to globalization, the answer has become trickier than ever before as to what qualifies as "Made in America."
What Honda Generators Would Be Worth Buying?
One of the chief reasons that Honda generators have world-renowned fame comes from the fact that they have an exceptional capacity and can generate a significant level of power. Their generators also do well when it comes to fuel efficiency. Let's have a look at a couple of great choices on the market.
Honda EU2200i 2200-Watt Generator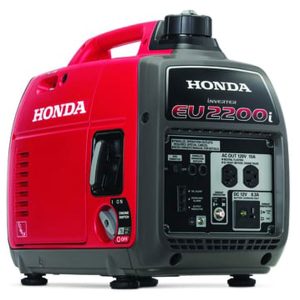 Powered by the GXR120 commercial series engine, this generator delivers smooth and quiet power. You could use this generator on your trip high into the mountains with an RV. This generator comes with Bluetooth capacity.
You might be wondering, "What on earth could I use Bluetooth on a generator for?" The remote starting adds another level of convenience. Keep in mind, this will only work on the electric start models.
With this generator, you will receive a three-year warranty. Because of a feature known as Eco-Throttle, you can reduce fuel consumption by a great deal. On average, expect 0.95 gallons to last 8.1 hours. This level handles most power outages effectively. Don't worry too much about oil either because the generator transmits an alert as soon as the tank runs below average.
How does this model perform in terms of noise? Expect anywhere from 53 to 59 decibels. To put that into perspective, most generators produce between 70 and 100 decibels from 23 feet away.
Pros
Runs quietly
Economic fuel usage
Available as a four-stroke engine
Portable and easy to move
Oil filter for better performance
Looks good
Cons
Temperamental starting
Not extremely powerful
Honda EU1000i Inverter Generator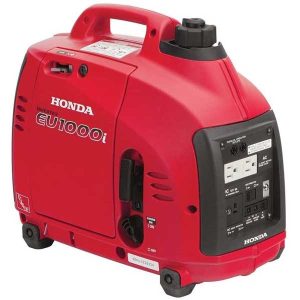 One of the small-sized generators that have become a go-to choice for customers, this generator offers up to 1000 watts to run small appliances. You might consider the Honda EU1000i Inverter Generator a good choice for camping or supplemental power in the RV.
The other nice thing? This generator operates at only 42 to 50 decibels. It operates quietly enough to keep from disturbing the neighbors. In fact, the generator operates so quietly that even a conversation among friends will cause you to forget that it runs in the background.
The weight of just 29 pounds means that you can move it around easily. Someone of more advanced age may appreciate how light it feels. Because of the Eco-Throttle system, this generator will operate for between 3.0 to 6.8 hours on 0.6 gallons. The generator includes a two-year residential warranty.
Put into eco-mode, one of the plus sides of this generator comes from how it reduces emissions. Be aware of how the generator comes with its limits and struggles to operate things like the microwave or a TV.
Pros
Good design and dependable
Runs quietly compared to others
Reasonably priced
Features low-fuel shutdown technology
Portable and easy to move around
Good for camping and RVing
Cons
Can't operate certain appliances
Not as powerful as other choices
Honda Power Equipment EB2800IA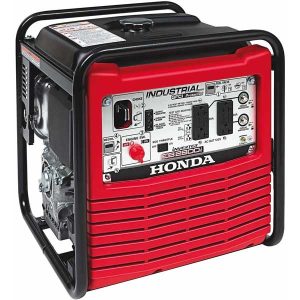 One of the best things about the Honda Power Equipment EB2800IA comes from how you can operate for up to 11.9 hours with 2.1 gallons of fuel. Like the others, Honda includes Eco-Throttle, which allows you to get the most from your generator. As a heavier-duty generator, this choice will operate at between 62 to 67 decibels.
That noise level does make it one of the louder on the list, but it still comes in much quieter than some of the other generators on the market. Operating with a full frame, the Honda Power Equipment EB2800IA offers a convenient hand-holding area, and you can use that to tie it down during the transport of the generator.
Because of the technology found within, the generator shuts off automatically whenever it detects low oil. That matters because running a generator without oil or low oil will cause severe wear and tear, and it can damage certain parts of the engine.
With this generator, you will receive a three-year warranty for residential use and you will receive a one-year warranty for commercial use.
You can set this generator up quickly and use it as needed. The one issue with this one is that during Eco-Throttle mode, it will vibrate as loudly as a motorcycle. This generator operates with enough power to allow you to use many of your tools in the truck. It generates 2800 watts and produces steady and clean energy.
Pros
Powerful enough for your needs
Has a full frame to add protection
You can tie it down during transport
Can carry it by the handle
Lightweight and only weighs 34 pounds
Consumes gasoline
Cons
Takes time to get it started
Not the quietest choice available
Conclusion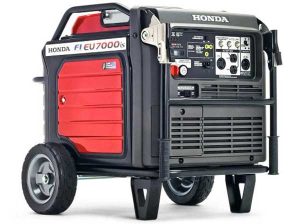 Generators are the type of product where that will often be made in China because it reduces the costs for the consumer. Honda is no exception. However, the Honda brand has done a lot for the U.S. economy, and they provide up to 20,000 Americans with jobs. With that in mind, we don't see a reason why you wouldn't want to support the company. Honda generators have a reputation as some of the best in the industry.
Hi, my name is Kevin and I'm from Pittsburgh, Pennsylvania. Choosing products made in America is important to me because it supports local economies, creates jobs, helps the environment, and ensures ethical labor practices. I also find that American made products are usually of higher quality so although they're a little more expensive, you save money in the long run. Before starting this website I was in the USMC infantry and nowadays I work on this website as a hobby.