Since its founding in 1969, the Yankee Candle Company has become incredibly famous for its popular scented candles, candle accessories, and dinnerware. Yankee Candles was founded in Massachusetts, but many people wonder if they're still making their candles in the USA.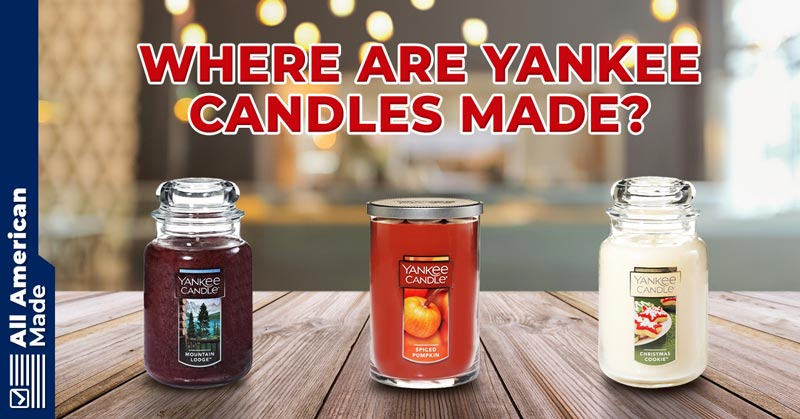 In the rest of this article, we'll share exactly where Yankee Candles are made and other important information about the company.
Most Yankee Candles are made in the USA with global materials. Specifically, they're made at the company's 300,000 square foot production facility in Massachusetts, where they produce 1.2 million candle jars per week. Some candles are made in Europe but are not usually sold in the USA.
The easiest way to tell exactly where Yankee Candles are made is to check the bottom of the candle. Here is an example of what the label on the bottom looks like.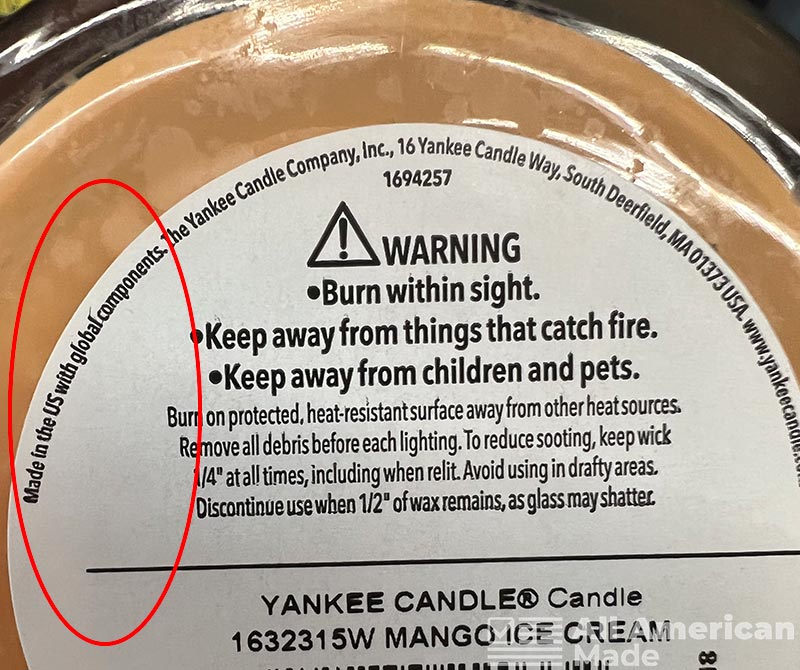 What Yankee Candle Products Are Made in the United States?
Because Yankee Candles only produces at one production facility in the United States, all American-made labeled products that you buy from Yankee Candles will be made in Whately. Some of their most popular American-made candles to add to your collection include:
Man Town
Midnight Jasmine
Angel's Wings
Pink Sands
Black Cherry
Calm & Quiet Place
Lemon Lavender
Clean Cotton
Afternoon Escape
Discovery
Balsam & Cedar
The last one listed, Balsam & Cedar, which debuted in 2004, is their best-selling candle, and it smells like a mix of balsam, aromatic cedar, and juniper berry.
Offering over 600 fragrances, you will experience no shortage of choices, and Yankee even sells specialty candles and candles meant for specific holiday seasons. Many love to get sentimental over the candles and collect each of them. The company has progressed a long way since it started with just over a dozen fragrances in 1969. Every year, the company produces around 50 new scents. You can learn more about Yankee Candles at the link here.
Along with candles, let's look at the other products that Yankee produces, such as:
Scented Jigsaw puzzles
Air fresheners
Room sprays
Sleep diffuser and refills
Gift cards
Candle trays
Despite their prolific production of candles, it would be a mistake if you were to think of this as a light job—each candle requires 10 hours to produce.
Yankee Candles Production in Whately Massachusetts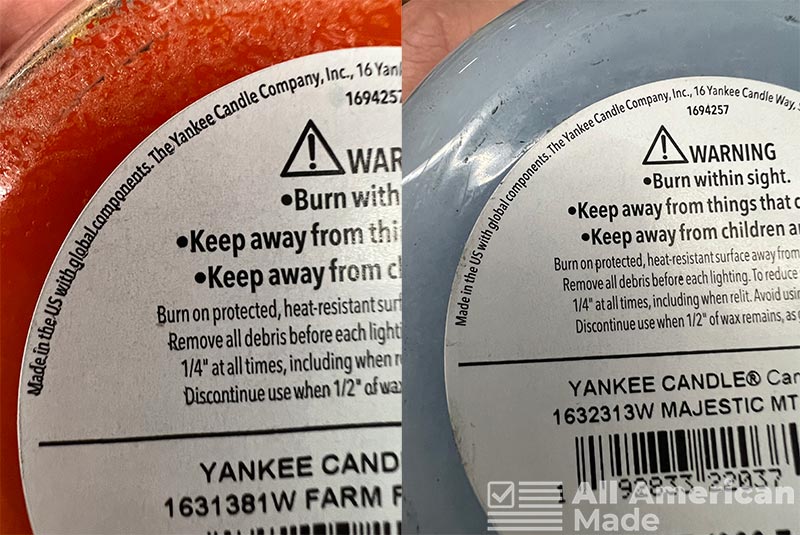 Lovingly, they refer to the main factory as the "Center of New England," and you might imagine that a candle factory would smell fantastic. As it turns out, mixing over 600 fragrances doesn't smell as good as you might think. Many employees complain about the smell as overpowering, and when you mix it with the dry air famous in the region, it takes time to adjust to it. Eventually, that falls into the background as master chandlers learn and become some of the world's best producers of candles for the brand.
Producing 1.2 million candles every week, you might think of the factory in Whately as requiring many workers. In fact, it requires fewer employees than you might think.
In total, they hire an estimated 1,000 to 5,000 workers for the company worldwide.
Yankee has even turned Whately into a bit of a candle manufacturing hub. In 2019, Newell Brands announced that they would be laying off 125 employees at their facility in Glen Burnie, Maryland. They worked under the subsidiary Chesapeake Bay Candle, and both companies are, in fact, owned by Newell Brands. That is why they plan to move the operations in Maryland over to the plant in Whately to consolidate the candle manufacturing under the brand.
To better understand Yankee's manufacturing in the United States, over 70 percent of Yankee's candles were produced in Whately. Since there are currently only two manufacturing locations, that means that the other 30 percent comes from the Czech Republic.
Yankee Candles Made in the Czech Republic
Do note that some Yankee Candles are made overseas; however, most of the candles that are made overseas are not sold in the United States. Before its entrance into manufacturing in the Czech Republic, Yankee Candle exclusively made its products in the United States. In the city of Most, Czech Republic, Yankee Candle hires about 300 employees who work under the label. Important to note that even their European exclusive candles are engineered and designed in the United States.
They do that because they want the product to remain the same wherever it gets bought. Hardcore fans may spot the differences, but the average person won't see a difference. Much of the candles made in the Czech Republic go to the market in the United Kingdom or the European markets, so you likely won't encounter them when shopping in the USA. They have no plans to introduce many American-label candles to this market either, meaning that if you're located in Europe and want an American-made Yankee candle, you'll likely need to order online from an America-based retailer.
At their facility in the Czech Republic, they recycle up to 96 percent of their waste. One of the big reasons for the facility in the Czech Republic comes from the fact that they wanted to improve their supply chain. When you have everything coming from a single factory, it creates vulnerabilities in your company. We wish they would have simply opened a second factory in the US, but there's no aid for that now, and we can understand the need to operate next to your target market.
It's estimated that ten production lines occur at this facility, and they will produce 190 million candles each year in the Czech Republic.
American Made Candle Subsidiaries Under Yankee Candles Parent Company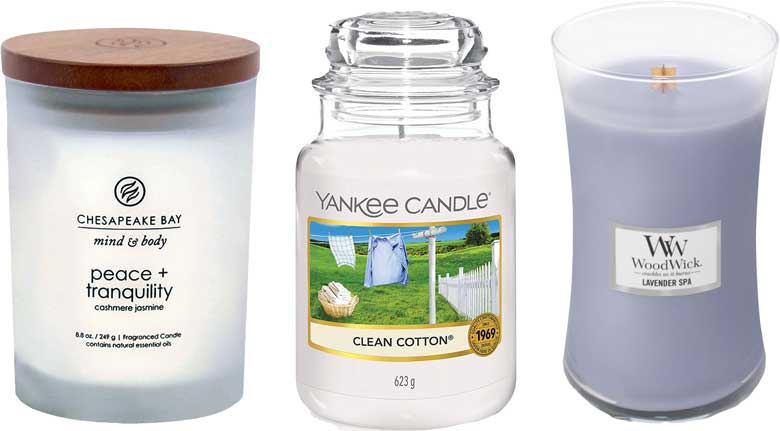 We have spoken about how the parent company of Yankee Candle moved Chesapeake Bay Candle, another subsidiary of Newell Brands, over to its production facility in Whately. That highlights one of a couple of good American-made brands under the parent company, but let's look at a third great candle brand under this label—Woodwick Candles—made in Lynchburg, Virginia. They first opened their operations in 1990, and they have about 180 employees there.
Buying from any of the companies outlined will support the American-made brands under Newell Brands. With that in mind, how would you know which one to buy? Yankee Candles are best known for lasting a long time and being a natural candle, whereas Chesapeake Bay Candle uses a cotton wick and uses natural wax.
Finally, you would buy Woodwick if you wanted a smoke-free and clean burn. Woodwick has a reputation for crackling as it burns. They also produce a more natural smell in comparison to the other two.
Yankee Candle Sizes Explained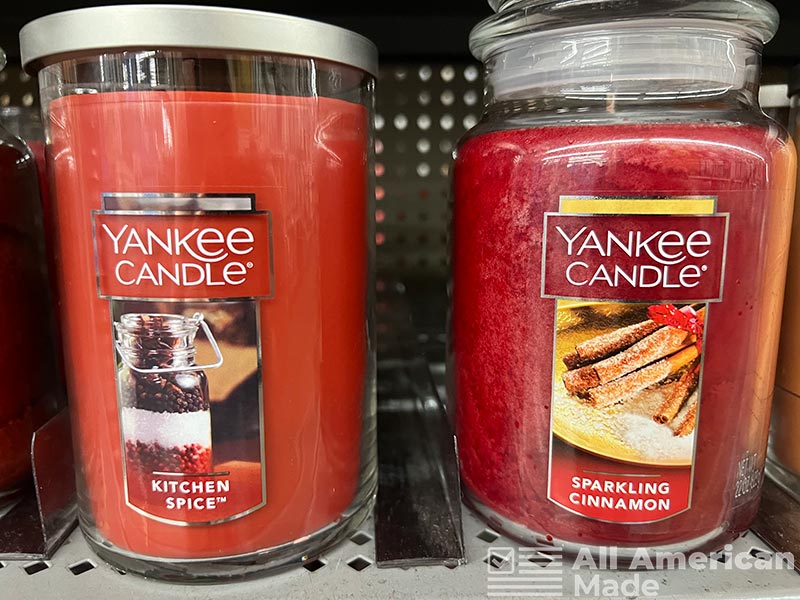 We highlight this information so that if you decide to buy from this 50-year-old American-made brand, you can figure out the most appropriate size for your home here. Each size will have a different burn time. The average burn time for each of the sizes is:
Large tumbler candle—average burn time 60 to 100 hours
Large jar candle—average burn time: 60 to 90 hours
Medium 3-wick tumbler candle—average burn time: 15 to 25 hours
Medium jar candle—average burn time: 35 to 50 hours
Small tumbler candle—average burn time: 20 to 30 hours
In my research, it was unclear if there was any correlation to sizing that would determine whether or not a Yankee candle was produced in the United States or in the Czech Republic.
Interesting Facts About Yankee Candle's Manufacturing
The production of Yankee Candle's products hasn't always come from the facility in Whately, but they have always remained a genuinely American-made brand. In fact, Michael J. Kittredge II first began producing candles for his company in his garage in South Hadley at the age of 16. He started out hiring his cousin Ken and paid him $1 per hour to work with him in his garage.
This was the birth of the Yankee Candle Company. By 1973, Kittredge made his first move when operations had expanded so much that their home looked more like a candle factory than a home. They moved to Holyoke, Massachusetts, where the manufacturing and warehousing operations started. This was their first real facility, but it wouldn't be their last.
That first move into the facility in Holyoke marked this out as Kittredge's legitimate business, however, rather than a simple passion. Starting out, things were rough because Kittredge couldn't afford much. He bought a rundown mill that had no water and no electricity.
Word of mouth brought out the explosive growth of this company—what started out as selling to family and friends turned into a lineup of customers waiting outside the plant in Holyoke. 1973 was humble beginnings, but toward the end of the 1970s, Kittredge had 30 employees and doubled its manufacturing space.
In 10 years of production at Holyoke, Yankee Candle Company experienced its first milestone—they had hit over $1 million in sales.
This spelled the end of another era, and they moved production again to South Deerfield, Massachusetts, which also happens to be where their largest retail store is located. It draws three million visitors every year, and you can learn more about what it's like to visit here.
In fact, the 90,000-square-foot facility serves as the largest tourist area in the state, second only to the Freedom Trail. What distinguishes it from a simple fragrance store are the interactive exhibits and the candlemaking museum.
Let's look at the Bavarian Village to better understand why this place has become so popular. This year-round Christmas village has snowflakes that fall from the ceiling every four minutes. Part of this attraction received inspiration from Michael Kittredge II's love of Germany. He traveled there often, and he created a tinsel-decorated version of the Black Forest.
You can also visit the Nutcracker Castle, complete with its own moat and Santa's workshop. When the holiday season rolls around, Santa flies into the Bavarian Village in a helicopter. That should demonstrate the scale of the operations there that go beyond being a simple fragrance store.
The factory in Deerfield marked the first time where Kittredge had separated the sales of the candles from the factory. He credits this as the big reason for the growth in the years that came next. When the company turned 25 years old in 1994, Yankee Candle Company moved again to a 300,000-square-foot facility in Whately. They have remained there up until now.
They no longer have a factory in Deerfield, but they continue with a research and development center in the city.
In 1996, Yankee Candle Company's sales surpassed $100 million. In 1998, Kittridge sold 90% of his company shares for $500 million to Forstmann Little & Co. In 2003, they sold their shares to Goldman Sachs. In 2007, Madison Dearborn acquired them. Fast forward to 2013, Jarden Corporation bought them for $1.75 billion, and they came under the ownership of Newell Brands when they bought Jarden Corporation for $16 billion in 2015. You can check out the Yankee Candles timeline here for more information.
Interestingly enough, in the wake of September 11, 2001, Yankee Candle Company donated thousands of candles to support memorial services for the victims. That's the unspoken and lesser-known benefit of supporting an American-made company is that when tragedy strikes, they often help out more than a foreign-made company would.
Is Yankee Candle Made in China?
Despite some claims to the contrary, official Yankee Candle products are not made in China. If you buy a candle from Yankee and it says, "Made in China," it would mean that you bought a fake candle since they only produce them in the United States and the Czech Republic. Check the bottom of the jar to see that it has a warning label with safety instructions. The other thing to look for is checking the lid to see that they cast it in glass as "Yankee Candle." An overpoured or underpoured jar will also signal a fake. It's not unheard of for there to be fake Yankee Candles sold even in the United States by unauthorized and untrustworthy sources.
We have seen how this brand has been bought out multiple times by big corporations, and we hope that the trend won't continue as that makes it likely that it could fall into the hands of a Chinese corporation like so many American brands have already, or it could happen that they keep getting bought by corporations and one may choose to send the manufacturing over to China or somewhere with cheaper labor.
We did have encouraging news, however. Harlan Kent, the previous CEO of Yankee Candles, said that they didn't plan to change hands again any time soon. This boded well for its American manufacturing since the brand appeared to value it being made in the US.
While Madison Dearborn planned to build up the company and exit, Jarden Corporation acted more like a holding company that keeps its brands for a long period of time. With the acquisition of them from Newell Brands, they are also a long-term holder of companies, so we can only hope that they will stay with a company that values American made.
Kringle Candle Company – Like Father Like Son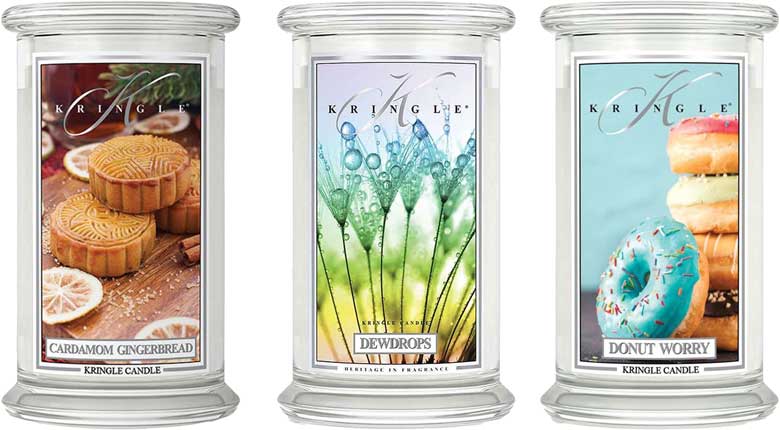 If you'd like to go with another great brand under a similar label, check out this one. Shortly before the Christmas of 2009, Michael Kittredge III, the son of Michael Kittredge II, started another American-made company called Kringle Candle Co. They, in fact, started it less than 20 miles away from Yankee Candle in Bernardston, an 18-minute drive from Whately. Michael Kittredge II, the founder of Yankee Candle Co., helped his son to start this company, but unfortunately, he passed away in 2019 at the age of 67.
This company became a successful candle brand in its own right, and Kittredge III says that he started this brand to honor his father's legacy. They have many of the same traditional high qualities that the Yankee Candle Co. has. If you wanted to know some of their great product choices, their most popular include:
Apple Cider Donut
Fresh Lilac
Rosemary Lemon
Cozy Cabin
How Are Yankee Candles Made?
Check out this video to see how an American-made Yankee Candle is made at their Whately Massachusetts facility:
Before they begin, first they will gather the Yankee Candle ingredients and funnel them into a smaller tank. The factory in Whately uses 175,000 pounds of candlewax every day. That shows you the scale of its operations. They mix the fragrances and additives with it during manufacturing. Next, they will glue the wicks.
Expert Tip: Trim your candle wick ¼ inches before each burn, and it will last an estimated 25 percent longer. This is because how a longer wick will mean a bigger flame, which burns the wax faster. The candle burns more evenly and controls how much wax melts.
Before the candle continues to the next stage, they will pull on the wick to make sure they secured it. Next, they will add the wax into the jar along with the rest of the concoction. They don't put the candles into boxes until after they cool. During the cooling stage, the candle may shrink before they add extra wax for a more professional look. Finally, it passes through the machines with the labels on it, packaging and they send them to the stores.
Conclusion:

That does it for this article, we hope we thoroughly answered the quest regarding where Yankee Candles are made. We do consider them to be a large, mostly American company. Yankee Candles has been acquired multiple times and has been through quite a journey in its long heritage of candle crafting. In Massachusetts, Yankee Candle Co estimates that they hire around 2,500 American workers. This includes the manufacturing and retail stores in the state.
We think that the brand does a fantastic job at keeping it American-made, even if they do about 30 percent of the work in the Czech Republic. As far as we know, that marks out the only other location where they make their candles since the brand only operates two factories.
Hi, my name is Kevin and I'm from Pittsburgh, Pennsylvania. Choosing products made in America is important to me because it supports local economies, creates jobs, helps the environment, and ensures ethical labor practices. I also find that American made products are usually of higher quality so although they're a little more expensive, you save money in the long run. Before starting this website I was in the USMC infantry and nowadays I work on this website as a hobby.