Boasting over 90 years of American history and having produced over 569,000,000 lighters since 1933, you may wonder if Zippo lighters are made in the USA.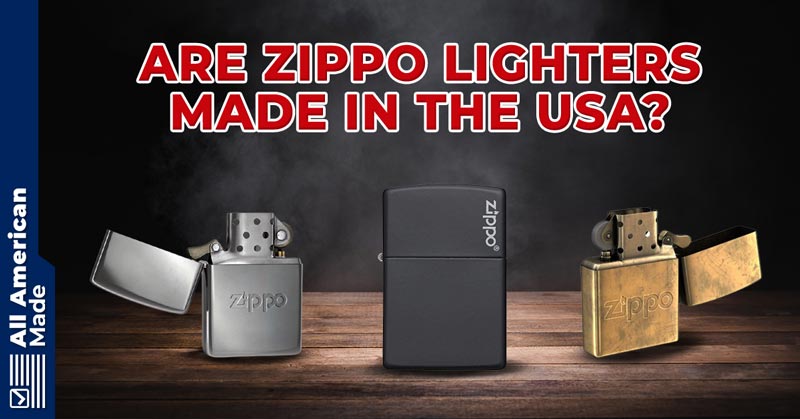 In the rest of this article, we'll narrow down exactly where Zippo lighters are made and share other information you'll want to know about the company.
Zippo lighters are made in Bradford, Pennsylvania, where they produce 80,000 lighters daily. Zippo ranks as the largest employer in McKean County. This remains a strong commitment since George Grant Blaisdell once said that Zippo would always support Bradford and the local community.
Here is a photo I took of zippo lighter packaging with the "made in USA" symbol clearly visible.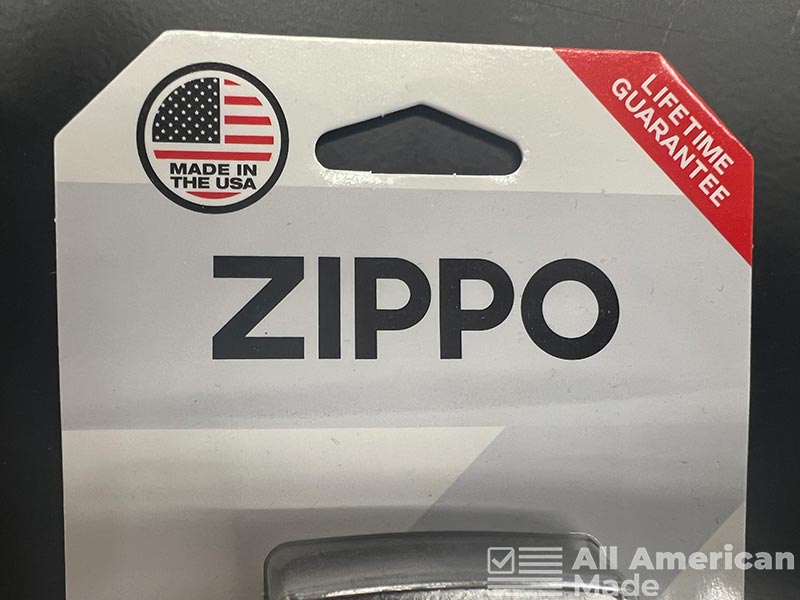 If you'd like to learn more about Zippo and its manufacturing practices, keep reading as we cover this information in depth.
More About Zippos Presence in America

Zippo is a great American company, and if you ever do find anything marketed as a Zippo that says "Made in China," be aware that it's a counterfeit.
We recommend always buying from Zippo directly or a credible retailer because there are many counterfeits. While Zippo lighters are currently made in America, keep in mind that this can change because China makes up roughly one-third of the world's smokers, with over 300 million smokers. Chinese culture associates smoking with masculine identity, and they also do it as a social activity. Over half of all men in China smoke cigarettes. Getting better access to this market under Zippo, they might choose to manufacture closer to the consumers.
However, as Zippo has said, they remain committed to supporting Bradford and the surrounding community. Because of that, we don't think that Zippo would ever shutter its location in Bradford unless a change of ownership caused them to send the jobs elsewhere or they fell on hard times.
For that reason, we encourage people to continue buying and collecting Zippo lighters because it supports a great American company with a history in the United States. While Zippo lighters may cost more than your standard lighter, they have an artistic design, and the lifetime guarantee goes like this, "It works, or we fix it." That's the original warranty that George Grant Blaisdell gave on his lighters.
More About Zippo's Rich American Manufacturing History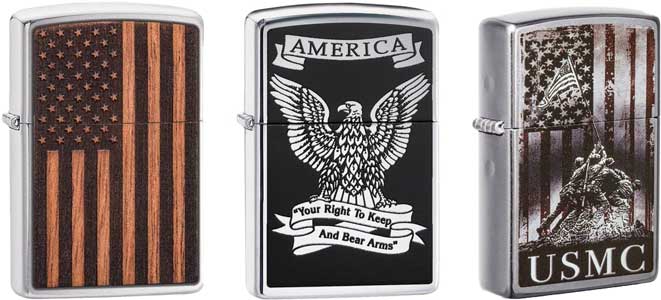 To better understand the manufacturing practices of Zippo and why they remain so committed to Bradford, we would like to go over Zippo's history.
It all began in 1932 when George Grant Blaisdell was at the Bradford Country Club, sitting on the porch, when he saw a companion struggling to light a cigarette on a windy day. He had an Austrian lighter. Blaisdell noticed how it worked well despite the wind because of the chimney's design. The downsides were its overall appearance was plain and ineffective.
You needed two hands to light it, and the thin metal dented easily. Blaisdell reconstructed this same lighter, and it resulted in an easier-to-use lighter.
At this point, the Zippo company was born, and Blaisdell began manufacturing lighters in Bradford. He chose the name Zippo because of the sound that a zipper makes, and it was an interesting variation. The name had a more modern sound as well.
Zippo was ingrained in American culture during World War II. The war had a large impact on the company because when the war started, they stopped producing lighters for the consumer market and focused on making lighters for the military. This was when we saw the steel-case Zippo lighter with a black crackle finish getting produced in Bradford.
Millions of American soldiers carried the Zippo lighter, and it soon became an American icon. At the same time, the plant in Bradford achieved full production, and Zippo grew into a strong and healthy company. In 1993, Zippo acquired W.R. Case & Sons Cutlery Company.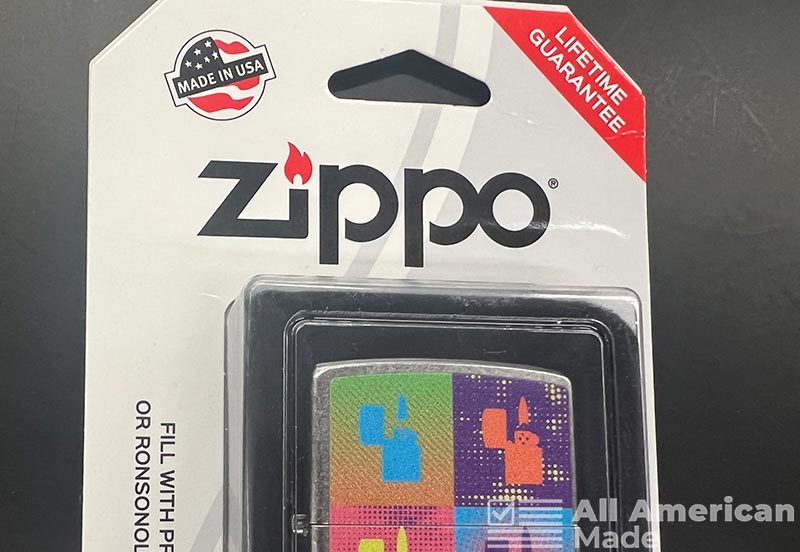 The company started in Little Valley, New York, but it relocated to Bradford upon its purchase. This hopefully demonstrates Zippo's strong commitment to manufacturing in an American city that it loves. Not only does this remain an American-made company, but they seem to favor Bradford due to its 90-year history in the city.
Along with the factory in Bradford, you can also check out their museum. They see over 100,000 visitors annually, and you can learn more about its rich American history.
Zippo Lighters Made in Bradford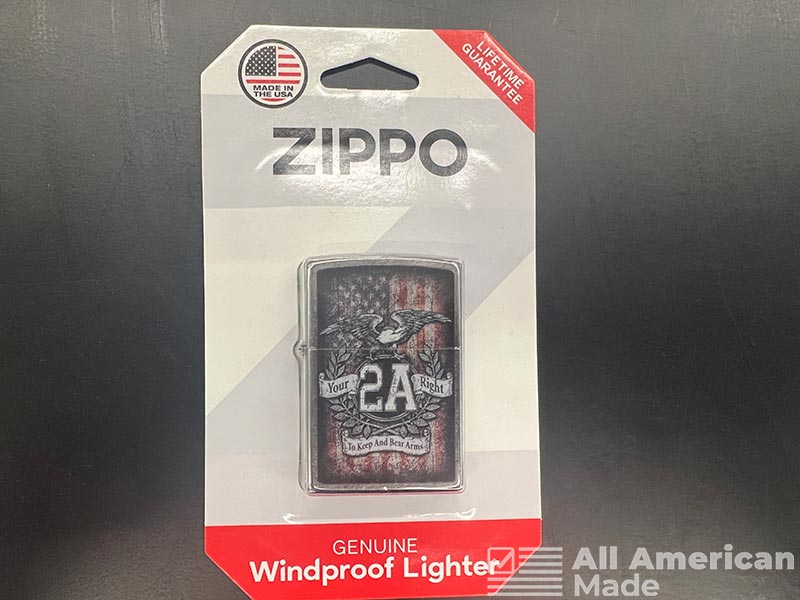 Celebrating over 90 years of business in Bradford, Zippo stamps its manufacturing imprint loud and proud on the bottom of its lighters. Check the bottom of a Zippo, and you will see how it says, "Bradford Pa, Made in the USA."
We would first like to paint a picture of the job market in rural Pennsylvania. Your top employers include state governments, medical groups, school districts, hospitals, and Walmart. All of those groups employ people in McKean County, but they all fall behind Zippo in terms of employment. Zippo provides more jobs in this county.
They have an estimated 725 employees at their facility in Bradford. It remains a privately owned facility, which may explain why they continue to produce their beloved lighters in the USA. George Grant Blaisdell's grandson currently owns the company, and they have had an estimated $200 million in annual revenue.
Many have speculated on the impact that Zippo has had on the community of Bradford. Across the state, rural counties suffered greatly when the steel and coal industries left those towns behind.
The same issue would happen if Zippo left McKean County because it would make the place feel more out of the way. To put it further into perspective, McKean County ranks as the most rural county in the Keystone state.
This should show you an example of why American-made companies deserve your support because of how it keeps our country strong and healthy. Almost everyone in Bradford knows someone employed under Zippo.
Another thing worth mentioning about Zippo and the Blaisdell family comes from how they become pillar philanthropists in the community. Some of the charity work done through this company here include donations to SPCA, YMCA, the local hospital, and the University of Pittsburgh's Bradford campus.
The company helped with the refurbishing of the city council chambers, and they funded a surveillance system for the downtown Bradford area's business district. To give you an idea of how big this company has been in Bradford, they named George Blaisdell Elementary School after this local hero.
If you have a couple of minutes to spare, watch this video to learn everything about how Zippo lighters are made:
Fake Lighters Threaten Zippo Manufacturing Co
Do you want to know the biggest threat to Zippo Manufacturing Co and its production in the United States? The biggest threat isn't Bic or some other lighter company. Zippo will tell you that their biggest threat comes from the fake Zippo lighters that they often manufacture in China.
Counterfeiters have stolen more than simply luxury handbags and $2,000 watches. While the Zippo factory can churn out an estimated 80,000 lighters every day, the counterfeiting factories in China can produce nearly as many. All of the Chinese Zippo lighters are counterfeit because Zippo doesn't manufacture in China.
To show you the extent of the problem, Zippo's repair department encounters at least one fake Zippo lighter every day. Unfortunately, even seasoned experts like Greg Booth, Zippo's Chief Executive, can't tell the difference. You have to remove the insides and look at them with a magnifying glass.
Zippo loses money on these sales of fake lighters that were supposed to go to them. Due to this extensive problem, Zippo had to lay off 15 percent of its workforce from a decade ago. They were even sued twice when counterfeit Zippo lighters malfunctioned, and people died or suffered injuries.
Counterfeit manufacturing is a real threat, and we would implore you not to buy fake Zippos if you can help it because of how it costs American jobs. It costs $250 billion each year. Some fake goods in China get made right alongside genuine products because of brands that shared their marketing, packaging, and technology.
Most of the fake Zippo lighters come from the southern provinces in China. Unfortunately, they can manufacture 45,000 fake lighters in a day. To further put it into perspective, 20,000 counterfeit Zippo lighters can cost one employee in Bradford their job. You find counterfeits everywhere, from the USA and Latin America to Europe and Africa.
The good news is that it has proven harder in recent years to make counterfeits. The most convincing Zippo fakes come out of China, but you see them made in Vietnam and Thailand as well. Zippos also have a beloved reputation as collector's items, but counterfeit Zippos have made it harder for collectors. Check out this article by The Wall Street Journal on counterfeit Zippo lighters.
Lighter Production in China Increases, but Not Zippo
Lighters have increasingly come from China, with an estimated 70 percent of lighter production coming from the country between 2014 and 2017. Part of this may have to do with its large smoker population, but many lighters are manufactured there. China exports an estimated six billion lighters each year.
Zippo itself remains one of the most respected lighter brands in China even though they use them more for festive gifts. In many cases, women will give them to their husbands whether they smoke or not. Part of the reason that Zippo has such a great reputation in China comes from its understanding and respect for Chinese culture. Zippo has, for example, added Chinese cultural elements to its lighters. This localized marketing strategy has made them more popular there. The Philadelphia Inquirer has a great article about Zippo's business abroad.
American Made Lighter Brands
We would like to paint a picture of what makes Zippo a special company beyond its history.
Let's have a look at all the lighter brands and where they make their products:
| | |
| --- | --- |
| Brand Name | Manufacturing Locations |
| Bic | France, Spain, Brazil, USA |
| Davidoff | Europe |
| Xikar | China |
| Dupont | China |
| Jetlite | China |
| Djeep | France |
As you can see, you don't have many choices when it comes to lighters made in America. We would say that Bic lighters cost less than Zippo, and if you wanted a budget-friendly alternative, go with Bic. However, Zippo, over the long run, may cost even less, and you have a great-looking piece of art. You can simply replace the lighter fluid whenever you run out.
Zippo remains at the top of our list because of its commitment to manufacturing in the USA. None of the other companies put as much effort into keeping their manufacturing in the United States and providing great jobs to American workers. The issue is also that without your continued support, Zippo would eventually go bankrupt or have no choice but to manufacture overseas to stay competitive. We don't want to see this happen to them.
Conclusion:
Zippo is one of our favorite American companies, and being from Pennsylvania; I really like them even more! Zippo shows you one of the finest American brands that remain committed to assisting the local community of Bradford. Along with that, they have expressed no interest, as far as we know, in manufacturing elsewhere. The company has seen increasing automation and layoffs, but they see annual average revenue of $200 million or more, which keeps them healthy and in business.
Zippo is not only a company that has continuously strived to keep their manufacturing jobs from going anywhere else, but when you buy a lighter from Zippo, it comes with a lifetime warranty; paraphrasing their own words, it works, or they fix it.
Hi, my name is Kevin and I'm from Pittsburgh, Pennsylvania. Choosing products made in America is important to me because it supports local economies, creates jobs, helps the environment, and ensures ethical labor practices. I also find that American made products are usually of higher quality so although they're a little more expensive, you save money in the long run. Before starting this website I was in the USMC infantry and nowadays I work on this website as a hobby.