Brand recognition and fandom aren't uncommon in the world of audio products and back in the day, Polk Audio had quite the reputation and a lot of love from audiophiles and audio nerds such as myself. We've seen a lot of audio technology companies start up in the United States, which certainly aided in their fan base as they hired thousands of American workers, but over the years, we've also seen an unfortunate shift in manufacturing being taken abroad.
Brands like Klipsch, Bose, and Rockford Fosgate have all shipped a lot of jobs and manufacturing assignments out of the USA, which begs the question, where is Polk Audio made?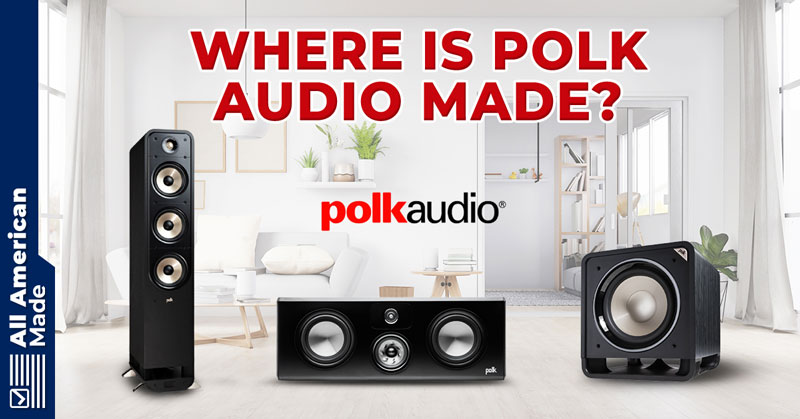 Most Polk Audio products are made in China. The American-based company used to design and test its products in Maryland, but after a buyout, this now happens in California.
Knowing where reliable audio manufacturers produce their audio equipment, gear, and accessories like Polk Audio can be pretty interesting, especially because these types of businesses have a reputation for changing ownership and manufacturing origins so often! Although a huge amount of engineering and design progress was made in the USA in terms of audio technology, audio-based businesses may vary their facility locations to cut some expenses and taxes in an attempt to reduce their products' selling prices. Moreover, some audiophiles rely on minacious information regarding a product's precedence before placing an order.
For instance, a substantial amount of consumers value higher quality materials from places they're more familiar with. For example, AKG used to produce all their headphones in Austria, which was something most Austrians took pride in. Still, when the company shifted its production overseas, some surprised customers noted a slight quality decrease in the company's headphone quality. Since products from Polk Audio were mainly manufactured and designed in the US only to later shift to cheaper foreign manufacturing, did their quality go astray as well?
Is Polk Audio an American Company?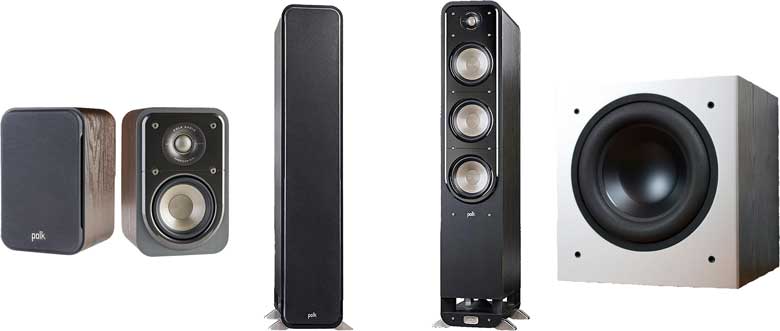 Yes, Polk Audio is American-based, but they do manufacture overseas. Since Polk Audio is an American company, most of its first audio gear emerged in the US, featuring American-made design. Hence, much of their stock appealed to American audiophiles for their display of material and craftsmanship quality. Still, the company produces somewhat sturdy and modern soundbars, speakers, built-in, outdoor, and even audio systems for cars and boats. However, some changes took place concerning Polk Audio's manufacturing location, administration, and customer care.
Most of the company's products are speakers, which they began manufacturing in the USA in the mid-70s, usually showing an incredible level of product quality concerning their first copies. So, as with AKG, Polk Audio had decades of original nation-made products and later shifted their production facilities aiming for better cost-effective prices. However, in some cases, this can impact product quality.
Around the 2000s, Polk Audio's c245i and rt35i were already conducting their production out of the USA. For instance, one could check their boxes and see that the product featured components from all over the globe. In addition, even though Polk Audio designed and engineered these products in the US, the final assembly took place in Mexico. Additionally, among the components' origin, one would find parts made in the US, Japan, Germany, Mexico, Taiwan, United Kingdom, Thailand, Hong Kong, and Korea.
In that sense, Polk Audio was already globalizing its production two decades ago, which is probably well-optimized today, with production happening primarily in China. Still, not only has production changed in the last two decades concerning Polk Audio in general, but its primary roots disappeared from Baltimore after a complete management change that took place in 2015.
Yet, to understand the company's trajectory and how their American engineering could achieve incredible performances regarding speaker systems, we must discuss Polk Audio's background, including management changes and ownership alterations. In addition, a vital part of reading about Polk's background is to understand how the company's products shifted from the manufacturing facility and what it meant at the time.
Polk Audio Backstory

Today, Polk Audio's legacy lies in its successful home theater and car audio systems. But, their first jab in the audio market began quite excitingly and differently from what one can expect. For instance, their first set of speakers was aimed at professional use, particularly on stage.
Mathew Polk, George Klopfer, and Sanford Gross began Polk Audio in 1972. Those three met each other while attending John Hopkins University. Still, firstly, the idea was set by Matthew Polk, who was majoring in physics, and George Klopfer, who was studying history at that time. Besides, after producing a sound system for a local music convention, which worked surprisingly effectively, they decided to invest in the idea.
Their first speaker experience in the music convention consisted of Matthew Polk designing the speaker system and George Klopfer building the speaker cabinet. After combining these two talents, Polk came up with a logo to display their products on live stages and festivals. Furthermore, Sanford Gross chipped in by taking part in the newborn company's marketing and distribution.
The choice for using Polk's last name as the company's identity was because of the easiness of saying the word "Polk." Moreover, as starting investment, the company began with $200 in capital value, and Both Polk and Klopfer shared the same idea of building unique speakers. So, they wanted a system that could produce airy and smooth higher frequencies with simultaneously rich and prominent low-end.
One of the company's first experiences in building speakers, which led them to implement their logo on cabinets, was a contract action taken by one of their clients. What happened is their first gig was sketching and manufacturing an entire system consisting of a private-label design for a stereo shop in Washington, which later canceled the order leaving Klopfer and Polk with no use to a handful of speakers. So, with Stanford Gross' assistance, the trio came up with a different, more exclusive design in an attempt to sell the already built stock of speakers, which opened the door for Polk Audio's signature speakers.
The feedback to Polk Audio's first line of speakers was pretty positive, leading to the trio moving their company to a better headquarter, in Maryland, and expanding after 1973. Furthermore, Polk Audio didn't stop growing, amassing over 100 employees in 1980 and producing at least a thousand speakers a week on American grounds. Consequentially, in this short period, the company got among the top 100 fastest-growing companies in the United States, according to Inc. magazine.
During this time, Polk Audio was manufacturing all its speakers in Maryland, and all its stock was American made. However, as of 1986, the company was continuously upgrading and fast-producing speakers, reaching tremendous sales results. In addition, Polk Audio shifted its production from Maryland to Baltimore, assembling and manufacturing speakers in an optimized factory. So, in this period, the company's products were still being made in America, with production only changing to Baltimore.
Moreover, after ingressing into the stock market and enabling a substantial quantity of shares stock, Polk Audio began in 1987 to work along with its stockholders, who voted for the company's relocation to Delaware and the marketing of Polk Audio's products in Japan.
It's essential to highlight how at that time, Polk was continuously developing and optimizing its speaker design and engineering, which was all taking place in the United States. Thus, during the company's fast-growing period, every product could be labeled American made in design, assembling, manufacturing, and engineering.
One of Polk's most acclaimed speakers from that era was the SDA-SRS-2, which featured a unique and then-modern method of creating a more immersive soundscape by using noise-canceling technology on different-sided speakers against each other. As a result, the stereo image would feature more organization and clarity. Moreover, Polk Audio sold this particular model for roughly $1,990 for the pair, which was amongst the top-rated speakers at the time.
For a long period during the 80s, Polk's production was at a healthy pace, with yearly increases. Yet, in the late 80s, some changes began to happen concerning Polk Audio's manufacturing location and management. For instance, at this time, Sanford Gross stopped being a part of the Polk-Klopfer-Gross trio that pioneered the company's existence by selling his ownership stake. In addition, there was some friction amongst the company workers, which led to a minor crisis in Polk's employees. Additionally, in 1988 some production facilities shifted to Mexico, more specifically Tijuana, marking the company's first products made out of the US. However, during the late 80s, Polk's sales doubled compared to 1986.
Furthermore, during the early 90s, Polk's sales dropped considerably, resulting in the then-competitive speaker market in the United States. Still, with the addition of different models such as bookshelf speakers and more on-budget options, the company yet favored public opinion. In addition, in 1990, Polk debuted their car audio systems, an aftermarket alternative to factory automobile radios.
Moreover, in 1995 the actual manufacturing relocation started in Polk Audio, and from this year on, most of the company's products stopped featuring any Made in the US characteristic.
Learn more about Polk Audio's history by checking out this documentary below:
Production Relocation

In 1995, most of Polk's production began to happen in Mexico due to the company's manufacturing facilities shifting to Tijuana. As a result, Baltimore stopped having any manufacturing activity regarding Polk Audio's speakers. Still, the company's headquarters kept working in Baltimore, where all research on engineering and design kept happening as usual. However, Polk's reasoning was to reduce the capital expenditure on wages, which they significantly achieved. As a result, some products were able to sell at better prices.
Furthermore, the mid-90s also marked the era of television and video playbacks, which started to demand home theater systems. In this sense, Polk began its investment in the home theater market by releasing its first Polk's Signature Reference Theater, a stereo system aiming for a high-end home theater experience, with an estimated price of roughly $7000.
Moreover, after substantially investing in the home theater market, Polk Audio expanded its branches with this particular segment in mind. For instance, the company assigned a different team and a new headquarter to design and engineer the home theater systems, which would take place outside of Baltimore, where Polk Audio's most products were typically designed. So, the new home-theater-centered headquarter began its activities in Vail, Colorado, and was the responsibility of a different company called Genesis Technologies.
Polk Audio Growing Pains and Expansion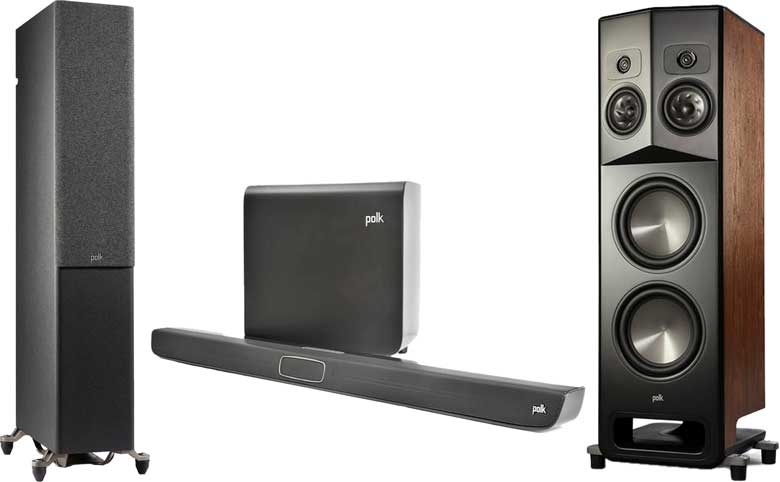 Since Stanford Gross bailed from Polk Audio in the late 80s, the "first three" shrank down to just Matthew Polk and George Klopfer. However, in the mid-90s, the company took some structural measures in an attempt to organize and expand its administrative efficiency. So, as a result, James Herd, who worked for the American company Bose, got assigned President of Polk audio, with Matthew Polk as chairman and George Klopfer as the CEO.
So, before any inner structural decision in Polk Audio, Matthew and George shared the president seat. Furthermore, due to the structural change that took place in 1995, Polk Audio went through a division aiming at individualizing units to fit a specific audio niche. For instance, the result was Polk Home Entertainment Products, Polk Automotive Products, Eosone Internation, and Polk Manufacturing.
Until 1996, most products by Polk Audio had their production in Tijuana, Mexico. However, some slight manufacturing processes were still happening in the US regarding the company's speakers. For instance, a tiny manufacturing group was still responsible for producing the top-grade SRT series speakers in Baltimore. Unluckily, this last group of American manufacturers lost their job with the company's complete production shift to Mexico.
Still, Polk had its rough patches around the late 90s, with many attempts at reaching higher audiences and contemplating different partnerships. In addition, many stock attempts also took place aiming to increase the company's shareholder presence. However, Polk Audio didn't face any smooth sailing, and precisely in 1999, it went private.
Hear from Polk engineer Scott Orth in the video below about the brand and its influence in the world of audio technology:
Polk Audio Today

Polk had some more management changes and many new facilities in China, to summarize the last two decades. Therefore, many of the company's manufacturers shifted from Tijuana to overseas. The reason is the same for almost every other company: to cut short on salary and material costs. Hence, it's fortunate that this allows the company to sell its products at more affordable prices, but it impacts the overall quality and durability of the merchandise.
Today, Polk Audio has little left from its original roots, with the only remaining presence from its glorious days being the already-engineered models. Nevertheless, their models still get updates reasonably well in terms of sound quality, making the company a relatively good option for home theater solutions. However, since Polk Audio's purchase by DEI Holdings in 2017, culminating in the company becoming a subdivision called Sound United, it changed its structure hugely.
Along with structural changes come management alterations and impacts on customer service. Lately, many people use Polk Audio's official forum to register their trouble with getting their warranties honored or even a simple response by its team. Lately, Polk Audio support appears to respond to any e-mail or tickets rarely and often provides customers with a slow-paced unpleasant experience over the phone. Still, although delaying and offering some artifacts on the service, Polk Audio is an above-average company in terms of reliability, and damaged parts might take a long time to get fixed, but they will eventually.
Finally, although their model's upgrade can take longer to release than before, the company still has US engineers working under its headquarters. So, even though most of their products feature a vast globalized production, they portray original American Polk Audio engineering to an extent.
Moreover, the only way of getting original American-made Polk Audio products is to search for used ones on sites such as eBay. So, it's an excellent approach to search for speaker systems that the company made before 1995 since, after this time, most of Polk Audio's production took place in Tijuana.
Take a tour through the Polk Audio headquarters in the video below:
American Audio Brand Alternatives
If you're currently browsing for modern American-made audio products such as speakers, headphones, or accessories, there are fortunately reliable alternatives. Some fantastic American manufacturers are, but not solely:
Westone
Grado
Audeze
Dan Clark Audio
Tekton
Zu Audio
Salk Sound
Ascend Acoustics
Klipsch
That does it for this article. If you have any further questions about where Polk Audio is made or know of any new information we should add to our article, let us know in the comments below.
Hi, my name is Kevin and I'm from Pittsburgh, Pennsylvania. Choosing products made in America is important to me because it supports local economies, creates jobs, helps the environment, and ensures ethical labor practices. I also find that American made products are usually of higher quality so although they're a little more expensive, you save money in the long run. Before starting this website I was in the USMC infantry and nowadays I work on this website as a hobby.