Although blankets made with synthetic materials are very popular nowadays, authentic wool blankets are nearly impossible to beat and are once again appreciated by consumers.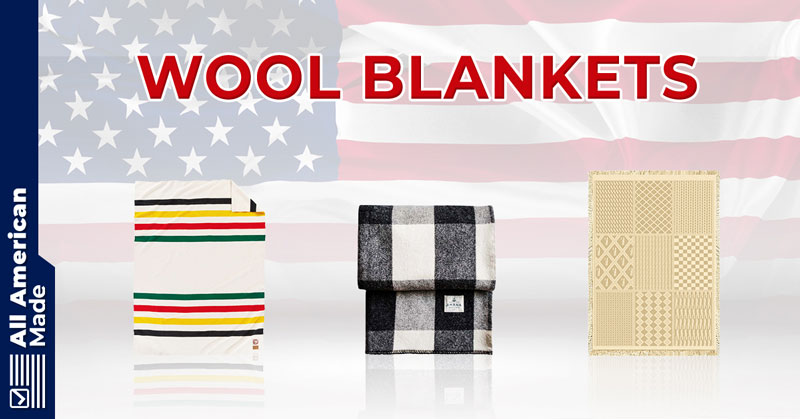 Below we'll be bringing you the ultimate list of wool blankets made in the USA. They vary greatly in terms of wool type, size, and price, so simply scroll through this list and find the blanket that stands out to you.
List of American-Made Wool Blankets
Faribault Woolen Mill Lakefront Plaid Wool Blanket
| | |
| --- | --- |
| Estimated Price | $275 |
| Type of Wool | 100% Merino virgin wool |
| Sizes Available | Twin, Queen, King |
| Care | Machine wash, line dry |
| Origin | Minnesota, USA |
Faribault Woolen Mill's Origin and Manufacturing Locations
Faribault Mills was founded in 1865 and operates from the beautiful riverside of the Cannon River in Minnesota. Although at one time the USA had a textile industry boom where there were many players making incredible goods, in recent years, a huge majority of the American textile industry has been moved overseas in order to produce lower quality cheaper products. Faribault Mills is among the last of its breed, being a vertical woolen mill utilizing the finest quality materials and American talent. We really like the company and its ethos and love supporting them.
What We Like and Don't Like About Faribault Woolen Mill Blankets
Over the years, Faribault Mill has become one of my go-to companies for wool products. I own several of their wool blankets and find them super high quality and soft. Although they're expensive compared to many other wool blankets on the market, I find them worth their hefty price tag.
This plaid beauty from Faribault Mill is made from 100% Merino virgin wool, and she is a handsome classic. I like that it's made from Merino wool which is one of the main reasons it's super soft. I also find that the wool doesn't itch at all, which is important to me. Overall, I just really like this blanket and the company as a whole and, for the most part, all of Faribault Woolen Mill blankets.
Faribault Mill is one of the oldest brands on this list, and being that it was founded in 1865 means that it just celebrated its 150th anniversary! I also like that over the years, they've continued to expand their product lines. I really like that they offer many unique patterns but also many classic basic patterns as well.
If you'd like to learn more about the Faribault company, you can check out their about us page here. Below I've also attached a great video that gives you more information about the company and its rich history.
Amana Woolen Throw Blankets

| | |
| --- | --- |
| Estimated Price | $170 |
| Type of Wool | 100% pure virgin wool & sherpa backing |
| Sizes Available | 58"x82" (one size) |
| Care | Dry clean only |
| Origin | Iowa, USA |
Amana's Origin and Manufacturing Locations
The backstory of the Amana Wool company is similar to many great American business success stories. It's a story of determination and overcoming. Imagine moving from your roots in Germany to evade violence and unrest across the ocean in the 1855s, when all you knew about the distant land you were venturing to was hearsay and unknown promise. The Amana family took a serious leap of faith, and when they finally got things figured out in the Iowa River region of this new world that we call the United States, or home, today, they got to work and have been at work ever since.
It's a dramatic adventure that led to an American icon, and I simply love that kind of story, no matter how many times I hear an iteration. A brand that's had its roots in our country for such a long time, enduring so many changes and events, it must be doing something right. Of course, this page is about wool blankets, and Amana Wool certainly makes some amazing options there, but don't be afraid to check out their large selection of other goods too, all of which are made with American talent!
What We Like and Don't Like About Amana Woolen Throw Blankets
Amana has managed to surpass all expectations with their wool throws. The Houndstooth throw is 100% merino wool that is extremely fine and super soft, and something you'll notice right as soon as you get your hands on it is that it's not just soft and beautiful, but it feels heavy and durable, as a full wool throw should. These are incredible blankets that are great for using as a wrap-around for reading or just using as a secondary blanket on those extra cold nights.
Amana is no stranger to amazingly high-quality American-made craftsmanship, and although you'll pay a high price compared to imported throws, these are nothing alike and far superior in every imaginable way! We find their blankets to be extremely well made and comfortable.
Pendleton Woolen Throw Blankets (Editor's Choice)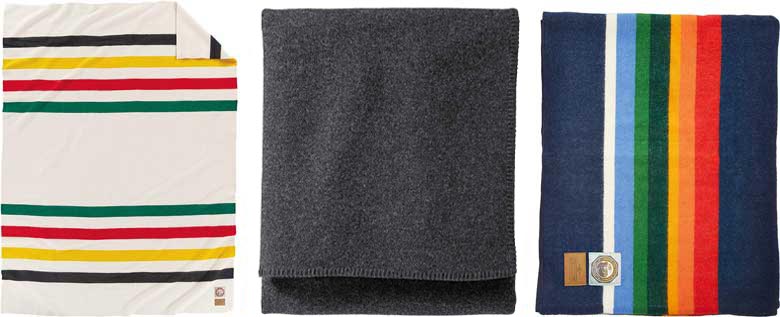 | | |
| --- | --- |
| Estimated Price | $150 to $200 |
| Type of Wool | Pure virgin wool |
| Sizes Available | Twin, Full, Queen |
| Care | Dry clean only |
| Origin | Oregon, USA, and Washington, USA |
Pendleton Woolen's Origin and Manufacturing Locations
Our favorite American wool blanket companies all seemingly have something in common, and it's that they have all been around for a very long time and absolutely refuse to outsource their labor overseas. Pendleton does dabble a bit among its other product lineups, but in the case of these wool blankets, they have been crafted since 1863 and still continue to do so today out of Oregon. Along with some great basic designs, Pendleton also offers some great National Park-themed blankets.
What We Like and Don't Like About Pendleton Woolen Throw Blankets
Pendleton, after all this time, is still a big American player in our textile industry, crafting beautiful woolen throw blankets in a huge selection of colors and patterns, some of which are still reminiscent of tribe colors and native patterns. It's hard not to find something your style with the selection Pendleton has.
This born and bred American company offers a range of blankets named after national parks across the United States, and a portion of the proceeds are donated to support these parks. All of their wool and cotton blankets come in a selection of sizes suitable for any bedroom or living space. Donations from Pendleton to the National Parks are now nearing 1 million dollars!
The blankets themselves, what can I say? It's tough for me to judge them against the other top companies on this list because they are all incredible craftsmen with many decades of experience. Pendleton products, whether it's a blanket or a plaid shirt, never disappoint, and I love their products so much that my home is starting to turn into a Pendleton storefront display!
Authenticity50 Comfort Temp Duvet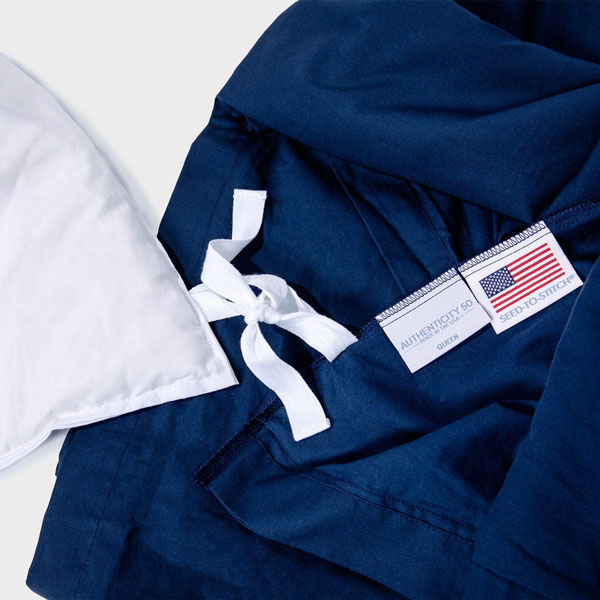 | | |
| --- | --- |
| Estimated Price | $340 |
| Type of Wool | Virgin wool and Cotton Ticking Fabric |
| Sizes Available | Queen, King |
| Care | Hang in the sun only |
| Origin | Maine, USA |
Authenticity50's Origin and Manufacturing Locations
"From seed to stitch" is their motto, all being made in the USA from the first step, and they've been doing that since 2015. Authenticity50 has been featured on our blog a few times now, and although they don't have a super expansive selection of colorful woolen throws, they do have some amazing wool bedding goodies that are certainly worth taking a gander at.
What We Like and Don't Like About Authenticity50 Comfort Temp Duvets
Authenticity50 offers a variety of both cotton and wool blankets, but the one that caught our eye was the comfort temp duvet. Most duvets on the market are lined with synthetic materials, or goose or duck down, but theirs are lined with wool.
Wool is a natural antimicrobial and antibacterial option because of the lanolin coating it has. Mold, mildew, and bacteria cannot grow in lanolin due to its fatty acids and other properties. Wool also does not pick up odors for the same reason, so caring for your wool-lined duvet is as easy as hanging it out in the sun.
Wool is also a better insulator than down (or worse, synthetic products) because it keeps you cool when it's warm and warm when it's cold. If you've ever worn a pair of wool socks, you already know this!
Authenticity50 also offers a duvet cover option, and beautiful heritage blankets are woven in Maine from 100% USA-grown cotton. All of their products are strikingly beautiful, incredibly functional, and made to last a lifetime.
Shepherd's Dream Winter Weighted Comforter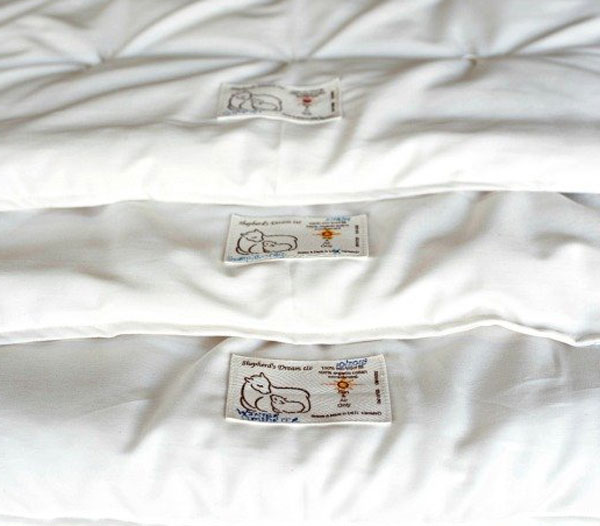 | | |
| --- | --- |
| Estimated Price | $465 to $645 |
| Type of Wool | Locally sourced organic wool (California Fibershed Program) |
| Sizes Available | Twin, Full/Queen, King |
| Care | Hang in the sun only |
| Origin | Montague, California, USA |
Shepherd's Dream Origin and Manufacturing Locations
Shepherd's Dream started constructing high-quality American-made bedding in 1997 and is currently located in Montague, California.
What We Like and Don't Like About Shepherd's Dream Winter Weighted Comforters
Shepard's Dream's wool-gathering and production facilities are located in Shasta Valley, California, near Montague, and they also have a showroom in Ashland, Oregon.
Wrapping yourself in a wool comforter will keep you warm and cozy in the winter. With its use of the purest, most natural materials, this winter weight comforter facilitates a healthy sleeping environment. This comforter is for people who sleep cold at night. Shepherd's Dream also offers wool pillows, all-wool mattresses, clothing, and all kinds of other products derived from wool. Even more impressive is that all of their products are 100% handmade!
Wool has a lanolin coating, which makes it naturally antimicrobial and antibacterial. Lanolin's fatty acids and other properties make it impossible for mold, mildew, and bacteria to grow. Due to the same reason, wool does not pick up odors, so cleaning your wool-lined comforter is as simple as hanging it out in the sun.
It keeps you cool when it's warm and warm when it's cold, too. Wool is a natural insulator that is perfect for spring, fall, and winter nights! Overall, it's one of the highest quality American-made wool blankets on the market right now.
Ibex USA Made Wool Blanket

| | |
| --- | --- |
| Estimated Price | $225 |
| Type of Wool | 100% Merino Wool |
| Sizes Available | 56.5" x 76" |
| Care | Dry Clean Only |
| Origin | Massachusetts, USA |
Ibex USA's Origin and Manufacturing Locations
Ibex was founded in 1997 by an avid mountaineer who has an absolutely undeniable fascination with merino wool and the farm animals that help them create their products, so much so that Ibex named their company after the Ibex goat! Ibex goats are more agile and can adapt to changing weather, and that is one of the company's missions: to design activewear that changes with the seasons. By educating consumers, they hope to reduce the impact of consumerism on our environment by encouraging people to buy more versatile and durable items in fewer quantities.
What We Like and Don't Like About Ibex USA Blankets
Warm and cozy, this super soft and cozy 100% wool throw is made in Massachusetts, USA. It has a gorgeous perimeter stitch and is available in three colors. While this blanket is a stunning statement, it was the philosophy of Ibex that made it stand out.
Ibex is committed to producing products for its customers that are ethically sourced. Although these beautiful throws are made in the USA, the wool is sourced from sheep in New Zealand and Australia. The majority of wool in the world comes from down-under, so it's no wonder Ibex decided to put their sheep to work there. Regular checks are also performed by Ibex to ensure their sheep are well cared for.
With everything from tech base layers to beanies, blankets, and socks, Ibex has a lot to offer the world as they try to protect it with their incredible vision.
Bedford Collections Wool Throws

| | |
| --- | --- |
| Estimated Price | $225 |
| Type of Wool | 30% Merino Wool & 70% Acrylic |
| Sizes Available | 45″ x 70″ |
| Care | Machine Wash & Dry |
| Origin | New Hampshire, USA |
Bedford Collections Brand Origin and Manufacturing Locations
Bedford has been hard at work since 1982 out of New Hampshire, making some of the most simple and timeless styles in the market of American wool throw blankets. The company has a great reputation and we're also big fans of them here at All American Made.
What We Like and Don't Like About Bedford Collections Blankets
Bedford is one of those companies with a long-standing history that, even if you bought a blanket from them decades ago, the quality is still the same old satisfaction and awesomeness that you get today. Sure, some of the design aspects have slight adaptations, and there has been a bit of modernization in the process, as with all businesses, but the quality and customer service are still remnants of that good old American quality spirit and workmanship.
Brahms Mount Islesboro Cotton & Alpaca Throw
| | |
| --- | --- |
| Estimated Price | $440 |
| Type of Wool | 50% Peruvian alpaca & 50% USA cotton |
| Sizes Available | 48" x 70" |
| Care | Dry Clean Only |
| Origin | Maine, USA |
Brahms Mount's Origin and Manufacturing Locations
Brahms Mount was founded by Noel Mount and Claudia Brahms in Maine in 1983 and really takes pride in representing the old school and beloved textile heritage of the Northwest Regions of America, where our textile industry, although dwindling, is still devoted to artistry and craftsmanship that are unrivaled globally. Brahms Mount cotton, linen, and wool blankets are woven on antique shuttle loom by local Maine textile craftsmen.
What We Like and Don't Like About Brahms Mount Throw Blankets
Brahms Mount is another heavy hitter when it comes to that old American tradition of both hard work and high quality. They've been around a while, albeit a little less than some of the others on this list, but these wool blankets are right up there in quality and tastefulness.
As soon as you get your hands on a Brahms Mount product, whether it's a wool blanket or a myriad of their other offerings, you can tell these have impeccable attention to detail and the top-tier quality control that we have known to expect from these well established American hometown brands. Compared to other wool blankets, Brahms Mount blankets are on the pricier side, but we do feel that they are worth the money.
Johnson Woolen Mills Throws

| | |
| --- | --- |
| Estimated Price | $140 to $160 |
| Type of Wool | 100% Wool |
| Sizes Available | 60" x 72" |
| Care | Dry Clean Only |
| Origin | Vermont, USA |
Johnson Woolen's Brand Origin and Manufacturing Locations
Johnson Woolen Mills, started up by Andrew Dow, has been manufacturing in Vermont since 1842, when they began producing fabric from the wool of local sheep. The company is now run by Stacy Barrows Manosh, who took over after the three generations of family before her. Johnson Woolen Mills now operates a highly sophisticated mill that was modernized some time ago but is still in the same place producing the same great quality American goods.
What We Like and Don't Like About Johnson Woolen Mills Throws
Johnson's most popular blanket is their very own Johnson Wool Throws. At 5 x 6 feet, they are an impressive size for the price. With this company's rich history, commitment to manufacturing locally, and impressive reach around the world, you would be choosing to support the fourth generation of this family and their incredible values should you decide to go with a Johnson blanket. This is easily one of the best wool blankets made in the USA.
Maine Woolens Border Stripe Wool Blankets
| | |
| --- | --- |
| Estimated Price | $97.50 to $220 |
| Type of Wool | 100% Washable Merino Wool |
| Sizes Available | Throw, Twin, Full/Queen, King |
| Care | Machine wash in cold water & tumble dry low |
| Origin | Maine, USA |
Maine Woolens Brand Origin and Manufacturing Locations
Owned by Jo Boshold and originating in 2009, Woolen Maine operates today with more than 300 years of combined textile experience and employs local dyers, weavers, and sewers, all dedicated to the same old American quality and customer service! Maine Woolens has an in-house finishing facility in Brunswick, Maine. This company is one of the younger ones on the list but make no mistake, many of the staff, including the owner, are hard-earned textile veterans with decades of experience.
What We Like and Don't Like About Maine Woolens Blankets
Maine Woolens manufactures textiles in wool, cotton, and specialty fibers, as well as baby blankets made with renewable fiber. Maine Woolens uses a variety of natural fibers, including natural premium grade sheep's wool (grown in the USA), cotton, bamboo, alpaca, and many blends.
Border Stripe blankets are exceptionally soft and made of some of the best American Merino wool that comes from Midwestern sheep. It is suggested by the manufacturer that these blankets should be washed or "Dry Clean Only" only once a year, so take care and try not to get them scummy for the next 364 days!
Related Article: Cotton Blankets Made in the USA (Source List)
Woolrich Gettysburg Blanket

| | |
| --- | --- |
| Estimated Price | $195.00 |
| Type of Wool | 85% wool, 15% nylon |
| Sizes Available | 60" x 72" |
| Care | Dry clean only |
| Origin | Woolrich, Pennsylvania, USA |
Woolrich's Origin and Manufacturing Locations
Woolrich is a business we love and have showcased many times on our blog. Woolrich was founded by John Rich and originates in Pennsylvania, my home state, in 1830 and has since been making a myriad of products, of which they make one of my favorite plaid shirts as well as some pretty amazing wool blankets! The company, although still staying true to its American heritage and commitment to US manufacturing, has been bought and is owned by a private company headquartered in Bologna, Italy.
Fun fact: Since Woolrich was founded in 1893 and was among the highest output productions in the area, they provided a lot of clothing for Civil War soldiers.
What We Like and Don't Like About Woolrich Gettysburg Blankets
Known among adventurers as "The Original Outdoor Clothing Company," Woolrich manufactures high-quality clothing and gear for outdoor adventures since 1899. Throughout history, our mills have provided support during major historical moments by creating fine, warm wool.
Woolrich's blankets are still made in the U.S. through partners in Connecticut and New Hampshire, even though it closed its last American plant in 2018. This small town in central Pennsylvania has been home to the country's oldest outdoor-wear manufacturer since 1830.
You can still purchase a Gettysburg blanket, a design that's more than 150 years old, on their website, which is made of American-made wool. This classic is characterized by its understated design, which remains modern with dark gray end stripes over lighter gray, as well as its wool-blend design that is comfortable and cozy. Plus, it's a real piece of Americana, a replica of a blanket Woolrich issued to Union troops during the American Civil War.
Please note that some of Woolrich's blankets and other products are Made in Italy.
Nordt Family Farm Handwoven Merino Wool Baby Blanket

| | |
| --- | --- |
| Estimated Price | $215 |
| Type of Wool | 100% Merino wool |
| Sizes Available | 50" x 36" or as requested |
| Care | Dry Clean Only |
| Origin | Virginia, USA |
Nordt Family Farm's Origin and Manufacturing Locations
The Nordts family bought their farm in 2000, which is situated nicely next to the James River, and ever since, they've been crafting their own blankets out of their own materials!
What We Like and Don't Like About Nordt Family Farm Blankets
These are some seriously impressive blankets that are all hand-woven by Dianne, the owner of the farm. The blankets themselves are made of merino wool grown in Virginia. Each blanket is hand-dyed with plant dyes, and the overall quality of the finished blanket is outstanding.
Dianne has baby blankets available on her Etsy site. At 50" x 36", these lovely blankets would make an excellent gift for a loved one. Dianne also does commissions, so if you're in the market for something larger or a certain color, you can contact her directly through her shop!
Swan Island Company American Handmade Wool Products

| | |
| --- | --- |
| Estimated Price | $575.00 to $675.00 |
| Type of Wool | Organic Merino wool & organic cotton |
| Sizes Available | Twin, Queen, King |
| Care | Machine wash cold on delicate cycle, & lay flat to dry |
| Origin | Maine, USA |
Swan Island Company's Origin and Manufacturing Locations
Since 1992, Swan Island Company has been handcrafting blankets, throws, and baby blankets from organic wool and cotton. The fiber is mostly from New England farms, and the yarn is hand-dyed. Swan Island Co. offers optional monogramming, up to 10 letters on several of their blankets.
What We Like and Don't Like About Swan Island Company Wool Blankets
The Rangeley blanket was inspired by the rustic beauty of northern Maine, and it really reminds me of the trips I've taken there. There is something special about these textile companies that are still surviving in Maine, a spirit of craftsmanship and allegiance to American manufacturing that is just not found really anywhere else in the world. Their blankets are both timeless and sophisticated, and it's abundantly clear that their products are backed by many years of experience and attention to detail.
A luxurious, all-natural mid-weight blanket will make you feel right at home. Hand-dyed yarns give this luxurious blanket its stunning hues. Their lightweight and cozy design is made with eco-friendly EcoWash Merino wool and American organic cotton. Embroidered edges are double-stitched for a clean, graphic appearance, and they're washable at home for your convenience.
Nantucket Looms Handwoven Cashmere Throws

| | |
| --- | --- |
| Estimated Price | $400-$1400.00 |
| Type of Wool | Cashmere |
| Sizes Available | 7' x 4' |
| Care | Dry Clean Only |
| Origin | Nantucket, Massachusetts, USA |
Nantucket Looms Brand Origin and Manufacturing Locations
Bill Euler and Andy Oates founded Nantucket Looms in 1968 and are located in Nantucket, Massachusetts, inspired by the local cottage-style lifestyle. They moved around a couple of times, but the official place of operations is at 51 Main Street, close to where it all began so many years ago.
A premier producer of handwoven textiles since 1968, Nantucket Looms uses only the finest, all-natural fibers such as cotton, mohair, cashmere, and alpaca in simple, sophisticated weave structures.
Handwoven textiles begin with the winding of bobbins, the threading of warps, and the passing of the shuttle. Wach talented weaver adds their own personality to every textile by delicately incorporating accent colors.
The result is a meaningful work of art. Nantucket's colors can be found in her sea, in the moors, and in the ever-changing sky. Their textiles reflect these stunning hues that change with the seasons. This company pours so much creativity and love into its blankets and other products.
What We Like and Don't Like About Nantucket Looms Throws
I saved the best for last with Nantucket Looms. When you enter the building at 51 Main Street, you will hear the sound of craftsmanship at work. You can almost hear it when you browse through their beautiful website.
Our pick for this list is the most luxurious throw that uses the finest cashmere woven in a chevron weave structure, adding extra thickness and depth of color. This bold and bright yellow is inspired by sunshiney daffodils. Hand-tied and masterfully crafted by weavers in their weaving studio, their cashmere throws are the ultimate in comfort and fine living.
Choosing the Perfect Blanket:
You can see from this list that not all wool blankets are created equal. Whether you prefer Merino wool, Alpaca fiber, or classic sheep's wool, you have plenty of options.
Wool blankets are a great addition to any home, but always pay attention to where they are made, the materials they are made of, and where they will be used.
Blankets, comforters, and duvets made from wool have many benefits. A big plus when it comes to function is that wool products are antimicrobial and antibacterial. They are also a sustainable, biodegradable option that is better for the environment.
Most people are also concerned about comfort and softness. Craftspeople weave fibers so carefully to create the perfect blanket. Wool does not have to be a scratchy, bulky material, and nowadays, it often isn't! In terms of comfort, wool tends to keep you cool during warm nights and warm during cold nights, as it's a natural thermoregulator.
Furthermore, you should consider the convenience of washing your blanket yourself instead of taking it to the dry cleaners.
No matter what you decide, keeping your wool blanket shopping in the United States is crucial to the future of this time-honored tradition of weaving, keeping our country's heritage and economy alive.
Wrap Up:
That does it for this article, we hope you found it useful. If you know of any great wool blankets that we missed, let us know in the comments below. We really appreciate your feedback and help to improve our articles.
Hi, my name is Kevin and I'm from Pittsburgh, Pennsylvania. Choosing products made in America is important to me because it supports local economies, creates jobs, helps the environment, and ensures ethical labor practices. I also find that American made products are usually of higher quality so although they're a little more expensive, you save money in the long run. Before starting this website I was in the USMC infantry and nowadays I work on this website as a hobby.