Yoga mats are an essential piece of exercise equipment. A slippery rug, soft gym cushion, or slippery towel can cause injuries and just flat out be uncomfortable and unstable! Owning your own mat can be more hygienic than using one offered by studios and gyms or performing your stretches on the ground. Numerous options are available, but most yoga mats suit all styles of yoga. It all depends on your personal preference. Knowing the differences will help you select a mat that fits your needs.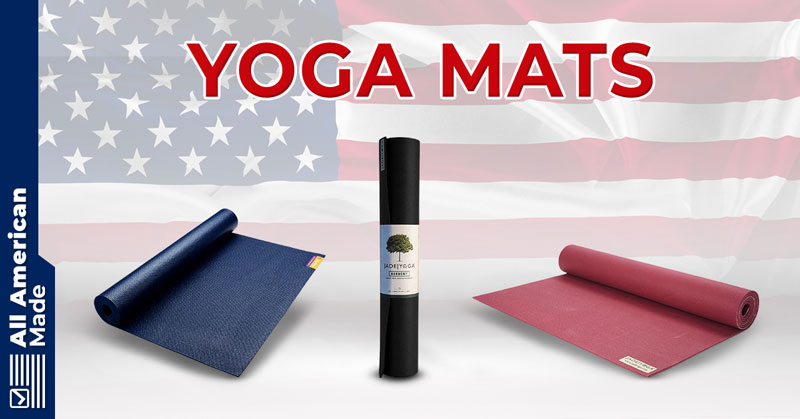 In the following article, we'll present the best yoga mats made in the USA at each price point. Simply scroll through our list and find the right mat for your exercise needs.
List of American-Made Yoga Mats
Jade Yoga Harmony Mat (Editor's Choice)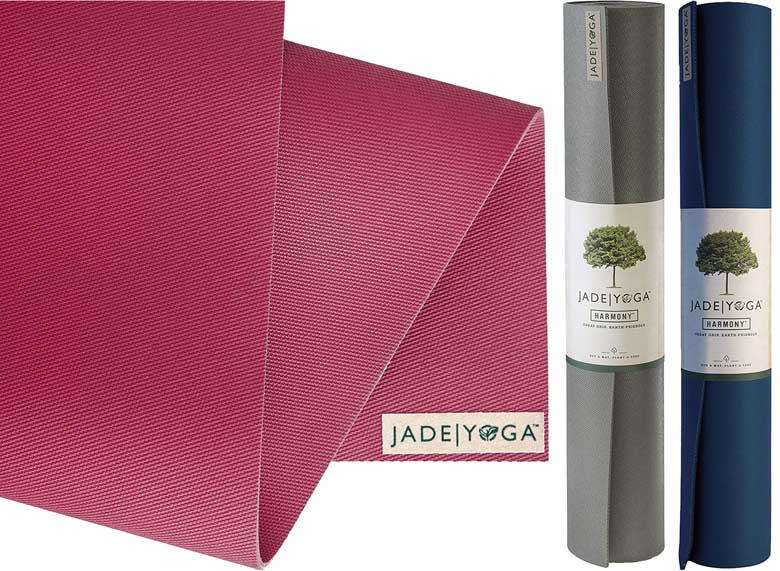 | | |
| --- | --- |
| Estimated Price Range | $60 to $100 |
| Materials Used | Rubber |
| Colors Available | Teal, Jade Green, Purple, Black, Midnight Blue, Olive Green, Raspberry, Slate Blue, Orange |
| Size | 68 x 24 x 0.19 inches, 74 x 24 x 0.19 inches |
| Origin | Pennsylvania, USA |
Jade Yoga's Origin and Manufacturing Locations
One company that I've fallen in love with over the years is Jade Yoga. This is because I really like the company's ethos, overall commitment to the environment, and the care they put into their products. The company began selling yoga mats in 2002, but its roots go back to the 1970s when Jade Industries offered non-slip rubber rugs and carpet mats. It only made sense for Jade Industries to specialize in yoga products since many yogis already used rug pads as yoga mats.
Yoga mats made with sustainable materials like those used by Jade Yoga have everything you're looking for. You get a high-quality mat with a reliable grip, and I also love that it's comfortable and available in many colors.
One thing the company really prides itself on and cares a lot about is creating products from sustainable materials. It's fortunate for them that natural rubber is the most durable and most effective yoga mat material. With every product sold, they want to give back to the Earth and leave the planet better than they found it.
Because Jade Yoga mats are made from trees, they decided to plant a tree for every mat sold. Since 2006, they have planted over one million trees through their partnership with Trees for the Future.
Additionally, all of their mats are made in the United States! To them, being American-made still means a lot, and they are proud to be headquartered here. A product made in America also means it is of the highest quality, giving the manufacturer much greater control over the materials it uses and the production process from beginning to end.
What We Like and Don't Like About Jade Harmony Mats
The traction provided by Jade Yoga mats is exceptional. In comparison to the synthetic rubbers on the market (PVC, PER, TPE, EVA), natural rubber has a much stronger grip and provides more cushion. Their products are made with sustainable materials and help you hold your pose securely with a secure grip.
The problem with most yoga mats became painfully evident after a demonstration by B.K.S Iyengar: they were slippery. In addition to making yoga annoying, it also put the user at risk of injury. To address this problem, Jade Yoga began working fervently in 2000, following the core values of the parent company of using natural, high-quality materials. In the wake of some initial testing, Jade Yoga was on its way to success thanks to the overwhelming response it received.
In the end, they created the Jade Yoga Harmony line, which is comfortable, non-slip, and all-natural. Through nature, Jade Yoga helps yogis find peace with their inner nature.
They offer varying lengths for yogis of all sizes and an extra-wide version for those who prefer a little extra room. The mat is 3/16" thick yet still weighs less than 5 pounds and offers stability and balance for standing and balancing poses.
If you're like us, you're tired of buying slippery yoga mats. Goodness knows that holding yoga poses can be challenging enough without dealing with dangerous slippage. Even in hot yoga classes, Jade mats hold up very well. So whether you're a beginner or a novice yogi, you can rest assured that even in 90-degree hot yoga classes, you're in for a safe session without slipping. Over the years I've owned and tested a lot of yoga mats, and I just always find myself going back to Jade Yoga.
Hugger Mugger Tapas Original Yoga Mat (Best Value)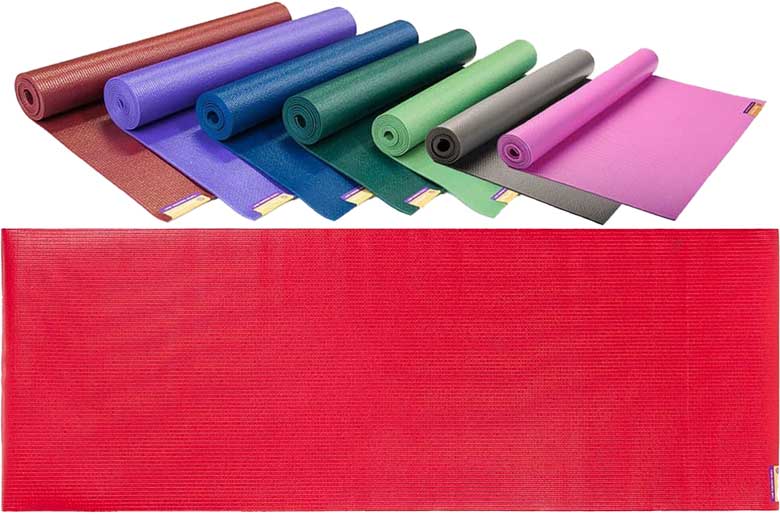 | | |
| --- | --- |
| Estimated Price Range | $30-$50 |
| Materials Used | Rubber |
| Colors Available | Emerald, Black, Grey, Blue, Olive, Purple |
| Size | 1/8 x 24 x 68 inches, 1/8 x 24 x 74 inches, 1/8 x 24 x 80 inches |
| Origin | Salt Lake City, Utah, USA |
Hugger Mugger's Origin and Manufacturing Locations
Another yoga mat I own and love is made by Hugger Mugger. The Hugger Mugger Yoga Products company was founded in 1986 in Salt Lake City, Utah, by Sara Chambers. Chambers, a custom furniture builder, was trained by local Iyengar Yoga teachers Cita Mason and David Riley before attending her first-weekend workshop with the late Mary Dunn.
Chambers was inspired by a story that you can read more about on the Hugger Mugger website here. In a nutshell, she saw a fellow yoga enthusiast at a workshop using items that weren't customary at the time to hold difficult yoga poses, and this sparked her enthusiasm to innovate within the Yoga space.
Chambers kicked off her career in creating products for yoga after making Iyengar-inspired yoga props in her basement. Hugger Mugger was named after the shorts she designed early on that inspired her. She went on to develop many items for use in a yoga studio, such as sturdy yoga blocks, yoga apparel, and of course, the Tapas Yoga mat.
After growing rapidly, Hugger Mugger moved into a larger facility in 1989. To expand the business, she partnered with David Chamberlain in 1997. Although they are both retired now, the business continues to honor its original vision, which was to provide innovative, premium-quality yoga products and develop a global community of yoga enthusiasts.
Their product line now offers USA-made and handmade products, heavy metal and phthalate-free yoga mats, and eco-friendly yoga products like biodegradable TPE mats, natural rubber mats, cork, and bamboo blocks, among others.
What We Like and Don't Like About Hugger Mugger Yoga Mats
Hugger Mugger yoga mats are a great option for about half the price of JadeYoga mats. The Tapas mat is what got Hugger Mugger to start making yoga mats in 1986. Suitable for people doing low-impact yoga, it is lightweight and has a non-slip surface. Additionally, this mat is very easy to clean – simply use some hot water and light soap, and hang it outside to dry.
Whether you're a beginner or an experienced practitioner, you'll love taking this mat to yoga classes or using it at home. The item is available in five different colors and measures 1/8 x 24 x 68 inches. Not recommended for hot yoga and is much thinner than Jade Yoga mats. Overall, it's easily one of the best yoga mats made in the USA especially considering its price point.
Pravacana Mats ECO-Friendly Yoga Mat (Most Unique)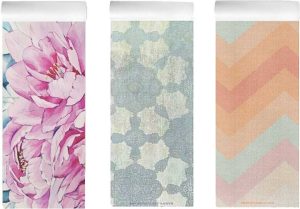 | | |
| --- | --- |
| Estimated Price Range | $70 – $110 |
| Materials Used | High-quality, non-toxic, cellular vinyl |
| Colors Available | Custom make your own or choose from dozens of colors and patterns |
| Size | 72 x 24 inches |
| Origin | North Carolina, USA |
Pravacana's Origin and Manufacturing Locations
Pravacana, in Sanskrit, means expression.
Yoga began for the founders of Pravanaca as a way to gain strength and flexibility. The practice of yoga provided a much-needed mental break from a hectic world while still allowing for emotional presence. As it does, yoga also shifted into interpersonal dynamics.
After years of practicing yoga, they wondered why mats lacked a sense of distinctiveness for such a personal practice; after all, this is your time to be creative and to be one with your inner inspiration! The founders also realized there were not very many great quality options for yoga mats made in the United States. Pravanaca really dug deep into their R&D, and although they didn't quite measure up to your inner beauty, they think they've got a mat that comes close, and we think so too! Designers for their art include fellow yogis and others who share their artistic expressions and love for yoga.
Pravacana's mats are crafted in the US to create as minuscule of an ECO footprint as possible and to support both local economies and yoga enthusiasts alike. They provide each customer with a one-of-a-kind, unique product, allowing for the creation of a truly unique mat.
What We Like and Don't Like About Pravacana Yoga Mats
The Pravacana ECO Yoga Mat impressed us during our search for eco-friendly yoga mats. The latex-free non-toxic vinyl is free of hazardous elements such as lead, cadmium, BPA, arsenic, mercury, and phthalates. The mats can even be recycled! This mat measures an extra long, 72" x 24" wide, providing plenty of room for most people.
Additionally to being made in the United States and eliminating overseas shipping, Pravacana adheres to the highest environmental standards in the US.
While using these mats, you might lose grip if you sweat a lot, so they're made for low-impact yoga and stretching. Pravacana mats can also be custom designed with any print you like.
SugaMat Recycled Wetsuit Yoga Mat (Most Environmentally Friendly)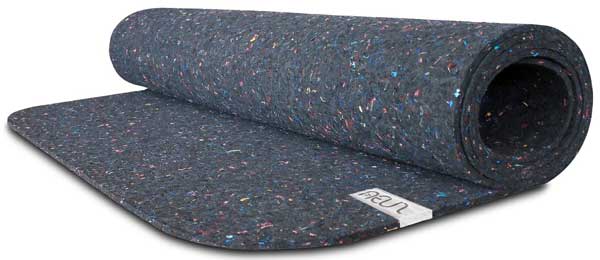 Estimated Price Range
$80
Materials Used
Recycled wetsuits
Colors Available
Black with various colors flecked throughout
Size
Regular: 72″ x 25″ x 5mm thick,

Extra-large: 74″x 26″ x 5mm thick

Origin
Encinitas, California, USA
SugaMat's Origin and Manufacturing Locations
Yoga mats manufactured by Suga are manufactured from 100% recycled wetsuits in Encinitas, California, a known hub for both yoga and surfing! The name Suga comes from the mix of those two beloved sports in the region.
What We Like and Don't Like About SugaMat Yoga Mats
The SugaMat is certainly something new to be seen in the Yoga studio, and although it took a bit to get used to, I actually really love how adhesive the bottom feels and how the material seems to be soft to the touch but sturdy to hold difficult poses on. The SugaMat is constructed from recycled wetsuits, which is really awesome for the environment, and I absolutely love supporting companies that are both eco-friendly and resourceful! Of course, being in Encinitas, California, where surfing is an extremely popular hobby, old and worn-out wetsuits are in high supply for SugaMat to get to work.
SugaMat is a modest 5mm thick yoga mat for your yoga practice and is a great addition to any gym or yoga studio. They look super cool, and it's nice to know that they are high-performance mats made sustainably. Overall, it's a great American-made yoga mat and one of my top recommendations.
Yoloha Aura Cork Yoga Mat (Great Performance)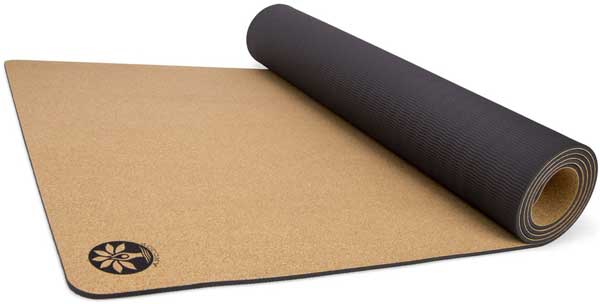 Estimated Price Range
$80
Materials Used
Cork and closed-cell foam
Colors Available
Cork with various patterns
Size
Regular: 72″ x 26″ x 6mm thick,

Extra-large: 80″x 26″ x 6mm thick

Origin
Encinitas, California, USA
Yoloha's Origin and Manufacturing Locations
Yoloha is a business founded by a family, the Willeys, who love yoga, surfing, sustainability, travel, and the outdoors. Yoga + Aloha = Yoloha.
The mats are made in the Chesapeake Bay, where the company was founded, from cork that was sustainably sourced throughout the Mediterranean.
What We Like and Don't Like About Yoloha Yoga Mats
Comfort and uniqueness were of the utmost importance when creating the Aura. With its extra cushioning and shock-absorbing cork material, your joints will be supported, and your muscles will feel relaxed but challenged, as with any good yoga routine. It has a fine-grain cork surface for a soft feel while maintaining a high grip even with exposure to moisture.
I know what you're thinking, cork might be easily broken off, and hey, the last time I felt cork, it was coarse and would be uncomfortable to stretch on. Well, this cork is a bit different from industrial use cork and cork that you may find in packaging materials. The cork used in the Yoloha yoga mats is extremely fine grain and not heat-treated, so it's not hard or brittle.
Fine-grain cork is a naturally antimicrobial surface that eliminates bacteria, and the yoga mat is equipped with a closed-cell foam bottom that won't absorb moisture or smells. One of the best aspects of a cork being utilized in the construction of these mats is that the cork is exceptionally light yet dense and sturdy.
So even though it's not completely 100% made in the USA because the cork is sourced and prepared in the Mediterranean region, we had to include this gem because it performs so well and is environmentally friendly. We also liked the odor-reducing features, how lightweight the mat is, and the non-slip surface.
The Iron Company Aeromat Elite Reversible Yoga Mat (Very Durable)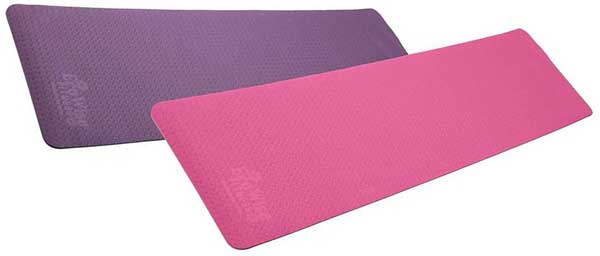 | | |
| --- | --- |
| Estimated Price Range | $55 |
| Materials Used | 1/4 Polyofine Elastomer closed cell foam |
| Colors Available | Grey & Pink, Black & Purple |
| Size | 1/4 x 24 x 72 inches |
| Origin | Flower Mound, Texas, USA |
Iron Company's Origin and Manufacturing Locations
The Iron Company is dedicated to passion, integrity, and quality. The Iron Company has been in the fitness equipment game since 1997, which certainly lends them credibility when it comes to developing fitness products. Their reputation quickly grew in the early 2000s, which helped them become an established brand among both home gym enthusiasts as well as prestigious organizations worldwide.
Their team and products have empowered some of the US military's most rigid tier-one special operation units and squadrons due to their unwavering commitment to offering the best equipment on the market.
What We Like and Don't Like About Iron Company Mats
Aeromats' Elite Reversible Yoga Mat comes in two colors: black and purple or gray and pink. On hard floors, their 1/4-inch thickness provides a bit more padding and support than our 1/8-inch yoga mats. Polyolefin Elastomer closed-cell foam is used to make Aeromat's unisex Yoga mats, which are free from latex, PVC, chlorides, and phthalates.
If you're looking for a commercial-quality yoga mat for your home or classes, this one is thick enough to protect your knees and provides a non-slip experience for any yoga pose. These yoga mats have a great grip, and overall I feel very comfortable using them.
It is non-porous and won't allow sweat or other liquids to seep through, so your mat stays dry when stored and is easy to clean. With Aeromats, you can fit any application into your home, fitness studio, rehab center, or commercial gym because of their premium materials.
Bean Products OMphibian Yoga Mat (Great for Beginners)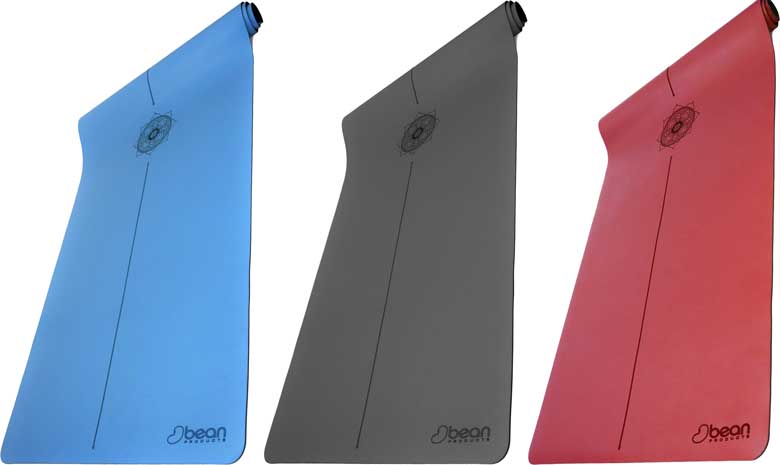 | | |
| --- | --- |
| Estimated Price Range | $85 |
| Materials Used | Heavy 100% hemp fabric |
| Colors Available | Black, Blueberry, Cactus, Cocoa, Cranberry, Natural, Grey |
| Size | 1/4″ x 26″ x 72″ or 1/8″ x 26″ x 72″ |
| Origin | Chicago, Illinois, USA |
Bean Products' Origin and Manufacturing Locations
Bean Products, a Chicago, Illinois-based company, was founded in 1987 and always had a strong will to hire American talent and utilize American manufacturing. They have been crafting their hemp, and organic cotton-based yoga bolsters for over 30 years now and is one of the most well-respected Yoga bolster manufacturers in the USA, along with several other great yoga products, including mats, of course!
What We Like and Don't Like About Bean Products Yoga Mats
Although I love the hemp Yoga bolsters and Yoga mat slings from this brand, Bean Products also makes some seriously awesome yoga mats that are available in several colors. Something notable you'll know about Yoga Bolsters by Bean Products are handmade in the USA and come with a 1 Year Warranty. Every OMphibian mat is made with eco-friendly materials and can be easily cleaned just with water and soap.
Switching from a styrofoam mat to one from Bean Products really made a huge difference for me as the grip with these is significantly better, and overall, the mat is very dense, which I really like as well.
Eco-conscious consumers that love quality handmade products will really enjoy products from this brand, especially their yoga mats. Yes, these are at the upper echelons of expense, but they do feel like they'll last quite a long time, likely longer than my collection of torn-up not-so-old foam cheap mats!
Natural & Organic Yoga Mat Wash Cleaner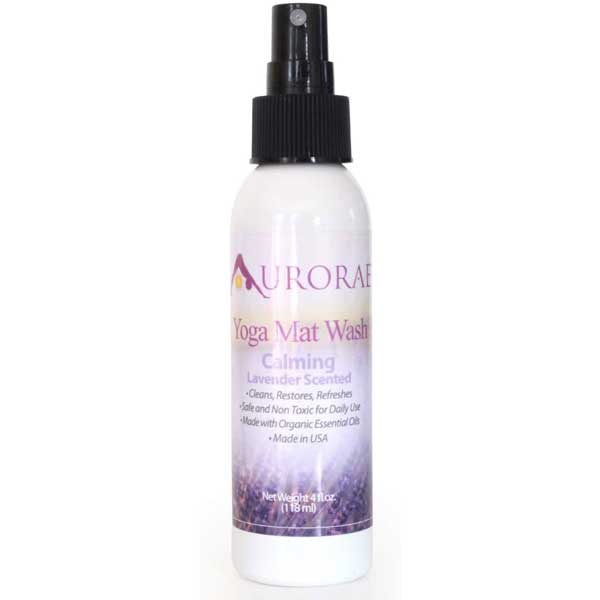 | | |
| --- | --- |
| Estimated Price Range | $10 |
| Materials Used | Essential oils |
| Size | 4 fluid ounces |
| Origin | New Jersey, USA |
Product Origin and Manufacturing Locations:
Aurorae was founded in 2009 by a very resilient and respectable Yogi named Dennis Ingui. After surviving a battle with cancer, he looked to both apply himself to a challenge and build something that would aid the recovery and rebuilding of his physical form. What he came up with was a company that creates helpful products and supplies for yoga enthusiasts at all levels.
While his organic yoga mat cleaning spray is indeed US-made, the yoga mats his company Aurorae offers are made in Taiwan, so beware of the origin of the products in their store.
What We Like and Don't Like About:
This 100% organic, USA-made product uses essential oils to naturally clean, restore, and refresh your yoga mat. It contains nothing that will dry out or damage your yoga mat like alcohol and instead acts as a protective barrier and, as an added bonus, can add a nice scent to the mat.
Of course, when using a liquid-based yoga mat cleaner, you'll need to wait for it to dry completely, but with the essential oils, it seems to dry rather quickly. Their four trademark scents are Lavender, Classic, Eucalyptus, and Citrus.
Factors We Considered
Durability:
Yoga mats made poorly can fall apart after just a few uses. Mat layers could peel off, or rubber particles could start coming off. It's frustrating to have your yoga mat deteriorate, so we found mats that met our strict criteria for long-term durability. Yoga mats are usually made of PVC (also called vinyl), which is usually treated with a synthetic finish and is cheaply made. Usually, natural rubber, jute, and cotton are better for longevity and sustainability.
Slippery Surfaces:
Different yoga mats have different levels of traction, and one slip could lead to serious injuries with all the poses you'll be doing. For low-impact yoga, we made sure the mats had good traction and a non-slip surface. We let you know which mats can handle the extra sweat and which can't work for hot yoga or other sessions.
Colors and appearance:
The aesthetics of a yoga mat are important to many yogis and enthusiasts, even though they aren't the most important factor. You can match the color, pattern, and overall appearance with your mantra or a specific chakra (energy center). Additionally, you'll be looking at your mat a lot, so pick a color and style you like!
Comfort:
You don't want to feel uncomfortable on your mat in the middle of your yoga class, and mat thickness or poor construction can cause this. Our recommendations included a variety of thickness options to hopefully meet your comfort needs, along with eliminating yoga mats that did not meet our comfort standards. We chose JadeYoga's thick yoga mat as the best because the other two are thinner.
Sustainability:
When purchasing such a personal item as a yoga mat, sustainability and general health are very important factors. You'll be in close contact with a yoga mat, so make sure it doesn't harm you. Many manufacturers out there use materials in their yoga mats that contain harmful toxins. All of the companies we recommended use toxins-free materials to construct their mats, which is good for the environment as well as you.
Mat weight and thickness:
There are many types of yoga mats, from thin and compact travel mats to chunky beasts that weigh as much as 7 pounds.
A mat about 1/8th of an inch thick is a fairly standard thickness to start with. This mat is ideal for strong, flowing practices. The solid surface allows for stability in a variety of poses. They are less likely to catch and get in your way when you flow from pose to pose.
Yoga poses that involve more active poses or more balanced-focused poses may benefit from thinner mats. For more challenging poses, select mats with textured surfaces.
Mats with more cushioning provide more therapeutic benefits. You may prefer a softer, more cushioned mat if you enjoy restorative yoga, a style with fewer poses held for a longer period of time. The thicker mats are also better for forearm and kneeling poses as well as for stiff joints or tender knees. During standing poses, they may be difficult to balance.
Yoga travel mats that are designed for portability are ideal if you plan to travel while practicing. Unlike traditional mats, travel mats are thin and light, so they're easy to carry in your luggage. Travel mats sacrifice some cushioning.
Value:
Our goal is to offer you the best yoga mat at the best price, which means not overpaying for quality. We only listed yoga mats that we think are a fair price for the quality you're getting. During our research, we eliminated several items because we didn't think they were charging consumers a fair price.
Yoga Mat Materials and Durability:
Yoga mats are made from a variety of materials, from inexpensive PVC to natural rubber. Materials affect price, weight, grip, and durability. The thicker the mat, the longer it will last, and its material also influences mat durability.
PVC is a durable, easy-to-clean, floor-gripping, plastic-based material. When you sweat heavily, PVC mats become slippery. Latex-free, PVC is not as biodegradable or environmentally friendly as other options.
Plastic and rubber polymers are combined in TPE (thermoplastic elastomer). Mats made from TPE may be an environmentally friendly alternative to PVC. Generally, TPE mats are not as durable as PVC mats of the same thickness but still offer good traction.
Mats made of natural rubber, organic cotton, and jute are eco-friendly and natural. Eco mats aren't as grippy on the floor as other mats, but their natural texture provides traction for your body. If sustainability is your priority, eco mats are the best choice.
Wrap Up:
Let us know if there are any great yoga mats that we missed in the comments below! We truly appreciate your feedback!