From welding and sawing to cutting and drilling, bench vises play an essential role in the garage, and their purposes fulfill multiple demands in a complex environment.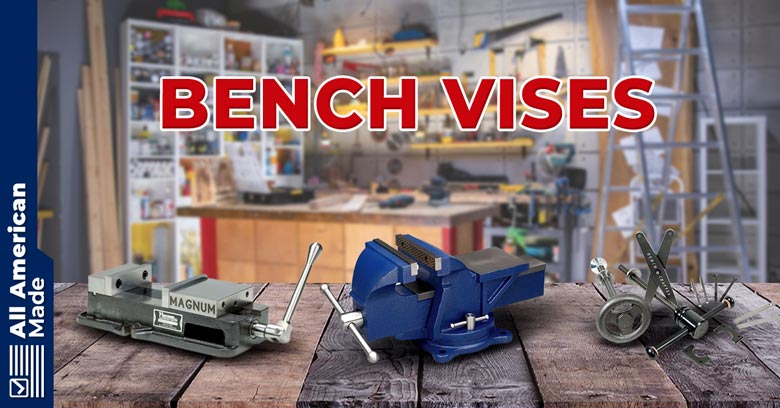 We always recommend looking for a bench vise made in the USA because it improves your chances of getting top-notch quality. We put together a list of bench vises below to save you some time. Simply scroll through and pick out the perfect one for you!
List of American-Made Bench Vises
Wilton Bench Vises (Machinist & Combo Pipe Models)

| | |
| --- | --- |
| Origin | Carpentersville, Illinois |
| Founded | 1941 |
| Full-Length Opening | 4-3/4″(Machinist) 5″ (Combo Pipe) |
| Weight | 29 pounds (Machinist) 100 pounds (Combo Pipe) |
Product Origin and Manufacturer Information:
Originally, Wilton produced its vises in Schiller Park, Illinois, but they migrated operations 27 miles south to Carpentersville, Illinois. This brand designs its bench vises to handle the most demanding applications.
One thing to keep in mind is that while Wilton still makes its higher-end bench vise models such as The Machinist and Combo Pipe in the USA, other less expensive models like the Tradesmen have moved to overseas production. The Tradesmen 28806 is now produced in Taiwan and the Pro Vise 28811 in China.
That said, their American-made bench vises are incredible, so I would be doing you a disservice if I didn't include them on this list. Wilton Tools also has over 50 years of American heritage, so we definitely wanted to include them on this list.
My Thoughts and Review:
Wilton bench vises, especially their USA-made models, are some of the best bench vises I've ever used. Their swiveling bases and locking mechanisms are well built, and overall these vises are just nearly indestructible. Their higher-end models could be the poster child for the phrase "buy once, cry once," and I really do feel that they are worth the money.
With Wilton bench vises, you get a lifetime warranty that supports it against manufacturer defects and leaves customers with peace of mind. When it comes to craftsmanship and quality, very few brands can even be compared to them.
I was disappointed when the company got bought out years ago, but I really am happy they decided to keep producing some of their higher-end models in America. If you're interested, you can also learn more about these two American-made models on the Wilton website here.
Who We Recommend it for:
Wilton really offers vises that are capable of handling any level of work. From light-duty to heavy-duty work, Wilton vises can handle it all.
Some of their vises also offer varying degrees of swivel, and most of their higher-end models offer 360-degree swiveling capabilities.
Yost Vise 34C 6-inch Combination Pipe and Bench Vise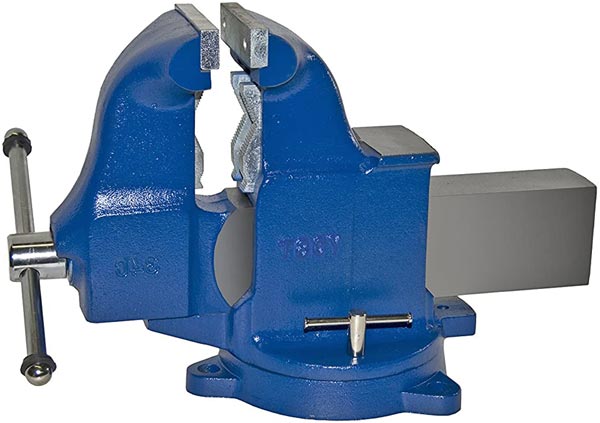 | | |
| --- | --- |
| Origin | Mechanicsburg, Pennsylvania |
| Founded | 1908 |
| Full-Length Opening | 10" |
| Weight | 165 pounds |
Product Origin and Manufacturer Information:
While I do find Yost's American-made bench vises to be extremely high quality, I want to urge ever-increasing caution with Yost because of how they have increasingly made their vises in Taiwan and China. Watch the price of the models, and anything with a suspiciously low price was probably made overseas. They do tend to favor Taiwan more, but they produce some of their models in China as well.
This overseas production began in 2019, and while this patriotic company struggled with that decision, they eventually realized they had to go abroad in order to compete and survive. To paint a picture of the manufacturing differences between the United States and Taiwan, Taiwan cost $0.40 to every $1 for the US vises. People stopped buying the American-made vises from the brand, and this forced them to send the manufacturing overseas. So if you're anything like me and willing to pay a little extra for American-made products, companies can keep their manufacturing in the USA. There are so many reasons to buy American-made products, as you probably know since you're on this website.
We would still consider Yost to be a company worth supporting because they have tried so hard to do as much manufacturing in the US as possible, but unfortunately, the market conditions have made it hard.
My Thoughts and Review:
You can get the Yost Vise 34C in three sizes: 6 inches, 5 inches, and 3.5 inches. One of the standout benefits behind Yost Vises comes from its satisfaction-focused customer service. I've had nothing but good experiences with their customer service, and from what I've read online, that's not unusual.
Deep jaws especially come in handy for cases where you need to support a heavy or long object. If you tend to work with objects like that regularly, you will want a vise with a larger throat depth. You want to be aware of how this vise's design has a greater height to it than what you might expect. You wouldn't want to mount this on a tall table without first having a look at it.
The use of this vise feels smooth and precise; for those in need of precision, this vise can help.
Who We Recommend it for:
We would recommend this vise to those who work with long or heavy objects since the deep jaw allows for easier use. This vise would work well for those who need a precise vise to do specific tasks since it is known for its precision. At the same time, this vise would make sense for machinists who want to support the American-made vises from Yost.
They're becoming less and less from this brand, and buying an American-made bench vise from them could keep its US manufacturing doors open. This is a company that has tried hard to stay made in America. The brand did its best, but the lack of demand forced them to make its products elsewhere. Oftentimes, people would rather pay less for a foreign-made vise than pay the extra to buy American. Perhaps they should do a better job marketing their American-made products, but it's also our job to support companies who go the extra mile.
Conquest 6-inch Magnum CNC Mill Vise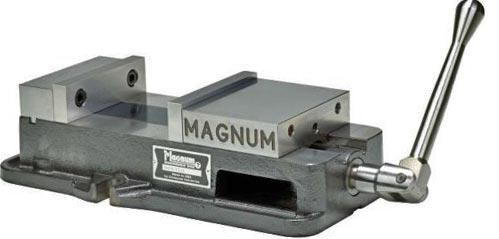 | | |
| --- | --- |
| Origin | Santa Fe Springs, California |
| Founded | 1979 |
| Full-Length Opening | 8 inches |
| Weight | 70 pounds |
Product Origin and Manufacturer Information:
Conquest Industries, the maker of this bench vise, makes their products in Santa Fe Springs, California, 16 minutes southeast of Los Angeles. The brand produces quality industrial equipment tools and supplies constructed from metal and wood. Their headquarters and manufacturing plant are located in their impressive 43,000-square-foot facility.
They produce 11 CNC machines and three grinding centers, and we really like that most of the parts are sourced from the USA. We appreciate how this brand keeps everything made in America. They also stand out because all of their vises include a lifetime warranty. Conquest Industries is the few manufacturers to offer a lifetime warranty on all of their vises.
We would award this brand with top-notch quality for angle-lock style vises.
My Thoughts and Review:
Machinists require a level of precision that needs a good bench vise, and the Conquest 6-inch Magnum CNC Mill Vise offers the necessary accuracy. This vise features a needle-bearing design, which means that it delivers the maximum level of clamping force with less effort on your part. The Conquest 6-inch Magnum can reach 80,000 PSI, and it uses a flame-hardened bed for the maximum level of durability.
All machine vises are square and parallel to make for easier use. In comparison to other bench vises, we would consider this a lightweight vise. The one thing that may prove an issue for some people is that we heard them say that this vise doesn't open all the way. You would want to think about that before buying it.
Who We Recommend it for:
We would especially recommend this choice for individuals with a small workshop or who want a strong and stable tool for their home bench. Anyone who wants a brand with a solid backup of their products will also appreciate the Conquest 6-inch Magnum and everything that it has to offer.
If you want a more lightweight vise that you can move around easily, this choice would make sense. Measuring 6 inches, the Magnum can manage most applications. Be aware of the size of your workbench as well as the weight of your vise. You need a workbench that won't collapse from the weight of the table.
This bench vise can apply up to 80,000 PSI, which makes it ideal for metalworking. In metalworking especially, you need a higher PSI for some of the applications.
Orange Bench Vise (Very High Quality)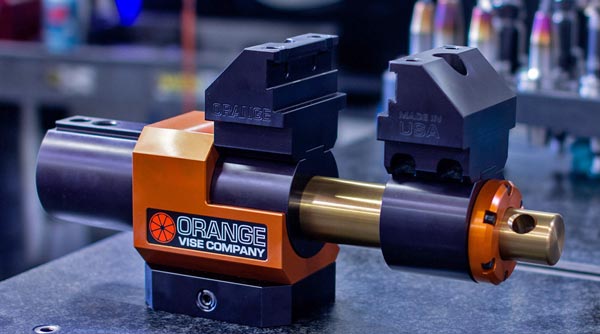 | | |
| --- | --- |
| Origin | Placentia, California |
| Founded | 2012 |
| Full-Length Opening | 12 inches |
| Weight | 50 pounds |
Product Origin and Manufacturer Information:
Raising the bar for American performance has always been the top value at Orange Vise Company. In case you want to know more about the name, it comes from their setup in Orange County, California.
They first set up shop in 2012, and they make 100 percent of their products in the United States. These high-strength vises can withstand as much as 10,000 pounds, and you can offset the indexable center jaw as the need arises for differing capacities.
Furthermore, we have seen them partner with other American-made companies like their partnership with CARVEsmart, a company from Cottage Grove, Minnesota. You can learn more about their partnership here.
Orange Vise Company mostly operates by manufacturing vises, but they also make tombstones, which is a piece of equipment ideal for mounting your vises.
My Thoughts and Review:
As with most products made in America, you often get what you pay for. Orange vises aren't cheap but compared to most vises, especially those made overseas, I find them to be much higher quality. Keep in mind that you can't use this vise as an anvil, and they built this product more for top-notch precision.
As the Orange Bench Vise applies clamping force, it can reach up to 3,000 pounds of pressure. Another thing that stands out about this vise compared to many others is that the Orange Vise Company offers a lifetime warranty on its products.
This is also one of the nicest-looking bench vises I've ever seen, and the build quality is top-notch.
Who We Recommend it for:
When you swap the jaws on this vise for a different application, you can repeat it by up to 0.0005 inches on location. This prevents damage to your part to guarantee flawless results. That means that this vise was made for the machinist. A lot of people won't be able to justify the huge cost, but it is an American-made vise.
Anyone looking for repeatability will like this vise, but we understand that it isn't a choice for everyone. Some individuals may see it as the perfect assembly line fixture solution. For example, it will hold a receiver as someone installs the parts like at a gun manufacturer, for example. If you want a bench vise made in the USA, Orange Vice Company is one of our top recommendations.
Here is a cool video showing one of their vises being made. You can truly see the craftsmanship and quality.
Lake Erie Wood Vice Screw Kit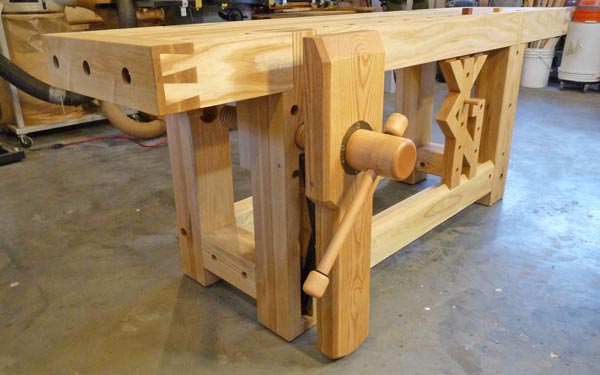 | | |
| --- | --- |
| Origin | Erie, Pennsylvania |
| Founded | 2008 |
| Full-Length Opening | 23 to 24 inches |
| Weight | n/a |
Product Origin and Manufacturer Information:
A small family-owned and operated business that began in July 2008, Lake Erie Toolworks produces woodworking tools for shops across America, and it manufactures them in the town of Erie, Pennsylvania. They produce their solid maple, and their Milwaukee cast iron vises in the United States.
Now, you may be rightfully wondering, as I did, what do they mean when they say Milwaukee cast iron vises. On May 22, 2020, Lake Erie Toolworks announced a partnership with Milwaukee Tool & Equipment Company to address the growing demands of their customers for metal bench vises made in the USA. Lake Erie Toolworks is the brand that they go through to meet that demand.
It's important to note that this is not the same brand as the better-known Milwaukee Tool, as far as we can tell, which has a completely different logo. This company is also older than Milwaukee Tool by around 50 years, but it's a smaller brand.
Lake Erie Toolworks produces bench vises made more for woodworkers and hobbyists. Along with its woodworking tools, they produce personalized wooden workbenches known as the ForeverBench. We started to see them switch from strictly woodworking vises over to metals in 2018. During that time, they broke from a longstanding norm and produced their first clamping accessory made from aluminum rather than wood.
My Thoughts and Review:
We would consider Lake Erie Toolworks at the top of the craft when it comes to wooden vises. They produce them at their factory in Erie, Pennsylvania, and you can tell that wood is their specialty due to its high quality. For any woodworker who only had a bench with a metal vise, this would make for a good addition.
Wooden vises especially come in handy when you don't want to chase your wood across the table. Also, we like that this vise was made from maple. We wouldn't recommend that you buy a wooden vise from any other type of wood species since the hardness of maple allows it to withstand the pressure better than other vises.
A wooden vise reduces the risk that you will damage your project when you clamp it down. Using a metal vise isn't always the kindest to your wood. Without wood lining, the iron jaws will leave dents and mars in the wood.
Who Would We Recommend it for
This vise would make sense for woodworkers and small-time hobbyists who want a bench vise made of wood. If you already have a metal vise, this could serve as a good extra. We also believe in quality craftsmanship, and for someone on the search for a wooden vise made in the USA, you couldn't make a better decision.
The other thing that would make this product make sense comes from the fact that you can assemble it easily. Even looking at the screws, you can tell that the brand knows its work from the unmatched quality.
We would recommend this choice for someone who wants a well-fitting vise. You feel this vise fit together almost perfectly, and the design and craftsmanship make you marvel.
Related Article: What Tools Are Made in the USA?
Milwaukee Tool Quick Release Bench Vise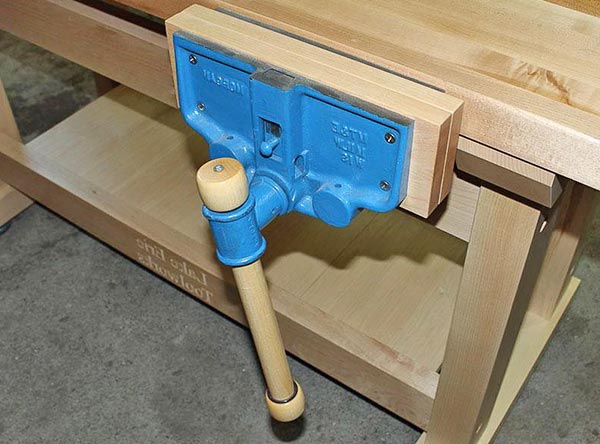 | | |
| --- | --- |
| Origin | Milwaukee, Wisconsin |
| Founded | 1877 |
| Full-Length Opening | 12 inches with a 10-inch vise and 9 inches with a 7-inch vise |
| Weight | 28 to 32 pounds |
Product Origin and Manufacturer Information:
We already mentioned how Milwaukee Tool & Equipment Company partners with Lake Erie Toolworks, but this company stands on its own merits. They are not like the other more known Milwaukee Tool, which operates many of its facilities in China. We like how this brand listens to its customers when they say that they want American-made products.
In case you'd like to see some of their other bench vises made in the United States, check out this page where it lists all of their American-made vises.
Milwaukee has a rich American legacy, and they produce vises, pipe wrenches, C-clamps, blacksmith tools, and screw jacks. This brand has between 11 and 50 people working across its American-based locations, and they generate $4.02 million every year.
My Thoughts and Review:
This product was meant to be a cast iron woodworking vise. Some people prefer a metal woodworking vise because of how they can get a better grip from a higher PSI, but you will want to use a wooden lining to protect your projects. As we said before, metal vises have a reputation for scarring the wood if you don't take measures to protect it.
The vise consists of heavy-duty cast iron, which is common for keeping the costs down on production. Keep in mind that cast iron tends to have a lower PSI of between 19,000 to 60,000 PSI, but you don't need as much PSI for woodworking as you would with metal applications.
Using the quick release, you can quickly rearrange and reposition your vise for a speedy readjustment of the jaw. They made this product in Milwaukee, Wisconsin, but we did think that it would've been nice if they would include a wooden lining with it since this is a woodworking vise.
We did see that they included screw holes for where you might put the wooden lining. When you go to do this, we would recommend specifically seeking out the maple wood species since this gives you a harder wood for the lining, which will work better.
You can buy this vise in two sizes: 10 inches and 7 inches. For someone who works with larger projects, we would recommend the larger vise. The price difference isn't that much, and you can always cut down on a larger vise, but you can't do this with a smaller vise. It's kind of like bringing a winter coat. You can always take it off or put it on as needed, but you can't do that if you don't have it, to begin with. The same is true with vises and their sizes.
Who We Recommend it for:
We would recommend this vise for someone looking for a metal woodworking vise that was made in the USA. Just remember how this is not the same company as Milwaukee Tool, and that brand doesn't have as good of a track record for producing in the United States.
You can typically get a stronger PSI from a metal vise over a wooden one, which is why some people prefer to use them. We found the quick release on this vise a good addition, but it's pretty common nowadays with the vises.
Anyone who wants to deal with a brand that has existed since 1877 will love how they support a company with a proven track record for excellence.
Popular Related Article: Toolboxes made in the USA
Benchcrafted Hi Vise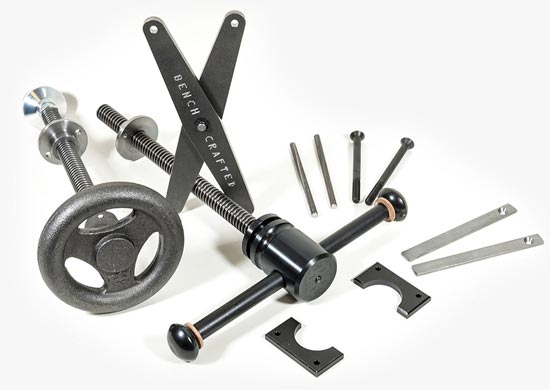 | | |
| --- | --- |
| Origin | Cedar Rapids, Iowa |
| Founded | 2005 |
| Full-Length Opening | 5 to 5 ½ inches |
| Weight | n/a |
Product Origin and Manufacturer Information:
Started in 2005, Benchcrafted, a family-owned business, began with a single product called the Mag Blok. This product was meant to hold your equipment and keep it secure. At the same time, it could even hold some of the heavier hand tools. Benchcrafted originally planned to focus strictly on that product alone, but two years later, they began to produce other products like a workbench and grew the company offering from there.
This company only has around 31 employees and reports an annual income of $6 million per year. They manufacture their products at their factory in Cedar Rapids, Iowa, and all of their products were made in the USA. Benchcrafted earned its respect and reputation as one of the brands with the highest quality.
The company set a goal to study, test, and create products that ensure the best experience. You wouldn't necessarily consider them the cheapest brand, but you can't question the quality of what you receive from them.
My Thoughts and Review:
Designed for strength but compact with onset arms, the Hi Vise uses a single clamping screw that attaches to the table. This differs from traditional vises with how it attaches to the bench. Many woodwork enthusiasts will appreciate the value of the Hi Vise. Benchcrafted uses all of its own vises in its workshop to show you the level of trust in its own gear that they have. They trust in their products well enough to use them themselves.
Some of the things that you might use it for include holding the shape of projects, reducing cumbersomeness for tool use, and maintaining excellent control over projects. The operation of the vise feels smooth, and it holds together well.
We wouldn't recommend this vise for those looking for a low price, however, and you can expect to pay more for it than you would with other choices. With that said, the superior quality has given it an advantage, especially for those serious about their woodworking.
Who We Recommend it for:
The Hi Vise makes sense for individuals serious about their craft and who want quality American-made tools. Its numerous applications will make it invaluable in a workshop. At the same time, we think the product itself looks quite attractive in comparison to some of the other vises that you could buy.
Keep in mind that this vise differs from the more traditional vises and how you would attach it to the bench. That may not make it the ideal choice for everyone, and the higher cost will make this product made for a more specific kind of customer.
This vise has smaller size in comparison to some of the other choices, but it never sacrifices strength. If you're looking for a quality American-made bench vise, this is one of our top recommendations.
Final Thoughts
If you're looking for tools to add to the garage, having a bench vise is an essential piece of equipment. We hope that we have outlined some great American-made bench vises for a variety of needs to meet your requirements. The one thing that we found with the bench vises was how you could buy a reasonably affordable bench vise that was made in the United States. This isn't like air compressors or other products that might cost a small fortune to produce in the US.
Hi, my name is Kevin and I'm from Pittsburgh, Pennsylvania. Choosing products made in America is important to me because it supports local economies, creates jobs, helps the environment, and ensures ethical labor practices. I also find that American made products are usually of higher quality so although they're a little more expensive, you save money in the long run. Before starting this website I was in the USMC infantry and nowadays I work on this website as a hobby.