The United States was once one of the most prolific tool-producing countries in the world, but in recent years, many of the brands that used to manufacture American-made tools have turned to cheaper, offshore production. Despite this trend, there are still many high-quality tools made in the USA.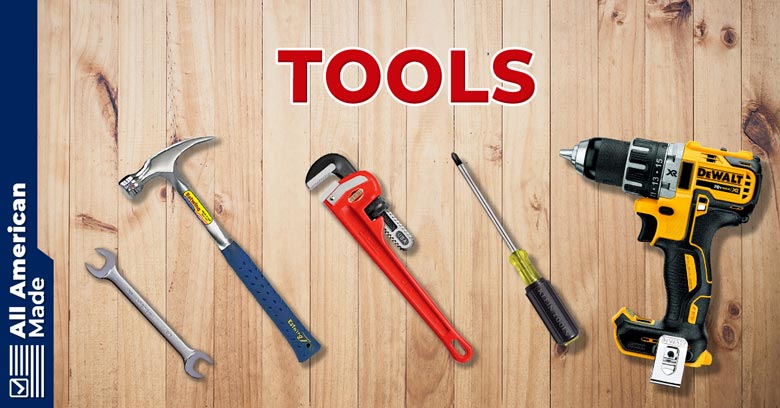 Some tool manufacturers understand the importance of remaining American-made and have admirably resisted the temptation to cut costs by outsourcing their tool production overseas. In the rest of this article, we'll be highlighting those brands and sharing the types of tools they offer. Whether you're looking for hand tools or power tools, there are tons of great options on the list below.
List of American-made Tools
Barr Specialty Tools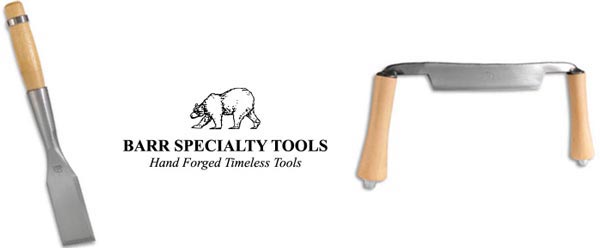 | | |
| --- | --- |
| Year Founded | 1977 |
| Location / Origin | Idaho |
| Types of Tools Offered | Chisels, hammers, knives, mallets, and other hand tools |
Barr Quarton is a trusted handmade tool manufacturer. His journey began in 1977 when he worked as a professional knifemaker and learned from some of the country's most skilled blacksmiths at the time. In 1985, Quarton was offered an apprenticeship with a highly regarded swordsmith from Japan, and this experience further improved his knowledge of working with metals.
Eventually, Barr Quarton used the expertise he had gained through these experiences and began to apply them specifically to hand tools for woodwork. Every tool produced by Barr Speciality Tools is handmade by Quarton, a remarkable feat when you consider how many have been made over the years and the incredible consistency of their quality.
Barr Speciality Tools stand out in the marketplace because they are made with real attention to detail. The manufacturing process includes compressing the steel by hand using hammers, which increases the amount of carbon and thus improves the tool's cutting abilities.
The video below shows Barr Quarton demonstrating how to replace a ring on one of his popular framing chisel handles.
Bondhus

| | |
| --- | --- |
| Year Founded | 1964 |
| Location / Origin | Minnesota |
| Types of Tools Offered | Hex keys, screwdrivers, and other hand tools |
Located in Minnesota, Bondhus manufactures all of its TORX, Ball, and Hex tools a stone's throw from the Mississippi River. The brand's origins date back to the mid-1960s when founder John Bondhus invented a new hexagonal ball end tool, which would later become the legendary Balldriver. The success of this tool propelled Bondhus to new heights, and the company has been a leading force in the industry of ball-end hex tools ever since.
Despite many competitors emerging both in the United States and abroad over the years, Bondhus continues to be regarded as the gold standard when it comes to these types of tools. These tools are used for everything from bike repairs, to guitar repairs, to dentistry tools, all over the world.
In addition to its exceptional range of ball-end hex tools, Bondhus also produces some brilliant TORX wrenches, screwdrivers, nut drivers, and blades. The video below demonstrates the quality of Bondhus wrenches.
Channellock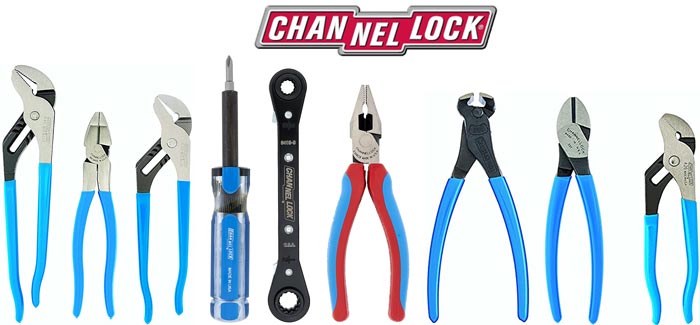 | | |
| --- | --- |
| Year Founded | 1886 |
| Location / Origin | Pennsylvania |
| Types of Tools Offered | Pliers, wrenches, screwdrivers, and other hand tools |
Channellock is one of America's best-known plier manufacturers. The company has existed since 1886, making it one of the longest-standing tool companies in the country. Its story began when George B. DeArment, a skilled blacksmith, began to handcraft tools in his workshop. These tools were in high demand, and DeAment would take his wagon to different towns to sell them. This led to the Champion Bolt & Clipper Company being formed.
Fast forward to 1963, and after many ups and downs, the company was rebranded to Channellock. This name had already been used for one of the brand's most successful sets of pliers, so it made perfect sense to capitalize on this popularity. Channellock patented many innovative designs around this time.
Although Channellock is most famous for its highly respected tongue and groove pliers, the brand also produces high-end screwdrivers and wrenches at its two factories in Meadville, PA. There are over 75 different plier sizes and designs to choose from.
It's important to note that while the vast majority of Channelock's products are manufactured entirely in the USA, a small selection of the company's tools are imported from overseas, but they indicate if this is the case in the product descriptions. If you'd rather avoid a company that isn't exclusively American-made, there are many 100% USA-made companies to choose from in this list.
Chapman Precision Screwdriver Sets

| | |
| --- | --- |
| Year Founded | 2010 |
| Location / Origin | Connecticut |
| Types of Tools Offered | Screwdrivers, ratchets, specialist hand toolsets |
Chapman Tools is a long-standing American tool company which was first established in 1936 in Durham, Connecticut. Remarkably, since then, Chapman has only had three owners, and the brand has continued to manufacture all of its products on US soil.
To illustrate the quality of Chapman Tools' products, during World War II, the US government saw them as being of such paramount importance that they were permanently marked with a price, so that people couldn't make huge profits from reselling them! In the decades that followed, Chapman continued to provide Americans with the finest hand tools and was eventually purchased by Tracy in 2010.
Chapman is a longtime supplier of tools to the US military. The company's most popular products include pocket screwdrivers, dipped ratchets, and purpose-built kits for bicycle repairs, gunsmithing, and fixing sewing machines or typewriters.
In the video below, you can see the fantastic Chapman MFG Master Kit 5575 in action.
Craftsman

| | |
| --- | --- |
| Year Founded | 1927 |
| Location / Origin | Sedalia, Missouri |
| Types of Tools Offered | Select power tools, wrench sets, air compressors, screwdrivers, ratchets, specialist hand toolsets |
Craftsman was originally created by Sears in 1927 and is one of America's best-known producers of hand and power tools. Initially, Craftsman was mostly popular amongst farmers, but as the United States' automobile market exploded, Sears improved the brand to capitalize on the need for high-quality, affordable tools.
Craftsman's popularity was undeniably tied to the success of its creator, Sears, but the tools produced under this trademark soon became highly popular in their own right. Sears even created a loyalty program specifically for Craftsman customers, which began in 1991. In 2017, after Sears, unfortunately, closed all of its stores due to financial issues, the legendary brand, Stanley Black & Decker acquired Craftsman in a deal worth $900 million overall.
Stanley Black & Decker's purchase of Crafstman has reinvigorated the brand's selection of tools. One thing, in particular, that is bound to please lovers of American-made tools is their promise to bring as much of Crafstman's tool manufacturing back to the USA – which was one of the original things that made the brand so special to so many people. With thousands of new tools already introduced to Craftsman's range, it's refreshing to see that many of these products are made in the United States.
Whether you need American-made automotive tools, wrenches, tape measures, or tools storage chests, you can find all of these and more in the revamped Craftsman selection. All of the brand's products that are made in America have a "proudly made in the USA with global materials" image, so make sure you look out for that when exploring Craftsman tools.
Over the years, I've owned and tested dozens of Craftsman tools, and I really like their products. They're also one of the few companies that offer power tools made in the USA. The only thing I wish the company would do differently is to try to make some of their power tools fully in the USA. When the tools are marked "with global materials," it's difficult to know what percent of the components are sourced from America. We also wish that Craftsman made more components for their tools in the USA. Most of the milling and work with machines is done overseas. That said, the company employs a ton of American workers and still does its best to create its products in America while still keeping them competitive in the consumer market. You can learn more about where Craftsman tools are made here.
Dewalt Power Tools

| | |
| --- | --- |
| Year Founded | 1924 |
| Location / Origin | Maryland |
| Types of Tools Offered | Select drills, air compressors, saws, and other power tools |
Dewalt is another one of the most popular tool brands in the world, and they make some excellent American-made power tools.
Raymond E DeWalt first rose to fame for inventing the radial arm saw. In 1927 he formed DeWalt, and the early success of the company led to it first being purchased by American Machine & Foundry Co in 1949, then 11 years later by Black & Decker. However, although DeWalt maintained some success in the decades that followed, it wasn't until the early 1990s when Black & Decker rebranded the company to be their outlet for high-quality power tools suitable for professionals.
The worldwide success that followed led Black & Decker to outsource the manufacturing of DeWalt power tools overseas, but in 2013, they announced that they were going to resume some production in the USA. Some of the parts used to construct these tools are sourced from other countries, but any tool that comes with the "Built in the USA with global materials" label has been manufactured in the United States.
The majority of the tools featured in DeWalt's ever-growing USA-made selection are drills and other power tools. An example of this is the brilliant FLEXVOLT Cordless Hammerdrill & Impact Driver, the 20V MAX Cordless Drill, or the 20V MAX Lithium-Ion 5-Tool Combo Kit.
Overall, if you're looking for power tools made in the USA, DeWalt is one of our favorite brands.
In the video below, you can get more information on DeWalt's USA-made tools and an idea of what the brand has planned for the future.
Eklind Tools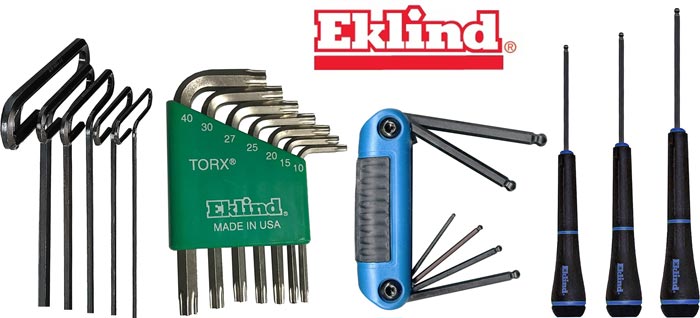 | | |
| --- | --- |
| Year Founded | 1923 |
| Location / Origin | Illinois |
| Types of Tools Offered | Screwdrivers, hex keys, and other hand tools |
Eklind Tools was initially formed in Chicago, Illinois, in 1923 by Ruth and Henning Eklind. After surviving The Great Depression and WWII, the company released a hex key device in 1948, which boosted its popularity considerably. In 1955, the Eklind fold-up hex key sets were introduced, and this innovative design is still one of the brand's most successful today.
Eklind upgraded to a 35,000 sq ft factory in Chicago in 1978, which illustrated its quick rise to the forefront of the tool production industry. 30 years later, after continuing to provide high-end tools to Americans, Eklind upgraded to a 110,000 sq. ft factory in Franklin Park, Illinois. In the years that followed, Eklind released a series of highly successful fold-up hex and Torx tools and continues to be dedicated to making its products exclusively in the United States.
The most popular tools that Eklind produces are Classic Fold-Up Hex Key, and Ergo-Fold Up Hex Key sets. These tools are designed almost identically to the originals released many decades ago, which is evidence of their exceptional, highly functional design.
This video provides a detailed review of Eklind's Precision Hex/Torx screwdriver set.
Estwing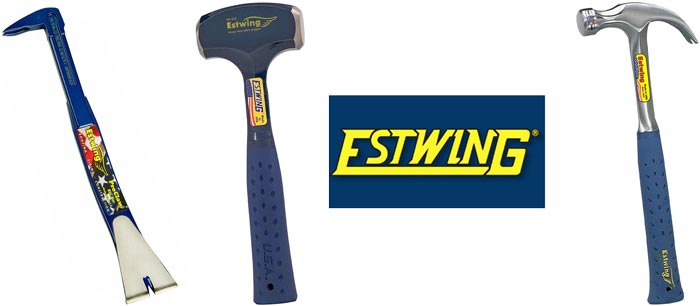 | | |
| --- | --- |
| Year Founded | 1923 |
| Location / Origin | Illinois |
| Types of Tools Offered | Hammers, axes, and other hand tools |
Estwing has been providing tools to Americans since 1923. Based in Illinois, the company specializes in stuck and striking tools, such as aces, claw hammers, nail hammers, and pry bars. Throughout its history, Estwing has consistently manufactured high-quality tools for professional tradesmen and everyday US citizens.
One of the company's most successful inventions was the innovative tool grip that it designed in 2001. This grip managed to reduce shock upon contact, and minimize vibrations, making the tools safer and more comfortable to use. Estwing patented this grip design, and it has continued to win praise in the construction industry.
With such a vast selection of hand tools in its product range, there are options to suit everyone's requirements. The Estwing Claw Hammer is one of the most popular offerings, and the brand also produces an exceptional Drilling Hammer, along with a range of sublime axes. Anyone who ever owned or used an Estwing hammer can attest to their quality. These hammers are built to last and compared to hammers made overseas, they're far better and about the same price. Overall, Estwing easily makes some of our favorite American-made hammers and hand tools.
This video provides a brief overview of Estwing's story and its manufacturing process.
Grace USA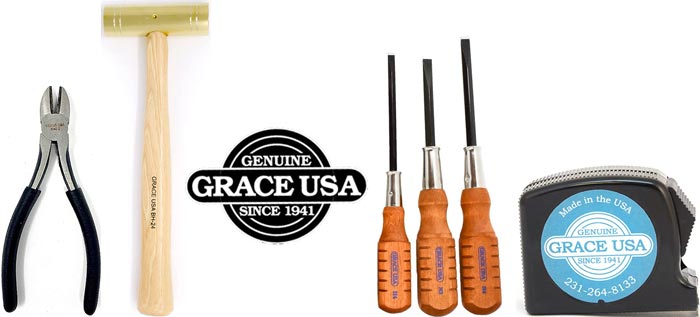 | | |
| --- | --- |
| Year Founded | 1941 |
| Location / Origin | Michigan |
| Types of Tools Offered | Specialist tools for woodwork, gunsmithing, military, and mechanics |
When Edward C. Grace formed Grace Metal Products in 1941, he likely had no idea of the success that would follow. After establishing the company in the construction and metalworks industry, he sold it to his brother-in-law, John D. Morrison, in 1973. Morrison was experienced in the tool industry and began producing a range of drill presses and bench grinders with his son, Dan.
Dan Morrison would eventually take over the company in 1982, with his father acting as its president. Grace USA is a family-run business that puts an exceptional amount of effort and works into every tool it manufactures, and they even handprint the Grace or Morrison on every product.
Grace USA manufactures some of the best gunsmithing tools in America. Furthermore, the company's woodworking tools are also incredibly well made. They offer a range of hammers, hook sets, screwdriver sets, and pliers.
This video highlights the qualities of Grace USA's screwdrivers and allows you to see the stunning details of these tools.
Hardcore Hammers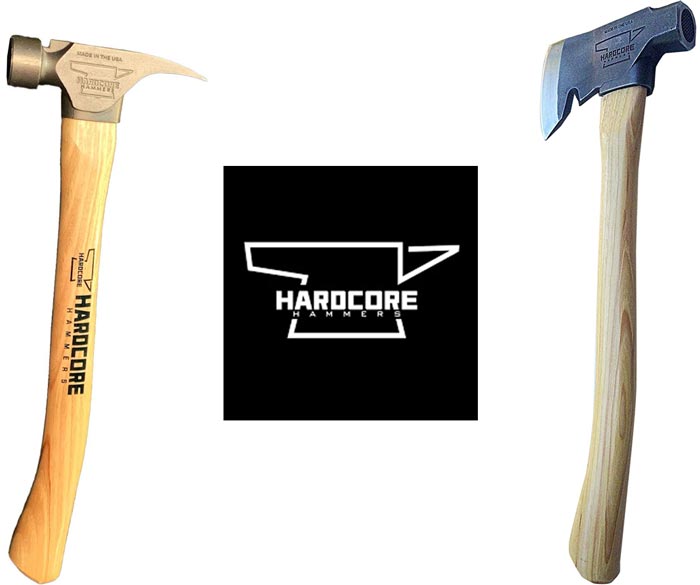 | | |
| --- | --- |
| Year Founded | 2010 |
| Location / Origin | Oregon |
| Types of Tools Offered | Hammers, axes, tire thumpers, and accessories |
Although Hardcore Hammers doesn't have the amount of experience that many of the American tool brands featured in our list since the company were formed in 2010 it has enjoyed an impressive rise. Started by two brothers who had a passion for carpentry and framing, the company released the Original Hardcore Hammer, which was designed for maximum longevity.
With each year that has passed since 2010, Hardcore Hammers has continued to grow in popularity. Also, the range of products produced by the manufacturer has increased significantly, but the exceptional quality of the original remains. In 2020, the brand was able to move into a new 18,00 sq. ft factory in Illinois, and they continue to source all of the materials from the US and make all of the products here too.
Hardcore Hammers is more than just a hammer-producing company – they also offer a range of other USA-made tools. However, the Original Hardcore Hammer is one of the best on the market and is available in many variations. Furthermore, the brand produces an exceptional Carpenter's Hatchet. This video provides a comprehensive review of the company's trademark hammers.
Klein Tools

| | |
| --- | --- |
| Year Founded | 1857 |
| Location / Origin | Illinois |
| Types of Tools Offered | Wide range of hand tools and power tools |
Klein Tools is one of the most illustrious American tool brands in existence. Founded by Mathias Klein in 1857, the company began as a shop in Chicago, manufacturing pliers for the telecommunications industry. In the early 1900s, Klein Tools has already grown considerably and was a well-respected name in the construction industry. It began to produce over 100 different varieties of pliers.
Klein is dedicated to manufacturing its tools in America wherever possible. The company has enjoyed unprecedented success and is regarded by many as the number 1 tool brand in the world. Currently, Klein has eight U.S factories where it manufactures its tools, which include Texas, Illinois, New York, and Arkansas. The sheer size of the company means that a small number of its products are manufactured overseas, and you can get more information on this on the brand's Klein Tools website here.
With such a vast range of tools in its catalog, it's impossible to single out just a few to recommend. Whether you're looking for high-quality, USA-made pliers, screwdrivers, power tools, or other equipment, Klein has got you covered.
This video explains Klein's dedication to keeping its manufacturing process based in the USA and why this is so important to them.
Montana Brand

| | |
| --- | --- |
| Year Founded | 1990 |
| Location / Origin | Montana |
| Types of Tools Offered | Cutting tools, drills, and various accessories |
Montana Brand, as the name suggests, produces all of its tools in Ronan, Montana. The company is owned by Rocky Mountain Twist, and its products are the result of a long history of producing accessories for power tools
Designed for longevity and efficiency, Montana's power tool accessories are made using modern technology. CNC machinery is an integral part of the process, and the company only uses the finest materials to create its tools. Another innovative aspect of the design process is the use of cryogenic treatment, which is a scientific process that increases the number of carbides in the materials, causing them to harden and become more durable. Not only is this process highly effective, but it is also environmentally friendly.
Montana Brand produces a wide range of drill drivers, diamond cutting tools, and other power tool accessories. The company's titanium-coated drill bits are excellently made, and the 53-piece Woodworking Drill & Drive Set is another great product.
In this video, you can find an in-depth breakdown of the Drill, Driver & Plug Cutting Set by Montana Brand.
Moody Tools

| | |
| --- | --- |
| Year Founded | 1909 |
| Location / Origin | Rhode Island |
| Types of Tools Offered | Screwdrivers, wrenches, probes, and many other hand tools |
The owner of Moody Tools, Central Tools, Inc., was founded in 1908 and enjoyed many decades as one of America's best-known measuring tool manufacturers. Originally, Central Tools specialized in micrometers, but in the 1940s, the company branched out to other measuring tools. In 2012, Moody Tools was acquired by Central Tools, Inc. and was relocated to the manufacturing facility in Cranston, Rhode Island.
Moody Tools produces some affordable, high-quality screwdriver sets, wrenches, probes, and spring positioners. The manufacturer's product range isn't particularly extensive, but the tools offered are made to a good standard and won't cost you a small fortune!
The video below reviews a variety of precision screwdriver sets, including an offering from Moody Tools.
Rocketsocket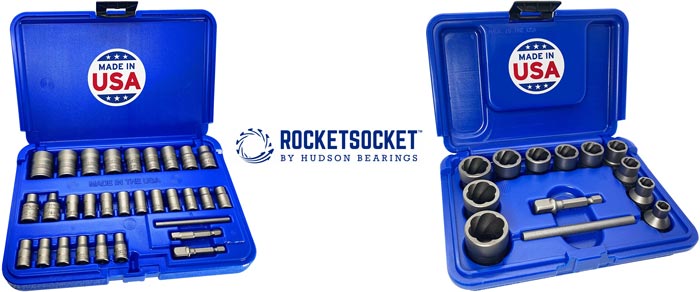 | | |
| --- | --- |
| Year Founded | 1969 |
| Location / Origin | Texas |
| Types of Tools Offered | Socket sets |
Rocketsocket is a brand owned by Hudson Bearings. The company was created in 1969 and specializes in creating socket sets for the removal of worn-out, stripped screws, bolts, and nuts.
The Rocketsocket is regarded as one of the best tools of its kind, and no matter how worn out or rusty the screw, bolt, or nut is, it is up to the challenge. Furthermore, the tools are made exclusively in the USA. It's the type of tool that will make you wonder how you ever coped without it!
The video below provides you with an honest review of the Rocketsocket.
SK Tools

| | |
| --- | --- |
| Year Founded | 1921 |
| Location / Origin | Illinois |
| Types of Tools Offered | Air tools, ratchets, wrenches, screwdrivers, and tool boxes |
Jay Leno once described SK Tools as an "iconic American brand for decades." Innovation at the company has always been cutting edge, and in 1934, Theodore Rueb invented the fine-tooth round-head ratchet. Throughout its history, the company has innovated, but it filed for bankruptcy in 2010 after 90 years in business and a handful of owners.
The new owner committed himself to an exclusive lineup of tools made in the USA. SK Tools operates two manufacturing facilities in the United States—they have one in Sycamore, Illinois, and one in Colorado Springs, Colorado. Technically, SK Tools is now a Chinese owned company under Great Star, but as long as they remain committed to US manufacturing, they create jobs for the United States.
Today, they make over 3,000 of their tools in the United States (  https://www.linkedin.com/company/sk-hand-tool-corporation/) making them an awesome American-made company to check out. However, we would keep an eye on this one to ensure that they continue to make American-made tools.
With the biggest selling point of SK Tools being its manufacturing origin, we think that it will remain an American-made brand. We think people should also know how they source US steel in their tools, which props up the struggling American steel industry.
Snap-on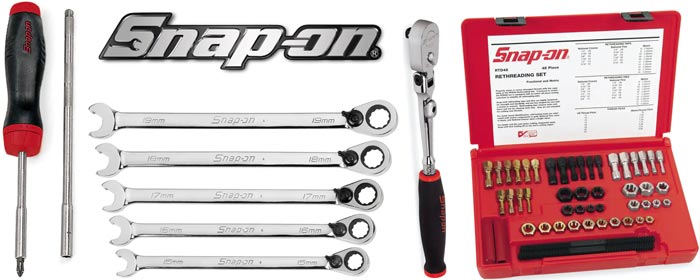 | | |
| --- | --- |
| Year Founded | 1920 |
| Location / Origin | Wisconsin |
| Types of Tools Offered | Wrenches and other hand tools |
Snap-on is a world-famous tool manufacturer that boasts over 100 years in the industry. Founded by Joseph Johnson and Bill Seidemann in Milwaukee, Wisconsin, the brand originally specialized in wrenches. Today, the brand is one of the leading suppliers of tools to a range of industries, including railroads, automotive, and aviation.
Despite having a history rooted in America, Snap-On manufactures only some of its tools in the United States. Thankfully, most Snap-on tools are manufactured in America, but unfortunately, many of their drills and other power tools are made in China or other countries.
One of the most impressive things about Snap-On is the number of locations in the USA where they manufacture their tools. This includes facilities in Iowa, Illinois, California, Arkansas, Tennessee, Alabama, Kentucky, Wisconsin, North Carolina, and New Hampshire.
Snappy Tools

| | |
| --- | --- |
| Year Founded | 1962 |
| Location / Origin | Texas |
| Types of Tools Offered | Various power tool accessories |
Snappy Tools has proudly manufactured all of its drilling accessories and other products in the USA since it was founded in 1962. This family-run business has been handed down through the generations, from grandfather to father, to sons. The brand currently operates out of Texas and is renowned for its high-end drill bits and other power tool accessories.
Responsible for the exceptional ¼-inch hex power bit shaft that is used on the vast majority of the company's tools, Snappy has made a significant impact in the industry across the United States. Furthermore, it focuses on making its tools efficient and easy to change so that no time is wasted.
Snappy Tools offers drill bits and accessories to suit any type of drill or application. You can get full drill bit sets at an affordable price or purchase singular drill bit adapters. The Quick Change Chucks that Snappy manufactures are highly convenient and make it easy to change between drilling and driving.
This video is very useful if you want to get a clear overview of the quality of Snappy's interchangeable drill bit sets and how they work.
Stanley Black & Decker

| | |
| --- | --- |
| Year Founded | 1843 |
| Location / Origin | Connecticut |
| Types of Tools Offered | Wide range of power tools and hand tools |
In 2010, Stanley and Black and Decker tools officially merged, making it the largest tool manufacturer in the world. Stanley Black & Decker produces every kind of tool that you could need, for every aspect of construction or maintenance. In recent years the company has been increasing the production of tools in the USA, but be aware that even today the majority are not made in the USA. According to the Stanley Black and Decker Website, about 40% of the tools they sell to the USA market are made in the USA with global materials. Due to the sheer size of this company we wanted to include them on this list even though, unfortunately, they do make many of their tools overseas.
While this company is undeniably an American success story, it would be impossible for them to produce the number of products that they do without manufacturing some of them overseas, especially some of their power tools.
Stanley Black & Decker's mission is to remain as American-made as it possibly can, fulfilling its goal to create jobs and opportunities for the American people, and provides some details on how they are achieving that. Nevertheless, they do outsource a lot of the manufacturing of products overseas, so be sure to check out the individual details of each product.
This interesting video tells the story of Stanley Black & Decker's journey.
Related Article: What Bench Vises Are Made in the USA?
Vaughan & Bushnell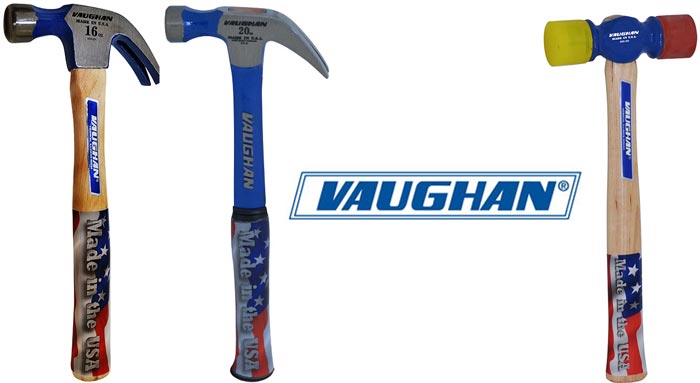 | | |
| --- | --- |
| Year Founded | 1869 |
| Location / Origin | Illinois |
| Types of Tools Offered | Hammers, axes, pry bars, saws, and other hand tools |
With a rich history dating back to 1869, Vaughan & Bushnell is one of America's best-known tool manufacturers. Founded by Alexander Vaughan in Illinois, the company initially produced custom tools for professionals, and before long, his creations were in high demand. After enjoying success and selling tools around the Mississippi and Missouri areas, the Great Chicago Fire wreaked havoc on the company in 1871. As a result, Alexander Vaughan turned to investor Sidney Bushnell, and the company was renamed Vaughan & Bushnell Mfg.
Throughout the company's history, four men from the Vaughan family have been at the helm. Today, they create some of the finest American-made tools, offering everything from straight claw hammers to bear saws and steel axes.
In this video, you get an insight into the manufacturing process of Vaughan & Bushnell's popular claw hammer.
Wilde Tool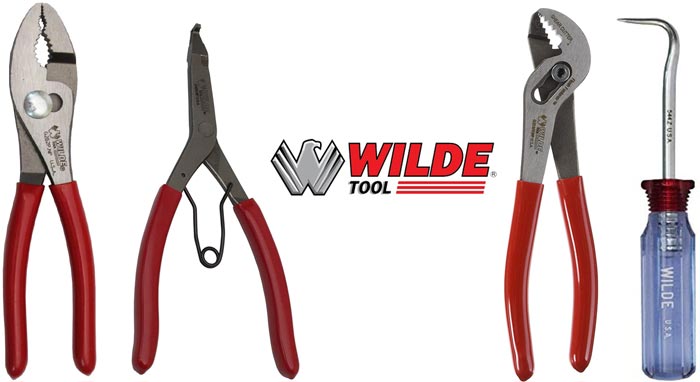 | | |
| --- | --- |
| Year Founded | 1922 |
| Location / Origin | Kansas |
| Types of Tools Offered | Chisels, screwdrivers, wrenches, and many other hand tools |
Almost a century ago, two brothers came up with an idea to change the design of standard straight pliers. They turned the nose slightly to 32 degrees and found that this small adjustment made a huge difference to the grip strength and power that the pliers offered. This resulted in the very first Wilde Wrench, which originated in Kansas City, Missouri. Today, the Wilde Wrench is still as popular as ever, and the company is proud to make its products in the USA. It has been passed through the generations and retained the original customer-first ethos when designing a range of high-quality tools.
Wilde is undoubtedly best known for its innovative plier pliers, but it also produces a vast selection of capable tools. These include diagonal cutters, mason chisels, screwdrivers, nail sets, and a range of service tools. Wilde Tools continues to manufacture all of its hand tools in Northeast Kansas. In the video below, you can see a review of Wilde's Flush Fastener Pliers.
Related Article: What gardening tools are made in the USA?
Xuron Corp

| | |
| --- | --- |
| Year Founded | 1971 |
| Location / Origin | Maine |
| Types of Tools Offered | Electronics-grade hand tools |
Xuron Corp was founded in 1971 and has gone on to become one of the world's leading manufacturers of hand tools for a variety of industries. All of its tools are manufactured in Maine, and the company is proud to be completely American-made.
Some of the industries that Xuron Corp supplies hand tools to include the fishing industry, wire processing, jewelry making, electronic manufacturing, and plastic molding.
Xuron Corp offers a range of consumer and industrial tools, all of which are made in the United States. The company's industrial products include the impressive LX Micro-Shear Flush Cutter for electricians. In the consumer range, Xuron offers some fantastic toolkits for metalsmiths.
Here's a video demonstrating the outstanding quality of Xuron Crop's Micro Shear Flush Cutters.
Factors We Considered
As you can see from this list, despite the trend of American tool manufacturers turning to cheaper foreign manufacturing, there is still a significant number of companies that produce high-quality products in the USA.
To compile this list, the All American-made team considered a variety of factors. Here's a breakdown of some of the most important things to bear in mind when looking for American-made tools.
Hand Tools
This list is predominantly made up of USA brands that specialize in manufacturing hand tools. Some of the brands only produce a small number of hand tools, but we've included them because this often means that they put all of their energy and focus into this particular tool, which results in a better quality product.
Other tool brands offer an extensive selection of hand tools, which may include hammers, screwdrivers, axes, wrenches, mallets, saws, and more. These types of brands are likely to be more affordable than specialist, handcrafted tool manufacturers.
Power Tools
In addition to the hand tools featured in this guide, we also included some of the best American power tool companies. Power tools are used for a range of purposes, including construction, gardening, and maintenance. Many of the power tools that we use today were invented in the USA in the past century, and there are still several manufacturers who produce these products in America.
Power tools include drills, electric saws, sanders, grinders, lathes, planers, compressors, and other rotary tools. They are often much quicker and more effective than hand tools for certain tasks.
Toolkits vs Single Tools
In the long run, it is often cheaper to buy full tool kits rather than buy standalone hand tools when you need them. You can get full sets of screwdrivers, drill bits, wrenches, and other tools from most of the manufacturers we've listed. It's always a good idea to have spare tools and equipment ready in case something breaks or gets misplaced when you need it the most. Purchasing a toolkit can ensure that you always have enough equipment to complete the task at hand.
Handmade & Specialist Tools
Tool manufacturers that specialize in one specific type of product are likely to be more expensive than brands that mass produce large amounts of tools. These specialist manufacturers are also less likely to offer toolsets, as most of the products they make will be mand made by a small team or even one person. However, the advantage of buying from a specialist, handmade American manufacturer is that the tools they produce are likely to be of much better quality than a cheaper, factory-made tool.
We included a variety of tool brands in this guide because some people may need to save some of their budget for other equipment. Others may be willing to pay extra to get a higher quality tool from a USA manufacturer that takes more time to produce its products and operates on a smaller scale than larger corporations.
Materials
Tools are made from a vast range of materials, depending on the specific purpose and design. Common hand tools like hammers are commonly made from steel, which is heat-treated to make it more robust. The handles are either made from wood or plastic in most cases. Likewise, a good quality USA-made screwdriver is likely to be made from hardened steel, with a metal, wood, or plastic handle, depending on the quality. Good quality pliers are commonly made from steel alloys, with some chromium added in to make them more resistant to corrosion.
A skilled tool manufacturer will be able to create high-quality products using a range of materials, so the important thing to look out for is how the materials have been treated and prepared. If a lot of care has gone into the design and building process of the tool, the chances are it will be of good quality.
Origin
When identifying the tool companies to include in our comprehensive guide, we researched them thoroughly to find out exactly where the tools are made. The majority of brands featured in this list manufacture their tools entirely in the United States – that means every step in the process happens on American land.
We included a small number of brands that manufacture their tools almost completely in the USA, but not entirely. We made sure to state this in the information on the brands, and we only included them if they produced a high enough number of USA-made tools to warrant being included on this list.
Final Thoughts
The All American-made team has put together this guide to the best tools made in the USA so that you can quickly find a reputable brand to provide you with the products you need. With so many tool manufacturers out there, it can be difficult to find high-quality options. If you have any questions or comments about the information in this article, feel free to leave them below, and we'll respond as soon as possible!
Hi, my name is Kevin and I'm from Pittsburgh, Pennsylvania. Choosing products made in America is important to me because it supports local economies, creates jobs, helps the environment, and ensures ethical labor practices. I also find that American made products are usually of higher quality so although they're a little more expensive, you save money in the long run. Before starting this website I was in the USMC infantry and nowadays I work on this website as a hobby.