If you're anything like me, a great day starts off with a great cup of coffee, and you can't have amazing coffee without a quality coffee machine. American made coffee makers are known to be of higher quality than those made overseas and are often made using safer materials, like metal or plastics that are BPA-free.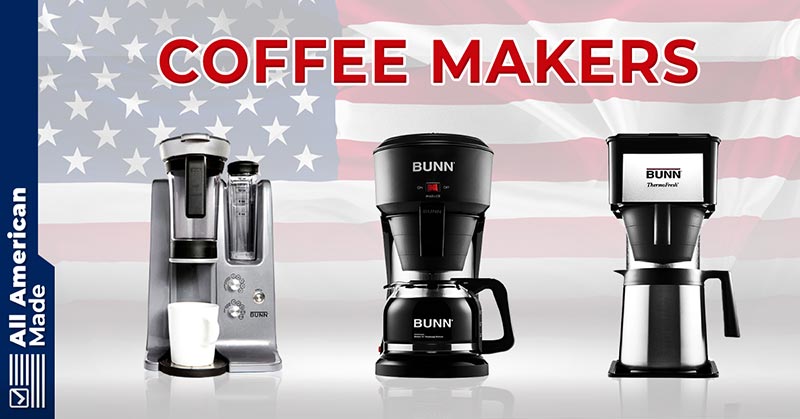 In the rest of this article, we'll be bringing you a great list of coffee makers made in the USA that will help you get the perfect pour for your coffee regimen.
List of American Made Coffee Makers
BUNN GRB Velocity Brew Coffee Maker (Great Value)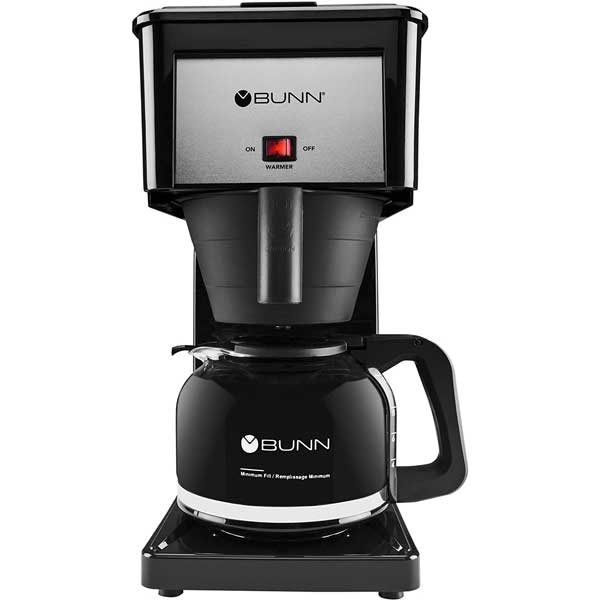 | | |
| --- | --- |
| Estimated Price | $115 |
| Size | 14.8 x 7.1 x 13.8 inch |
| Capacity | 20 ounces-50 ounces |
| Colors Available | Black |
| Company | Bunn |
BUNN's Origin and Manufacturing Locations
Bunn has been a household name in the coffee industry for decades because they make affordable coffee makers in America and deliver them at a more than fair price. George R Bunn Jr decided to start the company in the mid-1970s after he realized that almost no coffee makers were being made in America and that many people were unhappy with current options on the market.
You can enjoy Bunn products in restaurants and homes across the country. Bunn creates specialty products that cater to all of your beverage needs: including coffee makers for the home, industrial coffee makers, tea makers, and much, much more. We will be covering many coffee makers that BUNN makes because, honestly, they are one of the only companies that actually make coffee makers in the USA. Another thing we like is that Bunn-O-Matic is still proudly family-owned and operated to this day.
What We Like and Don't Like About BUNN GRB Velocity Brew Coffee Makers
As mentioned, we don't many great options when it comes to coffee makers that are fully American-made. Even Bunn coffee makers have parts sourced outside of the USA, meaning they are technically "made in the USA with global materials."  While we wish Bunn offered fully American-made options, they still hire a ton of American workers, so they're worth supporting, in our opinion.
Overall, we are absolutely blown away by the consistency, quality, and unbeatable price-for-product combination that Bunn has mastered.
This is Bunn's fastest maker on the market, using Bunn's precision techniques to get your full 10-cup pot brewed in exactly 3 minutes. Average machines can range anywhere from 4 to 7 minutes – but Bunn knew that you would need that extra time to get out of the door in the morning, whether you're a busy mom, employee, or someone who just can't wait for that steaming cup of deliciousness!
The black surface and streamlined design make this a perfect addition to your kitchen countertop. It's perfectly compact and efficiently created to give you the power of an industrial coffee maker in a quarter of the size. The entire machine only weighs 8 pounds, making it easily accessible and a breeze to place in your home or motorhome.
The carafe utilizes a drip-free design that is proprietary to Bunn's design process, giving you the traditional pot brewing method of the drink while minimizing the downsides of the presentation. No drips, no mess, and countless minutes (and paper towels) saved!
Bunn's advancement in the water spray nozzle allows you to get the most from your favorite grind, bringing you extra flavor, natural antioxidants, and caffeine in every cup! Water flows evenly over each grind and helps the process be both efficient and delicious. Traditional machines use less intrusive soaking methods, which compromise the quality of your beans and your brew.
Backed by Bunn's three-year warranty, this machine is the perfect gift for any coffee lover in your life – whether they are new to the craft or a seasoned expert. Let Bunn make your morning routine better, and pick up a BUNN GRB Velocity Brewer today!
Bunn BX Speed Brew 10-Cup Coffee Brewer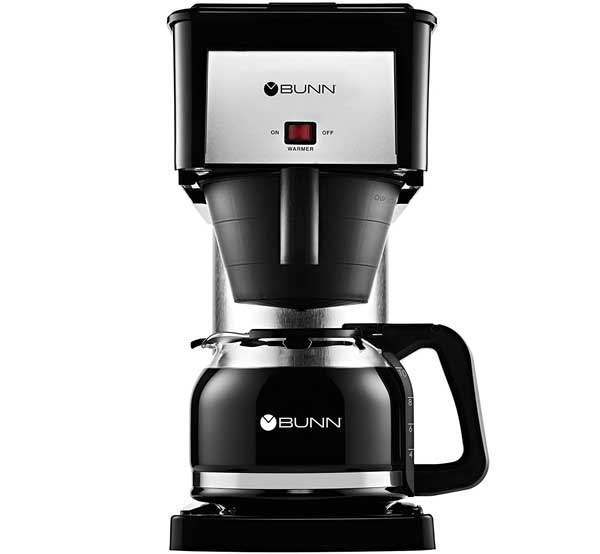 | | |
| --- | --- |
| Estimated Price | $110 |
| Capacity | 4 Cups (20 oz) & 10 Cups (50 oz) |
| Dimensions | 13.8 x 7.1 x 14.3" inches |
| Colors Available | Black |
What We Like and Don't Like About Bunn BX Speed Brew 10-Cup Coffee Brewers
If you liked the first coffee maker on this list, this coffee maker has all the same features, just different housing. This sleek machine can brew your coffee quicker than it takes for you to get ready – boasting a rate of the equivalent of 10 cups in just three short minutes. This is made possible by the efficient brewing method that Bunn has used in their products for years – delivering the quality that is demanded by countless hardworking American professionals.
Bunn utilizes a streamlined design for its spray heads that properly soaks each ground. This process pulls the most flavor possible from your grinds, allowing all of the delicious undertones to drip into each cup of brew. This is partnered with a quality interior thermostat, allowing automatic tracking of temperature to keep your coffee at the ideal range for maximum flavor and caffeination.
As with other Bunn designs, you'll enjoy the added benefit of a vacuum-sealed, double-walled, and professionally insulated carafe. This is one of the details that has set Bunn apart in the industry for several decades!
You'll also enjoy a North American-Standard electrical system that works at 800 watts. This keeps your coffee at the ideal temperature of 200 degrees Fahrenheit, which allows for the natural oils to seep out of each grind.
This coffee maker is ideal for a caffeine addict in your life. This is especially useful for the busy businessperson or sleepless entrepreneur – just based on the power and speed capacity alone. You'll enjoy coffee in three short minutes on your way out the door or to the gym, and its simple carafe system makes cleaning a breeze. This is great for the entry-to-mid-level coffee lover in your life, for ease of access alone!
Bunn BT Speed Brew Home Brewer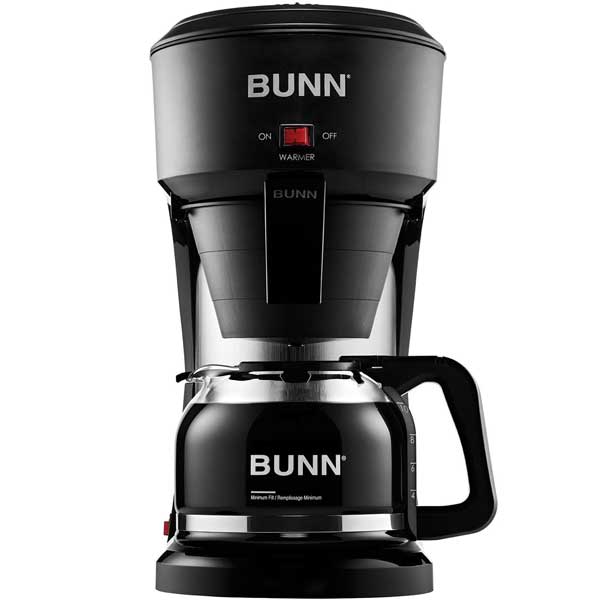 | | |
| --- | --- |
| Estimated Price | $135 |
| Capacity | 4 Cups (20 oz) & 10 Cups (50 oz) |
| Dimensions | 14.5 x 7.5 x 14.5 inches |
| Colors Available | Black |
What We Like and Don't Like About Bunn BT Speed Brew Home Brewers
Whether you're a busy business executive, a mom on the go (or just someone who wants their coffee the instant their eyes open in the morning,) this coffee maker is for you! Proudly made in America, this offers you a consistent and trustworthy solution to your need for speedy morning brews.
This machine uses Bunn's premiere technology and implements its innovation of speed brew. This not only provides you coffee in seconds, but it ensures that the proper temperature and timing are used every time. This helps you to avoid bitter, badly timed espresso or delays in the brewing process.
Bunn's speed-brewing process has hot water kept at the boiling hot temperature of 200 degrees Fahrenheit on-demand, ready and waiting for you to press "brew." At that point, the water hits the grounds instantly, perfecting the drip timing and delivering you a delicious piping hot cup. You don't have any safety concerns with this product, as it features an on-and-off switch that you can use if you plan to be away for an extended period of time.
This process also allows the coffee grounds to stay in constant motion in the brewing process through a motion plate in the system. This process provides you with higher-quality coffee, as opposed to other machines that leave the grounds compacted into a puck at the bottom of your filter. This allows you to maximize the flavor you get in each sip and remove any lingering bitterness. This is washed away with the steady stream of hot water that washes over each ground, coating all surface areas and bringing you nothing but flavor.
This coffee maker is exceptionally easy to use, which is great if you find yourself constantly short on time or wanting to avoid extra steps. This is also a great machine for those new to the coffee scene who just want to enjoy quick and amazing brews.
You'll also enjoy a manufacturer's warranty and concierge customer service should you ever need to use it. If you're looking for coffee makers made in the USA that are under $200, this is one of my top recommendations.
BUNN Speed Brew Elite Coffee Maker (Fast Speed Brew)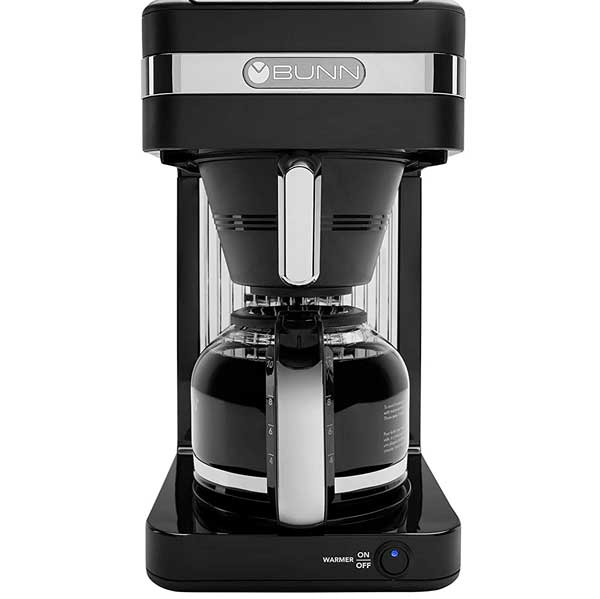 | | |
| --- | --- |
| Estimated Price | $130 |
| Size | 13.8 x 7.7 x 12.7 inch |
| Capacity | 20 ounces-50 ounces |
| Colors Available | Black |
| Company | Bunn |
What We Like and Don't Like About BUNN Speed Brew Elite Coffee Makers
Another installation in the Bunn lineup, the Speed Brew Elite is really just an updated and more aesthetically pleasing variant added into the Speed Brew collection. It has the same instant-on function that we have come to know, love, and use on a daily basis, as it contains 70 Ounces of water that is kept hot all the time, ensuring you can grab and go a fresh pot of coffee whenever you like, in just a few minutes.
The main selling point is the spray head, which replaces that odd-sounding and inefficient burping method for a more even spray of water over the coffee grounds, making sure you get the full flavor and full use of your coffee each and every time.
I will mention, and this goes will all of the Speed Brews, that the comments and user experience do seem to vary quite a bit across different people. For me personally, I love the Speed Brew, I think it makes a great pot of coffee, and I've had essentially no issue with the several models I've owned, but you'll find a lot of people claiming these make "weak brews" or that they make "brews too strong." How can it be both at the same time? Well, people have different tastes and honestly, some people are just impossible to please. My honest opinion is that the Speed Brews from Bunn are actually a very happy medium, which is where I wanted my coffee to be anyways, so hopefully, you can find what your tastebuds are looking for and, if it's within the Speed Brews capability, then you'll save a few minutes per pot as well.
Related Article: Coffee Mugs Made in the USA (Source List)
Bunn BT Velocity Brew (Great Always On Brewer)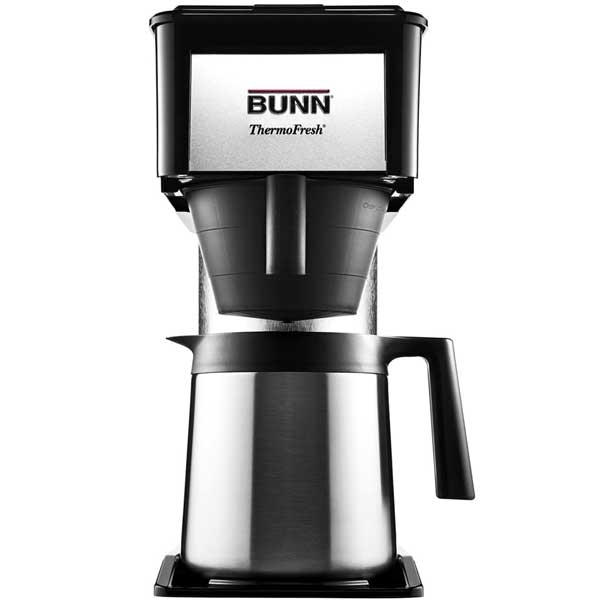 | | |
| --- | --- |
| Estimated Price | $270 |
| Capacity | 50 Fluid Ounces |
| Dimensions | 9.25 x 2 x 14.25" inches |
| Colors Available | Black |
What We Like and Don't Like About Bunn BT Velocity Coffee Makers
This Bunn speed brew offers you high-quality coffee in a flash, literally. Bunn is known to produce high-quality products that provide you with a consistent quality brew for years to come. This coffee maker is designed with the consumer in mind, ringing in at a lower price than other Bunn models but not compromising the quality and speed you need to get out the door in the morning.
This model doesn't include the insulated carafe that Bunn has on other models, which brings this model in at a lower price than other models. This provides a unique opportunity to homeowners who are on a budget but still want a high-quality coffee machine that was built for longevity.
The streamlined design and compact construction allow it to fit seamlessly into any design scheme and are perfect for people with little to no counter space or in smaller living spaces. Bunn has perfected this type of construction and has proven time, and again that size doesn't matter – you can have a powerhouse of a machine in a small area of space.
This machine is perfect for the coffee lover who craves their morning ritual but is looking to shop on a budget. This also caters to coffee aficionados who need their coffee sooner rather than later, incorporating the speed and quality that you need for your coffee maker. Overall, this is easily one of the best American Made Coffee makers out there right now.
Bunn CSB3TD Speed Brew High Altitude Coffee Maker (Great High Altitude)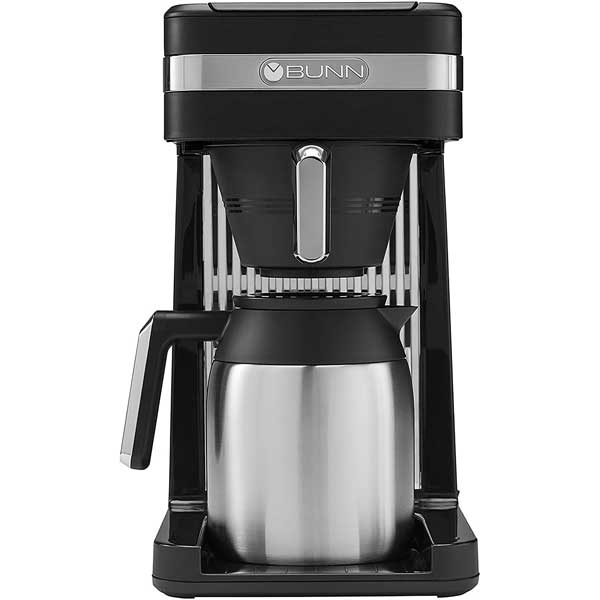 | | |
| --- | --- |
| Estimated Price | $150 |
| Capacity | 50 Fluid Ounces |
| Wattage | 900 Watts |
| Colors Available | Stainless Steel |
What We Like and Don't Like About Bunn CSB3TD Coffee Makers
Whether you're an adventurer road-tripping in your cozy RV or enjoying your hot cup of motivation high in the beautiful American mountain ranges, this coffee maker is for you. The Bunn CSB3TD Speed Brew High Altitude Coffee Maker is designed for use above 4,000 feet. While other coffee makers strain under altitude, you won't have to worry about poor water pressure compromising your grinds – or general underperformance. This model of Bunn coffee maker is meant to handle those problems of the past…and it does so with ease.
With this product, you'll enjoy maximum insulation with its commercial-grade stainless steel hot water tank. This is perfect for when those temperatures drop and you're looking for a nice cup of piping hot coffee to cozy up with. The BUNN CSB3TD combines both seamless design aesthetic and functionality, incorporating a double-walled design into the timeless stainless steel carafe.
The carafe is vacuum insulated and specifically designed to retain the perfect heat for your brew for over 2 hours in colder climates and higher altitudes. The heater in the coffee maker is designed to keep your water piping hot and ready for use and keeps this temperature safe for up to four days! If you plan to be away, or you want to minimize the electricity used, simply turn off and unplug your machine for easy storage.
You can tailor the amount brewed to your specific preference. After all – some of us prefer more coffee in the morning than others! The capacity stands strong at 50 fluid ounces, so you can determine if you'd like a travel cup worth or a full pot to take on your morning.
The Bunn-specific design of the spray head allows each ground to be sufficiently doused in the piping hot stream. This is critical for multiple reasons, the top reason being that this process allows for maximum flavor (and caffeine!) extraction. Grounds require agitation and total coverage in order to properly release their natural oils and flavors into your brew. Other machines may not have the same spray system that provides adequate coverage and agitation, which can lead to weaker brews.
One feature I love about this coffee maker can brew a full pot in a fraction of the time of other top models. This is perfect for a busy mom, a tired employee, or anyone who wants to get up and go in their morning – incorporating coffee quickly into their morning routine.
For this style of model and the speed, ability, and functionality it brings to users, the price point is definitely worth it. Other less-optimized models go for more, and you can enjoy more coffee, hotter coffee, and quicker coffee for just a fraction of the price! As far as coffee pots made in the USA go, this one is hard to beat.
We've had so many Bunn products on this page so far, so if you'd like to see a video comparison, check this out:
Bunn Trifecta MB Brewing System (Most Advanced Home Brew Option)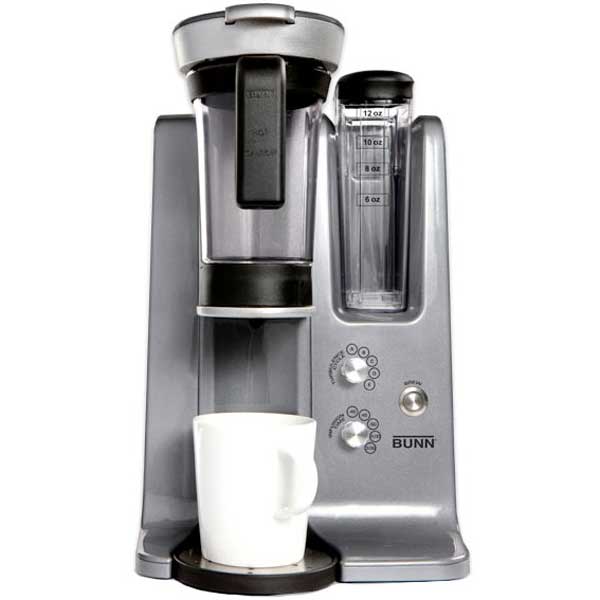 | | |
| --- | --- |
| Estimated Price | $565 |
| Capacity | 6-12 oz Batch |
| Material | Plastic & Stainless Steel |
| Colors Available | Black |
What We Like and Don't Like About Bunn Trifecta MB Brewing Systems
Bunn machines are meant to last. After reviewing several glowing reports of family and loved ones who have enjoyed their machines for years, I felt inspired to consider buying one myself. The machine truly is the trifecta and offers coffee connoisseurs everywhere a variety of options for their daily coffee.
The Trifecta machine comes equipped with 25 pre-set brew settings. Their goal in such an impressive array of personalized ratios and settings was to encourage each user to explore the world of coffee and to create a unique tonal microbrew. This is a matter of personal preference, and Bunn knows that experimenting is key. The sky truly is the limit with this machine.
Versatility is something that the Bunn Trifecta MB is known for. You can choose an immersion time ranging from 40 minutes to a simple 3, and experiment to learn how to get the most beautiful and clear flavors out of your grounds and tea! Bunn doesn't want you to feel limited, which is why you can also brew loose-leaf tea effortlessly with the Trifecta.
You can sip confidently, knowing that with each use, you maximize the life, fragrance, and flavor of your grounds or tea leaves. Using their exclusive technology, the press-out process uses a very fine mesh screen. This allows the maximum amount of flavor, oils, and aromatics to exit the grounds and filter into each cup. Enjoy incomparable flavor in each sip!
One of the most unique features of the Bunn Trifecta is its turbulence cycle. While many other machines simply agitate the grounds and move on to the next portion of the brewing process, the Trifecta has a unique start-and-stop agitation pattern that can allow for the maximum possible extraction of your brew. You shouldn't compromise flavor, ever… and the turbulence element of the Trifecta's brewing process ensures that you get the highest quality of flavor available.
Overall, the Trifecta is an amazing choice for yourself or another coffee enthusiast in your life! If you've been a longtime lover of caffeine and want the chance to find a new brew to adore, this is the machine for you. This machine can take you on a journey of discovery as you fall back in love with the simplicity and diversity of tailored microbrews.
Equipped with a sleek design and boasting possibly the most diverse array of brew settings and groundbreaking agitation innovation, you'll never regret purchasing the Bunn Trifecta MB brewing system.
Ratio Eight Coffee Maker & Brewing System (Most Aesthetically Pleasing)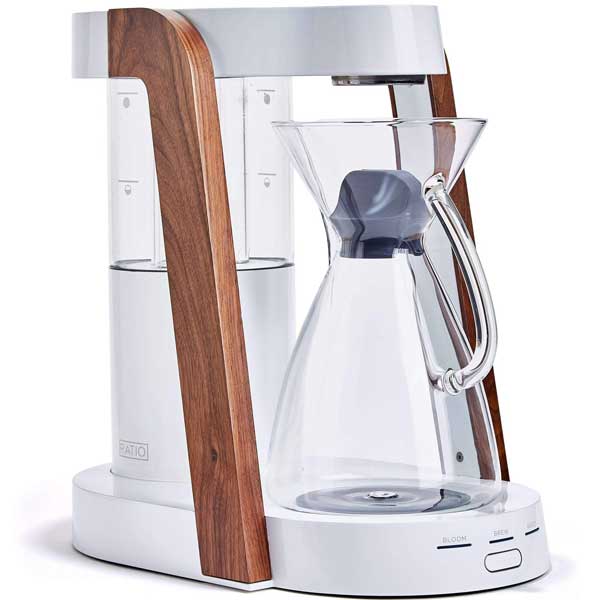 | | |
| --- | --- |
| Estimated Price | $500 |
| Weight | 12 Pounds |
| Material | Glass, Hardwood Elements & Die-Cast Aluminum |
| Capacity | 40 ounces |
Ratio's Origin and Manufacturing Locations
Ratio is currently located in and manufactures all products through its headquarters in Portland, Oregon. Arguably one of the heartbeats of modern-day coffee culture, founder Mark Hellweg dreamed of a day when he wouldn't have to sacrifice the artistic and beautiful elements of the coffee-making process for speed, efficiency, and simplicity.
He believed that you could have a coffee maker that did it all in one simple process that would provide quality brew every time. With this company ethos in mind, the Ratio line of handmade coffee products entered the market in late 2012, nearly a decade ago.
What We Like and Don't Like About Ratio Eight Coffee Maker
Ratio produces cutting-edge clean designs with ease. Their focus is on user experience, and they highlight this by pouring their heart and soul into the clean and minimal design of each product. Currently, they are accepting pre-orders for the Ratio Eight, their newest long-anticipated machine.
Ratio has allowed users to fully customize their machines in three colors: black, white, and stainless steel, with their classic hardwood accents that make their products appear gorgeous and effortless. Their site also offers delayed payment options via their partners at Afterpay in order to be more accessible to their client base. This alone makes Ratio an ideal partner to buy from if you're a coffee lover on a budget.
The precision in this machine creates a powerfully simplistic experience that will change your coffee game – forever. With a single press of a button, water is heated to 200 degrees Fahrenheit for maximum flavor extraction. The water then flows through the stainless steel system for direct exposure and dispersion on each and every ground – metered with precision through the blooming process and finishing off with the cleanest pour you've ever seen.
Ratio's claim to fame is the pour-over experience without the work and time that it requires. Your life is busy – and Ratio has designed the Ratio Eight coffee brewing system to integrate into your morning routine without adding additional steps. You can sip healthfully, enjoying water housed in BPA-free housing and avoiding unwanted health effects.
The machine sits beautifully on whatever counter or table space you use in your home, sitting as a statement piece in its own right. The unique and aesthetically appealing look is due in part to the hand-blown glass element of the carafe, using borosilicate glass best known for its durability in the lab setting and additional heat-resistant properties.
Overall, this machine delivers a flawless and beautiful presentation in each brew. The design highlights the true art that coffee making can be and is perfect for any avid coffee savant. Be sure to pre-order while you can before this sleek machine sells out for the holiday season! The only thing we don't like about it is that it's made in the USA with global materials, which is more like assembled in the USA. That said, we have limited options when it coffee makers, so I wanted to include them on the list.
Takeya Patented Deluxe Cold Brew Coffee Maker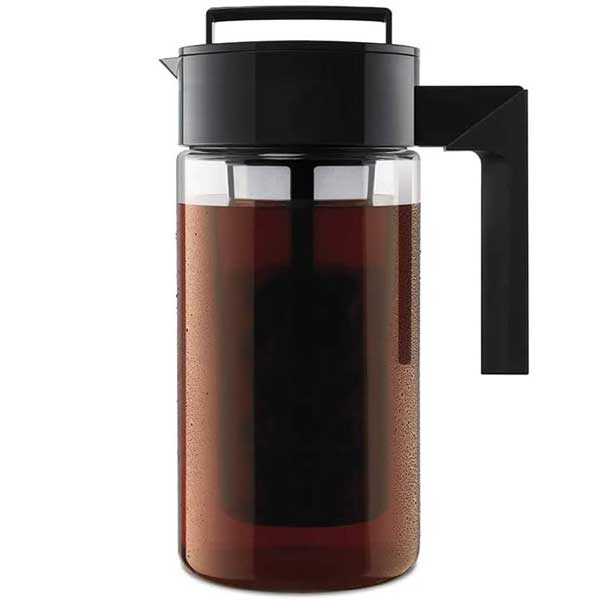 | | |
| --- | --- |
|  Estimated Price | $30 |
| Weight | 1.9 ounces |
| Capacity | 1 Liter |
| Colors Available | Black |
| Company | Takeya |
Takeya's Origin and Manufacturing Locations
Takeya originally found its business success in manufacturing high-quality water bottles. They ended up finding great success and building a rapidly expanding client base. Their products have been made in America since their entry into the market in 2008.
The young company sharpened its focus on the fitness niche, wanting to create the highest quality bottles available. Pouring hours into research and development into bottle insulation and sleek product design, TAKEYA decided to expand its product line into cold brewing devices – and the deluxe cold brew coffee maker was born.
What We Like and Don't Like About Takeya Patented Deluxe Cold Brew Coffee Makers
Cold brew lovers, this one is for you. Don't be fooled by the simplicity of design – this machine is one of the top products available on the global market that can produce delicious and refreshing cold brew in a BPA-free, delicious alternative to your regular brewing methods.
TAKEYA has designed this to be a quick and easy solution for a delicious cold brew. To begin your brew, simply remove the lid and put your favorite grounds in the fine mesh container. Secure the lid, pop it in the fridge, and you'll enjoy a cold brew in 12-24 hours.
Cold-brew is best known for less acidity than regular coffee but still packs a definitive punch of caffeine. You can enjoy this in your home or while traveling in just about any setting, thanks to the spill-proof container and easy-grip silicone handle for easy movement.
The minimalistic design is created to be shatterproof and dishwasher safe for ultimate ease of use. You'll also be able to ensure that your cold brew is the highest quality possible, thanks to the airtight sealing technology that is manufactured into every lid.
Your health and safety are of utmost importance to TAKEYA, which is why each plastic element is certified BPA-free. The plastic is also designed to be completely stain-proof and cloud-proof, preserving the quality of the product for a lifetime. Enjoy your cold brew in peace and savor each sip – anywhere that you are!
I personally own this cold brew machine and use it every other day. It's been multiple years, and it still functions just as it did with the first use. TAKEYA takes pride in their work and offers all clients a one-year warranty for this product, as well as other Maker products. Be sure to register your product in order to claim the full extent of the warranty. You can register your product by clicking here.
Aeropress Coffee & Espresso Maker (Great Coffee Press)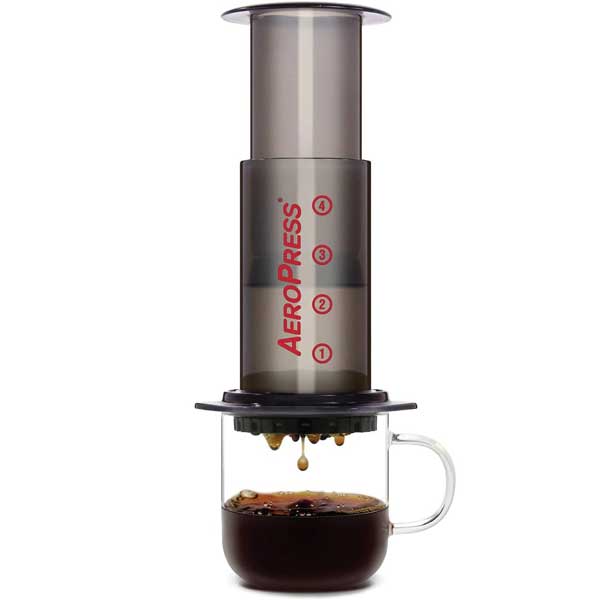 | | |
| --- | --- |
| Estimated Price | $35 |
| Size | 9 1/2″ x 4″ x 4″ |
| Material | Polypropylene |
| Cup Capacity | 1-3 Cups / Use |
| Company | Aeropress |
Aeropress' Origin and Manufacturing Locations
Aeropress began with the passion of Alan Adler, a retired Stanford engineering professor. Alan wanted a quality coffee that came without the bitterness and sour tang common in other brewed coffees. He had experimented with other products on the market and just wasn't satisfied with any of them. So, there was only one thing left – create the solution.
Aeropress was conceptualized in 2004 and announced at a large-scale coffee trade show in 2005. The Aeropress Coffee Maker was born and has been a hit on the coffee market ever since! Aeropress is now an international brand, proudly made in America and enjoyed in over 80 countries. This ripple effect all began simply, with one man in pursuit of his perfect cup of coffee.
What We Like and Don't Like About Aeropress Coffee & Espresso Makers
Aeropress has revolutionized the coffee industry and has brought the ability to brew diversity, bed, and quality in one sleek device – the Aeropress Coffee & Espresso Maker. You can brew 1 to 3 cups of delicious coffee with a single press. But that isn't all – you can get shots of coffeehouse espresso with a single press. That's right – gone are the days of needing multiple machines and countless accessories. The Aeropress does it all seamlessly.
When you use your Aeropress machine, you'll enjoy the durable yet lightweight design of the construction. You can enjoy freshly brewed coffee anywhere that you roam – whether you like to enjoy it in your own home, on the road, traveling, or camping, taking in the beautiful scenery around you. The design is centered upon strong and break-resistant polypropylene materials and avoids commonly used and breakable elements, such as glass.
You can enjoy each sip in confidence. As of 2009, the materials used in each product are proudly BPA and phthalate-free, keeping your health and safety as one of the top priorities with each round of refinement and manufacturing. When using coffee makers with plastic elements, this is always especially important to check for, as heat can leach harmful elements from the plastic.
BPA & other harmful toxins are commonly found in cheaply manufactured products that are exported into the U.S., which is why it is critical to purchase environmentally controlled American-made products. When you buy an American-made product, you are purchasing the high-quality manufacturing guidelines and regulatory requirements that help keep you as safe as possible with consumer materials. This becomes more critical when you are consuming items that are brought up to temperature or that are exposed to extreme stress.
Aeropress prides itself on the perfection of the process and has refined the brewing process into a total immersion system, allowing for maximum surface area coverage over each ground. This ensures that you get the maximum amount of extraction with every brew and keeps the acidity and bitterness out of your sip. You won't sacrifice your schedule with this method – the average brew time takes a total of 2.5 minutes. This allows the Aeropress to fit seamlessly into the busiest of schedules!
Just because it is speedy doesn't mean that you'll sacrifice taste. The structure and implemented brew process allow you to get the highest quality brew possible in the shortest amount of time – which can make mornings all the more pleasant on the way out the door to work!
Due to the diverse abilities of this product, we would recommend this product confidently to even the most cautious newcomer to the coffee scene. No matter if you prefer regular brewed, or espresso-based drinks, the Aeropress can do it all! This product is designed for easy cleaning and quick assembly. The filters are easy to find and can be reused multiple times to preserve the life of your package. The product is designed to accommodate paper-based microfilters, which can be commonly found and inexpensive.
If you are interested in the quality that artisan espresso machines provide but can't justify the time to learn or the expense of a large machine, this is the product for you. Traditional pressed coffee machines and espresso tools take up valuable counter space and can cost thousands of dollars. This presents a similar experience in a fraction of the time and price – while still giving you the same American-made quality that you've come to expect out of your products.
The price point for the quality of the product is close to unbeatable. Other products require accompanying accessories in order to achieve the level of diversity in a brew that this product provides you by itself. This, plus its array of features, simplicity of design, and quality of manufacturing, makes this product shine as a top purchasing option for a coffee lover in your life.
Toddy Cold Brew Coffee Maker System (Great Cold Brew Design)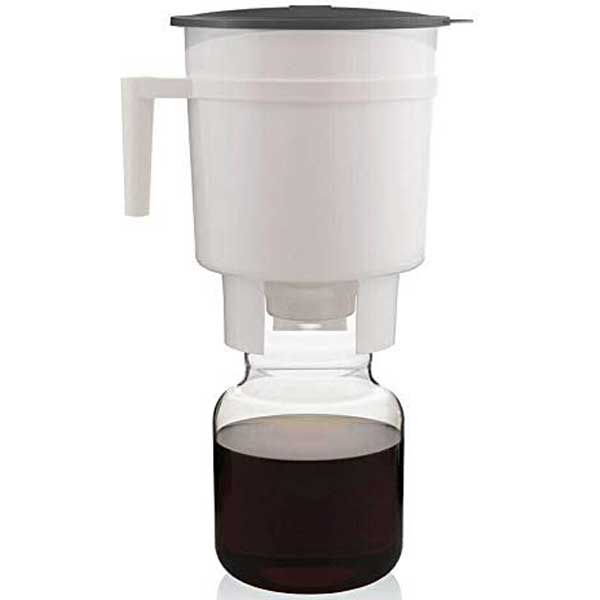 | | |
| --- | --- |
| Estimated Price | $60 |
| Size | 12.99 x 7.28 x 7.28 inches |
| Material | Glass, BPA-Free Plastic, Rubber & Felt |
| Capacity | 0.53 Gallons |
| Company | Toddy |
Toddy's Origin and Manufacturing Locations
Toddy began with a trip to Peru in 1963, where Todd Simpson first had the opportunity to try a new method of roasting and brewing the drink loved by millions everywhere…coffee. The Peruvian method required making traditional cold brew but heating it to an optimal temperature. Then, they would serve it hot, which preserved the delicious original flavor of the bean and removed any trace of an acrid taste. Todd quickly fell in love and returned to the States with one goal in mind: recreating the smooth and delicious experience that he had on the mountaintop.
After in-depth research and applying for a patent, the Toddy method of cold brewing was born. This and quickly implemented into the Toddy cold brew machine we love today. Toddy has been a United States favorite and manufactured locally since it began and is now a privately owned woman-led business. Every time you purchase a Toddy product, you are supporting global coffee research into new innovations that will provide groundbreaking change.
What We Like and Don't Like About Toddy Cold Brew Coffee Makers
Toddy has expanded from being a common household product into the world of business, serving countless coffee shops and independent collectives around the world. This international brand has put the goodness and purity of its cold brew process into one sleek and minimalistic design that provides you the quality of flavor that you need to start your day with excellence.
One of the best parts of the Toddy brewing system is that it promotes the use of normal, regular coffee beans and grounds. So many artisan products require expensive ingredients that aren't easy to source. Toddy works its way easily into your daily routine so that you don't have to sacrifice the flavor of your favorite bean. The simplistic brewing process removes up to 67% of the acidity, which makes this a great choice for those with sensitive digestion.
The Toddy brewer was designed for the needs of the everyday consumer, and that includes saving your valuable money with each brew. You can preserve the life of your grounds, as the brewed product can stay completely fresh for up to two weeks. You can always refresh your grounds sooner, but you will never have to sacrifice product and brew quality for increasing product cost.
Diversity is key, which is why the Toddy brewing system is so versatile. You can enjoy your Toddy for use in brewing high-quality teas as well. The patented brewing system allows you to keep the purity of flavor and remove any elements that would compromise the clear, delicious taste of your preferred brew. A good brew process allows adequate agitation and immersion of your leaves or grounds into the liquid. This process allows the flavors, oils, and natural elements that create a well-rounded taste to drip into your cup with ease.
On the go? No problem! The Toddy brewer does not require any electricity. This is due to the unique brewing process that is run exclusively on cold water. Using only time, product, and water from any source in your home, you can attain a superior quality of taste without the risk of hot water or electricity at any point in the brewing process. This also contributes to the longevity of your machine and its components and makes it easy to use overall.
Because of its commitment to pure flavors with ease of use, the Toddy Cold Brew Coffee Maker System is recommended for coffee experts and newcomers to the field alike. The quality for the price allows you to enjoy countless cups of quality cold brew at an affordable rate – using your favorite go-to blend and whatever water you have available.
Coffee Accessories: Outfit Your Machines With Quality Accessories
While the coffee makers are the stars of the show, stars weren't meant to shine alone! You can elevate your experience with simple additions of sustainable, quality-made coffee accessories. Below, we've compiled the best list of coffee accessories that can enhance and diversify your flavor profile, streamline your experience, and make coffee an (even more) enjoyable step in your morning routine.
Able Kone – Chemex Accessory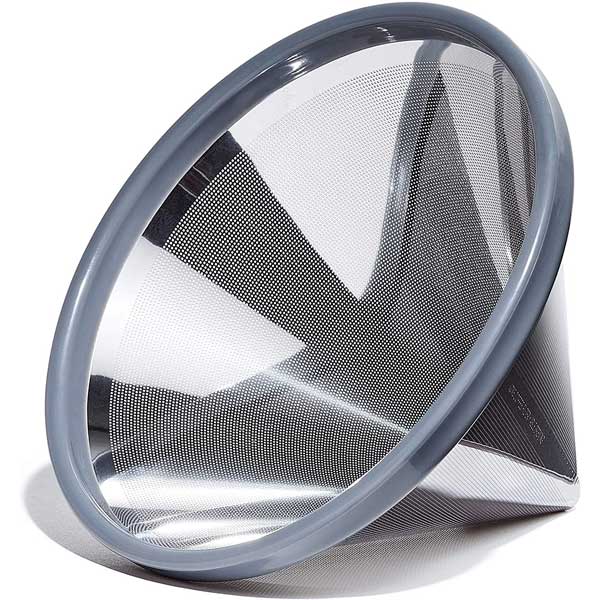 | | |
| --- | --- |
| Estimated Price | $45 |
| Color | Stainless Steel / Silver |
| Material | Stainless Steel |
| Accompaniment | Chemex Brewing Solutions |
Product Origin and Manufacturing Locations
Able Brewing Co. has had a focus on sustainable solutions for coffee aficionados around the world – working to better the global coffee community by innovating inexpensive and replicable solutions for more consumption-focused elements of coffee. Their primary focus started with filtration innovation and is rapidly expanding with every passing year.
What We Like and Don't Like About This Coffee Maker
The Kone was designed for primary use in Chemex products but can easily be adapted to fit in most open-ended pour-over carafes and systems. The creation of this as a household product and common coffee accessory solved a problem for drinkers everywhere – muted and bland tasting brews.
With traditional paper filtration methods, it became easy for more dense elements of coffee that surfaced during the brewing process (such as natural oils found in the bean and grounds) to be trapped to the surface of the paper. This completely sacrificed the overall quality, taste, and smoothness of the roast, and continued to create subpar brews. Customers wanted more – and Able Brewing Co. rose to the challenge.
The Kone presents a responsible and sustainable solution, using absolutely zero paper throughout the brewing process. The micromesh that the Kone is made of is dense enough to catch even the smallest ground. However, this mesh is specifically designed to let the other elements (such as the oils mentioned above) through and create a full-bodied morning joe.
This piece is welded to be a single element and is crafted meticulously with a food-safe polymer ring to protect and extend the life of your Chemex or pour-over accompaniment. This also allows the filter to stand up to frequent, repeated use and constant exposure to heat.
Don't let the design and micro-holes fool you. The Kone is impeccably easy to clean! The unified and single-layer design lends itself to easy cleaning and absolutely no chance of coffee buildup or film formation. You don't have to worry about cleaning it immediately every time – with a touch of dish soap, you can extend washes to every other use with no adverse effect.
Personally, as someone who is an avid fan of pour-overs and artisan coffee, I fell in love with this after my first time trying it. It is so sleek and so easy to clean. I also was able to feel good about the reduced environmental load. I drank so much coffee that paper filters were a weekly purchase, but with the Kone, they're a thing of the past. Sustainability is the future, and this is a simple way to impact the larger community by making responsible consumer choices.
There is no process or procedure for use – you simply place it in the open mouth of your Chemex brewing system. That was one of the most attractive things to me as a busy working mom – I needed something that could match my speed in the morning and help me get out of the door. This was the perfect solution, and I know that you'll love it too.
I would recommend this product to anyone who uses pour-over machines or wants a sustainable filter for their open-ended brew system. I have used mine for over a year, and it still functions just as it did with the first use. No rusting, no damage, and no compromise or wear on the polymer ring element.
Able Disk – Aeropress Accessory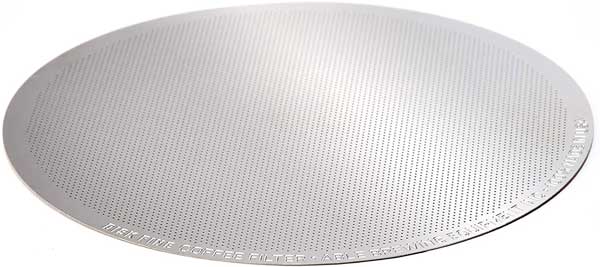 | | |
| --- | --- |
| Estimated Price | $20 |
| Color | Stainless Steel & Black |
| Material | Stainless Steel |
| Accompaniment | Aeropress |
Product Origin and Manufacturing Locations
We've got a lot of love for Able Brewing Co. This company has taken it upon itself to revolutionize the world of brewing by creating sustainable solutions for some of the most wasted and ecologically taxing elements of the brewing process to make. Able Brewing Co. focuses on quality and is always made and assembled exclusively in the United States of America.
What We Like and Don't Like About This Coffee Maker
If you are ready to upgrade your recycling game, it's time to invest in the Able Brewing Co. innovation of the Able Disk. This stainless steel filtration accompaniment is made with similar technology to the Able Kone. However, Able Brewing Co. quickly realized that there were similar needs in other models and expanded beyond the Chemex formation fit. This began the launch of the Aeropress version, the Able Disk.
The Able Disk is made with naturally rust-resistant stainless steel and is designed with a microperforated mesh to get you the most complex and delicious depth of flavor possible in every sip. Often, paper filters can impede the brewing process and compromise the full spectrum of flavor available in your roasts. This provides you with a responsible alternative solution that not only protects the flavor but enhances it as well.
This filter is easy to wash and is designed to prevent ground and oil build-up on the surface of the filter. The stainless steel is rust-resistant and dishwasher safe or can be hand washed with any available dish soap and water.
If you're looking for a metallic filtration solution for your Aeropress machine, I recommend this product. This is easy to use and attach, making this product perfect for even the most inexperienced coffee lover. This is an attractive and easy replacement for more environmentally taxing paper filtration systems.
Top Three Reasons Why American-Made Coffee Makers Are the Preferred Choice
American-made coffee makers provide incomparable quality and are crafted with your safety and experience in mind. In a world filled with outsourcing, lower-quality duplicates, and less-than-transparent manufacturing practices, American-made products offer you the assurance of quality that you can trust. Read on to learn why purchasing American-made products are the superior choice for your product needs.
Support Ethical Creation and Manufacturing Practices for Your Products
Often, when you purchase products from companies that manufacture overseas, there is a certain level of risk for exploitation and unethical practices throughout the manufacturing process. When you choose to support American-made products, you are choosing companies with a commitment to ethical transparency and responsible manufacturing practices – actively fighting the exploitation of workers around the world.
Support National Economy & Job Creation In the United States
Every time you make a purchase from an American-made company, you reinforce the dollar in our National economy and contribute to the overall function, spending, and earnings for that fiscal year. Beyond this benefit, you are also assisting the company in job creation for more citizens everywhere. With company expansion due to profits, new jobs will inevitably be created to fulfill production and manufacturing needs. This alone can support the company in new product launches, additional fulfillment, and philanthropic initiatives that can impact the lives of others globally.
Support Healthy Environmental Manufacturing Practices
When you purchase a product that is manufactured overseas, there is an unavoidably larger carbon footprint. This comes from extended and intensive shipping practices, additional packaging, and transportation in order to get the product to your front door.
By investing your money into American-made products, you are purchasing products that adhere to environmental impact standards in the United States. You are also ensuring that there is less carbon expended and far less travel involved, cutting down on environmental expense and packaging significantly just by purchasing within your country.
Wrap Up
Over half of the American population is wildly in love with coffee – and drink it daily, according to the National Coffee Association. Something even more fascinating is the wild boost in consumption, which is to be expected after the record-setting year of 2020!
With all of that coffee drinking, we have to wonder, where are all of these Americans getting their bean juice from? Sure, some of you are buying it from someone else, but we also know that many of the most serious connoisseurs are roasting their own, and what better way than to use an American-made coffee maker?
You're now equipped with the information you need to grab yourself a coffee maker, but now you'll need something to pour that coffee into! We've got you covered with the All American Made coffee mugs guide that you can check out here!
If you have any questions about the products on this page or want to let us know about a great product that we should add to this list, let us know in the comments below.
Hi, my name is Kevin and I'm from Pittsburgh, Pennsylvania. Choosing products made in America is important to me because it supports local economies, creates jobs, helps the environment, and ensures ethical labor practices. I also find that American made products are usually of higher quality so although they're a little more expensive, you save money in the long run. Before starting this website I was in the USMC infantry and nowadays I work on this website as a hobby.