Your coffee is likely a huge part of your daily routine and often determines your mood, energy, and productivity for the rest of the day. Since your coffee is so important, it doesn't make sense to put it in anything less than a quality USA-made coffee mug!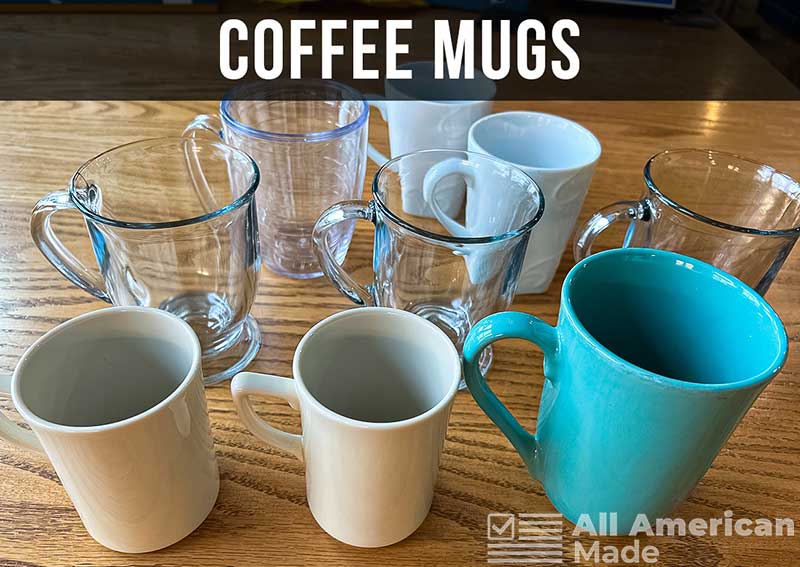 In today's world, it can be pretty hard to find coffee mugs not made in China, but that's where we come in to help shine a guiding light and ensure you spend more time enjoying your coffee as opposed to combing through thousands of products that just don't fit the bill.
In this article, we'll be covering our favorite coffee mugs made in the USA. All the mugs on this list are made by companies that hire American workers and support our country's economy while helping you take your coffee routine to the next level. Sugar, creamer, and patriotism that's what we like with our coffee; how about you?
List of American-Made Coffee Mugs
Pickard Porcelain Mugs (Most Iconic)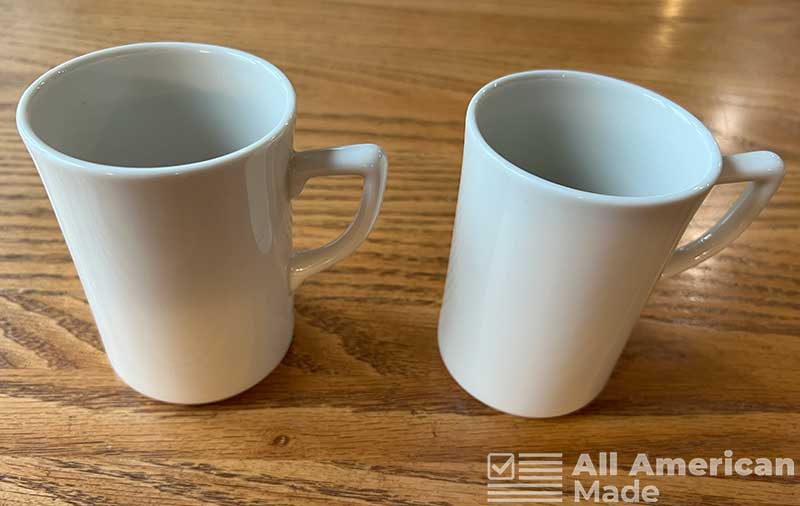 | | |
| --- | --- |
| Material | Porcelain |
| Color Choices | Clear (Glass) |
| Capacity | 16 Fluid Ounces |
Pickard's Origin and Manufacturing Locations
Pickard China is an American company that has been around a lot longer than most of us! Its history dates all the way back to 1893, when the company was founded in Edgerton, Wisconsin. The company has been passed down for generations; today, the company still puts the same craftsmanship into their mugs that they did hundreds of years ago! Nowadays, you can find their mugs all over the world, and they've even been selected by the US Department of State to manufacture the official mugs used at US embassies around the world! Also, be aware that they have a ton of different styles, so whether you're looking for something basic or something a little fancier, they really have some great options.
What We Like and Don't Like About Pickard Mugs
I find Pickard China mugs to be some of the most beautiful mugs out there. These mugs are made of bone ivory and are as visually pleasing as they are functional. What really sets Pickard apart and has earned them the reputation they have is their methodical production processes. The amount of love and craftsmanship put into these mugs is second to none. During production, each mug passes through 21 stages and three vigorous inspection processes to ensure each mug is made to the company's high standards. These mugs look so good that many people even use them as decorative pieces! Pickard mugs aren't the thickest mugs out there, but they do feel sturdy in hand and hold heat rather well.
On the bottom of each mug, you'll see the markings to verify that they are American-made. If you do not see these markings, you may be looking at a fake. You can see what the markings look like in the photo below.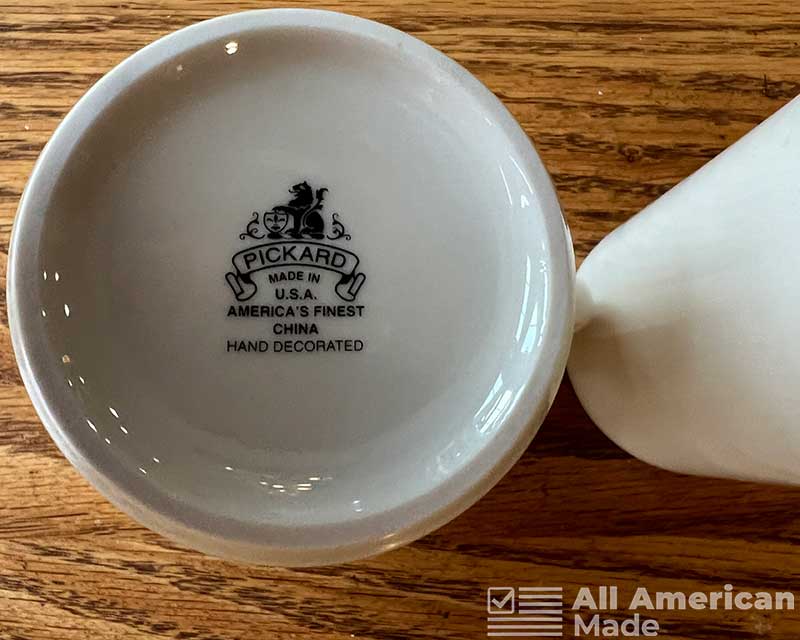 If you're someone who is looking for a great mug but also wants a classic look, these might just be the best American-made coffee mugs for you!
Here is a cool video of some Pickard China being made. The video below shows plates being made, but it's still cool to see some of their products being made
Anchor Hocking Glass Coffee Mugs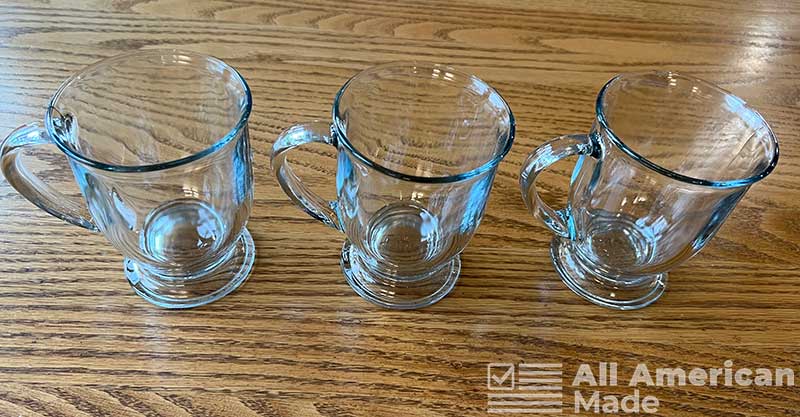 | | |
| --- | --- |
| Material | Glass |
| Color Choices | Clear |
| Capacity | 16 Fluid Ounces |
Anchor Hocking's Origin and Manufacturing Locations
Located cozied up next to the beautiful Hocking river in Lancaster, Ohio, Anchor Hocking has been designing and manufacturing beautiful glassware and coffee mugs since 1905. Once named Hocking Glass, they merged with Anchor Cap and Closure to form the company we now know and love today, Anchor Hocking Company. You probably recognize the name as they make some of the most popular glass measuring cuts and other kitchen-related products.
What We Like and Don't Like About Anchor Hocking Mugs
If you're looking for glass coffee mugs made in the USA, Anchor Hawking is one of your only options. Thankfully, these mugs look amazing and are made cast from fine and crystal clear glass. These are extremely simple and elegant coffee mugs that do not lend themselves to modern-day insulating technology but more so encompass a rather traditional and simplistic design of a classic glass coffee mug. Although your coffee may get cold rather quickly compared to many of the other mug materials, these are indeed microwave safe, so you can plop them in and heat them up rather conveniently.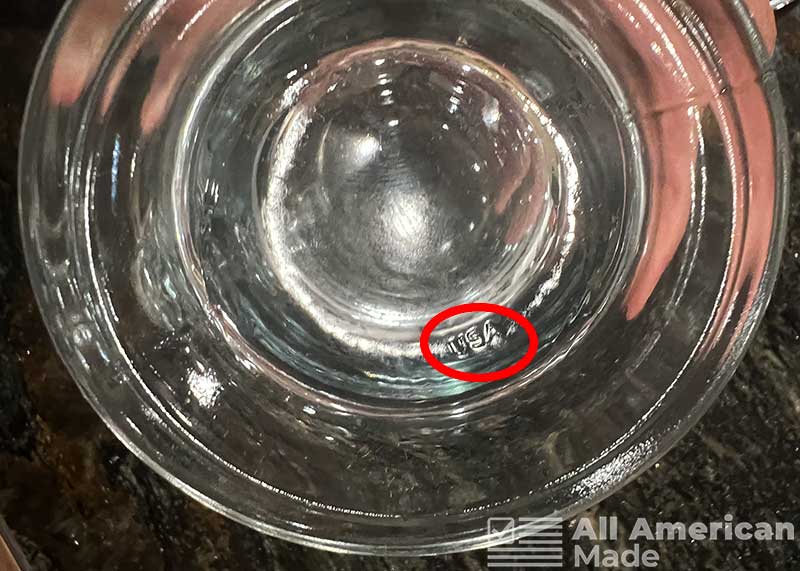 There isn't much to say, honestly. They're nice, a little expensive, and extremely fragile, but if you're the kind that likes an elegant glass coffee mug, these are perfect for you. I personally have phased out all my glass mugs as I have too many dangers for them running around my household nowadays!
Tervis Tumblers (Great Insulated Mugs)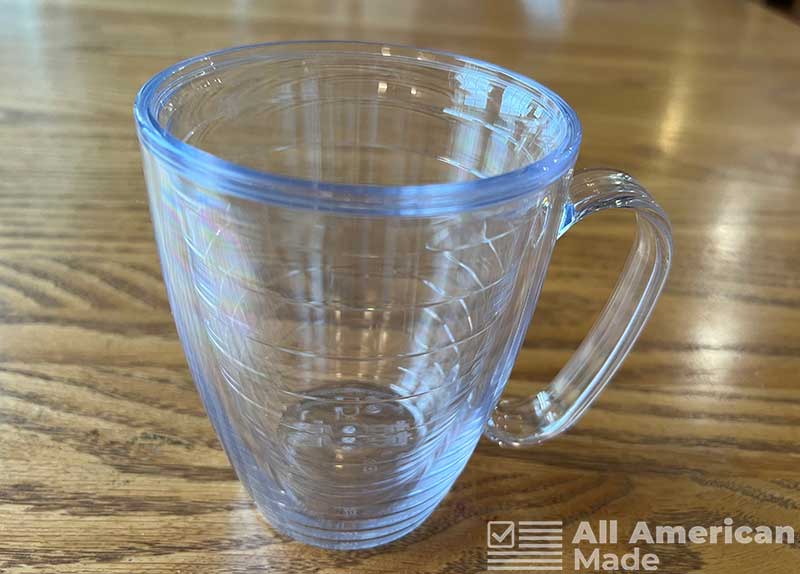 | | |
| --- | --- |
| Material | Plastic |
| Color Choices | Artistic Design of Purple Butterfly Design, Japanese Cherry Blossom Design, and Red Christmas Cardinal Design Overlaying Clear Background, Solid Black, Solid White, Clear Plastic |
| Capacity | 16 Fluid Ounces |
Tervis' Origin and Manufacturing Locations
Tervis was founded in Detroit, Michigan, and shortly after its founding, it was purchased by investor John Winslow. Winslow believed firmly in quality research and development and worked alongside his employees to create and successfully launch the 16 fluid-ounce size tumbler. After this point, Tervis found decades of success, and successors Norbert and Rogan Donnelly carried the company through new line expansion and innovation throughout the 1990s.
From here on, Tervis continued to become a household name in the beverage and kitchen utility industry, rolling out new drink solutions. These would eventually come to include everything you could imagine, from metal tumblers to insulated cups and mugs, to high-quality plastic drink options that Americans grew to love and still rave over to this day. All Tervis mugs are made at their manufacturing facility in Venice, Florida. Another interesting fact is that they're a third-generation family-owned and operated company that now has over 900 employees. This is certainly a company worth supporting, in our opinion.
What We Like and Don't Like About Tervis Tumblers Mugs
When I came across Tervis, I was surprised by their popularity and also the sheer amounts of designs available in their plastic coffee cup line. You can mix and match and enjoy a personalized cup of your favorite brew or blend every morning.
When most people see plastic mugs, they immediately think they are cheaply made and not suitable for hot drinks. With Tervis cups, that couldn't be further from the truth! In their plastic mug and cup line, Tervis uses double-wall insulated construction that is suitable for both cold and hot drinks. This makes this cup the perfect option for a coffee lover in your life who can't decide if they'd prefer hot or cold drinks, and let's be honest, it's nice to have mugs that allow for both!
We have also been very impressed by the durability of these mugs. Tervis has chosen strong, break, and impact-resistant plastic to ensure the best possible user experience. User experience has been one of the main focuses of Tervis from its conception, and that is still the case to this day. That's one of the major reasons  Tervis has such a loyal brand following.
Another example of Tervis' commitment to customer satisfaction is its easy-to-use and sturdy handle, providing you with another method of stabilizing and holding onto your cup. This area is still easy to wash and is comfortably fitting for a variety of hand sizes. The handle works well with their low product weight, as each cup comes in at just over half of a pound!
The plastic that is used to construct each cup is carefully chosen and is BPA-free, just as it always has been. This is important to me because especially I always get a little worried about putting hot drinks into plastic products without knowing if the plastic is safe to drink from.
An added bonus is that Tervis tumblers are microwave and dishwasher-safe. These qualities are not often found in plastic cup options unless they are constructed from high-quality plastic.
On the bottom of each Tervis mug, you'll see markings showing that these mugs are made in the USA. I'll attach a photo below showing you where to look.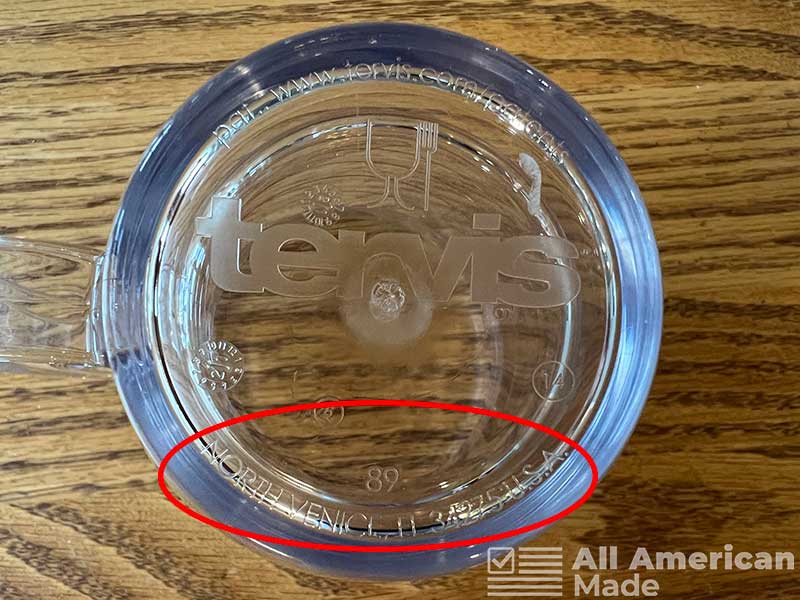 These mugs are perfect for those with an active lifestyle. Compared to most traditional coffee mugs, these are far more durable and can be found with a lid, making them a strong alternative that can fit into your bag or car cup holder. They come in a variety of designs for both male and female preferences and allow you a new method of self-expression in the office or on the go. This is one of my personal favorite coffee mugs made in the USA.
American Mug Pottery Coffee Mug (Great Ceramic Option)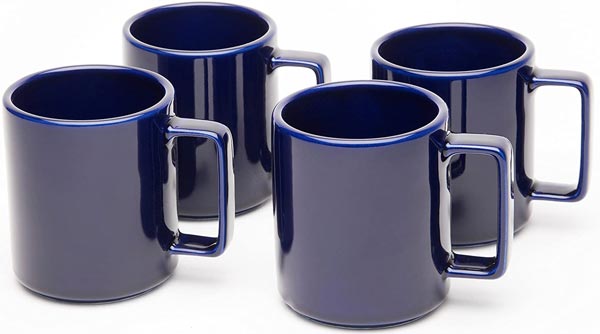 | | |
| --- | --- |
| Material | Ceramic |
| Color Choices | Cobalt Blue, White |
| Capacity | 17 Fluid Ounces |
American Mug Pottery's Origin and Manufacturing Locations
American Mug Pottery was created to help fellow American citizens find jobs and started locally in East Liverpool, Ohio, where all of their mugs are still made to this day. The packaging of their mugs is also made in the USA by a packaging company in Connellsville, Pennsylvania. What we love most about this company is its ethos and the amount of care they put into their mugs. These mugs are extremely high quality, and each is finished by hand and inspected to ensure it meets the high standards of the company.
What We Like and Don't Like About American Mug Pottery Coffee Mugs
We like American Mug Pottery coffee mugs' classic shape and sharp-looking gloss finish. With both 15-ounce and 17-ounce mugs available, these mugs are the perfect size for most coffee enthusiasts. Another thing I really like is that they're dishwasher safe. I drink a lot of coffee and don't like washing dishes by hand, so that's an important feature for me! They are microwave safe as well, but they do get hot if you put them in the microwave, so please be careful.
All American Mug Pottery mugs are completely lead and cadmium-free. This is a huge bonus, as many mugs are not rated as safe to this level.
Due to their craftsmanship and great customer service, American Mug Pottery mugs are loved by those all over the country. They provide you with the quality you need while showcasing a minimalistic, solid-color design that fits into nearly any aesthetic!
The handle of these mugs feels great, and I also find that these ceramic mugs hold heat very well compared to many other mugs I've used in the past.
They are available in either blue or white, so simply pick the color that matches your home or apartment. All in all, these are great everyday coffee mugs that get the job done. If you're looking for high-quality American-made ceramic coffee mugs, these are a great option.
Related Article: What Coffee Makers Are Made in the USA?
Uncommon Clay Handmade Potbelly (Great Clay Coffee Mug)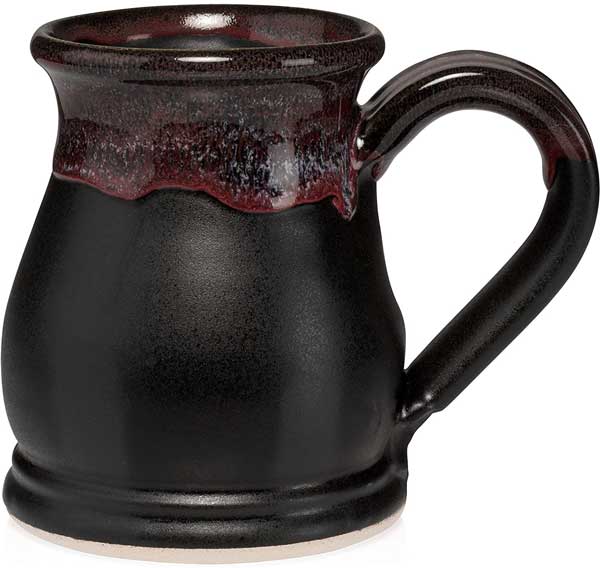 | | |
| --- | --- |
| Material | Clay/Pottery |
| Color Choices | Navy Blue & Mango, Periwinkle & Gold, Red & Blue, Sapphire Blue & White, Satin Black & Red, White & Blue Trim, Chestnut & Sage |
| Capacity | 16 Fluid Ounces |
Uncommon Clay's Origin and Manufacturing Locations
Uncommon Clay is a storefront that is rising in popularity with loyal customers that love their mugs due to their uniqueness. Uncommon Clay produces handcrafted, high-quality pottery and mugs and understands the importance of making their mugs in the USA.
What We Like and Don't Like About Uncommon Clay Mugs
Uncommon clay mugs have a hand-cast design, and the level of craftsmanship shown in their mugs is impressive. The design and shape provide extra insulation for your favorite hot beverage, using the rounded and wider bottom to keep your drink hot for longer periods of time.
Each piece is handmade and contains variation and beautiful, unique qualities with each mug, making this the perfect gifting option that is sure to impress your family and friends. You'll never have to worry about safety, as each mug is comprised only of natural clay elements, glaze, and refined with heat. There is no lead, cadmium, or other toxins in any of the clay or color elements used throughout the process, so you can sip safely!
You won't have to be afraid of tips, spills, or uneven surfaces with this hand-thrown clay mug. These mugs are weighted on the bottom, making this a strong choice if you or a loved one has children or animals that could potentially tip the cup over. The sturdy design and break-resistant glaze make this mug a one-of-a-kind gift that will last for years to come.
Uncommon Clay mugs are both completely microwave and dishwasher-safe. You can also easily handwash the mugs for quicker use, with their easy-to-hold design that exposes all the necessary touchpoints that you need to guarantee a deep clean.
This product is the perfect unique gift for a coffee or tea lover and is deliberately designed to withstand the test of time and frequent use.
Honey Bear Kitchen Handmade Stoneware Mug (Great Stoneware Mug)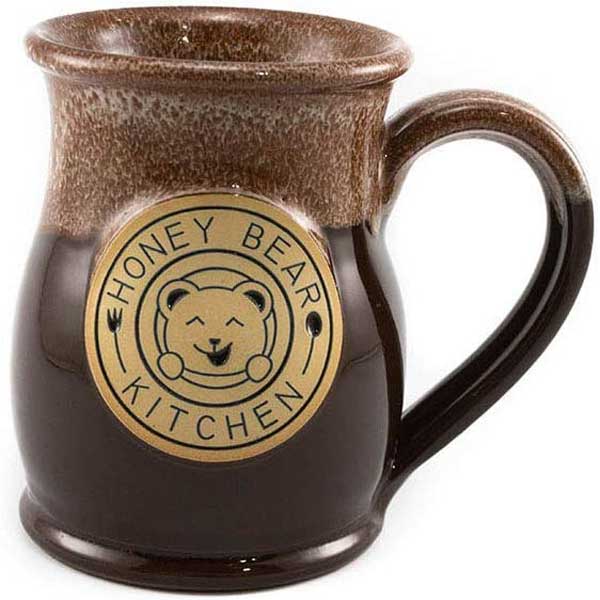 | | |
| --- | --- |
| Material | Stoneware |
| Color Choices | Chocolate Color with Cinnamon White Marble Glaze |
| Capacity | 13.92 Fluid Ounces |
Honey Bear Kitchen's Origin and Manufacturing Locations
Honey Bear Kitchen handcrafts each individual product proudly in the USA. Their story came about as a need arose when Mr. Bear's favorite mug was forever marred with deep divots and marks from the repeated use of his favorite metal spoon, stirring his hot drinks every morning. When there wasn't a high-quality replacement available that wouldn't scratch up the insides of every mug they owned, Mr. Bear lept into action and launched Honey Bear Kitchen.
Honey Bear Kitchen is unique, deliberately operating as a completely faceless brand. This promotes a great web presence, as avid brand followers and the internet as a whole knows them as Mr. and Mrs. Bear. This husband and wife launched Honey Bear Kitchen with quality and accessibility in mind, and they never looked back since!
What We Like and Don't Like About Honey Bear Kitchen Mugs
A stoneware mug presents a strong, comforting presence that we think many people will find very appealing. The stoneware is glazed with a colored glaze that helps you enjoy a smooth, rounded edge on each cup. This design helps prevent your lips from meeting the stoneware directly and enhances your drinking experience.
Honey Bear Kitchen works together with Deneen Pottery, an American-made staple and one of the best in the business when it comes to quality, artisanship, and structural design. Honey Bear Kitchen and Deneen have produced various designs of mugs that appeal to a variety of cozy aesthetic coffee lovers and have been perfecting the craft over the course of several years.
This coffee mug is built to last for generations and can be handed down even with repeated use. The structure relies on thick, stone-crafted walls inside the cup, protecting your hands from even the hottest drinks. You'll also enjoy an easy-to-use and comfortable grip handle, accentuating the quality of design that you will enjoy with every sip.
Being that these mugs are handmade, you'll always experience slight variations in design, making this product truly a one-of-a-kind mug for your morning cup! This is also one reason we think these mugs would make a perfect gift.
Honey Bear Kitchen mugs are designed for easy use and are completely microwave and dishwasher-safe. You'll never have to worry about compromising the design and integrity of your cup if you choose to microwave and make a mug cake or opt for faster cleaning. This is also easy to hand wash if you prefer a more traditional method, with a streamlined design that lets you reach every nook and corner in the mug.
Overall, this is a great choice for a coffee lover looking for a quality mug that will last. The design in each mug lends itself to a woodsy, outdoorsy theme and can fit right in with natural cabin decor. The structure and attention to detail shown in everything from handle design to marble-flecked glaze put Honey Bear Kitchen as one of our favorite mugs!
Mosser Glass Coffee Mugs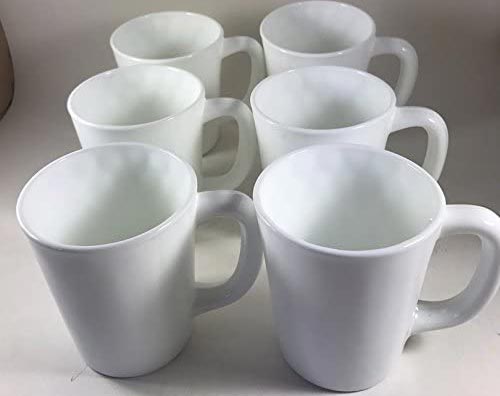 | | |
| --- | --- |
| Material | Glass |
| Color Choices | Cobalt Blue, Crown Tuscan Pink, Georgia Blue, Gray Marble, Milk, and Eggplant |
| Capacity | 8 Fluid Ounces |
Mosser's Origin and Manufacturing Locations
Mosser Glass has its ceramic art studio in Cambridge, Ohio, where they have operated since 1971. The company employs over 30 people to create its products, and they are a family-owned and operated business. Their handcrafted glassware lines have remained a popular choice throughout their history.
They specialize in a number of glass pieces, but they make their choices from original glass molds. Today, the company has over 50 years of experience, and its products all have a timeless appeal.
What We Like and Don't Like About Mosser Mugs
Mosser mugs are absolutely stunning and many of their customers even use them as decorative display items.
Before you buy, be aware that it is not recommended to put these mugs in the microwave or in the dishwasher. Obviously, you can still use it as a coffee mug, however. Their biggest selling point is their beauty, and it's a unique coffee mug unlike many of the others. It has a good-sized handle, and they made it in the United States.
We would recommend this mug to anyone who would love a decorative and beautiful piece for the kitchen. This mug isn't your typical product, and the price may turn some people away, but for those who want a beautiful choice in their kitchen cabinet, this coffee mug greeting you every morning will make everything a little more pleasant.
You might choose this option if your overall home theme would fit with the coffee mugs. With six color choices, you can do this easily. The only thing we don't love is that these mugs have to be washed by hand, but if that isn't an issue for you, these mugs are outstanding!
Here is a cool video tour that shows some glass products being made by Mosser in Ohio.
SHS Collection USA Handmade Coffee Mug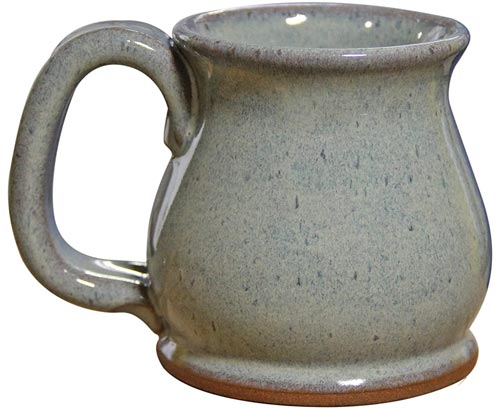 | | |
| --- | --- |
| Material | Stoneware |
| Color Choices | Robins Egg, Northern Lights, Lucky Charm, Silvery Night |
| Capacity | 12 Fluid Ounces |
SHS Stoneware's Origin and Manufacturing Locations
Sunset Hill Stoneware runs a pottery studio in Neenah, Wisconsin, where they work with local artisans who hand throw their pottery. Every handmade piece will have more personality than those that are mass-produced. Their company has been a family-owned and operated business since 1998. All their pieces come from Neenah, Wisconsin.
Tom Dunsin, at the age of 21, started Sunset Hill Stoneware because of his love for handcrafted pottery. He began in a small studio where he threw clay in what was once an old firehouse station next to a tavern. In the beginning, he ran it with himself and a friend as his other employee. Today, the company has around 40 American artisans who create the pottery for their brand. From ordering to arrival, everything is hassle-free and supportive.
What We Like and Don't Like About SHS Stoneware Mugs
We love the uniqueness of these mugs and the great color variety offered by SHS Stoneware. These mugs are handmade and can be put in the dishwasher, microwave, or oven without a problem. Whatever piece you choose, each one will have a uniqueness to it that makes it your own since they are not mass-produced by a machine like many mugs.
Important to note that if you want a custom order from them, you can request it. This will put your logo or artwork in a high-definition medallion. To make an order like this, you must order 24 pieces or more. These mugs are beautiful and well-made pieces from sturdy construction. They added weight to it at the bottom, which makes it easier to hold. The weighted bottom also makes it harder to tip over than the standard coffee mugs.
While an American-made coffee mug may cost more compared to those made overseas, it will last a lifetime and, in our opinion, is well worth the investment. The size of the coffee mug also makes it a great choice for most people.
We would recommend this selection for someone who can appreciate the unique glaze artwork on the coffee mug. The two-tone glaze enriches the color of your cup with effervescent, lively colors. They packaged it well, which adds to the classy feeling of this mug. The mug comes in two boxes with cardboard to protect it.
Larrabee Ceramics Mug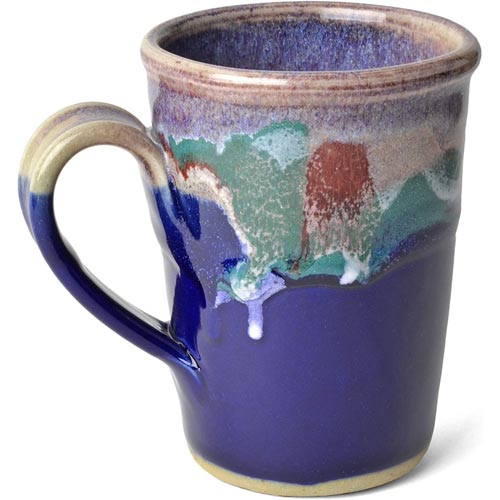 | | |
| --- | --- |
| Material | Stoneware |
| Color Choices | Red/Multi, Brown/Multi, Burgundy/Multi, Mauve/Cobalt, Mauve/Green and Mauve/Red |
| Capacity | 12 Fluid Ounces |
Larrabee Ceramics' Origin and Manufacturing Locations
Located in Park City, Utah, Larrabee Ceramics creates functional, colorful, and eye-catching pottery. Since 1983, Bruce Larrabee has worked full-time as a potter. However, it all began in 1979 with a pottery class, and he became hooked, despite the challenge of pottery. His studio primarily creates stoneware and porcelain pieces.
Today, Larrabee Ceramics has between four to 25 employees, and they generate around $284,000 annually. Buying from American pottery studios will support American crafters who take a lot of time and effort to create artful pieces of pottery.
What We Like and Don't Like About Larrabee Ceramics Mugs
Like all other handmade pottery, no two pieces will ever look exactly alike. Each cup that you buy will have its own personality. The color, pattern, and texture of the glaze vary depending on how it was fired up in the kiln. Sometimes you get different reactions, even when using the same glaze, making each mug unique. This cup can be safely used in the dishwasher, microwave, and oven.
The glaze for this cup has a smooth and overall glossy appearance that catches the eye. Because of its artisan origin, Larrabee Ceramics will have a greater distinction than those made by machines at a factory. They can hold a fair amount of coffee, and the pattern of it looks unique.
When shipped, it was done professionally to protect the ceramics inside. The inside of the mug is a little thicker, but this shows you that it was handmade.
We would recommend this choice to those who appreciate good artistry and craftsmanship. You can fit a little more coffee in this one, which would make it a good choice for heavier coffee drinkers. Do it all in one cup instead of having to make multiple pours. Be aware of one thing with this mug, you will want to use a coaster for the bottom since it's a bit rough and may scratch your wooden furniture. With all handmade pottery, this is generally always recommended. We also find the mug quite comfortable to hold, and for someone who likes to sit holding a coffee mug, this may be the perfect mug for you.
BRCC Coffee Company (Veteran Owned)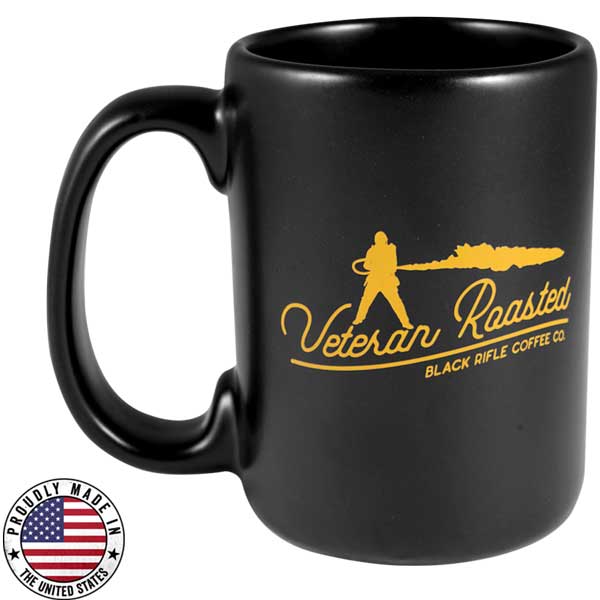 | | |
| --- | --- |
| Material | Ceramic, Stainless Steel |
| Color Choices | Multiple Black BRCC Theme |
| Capacity | 13-17 Fluid Ounces |
BRCC's Origin and Manufacturing Locations
BRCC is an American company founded and run by US Military veterans based out of Manchester, Tennessee, and Salt Lake City, Utah. The company strives to provide g top-quality coffee and coffee accessories to American coffee lovers. It's no secret that BRCC is more than just a coffee bean company and monthly subscription service, as they push their culture of support for American veterans and the Second Amendment.
Warning, not all BRCC coffee mugs are made in the USA; ensure you are checking the whereabouts of the specific models. This seems to have changed multiple times, so we won't try and specify which are which because I fear this page could mislead you if they make changes after we publish. At the time of writing, you can easily see which BRCC mugs are made in America by a "Made in the USA" emblem accompanying the photos of qualifying mugs on their website.
What We Like and Don't Like About BRCC Mugs
BRCC is as much of a cultural movement as they are a coffee brand. With millions of views on Youtube and a massive readership across their blog and newsletter, BRCC is a huge player in the coffee industry with among the highest customer engagement in the industry. It's no secret that they are controversial to some since they are heavy supporters of the Second Amendment, but that's part of the reason why so many love them and are patrons of the brand, myself included!
The controversy doesn't stop with politics, though, as some of their mugs, as mentioned before, are not made in the US. This riled up a lot of people, and of course, we aren't particular fans of this either, as it's especially easy to assume that a company that prides themselves so much on American patriotism sells products not made here; however, they do still have options for us All American Made purists, so you just need to tread lightly and be careful of which model you purchase.
The mugs that are USA-made are great! They often joke around with the specifications, but the truth is, there is some serious care and attention to detail here. A majority of their design choices revolve around the "oversized" coffee mug idea, with rather traditional and familiar handles but with a few extra goodies, such as having exceptional insulation and exceptional grip texture on the bottom.
We The People Holsters Coffee Tumbler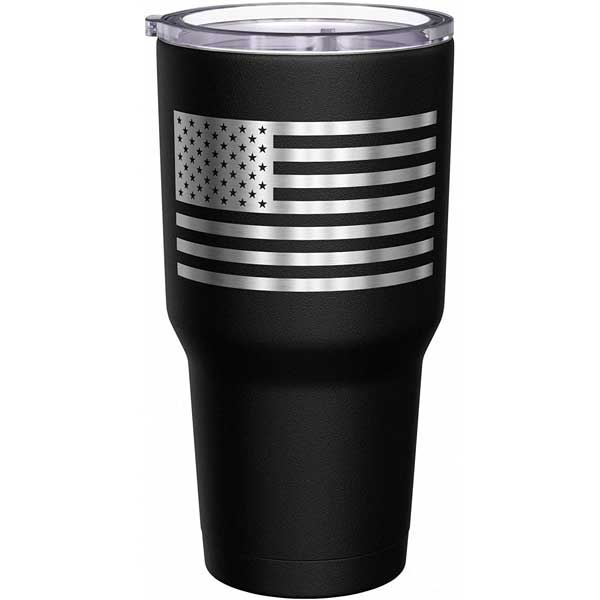 | | |
| --- | --- |
| Material | Stainless Steel |
| Color Choices | Black, Various: Made in America, Patriotic Designs |
| Capacity | 30 Fluid Ounces |
We The People's Origin and Manufacturing Locations
We the People Holsters Store has been proudly American-made since its inception. The shop is currently located in Las Vegas, Nevada, and has a variety of accessories and tumbler options for patriotic fans across the nation.
What We Like and Don't Like About We The People Holsters Mugs
This tumbler is the perfect option for the adventurer or outdoor enthusiast in your life. The design is incomparable, and it has the largest capacity generally available in an iced tumbler line. Because of its capacity alone, the We the People Insulated Tumbler is one of the top options on our list.
The tumbler has a sleek, solid color black design that is lasered with customizable designs that allow you to express yourself freely in a minimalistic and stylish way. The tumbler comes in a range of varieties with different messaging, allowing you to give a personalized gift to your friends and family that they can use forever!
The tumbler is double insulated and vacuum-sealed for maximum comfort and temperature regulation of your favorite beverage. For iced drinks, We the People offer a guarantee of keeping your drink ice cold for 24 hours and piping hot and ready to drink for six total hours before your drink will start to cool.
The lid is crafted with your use in mind and provides a streamlined approach to anti-spill and anti-leak technology. One of the common downfalls with these types of designs in tumblers is inevitable leaks and dribbles due to the sheer volume of liquid rushing at the lid and the seal with each sip. We the People utilizes high-quality sealing technology in each lid to ensure that you stay dry and sip in any way you please.
This cup is made to last. This is perfect for the busy business person on the go, a parent rushing out the door, or taking with you as you travel the globe. This cup is ready for adventure and will be the perfect companion in any condition, thanks to its hardy design and premier technology that make it one of the best cups on the market.
Tervis Made in USA Double Walled Insulated Tumbler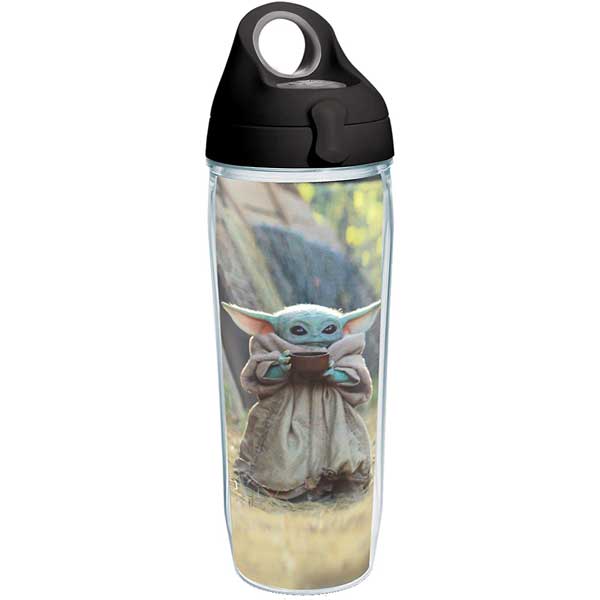 | | |
| --- | --- |
| Material | Plastic |
| Color Choices | Clear, Various: Artistic Design of Multiple Star Wars Characters and Movie References, Culture Favorites |
| Capacity | 24 Fluid Ounces |
Tervis' Origin and Manufacturing Locations
The Tervis line was popularized in the late 1940s and 1950s, rising to popularity in the local Florida area, and soon succeeded on a national scale. This company has been American-made since its creation and ahead of its time in the field of drinkware innovation. Tervis has been on the front lines of the consumer market for food and beverage products and was one of the first companies to come out with a size of 16 ounces in the 1960s. This was perfect for the inhabitants of the local beach towns, who were looking for smaller sizes to take with them on the go and in their fanny packs.
After a large-scale expansion in the 90s, Tervis continues to make quality drink products that millions across the Nation continue to adore. They've also been a huge proponent of hiring within the country and created countless jobs in their quest for the best consumer and coffee-drinker experience possible.
What We Like and Don't Like About Tervis Tumblers
Tervis' products are so great, we just had to mention them twice! Just in time for the holidays, Tervis has rolled out new culture-favorite designs around the most popular movies and trends. The most notable of these is arguably everyone's favorite: The Child from The Mandalorian, an installment in the Star Wars cinematic universe.
When I saw the large-scale quality and praise for this cup design (and countless others in the same theme), I knew that we had to include this option on the list. While previously Tervis was featured for their groundbreaking plastic cup design with incredible durability, safety, and sleek construction and design, we are featuring them for a new type of product: Full-size plastic drink bottles.
Larger drinkware options are rising in popularity and provide consumers with a versatile drink solution in the summer months. They also allow you to enjoy iced coffee all year long, which is perfect for an iced coffee aficionado in your life! Coffee isn't the only thing that you can keep cool in this type of cup. Consider new additions, such as mixers, ice-cold water, iced teas, and other beverages you best enjoy cold!
You can also use these types of tumblers to keep your drinks warm. While many believe that plastic is best for cold drinks, some drinkware options are designed to do both, and the Tervis plastic model is crafted with double wall insulation that is designed to keep your favorite brews hot and your favorite iced coffees cold for hours. This is the perfect solution for the busy student, parent, or employee who doesn't always get the chance to sip and savor as they should.
These tumblers are crafted to be leak-resistant, keeping your convenience in mind at all times. With the type of insulation that is used, you aren't likely to burn yourself either. If you enjoy cold drinks more often than warm, the insulation will also benefit you by reducing cup sweat. No more wet rings on your table or desk!
You won't have to worry about breaks or chips with the quality construction either. The plastic material that Tervis uses in their line of plastic drinkware is BPA-free for your protection and designed to be chip and fall resistant to preserve the integrity of your design.
Tervis offers a lifetime product guarantee with this line of products to ensure that you have the best experience possible when purchasing your drink solution. You can always reach out to Tervis if you have any concerns, and a customer service representative can walk you through the process of claiming a lifetime guarantee.
Wrap Up: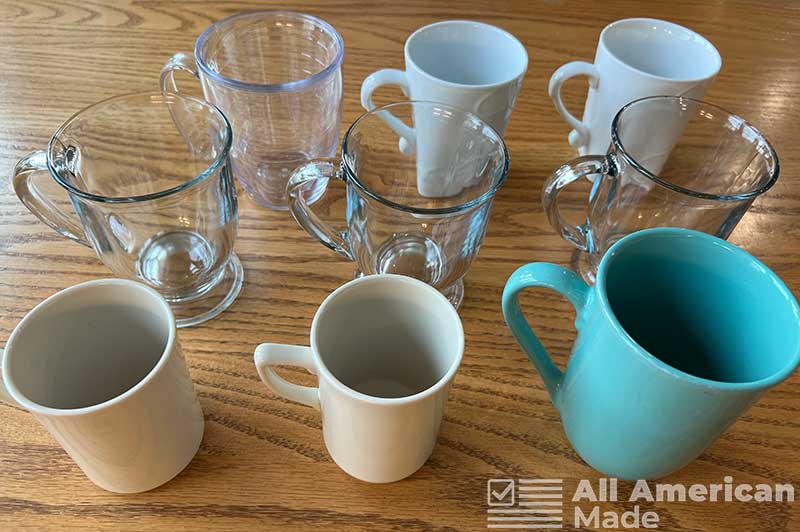 Sure, most coffee beans are imported from countries like Brazil, Columbia, and Nicaragua, but that doesn't mean there aren't other ways in the coffee world to support American companies, like buying makers, mugs, and accessories made right here in the USA.
Now that we've gotten you outfitted with the knowledge you need to buy a patriotic coffee mug let's head over to the All American Made guide on coffee makers to get you a coffee maker made by hardworking Americans that love coffee just as you do!
Hi, my name is Kevin and I'm from Pittsburgh, Pennsylvania. Choosing products made in America is important to me because it supports local economies, creates jobs, helps the environment, and ensures ethical labor practices. I also find that American made products are usually of higher quality so although they're a little more expensive, you save money in the long run. Before starting this website I was in the USMC infantry and nowadays I work on this website as a hobby.