Quality desks can last for decades and are often some of the most frequently used furniture in a home. That's why we recommend choosing a desk made in the USA that's well designed and a pleasure to work on.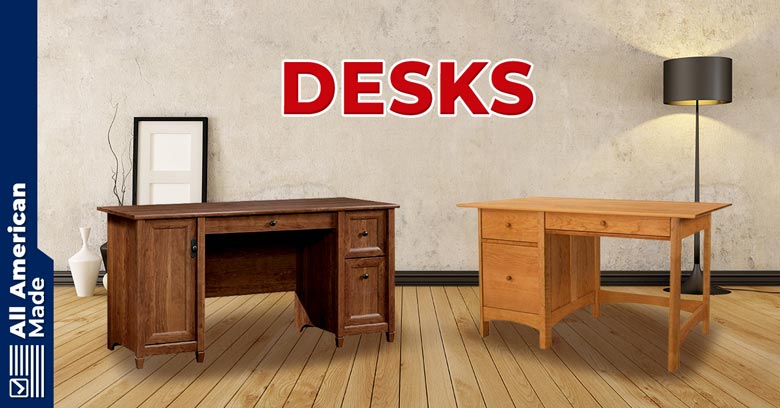 Thankfully, there are a ton of great American-made desks the choose from! Whether you want a traditional wooden desk or an ergonomic standing desk, there is something for everyone on this list. Simply scroll through and pick out your new favorite desk!
List of American-Made Desks
Vermont Wood Studios (Great Sustainable Wood Desks)

| | |
| --- | --- |
| Desk Styles | Campaign desks, Compact desks, Writing desks, Secretary desks, Executive desks |
| Colors Available | Variable, naturally harvested raw wood |
| Origin | Vernon, VT |
Vermont Wood Studios' Origin and Manufacturing Locations
Vermont Wood Studios has been creating American-made desks since its inception in 2005. Since the launch, they've grown their team to over a dozen full-time employees who work hard to deliver sustainably sourced, USA-made wooden desks all over the country. I've been impressed by how this brand continues to grow and evolve, looking for new ways to meet demand in the American marketplace without putting additional strain on our environmental resources.
Vermont Wood Studios' Desk Selection and Offerings
There's a certain beauty that a handcrafted wooden desk can bring to a room. With Vermont Wood Studios, you can claim that spark of natural influence and instantly level up your office space. These desks are handcrafted and locally and sustainably sourced, meaning they are made in a way that won't harm the environment.
They have a variety of desk styles and types to choose from, ranging from writer's desks to executive-style four-post designs. They take their inspiration from classic colonial design influences, which is perfect for today's more minimalist and natural, cottage-contemporary tastes.
They have over 135 desk options to choose from, allowing you to find your perfect match. The company preserves the natural wooden appearance of the desks, allowing you the opportunity to paint or otherwise customize your desk upon arrival to suit your space.
When you purchase a desk with Vermont Wood Studios, you also contribute to their replantation effort, which is ongoing to combat the effects of climate change and deforestation.
Woodland Creek Furniture (Great Rustic Desks)

| | |
| --- | --- |
| Year Founded | 1999 |
| Desk Styles | Computer Desk, Writing Desk, Executive Desk, Student Desk |
| Colors Available | Cappuccino, Distressed Gray, Ebony, Jacobean, Natural Clear, Rustic Barnwood, Rustic Redwood |
| Origin | Traverse City, Michigan |
Woodland Creek Furniture's Origin and Manufacturing Locations
Woodland Creek Furniture makes some absolutely beautiful eco-friendly furniture from dead and reclaimed wood. The company was started by Robert Evina, who, through his travels, came across interesting wood species that would make for a fascinating range of rustic pieces. He then combined wood from Eastern Europe with locally harvested species and contemporary bases to create something unique that's hard to find in a world of imported mass produce.
Woodland Creek Furniture's Desk Selection and Offerings
Although all Woodland Creek's pieces, including desks, are made in the USA, they do sell some other lines of furniture that are manufactured elsewhere. To avoid confusion, you'll see a "Made in USA" mention in the description of all their American-made furniture.
The desks they offer can be best described as a blend of rustic and modern. Fans of rustic furniture will find a whole spectrum in this catalog, from a Barnwood-inspired Redwood & Juniper Writing Desk to something more contemporary like the Organic Wood Desk with a half-circle stainless steel base.
Their collection is so eclectic that you'll find writing desks that will look great in a log cabin, as well as executive and computer desks fit for a cool Manhattan office.
But there's more! Any desk you pick can be fully customized. All you need to do is choose the size, style, material, and finish and let Woodland Creek's talented artisans handle the rest.
Amish Furniture

| | |
| --- | --- |
| Year Founded | 1998 |
| Desk Styles | Pencil Desk, Computer Desk, Executive Desk, Secretary Desk, Corner Office Desk |
| Colors Available | Almond, Asbury Brown, Burnt Umber, Chalk, Carbon, Chestnut, Earthtone, Limed Oak, Natural |
| Origin | Amish Countries of Ohio and Indiana |
Amish Furniture's Origin and Manufacturing Locations
Looking for heirloom-quality Amish furniture? Say hello to Online Amish Furniture, an e-commerce company that houses one of the largest Amish furniture collections.
Their journey started in 1998, underwhelmed by the cheaply made furniture sold by big box stores. A chance discovery led one of Online Amish Furniture's partners to a small yet thriving furnishings industry in Shipshewana, Indiana. He bought Amish-made dining set from them and never looked back.
By the early 2000s, the founding partners had enrolled over 180 Amish furniture makers. Today, Online Amish Furniture offers a wide selection of furniture for indoor as well as outdoor use and ships across the U.S, Canada, New Zealand, Australia, and many countries in Europe.
Amish Furniture's Desk Selection and Offerings
Most of what you'll see in the market is no match for the Amish's strong, sturdy, time-honored craftsmanship. But getting access to Amish handmade furniture wasn't always easy. Lucky for us, companies like Online Amish Furniture have given us a chance to sample their excellent-quality pieces.
On its website, you'll find furniture for every room, including the office. The desks available here come in layouts ranging from computer, pencil, corner office, executive, and secretary desks.
First, you have to zero in on the style that inspires you the most. In my case, it was the Alamo Pencil Desk before choosing the wood species. The options are virtually endless- red oak, rustic cherry, brown maple, rustic hickory, hard maple, walnut, and many more.
From wood species, you'll next move on to choosing the stain. It can be something from their vault or a custom stain. Once you've sorted that, you can go with any of the finishes from satiny catalyzed varnish, glazed, rub-through, two-tone, distressed, or something unique, as instructed by you.
Ordering something from this site is a fascinating experience that puts you in complete control of choosing aesthetics that'll blend seamlessly with the rest of your home.
Sauder (Budget Friendly)

| | |
| --- | --- |
| Desk Styles | Computer, L-Shape, Rectangular Office |
| Colors Available | Dove Oak, Ash, Washed Gray, Antique White |
| Origin | Archbold, OH |
Sauder's Origin and Manufacturing Locations
Sauder, now a household name, has a rich local history with deep roots in rural Northwestern Ohio. The company was founded by Erie Sauder, an avid woodworking expert who launched a small private business on a corner of his land.
The business took off when a traveling salesman placed a multi-thousand dollar order for his goods and spread the Sauder name across the neighboring states and counties. Today, Sauder focuses on pouring back into the community and fostering a rich network of opportunities for domestic partnerships and employment. They claim to be the leading producer of ready-to-assemble (RTA) furniture in North America, and according to their website, 80 percent of their furniture is American-made.
Sauder's Desk Selection and Offerings
Sauder is one of the most accessible American-made brands, offering a variety of desks and designs that can suit any office space. You can easily find them online and explore the comprehensive spec and size sheets to be sure that the furniture will fit your space. You can also choose from a variety of RTA models and types, as well as soft and neutral-toned color options.
It's evident in their designs that Sauder focuses on the best possible use of space in any given item for any given space. Their construction is riddled with drawers, cabinets, and places where you can add flexible storage options and under-desk file folders for additional storage. This makes Sauder an ideal choice for those who are working at their desk for multiple hours per day, or who have a need for a greater level of storage than the average desk.
The desks also come outfitted with gliders, stops, and other accouterments that you would normally have to purchase and add on to other models. Beyond the added convenience, it also alludes to Sauder's overall quality and commitment to creating truly ready-to-use items and furniture additions. I was pleasantly surprised to see the level of diversity in their lineup and the thoughtfulness in their designs.
An important quality control measure that we want to note: While the storefront does state that all Sauder products are made in the USA, their corporate site states that approximately 80% of all of their products are made and sourced in America. It is unclear where the 20% is sourced from. Since their products also often say "Made in the USA with global components" it's likely that many parts of the desks are sourced from China or other countries where the cost of manufacturing is low. With that in mind, this desk is great for someone who is on a tight budget but still wants to support a company that at least makes an effort to keep jobs in America. These desks are not 100% American-made, which is why they're significantly cheaper than many other desks on this list.
We recommend Sauder to anyone on a budget that still wants a reliable, comfortable, and easy-to-assemble desk. This desk is significantly easier than others in its assembly and piecework structure, making it a strong choice compared to other similar products in the market. The only thing we really don't and feel could be improved about these desks is that many of the components are not American made, but for the money, it's an outstanding value.
iMovR (Treadmill and Standing Desks)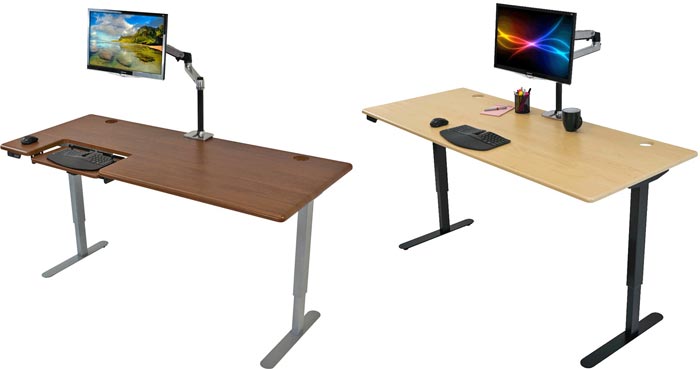 | | |
| --- | --- |
| Desk Styles | Treadmill desks, Standing desks, Desk converters, Desk accessories |
| Colors Available | Light Maple, Almond Cherry, Hayward Cherry, Clove Mahogany, and More |
| Origin | Bellevue, WA. |
iMovR's Origin and Manufacturing Locations
iMovR was launched in 2013 with a strong focus on employee health. Their desks are designed to keep employees as active as possible, even in the office setting. They are one of the most prevalently used government contractors, which allows them to offer even more competitive pricing to general consumers. They are NEAT certified by the Mayo Clinic and place a heavy emphasis on team member safety and ergonomics in their designs.
iMovR's Desk Selection and Offerings
iMovR is one of the most popular places to get your standing desk. It was great to find out that they made their products in the United States! Standing desks feature a variety of benefits for team members during the workday, all of which you can more thoroughly enjoy with the sleek, quality designs from iMovR.
They offer a wide variety of products and product colors, as they have aligned themselves with some of the most employee-dense government organizations. You'll be able to find your perfect standing or treadmill desk that suits your needs and the confines of your space in no time.
Their work surfaces are designed for heavy-duty and high-traffic work. You won't have to worry about flimsiness or wobbles with their proprietary framework and structures. These desks are strong enough to support dual monitors, machines, or additional work tools and accessories.
One thing that sets iMovR apart from many other desks is its commitment to ease of use. This is primarily shown by the easy assembly process, in which desks only take about five minutes to assemble from the time that they arrive. You can also enjoy a quiet, quick, and easy-lift experience when transitioning from sitting to standing or back down to a sitting position.
Their products also come with a minimum of a 15-year warranty, guaranteeing you the quality of work and design that you can enjoy from the brand. For certain desk types and made-in-the-USA models, such as the Lander and the Freedom desk frames, you can enjoy a lifetime warranty. They also offer a 100-day satisfaction guarantee on all of their products to ensure that you walk away with a purchase that you'll love.
iMovR desks are great for anyone who spends a lot of time at a desk and wants to be a little more active. You'll enjoy the ease of assembly and accessible price points that this brand has to offer. Alternatively, if you're looking for an American-made treadmill desk, you'll appreciate the flexibility and personalization that you're able to get when you purchase with iMovR.
Related Article: Office Chairs Made in the USA (Our Favorites)
HON (Great Large Desks)

| | |
| --- | --- |
| Desk Styles | Metal desks, Desk shells, Pedestal desks, Pinnacle desks, L-Right desks, Desktop risers, Workstations |
| Colors Available | Mahogany, Mocha, Oak, Cream, Birch, Natural Wood |
| Origin | Cedartown, GA. |
HON's Origin and Manufacturing Locations
HON has been in business since 1944, quickly rising to popularity thanks to the quality and experience with its office products. Their legacy is part of what makes them so unique, as their customers are still enjoying work that was constructed in the 1970s. HON has continued to place heavy emphasis on excellence, continuing education, and quality of work. They continue to evolve with the new innovations on the market and exceed the standard when it comes to customer service and overall experience.
HON's Desk Selection and Offerings
HON is a big name in American-made office furniture and supplies, so I was excited to see how accessible the brand was in the marketplace. Their furniture is simple and straightforward, featuring a durable and long-lasting construction and a wonderfully simple design and assembly process.
The company features one of the widest varieties of American-made desks and office furniture that I've encountered, making it extremely competitive with competing with other foreign-made brands for the advantage of novelty. HON furniture is built to last multiple decades, making it the perfect choice for those who don't mind spending a little extra to get long-lasting quality. The designs are slightly larger than the average desk design as well, which makes this brand the perfect choice for those who enjoy more space to work at their desk.
With HON's product line, you can enjoy a full lifetime warranty on your item. This is unique, as many other furniture manufacturers are only able to offer a partial warranty — if they choose to offer one at all.
You can purchase in good conscience when you choose HON products. The brand is extremely committed to sustainability and lists public goals and achievements on its website for full transparency. Their current goals are:
Relying 100% on renewable energy sources throughout the production process
Adopting a Zero-Waste to Landfill process
Reducing Greenhouse Gas Emissions (GHG) rates during the production process
Overall, HON provides high-quality and American-made desks and office furniture that suits your needs. While the price is slightly higher than other domestic or foreign-made alternatives, you're investing in quality craftsmanship and longevity of use that you wouldn't find with many other brands.
If you're looking for a quality desk experience and aren't necessarily limited by budgetary constraints, we recommend HON. HON offers unique benefits and a quality of construction that is built to last. This is the perfect choice for someone looking to upgrade their home office furniture and who needs more space to work.
Urban Hardwoods (Eco-Friendly Desks)

| | |
| --- | --- |
| Year Founded | 2001 |
| Desk Styles | Console Desk, Office Desk |
| Colors Available | Natural |
| Origin | Seattle, Washington |
Urban Hardwoods Origin and Manufacturing Locations
Urban Hardwoods' strong commitment to the environment is the driving force behind its business model. From the very beginning, the folks at Urband Hardwoods had only one mission in mind- get locally salvaged wood and turn it into eye-catching yet functional furniture.
Staying local is essential to any brand that wants to be eco-friendly and sustainable. That is why from sourcing northwest hardwood from within a 2-mile radius to handcrafting it, everything they do happens locally.
Urban Hardwoods Desk Selection and Offerings
This brand's furniture is unlike anything I've seen in my life! It's amazing to see them transform a damaged, drying tree into exquisitely crafted furniture built to last a lifetime. In all their pieces, the natural form and aesthetics of the tree are in full glory, which sets this brand apart from other wooden furniture brands.
Urban Hardwoods' best-selling desk has a single slab wooden top affixed to a black scissor-style steel base. A true one-of-a-kind desk you'd love flaunting! I was also pleased with how they make sure that you know where their furniture is coming from. In the case of this desk, it was an oak tree salvaged from Mercer Island after it fell during a storm.
You can either get a custom-made desk or choose from their ready-to-ship versions. If you go for a bespoke option, you'll need to pick a tabletop design, base, wood composition, and dimensions, and let them know of any other special design ideas you may have in mind.
Vaughan Bassett Desks

| | |
| --- | --- |
| Year Founded | 1919 |
| Desk Styles | Laptop Desks |
| Colors Available | Gray, Merlot, Cherry, Folkstone, Dover Grey, Lattice |
| Origin | Galax, Virginia; Elkin, North Carolina |
Vaughan Bassett's Origin and Manufacturing Locations
If you ever want to read up on how a century-old furniture brand survived the tide of imports, grab a copy of the New York Times bestseller "Factory Man." Based on John Bassett of Vaughan-Bassett, the book details how his commitment to staying local helped the company stay afloat AND grow when so many of its contemporaries succumbed to offshoring their manufacturing overseas.
Founded in 1919, Vaughan Bassett has been producing high-quality, solid wood furniture out of its factories in North Carolina and Virginia. I was happy to find that besides its dedication to American manufacturing, the brand also holds sustainability at its heart and happens to be a founding member of the Sustainable Furniture Council (SFC). They stick to using locally sourced wood and replace every harvested tree with a new one through their 'One for One" program.
Vaughan Bassett's Desk Selection and Offerings
One of the ways Vaughan-Bassett has been able to keep up with the aggressively priced competition is by focusing on their highest-selling items and dropping low-performing ones instead of dragging them along. While they're best known for bedroom furniture, the brand's collection of well-made Bonanza and Bungalow Home desks get a big thumbs up from me!
The Bonanza desks boast a classic shell design with a solid and durable mortise and tenon joint and two drawers for organizing your stationery. The inclusion of a powerstrip at the back makes it convenient to plug in your laptop or electronics and keeps the messy chords out of sight. Finally, these desks are made from cherry veneers and poplar solids, a signature combination that Vaughan-Bassett frequently relies upon.
While boasting a similar 2-drawer construction, the Bungalow Home laptop desks feature a few add-ons like self-closing drawers and easy-to-move ball bearings that make them slightly more user-friendly than Bonanza. Both desks are available in a gorgeous array of finishes and colors. You can pick the one that suits your decor the most.
Floyd Home (Very Versatile)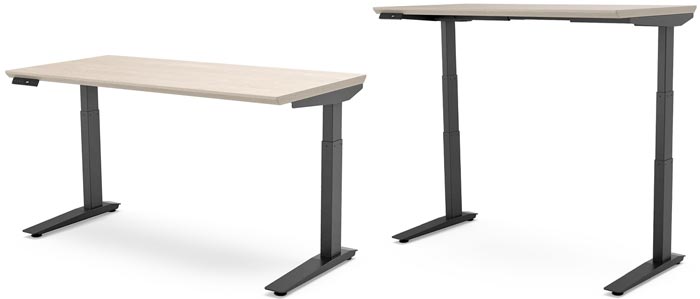 | | |
| --- | --- |
| Year Founded | 2013 |
| Desk Styles | Standing Desk |
| Colors Available | Natural Birch, Walnut, Linoleum with Black or White Base |
| Origin | Detroit, Michigan |
Floyd Home's Origin and Manufacturing Locations
A relative newcomer to the world of furniture, Floyd is already getting truckloads of instant love for its minimalist, intuitive, eco-friendly pieces. It was started as a Kickstarter campaign in 2013 by Alex O'Dell and Kyle Hoff. The duo's first invention was "the Floyd Leg," which allowed users to fashion a functional table from any flat surface. These innovative table legs triggered a wave of creativity, with people combing them with old doors, wooden slabs, and reclaimed stuff to build their own multi-purpose tables.
From clever table legs to making furniture for every room in the house, Floyd has come a long way. Their efforts in creating sustainable furniture solutions have been rewarded by solid growths year on year and millions of dollars of investor funding. Needless to say, all of their eco-friendly products are designed and manufactured right here, in the USA.
Floyd Home's Desk Selection and Offerings
For those who keep a simple, no-fuss lifestyle, Floyd's furniture is guaranteed to put a smile on your face. This Detroit-based brand excels in crafting furniture that's adaptable, practical, and highly unlikely to end up in land-fill for many decades.
Like all their pieces, Floyd's Standing Desk blends a sleek silhouette and timeless design with performance and comfort. For this desk, Floyd has used Fully's signature height adjustable Jarvis frame that can be paired with birch, walnut, or a smooth all-natural linoleum top.
Taking this desk for a test drive was super fun. It's smooth, sturdy, and incredibly easy to clean. The only catch is the lack of storage space. If you can work around that bit, then Floyd's Standing Desk is an eco-friendly, good-looking desk that'll serve you well through conference calls, lunches, and long hours on the laptop.
Popular Related Article: American Made Furniture Brands (Source List)
Stickley Desks

| | |
| --- | --- |
| Year Founded | 1900 |
| Desk Styles | Console Desk, Executive Desk, Library Table, Student Desk, Writing Desk, Standing Desk |
| Colors Available | Natural, Bay Brown, Centennial, Manlius, Raven, Mink, Onyx |
| Origin | Manlius, New York |
Stickley's Origin and Manufacturing Locations
Founded in 1900, Stickley has been crafting heirloom-quality furniture for over 122 years. Gustav Stickley and his brothers started the company with the aim to build the finest quality furniture that would stand the test of time. Since then, every piece the brand has made is marked with "Als Ik Kan," which in Dutch translates to "As best I can," to show their commitment to excellence and integrity.
Stickley also takes sustainable and responsible manufacturing very seriously. This guiding principle started with Gustav Stickley and is carried on to this day. Stickley works hard to make its process energy-efficient and planet-friendly. They use the highest-grade locally harvested wood and pair it with superior American craftsmanship to deliver pieces that can be passed down from one generation to another.
Stickley's Desk Selection and Offerings
When you explore Stickley's beautiful collection, you'll notice understated, enduring designs that will stay relevant through time. In fact, it was Gustav Stickley who's largely credited for inventing the timeless Mission-style furniture- simple, clean shapes in response to the elaborate, excessive Victorian designs.
When it comes to desks, Stickley's collection is teeming with graceful, functional pieces available in a host of signature designs and wood compositions like oak and cherry. From the iconic Mission-style desks to Harvey Ellis's intricate inlays to sophisticated Walnut Grove designs made using solid American Black Walnut, Stickley's catalog has some fantastic options to explore.
In terms of configurations and function, Stickley desks come in straightforward console desks, computer work tables, student desks, Hi-Lo standing desks, compact library tables, and robust executive desks with plenty of storage. What's great is that many of these can be further customized in a variety of hand-rubbed finishes. My favorites are- Natural, Bay Brown, Centennial, and Manlius.
Homestead Furniture (Modern Amish-Made Desks)

| | |
| --- | --- |
| Year Founded | 1990 |
| Desk Styles | Executive Desk, Writing Desk, Rolltop Desk, Lift Desk, Vanity Desk, Workstation, Corner Desk, Partner Desk |
| Colors Available | 3000 plus options |
| Origin | Mount Hope, Ohio |
Homestead Furniture's Origin and Manufacturing Locations
While we love Amish furniture for its quality built and longevity, they aren't always the most good-looking pieces to have around. Well, here's a brand that wants to change this notion with its breathtaking, chic, and modern Amish handmade home furniture.
Based out of Ohio's famous Amish country Mount Hope, Homestead has established itself over the last three decades as a brand that offers Amish craftsmanship in contemporary designs. A win-win combination!
Homestead Furniture's Desk Selection and Offerings
Homestead offers great quality hardwood furniture for every room in the house, including the home office. There's no dearth of attractive desk options in Homestead's portfolio and many great styles, including traditional, mid-century modern, rustic, mission, shaker, modern, and industrial.
The brand offers a carefully curated selection of functional configurations like the three-drawer Colopy modern writing desk and rustic Cabin Creek multi-purpose desk. You'll also come across elaborate ones like the Divinity Deluxe Rolltop- a traditional roomy desk with plenty of storage that promises to be a great conversation piece.
The models that impressed me the most belong to Homestead's Liberty line. The Liberty Executive Desk and Workstation are charming, down-to-earth colonial-style pieces reminiscent of how hard our founding fathers fought for the birth of American liberty.
The most exciting part comes once you've made your desk selection. You can choose from over 3000 color options for each piece of furniture and customize it in size and function to match your needs.
Xdesk (Amazing Standing Desks)

| | |
| --- | --- |
| Year Founded | 2005 |
| Desk Styles | Power-Adjustable Standing Desks |
| Colors Available | Dark, Medium, and Light Bamboo; Jet Black Gloss, Alpine White, Silver Gloss, Black Matte Aluminum |
| Origin | Austin, Texas |
Xdesk's Origin and Manufacturing Locations
In a world of fast furniture, Xdesk is a breath of fresh air! This Texas-based brand crafts its pieces from carefully selected, sustainably sourced solid wood and recycled material, employing techniques that honor the American tradition.
With clientele that includes talk show celebrities, musicians, and NBA players, this brand has shaken the furniture industry. The reason, of course, is their award-winning standing desk- a sleek, functional, ergonomic haven that's built to last a long time. These fantastic standing desks are non-toxic, formaldehyde-free, eco-friendly and proudly made, by hand, in the USA.
Xdesk's Desk Selection and Offerings
Here's a brand that sells one of the most impressive standing desk collections. They are so versatile that they could blend well with any decor- traditional or contemporary. X-desk Terra 2 series are power-adjustable standing desks made from either natural bamboo or Plantation Oak top placed on two strong aluminum columns. It's sleek and classy and can go from sitting to standing profile with the touch of a button.
Those looking for a more traditional appeal can opt for Xdesk Vintage. The solid steel frame with a wooden top and exposed joinery gives this piece a raw and industrial look. Plus, advanced features like best-in-class lifting speeds, smooth glides, and an anti-collision safety system make it incredibly user-friendly.
The above are just two of the many awesome lines of desks this brand offers. You could pick from: the solid aluminum Air series, state-of-the-art microprocessor-powered Encore desks, compact and student-friendly Solo desks, dynamic Flex desks, and many more. If you still don't like any of these, which I don't think is possible, you could ask them for a tailor-made solution. Xdesks are easily some of our favorite desks made in the USA.
Versadesk (Great Standing Desk Risers)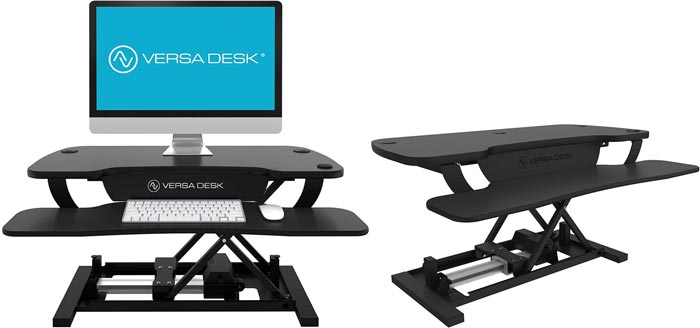 | | |
| --- | --- |
| Desk Styles | Standing, Varied Shapes & Designs |
| Colors Available | Black, White |
| Origin | Los Angeles, CA. |
Versadesk's Origin and Manufacturing Locations
Versadesk changed the desk industry forever and was the first to launch a push-button designed standing desk: designed to go from a sitting position to a standing position automatically. The company launched in 2000 and is focused on creating domestically made ergonomic desks and office tools for home offices. They continue to do this and have been pouring back into the American economy with every sale. They create desks and related accessories in their Los Angeles, CA factory.
Versadesk's Desk Selection and Offerings
I was so excited to find a standing desk manufacturer that offered made-in-the-USA quality at an affordable and accessible price point. Versadesk has a long history of innovation and success behind them, pioneering the original standing desk design. They have recently made some ergonomic and sustainability-based upgrades to their process, sourcing more responsibly and using recycled materials.
For consumers who are looking for USA-made desks with a commitment to sustainability in their production, Versadesk is one of the best options available. From production to execution, you can rest assured that there is a minimal environmental impact. On their site, the company highlights their replanting commitment to fight deforestation, as well as their commitment to energy-safe practices within the office environment.
These desks feature a variety of certifications to help assure you of their quality and global impact, including:
Sustainable Forestry Initiative (SFI) Certification
Scientific Certification System (SCS) Certification
Sustainable Furnishing Council (SFC) Certification
Green Building Council (GBC) Certification
Looking for a simplified guide to how these certifications can impact your purchasing decisions? Click here to learn more about sustainability certifications in the manufacturing industry.
These desks are known for their inclusivity in design and their incredible ease of use. Every design is ergonomically manufactured for the greatest benefit in your home office, leaving you to tackle your workday in comfort.
Versadesk is great for busy executives and for people who work from home. A standing desk provides the added benefit of more movement during the day, helping you to avoid the negative effects of a sedentary lifestyle. You'll love the sleek, quality, and ergonomic design that you can enjoy with VersaDesk.
Fireside Lodge Furniture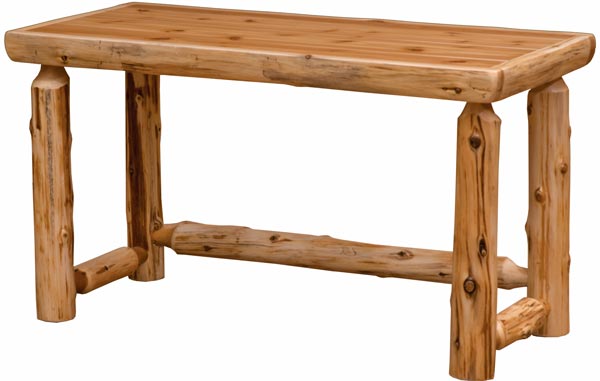 | | |
| --- | --- |
| Year Founded | 1998 |
| Desk Styles | Writing Desk |
| Colors Available | Natural |
| Origin | Pequot Lakes, Minnesota |
Fireside Lodge Furniture's Origin and Manufacturing Locations
As we speak, there are a bunch of highly-skilled craftsmen hard at work at a state-of-the-art facility in Minnesota, making enduring quality furniture with hand-peeled logs and reclaimed timber. Starting in 1998, Fireside Lodge has become well-known for its diverse selection of wooden furniture built with time-tested methods and modern technology.
The brand has a deep respect for nature. By utilizing low to zero VOC and non-toxic stains to generate close to zero waste by using only CARB-compliant plywood, Fireside is making great strides in becoming a sustainable company.
Fireside Lodge Furniture's Desk Selection and Offerings
Fireside Lodge has a good command of various styles, including rustic, transitional, industrial, and contemporary. I fell in love with their Simplified Open Writing Desk. Available in natural cedar with Natural, Liquid glass and Armor finish, this desk is set to woo every rustic enthusiast out there! It's made from responsibly forested Northern White Cedar.
When it comes to durable cedar furniture, Fireside Lodge prides itself on crafting the most durable pieces fashioned from hand-peeled logs to enhance the rugged, woody character. And this desk is no exception!
I would recommend going for the Liquid Glass finish. It not only protects your desk from scratches and keeps it looking as good as new even after years of daily use.
Martin & Macarthur (Fine Koa Desks)

| | |
| --- | --- |
| Year Founded | 1961 |
| Desk Styles | Executive Desk, Vanity Desk, Rolltop Desk, Office Desk, Writing Desk |
| Colors Available | Natural |
| Origin | Honolulu, Hawaii |
Martin & Macarthur's Origin and Manufacturing Locations
Martin & Macarthur began as a small business started by Jon Martin out of a garage in Hawaii. Already skilled in the art of woodworking, Martin put his talents to use by making cabinets out of Koa.
He was then joined by Douglas MacArthur, and the duo decided to focus all their efforts on sparking an interest in the Hawaiian-style Koa pieces. Today, even though the company has exchanged hands, it is still renowned for crafting beautiful high-end Koa furnishings with the love and care they deserve.
Martin & Macarthur's Desk Selection and Offerings
If you've owned a piece of Koa furniture, you know just how beautiful it is! This exotic species is found only in parts of Hawaiin Island and is sought after for its deep rich red hues and fascinating wood grain patterns. If you want your home office to have a desk made from this exotic wood, look no further than Martin & Macarthur.
Their top seller is the timeless and elegant Moana Desk which was originally designed for one of the oldest hotels in Hawaii. With its highly-figured koa top and a hidden compartment, this desk will add a touch of luxury and distinctive appeal to any decor. The easy-to-access and roomy Plantation Dropleaf desk is another of my favorites.
Considering how exotic and rare koa wood is, any furniture made from it is bound to command the top dollar. Martin & Macarthur's desks and other furnishings are absolute head-turners, built with an heirloom quality that makes them worth the investment.
McMillins

| | |
| --- | --- |
| Year Founded | 1948 |
| Desk Styles | Executive Desk, Library Desk, L-Shaped Desk, Writing Desk, Student Desk |
| Colors Available | Brown Maple, Peppercorn, Natural, Driftwood |
| Origin | Yale, Michigan |
McMillins' Origin and Manufacturing Locations
Founded by Charles and Sophie McMillin in 1948, McMillin has weathered its fair share of storms before becoming a leading furnishings business in Yale, Michigan. In 1960, after the couple divorced, the task of running the company fell squarely on Sophie's shoulders. At a time when women in business was a rare phenomenon, Sophie took charge and ran it successfully for two decades.
Now into its third generation, McMillin is still going strong on the back of a winning formula of listening to its customers, focusing on quality, and showcasing American craftsmanship.
McMillins' Desk Selection and Offerings
For the family-owned McMillin, customers have always been a priority and more like an extension of their family. They want their customers to enjoy the experience of choosing and buying furniture instead of thinking of it as an overwhelming task.
McMillin stores are home to a wide range of brands, most of which are manufactured in the USA, like La-z-boy and Smith Brothers of Berne. They retail every home furnishing item you might need, including furniture, accessories, and decor.
McMillin houses a lovely collection of durable solid wood desks by the American Made Home Office (AMHO) brand. My favorites from AMHO's catalog were the Classic Executive Desk, Colburn L-shaped Desk, Loft Credenza, and Grattan Oak Writing Desk.
Tritter Feefer (Picture-Perfect Finish)
| | |
| --- | --- |
| Year Founded | 2007 |
| Desk Styles | Writing Desk, Vanity Desk, Work Desk |
| Colors Available | Antique Grey, Smooth Arctic, Brushed White, Cashmere, Sand Dune, Charcoal, and Many Others |
| Origin | LaGrange, Georgia |
Tritter Feefer's Origin and Manufacturing Locations
Tritter Feefer believes "Green is Good," and we couldn't agree more! This family-owned company was started by Mary Louise Littlefield and her husband Bill Altman in 2007 after they moved to Georgia to be closer to their son and grandkids, who they lovingly call Tritter and Feefer.
Their eco-friendly manufacturing is based entirely in the USA and made using sustainably harvested wood by hardworking local artisans. That is why when you buy something from this brand, every penny goes into supporting the American economy.
Tritter Feefer's Desk Selection and Offerings
Tritter Feefer makes just about everything thing from beds to desks. The desks they sell are transitional and largely inspired by European designs. While some are minimal, with clean lines like Madame X Desk, San Blas, and Audrey Desk, others are traditional with a contemporary twist. The Elizabeth Writing Desk with French cabriole leg is gorgeous and perfect for budding novelists.
If I had to pick just one, I'd say their biggest selling point is the amazing array of water-based, low to no VOC custom finishing they offer. Their Home collection carries over 30 stunning finishes categorized into- Standard, Premium, Elite, and Reclaimed Timber.
And if your desk has a metal or steel part, it can be topped off in any of the 7 lustrous finishes ranging from Antique Gold to Dark Bronze. On the off chance, you still don't find the finish you're looking for, speak to them, and they'll be happy to customize it for a small upcharge.
Evodesk (Amazing Tech)

| | |
| --- | --- |
| Desk Styles | High-tech standing desks |
| Colors Available | Black, White |
| Origin | Austin, Texas |
Evodesk's Origin and Manufacturing Locations
Evedesks are definitely not just your average desks. They offer state-of-the-art technology that is seriously impressive. Along with being sleek and incredible well designed to maximize workspace efficiency, Evodesks offer integrated charging, unique patent-pending designs, smart applications, and a whole lot more. On the Evodesk website, you can totally customize your workspace.
Evodesk's Desk Selection and Offerings
On the Evodesk website, I read a statement referring to this company as the Lamborgini of standing desks, and I think that's a great analogy. This company has seven patents and ten patents pending, which shows they're really trying to innovate and make a desk their customers love.
These desks have so many features I highly recommend just going to check out their website because there is no way I can write everything you need to know about them in this article.
Everything on these desks is well built, from the sturdy frames to lifting columns that are capable of lifting 500 pounds; these desks stand out in so many ways.
While these desks are probably a litter overboard for your average consumer, if you're someone who spends a lot of time at a desk, it really might be worth the investment!
Ergo Desktop (Great Sit-To-Stand Desk)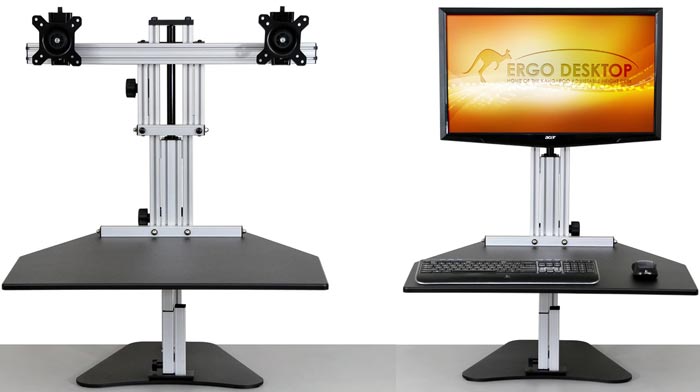 | | |
| --- | --- |
| Desk Styles | Single to three monitor sit-to-stand models, student desks, desk accessories |
| Colors Available | Black, Light Maple, Cherry, Putty |
| Origin | Celina, OH. |
Ergo Desktop's Origin and Manufacturing Locations
Ergo Desktop is a women-owned company that has manufactured sit-to-stand and alternative desk solutions since 2011. With over a decade in the industry, the brand has taken off, most notably with its kangaroo models. The company headquarters are located in Celina, OH. since its creation, giving new employment and economic opportunities to the regional locale. The business is committed to creating quality, American-made desk solutions for home offices across the nation.
Ergo Desktop's Desk Selection and Offerings
It's always exciting to see a woman-owned business make the list! Ergo Desktop came right at the cusp of the standing desk craze and has been able to continue to evolve and adapt to the ever-changing needs of the American office worker. Their line features an extensive variety of sit-to-stand models, which has become their primary offering. These are designated as the "Electric Kangaroo" models, providing you with seamless standing desk functionality. You can also enjoy these models at a regular sitting level as well, giving you effortless versatility.
One of the main themes that you'll see woven through Ergo Desktop's designs is personalization and ergonomic flexibility. The brand focuses on creating modern, aesthetically pleasing designs that are completely customizable to your preferences. For example, you're able to enjoy dual adjustment functionality embedded in both your work surface and monitor — serving your ergonomic needs and reducing eye and neck strain by optimizing your viewing experience.
The desks and work surfaces also feature sleek, streamlined cord feeding system functionality in their designs, working with a dual purpose to support your work and keep your space clear of distracting cords.
When you work with Ergo Desktops, you can purchase in confidence. Their inventory is made in America and is clearly displayed on their homepage as such. You won't have to worry about ethical sourcing habits, production methods, or overall quality. You can simply purchase, assemble, and enjoy.
We recommend these desks to anyone looking to level up their workspace. The prices for these products are quite accessible for sit-to-stand models when compared to their internationally-assembled competitors. If you're in the market for an ergonomic, supportive, and quality, American-made desk choice, this is the product for you.
Ready Desk (Desk Converter)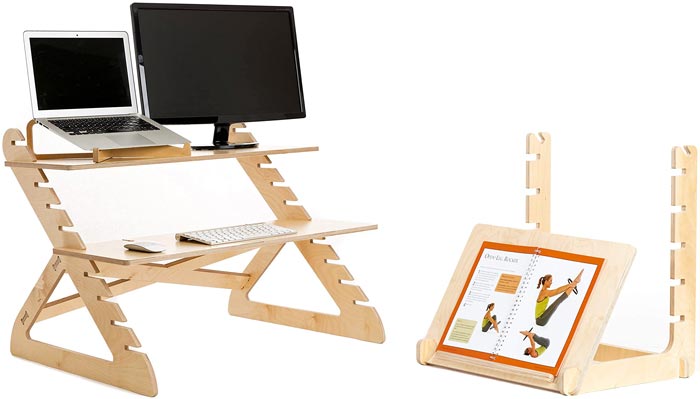 | | |
| --- | --- |
| Desk Styles | Regular risers, Converters, Laptop stands, Desktop desk solutions, Dual model standing desk, standing desks |
| Colors Available | Natural birch |
| Origin | Atlanta, GA |
Ready Desk's Origin and Manufacturing Locations
Ready Desk began with an accidental design back in 2009. The founders were sick of dealing with pinched nerves and general discomfort simply because they worked from home. They were looking for a suitable home office solution but couldn't find the right one, which led to the beta construction of the first Ready Desk prototype. It was a standing design, created with extra pine boards from around the house. In just days, they felt the difference: and knew that they had stumbled on an ingenious business idea. Years later, Ready Desk continues to offer American-made quality desks to thousands of customers in need.
Ready Desk's Desk Selection and Offerings
I always love the opportunity to review smaller, American-made businesses. After all, that's generally where you'll find some of the best products. Ready Desk is no different, offering quality and aesthetically pleasing birch standing desks and converters to the work-from-home crowd.
Ready Desk offers unique, neutral-toned birch wood desks that are suitable for any living space, crafted entirely of natural wood. Beyond desks, Ready Desk has also expanded its product library to include converters, standing desks, desktop desks, and more, offering flexible and ergonomically friendly options for the modern-day team member.
I really appreciate the flexibility that the brand offers in its designs. Every included shelf is independently adjustable to give you the ideal viewing experience with each use and facilitate the use of extra desk additions of tools, such as a router, second screen, mouse, and more.
A unique element of most of the Ready Desk designs is that you don't need any tools for assembly. These come ready to build out of the box and fit seamlessly together thanks to the expertly designed placement of notches and connection elements. You'll have your desk together in minutes, which has completely upgraded the furniture assembly experience from what it once was.
When you choose to invest in a Ready Desk design, you're in good company. The brand has boomed during the pandemic and work-from-home era and has been featured in publications and e-magazines such as Slate, Business Insider, Lifehacker, and more for its ingenuity and user-friendly design.
We recommend this product for anyone who finds themselves spending long hours at their computer and who wants a more natural-looking alternative to traditional desks. This design is also ideal for people who need a simplified assembly process or who simply don't want to spend hours assembling their new desk. The ease of use is incomparable and makes the Ready Desk the perfect solution for those who need their office set up quickly.
Wrap Up:
That does it for this article. Let us know if there are any great brands we missed in the comments below! We're constantly looking to improve our articles.
Hi, my name is Kevin and I'm from Pittsburgh, Pennsylvania. Choosing products made in America is important to me because it supports local economies, creates jobs, helps the environment, and ensures ethical labor practices. I also find that American made products are usually of higher quality so although they're a little more expensive, you save money in the long run. Before starting this website I was in the USMC infantry and nowadays I work on this website as a hobby.