Nowadays, so many products are made overseas, but thankfully when it comes to furniture made in the USA, there are tons of great options! Furniture is a massive industry so we've done a ton of research to create a list that includes all types of furniture, including sofas, tables, recliners, outdoor furniture, and a whole lot more!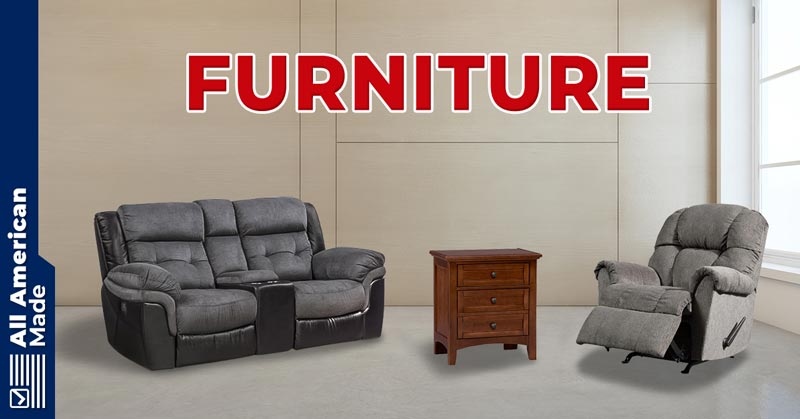 Scroll down this guide for a carefully compiled list of the best American made furniture brands to keep in mind next time you decide to redecorate or furnish your house or any space. Keep in mind that the brands at the top are not necessarily better than any of the other brands because each brand shines in different areas, and their product selection varies greatly.
List of Furniture Made in the USA
Vaughan Bassett (Great Bedroom Furniture)

| | |
| --- | --- |
| Year Founded | 1919 |
| Types of Furniture | Bedroom Furniture |
| Materials Used | Solid Woods-Pine, Oak, Maple, Cherry, Ash, Poplar, Birch, and Beech |
| Origin | Galax, North Carolina |
Vaughan Bassett's Origin and Manufacturing Locations
Vaughan-Bassett, founded in 1919, is one the last remaining bedroom furniture makers of its scale that has managed to strive and thrive in the age of imports. The brains behind this brand's success were John Bassett III of Bassett Furniture and BC Vaughan.
Through some tweaks, well-timed decisions, and dedication to making 100% USA-made products, John Bassett was able to keep the company going when so many North Carolina furniture makers went under. I managed to get my hands on New York Times best-seller Factory Man, an inspiring read on how Bassett fought to save American jobs by staying local.
When so many of the brand's products are solid wood constructions, it's important to be responsible and sustainable. Vaughan-Bassett knows that and actively works towards sustainability through their "One for One" initiative- where for every tree harvested, a new tree is planted. The brand's collaboration with the Virginia Department of Forestry has resulted in over 1.5 million trees getting planted in the last decade alone!
Vaughan Bassett's Furniture Selection and Offerings
It's heartening to see Vaughan-Bassett's sheer commitment to quality and American craftsmanship that's hard to come by these days. The brand continues to employ over 700 people at its three North Carolina manufacturing plants in Galax, Virginia, and Elkin. Most of what they make is solid wood, for which Vaughan-Bassett uses an amazing array of wood species, including pine, oak, maple, cherry, and beech, among many others.
Consider this brand your one-stop shop for bedroom furniture needs. Here you'll find everything from the finely crafted chests of drawers, to dressers, to nightstands, to beds. For their dressers and chests, Vaughan-Bassett takes care to comply with ASTM International F2057, a safety standard for furniture stability, and all their storage furniture comes with an anti-tip kit.
Their catalog has a stunning collection of queen and king-sized beds with features like storage, low-profile footboards, and paneled headboards. The rustic, hand-hewn canoe-inspired Board and Batten, a more casual Louvered bed with a low footboard, arched headboard bed, and the versatile raised paneled Mansion bed are just some of the many options to pick from.
Vermont Woods Studios (Great All-Wood Furniture)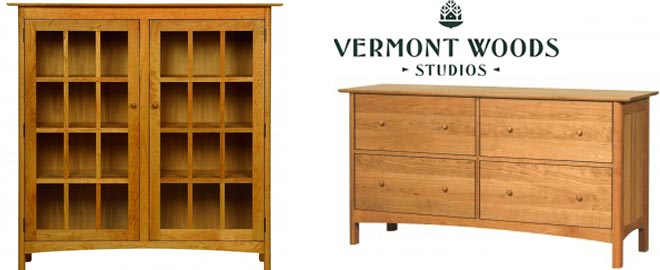 | | |
| --- | --- |
| Year Founded | 2005 |
| Types of Furniture | Bedroom, Dining Room, Living Room, Home Office, and Outdoor |
| Materials Used | Maple, Oak, Cherry, and Walnut |
| Origin | Vernon, Vermont |
Vermont Woods Studios' Origin and Manufacturing Locations
Manufacturing sustainably and responsibly takes the center seat when it comes to wooden furniture. This is why Vermont Woods Studios works tirelessly to offer ultra-durable furniture with sustainably sourced North-American Hardwoods- maple, oak, cherry, and walnut.
Besides using only native and local wood species, VWS plants thousands of trees each year for reforestation. The brand was founded in 2005 by Ken and Peggy Farabaugh with an aim to produce top-grade wood furniture, 100% handmade in Vermont.
Vermont Woods Studios' Furniture Selection and Offerings
Did you know Vermont Woods Studios has its very own forest? Nestled in Stonehurst, a 109-acre forest in Southern Vermont, VWS headquarter is also home to bees, birds, butterflies, deer, foxes, porcupines, and other wildlife. The joy of living and working in a real forest rubs off in their striking collection, available in styles like Modern Industrial, Shaker, Mission & Craftsmen Style, Modern, Mid-Century, and Traditional American Furniture. Since every piece is made on order, you can further customize and tweak it to your taste.
Vermont Woods Studios' well-built, high-end, heirloom-quality wood furniture goes a long way, resulting in a much smaller carbon footprint than what you typically find in the market. Plus, by manufacturing locally, this brand and all those who buy from it are supporting local jobs and talent- woodworkers, sawmill workers, and loggers. Now, who wouldn't say yes to such a sweet deal?
American Signature (Most Options)

| | |
| --- | --- |
| Year Founded | 1948 |
| Types of Furniture | Sofas, Dining Sets, Beds, Accents, Home Office, Entertainment Centers |
| Materials Used | Wood, Metal, Fabric, Glass, and Leather |
| Origin | Columbus, Ohio |
American Signature's Origin and Manufacturing Locations
Growing the way American Signature did despite the adversities and throttling competition from overseas is an excellent example of an American success story. The best part? They did all of this without giving up on American manufacturing. The Schottenstein family's association with furniture began nearly a century ago in the 1930s, with Ephraim L. Schottenstein selling furniture from the basement of his clothing store.
Real success came by when Ephraim's son, Jerome, joined the business three decades later and kicked off a slew of acquisitions to expand the company. All this while, the Schottenstein's were focused on retail. Only in the 1990s they decided to start producing their furniture under American Signature Furniture. Now led by Jay and Jonathan Schottenstein, the company owns 125 stores and employs over 4,000 people in the USA. If you'd like to learn more about the company, you can check out their About Us page here, where they also have a picture of some of their employees at their massive manufacturing facility in North Carolina. One thing to keep in mind is that while the majority of their furniture is made in the USA, their product selection is massive so with a company of this size that's constantly adding inventory, I also recommend double-checking with customer service before ordering.
American Signature's Furniture Selection and Offerings
Looking for a sectional sofa, dining set, bookcase, end table, accents, gaming Table? Or perhaps an adorable bunk bed for your kids? Or a comfy chair and table for your home office? Then this is the brand for you! Family-owned from the start, American Signature Furniture is highly recognized for its superior quality, value, and timeless designs that'll never go out of style.
ACF's products are an absolute bang for the buck and within reach of most. All pieces are well-made, functional, and available in designs varying from traditional to contemporary. At ACF's stores and website, not only do you get the brand's proprietary furniture but also a carefully curated selection of American-made furniture and furnishings by various other manufacturers.
Floyd Home (Most Versatile)

| | |
| --- | --- |
| Year Founded | 2013 |
| Types of Furniture | Beds, Tables, Desks, Chairs, Storage, Sofas, and Sectionals |
| Materials Used | Cold-rolled Steel, Birch Plywood, Walnut |
| Origin | Detroit, Michigan |
Floyd's Origin and Manufacturing Locations
Floyd's furniture pieces are the stuff of dreams for the eco-conscious folks. Through its minimalist, adaptable, and functional products, this direct-to-consumer brand has grown by leaps and bounds from a small entity on Kickstarter less than a decade ago to the ironic brand it is now.
Excellence, sustainability, and supporting the domestic economy are the heart and soul of this Detroit-based company. In fact, Floyd was founded for the very purpose of making versatile, serviceable, and durable furniture that can adapt to your needs and won't end up in landfills anytime soon.
Floyd's Furniture Selection and Offerings
Since the launch of its inventive furniture legs that allowed people to make a table out of any material and place it on the thick steel legs, Floyd has come a long way in a matter of years. It won't be wrong to say this brand has revolutionized the way we use our furniture and made us realize there's so much more we can get out of it before discarding it.
Like its unique table legs that have loyal fans the world over, the versatile Floyd bed frame can be modified to accommodate different mattress sizes through an easy-to-use kit. All of this brand's furniture, including the bed, sofas, tables, desks, storage, and display units, has been built to extend their lifecycle and make them fully serviceable. More importantly, Floyd's designs are sleek and chic, with a timeless appeal that blends with any interior.
To get an idea of how dynamic this furniture is, check out the "Lived In" section on Floyd's website for a glimpse of some of its customers' homes. You can also plan a stay at one of the many Airbnb tie-ups Floyd has furnished for a first-hand feel of this future and planet-friendly furniture!
American Leather (Great Quality)

| | |
| --- | --- |
| Year Founded | 1990 |
| Types of Furniture | Sofa, Sectional, Accent Chairs, Motion Furniture, Reclining Furniture, Ottomans, Bed Frames |
| Materials Used | Solid Wood, Leather, Fabrics |
| Origin | Dallas, Texas, USA |
American Leather's Origin and Manufacturing Locations
Gone are the days when we had to wait months and months for a custom-made piece of furniture. And brands like American Leather have made sure the wait time only gets shorter! Since its launch in 1990, this brand has grown from a small team working out of rented space to a 600-employee-strong company operating a gigantic 350,000 sq feet plant in Dallas, Texas.
With American Leather, ordering customized furniture is a speedy, fun, and effortless experience. Why take our word for it when you can order and find out for yourself?
American Leather's Furniture Selection and Offerings
Thanks to a performance-driven culture, efficient processes, expert craftsmanship, and innovation, American Leather's made-to-order furniture is at your doorstep faster than ever before. In addition to impeccable quality, they go to great lengths to produce responsibly. Using sustainably harvested wood, eco-friendly leathers, water-based pigments, and 100% recyclable cushioning are just a few of the many things they do in that direction. Their innovative practices also produce minimal waste and scraps that are then further recycled or repurposed.
If, like me, you too have a soft corner for comfy and gorgeous upholstered furniture, then this is the brand for you. Their top-grain leather is sourced from some of the best tanneries and is available in a vast selection of colors and textures. Sofas, sectionals, sleepers, motion furniture, accent chairs, ottomans, bed frames, everything on their stunning catalog can be customized in your choice of leather and fabric and shipped off to you in a jiffy!
Stickley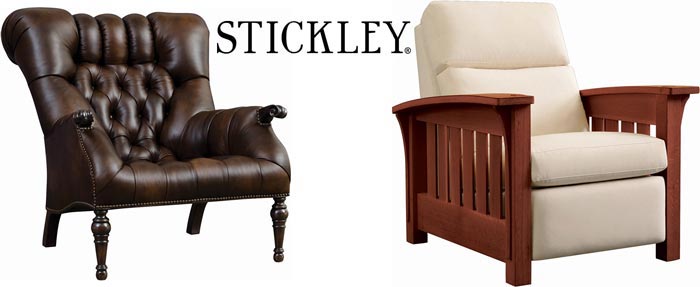 | | |
| --- | --- |
| Year Founded | 1900 |
| Types of Furniture | Living Room, Bedroom, Dining, Home Office |
| Materials Used | Cherry, White Oak, Tropical Mahogany |
| Origin | New York and North Carolina, USA |
Stickley's Origin and Manufacturing Locations
Crafting every piece of furniture with time-honored techniques, integrity, and excellence is the driving force behind Stickley's 122-years-old growth story. Founder Gustav Stickley wanted the world to know what made them different, so he marked every piece with "Als Ik Kan" – to the best of my ability.
When you buy something from this brand, rest assured that it has been made with utmost dedication and with the finest materials at Stickley's manufacturing facility in Manilus, New York. I really like this company if you'd like to learn more about them, check out the About US page of their website here.
Stickley's Furniture Selection and Offerings
Being a nature conservationist, Gustav Stickley made sure that the company's manufacturing processes were centered around energy efficiency and sustainability. Striking harmony with nature has been the brand's guiding mantra. They reuse, re-purpose, and use locally sourced North American hardwoods to create pieces that'll be around for generations instead of ending up in landfills.
Besides using the highest-grade woods, Stickley's durability comes from its superior craftsmanship and robust designs. Pinned Mortise-and-Tennon Joinery, Self-locking Dovetail Joints, Bracket Foot Construction, and Quadralinear posts are some of the stand-out features that deliver heirloom durability.
Graceful and timeless pieces make up Stickly's upscale furniture collection. Fans of the traditional style will fall in love with Stickley's iconic Mission Collection, Cherry Classic, and St. Lawrence. Meanwhile, collections like Metropolitan and Martine, with their clean shapes and understated beauty, are more likely to woo contemporary enthusiasts.
POLYWOOD Furniture (Great Outdoor Furniture)

| | |
| --- | --- |
| Year Founded | 1990 |
| Types of Furniture | Chaise Lounges, Benches, Swings, Adirondack Chairs, Dining Sets, Accent Tables |
| Materials Used | High-Density Polyethylene Plastic |
| Origin | Syracuse, Indiana, USA |
POLYWOOD's Origin and Manufacturing Locations
Producing sustainably and responsibly while creating American jobs has fueled POLYWOOD's journey from humble garage beginnings to one of the U.S.'s leading manufacturers of outdoor furniture. Every POLYWOOD piece of furniture is made at either their original Syracuse, Indiana factory or the recently rolled out North Carolina plan- putting them well within reach of achieving their goal of creating 1450 American jobs by 2023!
Being eco-friendly is not just lip service for them- POLYWOOD prevents an average of 400,000 milk jugs per day from ending up in landfills by recycling them. These milk jugs are then upcycled into the brand's proprietary lumber, which happens to be the hero of their furniture collection.
POLYWOOD's Furniture Selection and Offerings
The fact that their first creation, an all-weather Adirondack chair, is now available in 16 fascinating colors and patterns is a small example of the brand's growing prominence. Polywood's sprawling range makes it a one-stop shop for your outdoor and patio furniture needs.
Besides the iconic Adirondack, Polywood makes rocking chairs, coffee and accent tables, dining sets, deep seating sets, benches, swings, and much more. The milk jugs we mentioned go into making High-density Polyethylene Plastic (HDPE).
Durable and tough as nails, this material stays as good as new whatever surprise the weather gods may unleash, sweltering heat, blizzards, dust, rain, and storms. It can withstand all without chipping, cracking, rusting, staining, and splintering. To show just how confident they are of this, Polywood backs every product with a 20-year warranty.
Rustic Red Door (Great Amish Made Furniture)

| | |
| --- | --- |
| Year Founded | 2003 |
| Types of Furniture | Solid Wood Amish Made |
| Materials Used | Solid Wood- Cherry, Walnut, Hickory, and Oak |
| Origin | Amish Counties of Ohio |
Rustic Red Door's Origin and Manufacturing Locations
If you've ever wanted to own authentic Amish furniture made in the USA, look no further than this brand! As a second-generation family-owned business, Rustic Red Door Co's commitment to promoting Amish craftsmanship has been significant, to say the least. Earlier known as "Hope Woodworking before its rebranding in 2017, Rustic Red Door is now run by the husband-wife duo of Shaun and Kerry.
The new name was Kerry's idea. For her family, a "Red door" has been a symbol of hospitality and protection, passed down generations. It's the same warmth they want to bring to your home through their beautiful, heirloom-quality furniture pieces, handcrafted with dedication and integrity by talented Amish craftsmen in Ohio.
Rustic Red Door's Furniture Selection and Offerings
There aren't many places where you'll find such a huge collection of Amish furniture. The brand makes every type of furniture and home decor item for all spaces of the house, including the living area, dining room, bedroom, bathroom, entryway, and commercial setups like offices, pubs, and bars. And on the off chance you still don't find what you need, the team at Rustic Red Door will be happy to have it custom-made for you.
I found RRD's designs to give off a warm, old-world charm, perfect for farmhouses or homes with a country-side, rugged theme. Some of the pieces that caught my eye were Live Edge Wooden Benches available in cherry wood, walnut, hickory, and oak. and Mission Style Shoe Storage Bench.
La-Z-Boy (Some Models)

| | |
| --- | --- |
| Year Founded | 1927 |
| Types of Furniture | Recliners, Sofa, Chairs, Loveseats, Sectionals, Home Accents, Beds, and Dining Sets |
| Materials Used | Fabric, Leather, Wooden Frames, Comfort Core, Air Foam Cushions |
| Origin | Dayton, Tennessee; Neosho, Missouri; and Silom Springs, Arkansas |
La-Z-Boy's Origin and Manufacturing Locations
Who hasn't heard of La-Z-Boy and their ultra-comfy line of recliners and sofas? The highly-recognized furniture brand was started way back in 1927 by cousins Edwin J. Shoemaker and Edward M. Knabusch. With their first creation, a wood-slat chair, the duo pioneered a new type of furniture that has been replicated by hundreds of brands across the globe- the recliners.
As an iconic American brand, people expect nothing less than the highest quality, craftsmanship, integrity, and a certain degree of sensitivity towards the environment from them. La-Z-Boy delivers on all three parameters. Most of their products, including the iconic recliners and sofas, are still manufactured in North America and shipped all over the globe. The company is also committed to reducing its ecological footprint and producing sustainably. If you're interested, you can learn more about La-Z-Boy's American Heritage on their website here. We also have a full article on where La-Z-Boy recliners are made here.
La-Z-Boy's Furniture Selection and Offerings
For 95 years and counting, La-Z-Boy has been delighting the world with unbeatable American craftsmanship. The brand has thousands of happy employees working together to create world-class furniture from start to finish.
For people who love sitting or sinking into a chair after a tiring day, very few brands can offer a level of comfort like this one. In the recliner category itself, you get all sorts of options ranging from power to manual, Swivel to wall huggers, fabric to leather, in many colors and arm styles. Each item is customized and made for you with engineered wood frames, steel components, luxury fabrics, double-picked fiberfill, and airform seat cushions. What more could one ask for?
While most of La-Z-Boy's plush recliners and sofas are American-made, you might still come across a few imported ones on their website. But there's an easy way to make sure which of their product is made around here, to avoid any unpleasant surprises on delivery. Just scan the "Details" section carefully, and buy only the one that has a tick against "Handcrafted in North America."
Maiden Home (Great Value)

| | |
| --- | --- |
| Year Founded | 2015 |
| Types of Furniture | Beds, Couches, Chairs, Dining Tables, Benches & Ottomans |
| Materials Used | Performance Fabrics, Nubuck Leather, Solid Ash Wood, Moore & Giles Shearling |
| Origin | North Carolina, USA |
Maiden Home's Origin and Manufacturing Locations
Want to buy premium-quality American handcrafted furniture without breaking the bank? Well, look no further than Maiden Home. Like Floyd, The Inside, Maiden Home directly ships to the customers, in the process eliminating unnecessary logistics and price markups.
There's no skimping on materials and craftsmanship with this brand. Every piece they sell is the result of the finest quality raw material transformed into functional and fashionable furniture- all courtesy of innovative designers and highly trained North Carolina artisans, where woodworking talent often runs in families.
Maiden Home's Furniture Selection and Offerings
Maiden Home is one of the handfuls of American-made furniture brands that offer something for every style and budget. At a time when most furniture makers have already shifted or are in the process of taking their manufacturing overseas, what Maiden Home offers is truly rare! Exception quality, the legendary North Carolina craftsmanship at competitive prices, is not easily found these days.
Every Maiden Home furniture is 100% made in the USA from materials sourced locally. The wooden frames are thick and sturdily built, while the fabric is sourced from Valdese Weaver doesn't fade, is non-toxic, and easy to clean. For cushions, the brand uses high-resiliency Ultracel foam that can stand decades of wear.
One of their best-sellers, the upholstered Leroy Chair, is designed with a firm and upright back to support long hours of sitting without throwing your back out. For something more lounge-worthy, you might want to check out their Dune Sofa or the Sullivan Sectional. Besides seating, Maiden Home also offers an impressive collection of Beds, including canopy ones, available in 70 different fabrics and leathers and multiple finishes.
Homestead (Amish Quality)

| | |
| --- | --- |
| Year Founded | 1990 |
| Types of Furniture | Bed, Dresser, Night Stand, Chest of Drawers. Dining Chairs, Island, Table, Sofa, Ottoman, Rocker |
| Materials Used | Hardwoods, Teak, Aluminum, Upholstery |
| Origin | Mt Hope, Ohio, USA |
Homestead's Origin and Manufacturing Locations
You don't often come across Amish furniture that is sleek, chic, and stylish. While off the charts in durability and quality, Amish-made furniture pieces aren't much in sync with the latest design trends.
What if I were to tell you there's a brand that offers robustly-built 100% authentic Amish furniture that has been fashioned to suit contemporary taste? Well, say hello to Homestead! Located in Ohio's Amish country, Mount Hope, Homestead has built a 30-year-old legacy in delivering renowned Amish craftsmanship in contemporary packaging.
Homestead's Furniture Selection and Offerings
Living room, dining area, outdoor, home office, bedroom, Homestead's vast furniture catalog offers every piece you'll possibly need to furnish your entire home. They also make some of our favorite desks made in the USA. Whether you like mid-century modern, modern farmhouse, or transitional, Homestead makes them all.
But in the unlikely chance you don't find the design of your dreams, reach out to them. They'll make one from scratch for you. All you need to do is imagine it and ask Homestead to bring it to life through their endless options in colors, fabrics, accents, sizes, and styles.
Highwood Furniture (Outdoor Furniture)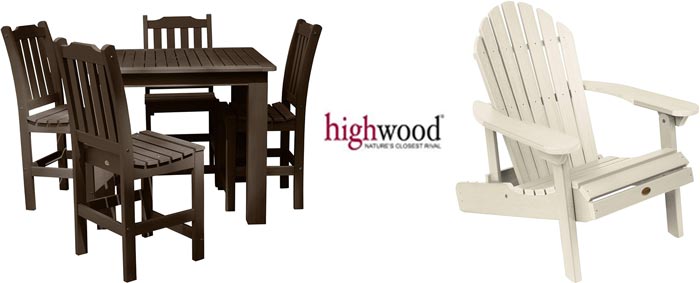 | | |
| --- | --- |
| Year Founded | 2003 |
| Types of Furniture | Outdoor Furniture- Tables, Chairs, Swings, Dining, Bar Sets, and Ottomans. |
| Materials Used | Proprietary Marine Grade Polymer |
| Origin | Pennsylvania, USA |
Highwood's Origin and Manufacturing Locations
A synthetic material produced by a British company that bore an uncanny resemblance to wood inspired Jim Morton and John Quarmley to introduce it in the US. When the two first started out in 2003, their focus was on producing and selling this innovative material to others for outdoor spas and decking needs. Thrilled by people's response to this wood alternative, the duo decided to jump into the furniture manufacturing game themselves.
Two decades later, Highwood and its family of brands have built a solid reputation for their wood-like, aesthetically appealing, long-lasting outdoor furniture. To this date, everything is made 100% in their hometown in Pennsylvania, USA, at an eco-friendly factory run entirely on solar energy.
Highwood's Furniture Selection and Offerings
I am not kidding when I say that at a cursory glance, Hamilton Reclining Adirondack Chair looked like a solid wood construction to me! For outdoor furniture, we want something durable that can easily withstand even punishing weather. Highwood's furniture fits the bill! It is weather-resistant, easy to maintain, doesn't rot, flake, or crack, nor does it fade. This saves you money and time on the furniture's upkeep.
Sure, there are other brands offering high-density poly (HDPE) furniture, but this one is different. If you look closely at the ordinary HDPE, you'll notice sharp edges, plastic creases, and a waxy look and feel. Highwood's proprietary Marine Grade Polymer matches the natural wood in looks and feel but beats it in longevity.
Highwood offers every type of furniture you might need to deck up your yard. Porch swings, benches, outdoor dining sets, chairs, bar sets, conversation sets, and a great many varieties of tables and chairs, whatever you have in mind, you'll find it here.
Jackson Catnapper

| | |
| --- | --- |
| Year Founded | 1933 |
| Types of Furniture | Sofas, Recliners, Sectionals, Lift Chairs, Sleepers, Accent Chairs, Cocktail Ottomans |
| Materials Used | Heavy-gauge Steel, Leather, Fabric, Comfort Gel inserts |
| Origin | Cleveland, Tennessee, USA |
Jackson Catnapper's Origin and Manufacturing Locations
With seven factories that employ over 1500 American workers, Jackson Furniture is certainly playing its part in reviving American manufacturing. From the very beginning, founder W.Ray Jackson was firm about three things- innovation, value, and American pride. And he wanted every piece to reflect these values.
Since its launch in 1933, the brand has faced many challenges, from the Great Depression to wars to aggressive competition. Never once losing sight of their core values. Even today, all of their furniture, including their flagship Catnappers, are produced and assembled on American soil, and they won't have it any other way!
Jackson Catnapper's Furniture Selection and Offerings
Jackson furniture's shot to fame is the uber-comfy Catnapper line. Catnappers are reclining pieces of furniture available in the form of sofas, sectionals, power recliners, swivel accent chairs, and more.
All seating options feature a heavy-duty steel frame and comfort coil seat cushion with a cooling gel memory foam insert. Jackson's Catnappers are a must-have for anyone who loves sinking into something soft and plush to lay back and relax from the hustle-bustle of daily life.
In stand-alone recliners, Catnapper is an excellent alternative to La-Z-Boy. Both are sturdily built, gorgeously upholstered, American-made, and available in a whole range of options, including wall-hugging, power lift, rockers, and glider recliners.
Cisco Furniture (Responsibly Manufactured)
| | |
| --- | --- |
| Year Founded | 1990 |
| Types of Furniture | Sofa, Benches, Chairs, Ottomans, Dining Chairs, Beds, Side Tables, and Wall Units |
| Materials Used | FSC Wood, Organic and Natural Fibers, Goose Feathers, and Down |
| Origin | Los Angeles, California |
Cisco's Origin and Manufacturing Locations
The last 30 years of producing quality American made furniture has made Cisco a much-loved brand among those who seek visually appealing, comfortable, and eco-friendly furniture. Founder Cisco Pinedo's deep respect for nature and local craftsmanship was the driving force behind this brand. Handcrafted furniture from responsibly sourced materials, together with community building and creating domestic jobs, is the dream that Cisco made true.
Cisco's Furniture Selection and Offerings
Every piece of furniture this brand makes must satisfy the Cisco Standard- handmade from repurposed material with the least possible waste. Cisco uses only Sustainable Furniture Council (FSC) certified and responsibly harvested woods which are then handed over to skilled woodworkers for sanding, screwing, crafting, and staining. Everything from start to finish is done by hand, without machines to give you an impressively comfy piece of furniture that's as good for you as it is for the planet.
Natural latex, organic wool, goose feathers and down, jute webbing, and low VOC wood stains are some of the other materials that go into their furniture. Note how every single element is natural, organic, and perfectly in sync with the Cisco Standard!
If I had to pick a few pieces from Cisco's wonderful collection for my home, it'd have to be the minimalist Donato Sofa, the ultra-relaxing and modern Elm Chair, and the 100% Organic April Bed, which is a fan favorite for a good reason.
The Inside by Havenly (Great Custom Made Furniture)

| | |
| --- | --- |
| Year Founded | 2018 |
| Types of Furniture | Made-to-order Beds, Chairs, Nightstands, Living Room Seating, Dining Sets, Home Office Desks, and Chairs |
| Materials Used | Oeko-Tex certified fabrics, Hardwood Pine, Poly Foam |
| Origin | North Carolina, Pennsylvania, and Illinois |
The Inside by Havenly's Origin and Manufacturing Locations
The Inside is a homegrown furniture brand wooing people with its chic, modern, and functional designs since its launch in 2018. Recently acquired by online interior design service Havenly, The Inside is anything but your run-of-the-mill furniture company. Offering functional furniture packed with value while aiming for a stronger customer bond is what this brand is all about.
Their ultimate goal is to give you the furniture you'll enjoy using as much as they do making it. Much of what they manufacture is made-to-order, crafted at one of their many facilities in North America, including North Carolina, Pennsylvania, and Illinois.
The Inside by Havenly's Furniture Selection and Offerings
Whether you're redecorating, furnishing a room, or an entire house, The Inside's enchanting catalog has everything you need. Whatever you decide to pick, be it a bed, headboard, chair, accent tables, benches, dining furniture, desks and chairs for the home office, or Cabana furniture, everything would be made for you to suit your style and flair. Ordering from this brand is quite straightforward and user-friendly. All you need to do is pick your style, choose a fabric, and be ready to get your furniture within a few weeks.
Selling directly to the consumers the way the Inside does has many advantages- it's an efficient, economical way of doing business where you get a better grip on what the end-users need. And by sticking to a zero-inventory supply chain, this brand is able to minimize waste and lower its impact on the environment while focusing more on curating designs and products that customers will love.
Century Furniture (High-End Home Furniture)

| | |
| --- | --- |
| Year Founded | 1947 |
| Types of Furniture | Living, Dining, Bed, Outdoor, and Custom-made Collections |
| Materials Used | Mahogany, Oak Burl Veneer, Aluminum, Wicker, Walnut Veneers, Beech Solids, Brass, Leather, Fabric |
| Origin | Hickory, North Carolina |
Century Furniture's Origin and Manufacturing Locations
The 800-member strong Century Furniture boasts 75 years of well-earned reputation as the manufacturer and seller of high-end residential furniture. Century was founded by Harley Ferguson Shuford Sr. as a retailer of local upholstery. The very first piece of furniture designed and made by the brand was an 18-century vintage-style dining suite out of their plant in Hickory, North Carolina.
When many of their contemporaries succumbed to competition, The Shufords of Century Furniture Company took the challenge head-on and grew. In its efforts to keep up with changing trends and stay relevant, Century frequently collaborated with noteworthy designers like Thomas O'Brien, Richard Frinier, and Windsor Smith, among numerous others.
Furniture Selection and Offerings
Today, this family-owned brand's catalog offers top-of-the-shelf wood and upholstered furniture spread across 700 products. In short, your hunt for luxury, lovingly crafted American-made furniture ends here. Whether you're shopping for the bedroom, dining, living, or outdoor space or looking for classic, transitional, contemporary, or continental styles, Century manufactures it all.
Not only is this brand's furniture a blend of quality, longevity, and expert craftsmanship, the guys at Century, go an extra mile toward being eco-friendly. A proud recipient of the coveted "Sustainable by Design" registration, Century uses environment-friendly materials and sustainable supply chain and manufacturing practices.
Their plywood frames are CARB, TSCA VI compliant, and locally sourced. A majority of their solid wood furniture is made from American-grown wood, including reclaimed lumber. The cushions and polyfoam Century uses have sustainable soy oil instead of petroleum-based chemicals. Safe to say, this company is an excellent case study in growing steadily while being kind to the planet as well as the local community. Overall, this company makes some of the best furniture made in the USA, and we feel like you just really can't go wrong with Century Furniture.
Del Hutson Designs

| | |
| --- | --- |
| Year Founded | 2012 |
| Types of Furniture | Bookshelves, Wine & Glass Racks, Tables, Desk, Shoe Rack, Plant Stand, Bench |
| Materials Used | Solid Pine, Reclaimed Wood |
| Origin | Sunnyvale, Texas |
Del Hutson's Origin and Manufacturing Locations
With a garage as a makeshift workshop and some borrowed tools, the husband-wife team of Eddie and Adriana Hutson started creating furniture and decor using reclaimed wood. The team of two has now expanded to 90 people, working together to handcraft and ship over 19,000 units each month. Besides scoring great in the looks department, Del Hutson Designs furniture is wallet-friendly, making them a popular pick at major online retailers like Amazon and Etsy. Read on to find out what makes them click!
Del Hutson's Furniture Selection and Offerings
Reclaimed wood is the hero of Del Hutson's extensive product portfolio that includes bookshelves, wall shelves, and a chic, rustic array of tables, racks, and benches. One of their top-selling product is a charming Barnwood farmhouse decor-inspired coffee table available in dark hues, white, natural, and distressed turquoise finish.
Perfect for use in the living area or the corner of your bedroom, this reclaimed wood offers plenty of space to huddle around it and enjoy a hearty serving of drinks and snacks. What's impressive is that this attractive handcrafted Texas table will dazzle up any room without hurting your pockets. This is just one of many such thoughtful, high-on utility options you get when shopping at Del Hutson Designs. Some of my favs from their collection are Barnwood Sofa Tables, Shoe Racks, and Solid Pine Wood Console Tables.
Emeco (Upcycled Furniture)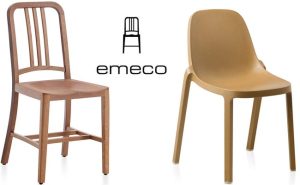 | | |
| --- | --- |
| Year Founded | 1944 |
| Types of Furniture | Chairs, Tables, Stools, Daybeds, Shelves |
| Materials Used | Recycled Aluminum, PET, Cork, Wood, Shelves |
| Origin | Hanover, Pennsylvania |
Emeco's Origin and Manufacturing Locations
Emeco's line of furniture is lightweight, made from recycled material, and resilient enough to stand the test of time AND weather! And to think this brand has been around for almost eight decades, having made furniture from warships to hotels, offices, and homes, is pretty neat indeed! Emeco's very first creation was way back in 1944- a 1006 Navy Chair made exclusively for warships and sailors.
The Navy chair's core material, salvaged aluminum, was strengthened diligently using 77 steps to make it incredibly sturdy and virtually indestructible. It wasn't until 1998 that owner Gregg observed a spark of interest for their flagship Navy chairs for use in a different environment like a hotel or restaurant. He collaborated with the well-known French designer Philippe Starck to come up with new designs to ramp up Emeco's product range.
Emeco's Furniture Selection and Offerings
As a manufacturer of scrapped aluminum furniture at a time when no one talked or cared about being green, sustainable, and eco-friendly, Emeco was way ahead of its time. Today Emeco's pick of materials has grown with its product range.
The brand collaborated with Coca-Cola in 2010 by turning PET bottle waste into their 111 Navy Chair, a gorgeous, chic, no-frills chair made from at least 111 recycled PET bottles. In addition to recycled aluminum and PET, Emeco uses wood, cork, reclaimed wood polypropylene, and eco-concrete to make its sleek, ageless furniture pieces. For its wooden furniture, the company relies on Amish craftsmanship and tradition for everything from responsible wood sourcing to building it.
In Emeco's innovative, elegant, and earth-friendly catalog, you'll find chairs, stools, tables, benches, daybeds, shelves, and outdoor and upholstered furniture. All of which are welded, treated, polished, and crafted by hand at their factory in Hanover, Pennsylvania.
Bush Acres – Montessori Furniture (Kids Furniture)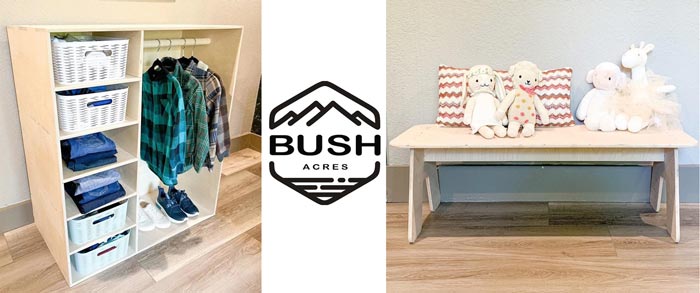 | | |
| --- | --- |
| Year Founded | 2019 |
| Types of Furniture | Kids Montessori Furniture, Home Decor, Odds, and Ends |
| Materials Used | Baltic Birch Plywood |
| Origin | Las Vegas, Nevada |
Bush Acres' Origin and Manufacturing Locations
The Bush Acres is a small furniture company known for its fabulous range of kids' furniture that is retailed mainly through its website or on e-commerce sites like Amazon and Etsy. Founded quite recently in 2019, Bush Acres is the brand of choice among parents looking for Montessori furniture for their kids. Since it's fairly new in the furniture-making business, there isn't much I could find about this brand except that they make everything with love and dedication in Las Vegas, Nevada, USA.
Bush Acres' Furniture Selection and Offerings
Wooden beds in exciting car designs, roomy toy shelves, wardrobes, bookshelves, cute and functional potting tables, crafts tables, vanity, and lemonade stands. Everything that they make and sell has been designed with kids in mind. For their kid-friendly furniture, Bush Acres relies on decorative hardwood plywood with a veneer core, such as Baltic Birch Plywood. Considering it's the kids who'll be using this furniture, every piece is well-built and compliant with TSCA VI and CARB II (Formaldehyde Emission Standards). So you'll get none of the nasty "new furniture" smell coming from these!
The wooden parts are shipped untreated, so the decision to have them stained and painted is left to the parents. Even in its natural, unfinished form, the furniture is a sight to behold! It's easy on the eyes and would go well in the nursery or wherever you'll place it. All storage pieces like wardrobes and dressers also come with furniture anchor straps to secure them to the wall.
MJL Furniture Designs (Great Upholstered Furniture)

| | |
| --- | --- |
| Year Founded | The 1970s |
| Types of Furniture | Storage Ottomans, Headboards, Accent Chairs, Footstools, and Benches |
| Materials Used | Solid Wood and Fabrics |
| Origin | Arcadia, California |
MJL's Origin and Manufacturing Locations
This brand seems to have cracked the magic formula of making high-quality American-made furniture while keeping the prices affordable to most. MJL Furniture Designs' wealth of experience in the furniture and upholstery industry, 45 years to be precise, shows in every piece that comes out of their Arcadia, California factory.
In addition to their dedication to the American craft, being innovative and keeping up with changing tastes have been key factors in their success.
MJL's Furniture Selection and Offerings
From classic to modern aesthetics, neutral to a vividly colorful palette, and a host of eye-catching patterns, MJL's product design catalog has something for everyone. These designs are brought alive by a team of talented people who do everything from construction to upholstery at MJL's Arcadia plant. The brand takes pride in being one of the very few upholsterers who make the product from scratch and complete it on American soil.
One of their best-selling upholstered pieces is a Brooke Collection Button Tufted Long Bedroom Storage Bench. This classy solid wood construction comes in four different upholsteries with espresso finished legs and plenty of storage. Another item worth checking out from their bench collection is Sole Secret Diamond Tufted with slot dividers that can fit up to 18 shoes. Besides their ottomans and beaches, MJL's collection of padded headboards and fabric chairs is plush, elegant, functional and available at pocket-pleasing prices.
Factors to Keep in Mind While Furniture Shopping
Let's face it. Furniture is not an impulse buy or something that happens too often. So it is crucial that you get it right by picking out something that'll last decades, meets your requirements, and goes with your style. To help you pick the right furniture that lives up to your expectations, here are some tips and pointers that'll come in handy.
Measurement: Whether you're buying something for the bedroom, living space, or dining area, getting the correct room measurements is critical. The last thing you would want is to be surprised with furniture that doesn't fit the doorway.
Type: If you're picking a sofa, would you go for a 2-seater, 3-seater, sectional, or perhaps a loveseat or a combination of these? It depends on the style and space, and the layout and function, like how many people you typically expect to entertain. What's your family size? Planning ahead is key to picking the furniture that'll be useful even after years.
Budget: Good quality furniture would cost you a pretty penny. But in the long run, it will always deliver your money's worth. Consider furniture as an investment, and then work out how much you're willing to shell out.
Material: We simply cannot compromise on this, can we? The overall quality of furniture depends mainly on the construction and choice of raw materials. If you're buying a wooden piece, check if it's FSC certified. For upholstered furniture, be sure to inspect the quality by asking for swatches. Doing a bit of research on where and how the brand sources its material helps in a big way. Don't hesitate to get in touch with their sales representative for an in-depth answer to your queries.
Style: You wouldn't want something you spend your hard-earned money on to stick out like a sore thumb! Try and visualize where the furniture would go and whether it complements the general theme of your house. These days you get all sorts of designs from Vintage to Contemporary to Transitional.
Wrapping Up:
In this guide, we've shared well-established, time-tested brands Vaughan Bassett, Century Furniture, La-Z-Boy, and American Signature Furniture, as well as some more recent, direct-to-consumer ones that shook up the furniture industry- Floyd, The Inside, and Maiden Home.
Whichever brand you ultimately pick, each offers something unique. The common factor that ties them together is their support of American craftsmanship and the local economy. We're also glad to see many of these brands making serious headways towards sustainable and eco-friendly manufacturing like Emeco, Cisco, Floyd, and Vermont Woods Studios.
We hope that by sharing our favorite furniture brands, we helped you find the perfect furniture. We're constantly looking to improve our guides so if you know of any great brands not mentioned on this list, let us know in the comments below so that we and others can learn more about them!
Hi, my name is Kevin and I'm from Pittsburgh, Pennsylvania. Choosing products made in America is important to me because it supports local economies, creates jobs, helps the environment, and ensures ethical labor practices. I also find that American made products are usually of higher quality so although they're a little more expensive, you save money in the long run. Before starting this website I was in the USMC infantry and nowadays I work on this website as a hobby.