Measuring cups and spoons are some of the most used tools in a kitchen and are crucial to a precise and repeatable recipe. A quality set of measuring spoons or measuring cups made in the USA can last a lifetime, so although they may be slightly more expensive than a set made overseas, it's worth it in the long run! Of course, as an added bonus, you're supporting great American companies, workers, and local economies.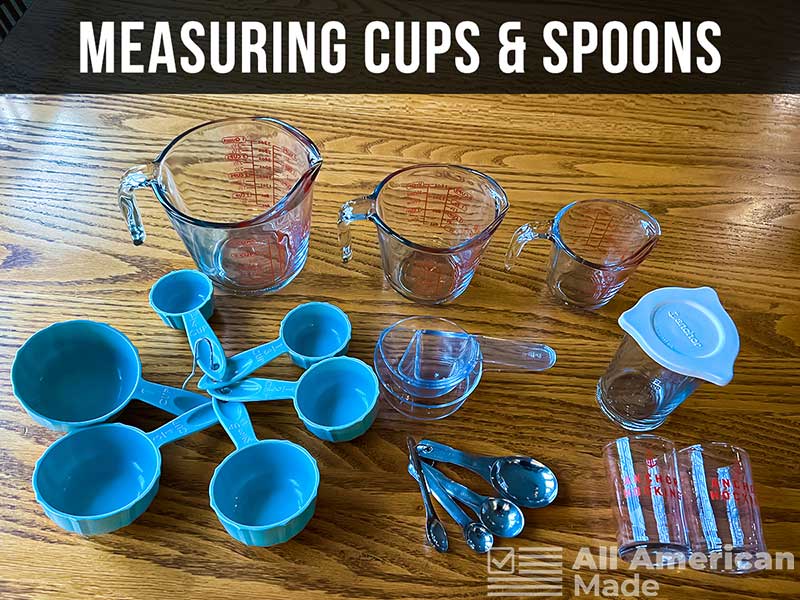 There are many different types of measuring devices for cooking, and at different price points, so we've included a comprehensive list of all the most reputable products from the most reputable American brands. Unfortunately, after many hours of research, we could not find any stainless steel measuring cups made in the USA, so if that's what you're looking for, you'll have to choose an alternative. Simply scroll through this list and pick out a set that fits your cooking needs!
List of American-Made Measuring Cups and Spoons
Anchor Hocking 3 Piece Measuring Cup Set
| | |
| --- | --- |
| Estimated Price | $20 |
| Material | Glass |
| Number of Pieces | 3 |
| Origin | Lancaster, Ohio |
Anchor Hocking's Origin and Manufacturing Locations
Anchor Hocking is an absolutely legendary company that's best-known for its glassware and kitchen products. The Ohio-based company was founded in 1905 by Issac J Collins, and the story is actually quite incredible. Issac and six of his friends pooled together a small capital to start a carbon plant by the name of "Black Cat." Their mission was to make high-quality glassware and accessories that will one day be a part of every kitchen in the country.
It wasn't an easy road, with a terrible fire tragedy that reduced Black Cat to ashes, but Collins and his 650 employees were a resilient bunch! They rebuilt and grew into one of the world's leading manufacturers of American made glassware. And as it turns out, most of their glassware is still designed and manufactured in the good old "Black Cat" Ohio plant. Today they have 10s of millions of happy customers, and along with making a ton of products in America, they also provide a ton of American jobs!
What We Like and Don't Like About Anchor Hocking 3 Piece Measuring Cup Set
I think most Americans are already familiar with this company because their measuring cups, glassware, and storage products are so popular. What sets them apart is their quality and craftsmanship. It really is amazing that they sell some of their products at such a low price point. Their measuring cups are made with the finest glass, tempered for enhanced durability that'll neither warp nor stain.
These cups also feel way more hygienic than any plasticware I've used. Thanks to the non-porous glass, it doesn't absorb food particles and smells, unlike plastic. Plus, cleaning them is a breeze – you can wash them in the sink or pop them in the dishwasher like me. This set comes with three nifty cups, each with different measurement markings – 1 cup, 2 cups, and 4 cups.
Anchor Hocking measuring cups make a great addition to any kitchen. They are also pretty easy to grab and pour. Mix, melt, prep, or measure whatever you use them for. You certainly won't be disappointed! My parents had Anchor Hocking measuring cups when I was growing up, and now I also own many of their products.
Anchor Hocking Triple Pour Measuring Cup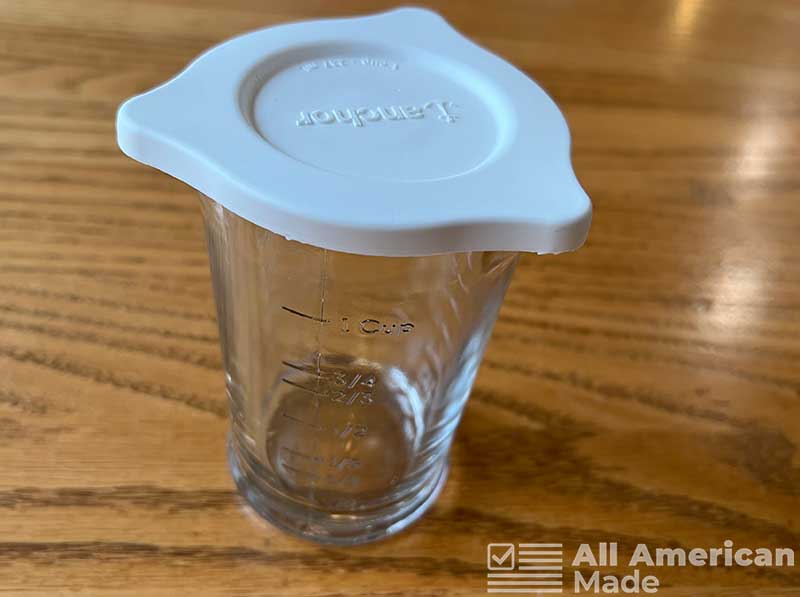 | | |
| --- | --- |
| Estimated Price | $12 |
| Material | Glass |
| Number of Pieces | 1 |
| Origin | Lancaster, Ohio |
What We Like and Don't Like About Anchor Hocking Triple Pour Measuring Cups
This embossed glass measuring cup boasts a thick-walled construction making it incredibly strong and long-lasting. I've used my Anchor Hocking glassware a ton in the past and the markings haven't even faded. I've come to find the triple spout design quite useful as it reduces the chance of spilling while pouring.
Even some of the best plastic containers start retaining smells over time, but with glassware, you won't have to worry about that. Plus, there's always a constant fear over our heads about chemicals from plastic leaching into foods and drinks. Well, not in the case of this American-made glass cup! It's non-porous and easy to clean, scoring big over any plastic in the safety and hygiene department.
The only thing that I felt could do with a bit of improvement is the cup's lid. It doesn't exactly "snap-on" as described. A better lid closure would only make this all the more fantastic! Still, compared to other products that are cheaply made overseas, this measuring cup is a much better value.
With accurate markings neatly etched out, this 8-ounce clear glass cup is a handy item to have in your kitchen to measure, prep, or store. Its versatile utility also makes it a great gift option for your friends and family.
Anchor Hocking Graduated Measuring Glass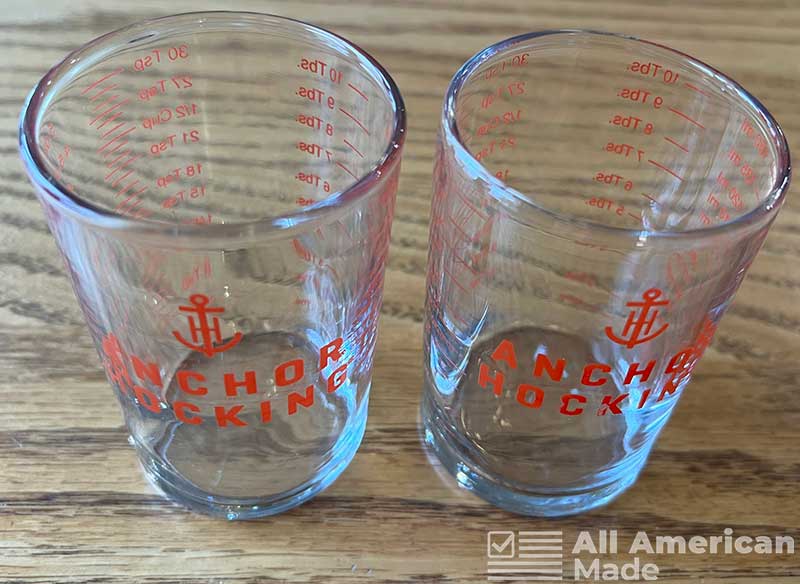 | | |
| --- | --- |
| Estimated Price | $12 |
| Material | Glass |
| Number of Pieces | 2 |
| Origin | Lancaster, Ohio |
What We Love About Anchor Hocking Graduated Measuring Glass
Anchor Hocking has garnered a reputation for tough, durable glass products- and this set of 2 glass measuring cups is no exception. The graduated marking is printed in red on the clear glass, is easy to read, and doesn't fade quickly.
These glass cups can be used to hold and measure liquids or dry ingredients of up to 5 ounces of capacity. And because they are freezer, microwave, and dishwasher safe, you get a utensil that can go from the oven to the fridge to the dishwasher, saving you the hassle of transferring the contents into another container.
If you're looking for top-notch, American-made measuring cups, this Anchor Hocking glassware is right up your alley! These cups are smaller than some of the others we've reviewed so far and, besides measuring and prepping for meals, can also be used to mix cocktails.
Welcome Industries Visual Measuring Cups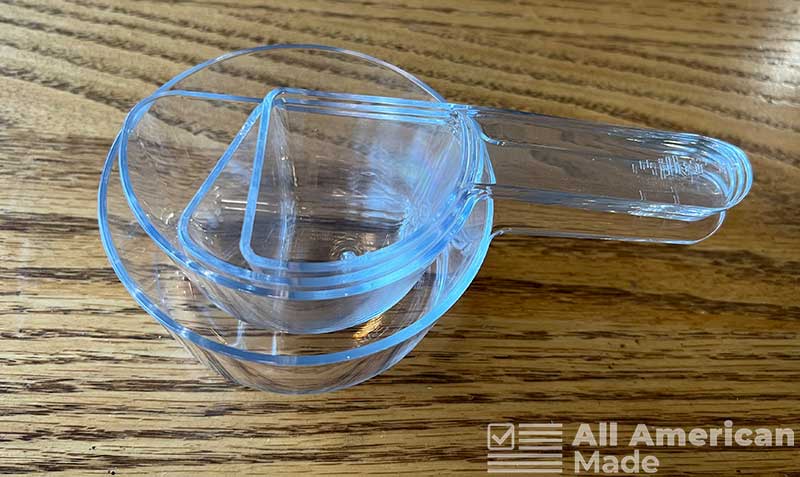 | | |
| --- | --- |
| Estimated Price | $24 |
| Material | BPA-free Tritan |
| Number of Pieces | 4 |
| Origin | Chicago, USA |
Welcome Industries' Origin and Manufacturing Locations
This Chicago-based business was started in 2015 by the designer duo of Brandon Williams and Pam Daniels. They started Welcome Industries to use their passion for design to create highly functional and beautiful items for everyday use. This up-and-coming brand works closely with local manufacturers to produce an array of innovative products entirely made in the USA.
What We Like and Don't Like About Welcome Industries Measuring Cups
I was awestruck when I first saw these fascinating measuring cups! They boast a "visual measuring" design where the shape tells the size. With these cups, you won't need to squint your eyes or struggle to read the measurements. Simply pour the ingredients into any of the sizes – ¼ cup, ⅓ cup, ½ cup, and 1 cup and get cooking!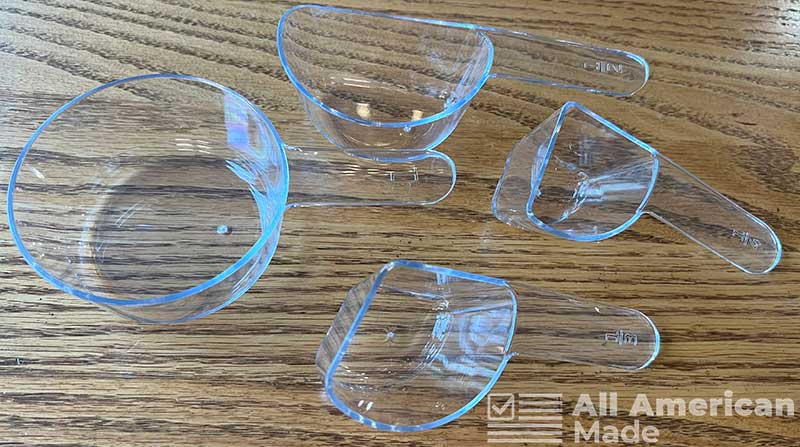 The material used here is top-grade Tritan, known for being crackproof and BPA-free. Another great feature about these cups is that they are perfectly stackable and don't use much storage space.
These measuring cups are one of the most user-friendly ones out there. So much so that your kids would love using them to learn shapes, fractions, and baking!
Nordic Ware Measuring Cups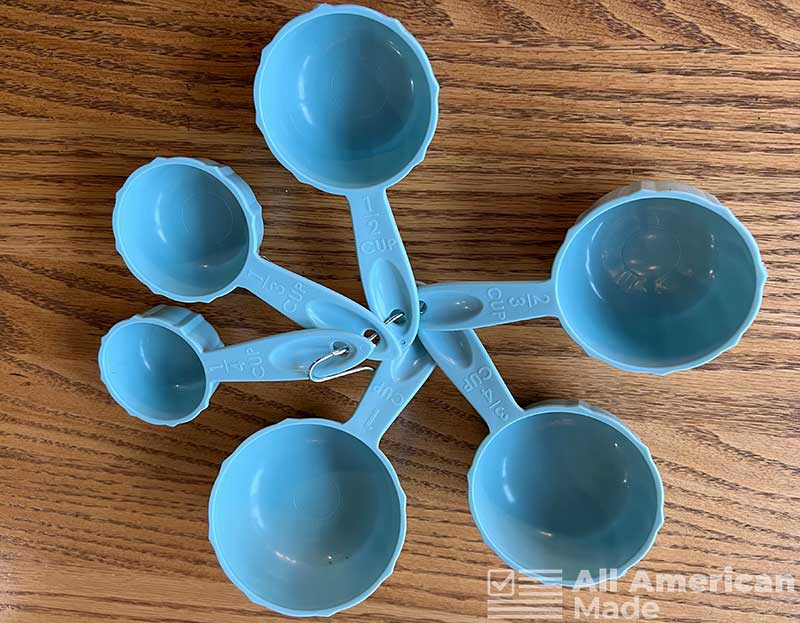 | | |
| --- | --- |
| Estimated Price | $15 |
| Material | BPA-free and Melamine Free Plastic, High-Heat Plastic |
| Number of Pieces | 5 Cups |
| Origin | Minneapolis, USA |
Nordic Ware's Origin and Manufacturing Locations
Nordic Ware is another company that has a very interesting history. The company was founded by Dotty and Dave in 1946. In the basement of their home in Minneapolis, Minnesota, the couple started with only $500 to invest and a big dream. They started out making only a few products, but over time the business was very successful, and they have expanded massively and earned a great reputation in the industry.
The majority of Nordic Ware's products are still manufactured in Minneapolis, over 75 years after the company was founded! Along with the core products they started out making, the company has expanded rapidly and now makes hundreds of other products, including bakeware, cookware, grilling accessories, and a whole lot more.
They have grown from two to several hundred employees, and its products are distributed around the world. The company has been passed down for three generations and is still doing great! I really like this company so if you like the look and function of their products give them a try! You can learn more about the Nordic Ware company here if you're interested!
What We Like and Don't Like About Nordic Ware Measuring Cups
What your getting here is a great set of measuring cups that are made with high-quality BPA plastic. I really like that they are made with quality BPA plastic because I'm a health nut and hate the thought of contaminants seeping into my food through cooking accessories. As you can see by the picture, they have flutes on the outside, and the inside is completely smooth. I also like that the measuring cups are connected because if you're anything like me, I also seem to be missing the one spoon that I need! With these, you don't need to worry about a spoon randomly getting lost in the dishwasher.
This company has been around forever because they consistently sell high-quality items. These cups are no exception, with their beautiful sea-glass color and smooth interior. These cups are pretty versatile and compared to other cups on the market, I feel they are of great value. They also make a wonderful gift for any cooking or baking enthusiast or someone with a small and compact kitchen looking to save space and keep things simple. I also like that they are dishwasher safe, so just place them on the top rack of your dishwasher, and you're good to go!
Beehive Handmade Quotes Measuring Spoons (Most Adorable)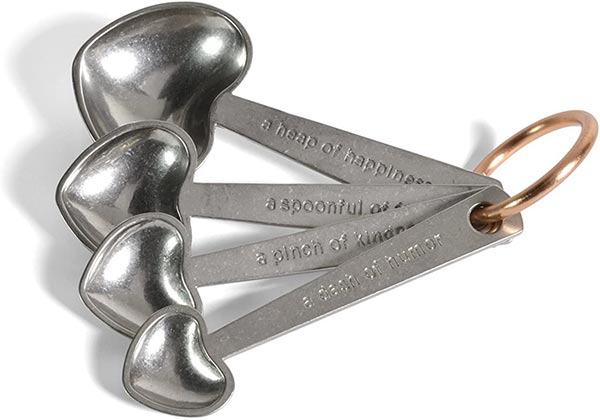 | | |
| --- | --- |
| Estimated Price | $60 |
| Material | Zinc, Aluminum |
| Number of Pieces | 4 spoons |
| Origin | Warren, Rhode Island, USA |
Beehive Handmade's Origin and Manufacturing Locations
Since 1999, Beehive has made every single one of its products in the USA, and many of its products are completely handmade. As far as how the company got its name, I don't think it has anything to do with bees or beehives, they just describe themselves as "busy bees!"
What We Like and Don't Like About Beehive Handmade Measuring Spoons
If you're someone who wants more than just a basic set of measuring spoons, Beehive handmade spoons are a great alternative. These handmade spoons look amazing and are also very functional. Cooking is supposed to be an enjoyable experience, and I really think these spoons can add a nice touch to any kitchen.
Cast in the Beehive's original mold, these spoons are made of zinc. An aluminum ring holds them together. With each set of spoons, the company has included information on how to care for them. It's best to handwash these spoons to ensure they stay looking great for years to come!
Soon after I found this set, I noticed there were a lot of copycats. It's an adorable design, and Beehive claims that this is the original! This is another lovely set that would make for a thoughtful gift. Sure, they aren't the cheapest option available, and if you're out for American quality at the lowest price, these aren't the measuring spoons I'd recommend, but if you have an extra few bucks to spare and you like a little spunk and creativity, give this set a look!
Storage Theory 4 Piece Combo Set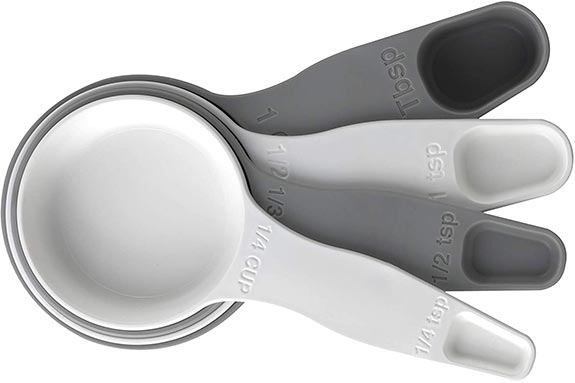 | | |
| --- | --- |
| Estimated Price | $15 |
| Material | 100% non-toxic, BPA-Free, Food Grade Polypropylene |
| Number of Pieces | 4 cups with four handles that double as measuring spoons |
| Origin | Cedar Rapids, Iowa, USA |
Storage Theory's Origin and Manufacturing Locations
Originating and still manufacturing products today, The Storage Theory team was born in Cedar Rapids, Iowa. The company's dedication to manufacturing in America is truly inspiring. They offer a wide range of products but specialized in products to help homeowners stay organized. Of course, we're here to talk about measuring goodies in the kitchen, so we've selected their measuring cups to talk about; however, I love this brand and strongly recommend giving them a look for other home storage solutions as well!
When you see a product with the Storage Theory logo, you know it is made in the USA. If you want to learn more about the Storage Theory company, check out their About Us page here.
What We Like and Don't Like About Storage Theory Measuring Cups
With this new take on a staple kitchen accessory, Storage Theory proves they're masters of their craft. What really stands out to me is how light these are with a really premium feel. Usually, I tend to try and stick to harder materials like wood and metals over silicon and polypropylene because they generally feel cheap and will sometimes lack rigidity when full of heavy materials. You don't have that issue with these, though, as they are quite solid even when packed full of flour or full of water. The walls are nice and thick, and although not microwave friendly, they are dishwasher safe and very much so durable, and capable of handling everyday kitchen abuse.
The design is rather basic, but I do find them to be quite well made! I know buying American-made can get pretty expensive when compared to foreign imported goods, but these are priced at a point that I don't think you'll scoff at, especially considering the outstanding durability, ease of use, and just overall simplistic and helpful design.
Popular Related Article: Great Cookware Made in the USA (Source List)
Allegheny Treenware Measuring Spoons (Most Beautiful Design)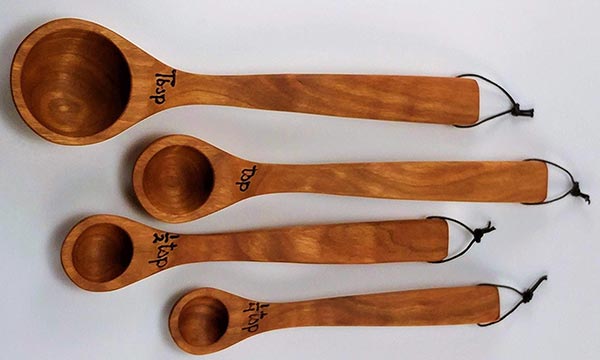 | | |
| --- | --- |
| Estimated Price | $35 |
| Material | Cherry Wood |
| Number of Pieces | Four spoons |
| Origin | West Virginia, USA |
Allegheny Treenware's Origin and Manufacturing Locations
There is an old saying don't fix what's not broken, and that's a perfect expression to describe these measuring spoons. The process of making these spoons is not an easy one, and the Allegheny Treenware company only uses hardwoods from West Virginia. These are completely handmade measuring spoons, so each set is a little different. Whether you're looking for a functional product for your kitchen or something creative to give as a gift, Allegheny Treenware has some awesome products.
What We Like and Don't Like About Allegheny Treenware Measuring Spoons
With this beautifully crafted set, you're getting five spoons that come in the most useful meaning volumes, including a tablespoon, teaspoon, half teaspoon, and quarter teaspoon.
Compared to conventional measuring spoons, I like that these have long handles so you can reach into a jar and get ingredients in spices out easily. measuring spoons.
Cherry wood is absolutely beautiful and has many different grains, which means, as I stated above, each set is unique. The sizes listed here are close approximations due to the handmade nature of these items, so yours may vary, but hey, that adds to the uniqueness and experience of owning something finely crafted of natural materials!
All products from Allegheny Treenware are finished with linseed oil and mineral oil mixtures. We recommend rubbing liberally with mineral or olive oil and letting it sit overnight when we need to oil the utensils occasionally.
The measuring spoons are monogrammed with the kind of wood they were made out of, the shop initials, and the last two digits of the year they were made.
I love this set, and it seems like all of my friends who spend a lot of time in the kitchen also love them! These feel nice in the hand, and using natural wood somehow just feels better! There's something so special about using wood products in the kitchen. As we trend more and more toward organic and biodegradable products, this is a lovely option for your kitchen or as a gift for someone looking to add some uniqueness and natural wood flare to their kitchen tool kit!
Lehman's Bundt Measuring Spoons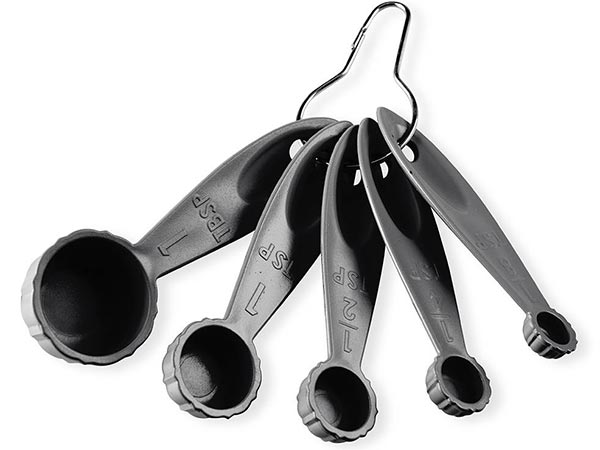 | | |
| --- | --- |
| Estimated Price | $15 |
| Material | high-heat plastic |
| Number of Pieces | 5 spoons |
| Origin | Kidron, Ohio, USA |
Lehman's Bundt Origin and Manufacturing Locations
Lehman's is a family-owned company that was founded in 1955 and has been making some seriously impressive products right here in America ever since. Their retail store is located in Ohio's Amish Country. The company offers a wide range of products ranging from toys to baking supplies to home decor. If you want to learn more about how the company came to be, check out their about us page here.
What We Like and Don't Like About Lehman's Bundt Measuring Spoons
This set makes it easy to ensure you use just the right amount of ingredients each time. What you're getting here is a 5-piece set that includes a 1 Tbsp, 1 tsp, 1/2 tsp, 1/4 tsp, and 1/8 tsp measuring spoon.
I also really like that this set is made of BPA-free plastic. Compared to products made overseas, I really just feel more comfortable using products made by companies like Lehman's for food prep. I can rest assured that no contaminants are seeping into my food from the cooking utensils.
These are some of our favorites, and they're great for bakers of all ages. This set is a reliable choice if you're looking for something affordable that is also USA-made. Compared to products that aren't made in America, they're at a comparable price, and these spoons are built to last, unlike many spoons manufactured overseas to cut costs. They aren't the most artisanal option on the list, but they are a great "gets the job done" kind of set for a competitive price. Personally, I could see these ending up in my camper since they're small and lightweight, and I won't fear them getting banged up while we're out adventuring!
Crosby and Taylor Pewter Measuring Cups and Spoons (Most Original Design)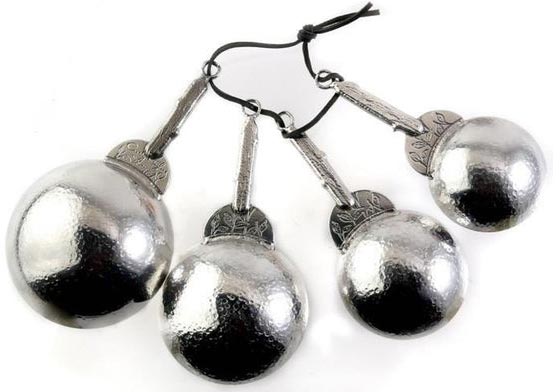 | | |
| --- | --- |
| Estimated Price | Cups: $130-$180, Spoons: $50-$85 |
| Material | Pewter |
| Number of Pieces | Cups: 4, Spoons: 4 |
| Origin | Eugene, Oregon, USA |
Crosby and Taylor's Origin and Manufacturing Locations
Crosby and Taylor Pewter was founded in 1986 in Eugene, Oregon, by Deborah Chapman. Her husband Jim specialized in making adjustable wooden lamps. I have to say I am seriously impressed by how the company has evolved over time and some of the products they make I'm honestly blown away by them. If you want to learn more about the company's history, you can learn more about how it came to be here.
What We Like and Don't Like About Crosby and Taylor Measuring Spoons
You won't find many authentic American pewter measuring cups, and that's exactly what we're going to be discussing here! Each set includes 1 cup, 1/2 cup, 1/3 cup, and 1/4 cup. I personally find these to be some of the most beautifully crafted measuring cups and spoons on the market. I know they aren't for everyone, but if you're looking for something very unique to add to your kitchen, give Crosby and Taylor products a try.
They are made of lead-free pewter and are accurate. They are not just for decoration, although they certainly are beautiful enough to be used for that.
I absolutely love the measuring spoons and cups because they truly show off what years of hard work and dedication can produce. As soon as you handle these, you just feel a sense of accomplishment and pride from an art form that not many can pull off, which really inspires me in the kitchen when trying new recipes. Displaying them on my kitchen counter looks beautiful. We love the dragonfly measuring spoons.
Danforth Leaf Green Measuring Spoons (Most Colorful)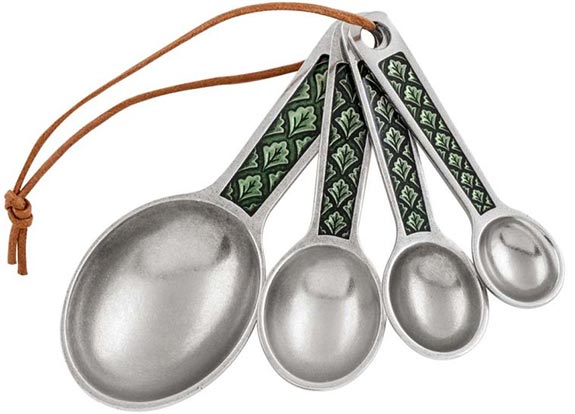 | | |
| --- | --- |
| Estimated Price | $75 |
| Material | Pewter |
| Number of Pieces | 4 spoons |
| Origin | Middlebury, Vermont, USA |
Danforth's Origin and Manufacturing Locations
If you purchase Danforth Pewter, you are bringing a piece of Vermont artisanship into your home. Each of their products is handmade by their local artisans in Middlebury, Vermont, who create exquisite objects from start to finish.
The company hires a lot of local workers, and after reading more about their company, I've been impressed by their passion. The metal is worked by hand, which is pretty much the opposite of what most companies are trying to do nowadays, which is just mass-producing a product to turn a profit. I really love seeing a company that takes pride in what they do.
What We Like and Don't Like About Danforth's Measuring Spoons
I find the markings on the back of each spoon to be a handy thing. The set includes measurements of a tablespoon, teaspoon, half teaspoon, and quarter teaspoon.
Using these spoons is a pleasure due to their weight and shape. They are balanced in the handle and spoon bowl, and the handles are beautifully decorated. A perfect gift for any chef or baker! if you're looking for handmade measuring spoons made in the USA, these are great.
New Hampshire Bowl and Board Wood Measuring Spoons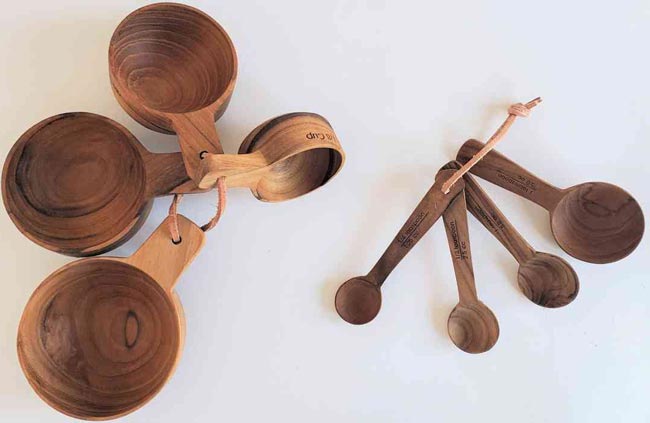 | | |
| --- | --- |
| Estimated Price | $30 |
| Material | Teak |
| Number of Pieces | Four spoons |
| Origin | New Hampshire, USA |
New Hampshire Bowl and Board's Origin and Manufacturing Locations
New Hampshire is the only state in the US still harvesting hardwood trees such as Cherry and Black Walnut. For a quality that cannot be found in other places in the world or in the USA, Mother Nature provides us with big-diameter, slow-growing trees. The wood they use in their small workshop comes from arborists, builders who clear lots, road crews, and managed wood lots.
What We Like and Don't Like About New Hampshire Bowl and Board Measuring Spoons
These are some of my personal favorite wooden spoons out there right now. Reclaimed teak limbs are repurposed into these biodegradable measuring spoons, which are made from plantation teak trees. They are heirlooms made from exotic woods.
Natural dark teak spoons are available in 4 sizes: tablespoon, teaspoon, half teaspoon, and quarter teaspoon. These spoons offer accurate measurements of dry and liquid ingredients and are joined by a leather cord.
The finish is applied by hand using beeswax and mineral oil, and care instructions are included. Since they care about the future of our forests and environment, New Hampshire Bowl and Board source sustainably harvested woods like teak from trusted partners.
Who doesn't love wooden products for their kitchen? I really loved these spoons. They are lovely and have a nice weight to them. The wood handles on these spoons had a consistent color tone. A nice touch is that the measurements are etched into the wood, which is well made and of high quality.
POURfect Measuring Cups and Spoons Set (Great Unique Design)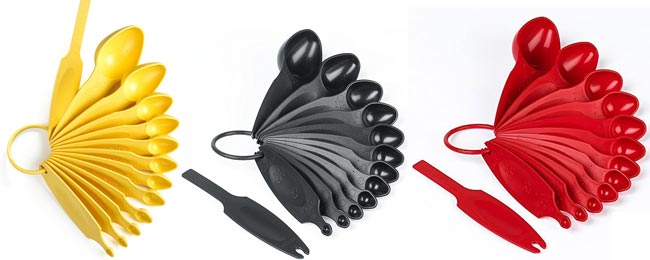 | | |
| --- | --- |
| Estimated Price | $35 |
| Material | BPA-Free Plastic |
| Number of Pieces | 22 (cups and spoons) |
| Origin | Arizona, USA |
POURfect's Origin and Manufacturing Locations
Randy Kaas lost his sight in 2001, so he invented and designed POURfect products. It was inspired by the TV show, The French Chef starring Julia Child, that he started his own kitchen utensil business in 1978.
What We Like and Don't Like About POURfect Measuring Spoons
What I like most about this spoon set is the number of sizing increments and the included leveler. Most sets on the market only have around four sizes, but for some recipes, it's nice to have a lot of different sizes. With 12 different pieces plus a leveler, these are a great value compared to many products out there.
The company's goal was to make cooking easier by making it so chefs and bakers didn't have to do math while cooking, and I think they did a great job with this set. They are also dishwasher and microwave safe which is a feature you don't see on every set of spoons nowadays.
This set includes many hard-to-find sizes, including drop, pinch, dash, and smidgen, as well as the conventional measurements in spoon and cup sizes we are used to.
The man that invented these lost his eyesight and decided that braille should be on these cups and spoons. Ingenious! We love them for any family, but the thoughtfulness that goes into this particular product is impressive. And at $35 for the whole set and 15 colors to choose from, it's a no-brainer. The company also makes some great measuring cups and other cooking accessories so be sure to check out their website!
Popular Related Article: American Kitchen Knives Source List
Liberty Tabletop Visual Measuring Cups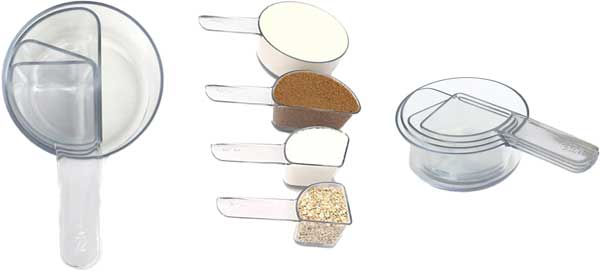 | | |
| --- | --- |
| Estimated Price | $25 |
| Material | Tritan: plastic that is durable and BPA free |
| Number of Pieces | 4 cups |
| Origin | Chicago, Illinois, USA |
Liberty Tabletop's Origin and Manufacturing Locations
I really like that it's a family-owned and operated business. Not many companies nowadays are family-owned nowadays, so that's something I find very cool. The company has great values and takes a lot of pride in making great products and supporting American workers.
They produce far more than just measuring cups and spoons. They also made a lot of kitchenware, tabletop, and patio products! When you choose them, you are choosing a company that really cares about the American economy and making products they're proud of.
What We Like and Don't Like About Liberty Tabletop Measuring Cups
These cups seem very similar to the Welcome Industries visual cups reviewed above, and I've found that both sets are great. With Liberty Tabletop's visual measuring cups, the shape indicates the size so that you can quickly just grab what you need without needing to read the exact measurement, meaning a half-cup looks like a half! Overall I've come to really like the design made by their studio based in Chicago. They are also an American company and have a great reputation. Be sure to check out their website to see other products they have. They offer everything from cookware to dinnerware to cutting boards.
What can I say about Liberty that hasn't already been said in our other kitchenware articles? They are a stand-up company that makes stand-up products. These cups are a great addition to any kitchen. I love the see-through plastic for measuring things like flour or peanut butter because you can avoid air pockets, which can throw off your measurements.
360 Cookware Measuring Spoons (Most Traditional)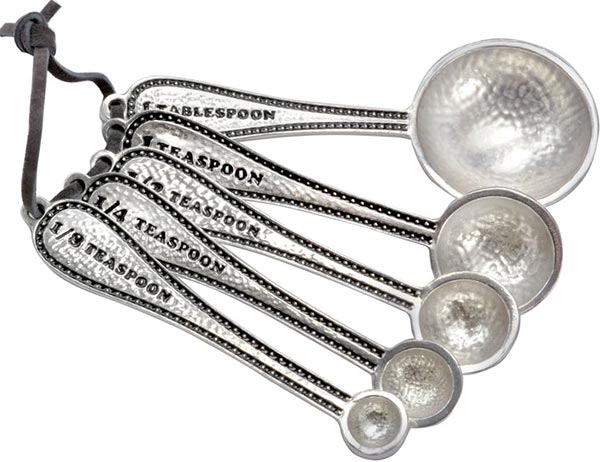 | | |
| --- | --- |
| Estimated Price | $90 |
| Material | Pewter |
| Number of Pieces | 5 spoons |
| Origin | Sherrill, New York, USA |
360 Cookware's Origin and Manufacturing Locations
If you're looking for professional-grade quality cooking accessories that will last a lifetime, 360 Cookware is a great option. Their spoons are EPA-certified to not contain harsh chemicals. The spoons are handmade in Sherrill, New York, and West Bend, Wisconsin.
The family has been doing business for over 50 years now and is a trusted name in the industry. The 360 Cookware Lifetime Warranty & Heirloom Quality means that you'll truly have these spoons for a lifetime, and they can even be passed down from generation to generation.
What We Like and Don't Like About 360 Cookware's Measuring Spoons
The spoons are classy, beautiful, and traditional. Of course, I would never recommend a product that isn't lead-free, which these are. If you find them as stunning as I do, consider picking up a set!
These are reminiscent of a time when we baked bread from scratch all the time. I love the hammered bowls in the spoons and the old-fashioned handles. They are a lovely weight and would make for a beautiful gift for anyone who would appreciate handcrafted American products.
Wrap Up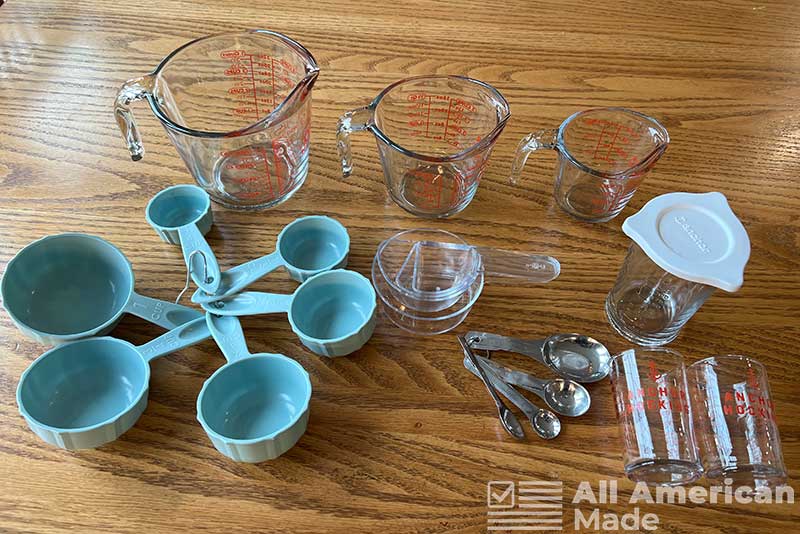 That does it for this article. Let us know if there are any great products that we should add to this list. Especially let us know if you find any stainless steel measuring cups made in the USA because we know many people are searching for them, but nobody seems to be making them currently. We're always on the lookout for innovative products, so let us know if you find anything, and we will add it to our guide for future readers to see!
Hi, my name is Kevin and I'm from Pittsburgh, Pennsylvania. Choosing products made in America is important to me because it supports local economies, creates jobs, helps the environment, and ensures ethical labor practices. I also find that American made products are usually of higher quality so although they're a little more expensive, you save money in the long run. Before starting this website I was in the USMC infantry and nowadays I work on this website as a hobby.