Cookware is one of the most used accessories in a home, but too often, homeowners overlook its importance. Quality cookware helps to bring out the best in your cooking and ensures that no contaminants are leaching into your food. Quality cookware can also last a lifetime, so why not invest in high-quality cookware made in the USA?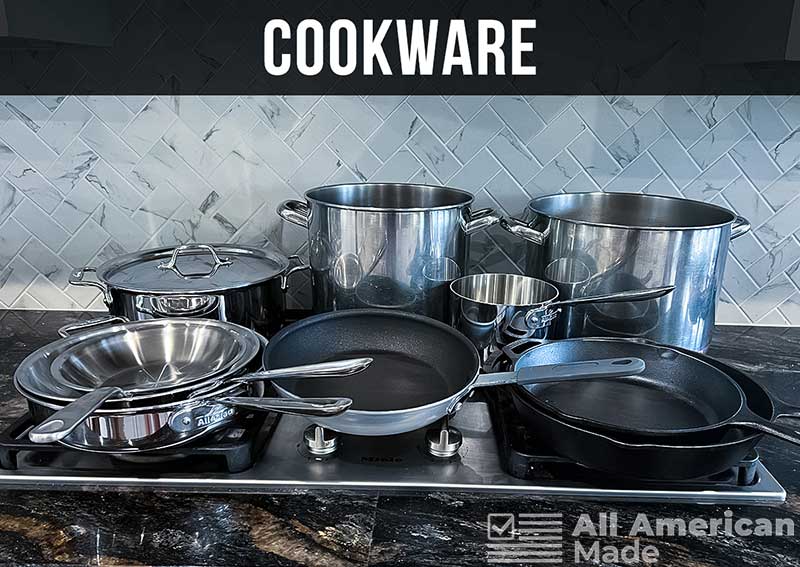 The list below contains varying sizes of cookware sets along with individual pots and pans. Simply scroll through and find the right cookware for your cooking needs.
List of American-Made Cookware
1. All-Clad Cookware (Best Value)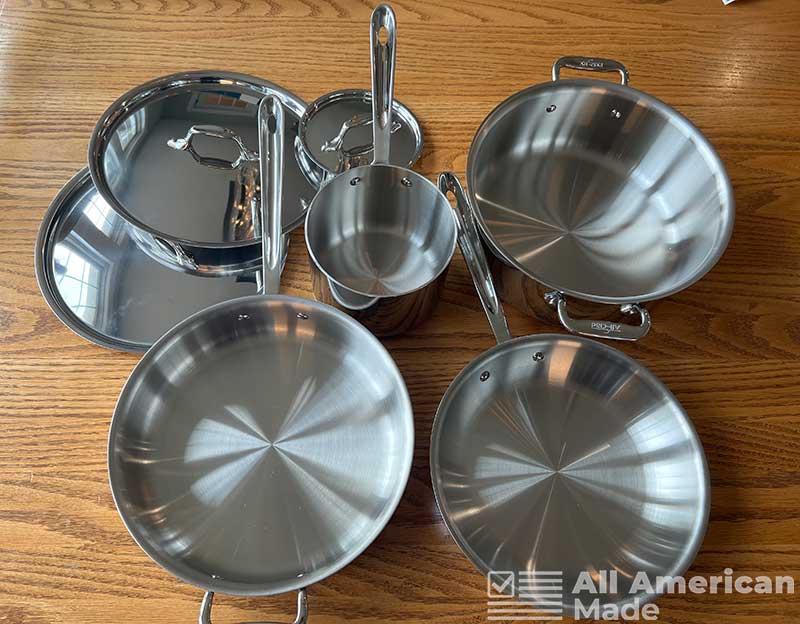 | | |
| --- | --- |
| Year Founded | 1971 |
| Origin | Canonsburg, Pennsylvania |
| Materials Used | Aluminum, Stainless Steel, Copper (Varies by Model) |
| Number of Pieces | 1, 3, 5, 7, 8, 10, or 14 Piece Sets Available |
| Colors Available | Stainless Steel / Copper |
All-Clad's Origin and Manufacturing Locations
All-Clad is a well-known American cookware brand located in Canonsburg, Pennsylvania, and although they do order a few odds and ends from China, such as some of the handles and handle loops, the actual pans themselves are American-made.
All-Clad products can be found in any store that sells reputable cookware in a myriad of countries, including the US, Australia, Canada, Germany, and the UK, making this American cookware brand notorious across the globe.
This company was founded by a specialty metallurgist named John Ulam in 1967, who already had immense experience working with bonded metals as he worked for the US Mint in coinage. All-Clad actually didn't start out making cookware but soon shifted into their notorious bonded cookware lineups after Ulam was frustrated with low-quality pans and decided to use his knowledge of bonded metal he was working with doing coinage to craft his own pan.
In 1971, All-Clad was ready to sell high-quality patented "Roll Bonded" American-made pans. In 1988, All-Clad was acquired by Pittsburgh Annealing Box Co, and in 2004 the company was then acquired by Groupe SEB, a French conglomerate with an appreciation for American manufacturing. All-Clad purchases a large number of its metals from the Pennsylvania Steel Company.
What We Like and Don't Like About All-Clad's D3 Stainless Cookware Set
First and foremost, All-clad has a number of high-quality USA-made cookware sets. The biggest differences between the sets are the number of layers (plies) of metal used to construct the cookware and the materials used. In general, cookware that has more layers is more durable and often heats and cooks more evenly.
Aside from the number of plies, the next major difference will be material. Stainless steel is the most common material found on the exterior of cookware because it's more durable than copper or aluminum, but it's not a great conductor of heat. Copper and aluminum and both good conductors, which is why you'll often see them used in the core layers of cookware or on the heating surface. Copper is one of the best conductors of heat, but it's more expensive than aluminum and stainless steel, so cookware that incorporates copper is often very expensive.
Here is a table that breakdowns the major differences between All-Clad's USA-made collections.
| | |
| --- | --- |
| Collection | Composition |
| D3 Stainless | 3-ply with an aluminum core. The cooking surface is 18/10 stainless steel cooking, and the heating surface is induction stainless steel. |
| D5 Collections | 5-ply with alternating layers of stainless steel and aluminum. The cooking surface is stainless steel, and the heating surface is induction stainless steel. |
| Copper Core | 5-ply construction with an interior made up of a copper core between two layers of bonded aluminum. The cooking surface is stainless steel, and the heating surface is induction stainless steel. |
| C4 Copper Core | 4-ply construction with an interior made of a pure copper layer bonded with a stainless steel layer. The cooking surface is stainless steel, and the heating surface is pure copper. |
I personally own a set of All Clad's D3 collection, and it works great for a casual cook like me. I find it to be extremely impressive, and if you're looking for a great starter set, I highly recommend the D3 series because it's less expensive and still gets the job done. If you've never used quality cookware, the D3 set will blow your mind, as it does the many other lovers of the product, as it's one of the most popular high-quality sets that's within the price range that most consumers are willing to spend on cookware.
For those of you looking for something a little higher-end, the D5 cookware sets utilize a 5-ply construction compared to the 3-ply construction used in the D3 collection.
We already talked about the basic differences above, but if you'd like a more detailed explanation, this video does a good job explaining the differences between the D3 and D5 sets offered by All-Clad very well.
Overall, I find All-Clad cookware to look as good as it cooks. Here is a picture of some of my All-Clad pots and pans up close.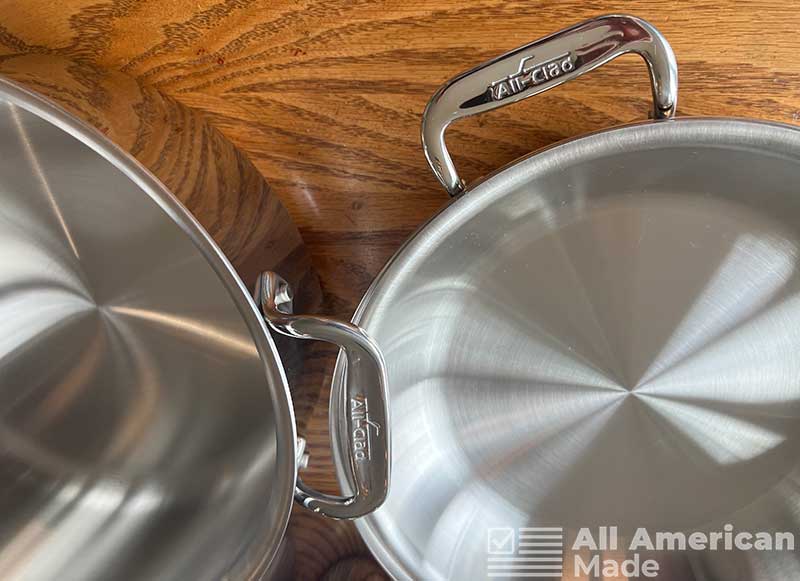 I really like how the flared rims allow for easy pour and don't let the contents spill over even when I'm stirring furiously.
Another thing you'll notice about All-Clad cookware is the amount of craftsmanship and care they put into their cookware. Each piece of cookware passes through 20 hands before it makes its way to your home. Nowadays, you might come across several brands that mimic All-Clad's bonded design. However, only a handful even manage to come closer to this brand's construction and quality standards.
Who We Recommend It For:
It's no secret that All-Clad American-made cookware is going to cost you a lot more than the budget pans you'd find at a typical big-box retailer, but it'll also last a lot longer as these are extremely durable and well made. If you're someone who cooks a lot and really loves crafting in the kitchen, these pans are well worth the investment, as they'll last an insanely long time, are easy to both clean and maintain, and are just overall a blast to use. They are easily and notably better at retaining and distributing heat than cheaper pans, and you'll notice that immediately.
If you're someone who can afford the D5 or copper core sets, first of all, let me know what you do for a living in the comments. Just kidding, but seriously their D5 and copper core pans are professional-grade and some of the absolute highest quality pots and pans. Also, keep in mind that if their sets are a little out of your price range, they also sell many pots and pans individually.
Here is a good video made by All-Clad that might help you decide which collection is right for you.
2. Viking Cookware (5-Ply Professional Series Only)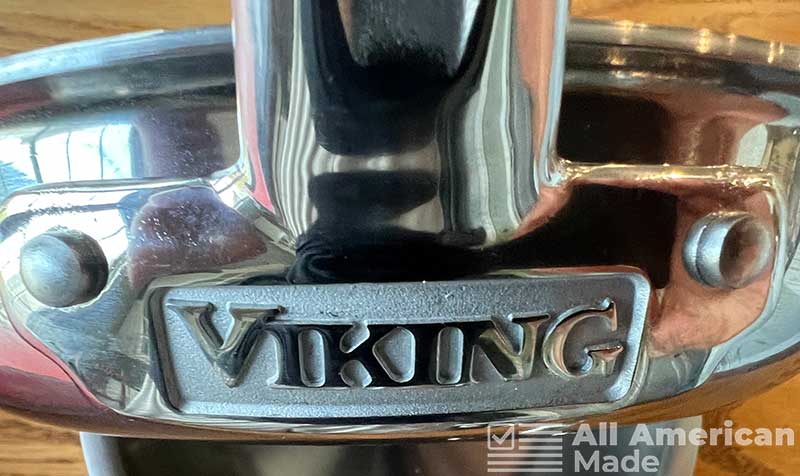 | | |
| --- | --- |
| Year Founded | 1987 |
| Origin | Carson, California |
| Materials Used | Stainless Steel, Aluminum |
| Number of Pieces | Individual pieces, 5-piece, 7-piece, and 10-piece sets |
| Colors Available | Silver |
Viking's Origin and Manufacturing Locations
If there's one brand that can take on All-Clad's range of high-end cookware in the market, it's Viking Culinary. Both brands boast similar high-quality layered construction of stainless steel and aluminum with cool-to-touch handles and oven-safe designs up to 600 degrees.
When it comes to prices, Viking Culinary casts a wider net. Their range is certainly not cheap, nor is it as expensive as All-Clad's. One of the reasons why the brand has been able to keep the costs relatively low could be attributed to a chunk of its manufacturing happening overseas. That said, it's good to know the brands still handcraft their iconic 5-ply stainless Professional line in the USA.
What We Like and Don't Like About Viking's 5-Ply Stainless Steel Cookware
Since Viking's 5-Ply Professional Stainless Steel Cookware is their only American-made product line that's the one we'll be talking about here. This cookware range is multi-clad with a highly durable, induction-compatible stainless steel exterior and a core made with layers of quick-to-heat pure aluminum alloy and 3004 pure aluminum. An 18/10 stainless steel cooking interior can take on scorching high temperatures, distributing the heat across the surface for more homogenous cooking.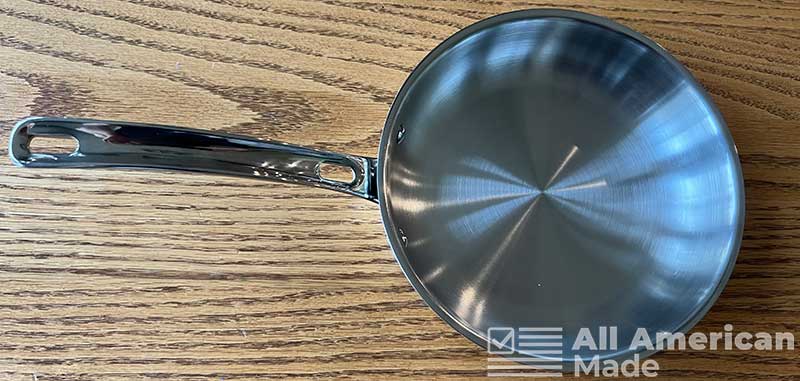 There are ten stainless steel pots and pans in this set, with the largest one being an 8-quart stockpot with a lid, which is perfect for cooking sauce and stock for a large party. You also get two fry pans measuring 8-inch and 10-inch each, two lidded saucepans, and a 3.4 quart sauté pan with a lid. This set has a minimalist design with riveted signature Stay-Cool handles that put you in the driver's seat while maneuvering and moving the pots around. Plus, all the pots and pans sport a lovely satin finish that keeps them looking brand new wash after wash.
Who We Recommend It For:
If you're looking for a relatively economical set similar in build and functionality to All-Clad, do give this cookware range a shot. Its high-performance 5-ply construction is induction stovetop friendly and heats the food super quick with minimal use of energy.
Granted, Vikings Culinary doesn't make many of their products here, but everything they make here is of premium grade and stellar quality that's sure to last you a lifetime.
3. Heritage Steel

| | |
| --- | --- |
| Year Founded | 1970 |
| Origin | Clarksville, Tennessee |
| Materials Used | Stainless steel |
| Number of Pieces | 10 |
| Colors Available | Silver |
Heritage Steel's Origin and Manufacturing Locations
For the last 40 years, Heritage Steel has been setting the bar high with its time-tested quality and expert craftsmanship. Unlike its close competitors, every piece by Heritage steel is made with passion and perfection at their Clarksville factory in Tennessee.
As a family-owned business, Heritage Steel runs a tight ship, keeping a close check on the quality of material, design, and utility. There's no doubt this company respects crafts and experience as most of their employees have been with them for over two decades.
What We Like and Don't Like About Heritage Steel's 10 Piece Cookware Set
Heritage steel's four-decade-long experience and skill can be sampled in this 10-piece cookware. In terms of durability, it gets a big thumbs up from me. It's not just any 5-ply construction but a mighty strong one. The set's exterior layer is a corrosion-resistant 439 titanium strengthened stainless steel compatible with all cooktops, including induction. A 3-ply aluminum core with alternating layers of 1145 pure aluminum and 3004 aluminum is a fantastic configuration for efficient cooking.
All pots and pans have a cooking surface made from titanium strengthened 316Ti steel alloy. Manufacturers often pick this material to make their cookware robust, rust-free, and abrasion-resistant. When it comes to stability and durability, this cooking surface beats even the manufacture-favorite 18/10 stainless steel.
Who We Recommend It For:
By now, we know that an entirely made in USA cookware set built with most raw materials sourced from around here doesn't come cheap. So if you have the budget but are wary, don't be. Heritage Steel's long-lasting quality will give you your money's worth.
This 10-piece set is durable, easy to cook with, and has every vessel you would need in your kitchen for day-to-day cooking for your family. And the bigger pots and pans like the 8-quarts stockpot and 10.5" fry pan are sure to become your kitchen staples for their capacity and utility. So light up the kitchen flame and get the cooking going with great stainless steel pots and pans made in the USA!
4. Made In Cookware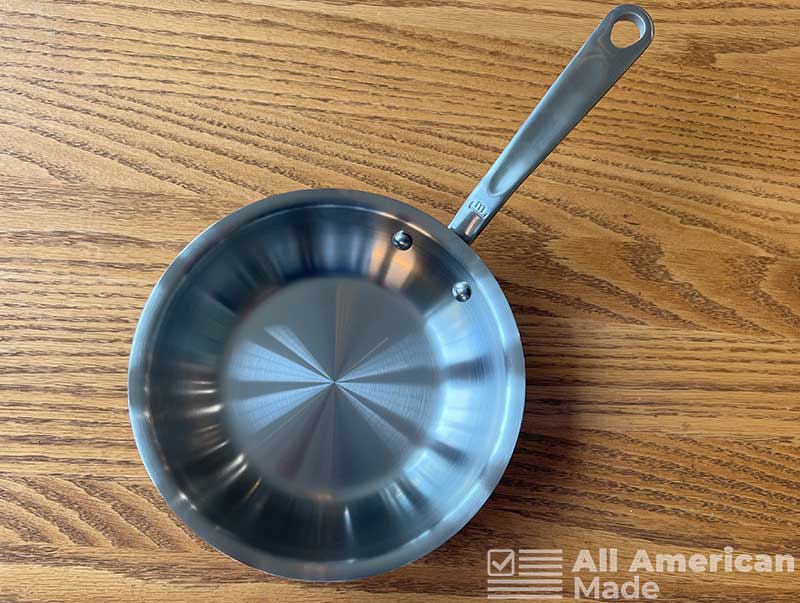 | | |
| --- | --- |
| Year Founded | 2016 |
| Origin | Austin, Texas |
| Materials Used | Stainless Steel |
| Sizes Available | 8″, 10″, 12″ |
| Colors Available | Natural |
Made In's Origin and Manufacturing Locations
While Made In is a relatively new company being that it was founded in 2016, the founders Chip Malt and Jake Kalick come equipped with a ton of expertise, courtesy of their families dealing in kitchenware for over a century. By adopting a direct-to-consumer and online sales approach, the brand has served a large number of homes and commercial kitchens while keeping costs in check. Made In's wide array of products cover everything from Cast Iron, Stainless Clad, Carbon Steel, Non-Stick Copper Cookware, Bakeware, Knives, and dinnerware made in the USA. Not all Made In Cookware is made in the United States, but a lot of it is, and we find it to be some of the highest quality cookware there is. I personally own one of their frying pans and I love it. Since I really only have experience with their frying pans, I'll discuss that below, but be aware that they offer a wide range of cookware.
What We Like and Don't Like About Made In's Stainless Steel Fry Pan
This pan is as versatile as they come! A 5-ply stainless steel-aluminum configuration gets hot fast and evenly while retaining the heat for longer. Did I mention it's induction compatible? Not only that, this pan's ability to take on as much heat as 800 degrees means it can go from the stovetop to the oven for an uninterrupted cooking experience.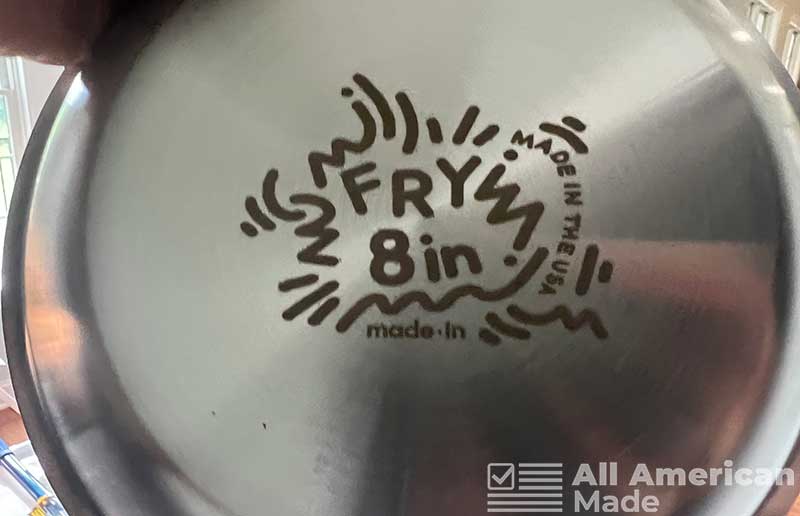 The long hollow handle stays cool and is ergonomically designed to provide a stable grip. While it's built to last, a bit of care on our part will go a long way. To keep it looking brand new, avoid using metal utensils and preferably wash by hand instead of the dishwasher. The pan is available in 8 inches, 10 inches, and 12 inches as well!
Who We Recommend It For:
Made In's well-made cookware can be frequently spotted at many Michelin-starred kitchens, luxury hotels, and other food service setups. Their popularity continues to skyrocket among home cooks and food enthusiasts. Those seeking premium cookware at honest, pocket-friendly should head to Made In's Amazon Store and Website right away.
5. Nordicware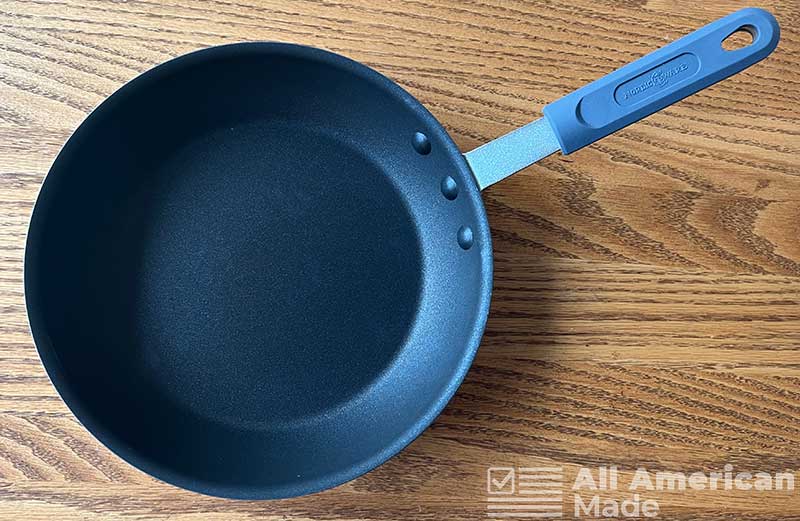 | | |
| --- | --- |
| Year Founded | 1946 |
| Origin | Minnesota |
| Materials Used | Aluminized steel, Stainless Steel, and More |
| Number of Pieces | Most pieces are sold individually |
| Colors Available | Black, Stainless Steel |
Nordicware's Origin and Manufacturing Locations
Since its launch in the 1940s, Nordic Ware has built an enviable reputation as the leading manufacturer of premium cookware, bakeware, and other kitchen products. The brand made headlines for introducing the joys of baking with their iconic Bundt cake pan to the world. Now a huge hit among professional chefs and home cooks alike, Nordic ware makes over 300 products using responsible manufacturing practices at their Minneapolis factory in the USA.
What We Like and Don't Like About Nordicware's Cookware
Although more popular for their bakeware, Nordic Ware's robust and versatile cookware pieces are not far behind. The one I have here is a 10" frying pan that's perfect for stir-frying, sautéing, deep-frying, boiling, steaming, and more.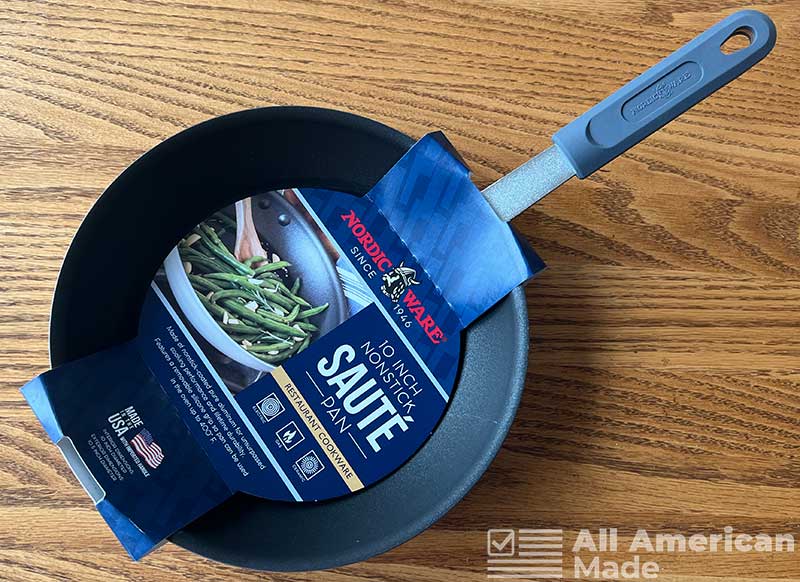 It's made with heavy gauge pressure cast aluminum. This well-thought-out choice of material gives the pan quick, even heating properties and corrosion resistance. The handle feels great, and I like that they have incorporated rubber at the end to make the pan easier to hold and move while cooking. One thing I don't like is that the handle is made in China, but the pan itself is American-made. I do wish the handle was American-made, but since it's a rather small percent of the total product, I still wanted to include it on this list. Another thing to keep in mind is that this pan is not induction compatible.
Who We Recommend It For:
This is a great pan for those looking for a capable frying pan for sir frying, cooking sauces, and other foods without spending a fortune. Overall, it's extremely well made, and it's a pleasure to cook with!
6. Lodge Cast Iron Cookware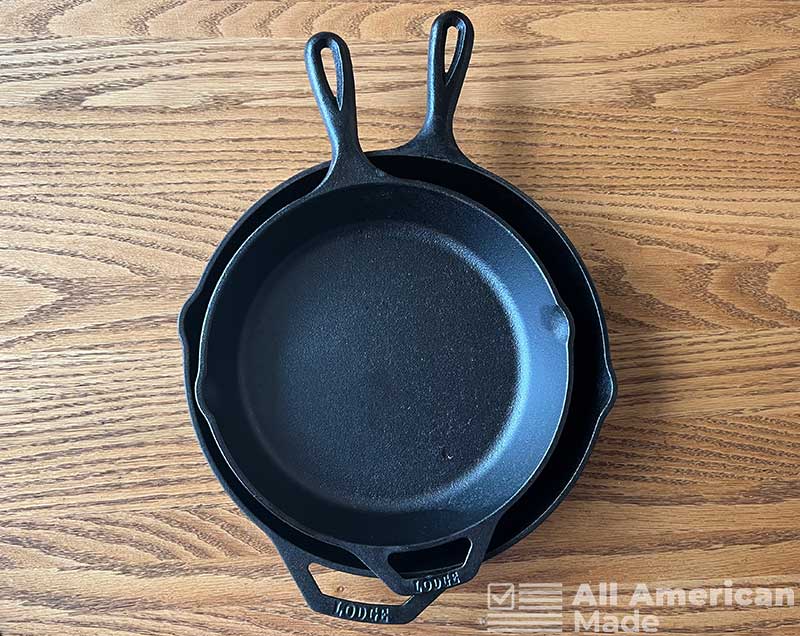 | | |
| --- | --- |
| Year Founded | 1896 |
| Origin | Tennessee, USA |
| Materials Used | Cast Iron |
| Number of Pieces | 1 |
| Colors Available | Black |
Lodge's Origin and Manufacturing Locations
Lodge USA's 120 years of making virtually indestructible iron cookware have made them masters of their craft. From their two foundries in South Pittsburg, Tennessee, Lodge USA produces cookware that's a trinity of durability, versatility, and affordability.
Being eco-friendly is also right at the top of this company's list of priorities. They keep coming up with ways to minimize their carbon footprint by recycling, reusing, and switching to biodegradable packaging.
What We Like and Don't Like About Lodge's Pre-Seasoned Cast Iron Skillet
If you aren't yet familiar with the bliss of using cast iron cookware, it's about time you get one of these pans for your kitchen. This 10.25" skillet is robustly made with cast iron and comes pre-seasoned and ready to cook. The coating used here is 100% natural vegetable oil to give it a naturally non-stick surface, fit for recipes that need searing, braising, frying, or grilling.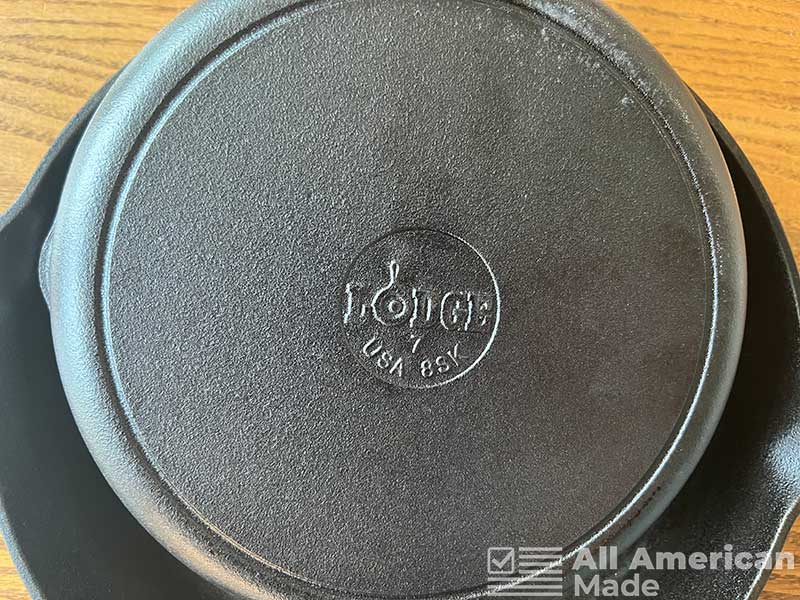 The skillet comes with two handles- a primary one for grip and another for better control, enabling you to carry it comfortably across from one place to another. Good care will go a long way since it's a cast-iron skillet. This set also comes with a nifty 5-piece care kit, seasoning spray, pan scraper, silicone handle holder, scrub brush, and care manual.
Who We Recommend It For:
Cast iron cookware is truly versatile and will be a great addition to any kitchen, whether it belongs to a home cook, chef, or someone learning the ropes. These pots and pans can get all the cooking done with barely a few drops of oil. Thanks to its high volumetric heat capacity, once cast iron warms up, it stays hot for a long time, allowing you to sear and roast meat efficiently. The bottom line is that the Lodge Company makes some of the highest quality cast iron cookware made in the USA, and compared to many other cast iron products on the market, it's a very reasonable price. There isn't much not to like!
Popular Related Article: List of Great Measuring Cups Made in the USA
7. American Kitchen Stainless Steel Cookware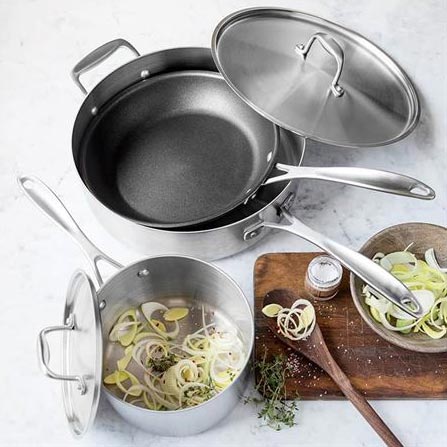 | | |
| --- | --- |
| Year Founded | Over 100 years ago |
| Origin | West Bend, Wisconsin |
| Materials Used | Stainless steel |
| Number of Pieces | 5 |
| Colors Available | Silver |
American Kitchen's Origin and Manufacturing Locations
West Bend, Wisconsin, is home to a well-established cookware manufacturer, American Kitchen. The family-owned company began its operations over a century ago in the form of its "Regal Ware' cookware factory. As years went by, the art was passed down and perfected from one generation to another. Today, the brand is loved for its long-lasting non-stick, stainless steel, and cast aluminum cookware. All of which are crafted by hand with diligence, care, and love by skilled artisans at the Wisconsin factory.
What We Like and Don't Like About American Kitchen's Stainless Steel Cookware Set
This 5-piece has all the essential offerings to cook your everyday meals. The pots and pans in this one are built with a dual layer of premium grade stainless steel fused with a 1050A aluminum core. The result is three-ply stainless steel construction with excellent heat dispersion for effortless cooking for the years to come.
A high-density and magnetic 400-series stainless steel exterior make this set fit for use on various cooktops, including gas stoves, induction, and oven safe up to 500 degrees. What I loved the most about this cookware, besides the durable build, are the comfy-grip handles designed to stay cool even around scorching heat.
Who We Recommend It For:
This is a great starter kit for home cooks looking to replace old cookware or update their kitchen space. In this set, you get a 3-quart saucepan, a 12-inch non-stick skillet, and a 12-inch sauté pan with two lids. The non-stick skillet is perfect for the health-conscious cook looking to whip up low-oil and grease-free recipes in their kitchen.
Related Popular Article: Our Recommended USA-Made Frying Pans (All Types)
8. 360 Cookware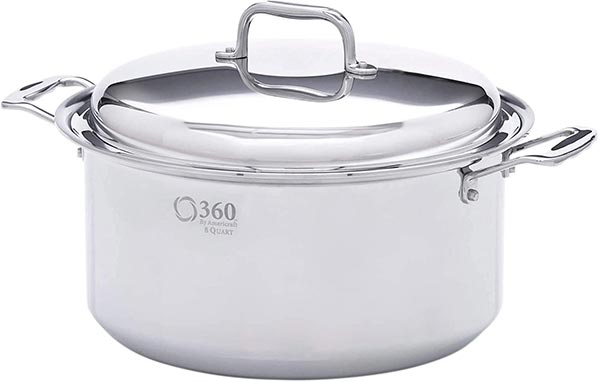 | | |
| --- | --- |
| Year Founded | 2010 |
| Origin | West Bend, Wisconsin |
| Materials Used | Stainless Steel |
| Number of Pieces | 2 |
| Colors Available | Silver |
360's Origin and Manufacturing Locations
Here's another popular cookware maker with its roots in West Bend, Wisconsin, USA. 360 Cookware is relatively new, launched in 2010, but a rapidly growing brand in the cookware business. It's best known for using Vapor Technology to allow cooking in the most nutritious way possible. Unlike other brands where some or other product line or piece is imported or made overseas, 360 Cookware makes everything right here on American soil.
What We Like and Don't Like About 360's Stainless Steel Pot
I admire the brand for supporting such a healthy way of cooking food. This waterless style ensures the food stews and brews in its own juices, making it so much healthier and tastier while being kind to the environment. As a step toward the well-being of its users, the brand also avoids using harsh chemicals in its manufacturing process.
Here I've picked a super thick, roomy 8-quart stockpot, handmade using top-grade stainless steel and a multi-core for quick and even heating. I mentioned how the brand steers clear of chemicals, including non-stick coating. Well, this pot comes with a T-304 Surgical Grade Stainless Steel cooking surface making it healthier and safer than many others on the market. The finish is also chemical-free and made smooth, courtesy of dry sanding.
The lids are cleverly designed to create a vapor seal for efficient, grease-free, and waterless cooking. Durability-wise, 360 Cookware promises to stand the test of time. It's built to last and can even be passed down from one generation to the next.
Who We Recommend It For:
360 cookware is compatible with waterless cooking, making it an ideal pick for the eco-conscious and those who want to eat non-greasy food cooked with its natural juices and moisture intact. Being a recent entrant in the cookware-making game, this brand offers a somewhat limited portfolio. However, what they do offer is an absolute bang for the buck!
9. USA Pan Cookware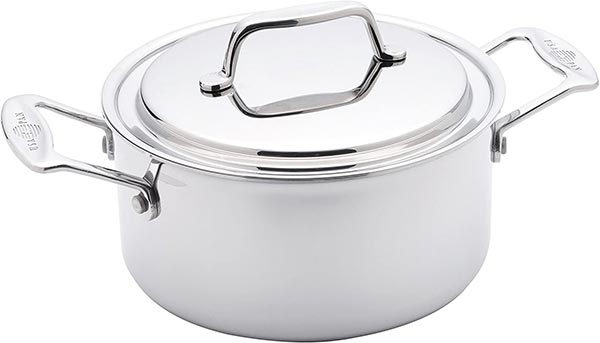 | | |
| --- | --- |
| Year Founded | 1959 |
| Origin | Pittsburgh, Pennsylvania |
| Materials Used | Stainless steel |
| Number of Pieces | 2 |
| Colors Available | Silver |
USA Pan's Origin and Manufacturing Locations
Made in Pittsburgh, Pennsylvania, USA Pan has a large fan following for their professional-grade cookware and bakeware. The company was founded in 1959 by two brothers, John Bundy Sr. and Russell T. Bundy, who successfully established the brand's niche in crafting high-quality industrial bakeware for commercial kitchens.
After conquering the commercial space, the Bundy family decided to extend their offerings to home cooks. In 2009, USA Pan came out with an exquisite range of cookware and bakeware with the same quality, durability, and functionality standard as their commercial line.
What We Like and Don't Like About USA Pan's 5-Ply Stainless Steel Pot
The best selling point about this 3-Quart Stock Pot is its practical vapor cover design. Like 360 Cookware, the lid here seals the heat and moisture in the container for healthy, flavorful, oil-free cooking. The overall construction is pretty neat, with a five-layer cladded stainless steel build and a reverse panel base that keeps warping at bay.
The use of surgical-grade stainless steel makes this cookware safe for use on many cooktops, including induction, stove, electric, ceramic glass, and halogen. It's also dishwasher and oven safe, so once you're done cooking, pop it straight into the dishwasher for a good clean.
Who We Recommend It For:
If you're looking to up your skill as a home cook or a baker, USA Pan cookware is right up your alley! This stock pot's great looks match its high performance. It's hand polished to give you glimmering cookware perfect for cooking nutritious and tasty chowders, broths, and sauces.
10. Brooklyn Copper Cookware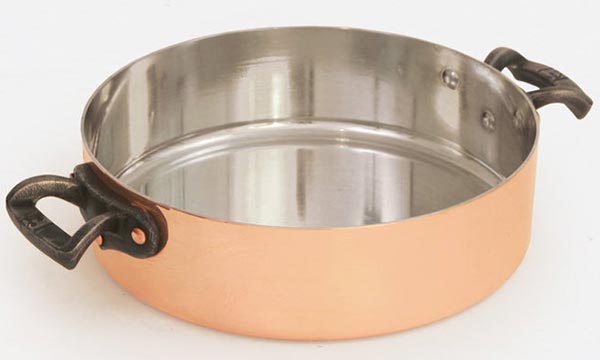 | | |
| --- | --- |
| Year Founded | 2009 |
| Origin | Brooklyn, New York |
| Materials Used | Copper |
| Number of Pieces | Various |
| Colors Available | Copper |
Brooklyn Copper Cookware's Origin and Manufacturing Locations
Brooklyn Copper Cookware makes the most exclusive, gorgeous pieces of cookware out there! They are not just a real treat to the eyes but crafted with the finest materials using techniques honed to perfection over the centuries. BCC cookware is proudly made from scratch in the USA with meticulous research to deliver the most functional and beautiful designs.
The fact they make these pieces by hand in limited batches keeps the costs in control and quality in check but makes them so much harder to acquire. These pots and pans get sold out as soon as they are made. So, if you want to get hold of one of these beauties, do sign up for their email subscription list so the team can notify you when the next batch is available.
What We Like and Don't Like About Brooklyn Copper Cookware's 5 Quart Large Rondeau
This 5-quart capacity Rondeau boasts a flawless build using solid copper with pure, heavy-duty hand-wiped tin lining. Copper conducts heat faster and is ultra-responsive compared to iron or steel pans. Meanwhile, the shiny tin lining doesn't react with acids and supports non-stick cooking without chemicals or seasoning.
While tin is known to be softer and more prone to scratches, with proper care, it'll last you years. This pan's cleverly designed "stork ear" handles with copper rivets are just what you need to effortlessly carry a heavy 5-quart full pot to the dining area.
Who We Recommend It For:
As the bigger-sized version of the brand's original and much-loved Rondeau, this cookware is ideal for cooking and serving a large party. Copper ensures that the meals will be ready in record time, while the ergonomic handles will make for easy travel to the serving table.
Besides being a great pick for heat-sensitive searing, poaching, and braising, BCC Copper Cookware's luxury appeal makes them a great addition to gift registries.
11. Solidteknics Cookware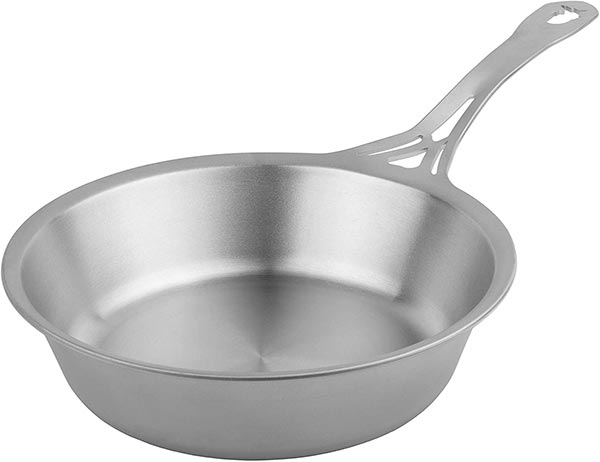 | | |
| --- | --- |
| Year Founded | 2014 |
| Origin | Chicago, Illinois |
| Materials Used | Stainless steel |
| Number of Pieces | 1 |
| Colors Available | Silver |
Solidteknics' Origin and Manufacturing Locations
At a time when so many cookware brands are getting their products made overseas, Solidteknics is one of the few who are adamant about sticking to local manufacturing. Started by engineer and culinary enthusiast Mark Henry, Solidteknics is an Australian brand with a strong manufacturing presence in the USA.
It's awesome to finally see a foreign brand go for American manufacturing, despite higher costs. According to the founder, making all of their products in either Australia or America is to support local workers with fair wages and get the highest standard of quality in return. A win-win, I'd say!
What We Like and Don't Like About Solidteknics' Fry Pan
Many Solidteknics pots and pans are made with pride at their Chicago factory with 100% heavy-metal-free American-made iron sheets. Such pure quality material, when paired with American craftsmanship and the brand's patented single-piece rivet-free construction, produces cookware that'll last not decades but centuries!
The wrought iron used in crafting this pan is thick, resists warping, and disperses heat uniformly to deliver flavorful meals. While the highly durable one-piece, rivetless design makes the pan easy to clean and hold. Solidteknics Quenched seasoning technology employed in all iron pots and pans is undoubtedly a pathbreaking innovation! With this design, you get naturally coated cookware free of harmful toxins for safe, healthy, and efficient cooking.
These pans are coated with a layer of hard, inert rice bran oil that doesn't let the food stick, allowing you to cook grease-free. Worried about what to do when the seasoning runs out? Don't be! This natural non-stick surface can be touched up with proprietary Iron Love seasoning conditioner bars.
Who We Recommend It For:
Anyone who thought wrought iron cookware is no longer cool was wrong! Up-and-coming brands like Solidteknics are going back to the roots to revive traditional cookware. They've brought back iron cookware to support natural and healthy cooking, free from synthetic elements. If you're looking for lightweight, heirloom-quality iron cookware that's kinder on the planet and your health, then Solidteknics US-ION cookware is perfect for you. As far as non-toxic cookware made in the USA goes, Solidteknics has some great options.
Popular Related Article: Our Favorite Cutting Boards Made in the USA
12. Lancaster Cookware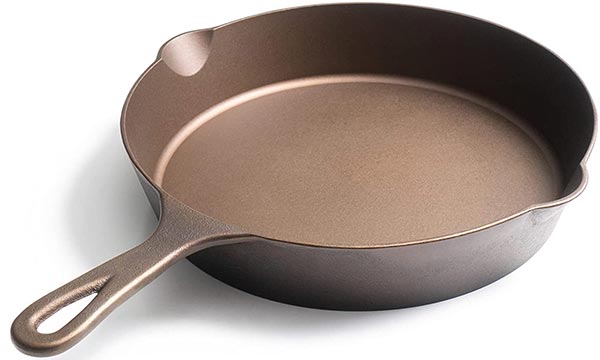 | | |
| --- | --- |
| Year Founded | 2018 |
| Origin | Pennsylvania |
| Materials Used | Cast iron |
| Number of Pieces | 1 |
| Colors Available | Rose Gold, Black |
Lancaster's Origin and Manufacturing Locations
Brands like Lodge Cast iron, Solidteknics, and Lancaster Cast Iron have swung into motion the new iron cookware age. With their high-quality build and design adapted to contemporary lifestyle, cast iron pans are making a comeback! Lancaster Cast Iron was founded in 2018 by two former corporate honchos- Mark Longenecker and Brandon Moore, who quit their jobs to travel the world.
Their travels acquainted them with the joys of leading a life away from the hustle-bustle. They started the cookware brand to make cooking a fun and soulful experience. Cast iron was the perfect candidate for what the duo had in mind. Besides being smooth, lightweight, and incredibly low maintenance, cast iron pots and pans cook your meals to perfection.
What We Like and Don't Like About Lancaster's Cast Iron Skillet
Everything on Lancaster's portfolio is cast, crafted, and seasoned at a factory in Pennsylvania. Once cast at the foundry, each cookware goes through a process to make it lightweight before getting a machined-smooth finish.
Two coats of grapeseed oil are added to give it a non-stick surface making it perfect for low oil and fat-free recipes. It sure looks heavy but weighs incredibly light. The handle is ergonomically sound, and two pour spouts are just what I need for a trouble-free serving. Its well-made construction works well on all cooktops, including the oven and grill.
Who We Recommend It For:
Built to last generations, this 10.5" skillet is a hard-working piece of cookware that can take on various tasks- be it frying, grilling, braising, and baking. Lightweight design and compatibility with nearly all heat sources will make this your go-to skillet wherever you are and whatever you're cooking!
13. Finex Cookware (Very Versatile)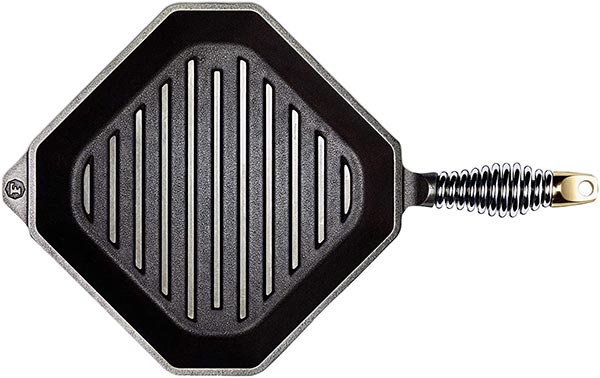 | | |
| --- | --- |
| Year Founded | 2012 |
| Origin | Portland, Oregon |
| Materials Used | Cast iron |
| Number of Pieces | 1 |
| Colors Available | Black |
Finex's Origin and Manufacturing Locations
There's a small team of dedicated artisans, designers, and culinary experts that have come together to create heirloom-quality cookware that'll be yours for life. It's important to these guys that you and I enjoy using their cookware as much as they do making it! That's why they've picked American Cast iron as the hero of their products. Finex's carefully crafted and curated product range includes skillets, grill pans, griddle, dutch ovens, cookware sets, and lids. All of which are proudly made in Portland, Oregon, USA.
What We Like and Don't Like About Finex's 10 Inch Cast Iron Grill Pan
This 10-inch cast-iron skillet has been designed to be your kitchen workhouse. Robust construction made with heavy gauge cast iron makes it safe and compatible for use on a variety of heat sources. Instead of chemicals, it's naturally coated with organic flaxseed oil to make the cooking surface non-stick. Not only does this feature allow healthy, oil-less cooking, but it also makes the pan incredibly easy to clean.
The handles on these pans boast an innovative spring design made with a 300 series stainless steel wound and polished by hand for a quick cool-down. They are also easy to grip and hold than some of the other handles on the market.
Who We Recommend It For:
For those who crave delicious BBQ-style grill lines on the meat, this skillet is a match made in heaven! Not only this grill pan but every product on this manufacturer's catalog – durable cast iron and non-stick cooking.
14. Field Company Cast Iron
| | |
| --- | --- |
| Year Founded | N/A |
| Origin | Indiana, Illinois, and Wisconsin |
| Materials Used | Cast iron |
| Number of Pieces | 2 |
| Colors Available | Black |
Field's Origin and Manufacturing Locations
It all began when two brothers, Stephen and Chris Muscarella, inherited some vintage cast iron cookware from their grandmother. They were blown away by the timeless quality that stuck around their kitchen for years. But when the duo decided to stock some new cast iron pieces, what they got was no match to their family heirlooms.
The Muscarella brothers then set off to unravel the secrets as to why cast iron cookware is no longer made the way it used to. Through their extensive research and collaborations with experts, the two were able to crack the proper technique to pour iron by hand, vintage style. And that's how the Field Company was born.
What We Like and Don't Like About Field's Cast Iron Dutch Oven
This 4.5 quarts dutch oven is possibly the lightest and smoothest cast iron cookware I've ever come across. All thanks to the painstaking efforts by the team at Field Company, who've worked tirelessly to replicate old-age cast iron cookware. It weighs just 6.5 lbs making it ultra-portable even when full.
Pre-seasoned with grapeseed oil makes it naturally non-stick, like other cast iron cookware on this guide. For moving it around from the stove to the table, you get large, easy-to-hold handles. This pot's superior heat retention and a tight-fitting self-blasting cast iron lid make it your go-to vessel for frying, roasting, braising, and baking.
Who We Recommend It For:
Though I am obsessed with this dutch oven, the brand makes equally awesome skillets and griddles. These are not your ordinary cast iron cookware but something you'll be proud to own. Of course, such top-notch quality comes with a matching price tag which is worth every dime. After all, this cookware has been handcrafted with a centuries-old technique that has become nearly extinct in today's world.
15. Duparquet Copper Cookware Saute Pan (Handmade High-Quality)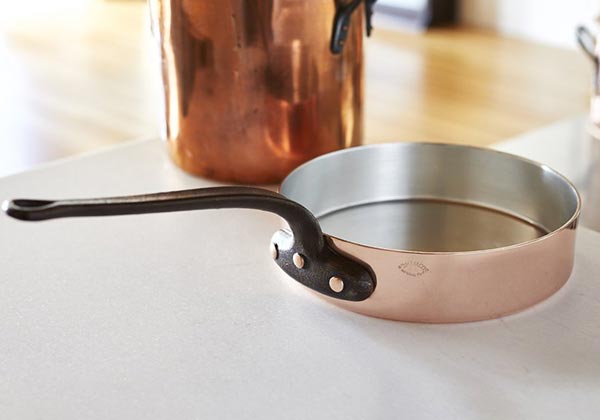 | | |
| --- | --- |
| Year Founded | 2008 |
| Origin | Carolina, USA |
| Materials Used | Copper |
| Number of Pieces | 1 |
| Colors Available | Copper |
Duparquet's Origin and Manufacturing Locations
Duparquet's founder and master craftsman Jim Hamann started his journey by restoring vintage copperware, mostly of French, English, or American origin. Struck by their solid build and charming character, a rarity in a market full of imported alternatives, Hamann decided to jump in the game. The company is now well-known for its heirloom quality, gorgeous copper pieces made in Rhode Island with love and dedication.
What We Like and Don't Like About Duparquet's Copper Cookware Saute Pan
Did you know Duparquet, formerly known as Dupareust, Huot, & Moneuse, Co, used to be a big name in copper cookware which ran successfully from 1852 to 1936 before falling prey to the Great Depression? We are thankful to Hamann for reviving the brand and giving an impressive range of visually striking copperware.
To introduce the brand and the incredible quality and design, I've picked out an 11.25" classic sauté pan with ⅛" thick top-grade copper. Copper's superb heat conductivity will allow you to cook your meals evenly and efficiently every time without any hot spots.
A molten tin lining inside makes sure food doesn't stick while cooking. However, if you want this pan to heat up even faster and more uniformly with a higher level of non-stick quality, then you can go for a silver lining instead. The handle on this pan is made from cast iron, which stays cooler for longer in contrast to copper. Plus, it's pretty comfy to hold and fitted with large copper rivets- so you'll never have to worry about dealing with a wobbly handle again!
Who We Recommend It For:
Duparquet prides itself on handcrafting all of its copperware in America using the most authentic and centuries-old tradition. So, even if you have to shell out a bit more for one of these, you are paying for vintage quality, great aesthetics, and impressive utility. This beautiful sauté pan can accommodate up to 4.5 quarts making it the right size for home cooking large portions for your family and friends.
16. Nest Homeware Cast Iron Dutch Oven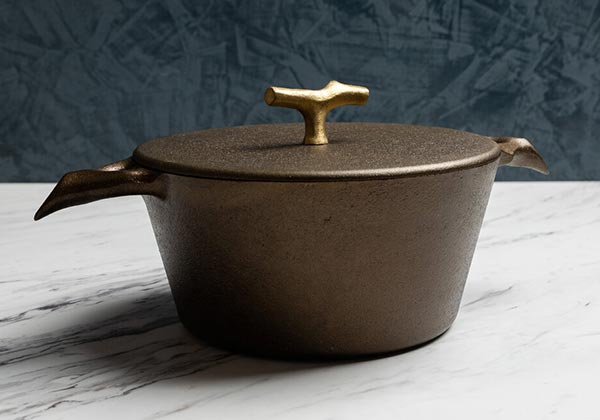 | | |
| --- | --- |
| Year Founded | 2013 |
| Origin | Providence, Rhode Island, USA |
| Materials Used | Cast iron |
| Number of Pieces | 2 |
| Colors Available | Black |
Nest Homeware's Origin and Manufacturing Locations
Nest Homeware may be one of the smaller brands on this guide, but the stuff they make is world-class and can be passed down from generation to generation. Based out of Providence, Rhode Island, Nest Homeware has a team of passionate, dedicated innovators behind it. It was founded in 2013 by cast-iron enthusiast Matt Cavallaro.
Cavallaro was later joined by Rue Sakayama, who used her creative bent of mind and vision to design and market their product range. Besides their love for cast ironware, the brand is committed to American manufacturing and quality craftsmanship. All of their cookware is cast and machined in Pennsylvania and later hand-seasoned at Providence.
What We Like and Don't Like About Nest Homeware's Cast Iron Dutch Oven
Almost all cast irons you get these days are pre-seasoned, as does this one. But being double seasoned with pure flaxseed oil makes it more resistant to rust while making the surface naturally non-stick. The interior is CNC machined smooth for even and efficient cooking.
Everything this brand makes scores high in the looks department and utility! The stunning brass knob on top of the self-blasting lid enhances the aesthetic appeal while adding to the functionality of this cookware. And the handles have been imaginatively crafted to resemble a Cherry tree branch. Besides being easy on the eyes, these long handles stay cool and help keep the pot stable being lifted and carried around.
Who We Recommend It For:
Cast iron might be a tad slower than other materials in heating up, but once it does, it stays that way for very long. The use of cast iron in this dutch oven makes it perfect for searing, frying, browning, baking, or any other recipe that needs high-heat retention. Plus, the double-seasoned cooking surface will let you cook healthy, oil-free meals without compromising on the taste.
17. Smithey Carbon Steel Farmhouse Skillet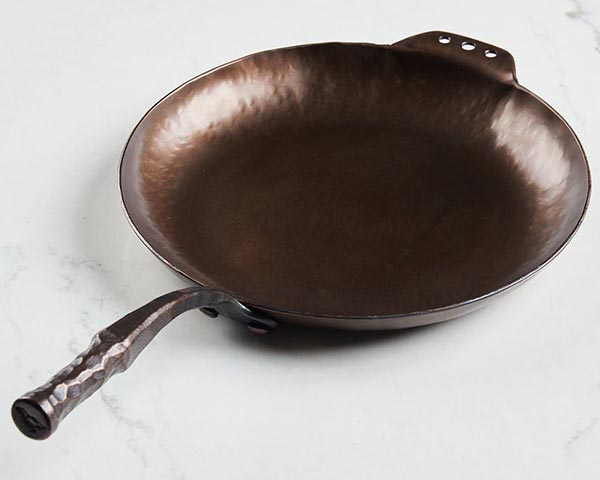 | | |
| --- | --- |
| Year Founded | Over 100 years ago |
| Origin | North Charleston, South Carolina, USA |
| Materials Used | Carbon Steel |
| Number of Pieces | 1 |
| Colors Available | Deep copper |
Smithey's Origin and Manufacturing Locations
I mentioned how Field Company revived old ways of making cast iron cookware. The next brand here shares Field Company's philosophy of replicating vintage quality that can stand the test of time. The brains and talent behind Smithey Ironware Issac Morton frequently came across 19th-century iron pieces, which he restored at his woodshed before gifting them to friends and family. Morton's dream of crafting cast iron cookware that appealed to modern sensibilities is how Smithey Ironware came into being.
What We Like and Don't Like About Smithey's Carbon Steel Farmhouse Skillet
This large-sized skillet is reminiscent of traditional American Blacksmith cookware that used to be a permanent fixture in most American kitchens in the 18th and 19th centuries. This skillet is a result of a collaboration between Smithey and reputed Charleston blacksmith Robert Thomas Iron Design.
Every piece is made hand-forged by a team of talented artisans, giving it a unique character. The basic design, however, remains the same- 12" carbon steel which, while being lighter, can match cast iron in performance. The handle has a peculiar shape inspired by antique-style fire tools, and helper handles with holes to hang on the rack.
Who We Recommend It For:
If you're a fan of cast iron skillets but want them a wee bit lighter, here's your chance. This smooth-finished farmhouse skillet is wide, roomy, and comes pre-seasoned with pure grapeseed oil. A versatile pan for your everyday meals!
Things to Keep in Mind When Choosing Cookware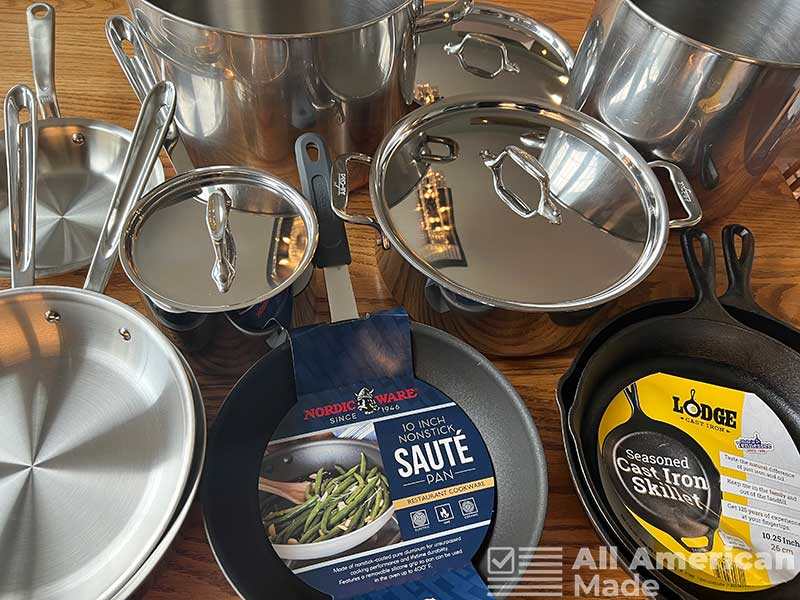 There are a few things you should consider before you choose cookware, however. Among them:
Maintenance:
The amount of maintenance required to keep your cookware in tip-top shape should be considered if you do not want to have to shine it every night. Stainless steel cookware is usually easier to maintain than copper or cast iron cookware. Copper and cast iron cookware often require quite a bit of maintenance to keep them in pristine condition.
Sturdiness:
Cookware of some types will last longer and retain its good looks. Stainless steel is considered to be one of the most durable types.
Reactivity:
There are some metals that react with certain foods. Tomatoes and other acidic foods, for example, tend to react with aluminum. This means that your food can absorb some metal, so choose your cookware carefully and be aware of each product's reactivity.
The conductivity of Heat:
Heat conductivity varies among metals. In contrast to stainless steel, copper is a particularly good heat conductor. The better the heat conductivity of your cookware, the better and more evenly your food will cook. As a result, copper cookware will react much faster to temperature changes than stainless steel cookware when you turn the heat up or down.
Cost:
Your cookware purchase will most likely depend on your budget. You should buy the best you can afford when it comes to cookware.
Final Thoughts:
That does it for this article. The most important thing when shopping for cookware is figuring out what size set you'll need. If you aren't the type to cook regularly, it makes no sense to buy a 16-piece set. It is usually cheaper to buy cookware sets than to buy each piece individually, but if you won't use all the pieces, then think carefully.
We cannot emphasize this enough: buy the best you can afford. In the end, your choice of stainless steel, cast iron, copper, or aluminum comes down to how frequently you cook, how knowledgeable you are in the kitchen, and how much money you have.
Stainless steel cookware tops the list in terms of price, versatility, and usability. Considering the advantages, it wins out over the others. This material does have one drawback in that it does not conduct heat well, and if even cooking is important to you, then heat conduction is important.
We are constantly looking to improve our articles, so if you know of any great American-made cookware sets that we missed, let us know in the comments below.
Hi, my name is Kevin and I'm from Pittsburgh, Pennsylvania. Choosing products made in America is important to me because it supports local economies, creates jobs, helps the environment, and ensures ethical labor practices. I also find that American made products are usually of higher quality so although they're a little more expensive, you save money in the long run. Before starting this website I was in the USMC infantry and nowadays I work on this website as a hobby.