There are many scenarios in life where a trusty pair of rubber boots come in handy. Some will need them every day for work, while others might only need them during certain times of the year to when it is particularly rainy.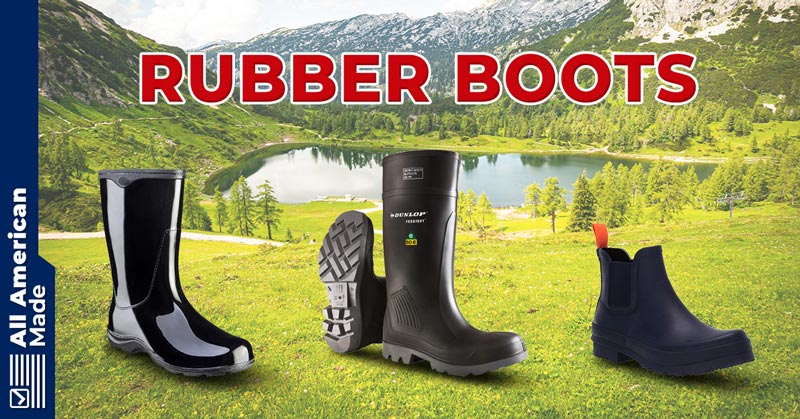 So whether you need a dependable pair of rubber boots to work in or a nice pair of rain boots, all of the boots on this page will surely keep your feet nice and dry regardless of what nature throws at them. Simply scroll through this list and pick out your favorite rubber boots made in the USA! Men's boots will be towards the top, and women's boots will be towards to bottom.
List of American-Made Rubber Boots
Dunlop Chesapeake (Great Value Men's Boots)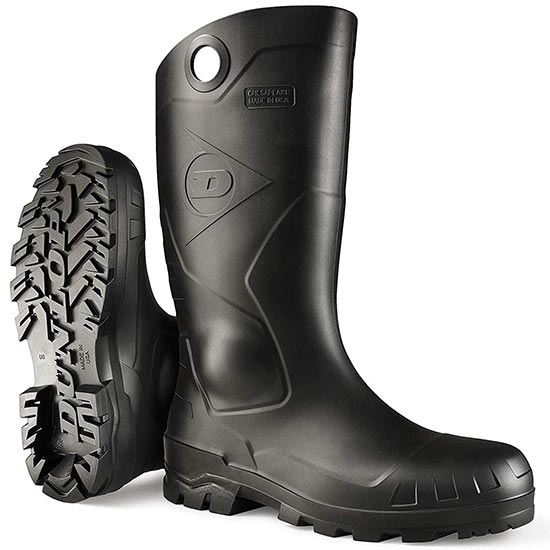 | | |
| --- | --- |
| Estimated Price | $25 |
| Sizes Available | 3-15 |
| Height | 13" |
| Insulated | No |
Dunlop's Origin and Manufacturing Locations
The Dunlop brand has come a long way since its early start in Ireland in 1888 when John Boyd Dunlop first applied for a patent for a pneumatic rubber tire for his son's bike after being frustrated with other tires not holding up.
In 2016 they bought out the OnGuard brand which had over 75 years of producing quality footwear in the United States, and used that tenured workforce to continue that great tradition combined with their strong materials and continue to give the American footwear industry a strong business here on American soil.
They build on a tradition to empower people to be makers and doers and to give them footwear to get any job done. They are also very intuitive when it comes to the environment and are working on producing styles and technologies that will make their products last longer, meaning less waste and longer-lasting boots.
The main focus of the Dunlop Company is to provide boots that give their customers the best in safety and comfort as a thank-you for believing in their products enough to give them a try. I think they've really hit their goal, and ever since the first Dunlop boot was officially made in 1927, they've had countless happy customers.
What We Like and Don't Like About Dunlop Chesapeake Boots
If you would have told me that you could find rubber boots made in the USA that were comfortable, waterproof, and have a price tag under twenty-five dollars, I would have probably smirked just a little, yet here in the Dunlop Chesapeake style, you get all of that and then some.
This style is described by the company as "light and mighty," and all of its attributes back up this claim. It is 25% lighter weight than the classic PVC boots, and the energy-absorbing outsole has channels designed on the outside to keep chemicals and water repelled away from getting into your boot.
Dunlop Chesapeake boots are a great option for anyone who needs a lightweight rubber boot that's durable. These boots don't offer any types of additional protection, but I find that they do a great job of keeping my feet dry and comfortable.
These are nice to have on hand during a rainy season, that's for sure, especially for those of you who have a large yard or farm.
Although Dunlop is relatively new to producing footwear in the United States, they do have years built up of investing in the latest technologies and lasts that they are able to hit the ground running and produce amazing products at even better prices. These likely aren't going to be the highest quality boots you've ever owned, but in terms of value, they're almost impossible to beat.
Dunlop Purofort Professional (Outstanding Quality)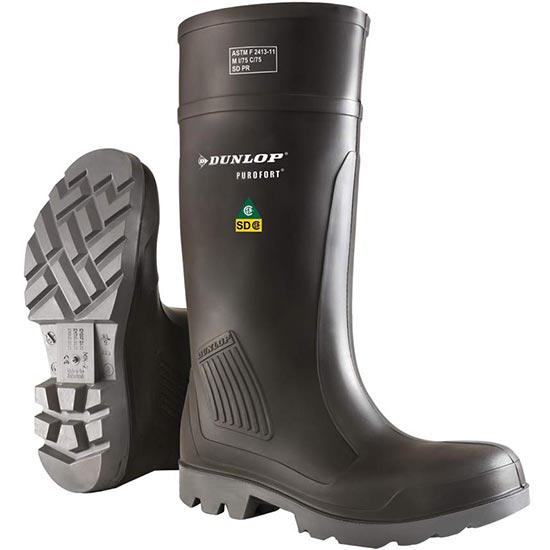 | | |
| --- | --- |
| Estimated Price | $170 |
| Sizes Available | 4-15 |
| Height | Mid Calf Height |
| Insole | Purofort Energy Absorbing |
What We Like and Don't Like About Dunlop Purofort Professional Rubber Boots
Compared to the Dunlop Chesapeake boot we talked about above, these boots are heavier duty and overall have a better build quality. They are designed to provide safety all day with their general safety requirements of being slip and oil, fuel, and chemical resistant, but it also is a lightweight style that will help reduce foot fatigue after a long day on the job.
They have a rather basic look and design, but sometimes looks are the last thing a person is worrying about when they just need a solid boot to get them through a day when rain or other liquids are out there to provide a hazard to their feet.
This particular boot is a great pick for someone who works in a business that supplies energy, a food manufacturing plant, or any type of business that you need to keep your feet dry and away from the elements.
The Purofort is a newer technology and style from Dunlop that tries to keep the product as efficient as possible while still meeting safety standards but not so heavy that you just want to kick them off at the end of a long day.
Overall, these boots are very well made, and they are the type of boots that, even with moderate to heavy use, can last many years or decades.
Dunlop Durapro Steel Toe Rubber Boot (Great Work Boot)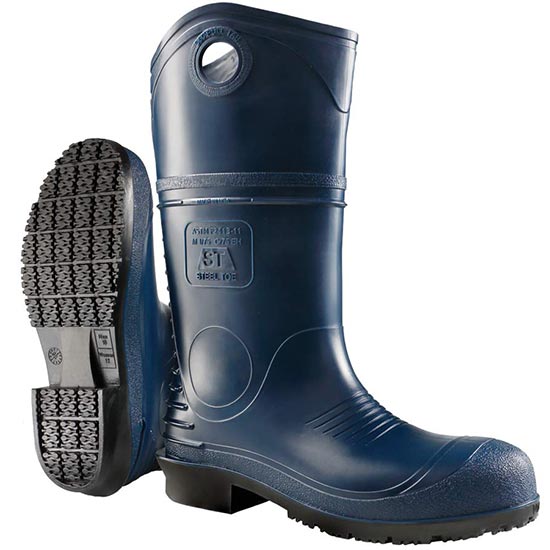 | | |
| --- | --- |
| Estimated Price | $50 |
| Sizes Available | 3-16 |
| Height | 16" |
| Insulated | No |
What We Like and Don't Like About Dunlop Durapro Steel Toe Rubber Boots
This is another great option from Dunlop and shows their brand's diversity and ability to provide anything from a basic rubber boot to one like this that offers more safety features but keeps it at a great price point.
There are so many great safety technologies for this boot that I am still surprised that it is offered at the price it is. One feature that stands out to me is the design of the top of the boot, which is sloped to prevent chafing, as this can be a common problem with regular rubber boots. I do find that this feature makes these boots very comfortable, and if you're someone who finds rubber boots to be uncomfortable, this might be something you really like.
Down the sides of the boot, there are canals designed to keep the boot decontaminated from any kind of outside source. This boot is 100% waterproof and has added ankle protection and an energy-absorbing insole.
With the next generation of technology designed in the safety toe on the inside and superior traction on the outside, there is just so much good design put into this boot.
The Dunlop Durapro Boot with the Steel Toe option is a great pick for anyone needing a lightweight rubber boot with advanced technologies but still sporting an amazingly low price tag, considering it's manufactured right here in the United States.
This style of boot is perfect for most types of workers, and the overall design is very versatile. Whether you're a livestock farmer, concrete worker, industrial painter, or offshore survey worker, this style of boot is perfect.
Some people do find that Dunlop boots run a little big in the sizing, but in my experience, they are true to size compared to other rubber boots. The quality and type of product really checked all of the boxes you would need in a great work rubber boot. These are some of my personal favorite rubber boots made in the USA, and for the money, they're hard to beat! That said, if you're someone who doesn't have a need for a steel toe, these boots wouldn't make much sense for you.
Kamik Barrel V Composite Toe Boots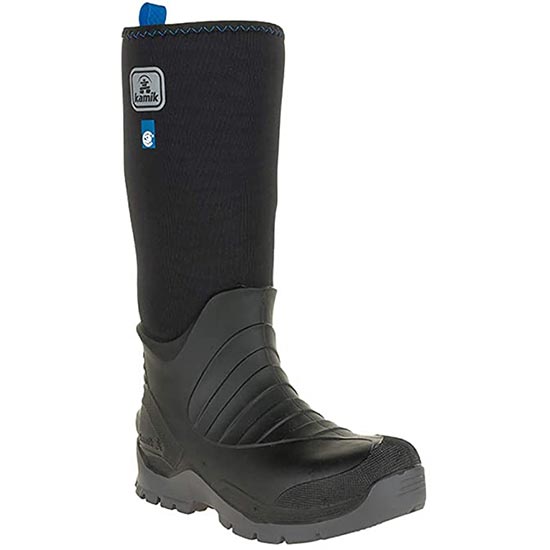 | | |
| --- | --- |
| Estimated Price | $170 |
| Sizes Available | 8-14 |
| Height | 15.75" |
| Insulated | Yes |
Kamik's Origin and Manufacturing Locations
The Kamik Brand proudly serves North America with manufacturing facilities in both Canada and the United States. They originated in Canada in 1898 and branched out into America in 1993 when they purchased their fourth manufacturing plant in Littleton, New Hampshire.
Their goals are to create products that keep your feet warm, dry, comfortable, and happy while outside with your family making memories no matter what the weather is like. They have styles for men, women, and kids, with many different options to pick from.
If you're needing the inspiration to get yourself outside when the ground is wet, just type in #FREEYOURPLAY into your Instagram feed, and the pictures that follow will have you finding your perfect pair of boots and maybe even one of the rubber boot styles that we are discussing in this article today.
What We Like and Don't Like About Kamik Barrel V Composite Toe Boots
The Kamik Barrel V is a great overall option for a rubber boot that you might need to meet a lot of safety requirements for work, and it will also be comfortable for possible all-day wear. It has the basics you need from a rubber boot, with it being waterproof and a sturdy GUIDE Vibram outsole that has a grip made to last you through all four seasons.
It also has some extras added in, like a nite-ray reflective patch to help you be seen in case your shift continues to go after the sun goes down and a composite toe for added protection. It is also rated to keep your feet warm for temps down to -40 degrees Fahrenheit.
The 100% vegan-friendly materials used to make these boots are also treated for odor control so that you can not only tread with confidence through the wet conditions but you also don't have to worry about your boot having a moldy stench to them.
This particular style of rubber boot would be for someone whose job requires them to not only be out in the elements but who also needs extra options like a safety toe and durable bottom that will prevent injuries.
The Barrel V also features the Kamik Tear-Guard upper that is designed specifically to hold up against snags and rips that tend to happen when you wear a boot every day for work. This boot really is the ultimate rubber boot to work in.
Grunden's Deck-Boss Fishing and Work Boot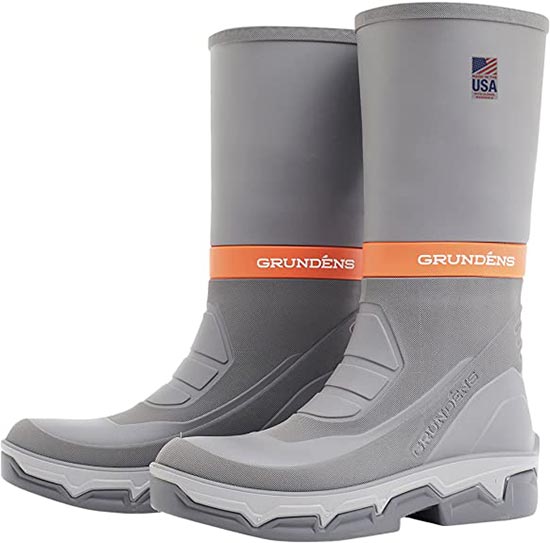 | | |
| --- | --- |
| Estimated Price | $140 |
| Sizes Available | 3-15 |
| Height | 15" |
| Insulated | No |
Grunden's Origin and Manufacturing Locations
The Grundens name is well-known in the fishing industry as it is the official footwear sponsor of Major League Fishing.
The brand started in 1911 when Carl Grunden wanted to make products that could hold up to all of the unforgiving weather that living off the coast of Sweden had to offer. When fishing is your way of life, you need clothing and footwear that can face all elements.
During World War I, all productions for the company were halted. However, they were able to pick back up afterward and continue producing great products for people in the fishing community. They have kept their traditions and been able to expand production into the United States and now produce styles in the Pacific Northwest.
This style was designed in part by Grundens USA President Mike Jackson, a former Alaskan fisherman, he knew what would be needed to hold up to all of the elements that fishing industry jobs can bring.
He also believes so strongly in the sport of fishing that he felt they needed to have their own shoes built specifically for their sport, just like basketball, baseball, or football athletes have.
What We Like and Don't Like About Grunden's Deck-Boss Fishing and Work Boot
You can see the research and time that was put into making this style meet all of the needs that might arise for someone out on the water. From the durable silicone band on the upper that you can tuck your pant legs in to make sure that water stays out to the "Herkules Grip" that holds the highest slip-resistant certification possible. These boots are made for the modern-day fisherman.
There has been no detail left unturned, and they are made to outlast any time you are out on the boat. They have an injection-molded upper that eliminates delamination and cracking and even offer a steel-toe option in this style in case you need that for crab fishing and don't want a large crate falling and breaking your toes.
The color of this boot, I thought, was also interesting as it really stands out from any other rubber boots I have seen. It is a light gray color with an orange band and is a really sharp-looking boot.
The price is a little higher than some of the styles we have gone over. However, with its specifics, it would definitely be worth the investment if you are a fisherman or work in that industry and need something that can check all of the boxes and then some.
This boot is obviously geared toward those who work in the fishing industry. I'm sure it could definitely hold up in other settings as well if you just really liked it, but it has been designed to meet the needs of those who work on the water.
If you're tired of products made in China or other countries where labor and resources are exploited, Gruden's boots are a perfect choice.
SWIMS Charlie Waterproof Rubber Rain Boot (Great Basic Low Rain Boot)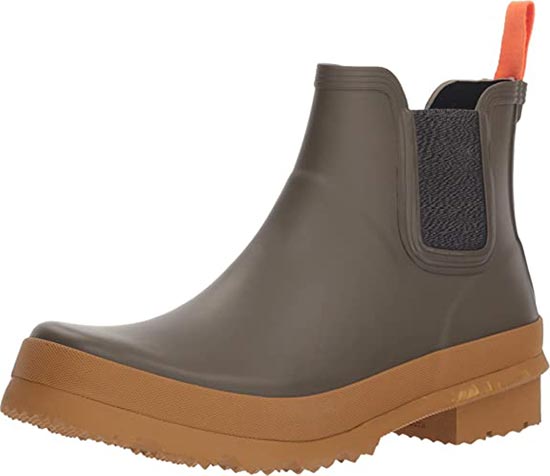 | | |
| --- | --- |
| Estimated Price | $120 |
| Sizes Available | 8-13 |
| Height | Ankle |
| Insole | Removable, Cushioned |
SWIMS' Origin and Manufacturing Locations
The SWIMS brand is a Norwegian lifestyle brand that is based out of Oslo, Norway, that began in 2006. They found their first taste of success with popular rubber galoshes and have since expanded their brand and offerings to include footwear, apparel, and other accessories suited for the modern man.
In 2018 SWIMS was bought by Centric Brands, Inc, and that is where they expanded into production in the United States. They currently employ more than 4,000 employees from New York City, Greensboro, and Los Angeles, as well as throughout Toronto and Montreal in Canada. This includes production facilities and retail stores.
SWIMS and Centric Brands might be a large, global company compared to some of our smaller only American brands, but they still hold true to a lot of the core values that are respected in the industry. They consistently audit their factories and facilities to make sure that they are doing their part in preventing any kind of human trafficking, child, or forced labor.
What We Like and Don't Like About SWIMS Charlie Waterproof Rubber Rain Boot
This style comes in a taupe color that I found really appealing as a different option for rain boots. If you prefer to just be a plain jane, they also offer an all-black classic look.
The Chelsea style is one of the most popular silhouettes that I found in my research. With its low-cut style and simple slip-on-and-off build, it is a perfect option for your feet on a wet, rainy day. The only thing I don't like about these boots is how the company markets them as "Made in USA or Imported." Companies do this in many cases because they have manufacturing locations all over the world that produce the same product. For this reason, we recommend being extremely cautious and always checking with the company before purchasing that the boots you're getting are, in fact, made in the USA.
If you are needing a rain boot that not only stands up against plain old rain but could also hold its own against snow and slush, this option would be a great pick for you. The outer sole has been specifically designed to provide a better grip giving you a safer step through all of the outdoor elements.
To protect your investment, you can keep your boots clean and lubricated with silicone and/or natural oil spray and wipe them down with a damp cloth. Also, keep in mind that these boots are made for wet conditions and will not hold up well if exposed to sunlight for long periods of time, as rubber material can tend to dry out.
Popular Related Article: What Work Boots Are Made in the USA?
Wolverine Yak Boot (Rubber Bottom)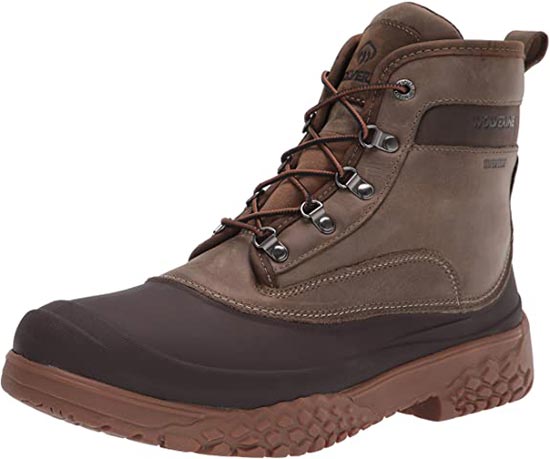 | | |
| --- | --- |
| Estimated Price | $140 |
| Sizes Available | 7-14 (Medium & X-Wide Available) |
| Height | 6" |
| Insole | Full-Cushioned, Open-Cell |
Wolverine's Origin and Manufacturing Locations
Wolverine was founded in 1883 by G.A. Krause. He started out by just making gloves that could not only be worn all day comfortably but were also tough enough to withstand a hard day's work. Over time, he also started to make boots that many people fell in love with.
By 1903 he and his sons were making up to 300 pairs of boots a day, and their business was thriving so well that electricity was brought to their hometown of Rockford, MI, where they continue to be headquartered today.
The three main principles that Wolverine still tries to incorporate into every pair of shoes they make today are comfort, purpose, and endurance. That makes a lot of sense to me, and I think the company's core values and methodology is really what have allowed their boots to be consistently some of the highest quality for so long.
They understand that there are many options out there and want to ensure that if you do choose Wolverine, it is a great investment for your feet.
What We Like and Don't Like About Wolverine Yak Boots
The Yak style offered by Wolverine is a great option for all kinds of weather, from light rain to even a little more extreme winter conditions, due to its 200g of insulation. The leather, waterproof upper will keep a snug fit on your leg and keep water out, while the rubber outsole will provide good traction.
This style comes in two different color options. There is a dark brown classic style, as well as a gravel-colored option which I thought was a unique color to kind of let it stand out just a bit more from the crowd.
If you are looking for a great overall boot that can get you through spring, fall, and winter, the Yak style from Wolverine would be a great option. It has everything you need to keep your feet warm and dry while you are outside in the elements of the changing seasons.
List of Women's American Made Rubber Boots
Sloggers Waterproof Rainboot (Great Value Women's Boots)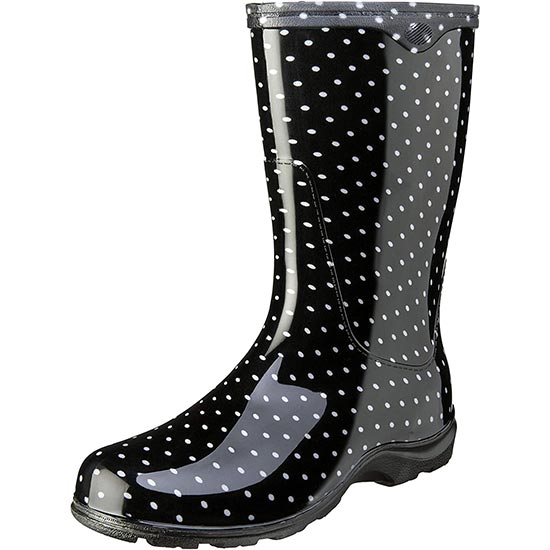 | | |
| --- | --- |
| Estimated Price | $40 |
| Sizes Available | 6-11 |
| Height | 10.5" |
| Insole | All-Day-Comfort |
Sloggers Origin and Manufacturing Locations
Sloggers are one of the few companies that started and continue to make all of its products here in the United States. They began in 1948 in Gardena, California, with their original "Drizzle Boot" and continue to thrive today in the same state.
They make their boots from 100% recyclable materials, and in 2014 they began their own recycling program encouraging customers to turn in their old Sloggers to the company so that they could be used in making new ones.
The Sloggers manufacturing plant in California can produce up to 4,000 pairs of Sloggers in one day.
What We Like and Don't Like About Sloggers Waterproof Rain Boots
The Sloggers are the exact definition of what I think of when the topic of rain boots comes to mind. They have basic solid colors as well as fun prints and colors to brighten up your dreary, rainy day.
They have a heavy-duty lug sole that is designed for getting out and walking in wet conditions and keeping traction between you and the ground. They can hold up to water as well as the mud and muck that it produces when it leaves.
The all-day comfort insoles provide thicker padding in the heel as well as under the ball of the foot to make sure that your foot is supported and comfortable in case you need to wear your Sloggers for more than just a short trip out to the chicken house.
The Sloggers are not only a great American story serving a purpose to keep your feet comfortable and dry in the rain, but they are by far the best value for your money. Coming in at around $40, you can rest assured that your money is being put to good use. You could even buy more than one pair at this price point.
The Sloggers do only come in whole sizes, but they have listened to the customers and now provide a half-sizer insole that you can buy to help in case you fall in between sizes and need that option for a better fit.
There is really no going wrong when you order a pair of Sloggers. I would recommend stepping out of your comfort zone and trying one of the fun styles so that you always have a smile when you put on your rain boots. If you're looking for rain boots made in the USA, these are a great option!
There aren't a ton of rain boots or rubber boots out there for women, but we are thankful that there are some good options like Sloggers rain boots.
Kamik Wellington Boot (Great Women's Tall Rain Boot)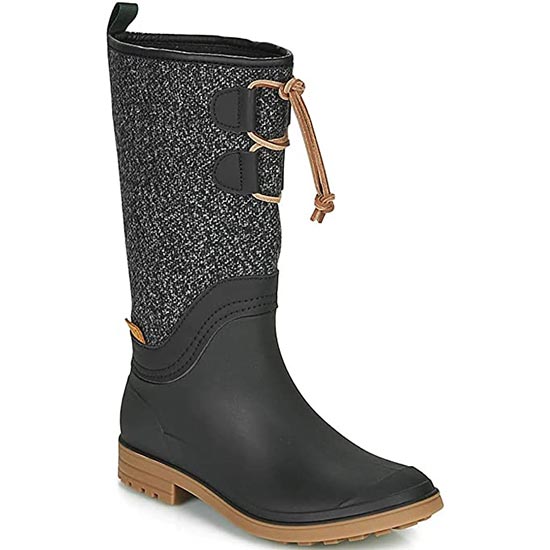 | | |
| --- | --- |
| Estimated Price | $105 |
| Sizes Available | 5-10 |
| Height | 12.25" |
| Insole | Kamik Comfort EVA |
Kamik's Origin and Manufacturing Locations
Kamik, while originally founded in Canada in 1898 and still has some of its manufacturing there, they expanded in 1993 to include a production facility in Littleton, New Hampshire, giving it four different manufacturing plants for its broad arrangement of products.
They started as a family-owned and operated business, and they have continued that through today. Their goal is to keep all of their products strong, simple, and dependable and to get people outside and enjoy the fresh air no matter what types of weather might be happening around them.
They are best known on social media for their #FREEYOURPLAY hashtag movement. This was designed for families to spend more time outside together and away from technology and bright screens. If you need a reason to smile today, go ahead and type in the hashtag on Instagram, and that might just be the push you need to get your own pair of Kamik rain boots.
What We Like and Don't Like About Kamik Wellington Boots
This boot is by far the best-looking of all of the more traditional rain boots I have found in my research. With the taller upper, you will make sure no rain gets in, but you will also be walking around in style.
This would be a great option to wear to work when it's raining instead of having to pack around a pair of dress shoes and rain boots and keep changing throughout the day.
The Town outsole is made for all types of weather conditions and is flexible to keep your grip throughout the urban terrain.
With several different color/style options available on the upper, you are sure to find the perfect match for your personal liking and will have a rain boot to get you through the day.
The Kamik Wellington would be a great style for any woman who is wanting a rain boot but does not want something that looks completely plastic. It also has a moisture-wicking fleece on the inside that will keep warmth in and rain out.
If you're looking for stylish rubber boots that are also comfortable, these are a great option. Overall this would be a great option for a rain boot with a bit of flair and style to stand out amongst the crowd.
Kamik Chloe Rain Boot (Great Women's Mid-Height Rain Boot)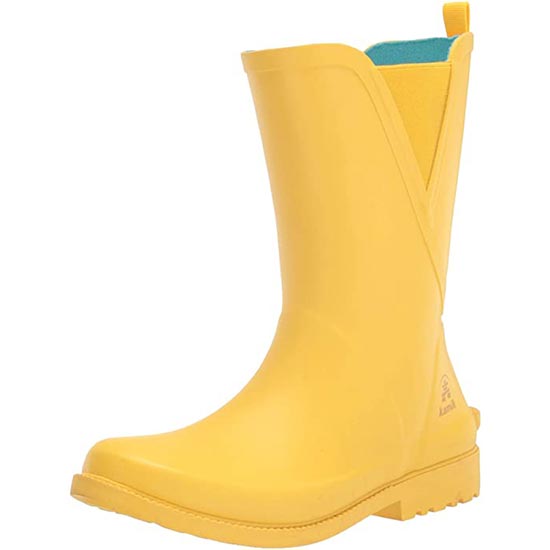 | | |
| --- | --- |
| Estimated Price | $60 |
| Sizes Available | 6-11 |
| Height | Mid-Calf |
| Insole | EVA |
What We Like and Don't Like About Kamik Chloe Rain Boots
This is another great option for the ladies offered by Kamik. What I don't like about this particular boot is that it's marketed under the label "made in USA or imported." My guess is that they make some of these boots outside of the USA as well. If you do decide on this particular model, I recommend reaching out to the company in advance to make sure you're getting a boot that's actually made in the USA.
The Chloe style is a classic option with a taller height. I loved the Yellow option (no other style, outside of maybe the Sloggers) caught my eye as this one did.
This option also uses vegan-friendly materials and features the Kamik Seattle outsole tread pattern that is made for superior stability in rainy conditions.
Another great example of a small twist on a classic style and The Chole is what you get. It would be a great addition to any women's wardrobe who has times of the year when a regular shoe just won't cut it.
This style will keep your feet dry, your smile on, and would even give you the freedom to splash in a puddle and give you a glimpse again of what it feels like to see rain through the eyes of a child.
Wrap Up
That does it for this article. If you know of any great rubber boots or rain boots that we missed, please let us know in the comments below. We are constantly looking to improve our guides, and community help is greatly appreciated!
Hi, my name is Kevin and I'm from Pittsburgh, Pennsylvania. Choosing products made in America is important to me because it supports local economies, creates jobs, helps the environment, and ensures ethical labor practices. I also find that American made products are usually of higher quality so although they're a little more expensive, you save money in the long run. Before starting this website I was in the USMC infantry and nowadays I work on this website as a hobby.